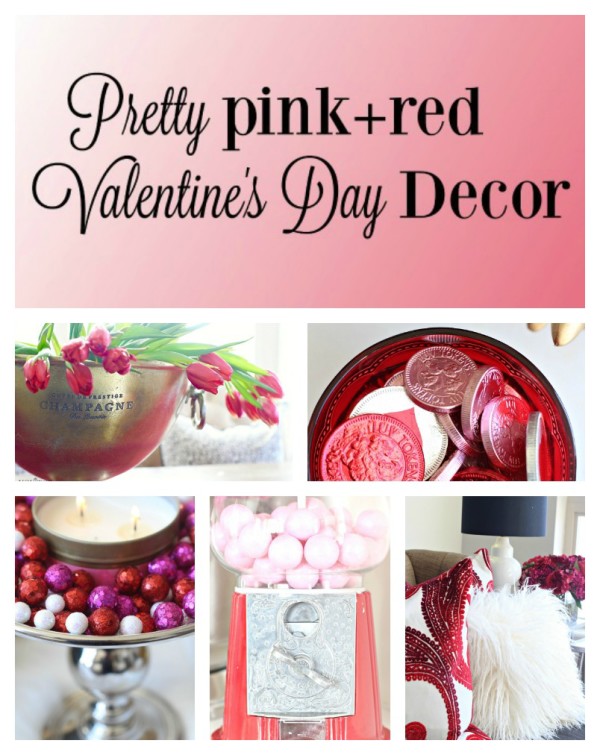 Valentine's Day sure did sneak up on us this year!  Every year I decorate minimally for Valentine's Day.  As my boys get older, I find myself foregoing all the cutesy heart banners in my home.  Nothing wrong with those, believe me, I've had my fair share of paper cut out hearts and multi colored felt covered heart banners strung across my fireplace.  We've just outgrown them in our home. This year, I almost let this cupid's holiday come and go without a single dose of pretty red + pink Valentine's day decor in at least one room.  I've collected a huge rubbermaid bin of valentines loot over the years so I decided to go rummaging through the glittery decor and add a few touches here and there.
I had forgotten about this cute little bubble gum machine I've had since my boys were wee little.  They used to love eating all the gumballs.  The only time you'll probably ever see pink in my home is for Valentine's day or for a baby shower I'm throwing.  I love me some big pink gumballs!  I can't wait to see the boys expression on their faces when they get home today and see them!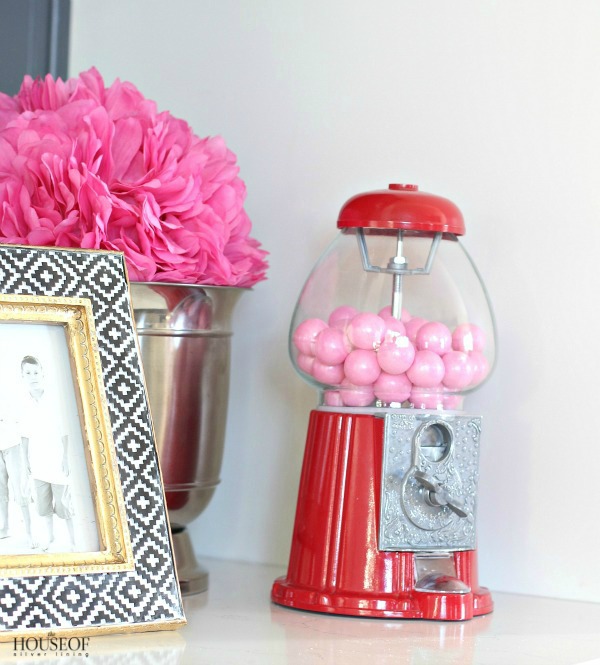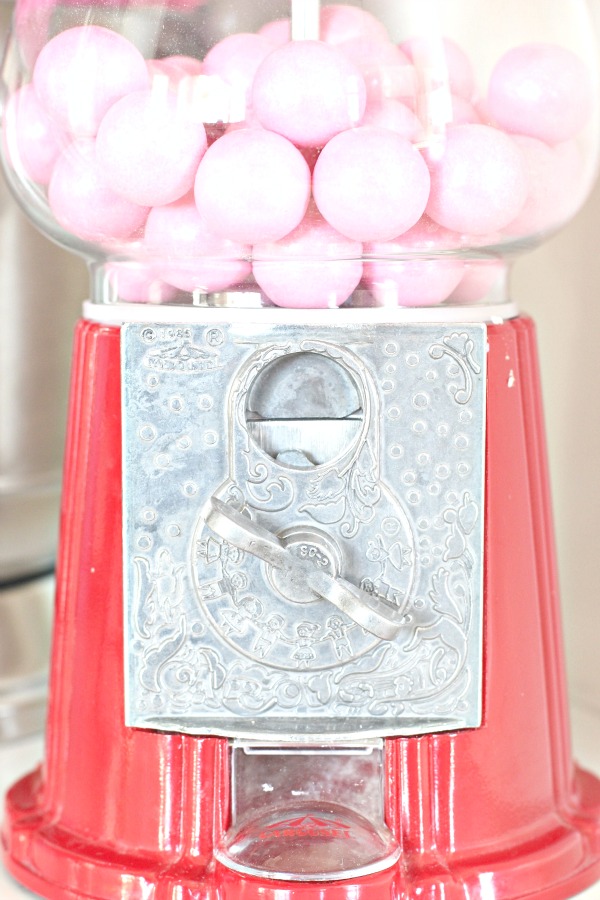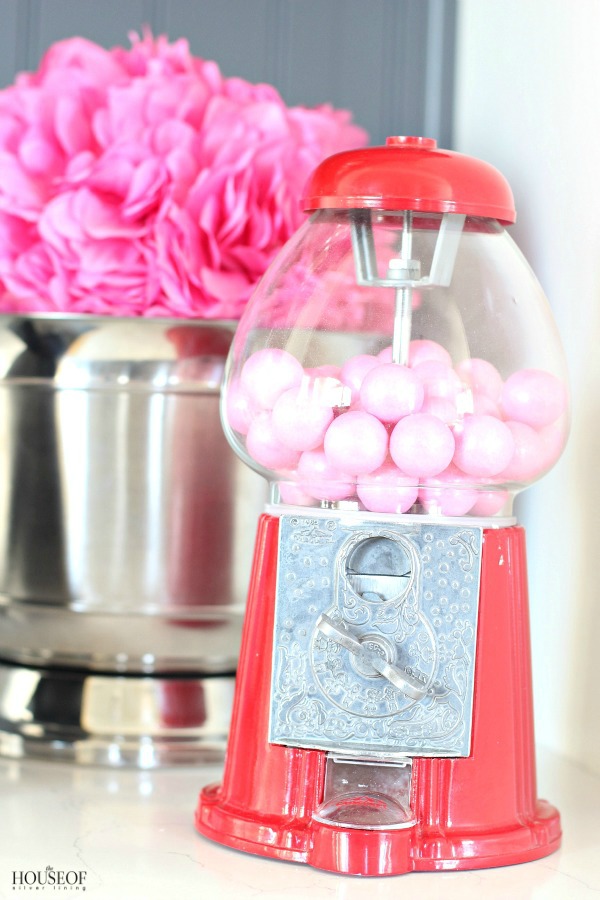 The pink flowers are actually a flower ball from Hobby Lobby when I held a baby shower for my best friend a couple of years ago.  I held on to it just in case I had another opportunity for pink. Throw it in a silver ice bucket and voila!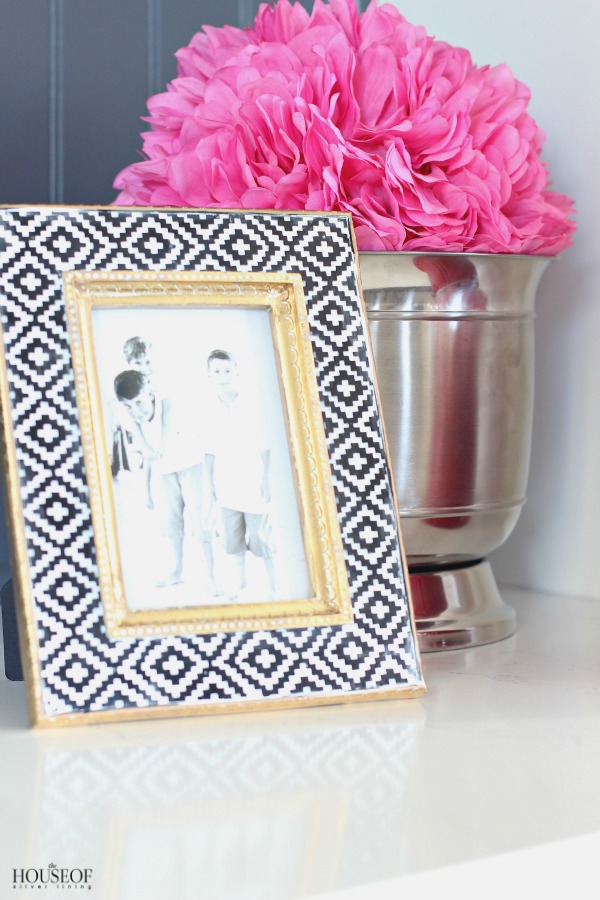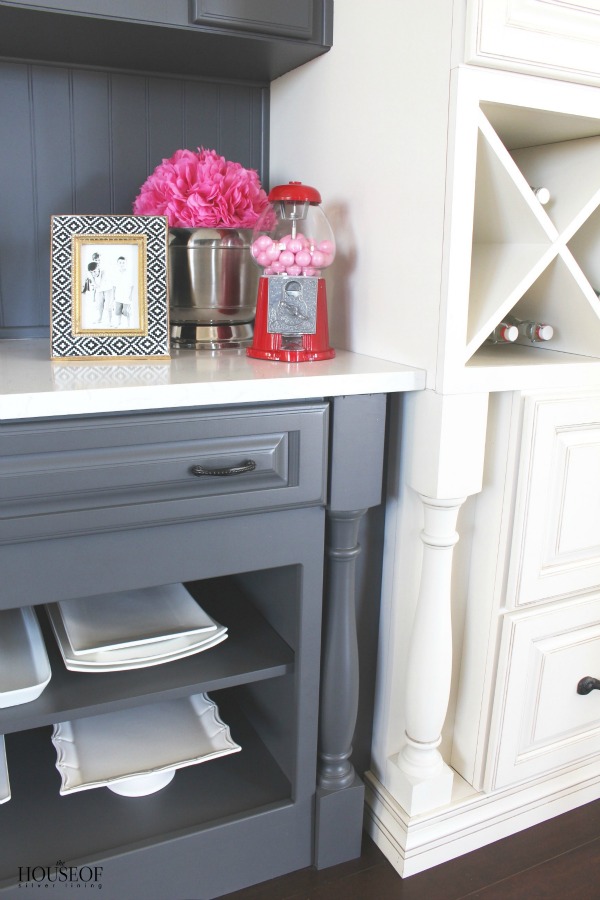 Valentine's Day is not complete without tulips.  My hubby asked me to marry him the day after Valentine's Day 20 years ago.  He had it all planned out so perfectly! We both had to work on Valentine's Day evening since we were poor college students waiting tables.  I remember that night, watching all the couples come and go, having nice romantic dinners and thinking I was so ready for my man to just ask me to marry him already.  I had no idea he had the big question ready for the next day.  Tulips are our love language.  He's always given me tulips every year since on the anniversary of the day he asked me to marry him.  I carried a big bouquet of white tulips on our wedding day.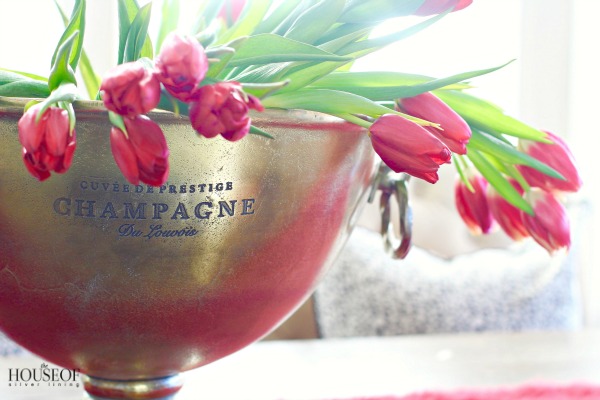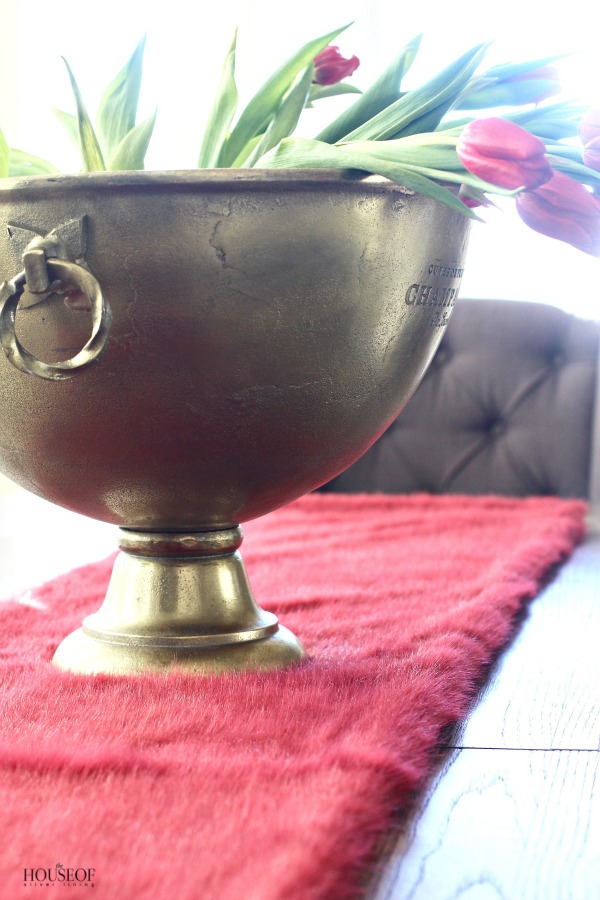 The red fur table runner and champagne bucket have been on my table since Christmas.  I love being able to carry seasonal decor from one holiday to the next.  Even once Valentine's day is come and gone, I'll be keeping the runner and champagne bucket out.  I love the rich ruby red against the honed brass.
The red and white paisley pillows are also from my Christmas decor. I'm liking my more grown up way of decorating for Valentine's day. Splashes of red and pink in simple decor lends to a more sophisticated style.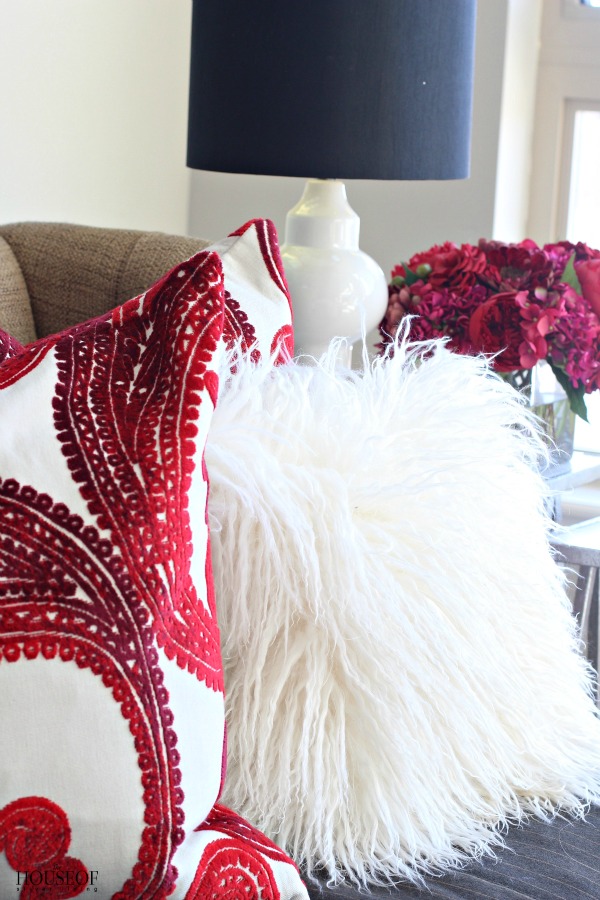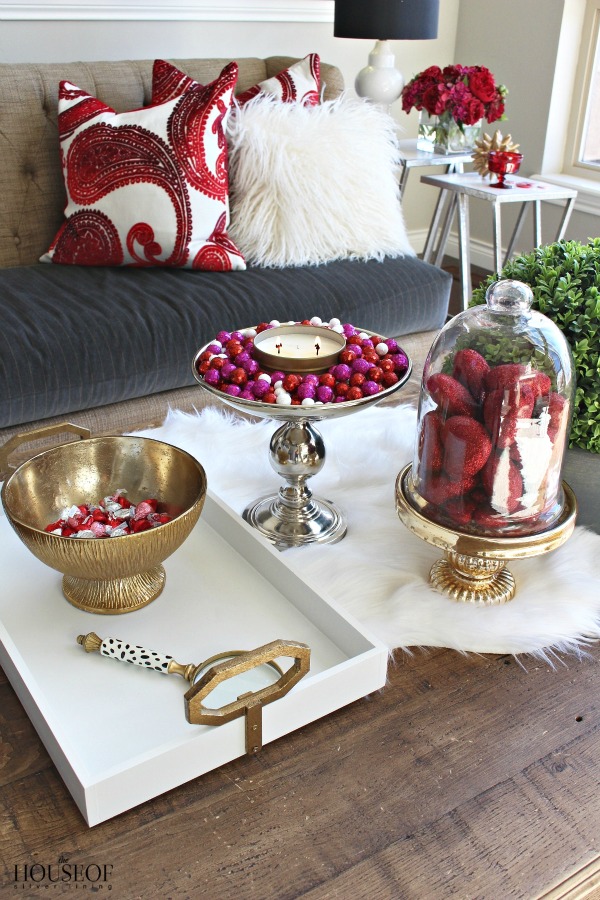 Of course, candles are a must for setting a romantic tone.  I like to have my displays in variegated heights.  I used a silver stand from my collection of platters to lift my candle (smells out of this world scrumptious!!) and filled it in with festive confetti balls.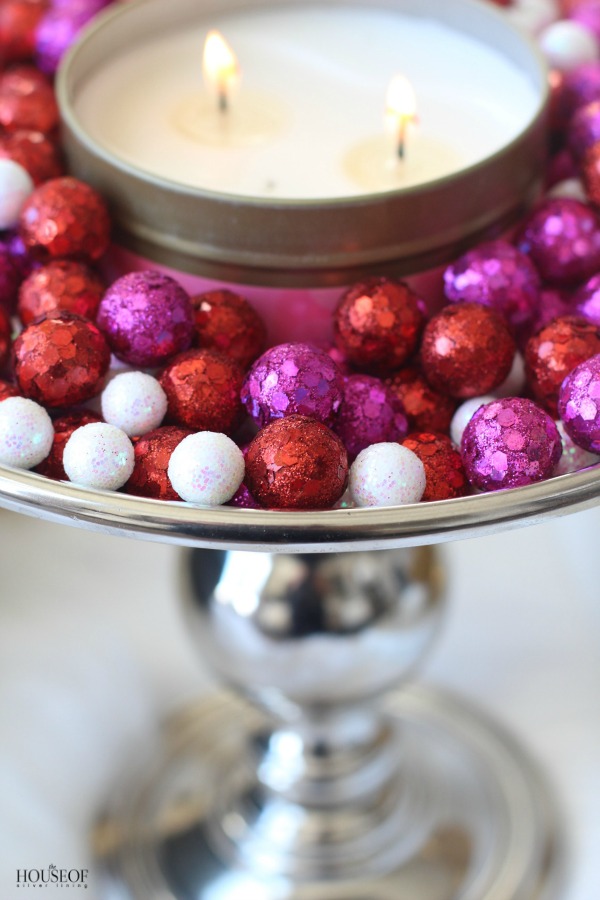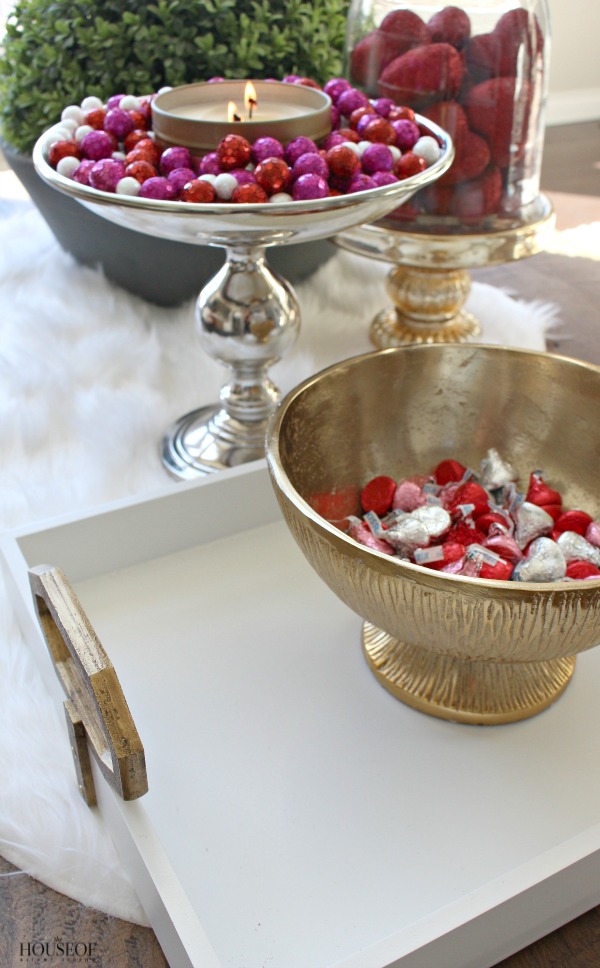 The styrofoam glitter hearts used to go in apothecary jars, but this year, I decided to put them in an empty cloche I had sitting around.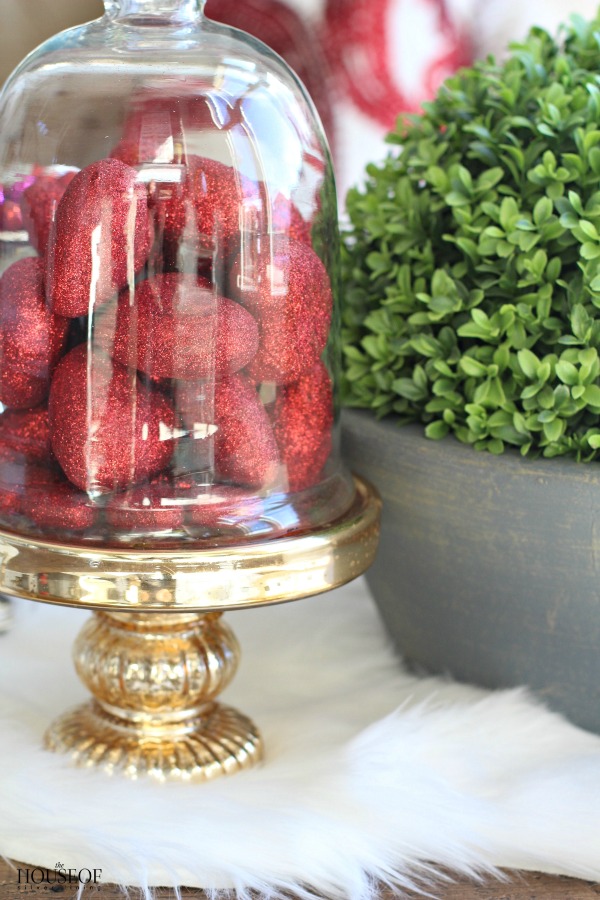 Never underestimate the power of decorating with CANDY!  Don't these hershey kisses look so pretty in this gold bowl?  Now if I can only refrain from eating them all up.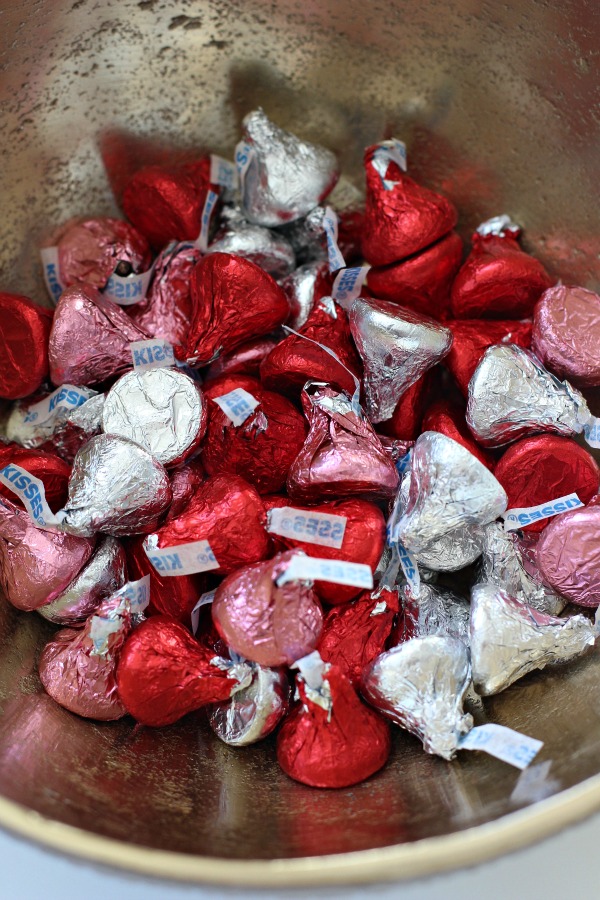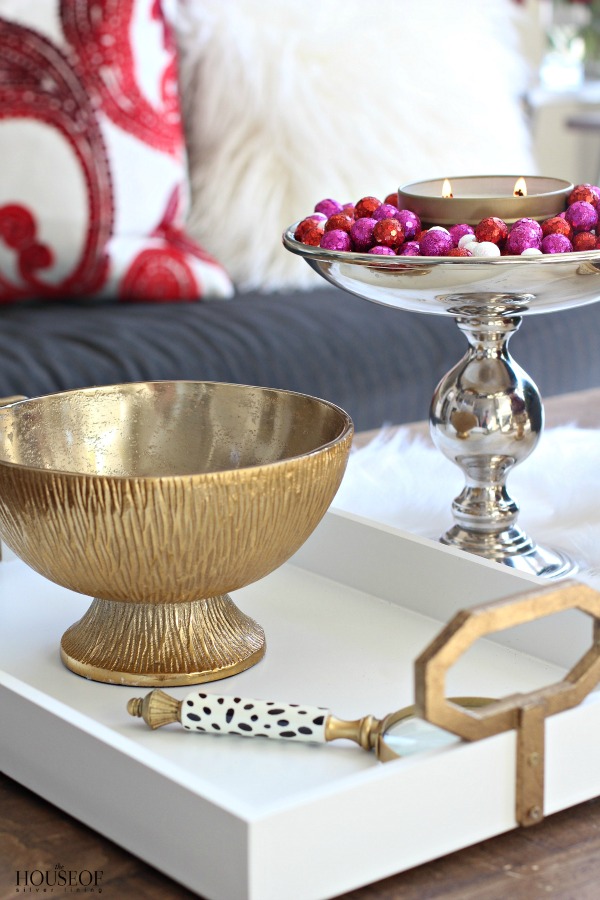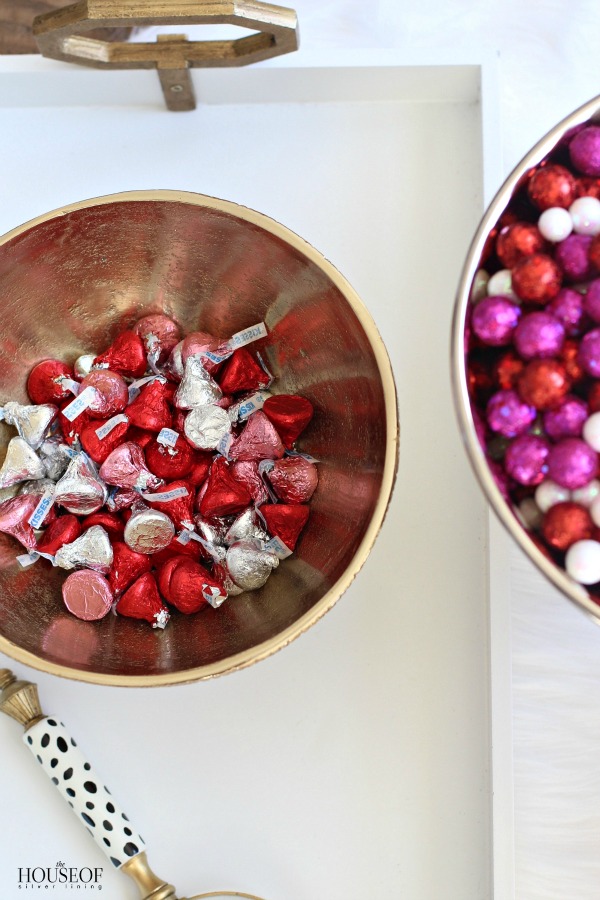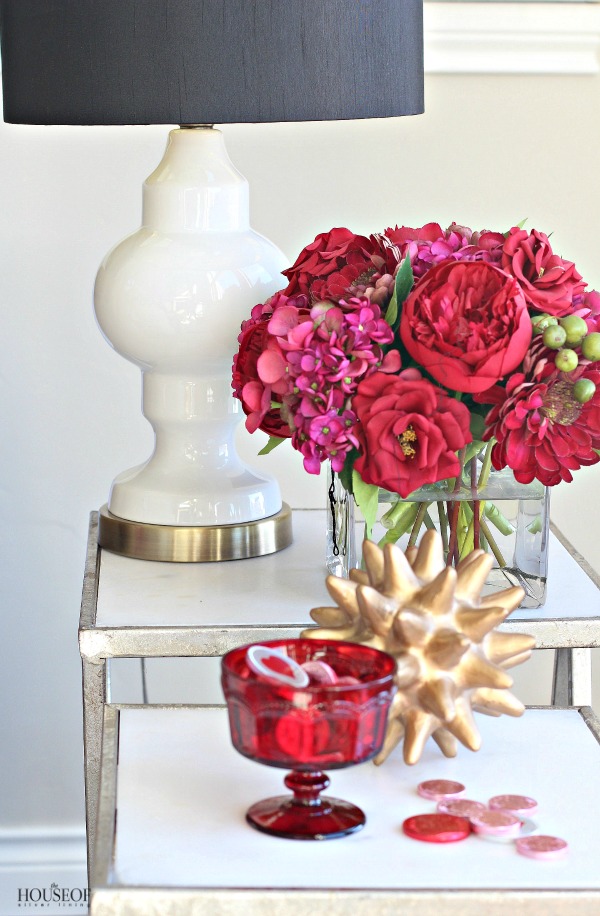 Chocolate candy coins for the boys. I used these little red glass bowls for my Christmas tablescape HERE.  It can be so fun hunting through your china cabinet or even every day dishes to find simplistic bowls to hold little pretty trinkets.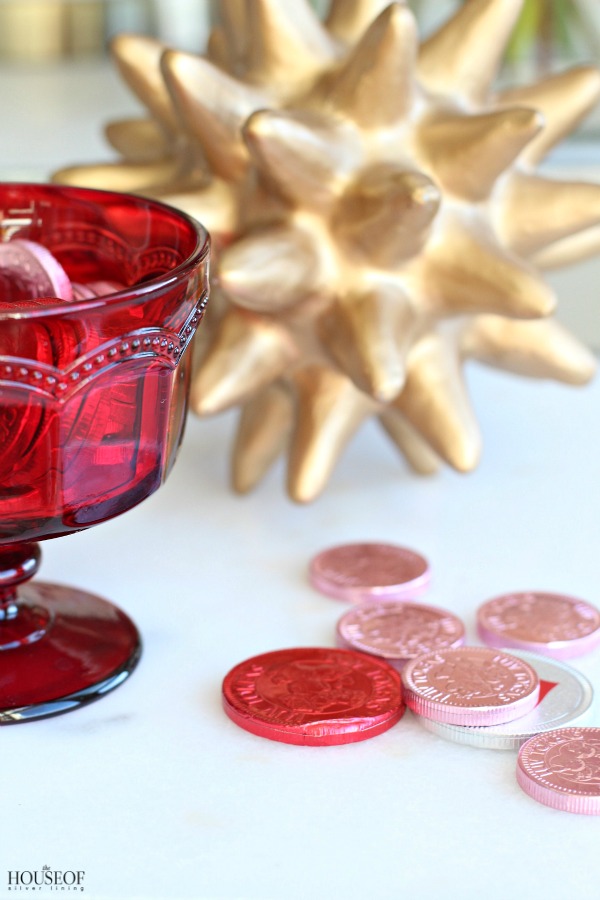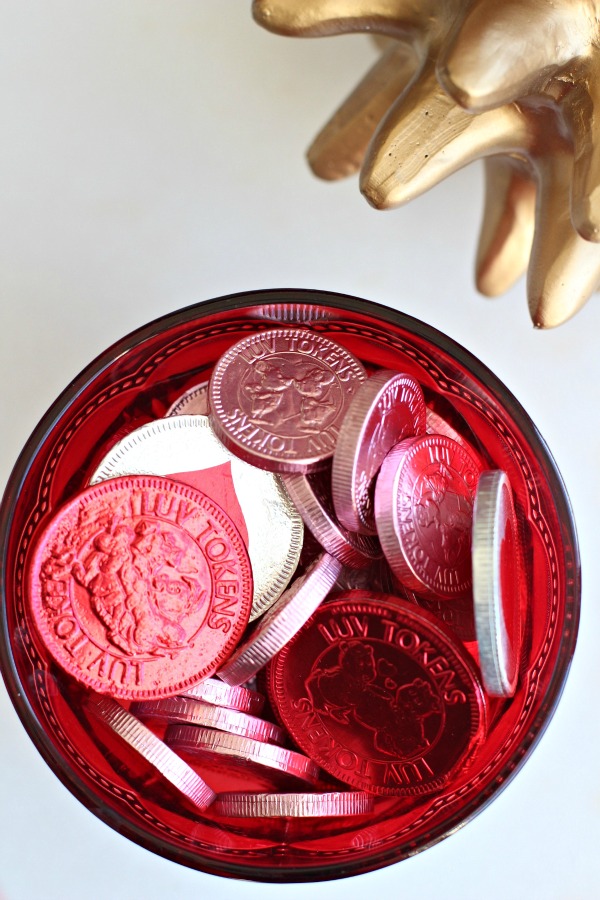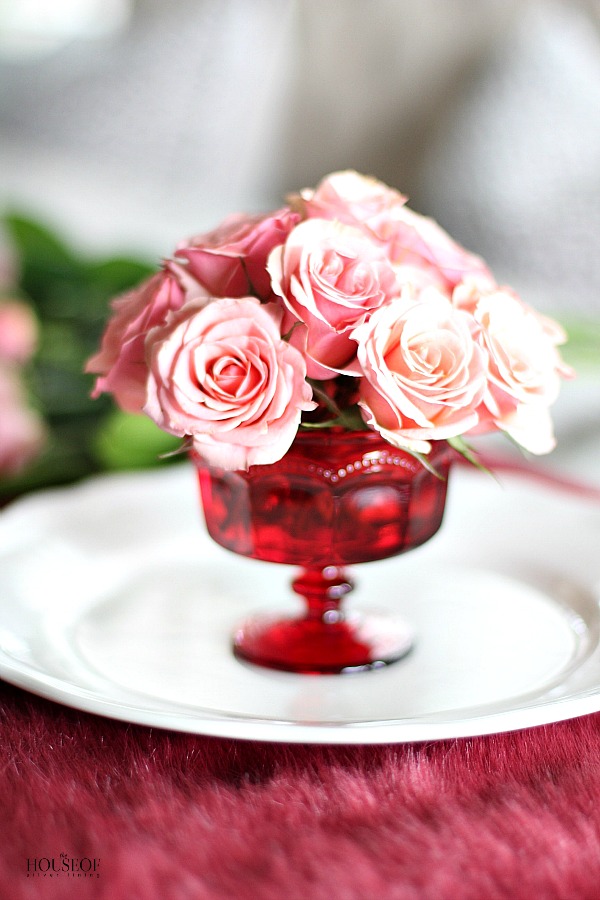 I'm also sharing this simple display of Valentine's day roses for your romantic tablescape over at A Blissful Nest. Hop on over there and take a peek!
Now that the house is feeling a bit more Valentiney with my pretty red + pink Valentine's day decor, I'm now ready for the big weekend!  My hubby and I will be attending a marriage conference at our church. What better way to spend Valentine's Day than to gather insight on how to make our marriage even better!  Our romantic dinner will most likely look like this…dinner out with our three little cupids.  Our boys have definitely captured our hearts and we feel so blessed.  I hope you have some fun plans! Who knows maybe one of you has a big surprise coming up!