Simple Styled 4th of July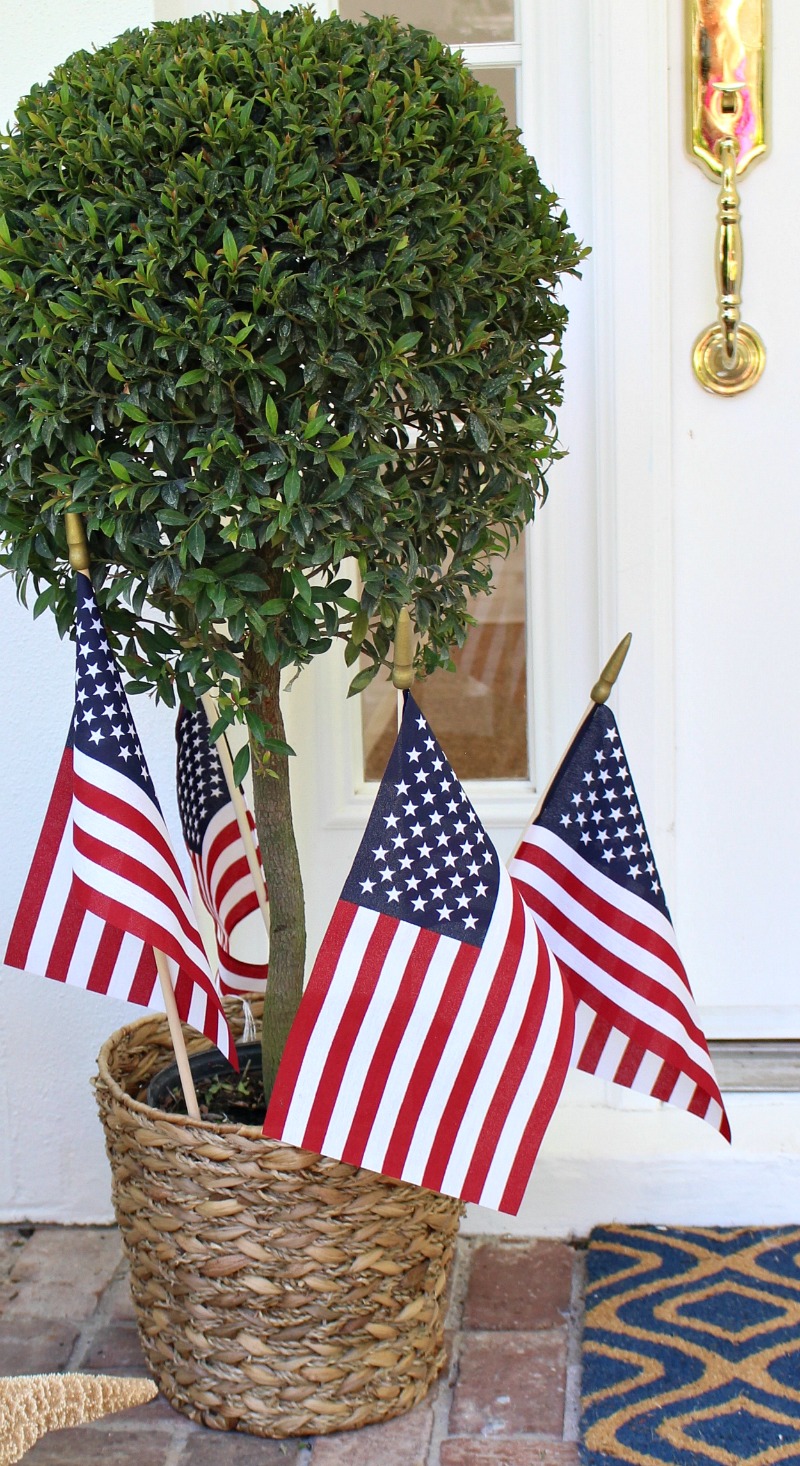 I love a dose of red, white, & blue this time of year. With 4th of July just around the corner, the patriotic spirit is definitely in the air in my simple styled 4th of July home. I especially love to do a little decorating with the patriotic colors at the beach cottage since the all white house is the perfect canvas to allow those colors to pop.
I didn't need to go buy anything new to accessorize for the holiday. I have a small stock supply of American flags, paper lanterns, dollar store mini stars, and a few other paper products.  Every year I tuck them away in our old antique dresser sitting by the front door until the next time around.
If you have a few flags, you have enough to give off your patriotic spirit.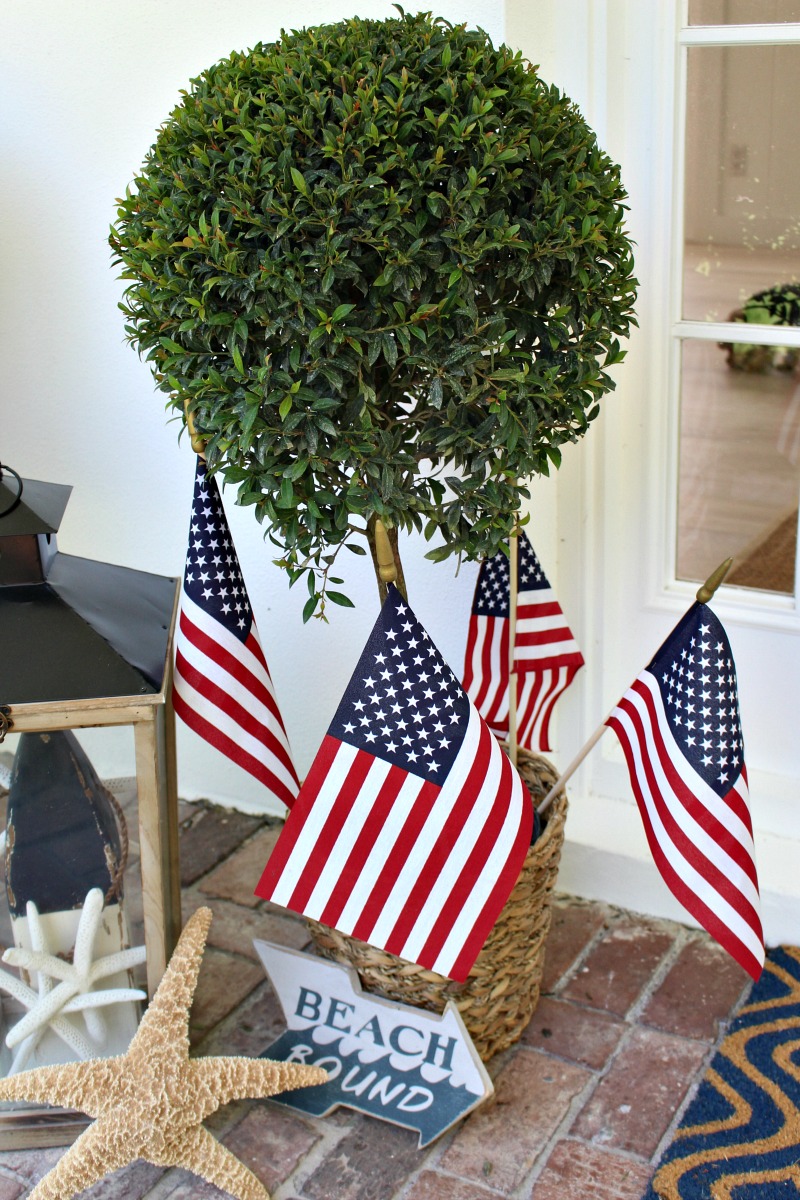 A collection of mason jars can go a long way in styling.
I recently added a few blue bowls I've started collecting to my kitchen shelves. They are perfect for the 4th of July color scheme.
I'm a sucker for cute paper straws and napkins. When I see them on sale I stock up. They're so fun to have on hand for those special occasions or holidays.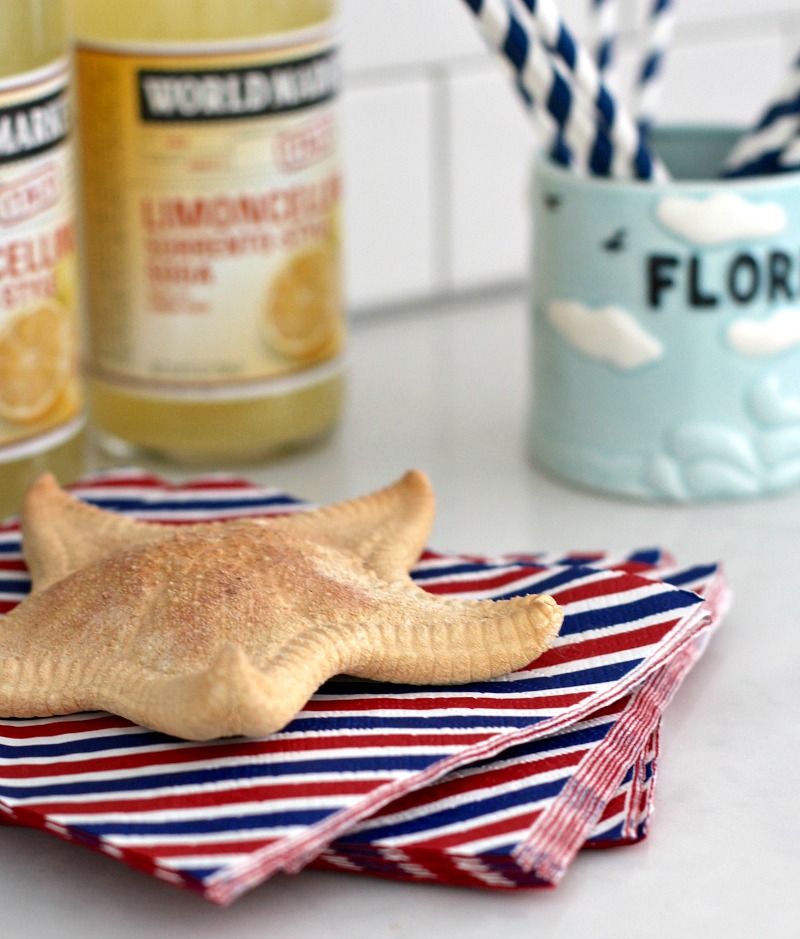 I love my greek statue head. He's that bit of quirk that adds some personality to this room. He's wearing 4th of July beads that my boys have collected over the years at the local Naples 4th of July parade. You know, the kind that they throw to the crowd from the floats? Everything is fair game to get thrown into my decor around here. They hold sentimental memories which I love even more. Speaking of memories, those photos are of the first month at our little cottage-8 years ago. Tim looks gigantore next to us..haha! Our oldest son is now taller than him (#sigh).
More collected bowls in the family room sprinkled with glitter foam stars.  I've always decorated each room with fun little objects like this since my boys were really young. Looking back, I may have started that tradition for their sake and to have memories of a home that was always festive for the season. Lately, I feel like I continue to do those little touches for my sake. I am a very nostalgic person and am the type that looks at those little stars and remembers my boys' chubby little hands holding them and the sparkles rubbing off on their skin. I could dwell in those memories for hours.
I found this bar cart on clearance last week and could not resist. I mean, beach style?? I've got some fun plans for it that I'll be sharing later this week, but I couldn't wait to style it up with some red, white & blue too.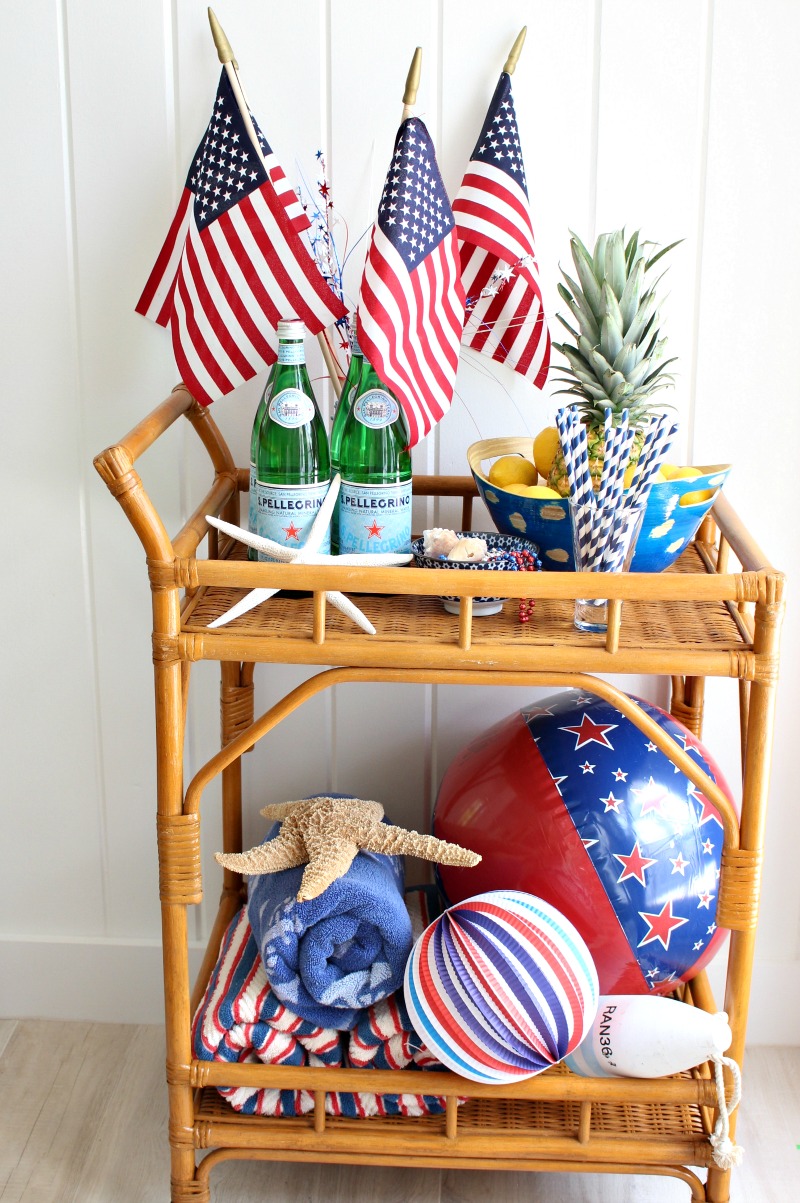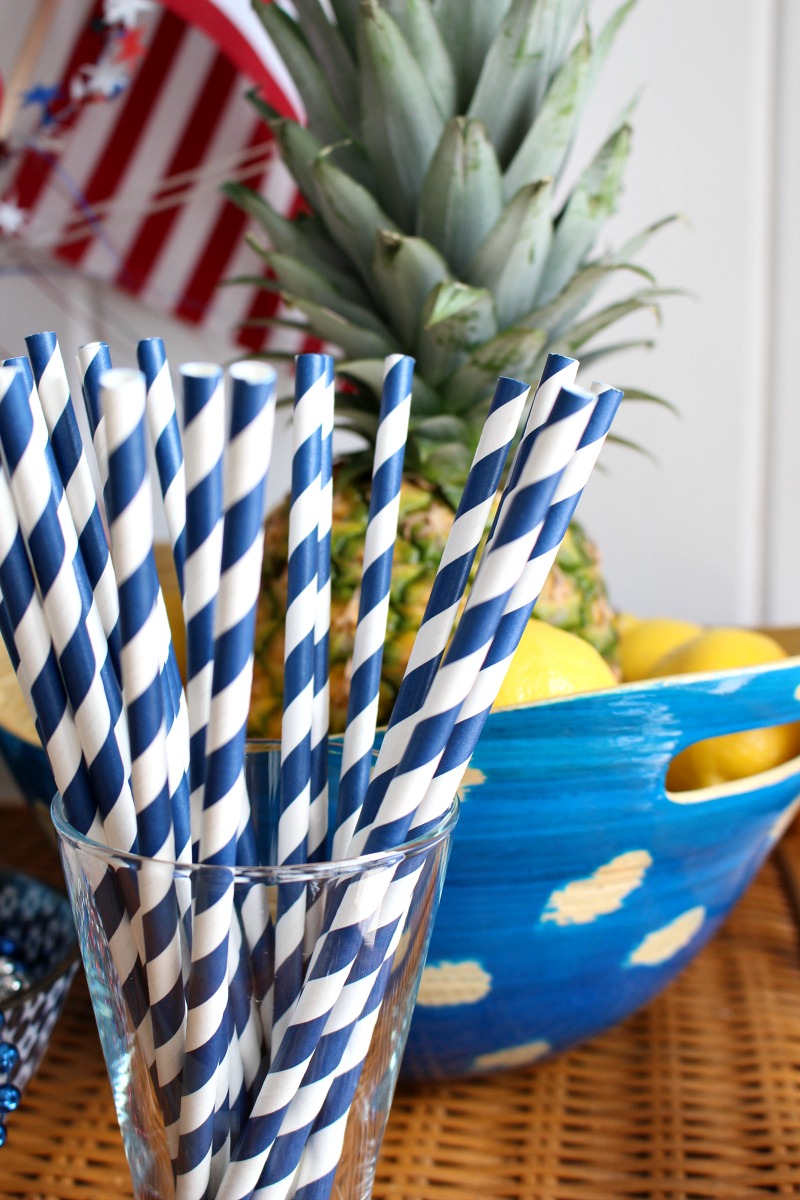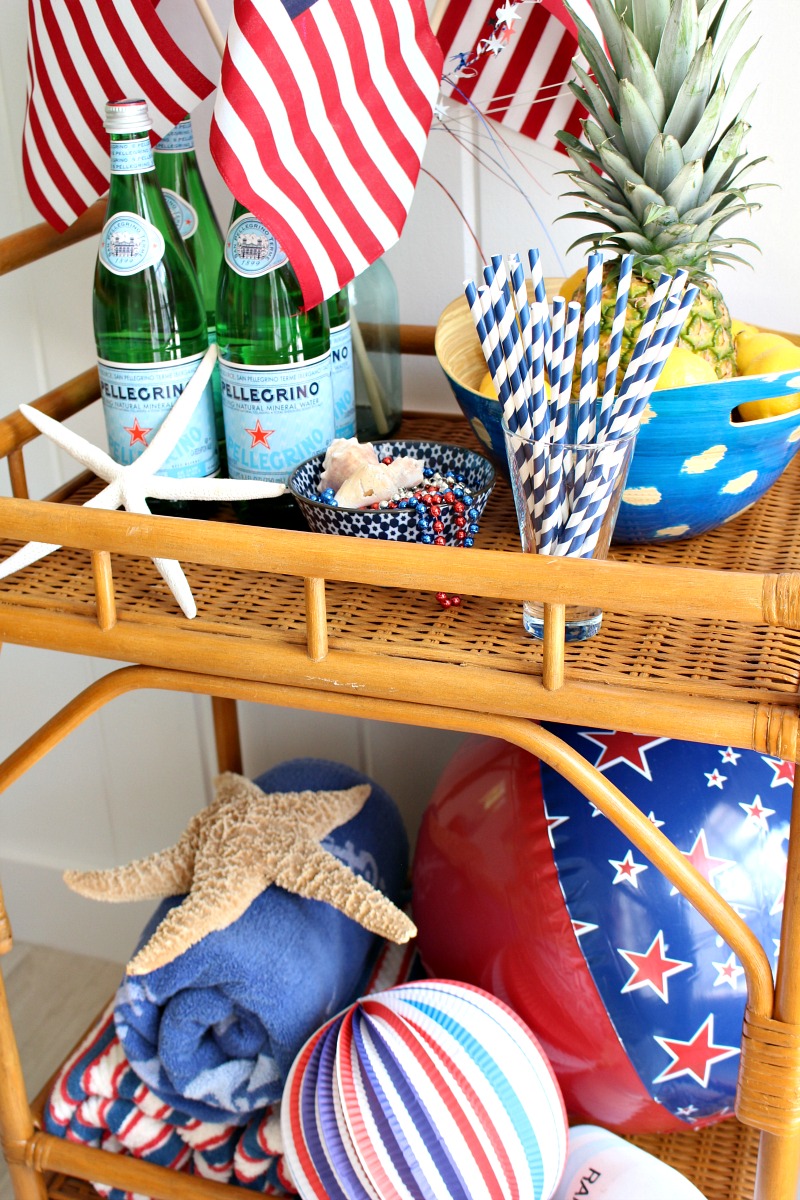 A few rolled up beach towels in those perfect stripes to grab on our way out to the pool
What's your plans for 4th of July? Our tradition is spending the morning downtown Naples, watching the cute parade and strolling through all the fun little shops on 5th ave. In the afternoon, Tim always makes homemade ice-cream which is so good I could eat the whole batch myself. Next, the evening sets in and we walk down to the beach to watch the huge fireworks extravaganza off the pier. I get goosebumps every time I watch them. Finally, our night ends with the boys setting off fireworks on our street while I slap away the mosquitoes.  The neighbors and our friends gather around with our lawn chairs drug out, sipping a nice cold one.
Most of all I love the memories that we keep building with this holiday. I hope my simple styled 4th of July sparks some imagination in your home!  Don't forget to shop your own home, rummage through storage closets and look for those objects tucked away that have the colors you need to add a little 4th of July spirit.