Modern Beach Cottage Makeover: Family Room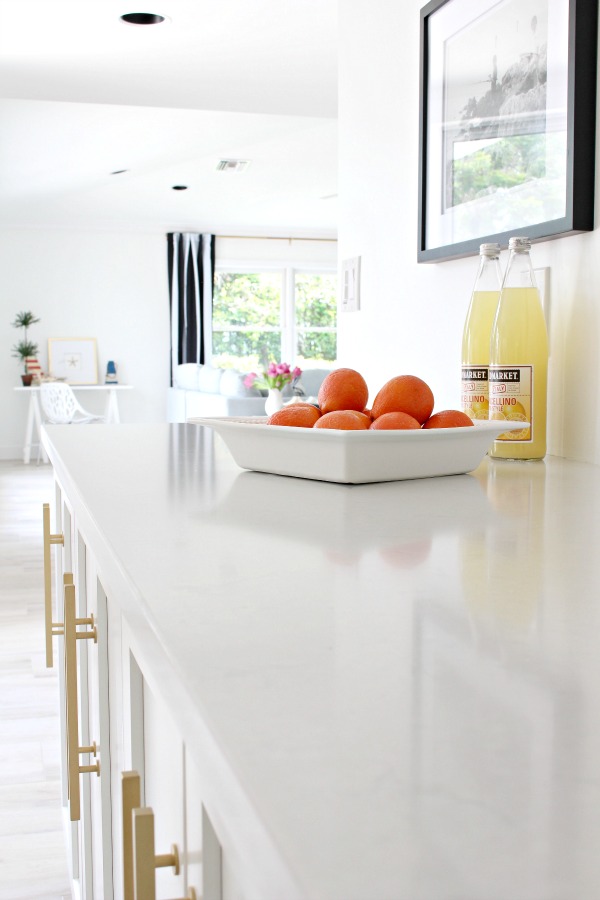 Hey friends! I'm back from vacay at the beach cottage.  So much happened during that two weeks that my head is still spinning!  The first few days were spent with my hubby for a little getaway.  We feel so incredibly blessed to have this home to escape to for mini vacations.  The day I put him on the plane to go back home to Colorado, my girlfriends were flying in for a four day annual girl's trip.  During that time, I received a very exciting email about a feature on the cottage (can't wait to share more on that later!).  After the first group of girls left, I cleaned like a mad woman to get the house ready for a big photoshoot. The next day, my blogging buddies arrived to spend a few days.  I'll be spilling all the details on who came, what we did and all the fun photos we took in an upcoming post.  I was so sad to return to our Colorado home because it was snowing…again…in May…bleh! However, I had missed my boys so much and couldn't wait to give them big hugs!
Spending two weeks at the beach cottage was an absolute whirlwind of fun, excitement and work!  But this time it was FUN work!  I got to finally put together our family room that had been housing our old furniture since our big renovations. If you're new to the blog, you can read all about our little beach cottage in Naples, FL and the extreme makeover it recently received, room by room here and the pre-renovation tour here.  Before I left for vacation, I shared this post with you with the design plans I had in mind.  Well, there were a few hiccups along the way with those plans.  I'll explain as we go, but the end result is a fabulous modern beach cottage makeover in the family room!
Remember what it looked like before??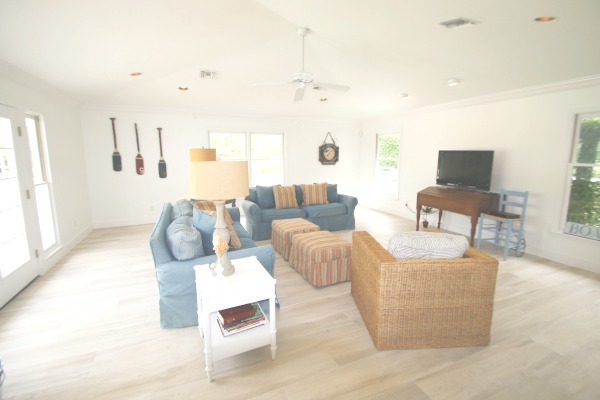 Okay, this isn't the most extreme "before" photo since we had already ripped out the old mexican tiles and layed these gorgeous new driftwood porcelain tile floors.  The walls were painted Sherwin Williams "Pure White."  Other than that, all of the old furniture was put back into place.
I found these photos that really show what it looked like before. Yellow wall alert!! Hello denim sofas, pillows scattered…reality. Oh, and the drapes I made seven years ago. Yep, those went bye bye too ;). Say hi to my boys!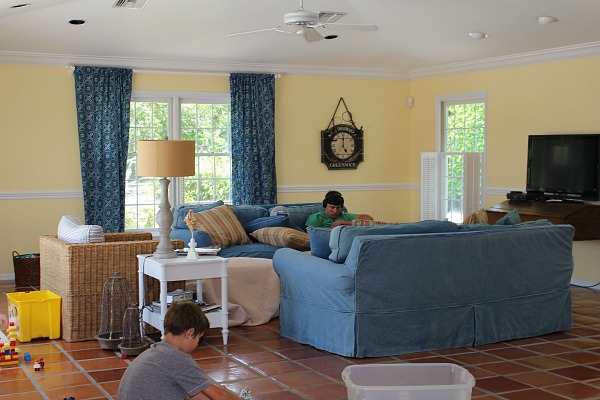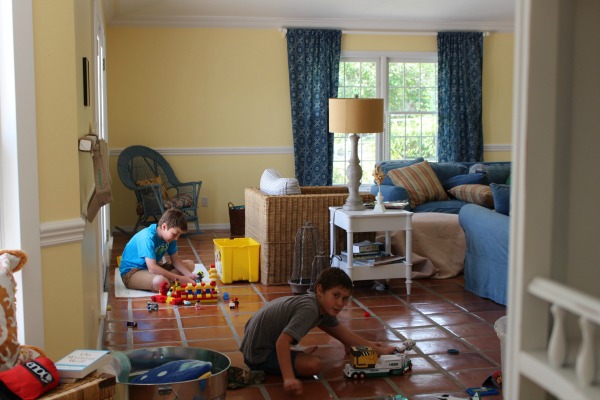 I can't even believe the transformation this room underwent! I feel like it's a completely different house when I glance at it now!  It went from dated time warp to bright, airy and modern coastal.
Let's explore the new digs and I apologize in advance for the photo overload (#notsosorry).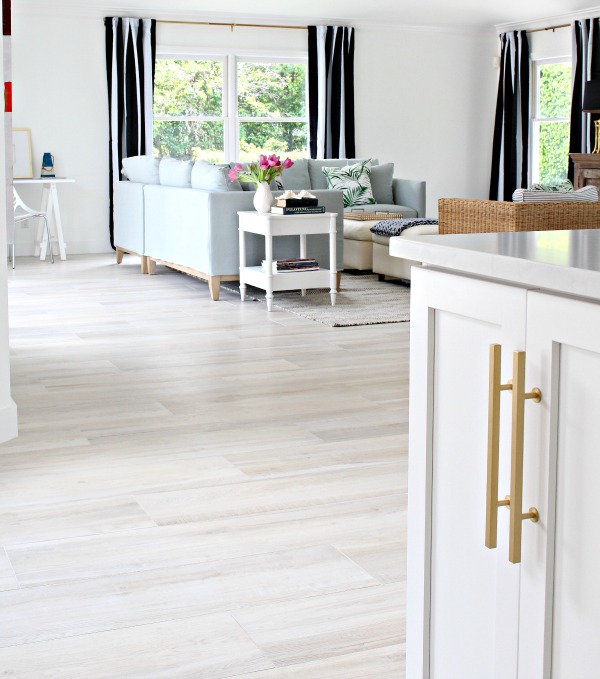 Brass hardware (huge crush on them!)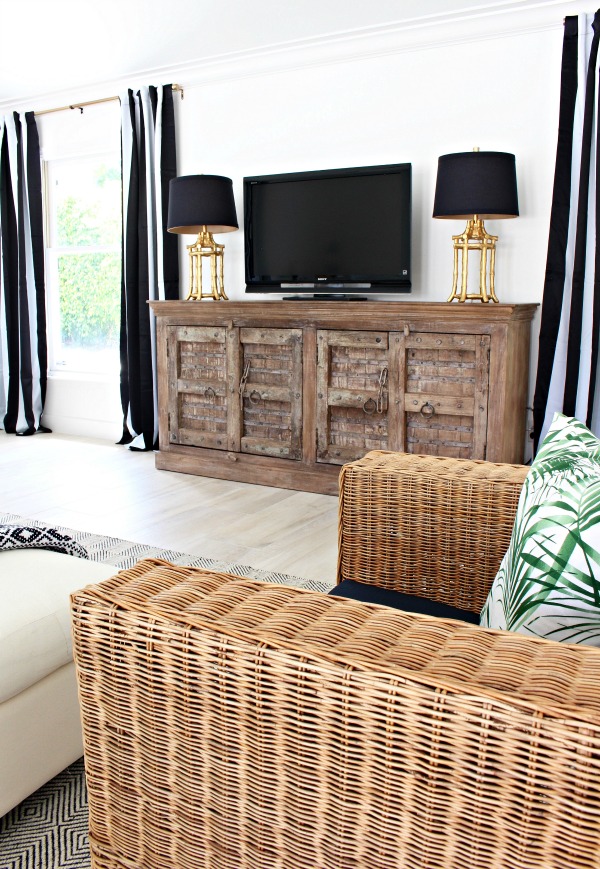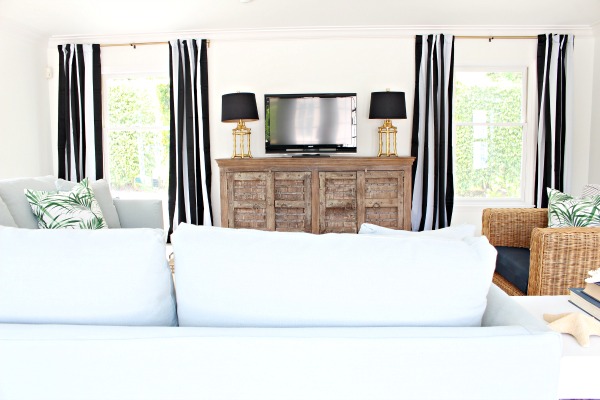 The original design scheme here didn't turn out as planned.  These things happen, especially when designing a room with big pieces that are online and have not been seen in person.  I had designed everything around this sofa. Unfortunately, I learned just two weeks before I was to arrive back to the cottage that the sofa would not arrive in time.  I was so bummed! The first day and half of my time on the trip was spent hitting every single local furniture store in Naples to find a new sectional sofa that was actually in stock.  I think I hunted over 10 different stores and was beginning to feel hopeless in finding the right piece.  I had friends coming to town, including my blogging friends!! I couldn't have a big empty room to greet them! Those denim sofas were already on their way to the local thrift store. Finally though, I found a gem.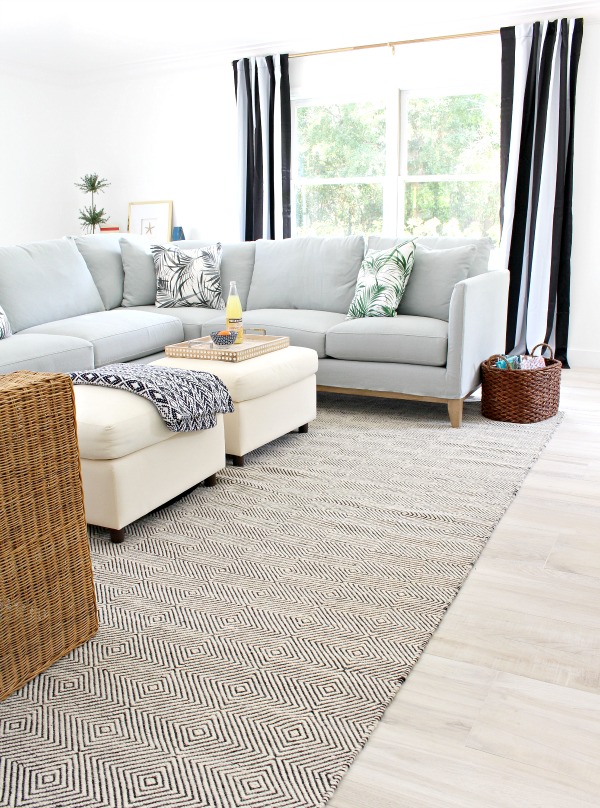 This ice blue fabric on driftwood legs were all of a sudden PERFECT!! Even better than the "plan A" indigo blue sofa.  For all you locals in Naples, I found this McCreary Modern sectional at Matter Brother's Furniture.  The great thing about it is that it is slip covered so can easily be cleaned if needed.  Although I did purchase the stain protection just to be safe. Super comfy and looks fabulous!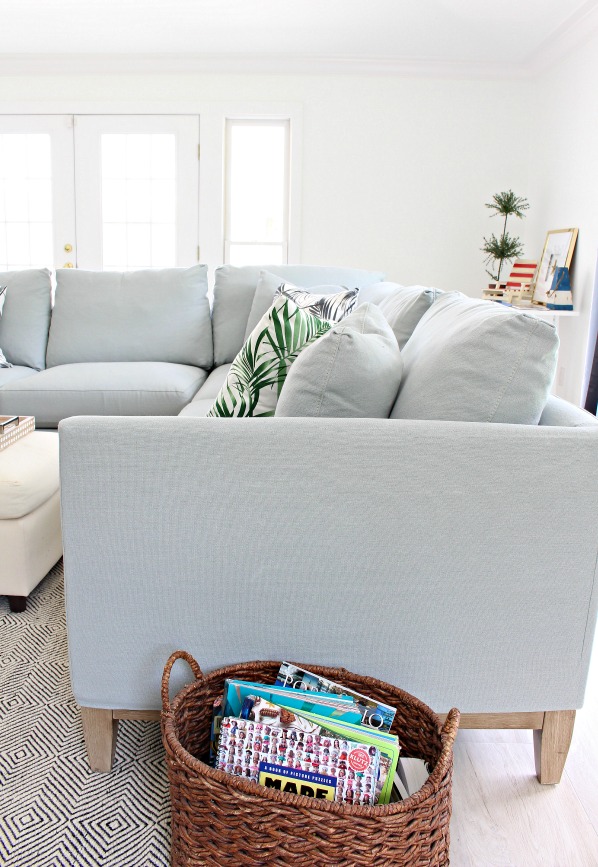 The rug was another dilemma.  I actually ordered this rug in hopes that it would be a perfect match with the original indigo sofa plan. However, when it arrived, it was a much lighter blue than it looked online.  I was so happy that I had ordered this rug as a back up! LOVE it's neutral texture and so super soft.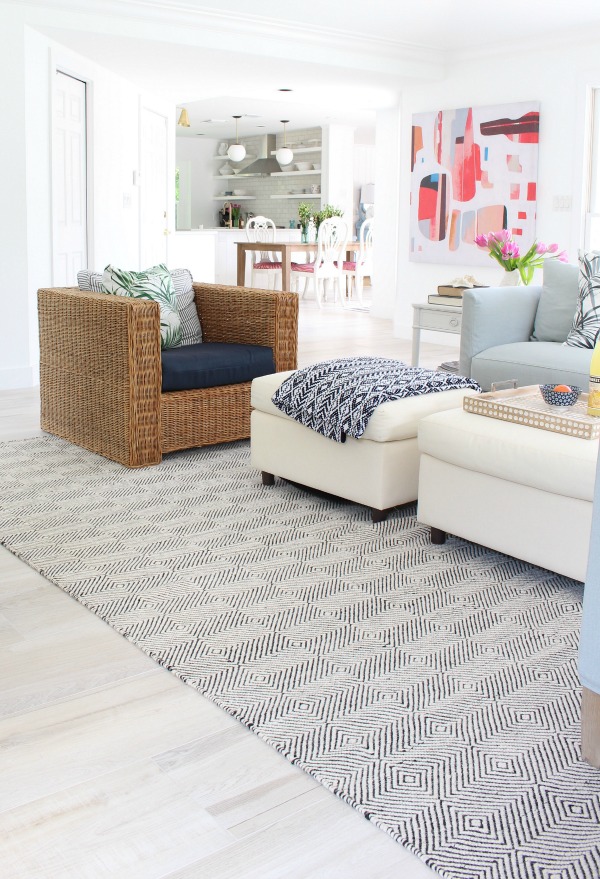 The box style wicker chair was one of the first thrift store pieces we bought originally for the cottage. The seat cushion was old and falling apart so I replaced it with this outdoor cushion.  That's right, outdoor cushions can be used indoors if they fit and this one was the perfect fit!! Nothing fancy but practical and looks great! I recovered my old throw pillows and took the dated stripe ottoman covers off to reveal the natural ivory fabric….#win!! Saved me from buying a coffee table.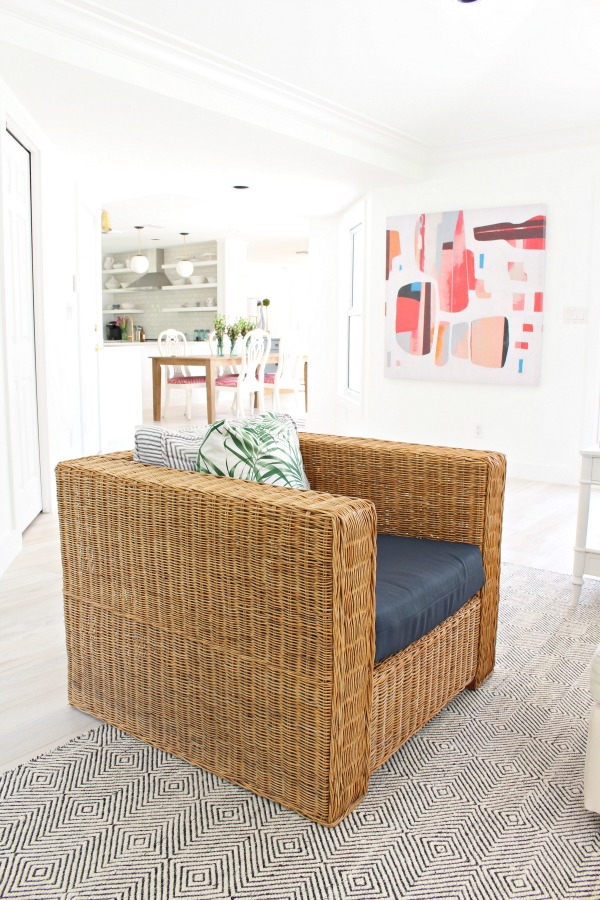 Wall Art – Homegoods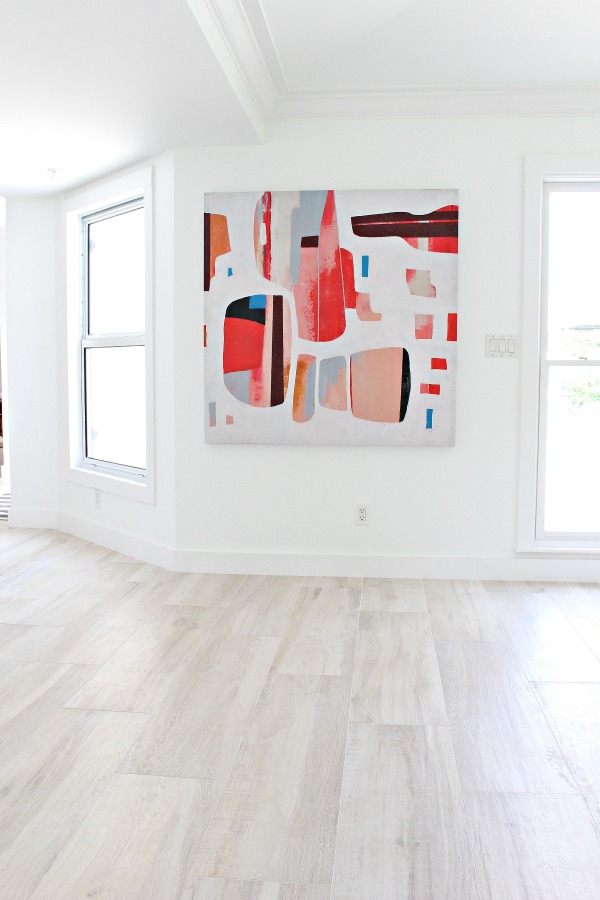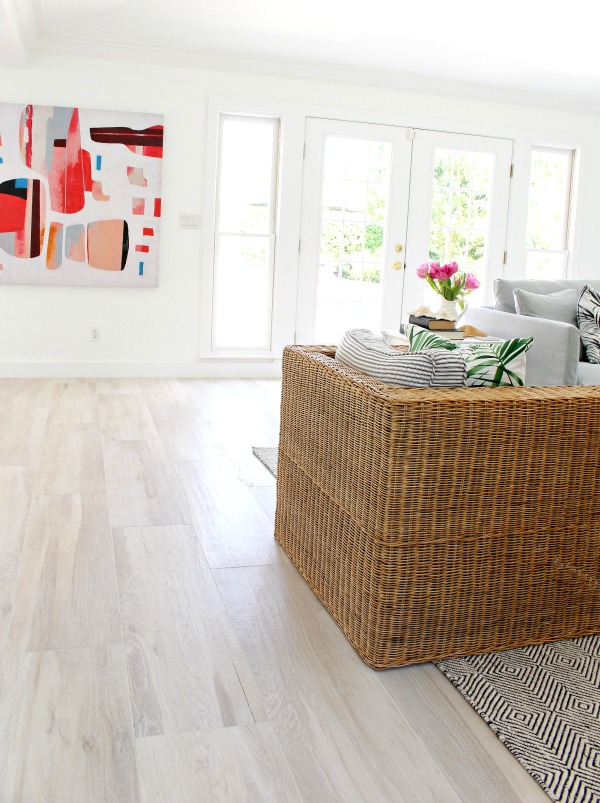 The only element that stuck with the original design plan was the black and white stripe cabana style drapes.  I love how they are black out drapes which is great for blocking the harsh sun in this room when we are away from the cottage. Our old sofas became so sun bleached over time because the windows were always fully exposed. I'm kind of giddy how they pop against my white walls! Black and white is the theme throughout the home as seen in my living room lighting here and the home exterior here.  Still need to steam out the wrinkles in those drapes (don't judge;)).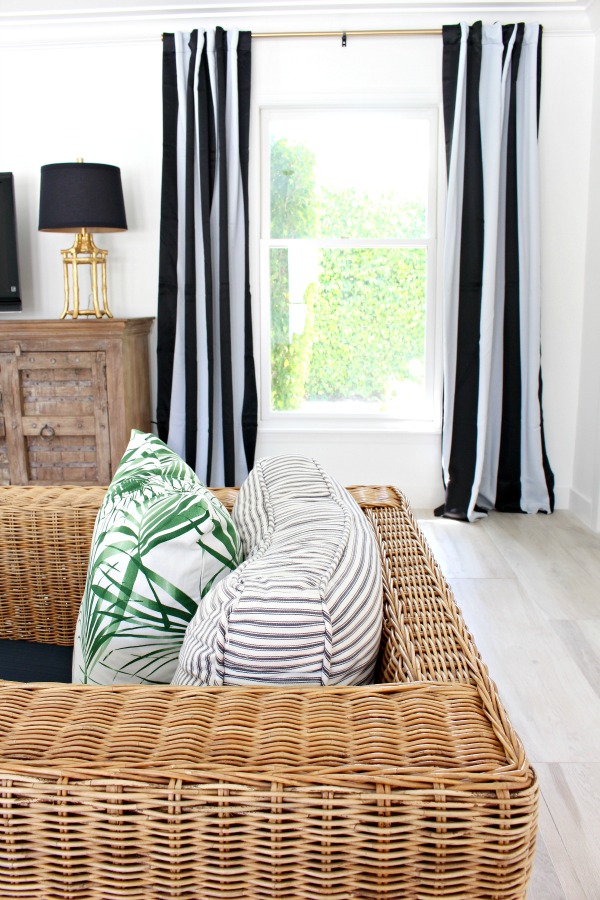 As you can see there are windows on every wall and a big set of french doors that lead to the pool.  I love looking out those windows to see the tall green ficus hedge that lines our whole yard.  Such a beautiful contrast.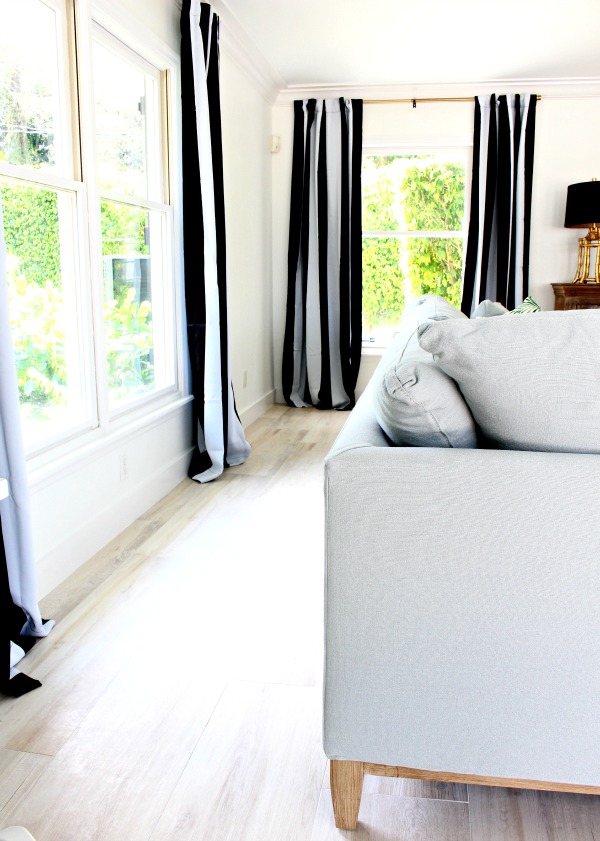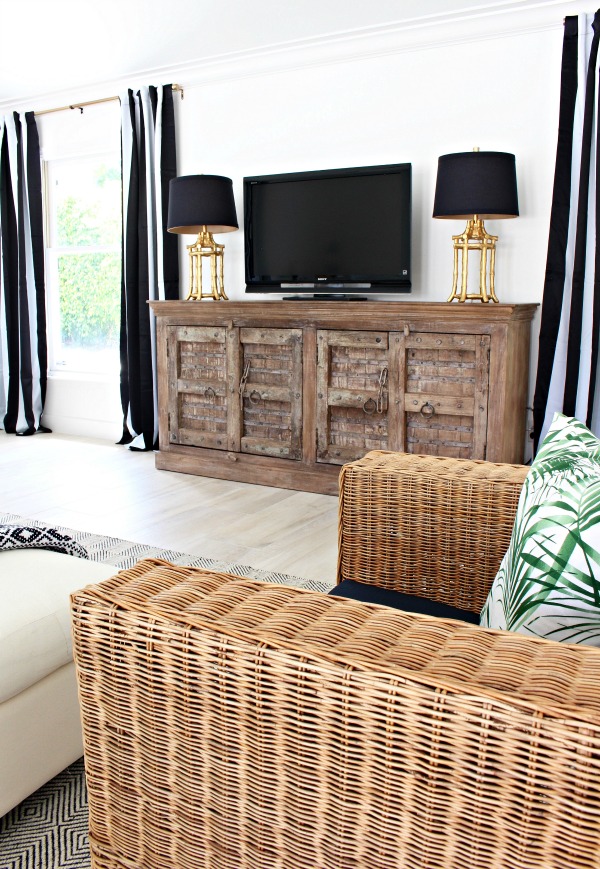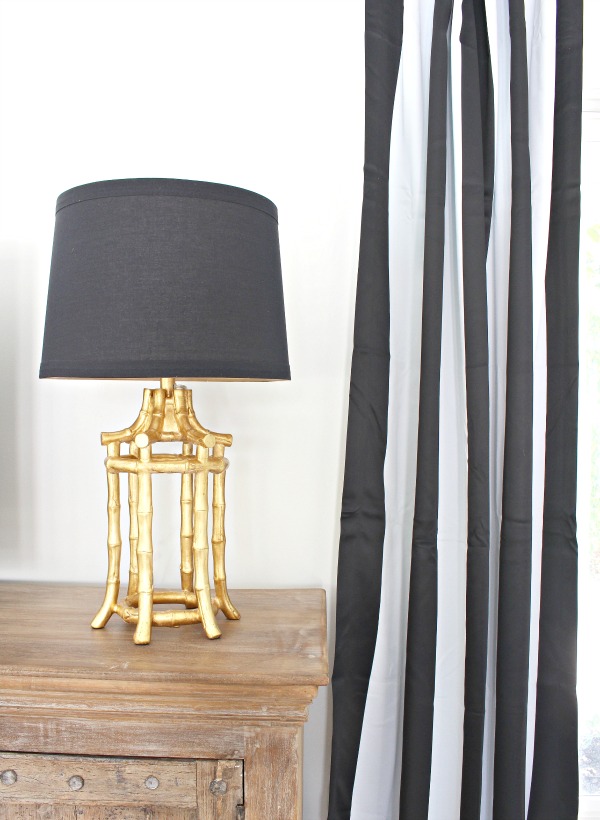 Lamp – Homegoods || Sideboard – (local//Matter Brother's Furniture)
This rustic sideboard is one of my top faves of new purchases.  It's a conversation piece. I love that random chunky chain hanging there. Looks like a washed up piece of furniture on the seashore.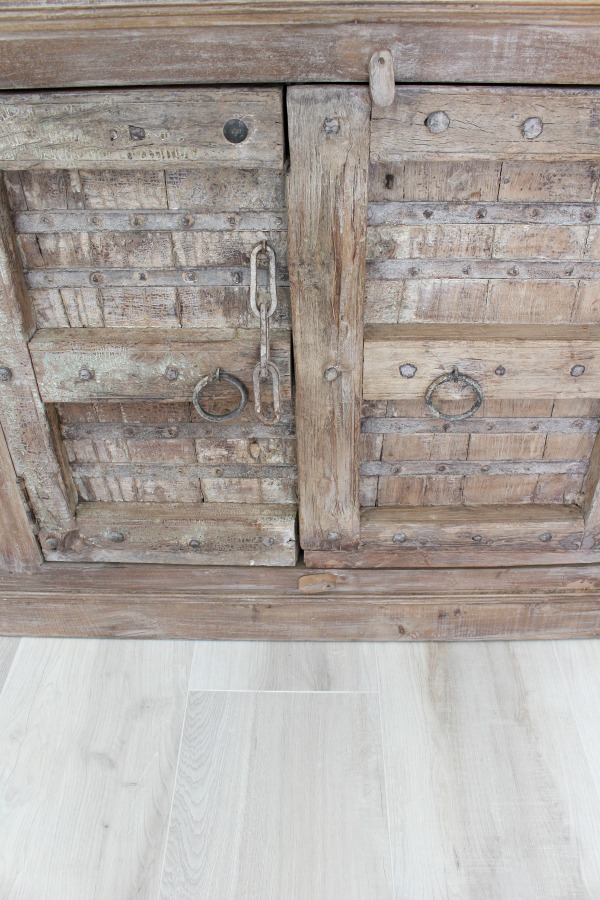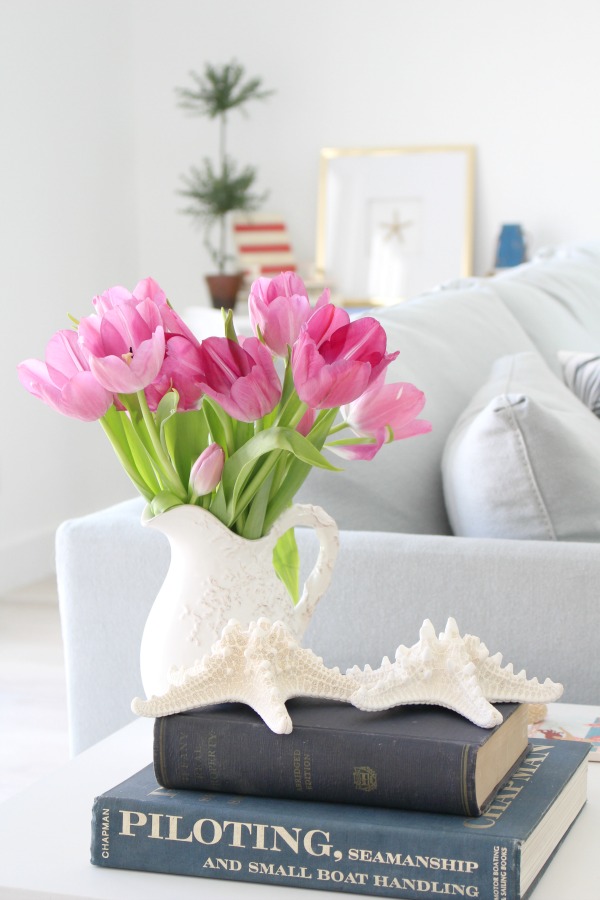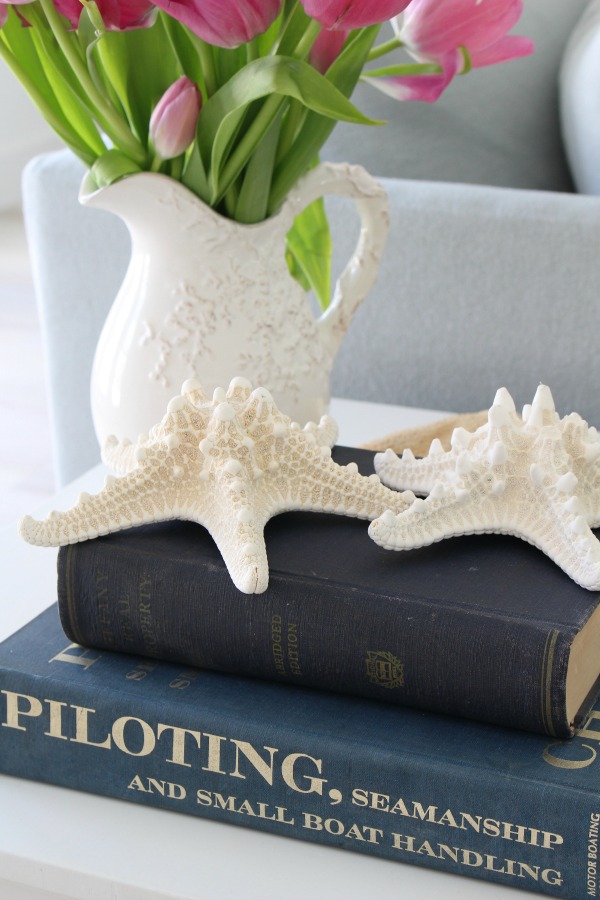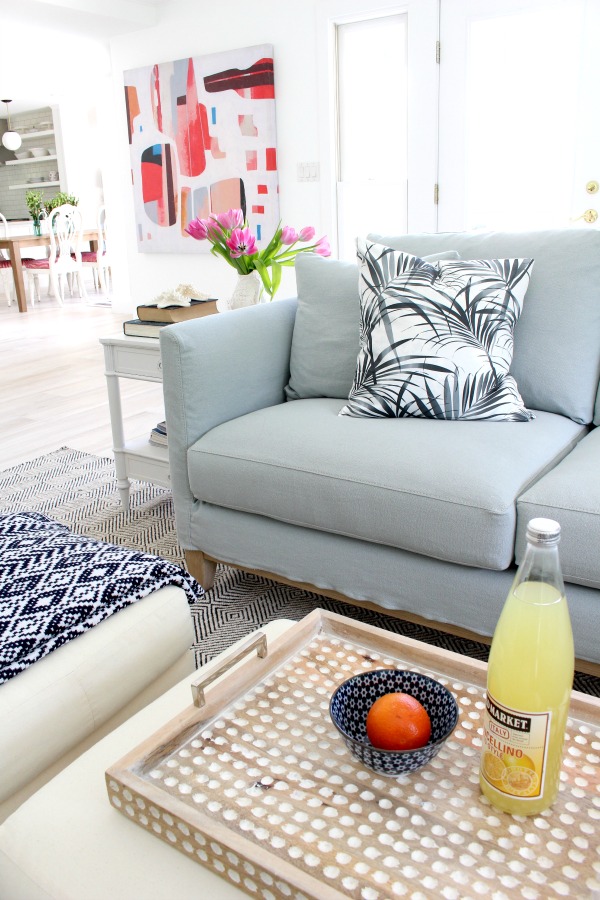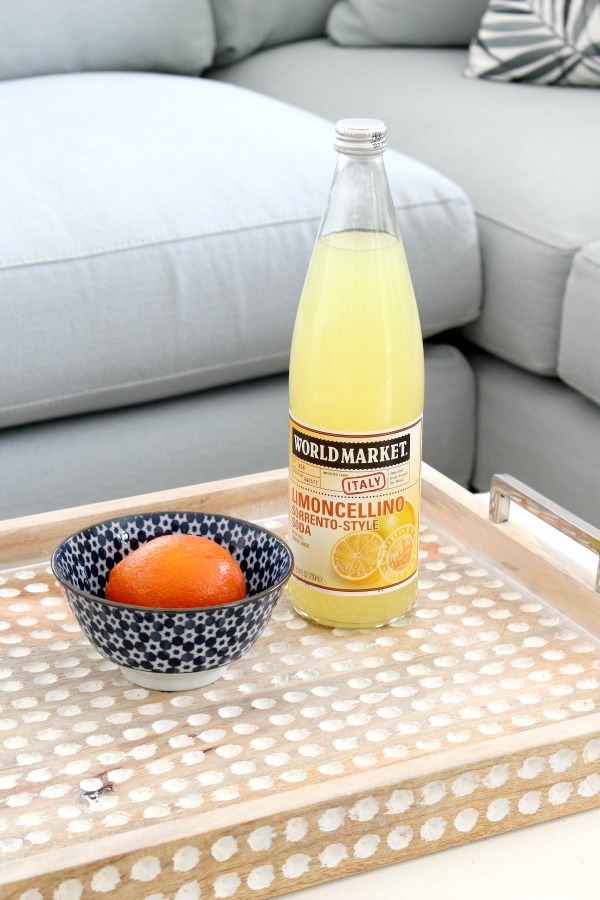 Collections of thrifted books and the boys' books from over the years.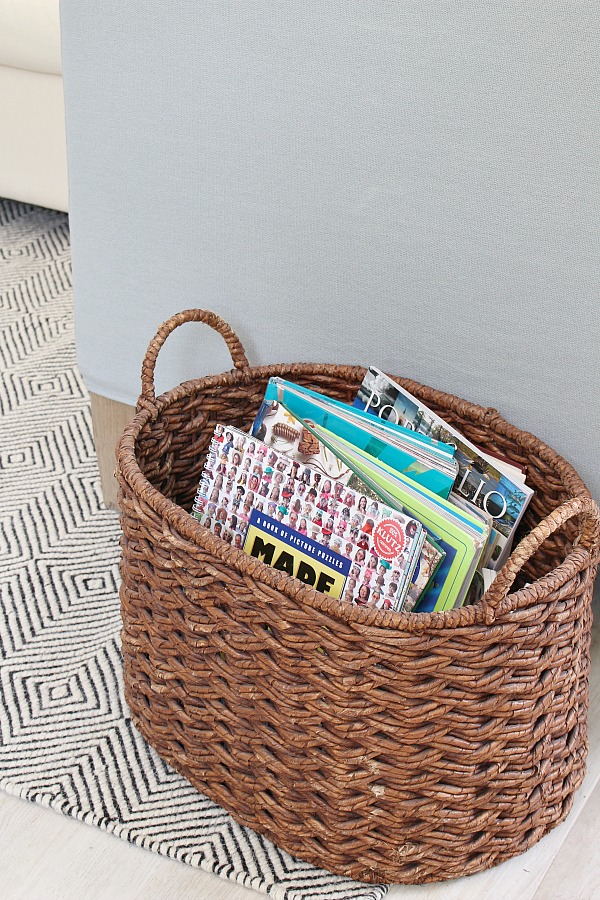 I set up a little desk for when I blog. This corner of the room needed a little something and turns out to be a great spot to get some work done.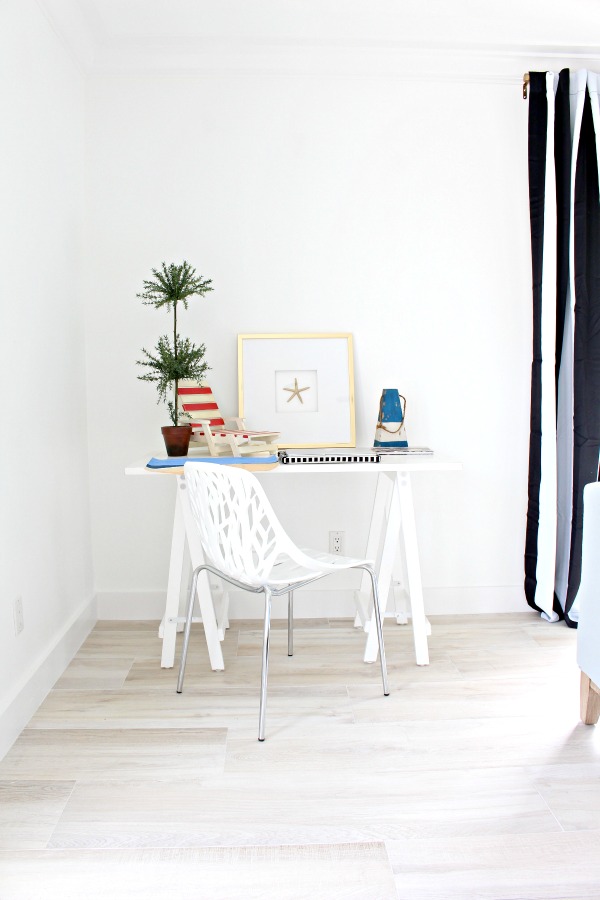 My son created this artwork of our beach.  I have plans to frame it and hang above my desk.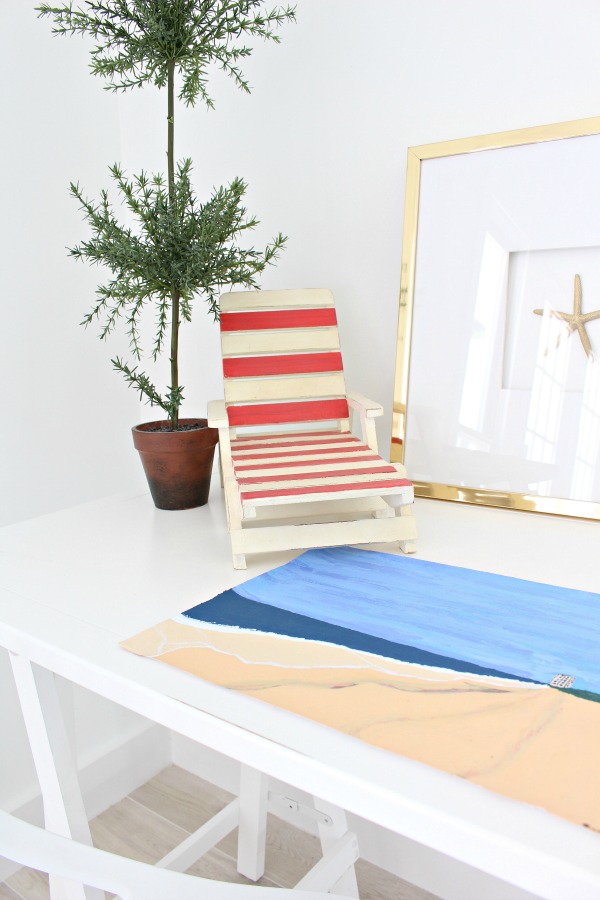 I ordered a set of these fun "funky" little chairs for our new dining room, but I wasn't 100% happy with the shiny metal legs.  Works great for my desk however and I have some plans to pretty up those legs in the coming months;)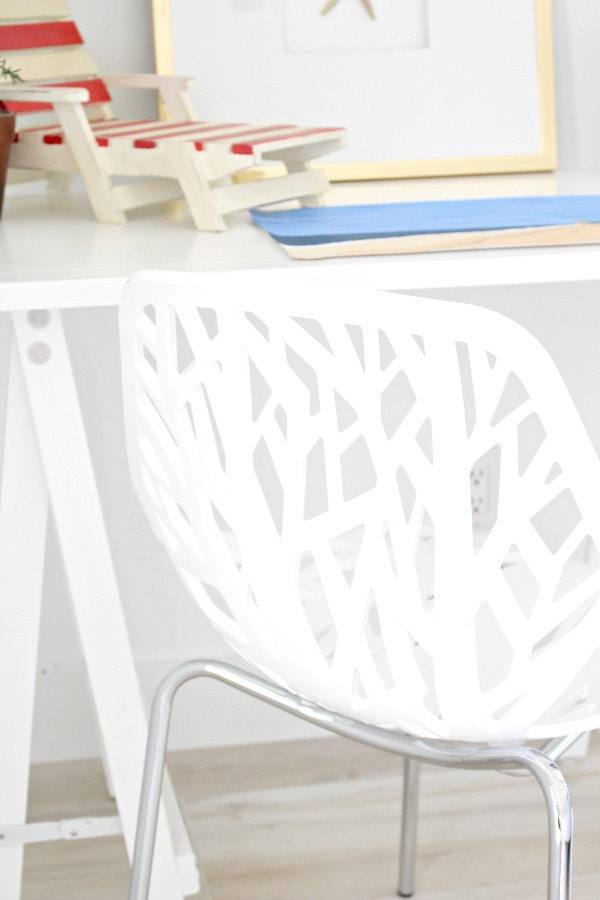 I would love to switch out that ceiling fan and am on the hunt for a pretty alternative.  I don't think we could go without a fan because, well…it's Florida, and it's hot!  So I just need to find something more modern looking. Wish me luck!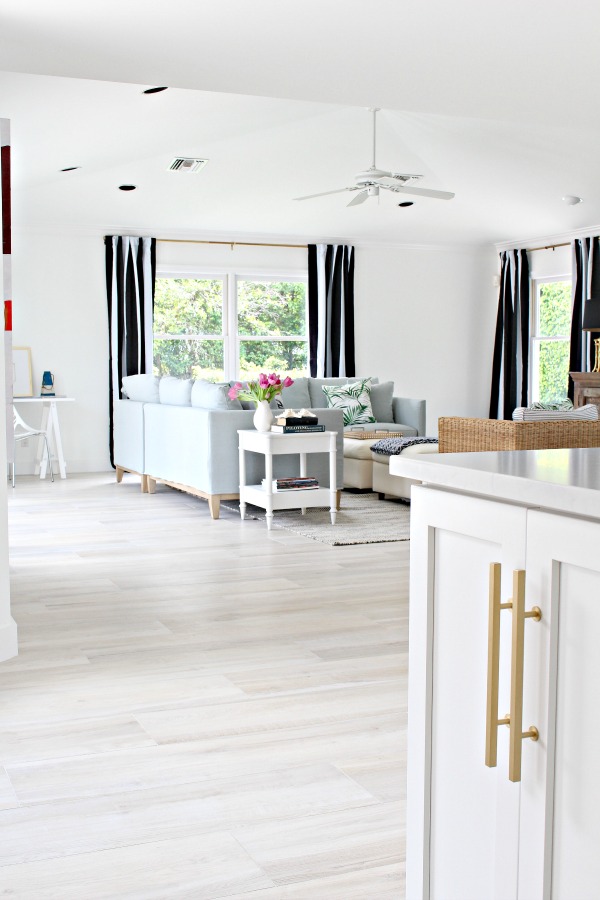 See something you like in this room?? Shop the post:

Thanks for stopping by to see my modern beach cottage makeover! There's more reveals to come over the next couple of weeks so stay tuned!!
*affiliate links used