I have to admit that taking a week off last week from blogging and Instagram (except for the few posts), was SO NICE!  Just putting everything aside to spend time with my family really put the busyness of life into perspective.
I started this blog last June (read story HERE) and I feel like I've been on a high speed roller coaster ever since!  Not that blogging is the only thing keeping me busy, but it is A LOT of work.  I do love it however and I'm so thankful for the friendships it has brought and the opportunities it has given.  I admit that I'm addicted to busy.  I can thank my dad for that gene, he's the same way!  And so is my hubby so we're just a match made in busy heaven..lol!  Last year was overflowing with "controlled" chaos.  Like how I mentioned it was all in control?  I remember thinking, I can't wait until 2016 so we can have all of these renovations behind us and can just relax….ya right!  Some things are brewing over here that I can't mention yet, but it's keeping me pretty busy.  That's why family getaways for me are cherished.  This was our first spring break to actually stay in Colorado and not escape to Florida.  Usually we go to the beach cottage, but this year we decided to go explore God's beauty at our fingertips!  Spending spring break in the mountains turned out to be the most relaxing vacation ever!
March and April tend to be the heaviest snow months in our area.  When everyone else in other states are sharing photos of beautiful green grassy yards and tulips blooming, I'm looking at my yard wondering if the snow will melt by May.  Well this last week we had a big blizzard and this is what our drive looked like as we were heading out to ski Winter Park. The temps were in the low 20's, snow was flurrying, and the wind was howling.  I think my toes froze in my ski boots before I even hit the slopes.  Talk about a winter wonderland though! So pretty and peaceful and one of the reasons I love our state of Colorado.  Of course I'm a beach lover, but the snow in the mountains is hard to beat.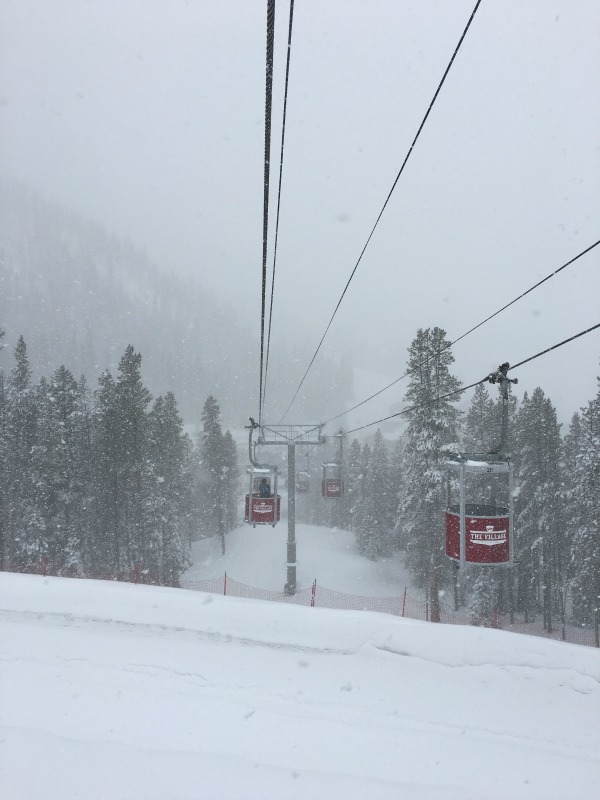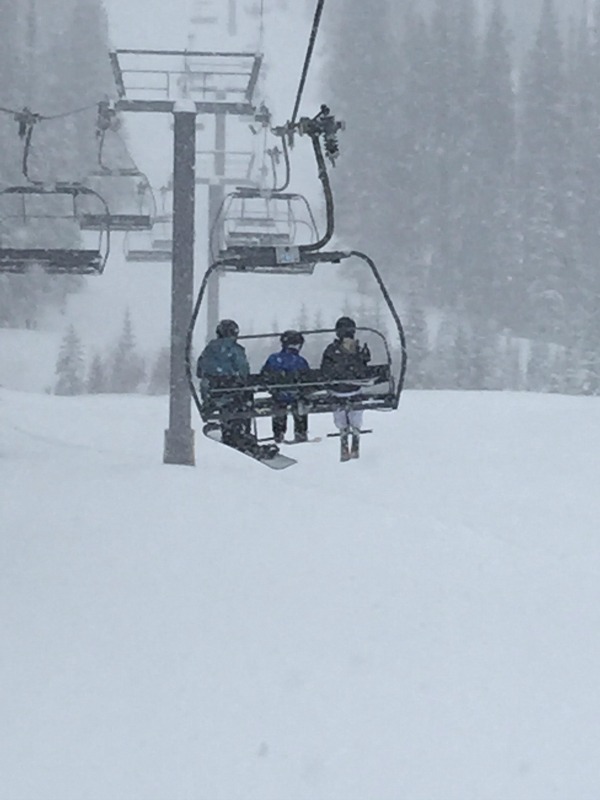 We couldn't get this one off the slopes all week!  At the end of the day when we were all back in the condo, we'd see Ethan heading back up on the ski lift by himself.  This is the kid who wasn't a big fan of skiing until this year.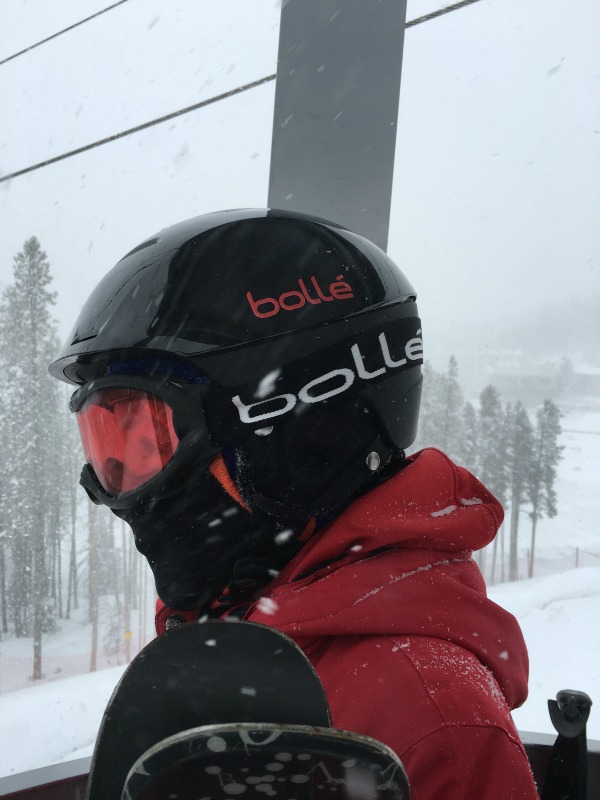 And then there's my baby who I can't even keep up with on the slopes.  This kid has NO FEAR!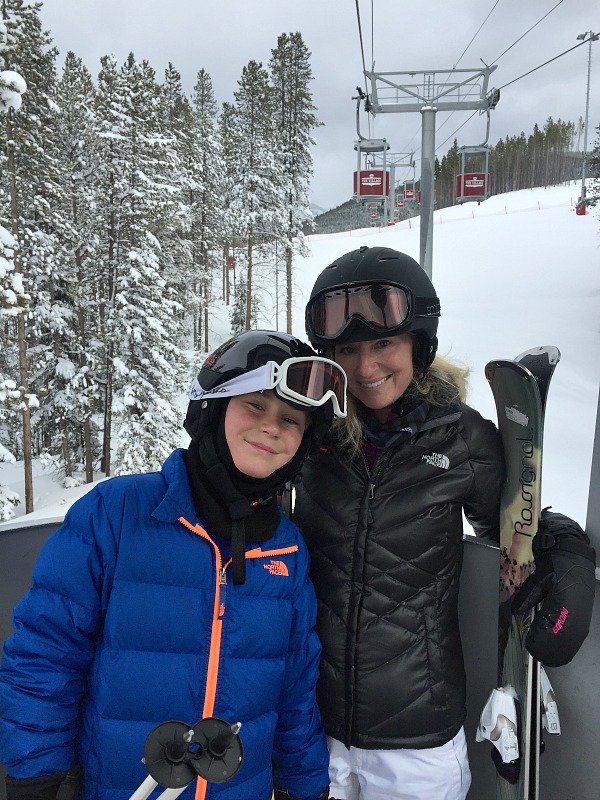 Fortunately he has his older brother to hang with!  Nothing warms my heart more than seeing them hang out together. The look on Dylan's face is priceless!  He really looks up to his oldest brother.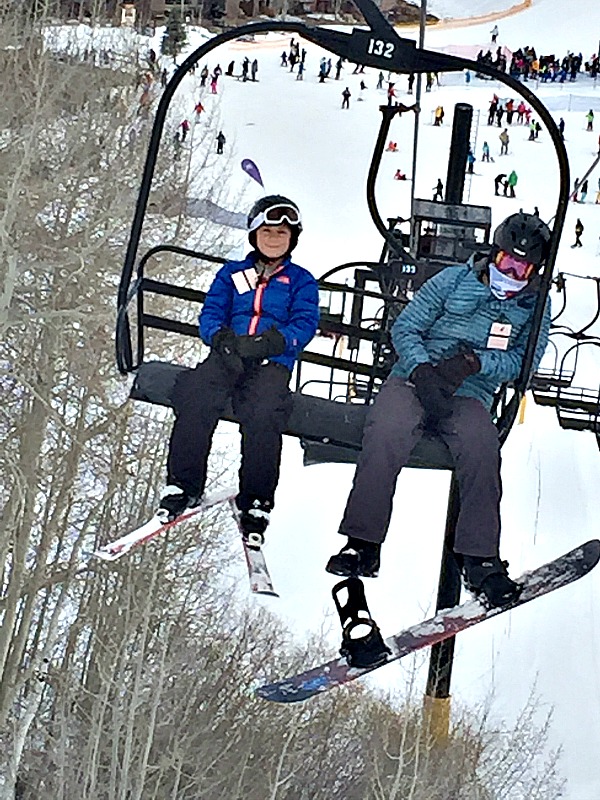 I have a fear of speed and I try to stay clear of the black runs and just stick with the blues. Never trust these boys when they say, "this is an easy run mom."  I always call the day a success when I manage to not fall once and I don't wipe out getting off the ski lift. That darn ski lift gives me a panic attack every time! Did I mention I'm terrified of heights too? As I'm flying down the slopes at the end of the day, I'm thinking, why can't my boys just be happy with a relaxing day at the spa getting pedi's..haha!  I do love adventure though and I'm pretty sure God knew that when he blessed me with these three boys.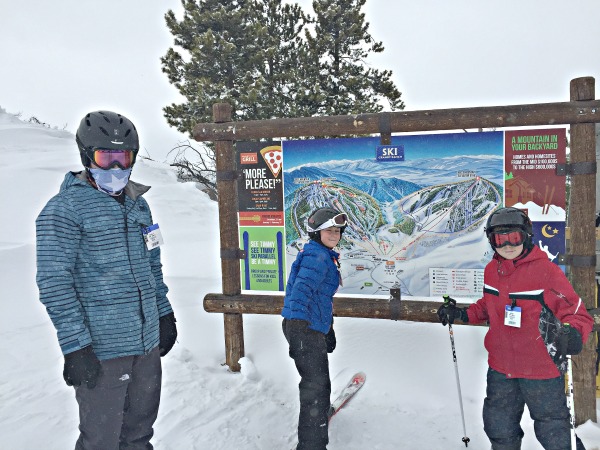 I think one of the best kept secrets of Colorado is Granby Ranch.  It's a small ski resort about 20 minutes from Winter Park.  Great for families and not overcrowded like the bigger ski resorts.  My best friend bought a ski condo there last summer and asked me to take over and decorate it.  You should see the before photos.  Let's just say that it went from a little drab to hip and fun!  We got to stay here all week and it was awesome since it is ski in and out!  Love that.  This is the view from her deck looking at the boys heading out to ski. The ski lift was just down the hill, #convenient!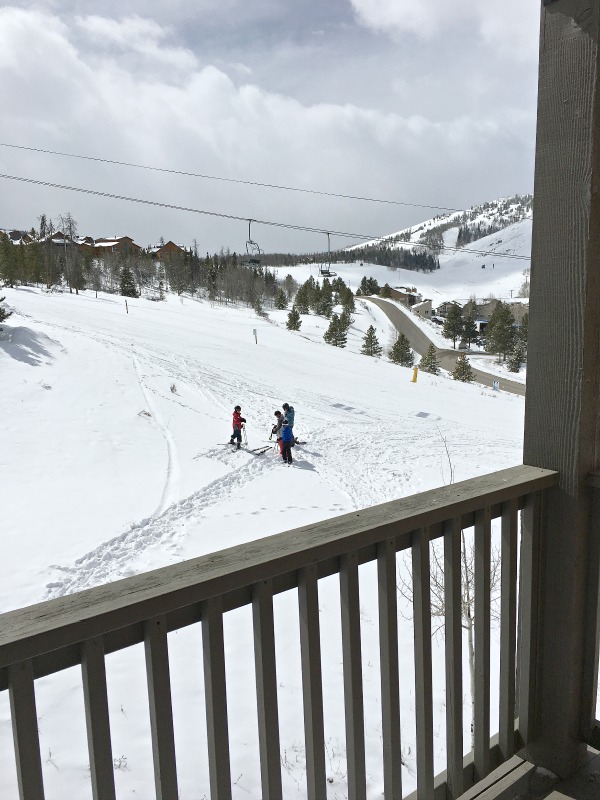 Sorry for the iPhone photos, but I didn't bring my nice camera.  I plan to get back up to the condo when we are finished with all the design details.  It's still a work in progress but here are a few shots.  The walls are my "go to" neutral grey, Revere Pewter by Benjamin Moore. Those windows overlook the ski slopes and the ski lift.  So fun watching skiers come down the mountain!  The boys and I had a good laugh watching a few "out of control" newbie skiers fly a little uncontrollably down the hill and wiping out. Don't worry, they didn't look hurt!  I was there a few years ago so I can totally relate and have a good sympathy laugh.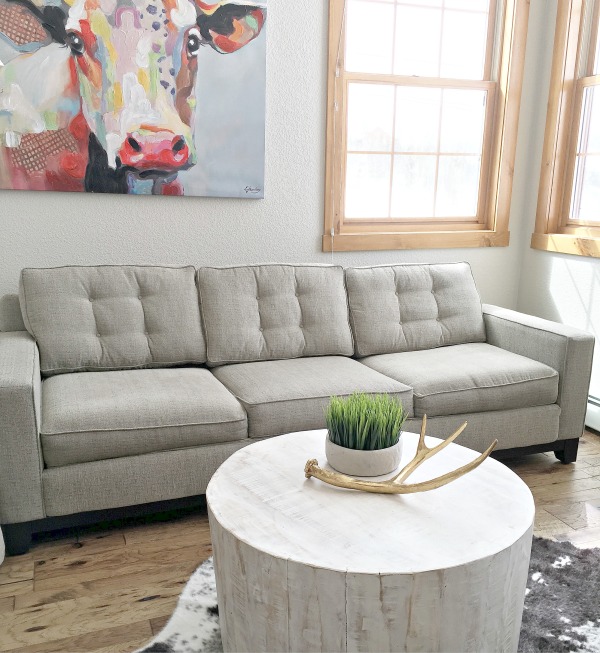 The cow art is from At Home and I love how it brings so much color to this room.  The antler and cow hide rug are also from At Home.  Grass planter is from Homegoods.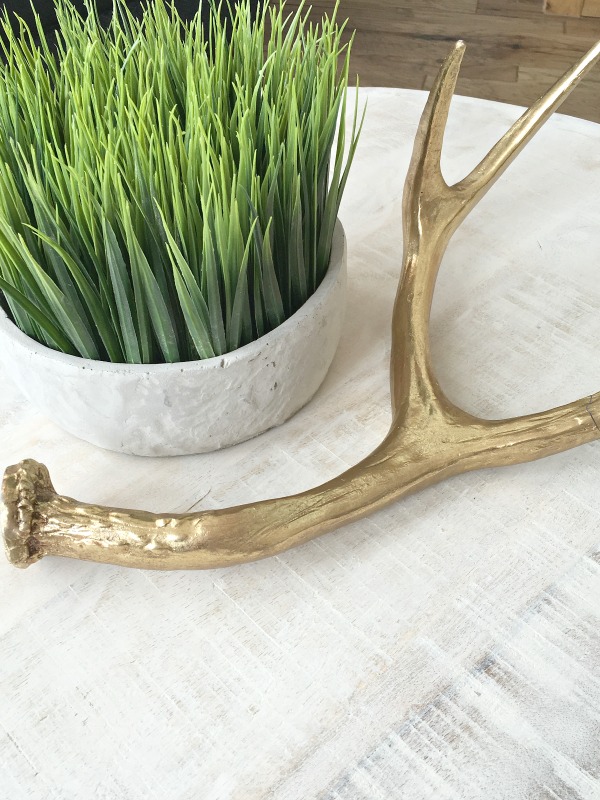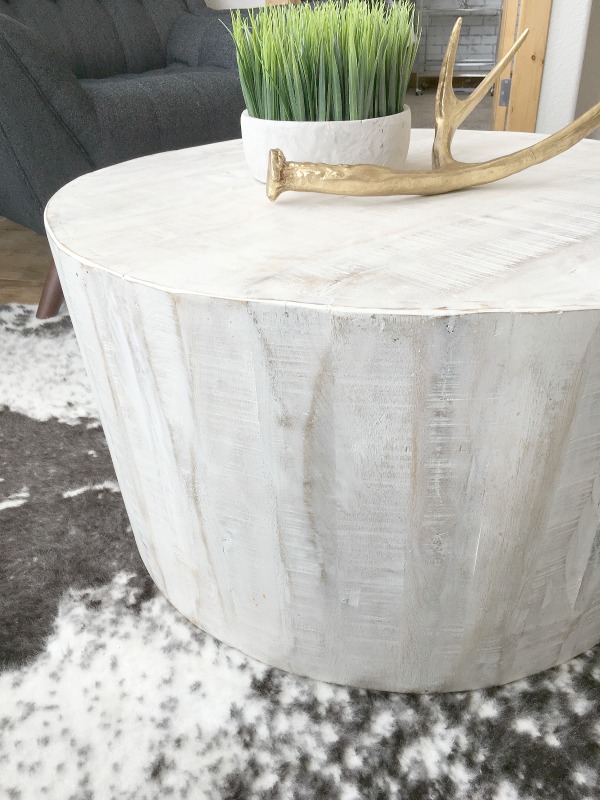 This mid century chair is so comfy! Big enough to curl up into.  You can see the master bedroom is just off of the main living room.  Brass tripod lamps are my latest fave and this one from Target is a steal!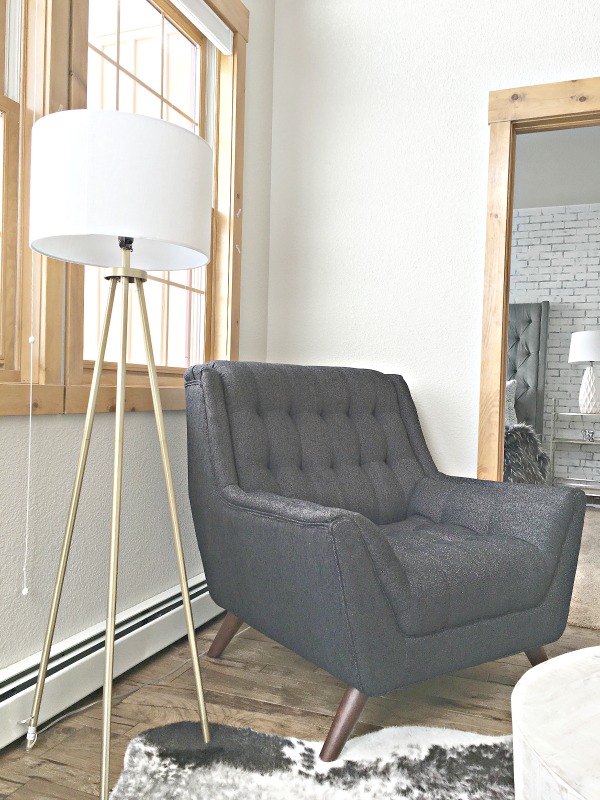 Shop the room (affiliate links used):

I've always wanted to see this brick panel installed on a wall and whitewashed. I was so happy that my friend agreed to do it and I am thrilled with how it turned out!  Lowes and Home Depot sells these faux red brick panels in 4 x 8 sheets.  A fast coat of white paint was painted over the top.  Simply adhere the panels to the wall with screws into studs and there you have a modern, industrial wall that looks very cool!  I love the look with the tufted velvet headboard!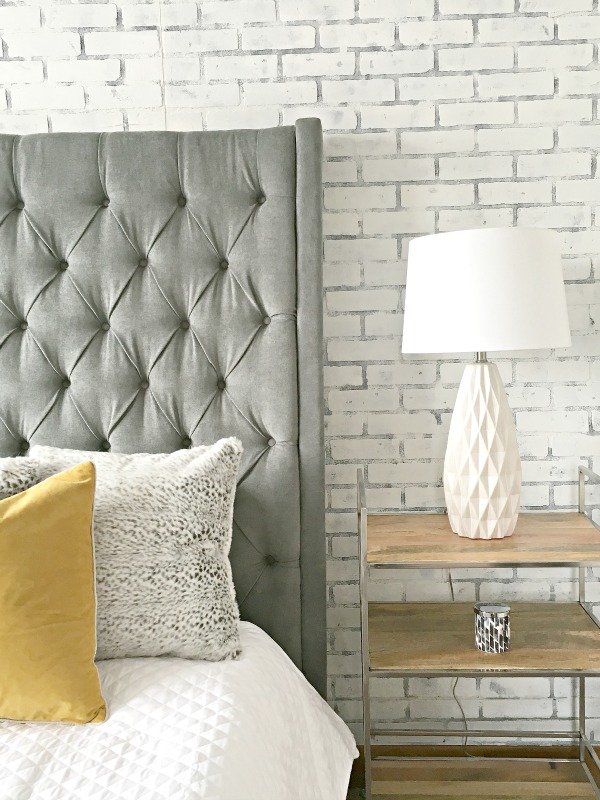 Can we just pause for a moment and look at this bed.  For those of you who live in Colorado, don't ever underestimate the goods you can find at American Furniture Warehouse.  I know it's a big warehouse and you have to dig, but there's always hidden gems!  I found this king sized tufted bed for under $500!  It stands over 6 ft tall too!  The quality is top notch and I could easily see this same bed being sold for over $1000.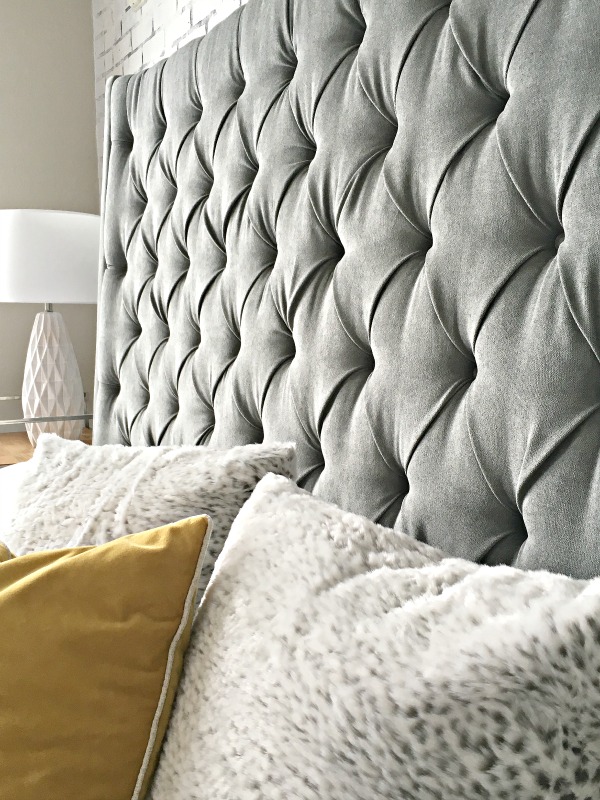 Design Tip:  Industrial looks can be sleek by mixing modern pieces (nightstand) with rustic elements (brick wall).  Glam it up with velvet furniture!
Sometimes designing a room takes time and I don't know what the next piece of the puzzle will be until I stumble upon it.  When I saw this bar cart in Target, I knew that a pair would be perfect as nightstands.  They have that industrial feel with a touch of modernism with the sleek, clean lines of the brushed nickel.  The lamp is another favorite and I'm loving the white on white against the brick wall, allowing the different patterns to play off each other.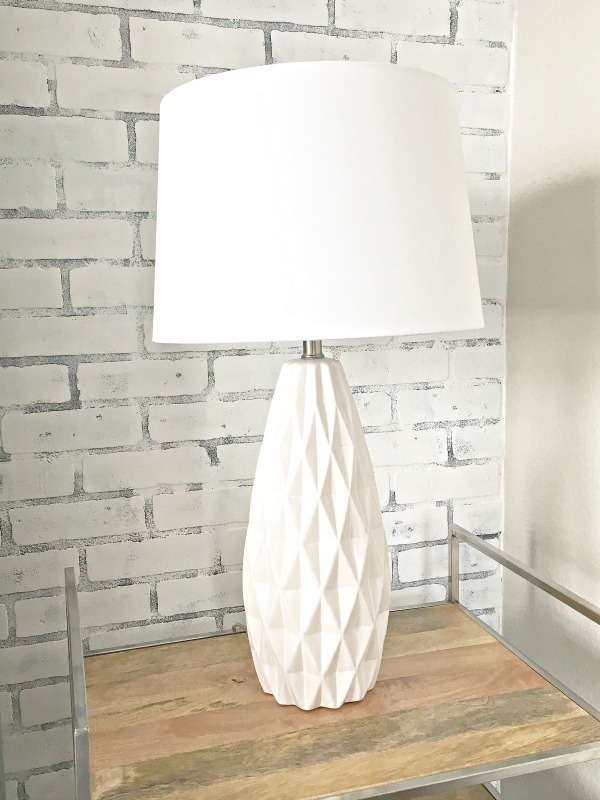 Sometimes design doesn't blend well with function I have to admit.  I have to say though that I love the functionality of using a bar car as a night stand after I tested it out for a few days.  It was kind of nice having "layers" to store my stuff on that I want handy while laying in bed watching TV.  My charging laptop, iPhone, hand lotion, lip balm, glasses, and water bottle (essentials 😉 ).  All handy at my fingertips, but not cluttered all on one surface.  I think this would be a great look for a kid or teen room or even a guest bedroom as well. I may just use this idea in my own home!
Shop the room (I've linked similar items):

I'm hoping to get back to this fabulous condo this summer after all the design work is done and to get some good photos for you. What a treasure this place is for this family!
Now that I'm back to reality, I've got a lot of work happening in April I'll be sharing over the next few weeks!