Staging an Enchanted Forest: #theforestphotoshoot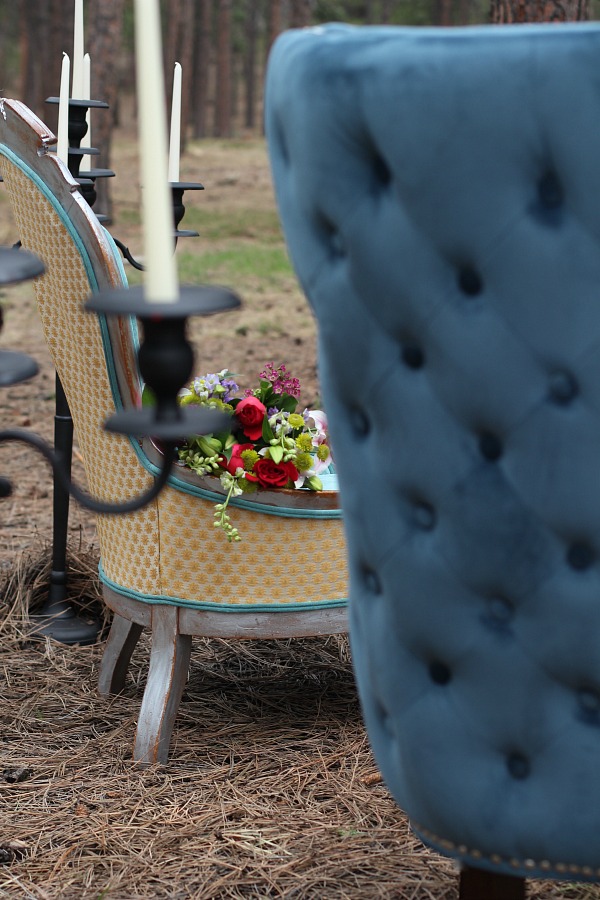 This past week has been a little quiet on the blog which ALWAYS means there's a whole lot of things happening around here!  Great things to come this year!  Nope, not telling you any of those details yet, BUT I am going to give you a little sneak peek of what things look like when I'm staging for a photoshoot.  Some good eye candy of a gorgeous forest setting right here in Colorado Springs.  If you follow me on Instagram (go ahead, follow me now! ;)), you know that this past weekend was the THE weekend of #theforestphotoshoot.  To catch you up to speed of what this photoshoot was all about, you can read the story here.  When my friend Jennifer (jenniferwyethphotography.com) approached me a few months ago about designing an outdoor forest setting for her upcoming Senior Spokesmodel photoshoot, I didn't even have to think for a second!  Forest setting…all glammed up?? No brainer for me! My job was to make the setting look pretty for some gorgeous girls.  So let's go "behind the scenes" of staging an enchanted forest (#theforestphotoshoot).
There is something so mysterious and romantic about a forest.  The tall pine trees for miles on end, the smell of timber and pine, the sounds of squirrels scampering up a tree and the stillness of the air.  So magical and beautiful.  The setting I created would be focused around a beautiful tablescape with an eclectic mix of vintage and velvety chairs.  The colors would be vibrant against the natural landscape of pine needles and trees. The girls would be wearing their formal prom dresses for the occasion, so I made sure that the colors in their dresses would compliment the colors within the setting.  I can't even tell you how fun it was to collaborate with these high school seniors and get a glimpse of a girly world!  As a mom of three boys, we don't get to talk prom dresses and enchanted forests often (ha! NEVER.).
I've said this so many times before, but my reality is that I work best under pressure.  I still didn't quite know the full design plan for this setting until two days before photoshoot day! EEK! Not that I'm a procrastinator, but life is just plain crazy busy these days.  The day before the shoot, I started "shopping" my home for props.  My living room coffee table is large and rustic and would be the perfect centerpiece for the girls to gather around.  I also gathered cake platters, my beloved brass champagne bucket (for the record, no champagne would be served…teen alert!).  I even pulled out a few faux florals I had.  I'm not a big fan of faux flowers, but just wait to see how I pulled it off.  I pretty much gathered anything that could potentially be used as a prop.  We filled my husband's truck, my SUV and Jen's SUV and caravanned out to the forest.  Oh, by the way, did I mention that the weekend before it was snowing and on this day it was hailing.  Just a little stressful!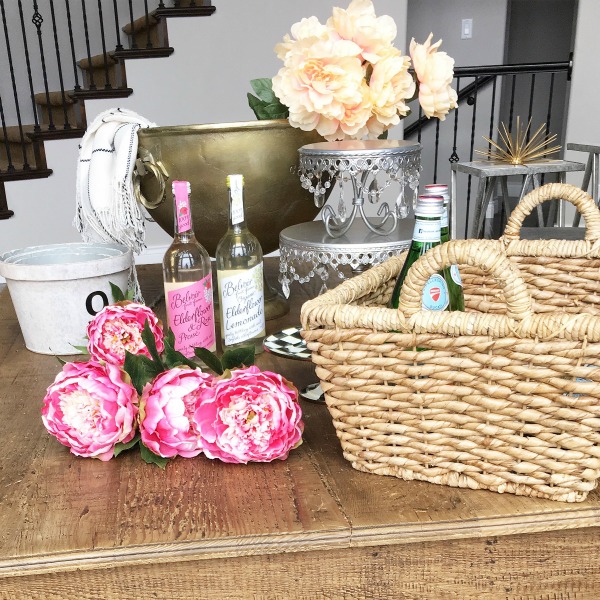 By the time we got to the property, the hail had stopped and thankfully we had a few warm days during the week that melted all the snow.  Good thing, since my furniture was about to be planted on that soil.  I'm gonna brag on Tim for a moment because he kind of got volunteered to be our furniture mover.  He came to our rescue! I definitely married a good one!  Seriously, how gorgeous is that blue velvet chair in this forest??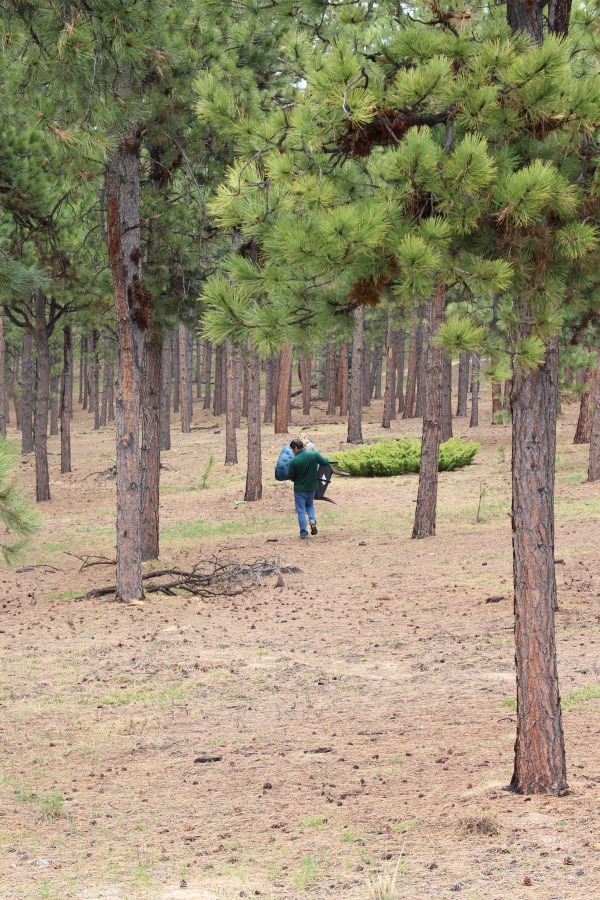 My coffee table is SOLID!  Heavy!  I definitely got my workout in for the day carrying this through the pine needles to our designated spot…way back there where that chair is peeking through.  If you squint you can see the hint of blue.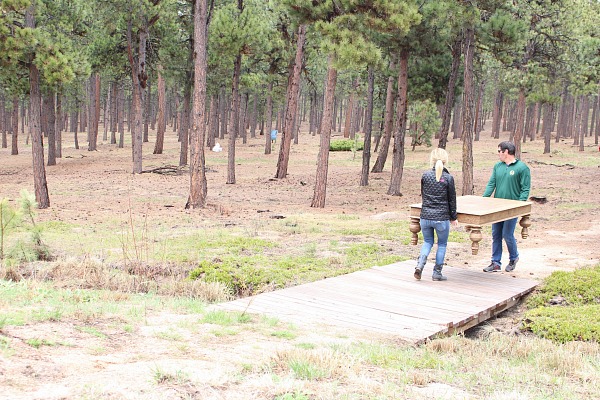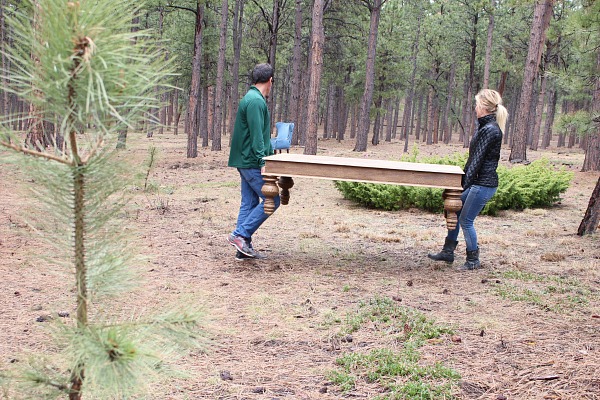 By this point, my muscles were quivering…lol!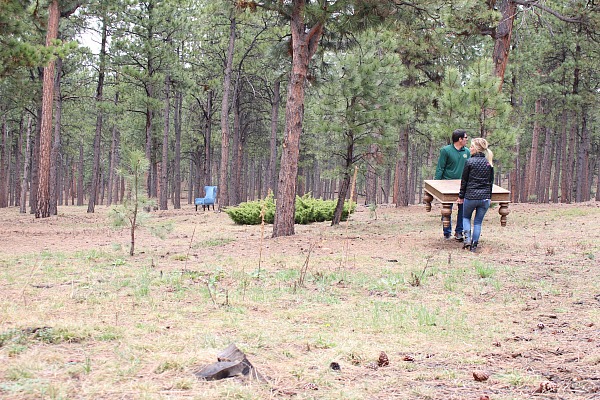 I wish I could claim this drop dead gorgeous vintage chair as mine, but it's Jen's.  She has a collection of fabulous chairs for her photography business.  I've warned her that she may come home one day and find this one missing, and then the next day she'll see it staged in my living room on the blog…haha! She's my neighbor, so I'm not kidding, keep your doors locked Jen! When I plopped this chair down in this spot, I almost said, "my work here is done."  One simple chair against God's breathtaking creation.  But then I decided one chair is never enough so let's keep on bringing them out!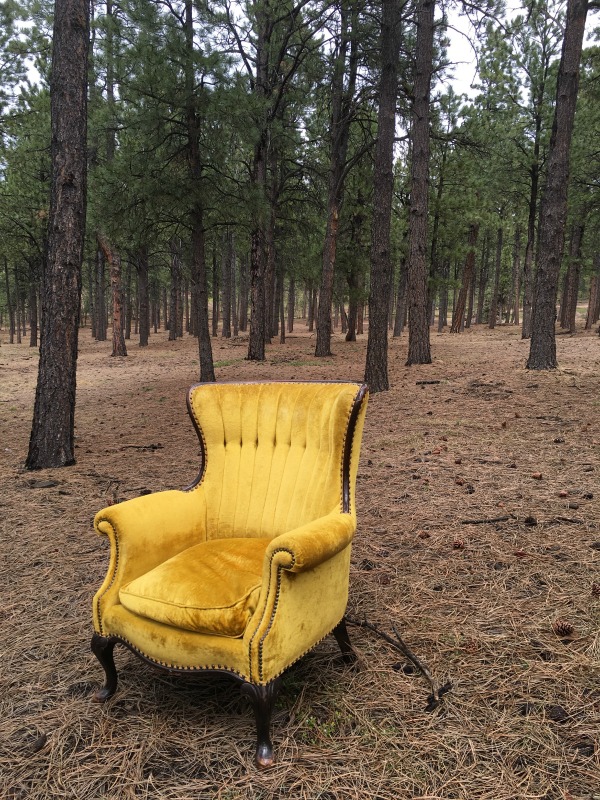 Don't even get me started on this one!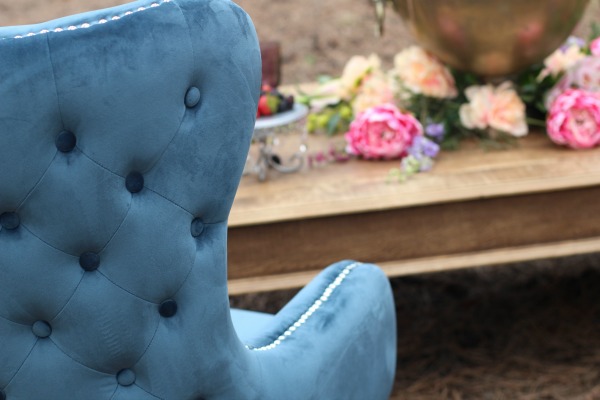 The last few photos are glimpses of what my next hour looked like as I was staging the scene for the girls arrival.  Bouquets of wildflowers were arranged within the faux flowers.  Loved how that turned out!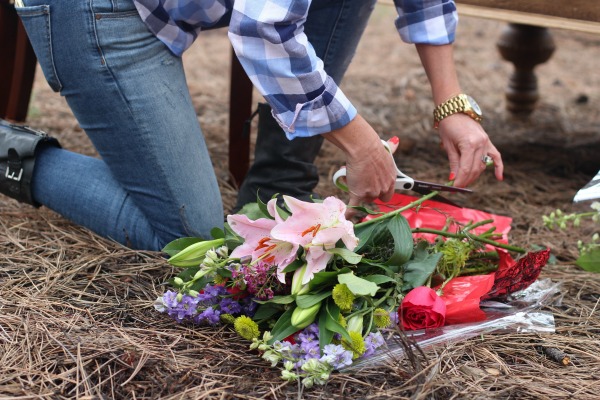 Nothing speaks romantic forest more than ambient lighting.  However, we actually didn't light the candles for fear we'd catch the forest on fire! That WOULD NOT be good!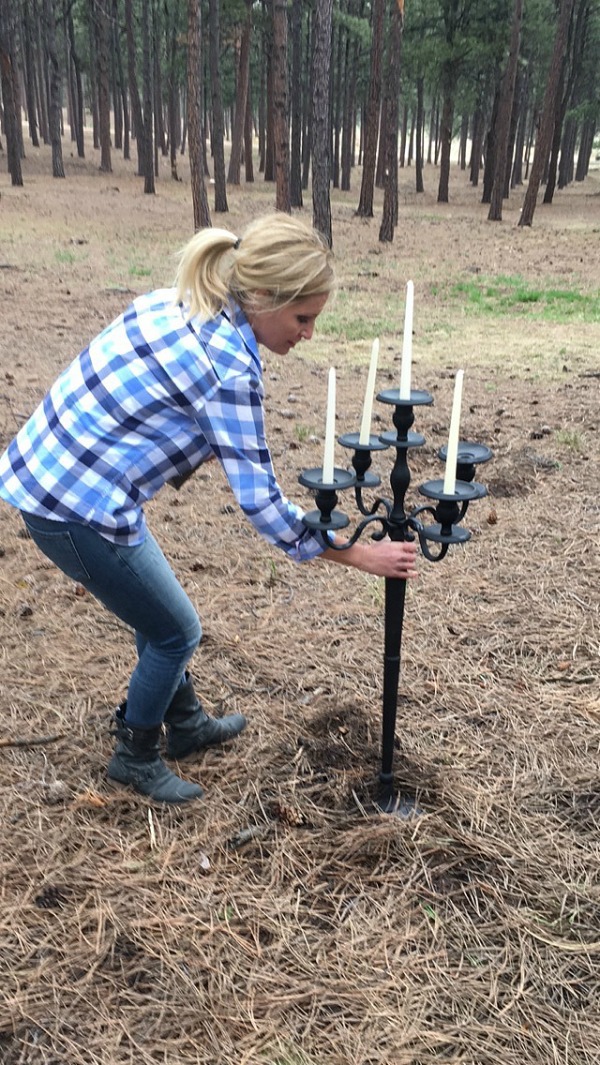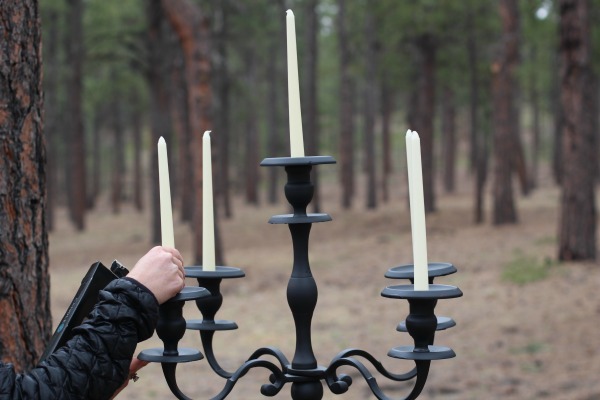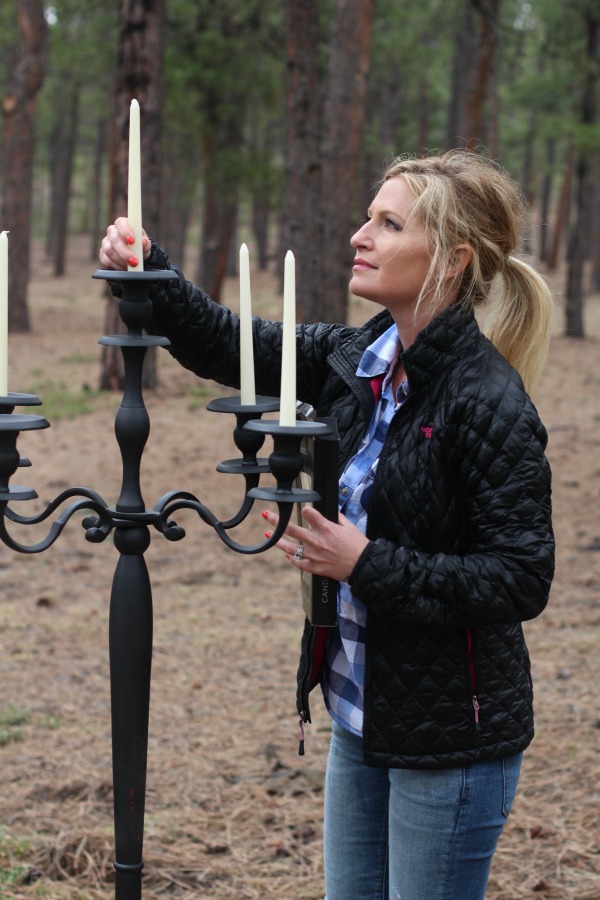 These candelabras were another favorite!  Almost as tall as me!
The pretty lemonade bottles and San Pellegrino bottles were looking a little lost in the big brass bucket, so I gathered pine needles to lay in the base.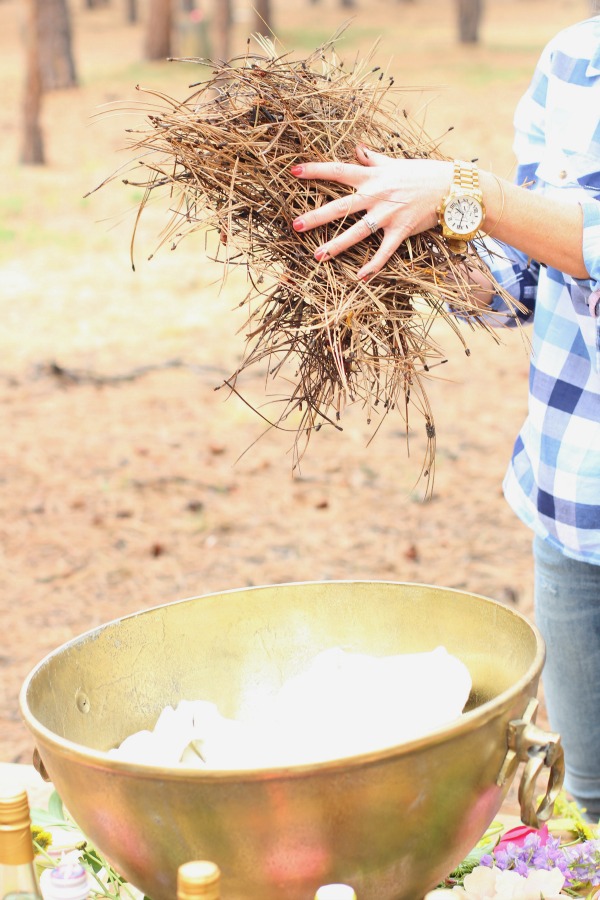 Kind of loving how that turned out.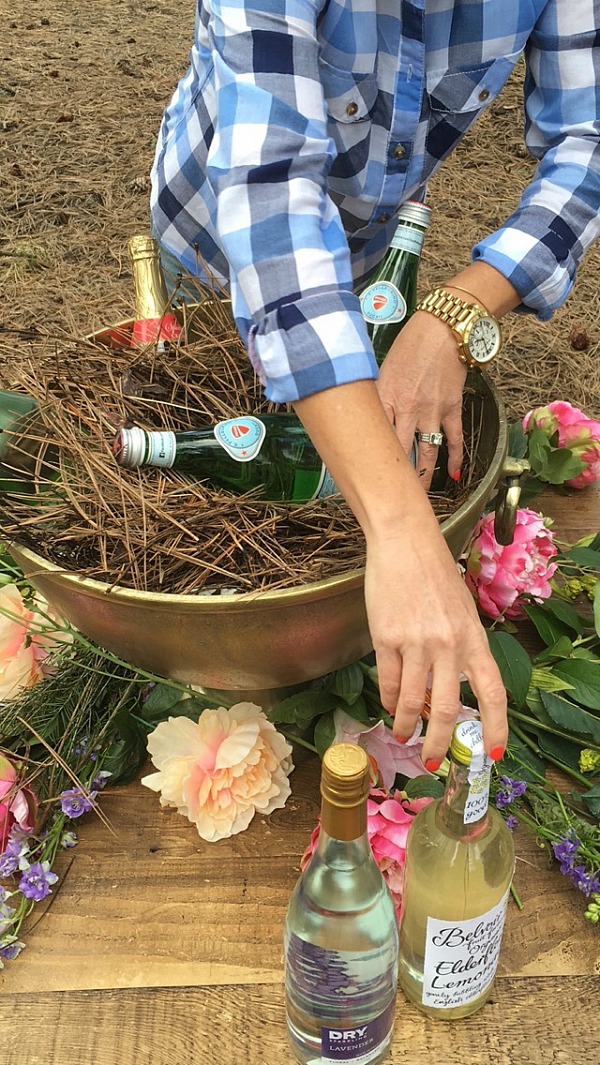 Okay, that's all the sneaky peeky I'm giving you for the moment.  I'll be sharing the big photoshoot in the coming weeks!!! It's definitely worth the wait…TRUST ME!!!  SO SO GOOD!!  At one point I think I heard angels singing when all the girls and our male models arrived and gathered around the scene.  The beauty really took my breath away.  Stay tuned, and make sure you are following along on Instagram to be sure not to miss the big day announcement!