Hi friends! It's time for another quick update on The Forest Modern!  In my last post, we had just poured the concrete foundation and you could see the form and shape of our basement (that post here).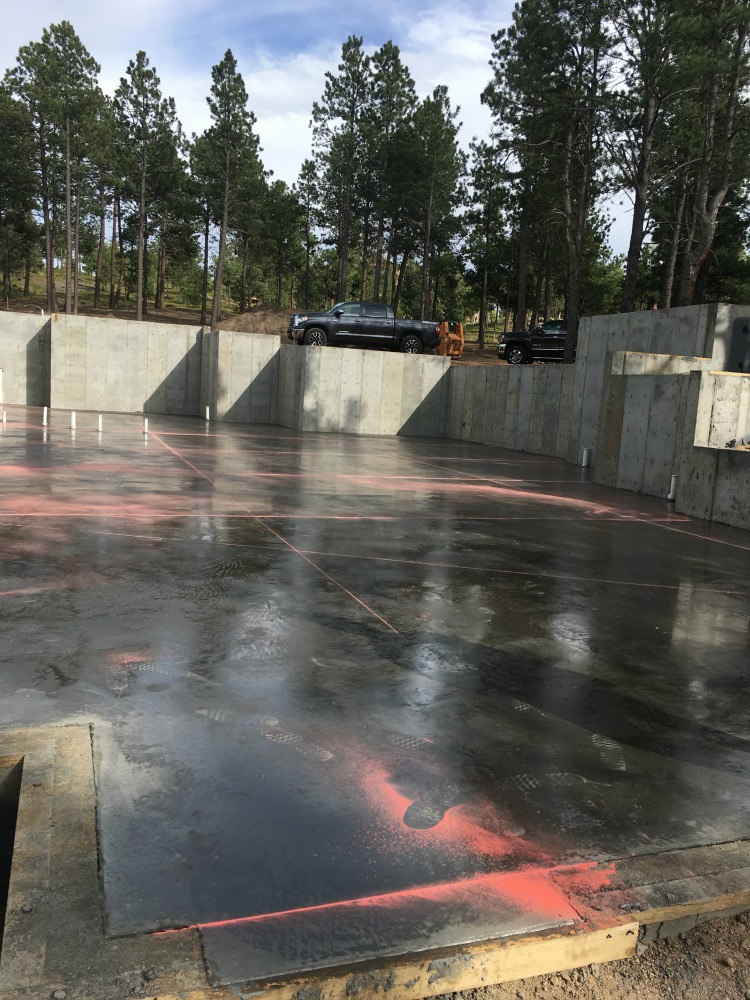 Well, a lot has happened since then! My builder tells me that framing always seems to go fast.  Makes me a little nervous because I've still not figured out a few spaces in our basement and I need to get those nailed down within the next few weeks so they can frame it…eek! Send the design team reinforcements because I have way too many decisions to make these days. If you've built a custom home, then you know that it is literally a full time job.  We've only built semi-custom homes before so this one is definitely a learning curve but it's been a lot of fun!
As of last Friday, we can officially say we have walls! Excuse the dark photos, we've had rain and snow off and on for over a week.  Ugh!  Someone send me summer please!  The basement exterior walls are in and you can see that this is the walk out side.  Up in the left corner is our garage.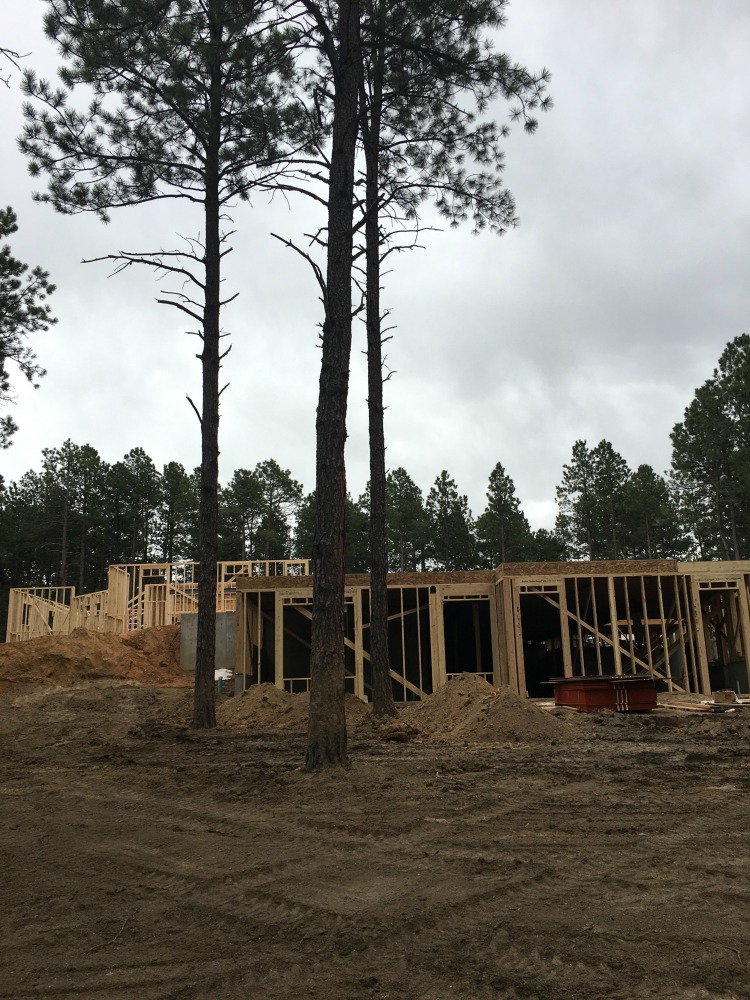 One thing we made sure to do was to increase the square footage in our garage. In our current home we have a 3 car garage with a 4th car tandem which is overflowing with our 3 vehicles, two ATV's and all of Tim's tools. We definitely needed more space.  I tell Tim that the extra space is not for storing more junk, but for me to be able to get out of my car without sucking in to be able to squeeze through the small door space between my big SUV and Austin's jeep. Tight quarters are getting kicked to the curb.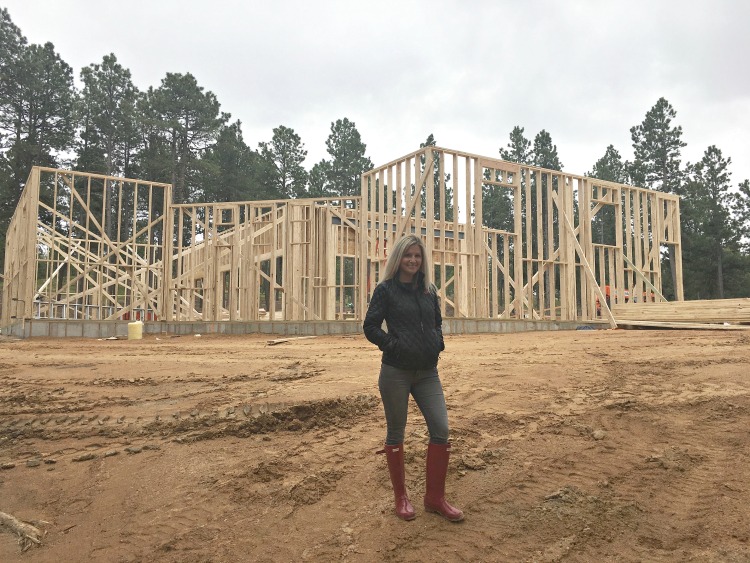 The sun came out for this photo! Love looking at our huge trees against the blue sky.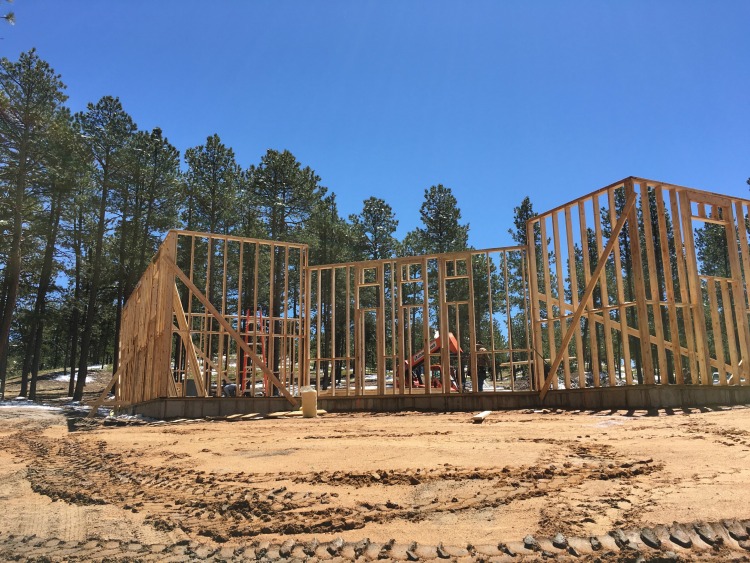 Another view of looking into our garage. I know the workers call me the red boot lady since that's what I show up in every time. Even when coming straight from my morning run. What's wrong with running clothes paired with red Hunter boots? lol.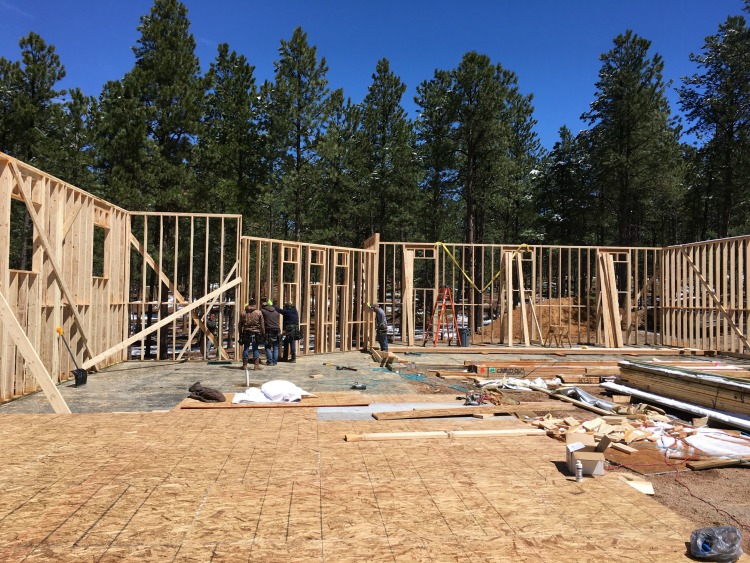 I took the above photo early in the afternoon and by the time I came back in the evening with Tim, the garage already looked like this.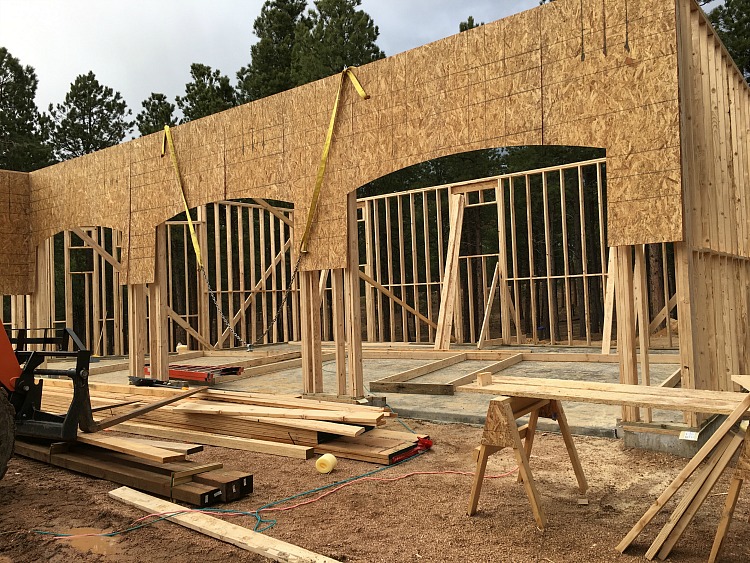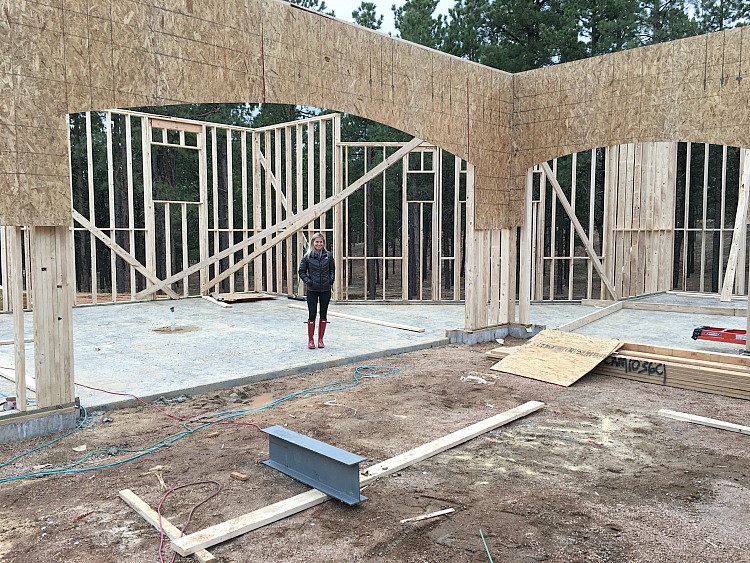 I've been researching garage doors off and on for quite a while. Last week I got the "we need garage doors ordered now" from my builder so I had to make a decision. We are installing them at this stage so that once the house is framed we can keep the house secure and locked up. In other words, they'll keep all the peepers out.  I think people forget when they decide to peek in a house and step foot inside that it is a construction zone which can be dangerous.  Hopefully, this will prevent random people popping into our home.  My friends know if they want to see my house, they can call me and I'll take them out there, but otherwise, everyone needs to stay out of the workers way.
Now, do you want to see my garage doors? I found these last week and fell in love with them.  Like I couldn't sleep that night because I was all heart eyes over them. When I found out the price, I sighed. Out of budget, like everything I love. When there is a will there is a way…that's my motto.  My builder found a company that can custom make this door for a fraction of the original cost. Backflips and somersaults happening over that savings!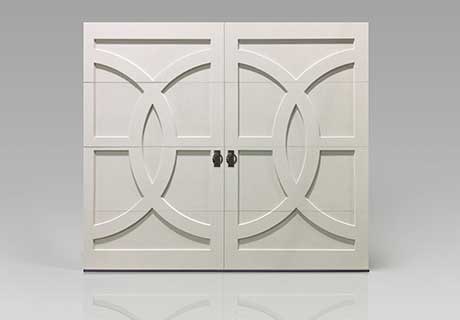 Can't wait to see them installed!
We also have the main subfloor in place.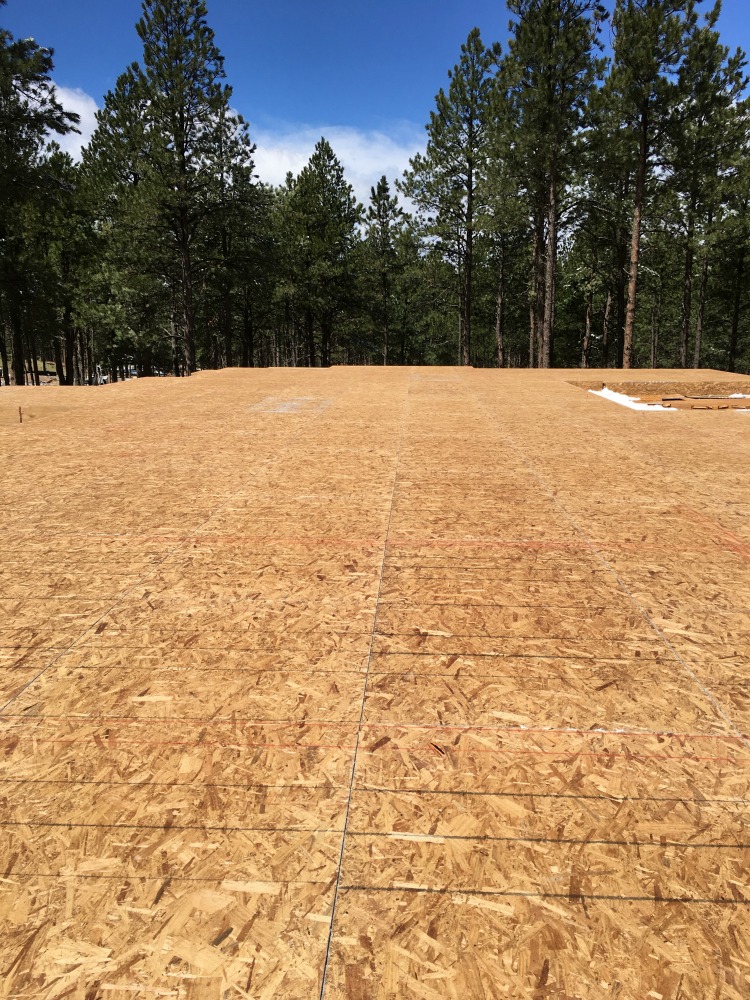 Red boots and all I walked through the main floor of our house for the first time.  I think my builder thinks I only own these boots and no other shoes.  He asked me last week if I just keep them in the car…lol. Yes, and I'm sure I'll look like a fool come summer time and shorts seasons with red boots. #noshame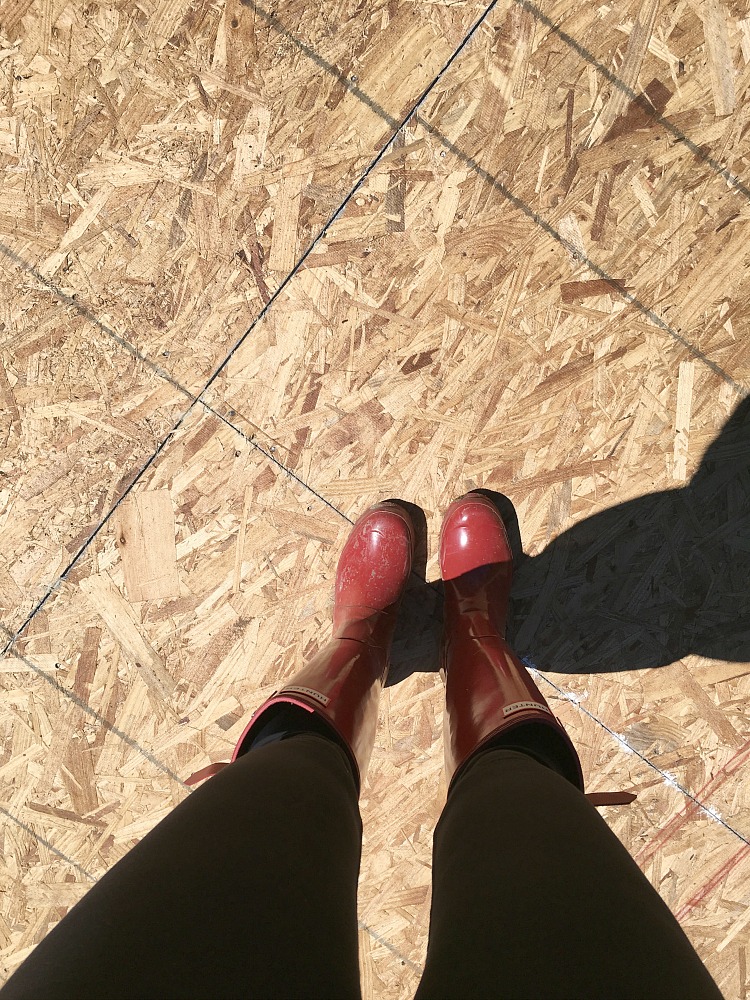 You can see the shape of the house taking form.  This is so surreal to me since I've been looking at all of this on paper for almost a year.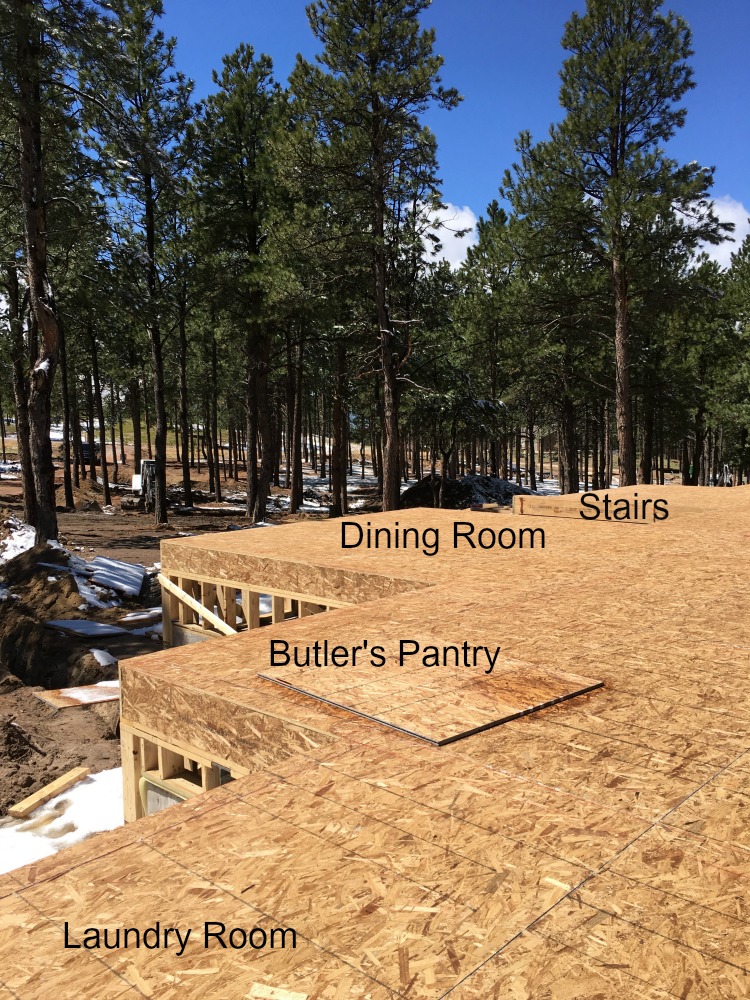 I caught Ethan dumpster diving looking for wood for his garden boxes. He loves gardening and has about 10 different garden boxes underway already.  He's already planning where his garden will go on the new property. Love that kid and his ambition!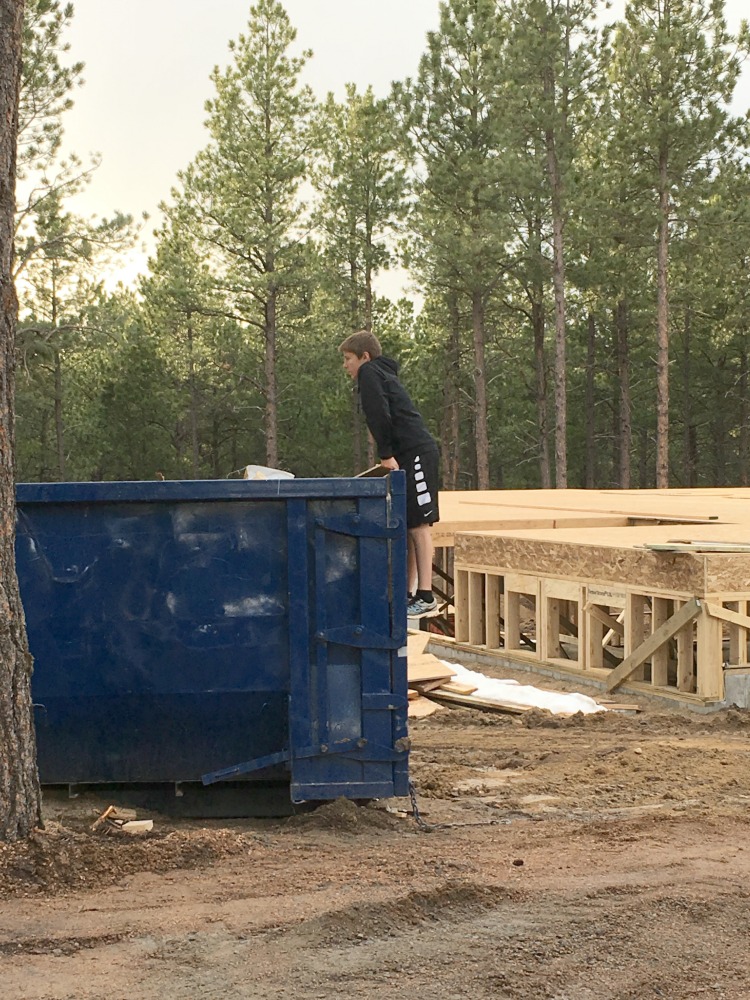 I know a lot of framing has happened even since these photos.  Our weekend was packed and we had a big snow storm so we haven't seen the latest progress yet. The next progress update is going to be even more exciting!
Thanks for following along!