The Forest Modern: Modern Vintage Master Bathroom Reveal!
Master bathrooms happen to be one of my favorite rooms to design. You can go so many directions with tile, cabinetry, bath fixtures and lighting! When I began the design process of our new master bath at The Forest Modern, I wanted it to feel luxurious and modern mixed with an element of vintage. A blended design that literally makes my heart skip a beat every time I walk into our new Modern Vintage Master Bathroom!  Are you ready for the big reveal?? I hope so because I took a lot of photos and couldn't decide on favorites so I'm sharing them all today!
Affiliate links used in this post. Full disclosure policy can be found here.
Modern Vintage Master Bathroom REVEAL!!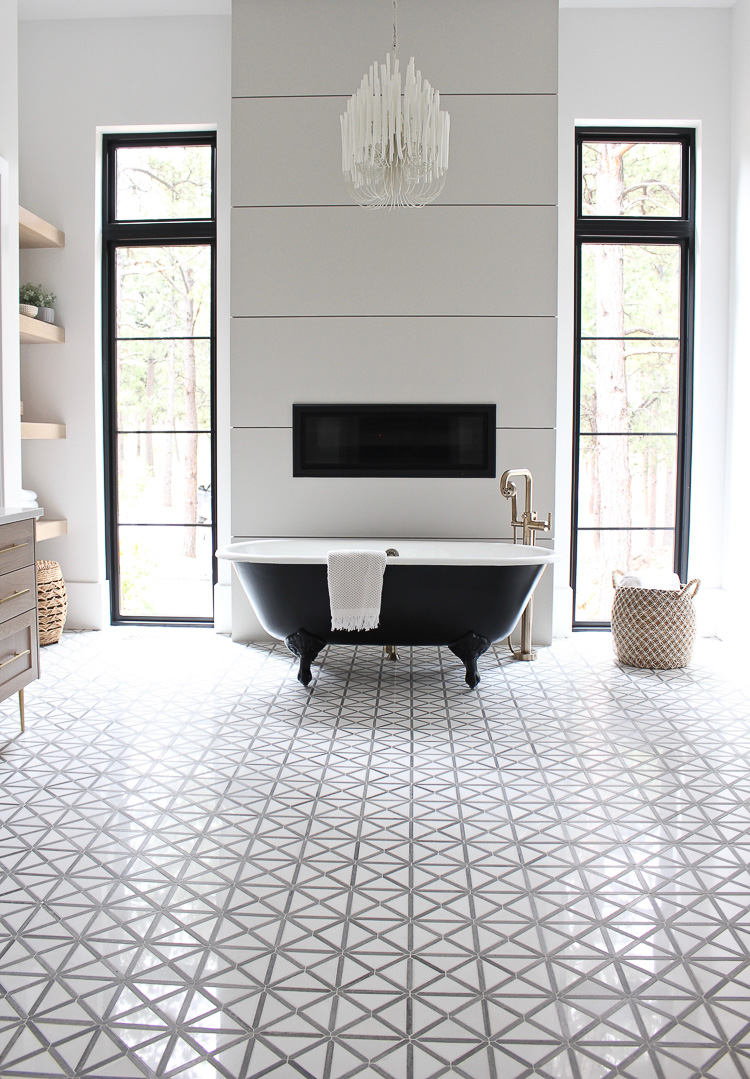 We have 12 ft ceilings in here as in the the whole main level of the home. "Steel look" windows soar to 10 ft tall (window source HERE) resting on this gorgeous patterned marble floor. You may wonder about privacy? We are nestled in wooded 5 acres but just to be safe I do have some gorgeous window treatments from Tonic Living in the works. I'll be sharing an update once those get installed. Do you recall the gorgeous custom roman blinds they made for our beach cottage HERE?
This chandelier was the very first piece of the design plan. I've had my eye on it for years and I knew our bathroom would be the perfect setting. I purchased it through Lighting Design Company who happened to be my biggest resource for educating me with various lighting situations in our home. They were so knowledgeable and helpful as I worked through our home lighting plan. You can contact them for this light fixture or for any other lighting needs.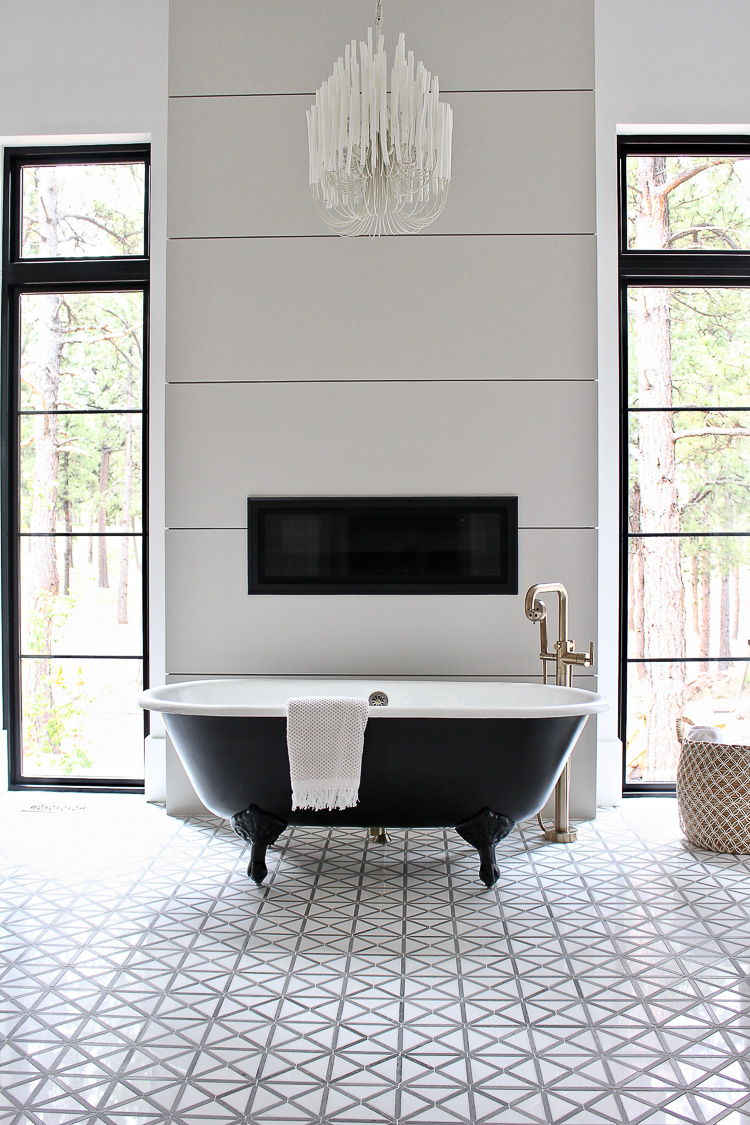 The large scale "shiplap" fireplace is simple and refined to allow the vintage black clawfoot tub to steal the show! I had the legs painted to match the tub finish that plays down the traditional vintage style to modern-vintage.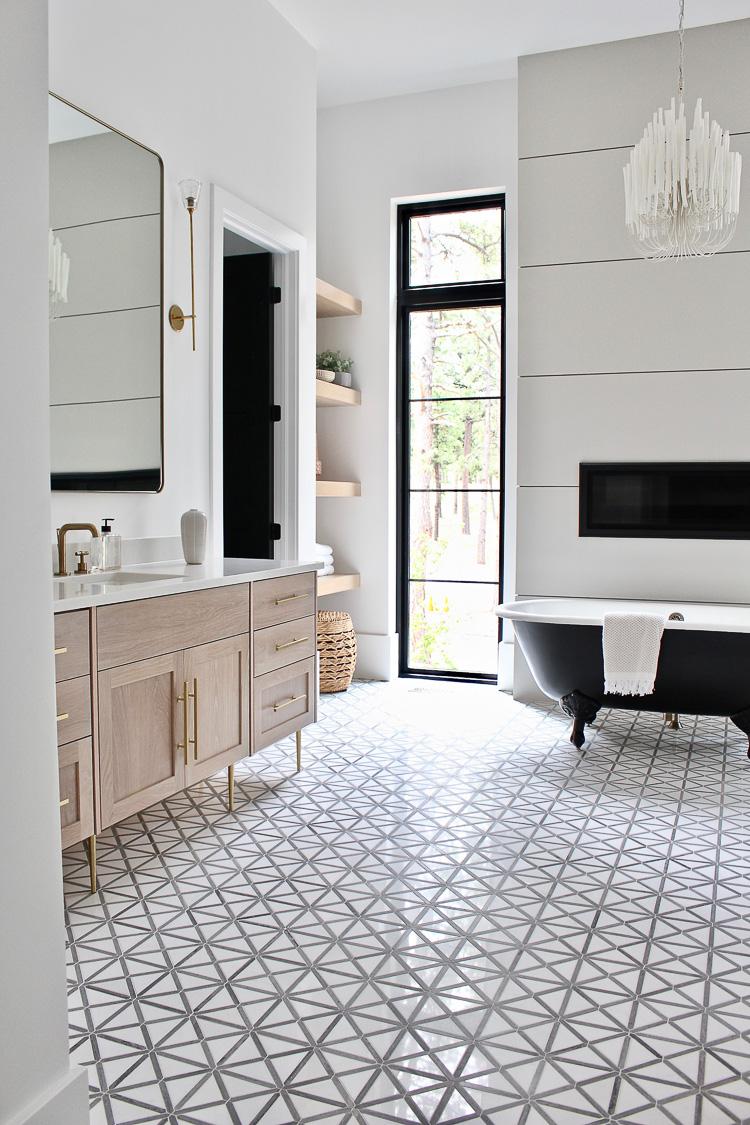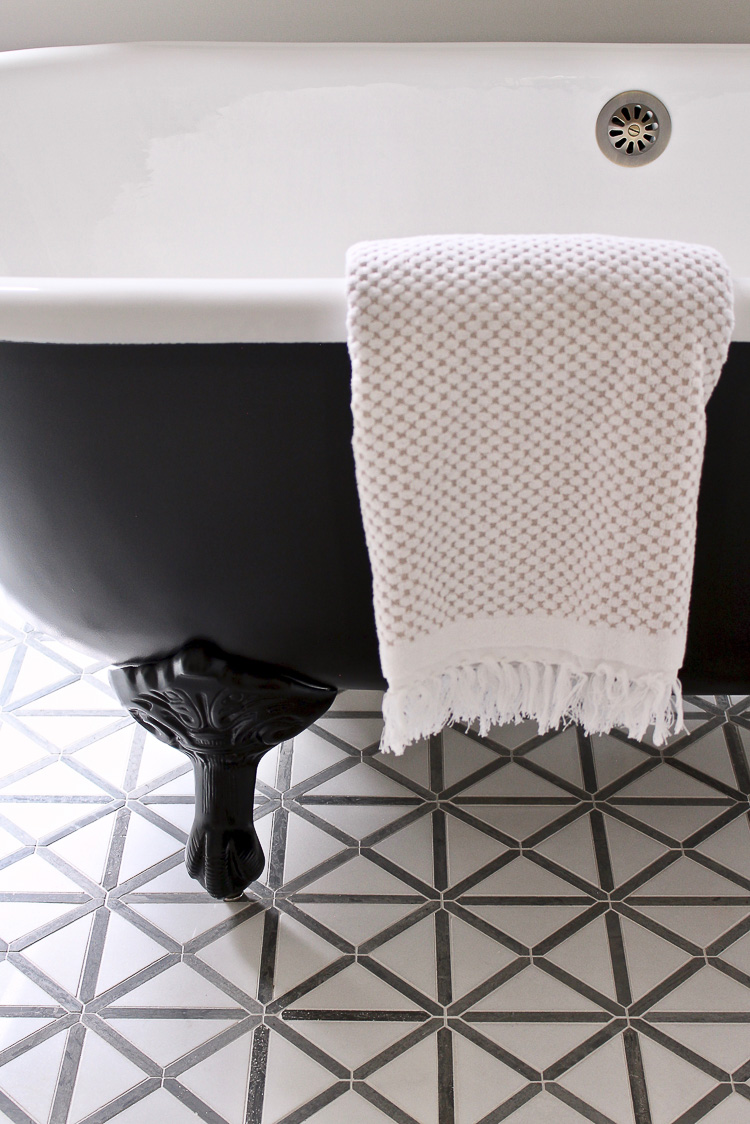 This sexy, sleek brass tub filler is a total show stopper! It was definitely a splurge but if you're going to splurge on bath fixtures, the master bathroom is the place to do it!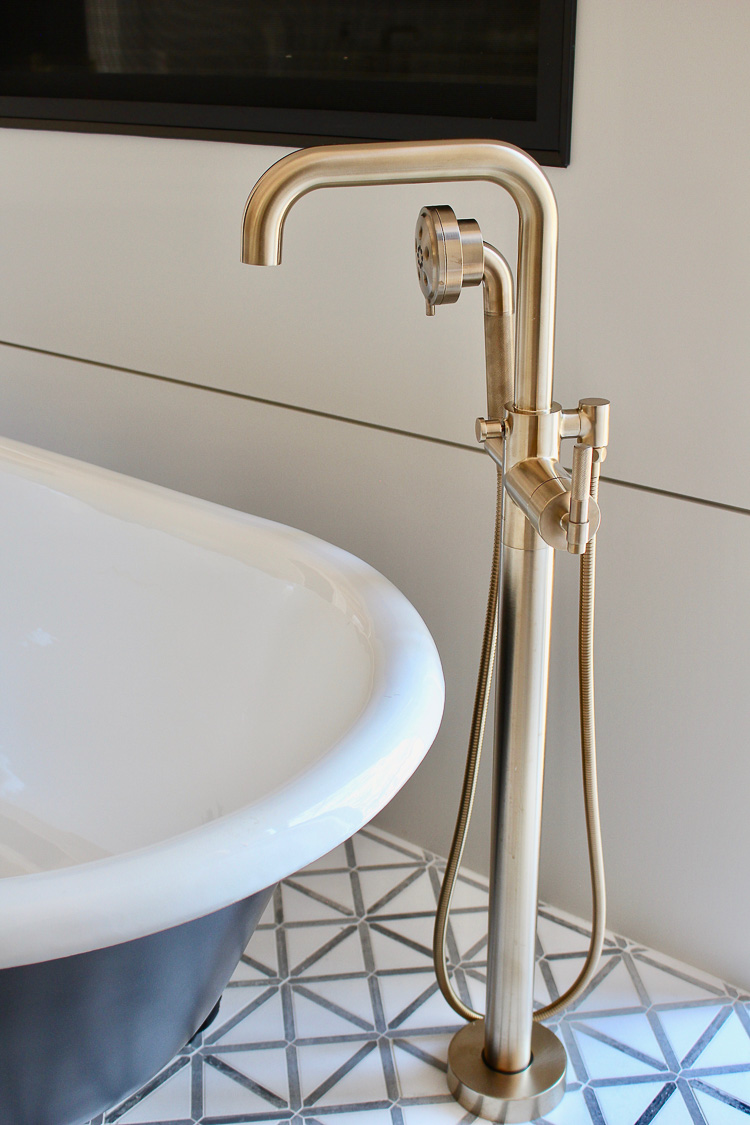 It's the same faucet line as the sleek black and gold faucet in our kitchen. The knurled handle adds a touch of industrial vibe.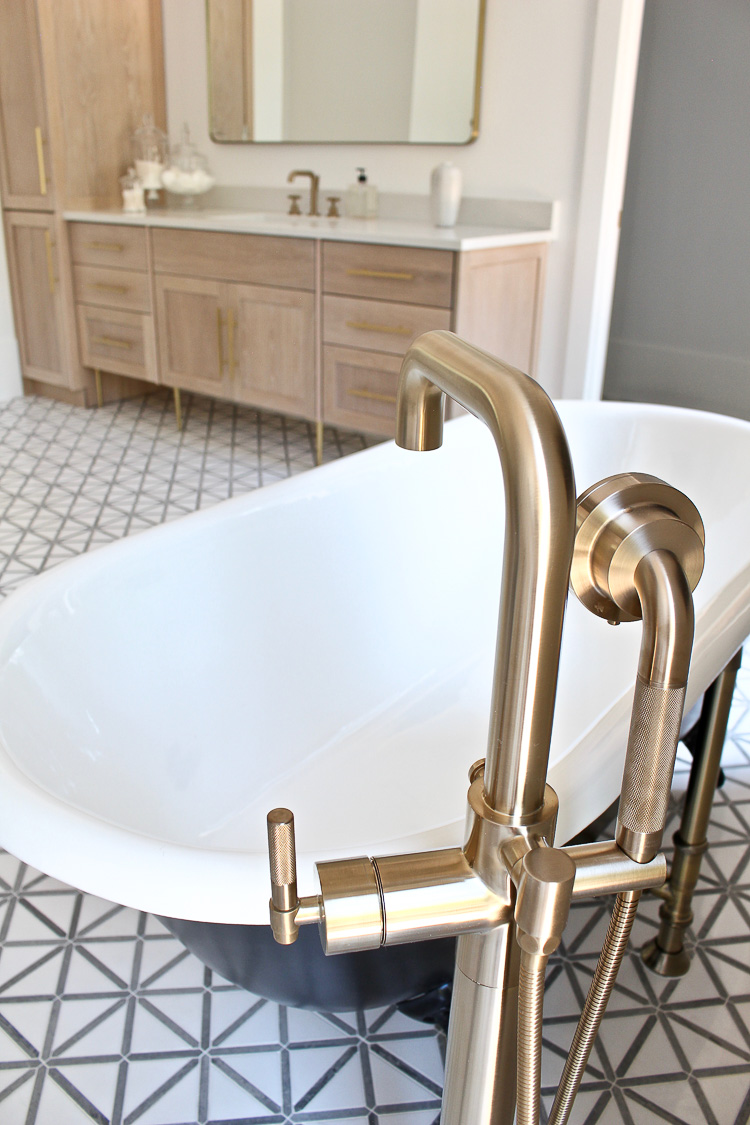 White oak cabinetry supported by mid-century style brushed brass legs make our vanities feel more like custom pieces of furniture. The gold cabinet hardware you know is my BIG TIME CRUSH and is the same as in our kitchen and in our beach cottage bathroom.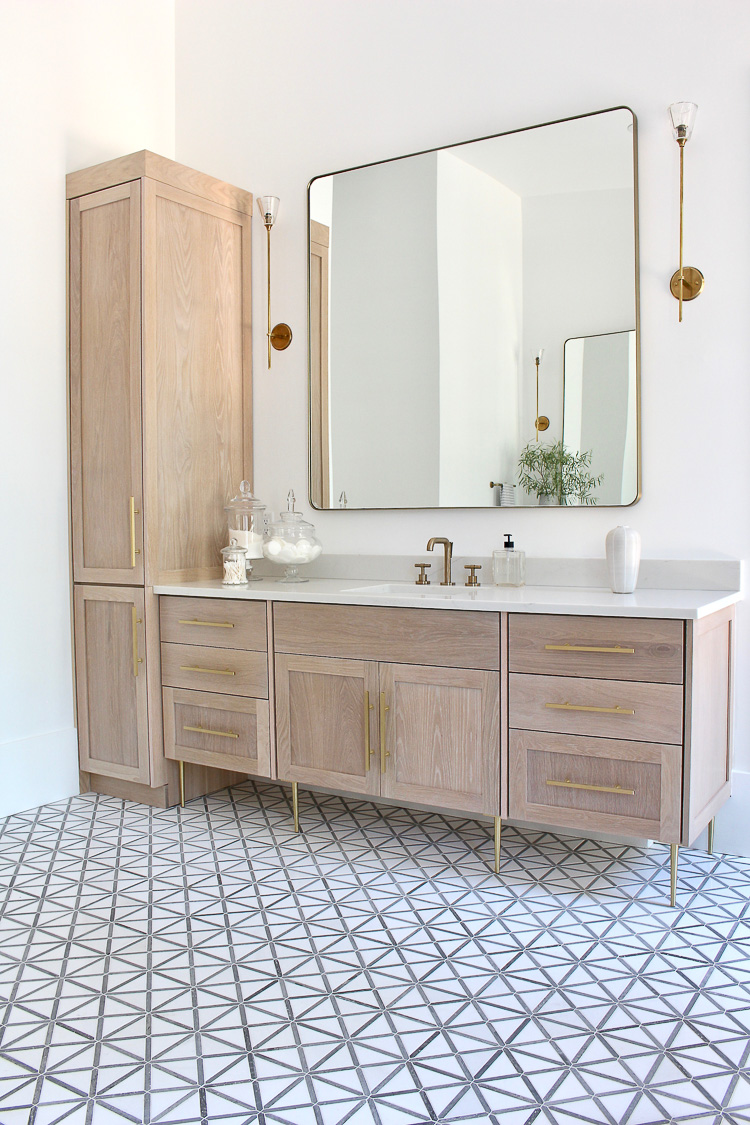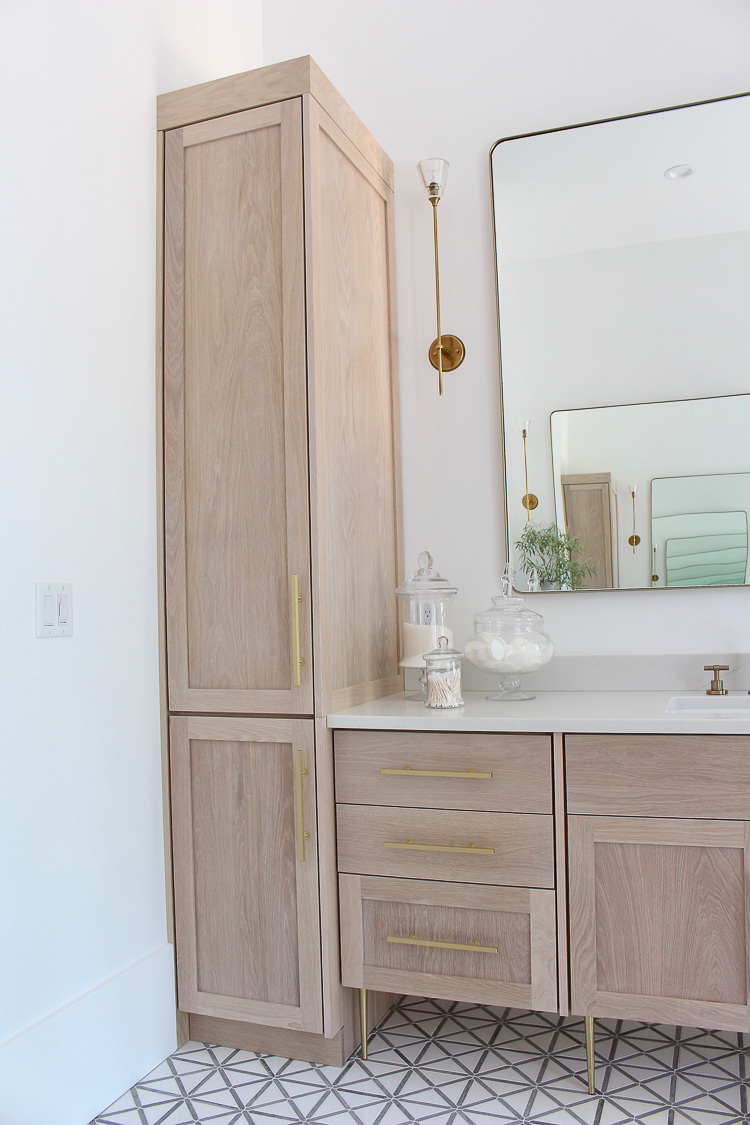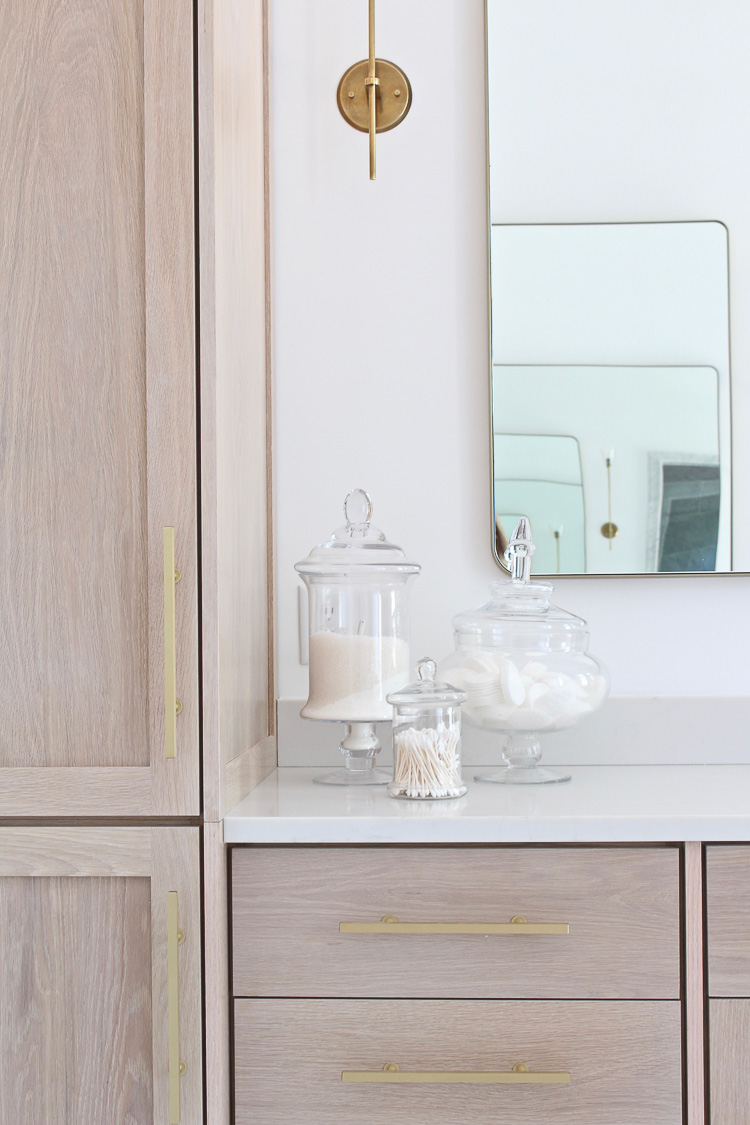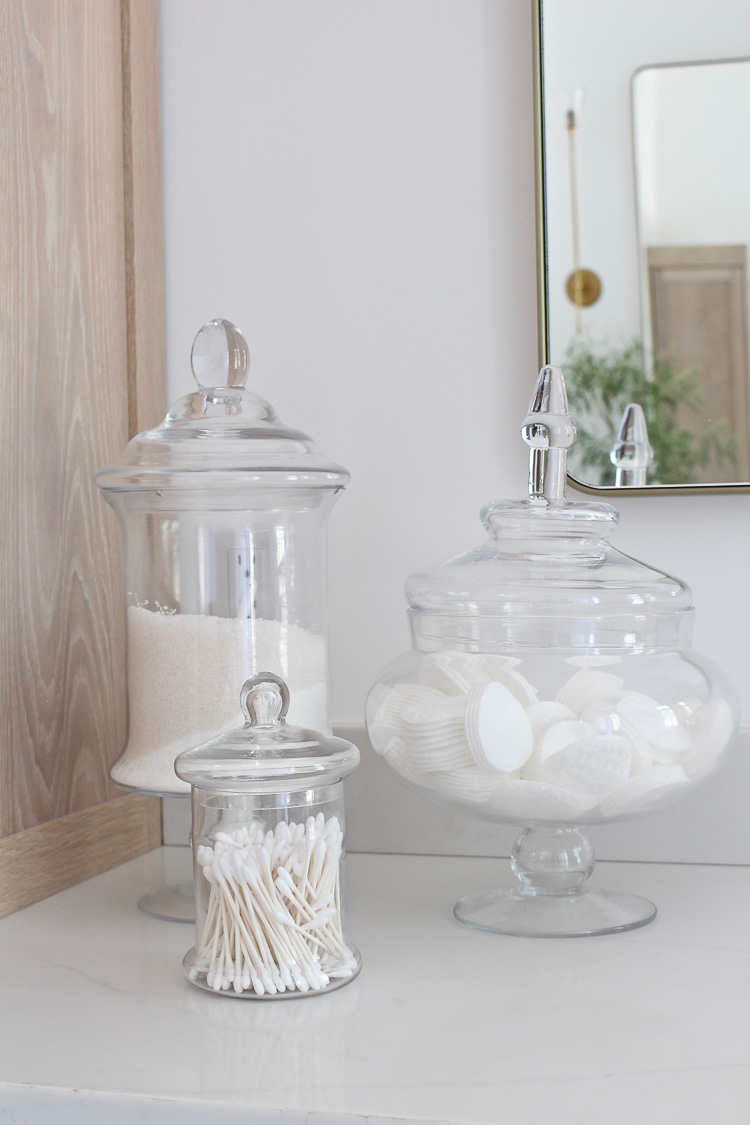 It took months of searching for the perfect mirrors for our matching vanities and felt like I hit jackpot when I found these oversized brushed brass mirrors from Universal Furniture. They are slim lined and sophisticated which is exactly the modern element I was looking for.  Sconces are from Restoration Hardware.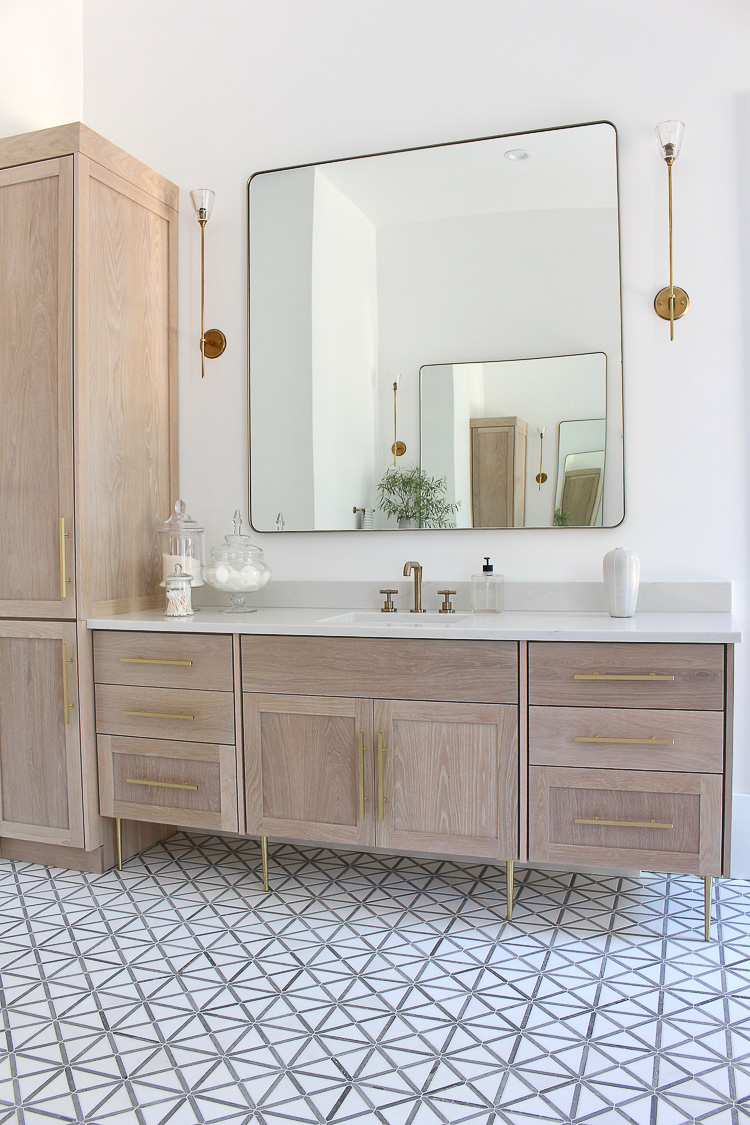 The modern brass faucets have the same knurled handles as our tub filler…LOVE!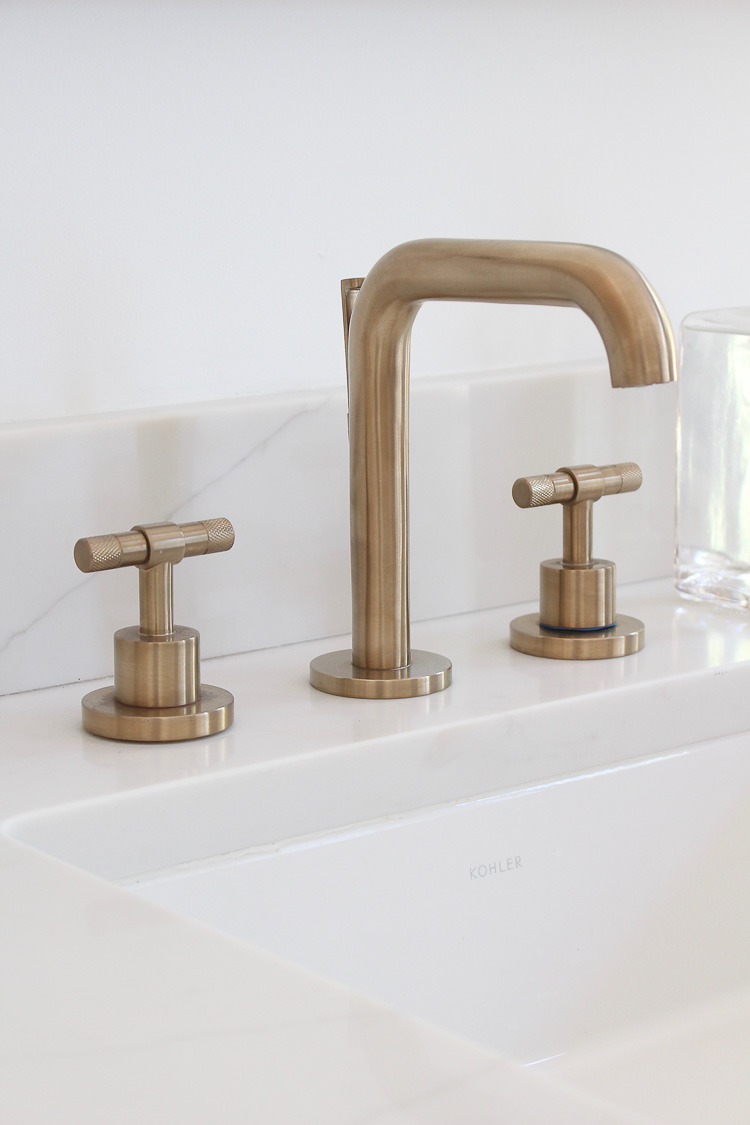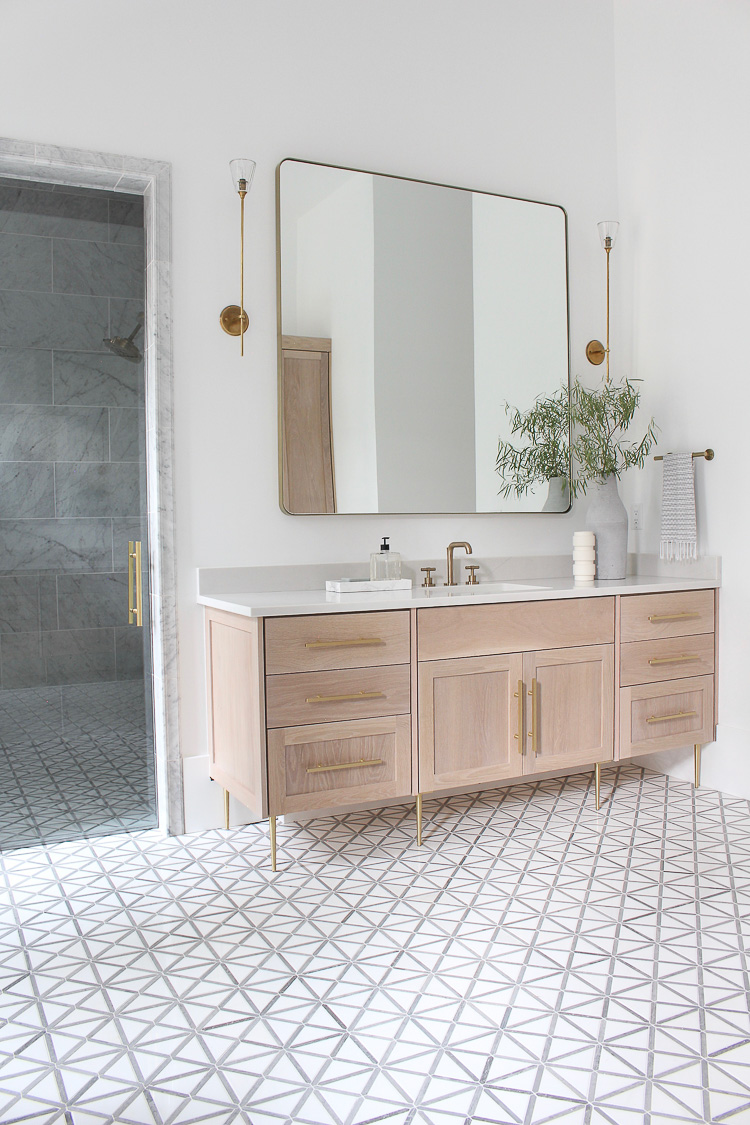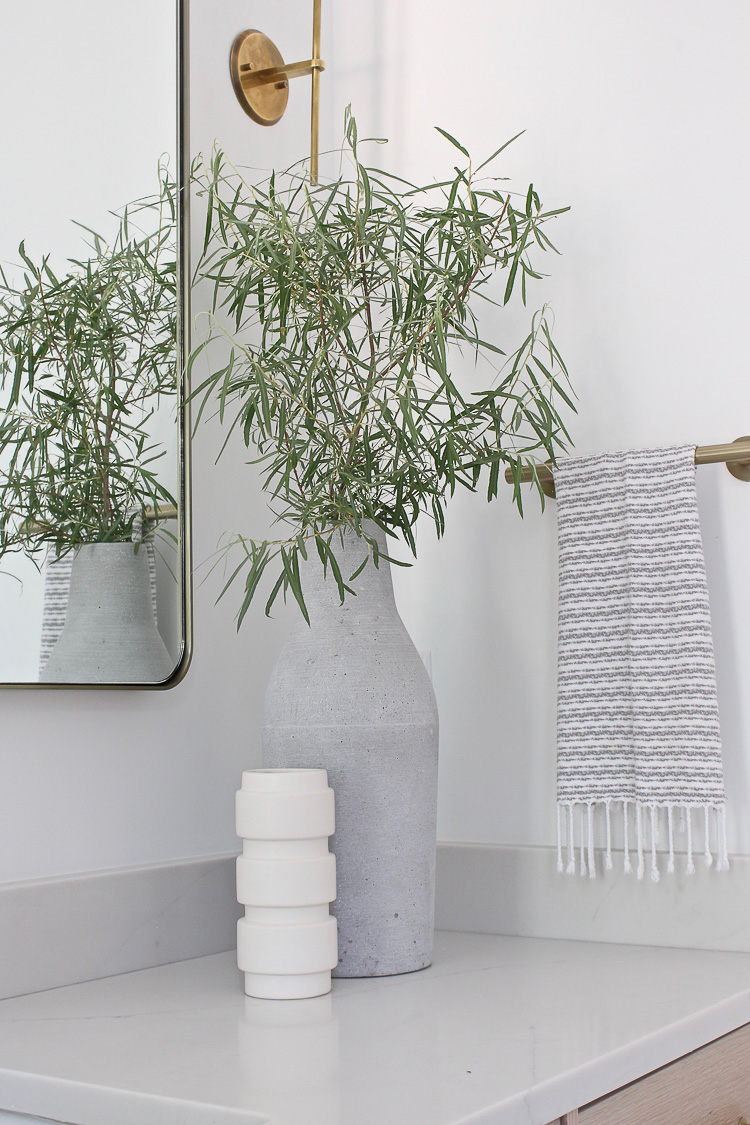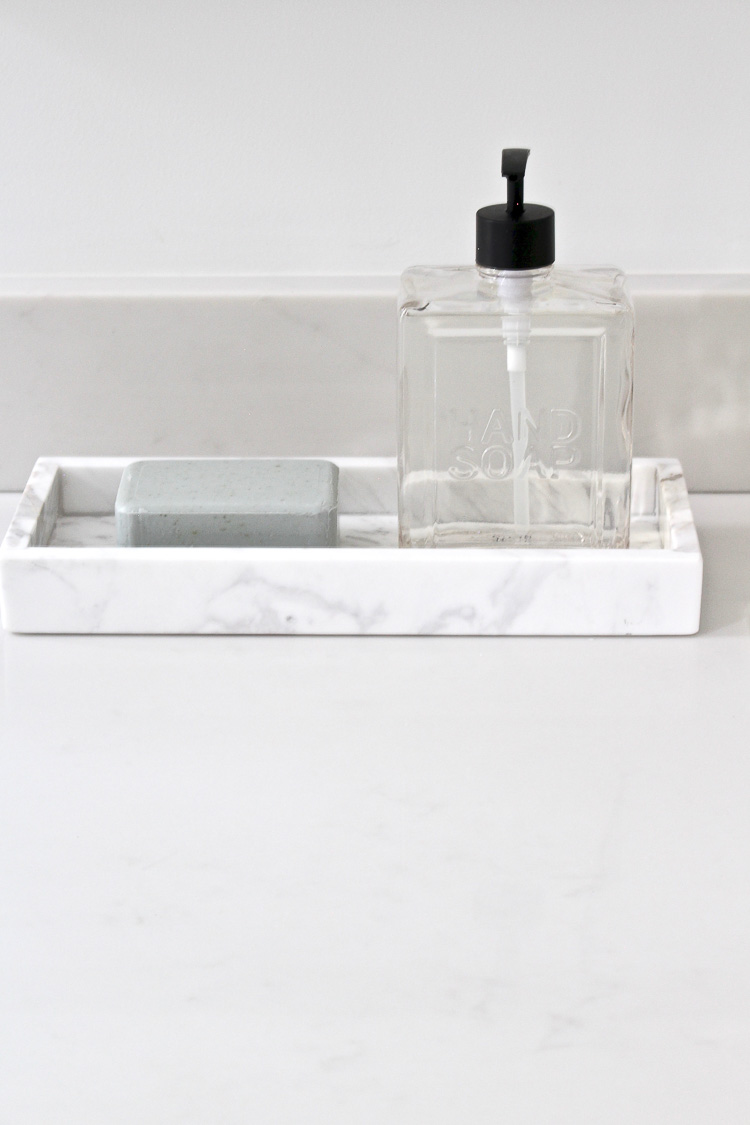 Our shower features a zero entry access meaning there is no curb between the threshold so the marble tile flows right in. If you follow me on Instagram you may remember me talking about how this floor in our shower had to get ripped out two times! We have a linear drain which requires the shower floor to slope properly toward the drain next to the wall. Unfortunately, our original tile crew didn't install it correctly and we were faced with ripping the tile floor out just days before we moved in. Definitely a frustrating process and a learning lesson.
If you happen to be building a new home or remodeling a bathroom, be sure to go get more than just one recommendation of a tile installer. Ask to see their work and get several references. I wish we hadn't been so trusting of the first "recommended" tile installer because they caused us a lot of stress and wasted money on poor workmanship that we had to have fixed by a qualified tile installer later on. Moving on, shall we…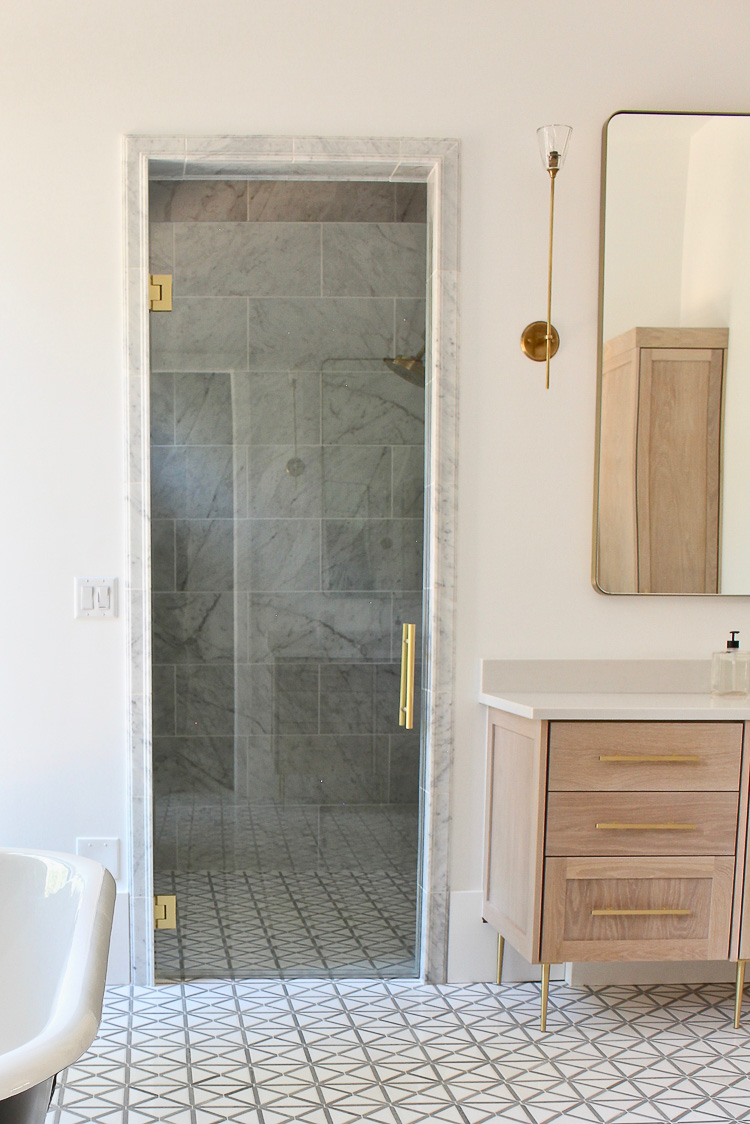 Carrara marble trim frames our shower door and adds another layer of luxury. I found it at Bedrosian's Tile.  Our marble floor tile can be found HERE.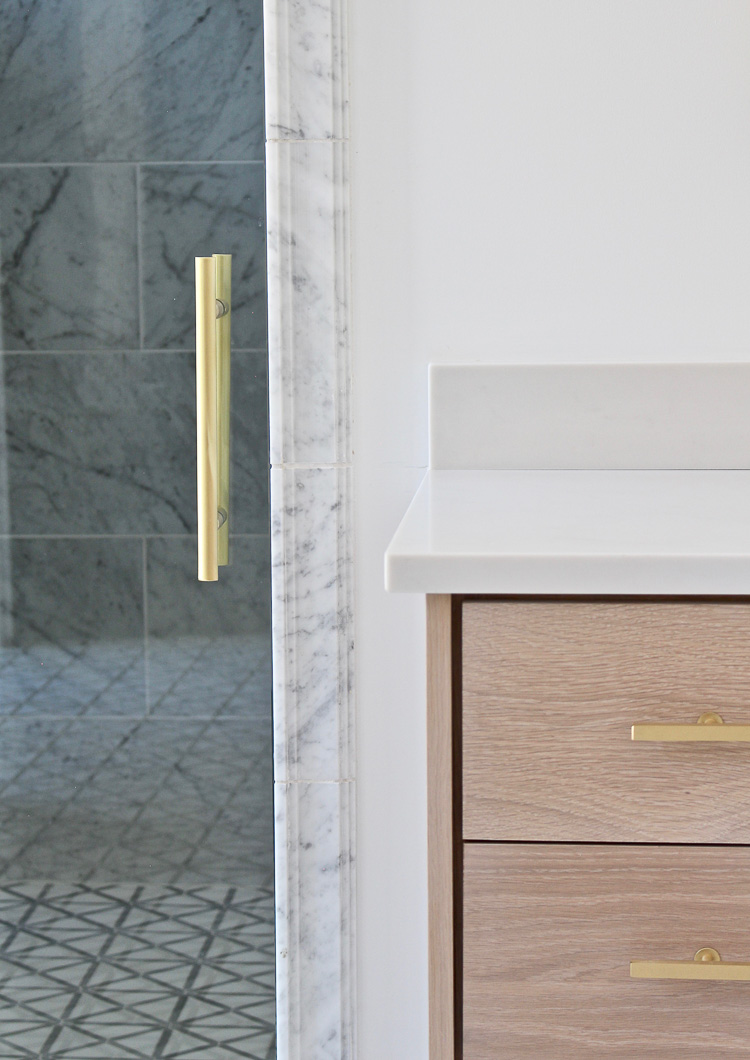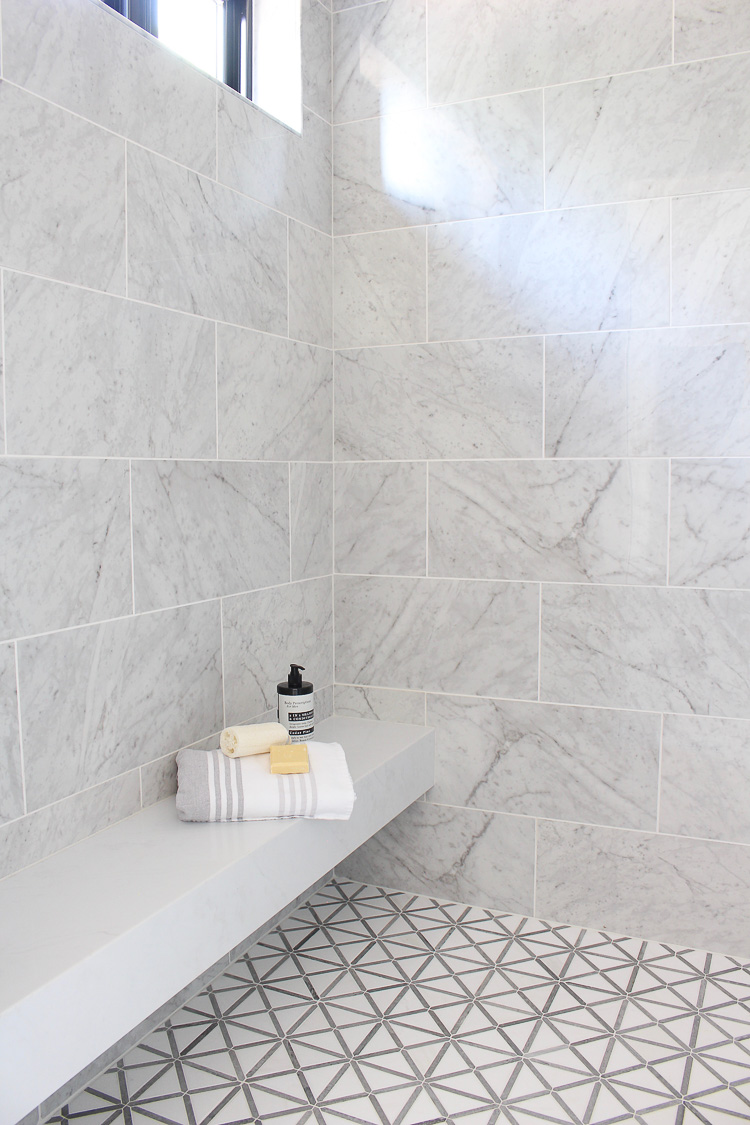 The shower bench has lighting underneath for an ambient glow at night.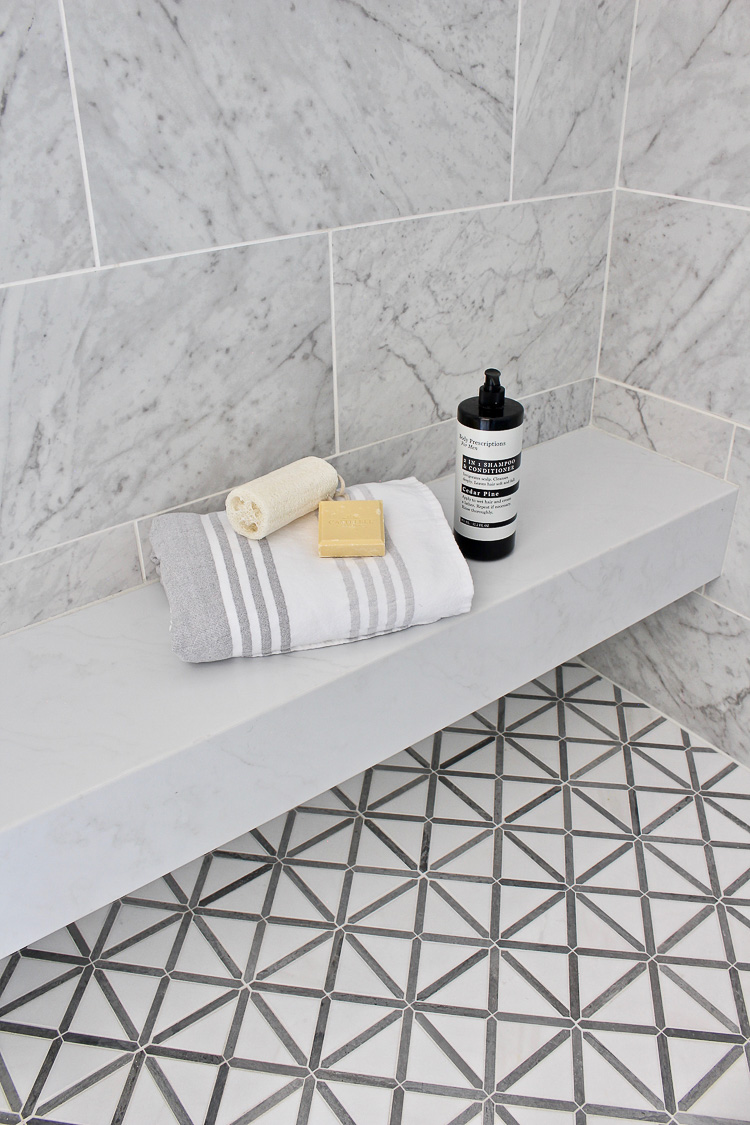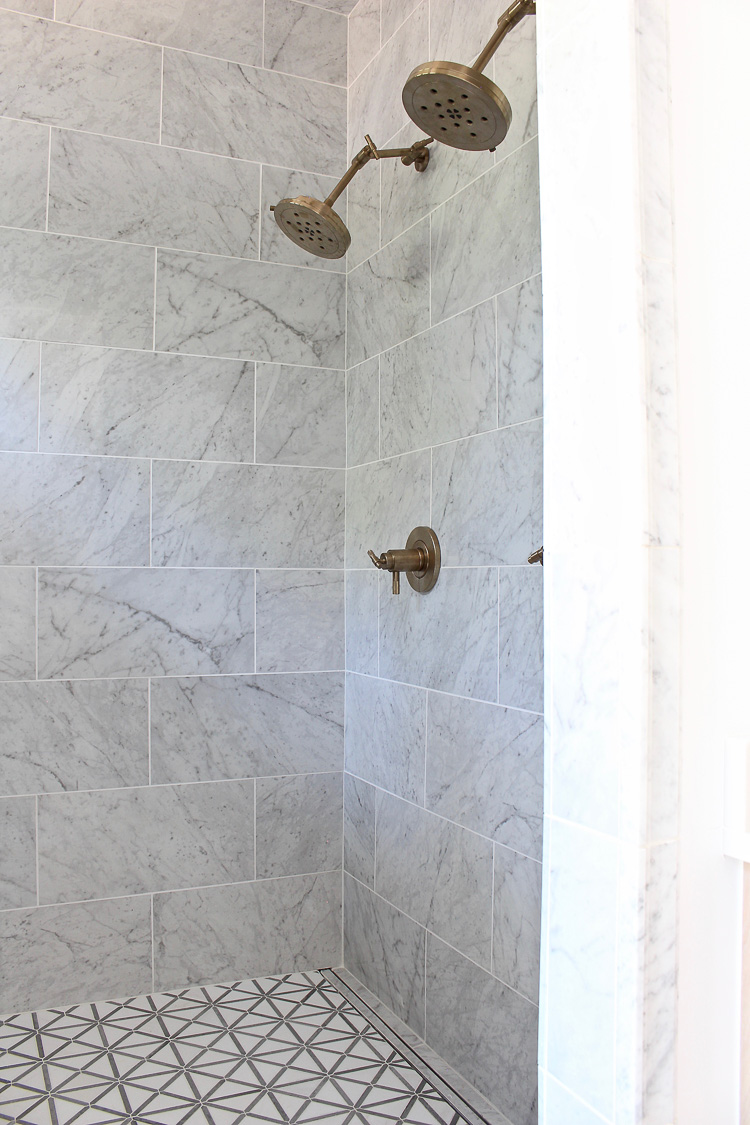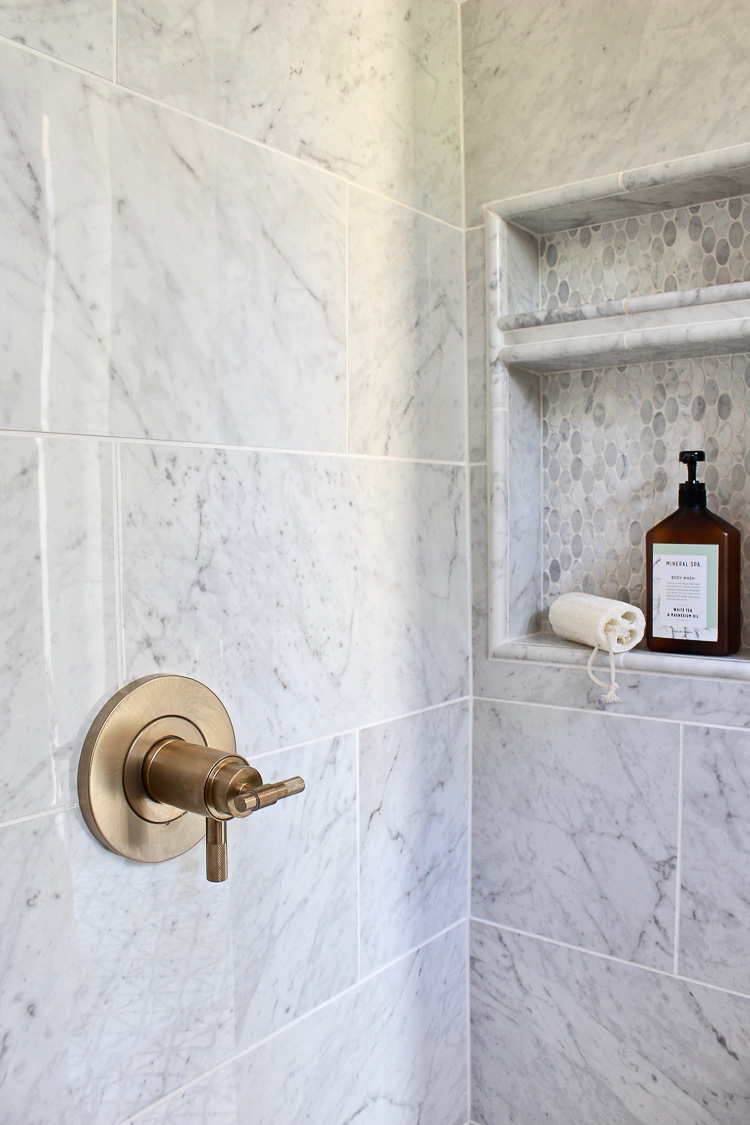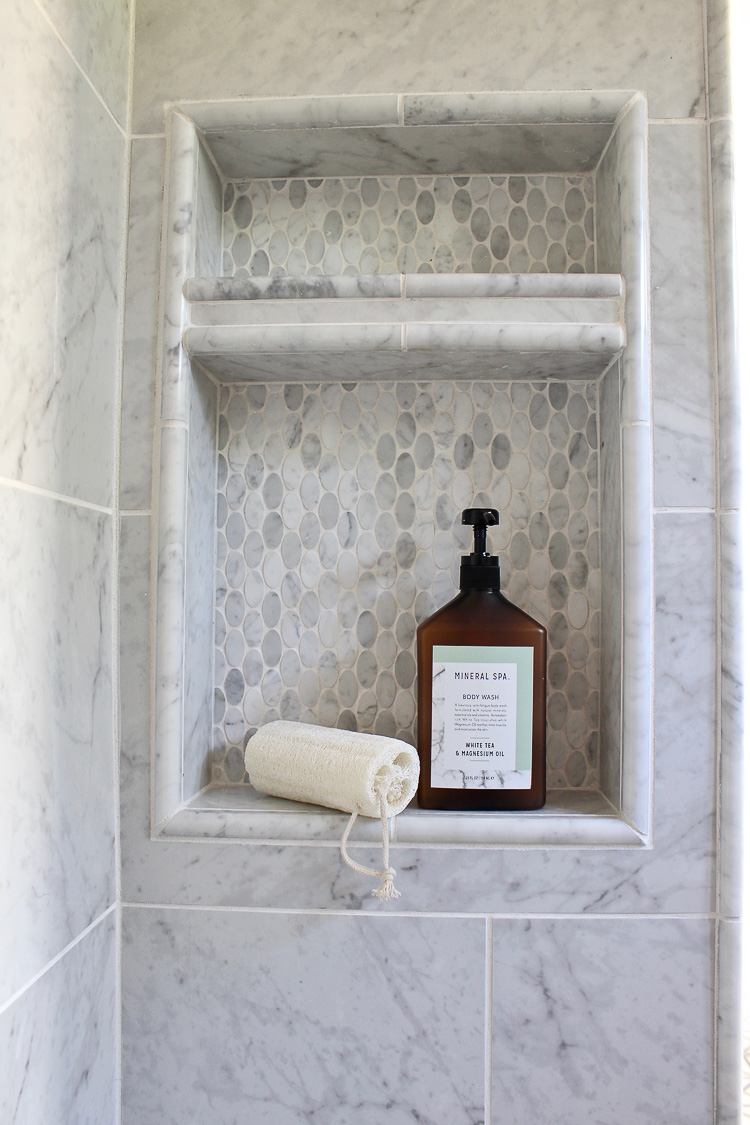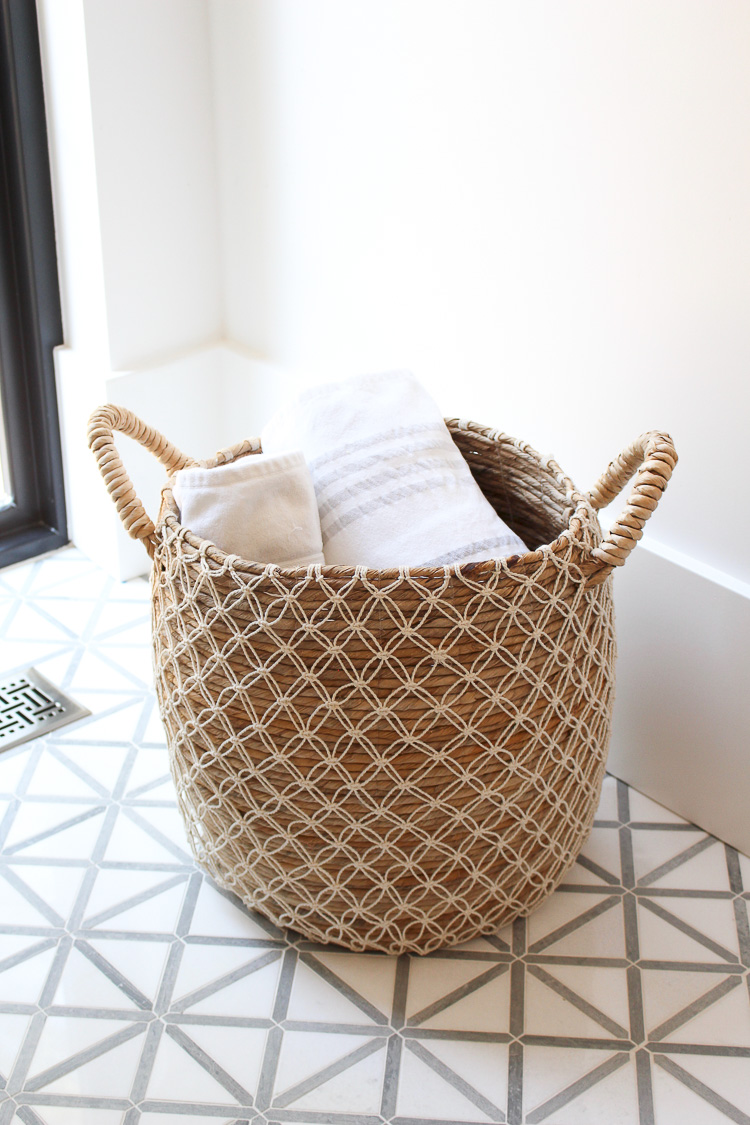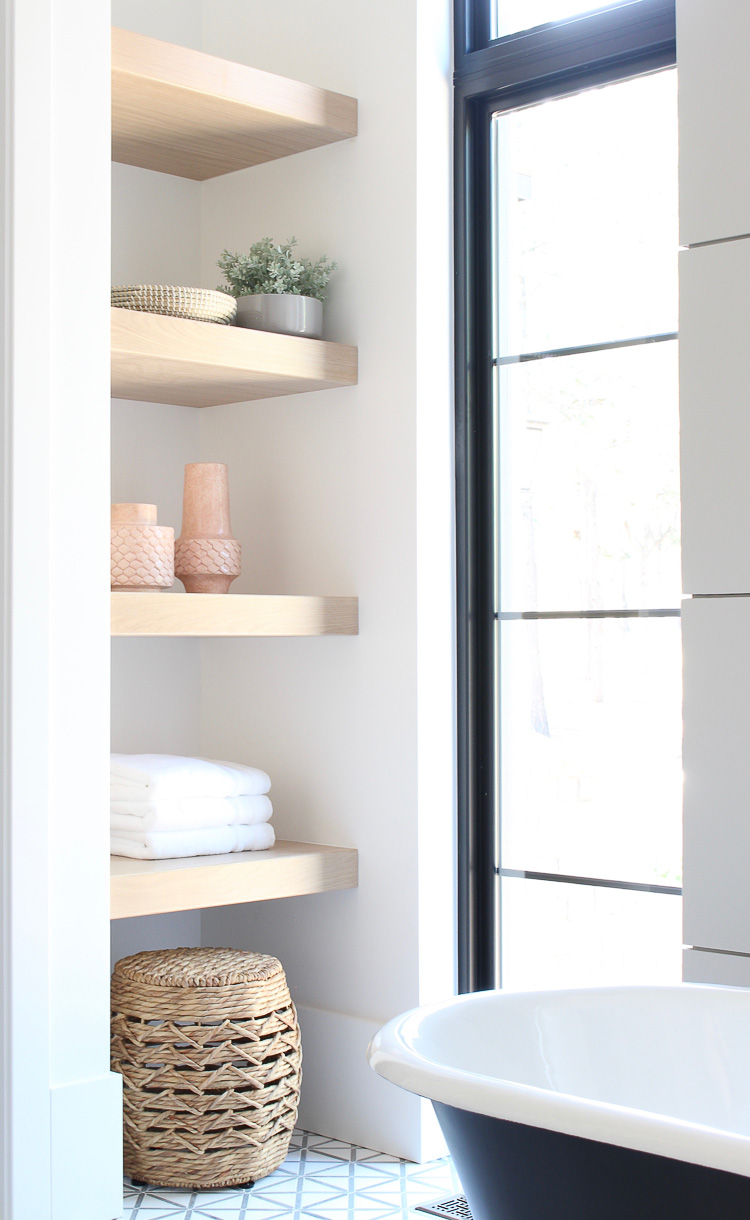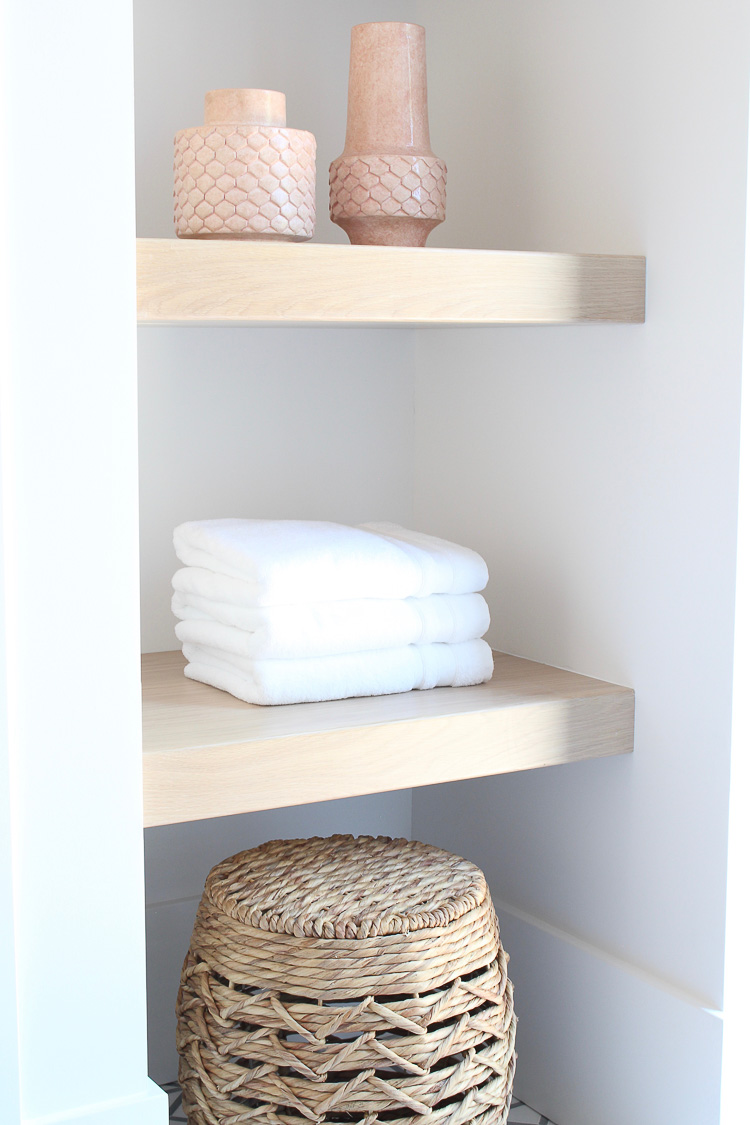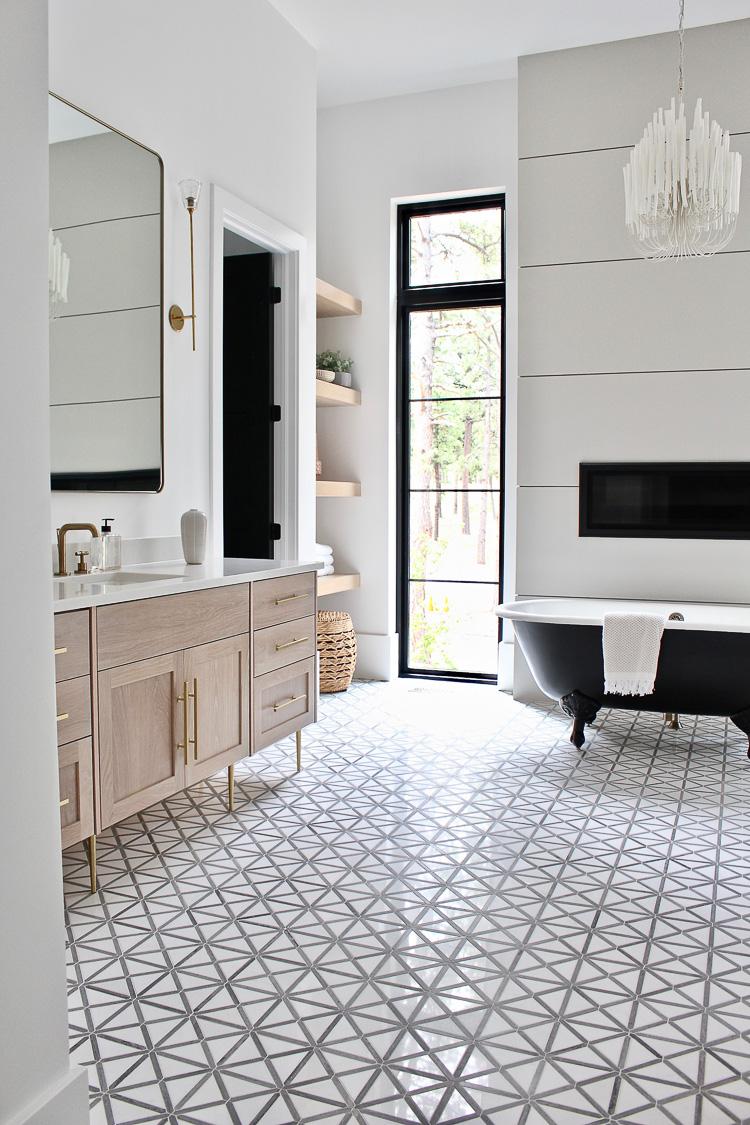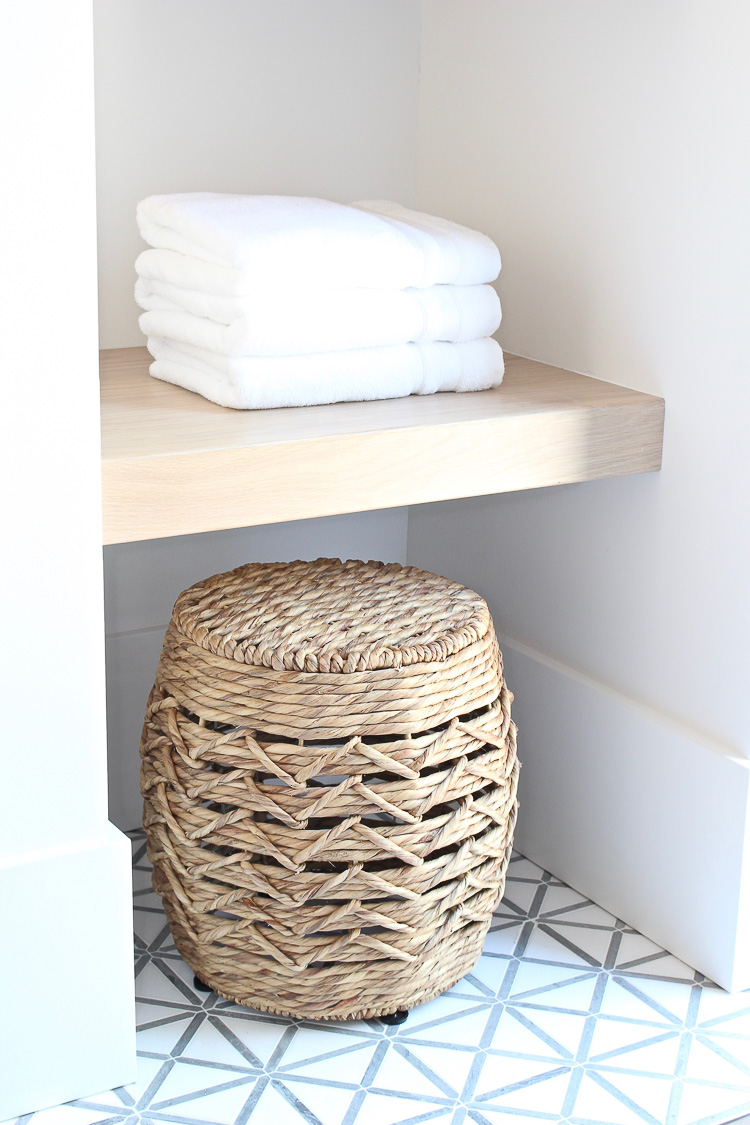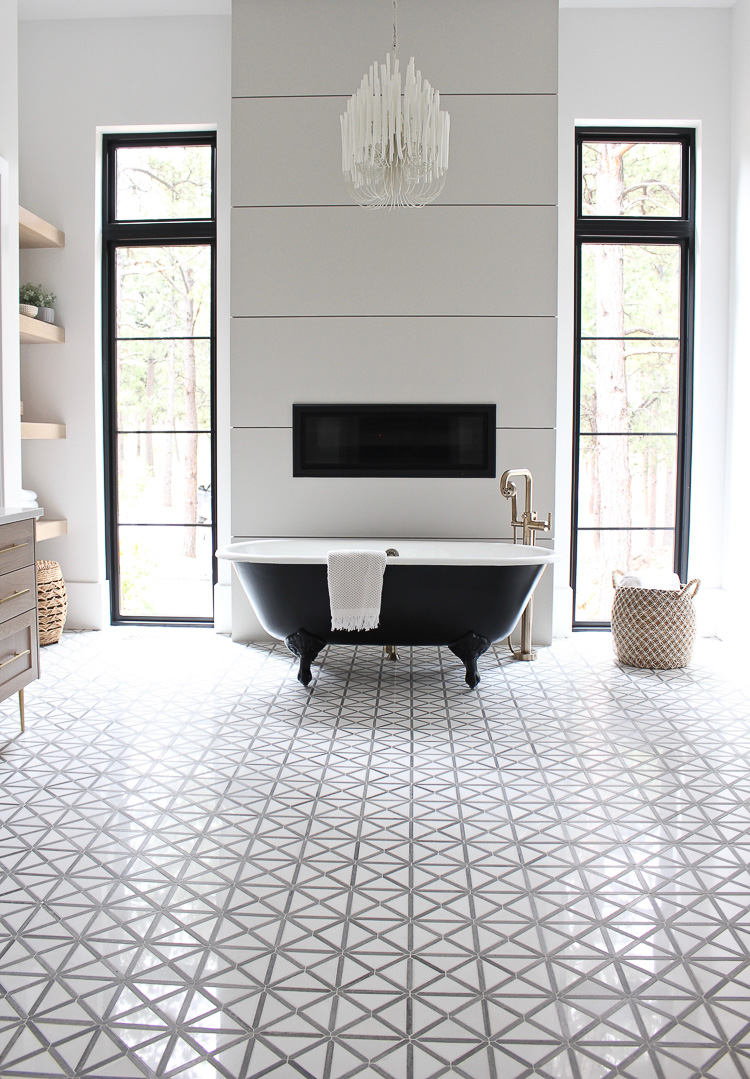 I'm so happy with how our Modern Vintage Master Bathroom turned out! Despite all the setbacks we had in here I can still relax in that gorgeous tub at the end of a long day…pure bliss.  Stay tuned for more of The Forest Modern to come and thank you for following along!
Update
We just added these gorgeous custom white linen drapes to our bathroom! Check out all the details and my favorite custom drapery source in this post!