The Piano Room: New Canvas Art
I've mentioned before that sometimes it's better to let a room sit empty or minimally decorated as you wait for the right pieces to come along. That has certainly been the situation for our piano room. Today, I'd like to share the new canvas art I found and some other favorite art options I've been eyeing.
I haven't shared much of our piano room simply because it has been ignored and at the bottom of my list of rooms to decorate. Really a shame since it's the first room you see when you enter our home. For some reason though, I haven't felt inspired enough to do anything in here.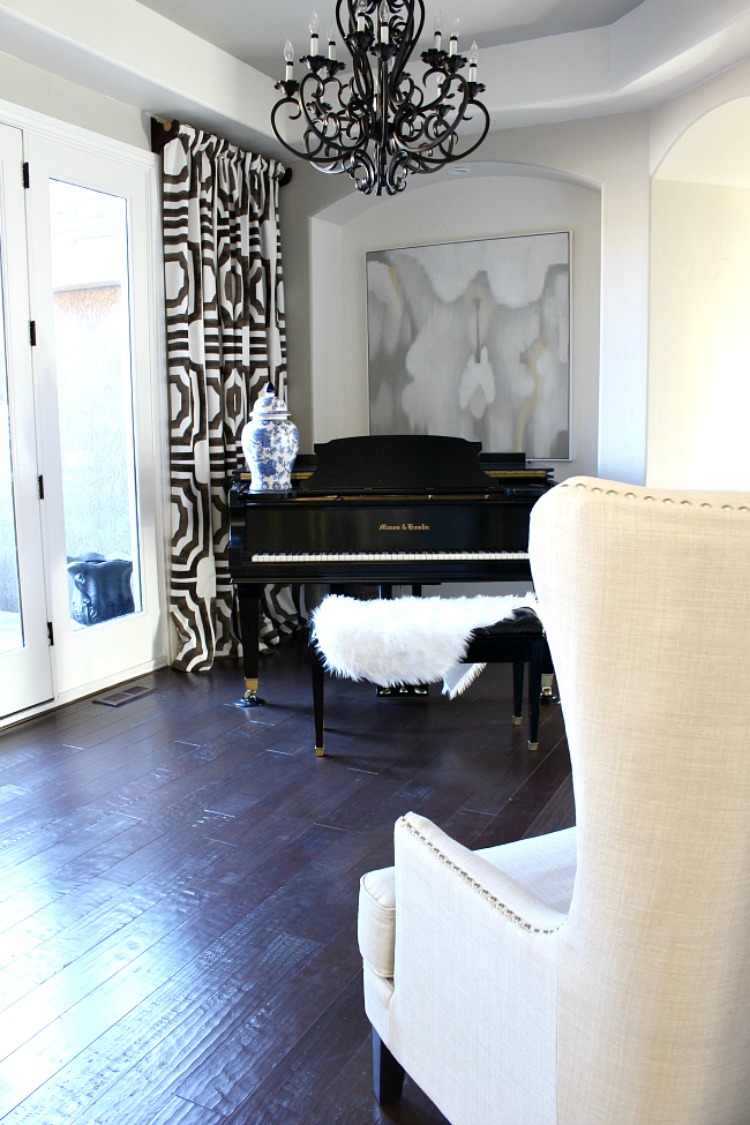 What I love about this room is that it holds my grandmother's grand piano that she gifted me years ago when she moved into an assisted living home. It's such a treasure to me since I have memories as early as 3 years old sitting next to her watching her play the piano in her gorgeous Oklahoma home in the country. I actually don't know how to play the piano, but Dylan and Ethan have taken lessons and they like to tinker around on it. It's a bucket list item for me to learn.
This room has so much potential with the coffered 10′ ceilings and how it opens up to our front courtyard through those french doors. The chandelier is old and was one I had brought from our old home when we moved. My style has changed, yet it's still hanging.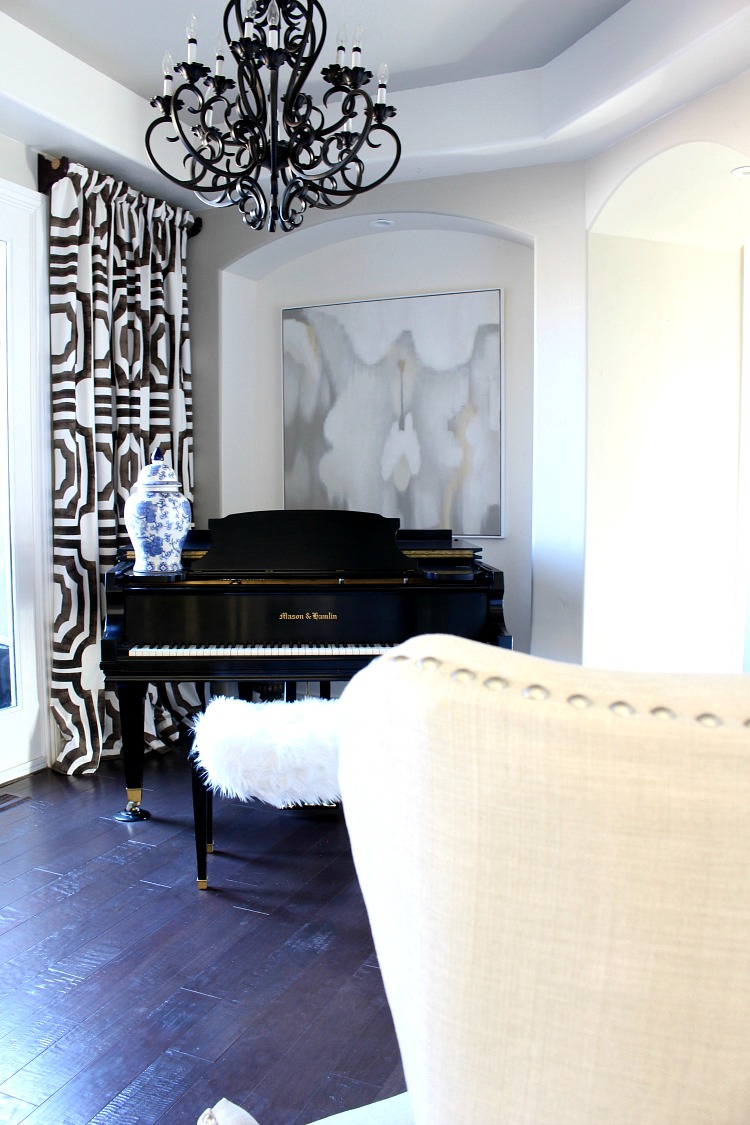 Drapes || Chair || Sheepskin || Blue & White Jar
Look closely and you'll see that my sawed off wood curtain rod doesn't even have a finial on it…lol.  I mean really.  There's a reason why I haven't had much time to focus on this room and I'll be enlightening you next week.  What motivated me to find something to hang on that wall behind the piano is a comment my friend made when she came over last week.  I had a black screw sticking out of that wall from something I had previously hung.  She walked in and thought it was a big fly on the wall. Ugh! Time to do something about that.
This week I was in Homegoods looking for a few small items for my spring home tour coming next week. I always check out the art while I'm there because I have found some nice pieces in the past.  Remember this canvas in our beach cottage?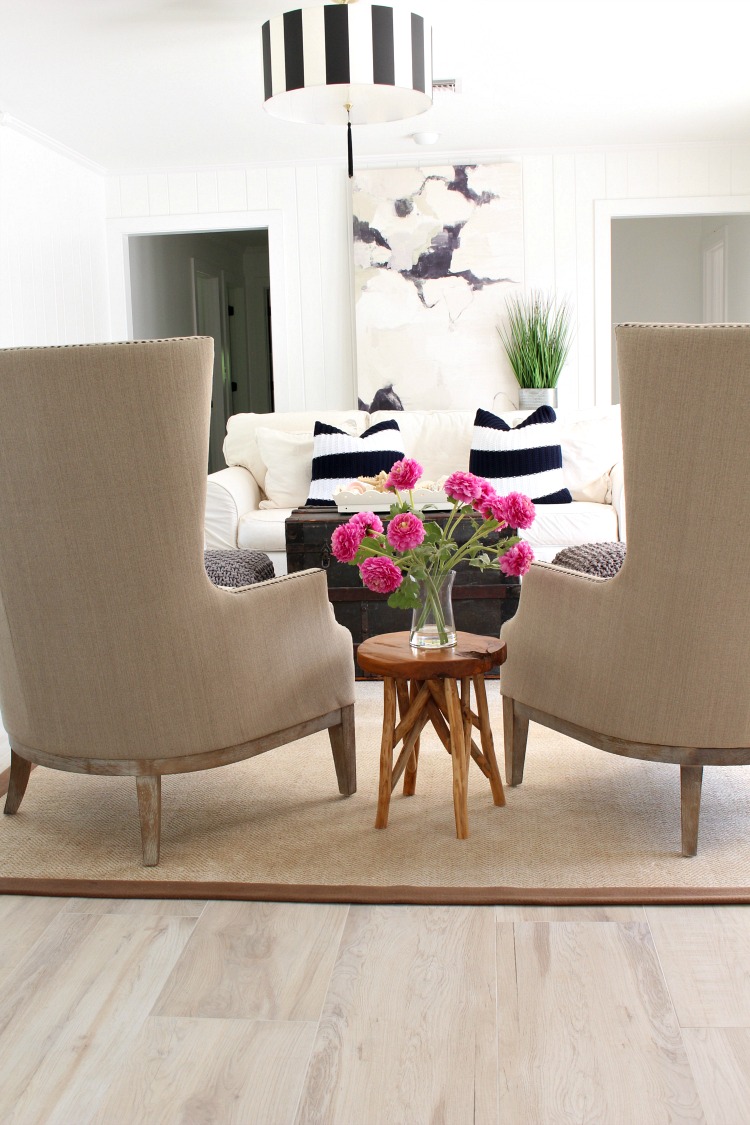 Living Room Sources HERE
Large art can be expensive, so you can imagine how thrilled I was to find this one for under $200.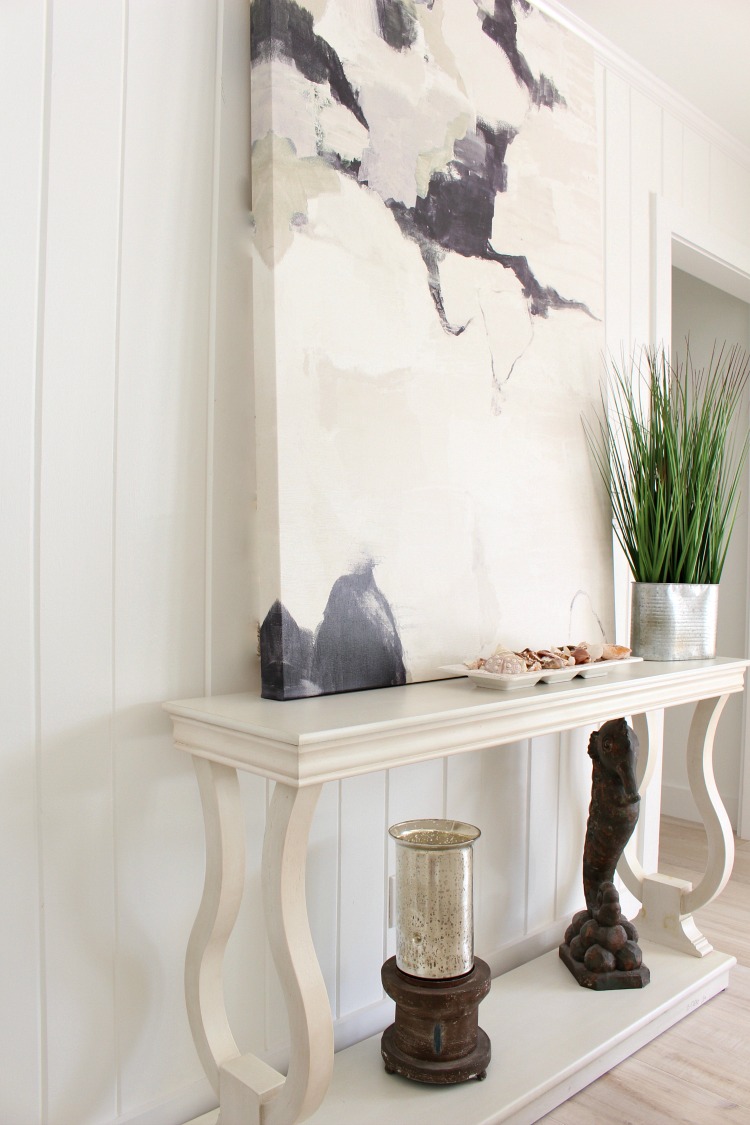 I really didn't want to hang anything behind the piano that fought with the scale of the piano itself. It's beautiful on its own and doesn't need to compete with anything else. I love the serene muted tones of this large abstract I found (only $250!!). The shades of gray and a subtle pop of gold are the perfect compliment to the rest of the home.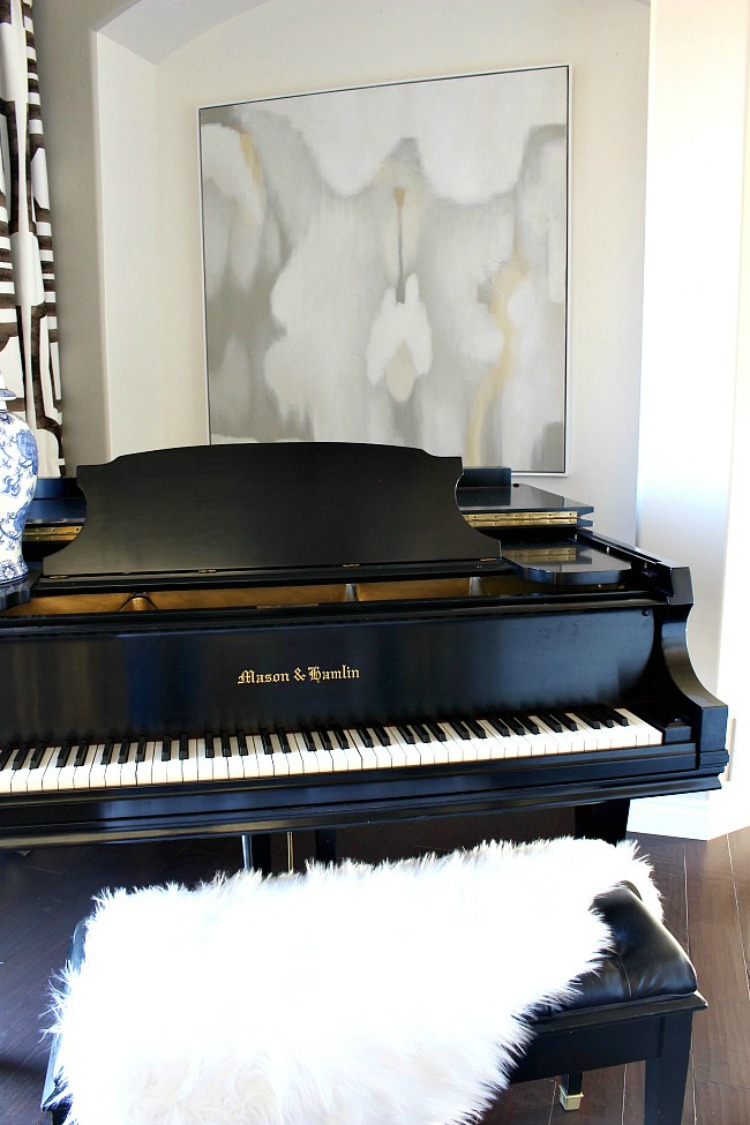 I lowered the piano lid to give you a better view. Normally I have it raised, but now I'm thinking of leaving it down. What do you think?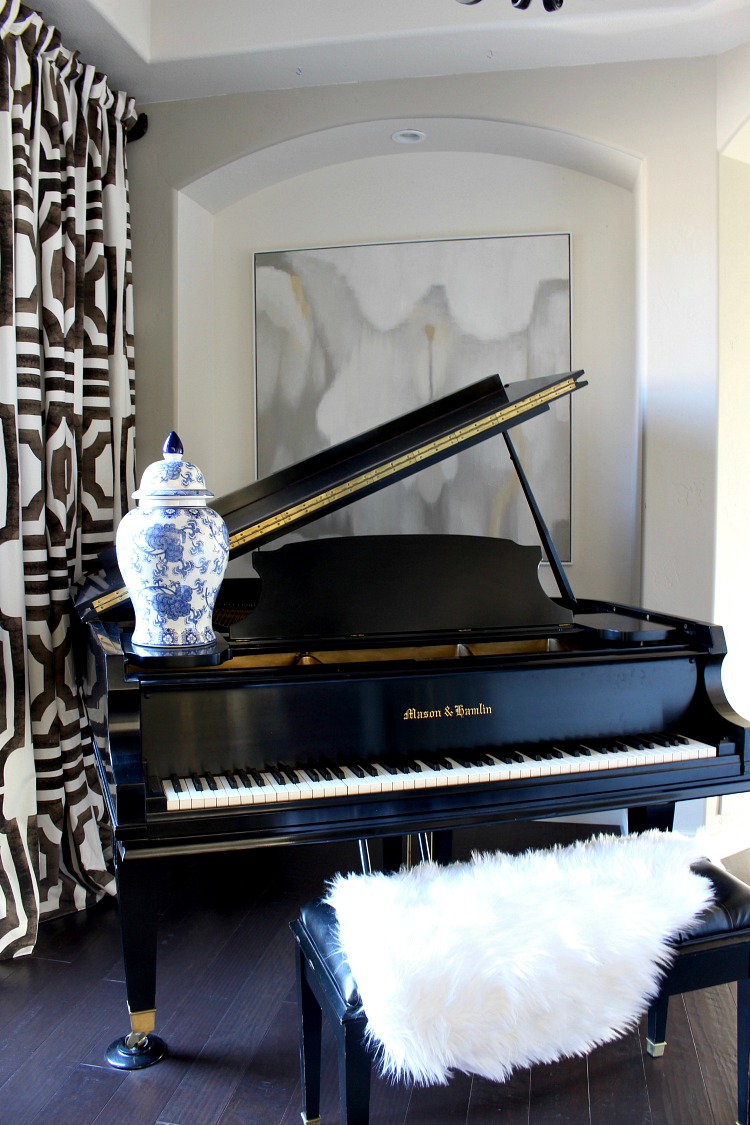 Before I leave you with some canvas art that I love, I'd like to encourage you to be at peace when you have a room that isn't quite finished. Let it evolve over time and wait for those unexpected pieces (like my wall art) to come. Patience is truly a virtue that will teach you to love your home design journey even more.  Binge shopping to fill a room always leads to regret.  Trust me, been there done that.
If you're on the hunt for some beautiful and serene canvas art, I've gathered a few sources for you.
1 || 2 || 3 || 4 || 5 || 6 || 7 || 8 || 9
Affiliate links used for your shopping convenience