Beach Cottage Powder Bathroom (and pink flamingos)
I know, I know, you thought you had seen all of the beach cottage renovation reveals including all of the bathrooms, right? Or maybe you are new to the blog and wondering what I'm talking about.  In a nutshell, we have the cutest beach cottage in Naples, FL that just underwent a BIG renovation!  You can catch up to speed HERE to see all the new spaces!  For those of you who have been following along this renovation journey, I've been holding out on you.  The beach cottage powder bathroom got a "mini" makeover. Temporary of sorts, but I'm itching to give this little room some flavor.  Quite possibly even adding a few pink flamingos!  Don't gasp yet! I know you're envisioning cheap plastic flamingos that can be frequently seen on any given Florida yard, #tacky.
What I love the most about any makeover or renovation is showing the "before" photos of just how bad the room was.  Let's take a walk down "granny" lane.  The photo of the powder bathroom before we bought the home.  My oh my I think I spy a pink heart-shaped soap.  Seriously, the sweet little lady we purchased the home from had decorated every room like this. She loved stenciling too (can you tell?).  I'm telling you, this character is actually what made me fall in love with the home.  Not my style, but sweet.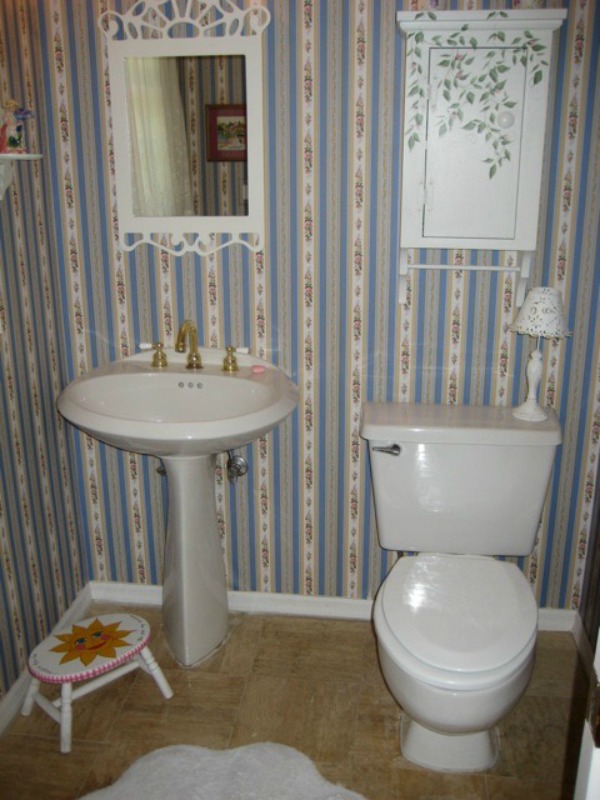 Then we moved in and the only thing I changed was the mirror.  What do you expect for $5 from Goodwill?? The bathroom stayed in this time warp for 6 years after we bought it.  You may wonder why it took us so long to update since it is so small, but remember, we come here to vacation and take a break.  Well, I did anyways (books by the pool kind of relaxing). My poor hubs on the other hand always has had to fix something in this sweet little money pit.  We're hoping now he can rest more since we finally tackled all the issues.  We're keeping our fingers crossed!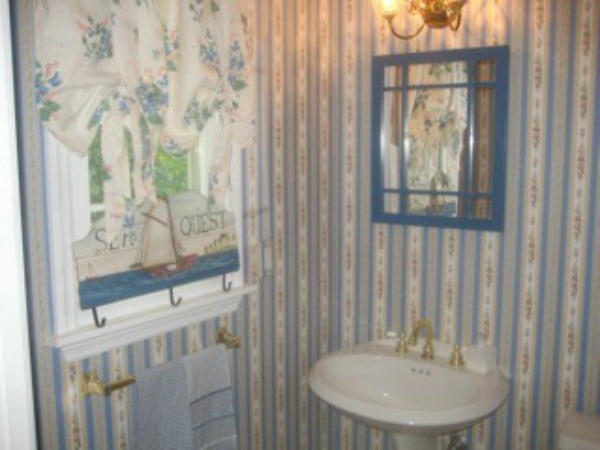 I've mentioned before HERE how the wallpaper in the home was literally like a layer of skin on the wall that wasn't coming off without a fight.  I'm pretty sure super glue was used to adhere it originally.  With so many rooms being renovated all at once, I went with absolute basic updates to this bathroom.  The wallpaper was removed and a fresh coat of white paint (Sherwin Williams – Pure White) was applied.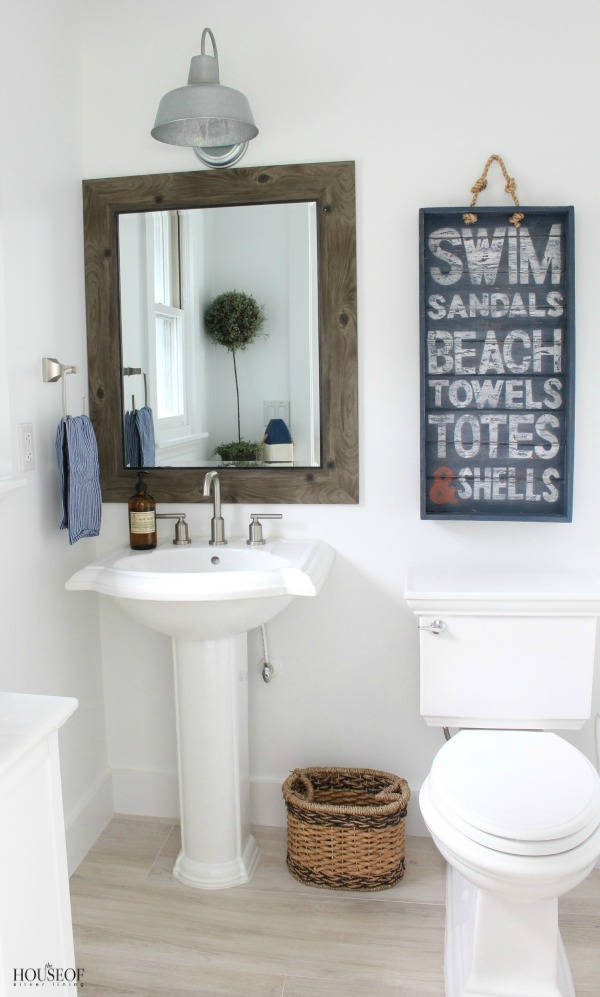 We continued the ceramic tile "driftwood" floors from the family room in here since this bathroom is right off of that area.  Everything was gutted and replaced.  I love how fresh and clean it looks!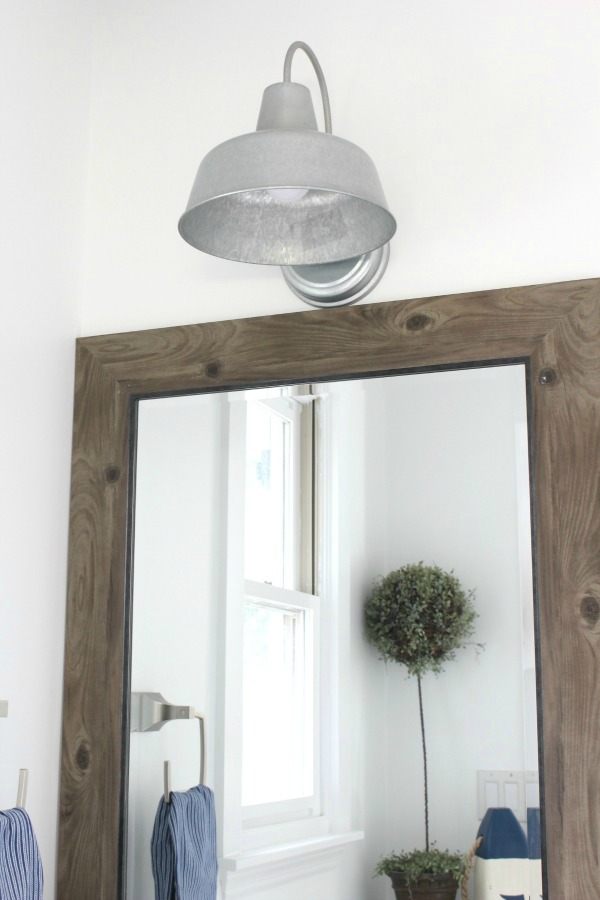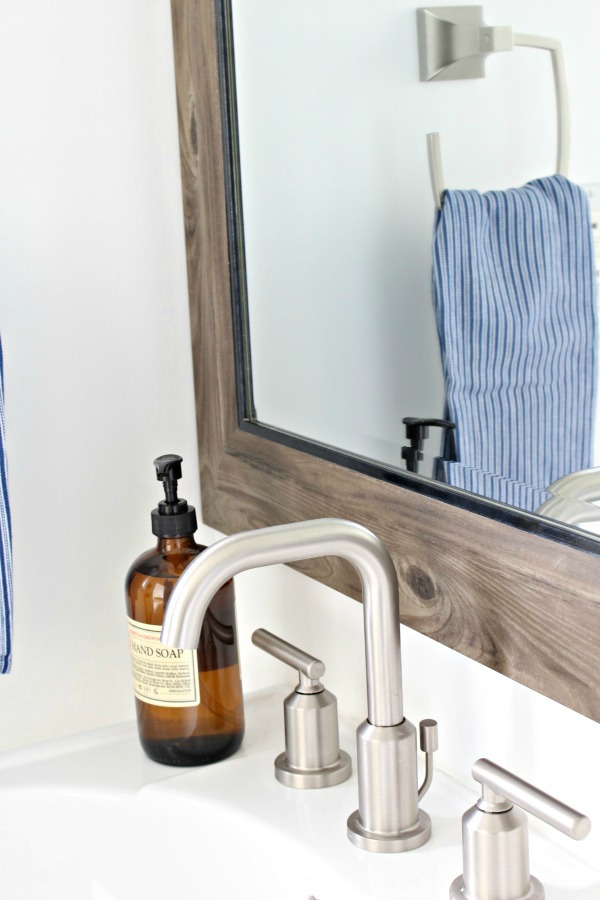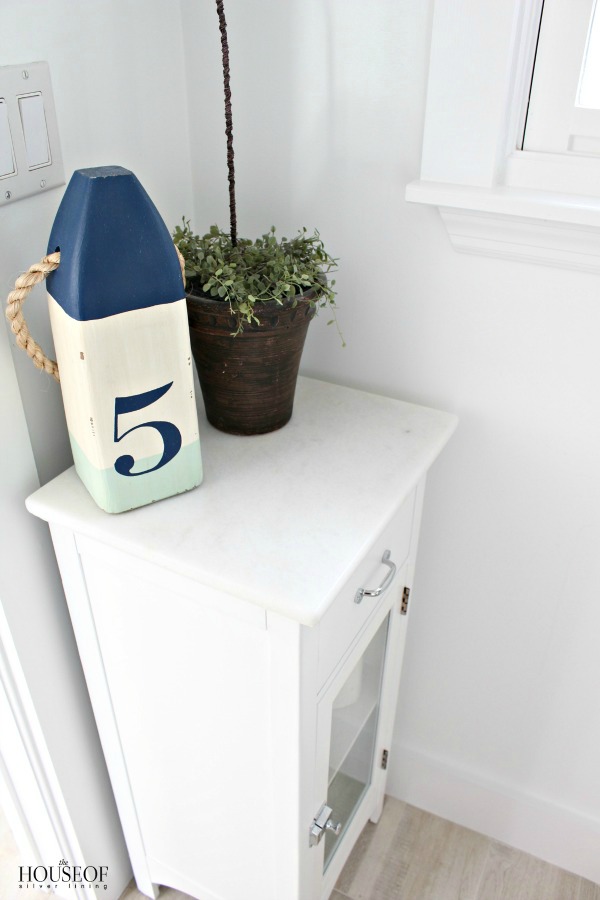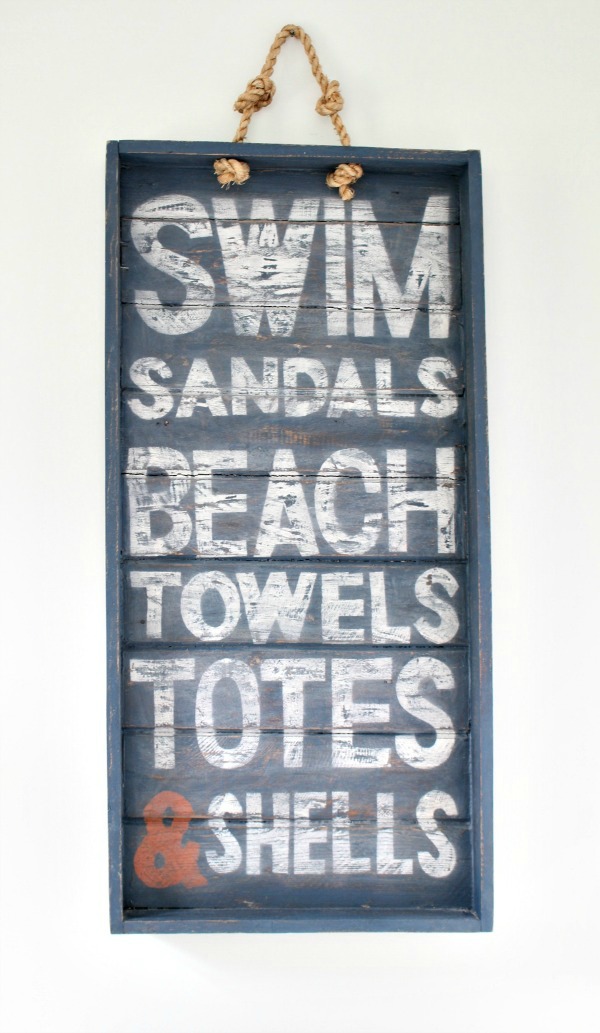 Now that I've had time to take in all of the renovations that happened in such a short period of time, I'm ready to start thinking about spicing up this little ole' bathroom just a tiny bit!  That's where the pink flamingos come in!  I stumbled across this wallpaper a few weeks ago and experienced the heart palpitating moment I get when I've seen something that's a little crazy in design.  Let me just insert here, "hi honey! I know we just ripped out the wallpaper in this bathroom but surprise! Your honey do list is starting again!"  Oh I'm going to get a big eye roll from the hubs for this one for sure!
These have got to be the most gorgeous flamingos I've ever seen and they fit right in with Pantone's color of the year for 2016!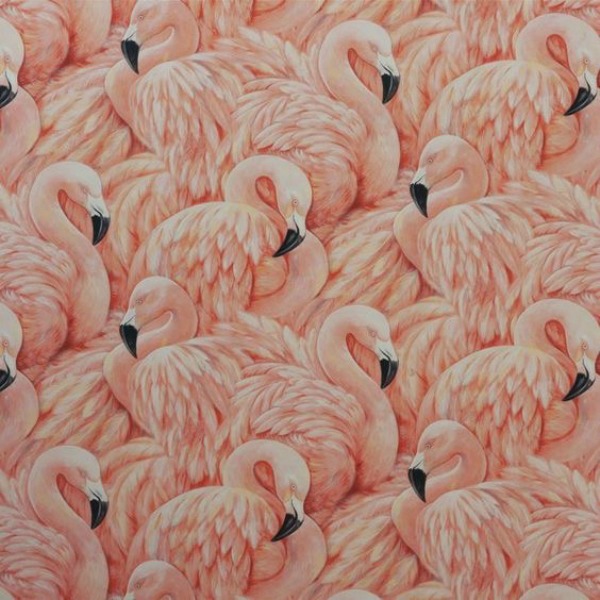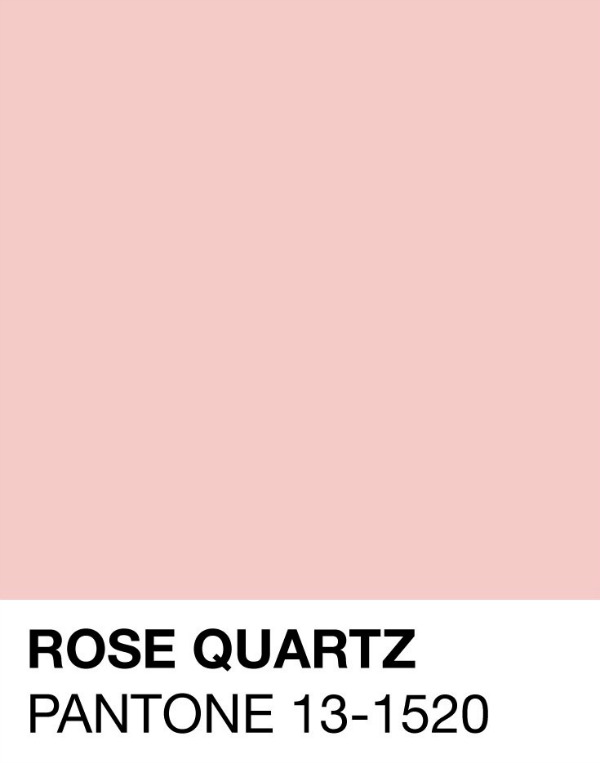 The flamingos may be a little more peachy-pink but I'm OBSESSING!  I never dreamed I'd say that flamingos would give me such a reaction.  I think what I'm loving about this wallpaper is that black mixed with the peachy-pink.  What better place to take a little risk with a busy print than a small powder bathroom.  Plus the fact that it's a beach cottage so therefore flamingos are allowed, #nontackyflamingos. If I decide later down the road that those flamingos are going to attack me as I'm washing my hands in the sink, I'll replace it. I know myself REALLY well.  I will hate it in a couple of years, but in the meantime I want the unexpected in more and more spaces, so the bathroom is a good place to start!  What do you think of it in this bathroom?  Are you feeling it??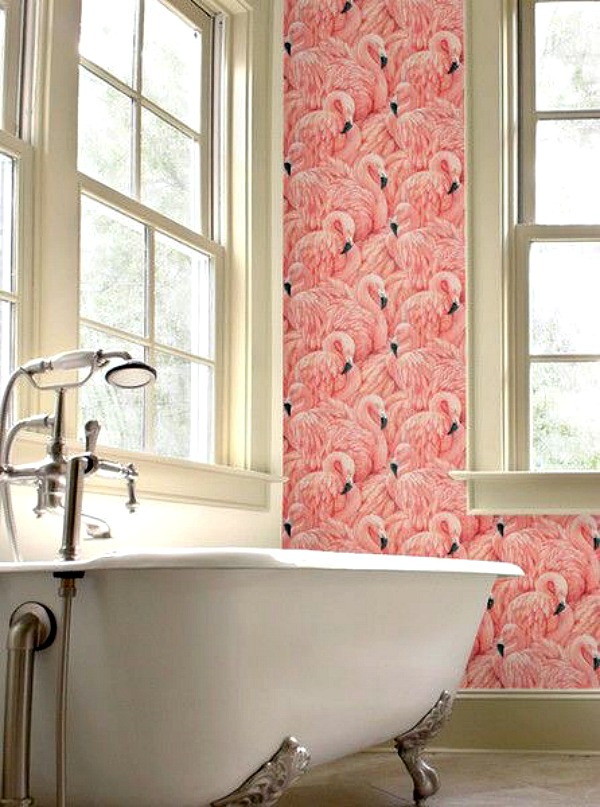 Small bathrooms are a great place to go bold!  Here are a few of my favorites I've seen recently that make quite a statement with wallpaper.  Taking a bold wallpaper half way on a wall or on just one wall has big impact!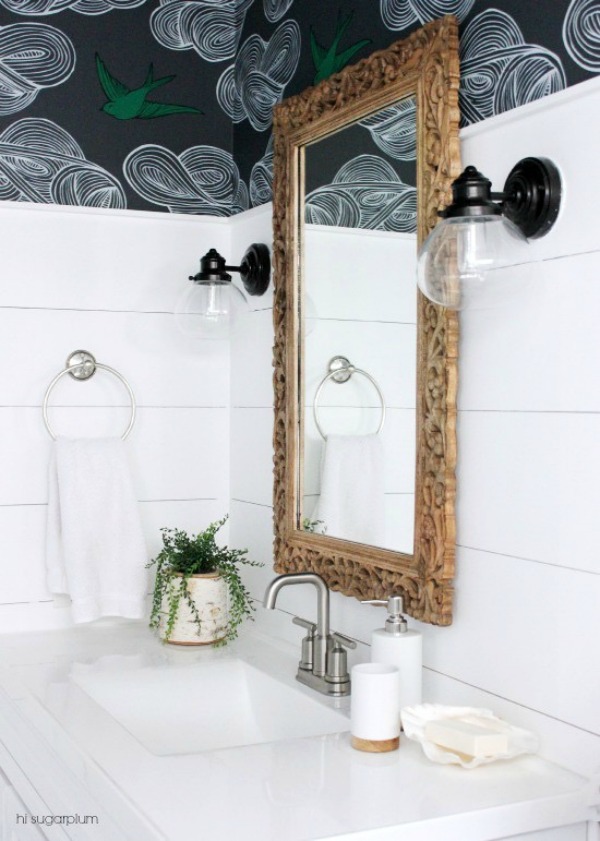 Hi Sugarplum (ps. love Cassie!)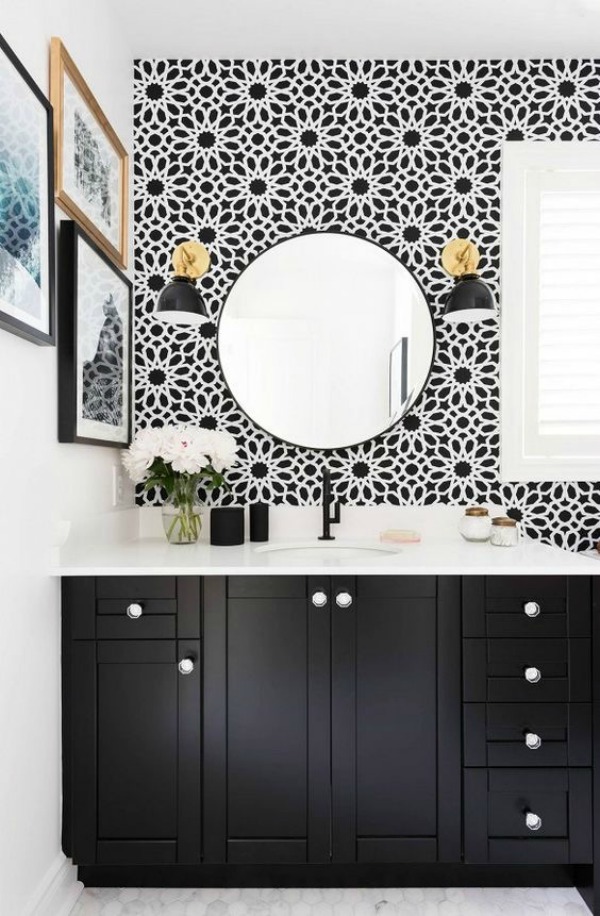 I could not go for the big banana leafs in Colorado, but in Florida…maybe.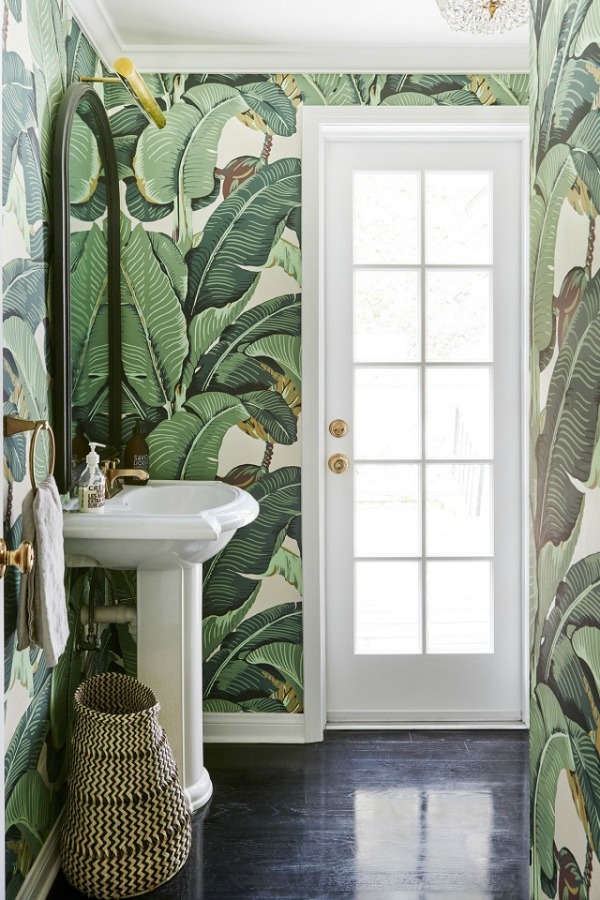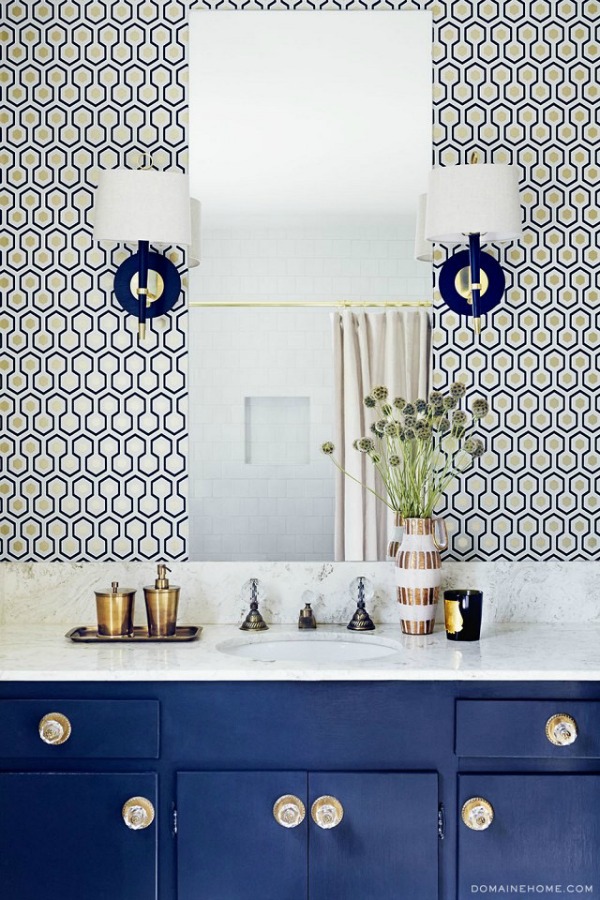 Love that navy blue and geometric wallpaper!  But flamingos are still winning!
I will be back at the beach cottage in April and maybe (just maybe) those flamingos will be unleashed on my walls.  I'll keep you posted.
SOURCES:  FLAMINGO WALLPAPER | WALL SCONCE | BEACH SIGN, MIRROR, CABINET, BUOY, TOPIARY – HOME GOODS