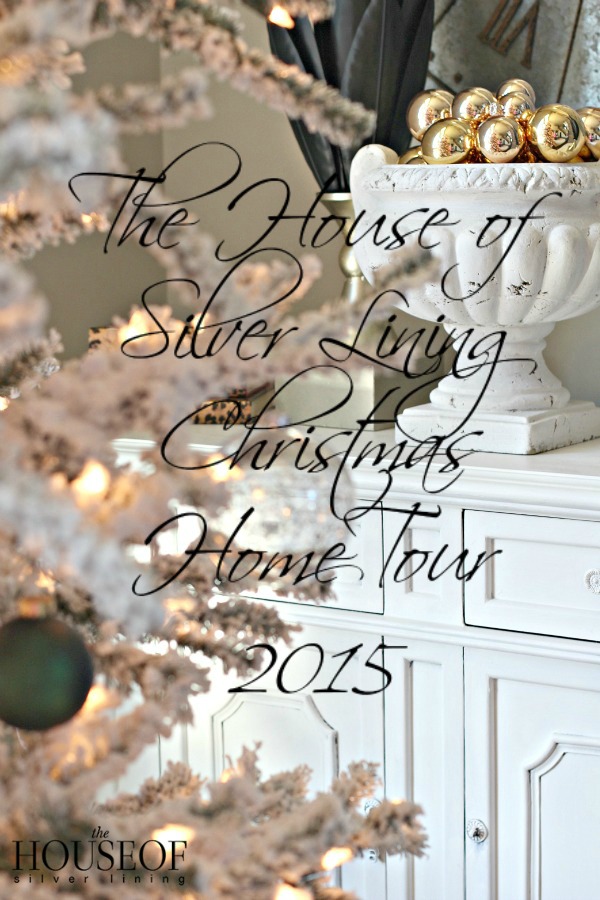 Welcome to my Christmas Home Tour! I am absolutely giddy with excitement to be hosting my first ever Christmas home tour! Last year I didn't have a blog but I remember wishing I did just to be able to do a tour of my home decked out for the holidays! I never imagined that starting this blog back in June would lead to so many friendships!  Besides the fact that I am having so much fun decorating for Christmas and being able to share my home with you! I've gathered seven of my friends to join in on the Winter Bloggerland Tour. If you're new to the blog and hopping over from Nesting With Grace, WELCOME! I'm so happy you're here!  There's no better time to welcome guests into my home than for the holidays!
Today I'll be sharing my home in Colorado.  If you've been following me for a while, then you know that we have a cottage in Naples, FL too!  We will be there right after Christmas to warm up a little bit on the beach!  I don't want to take up too much time with formal introductions, you can read more about me here.  But in a nutshell, I'm Shauna, I have an amazing hubby and three boys that melt my heart completely!  They put up with all of my design obsessive behaviors!  Now on to the tour…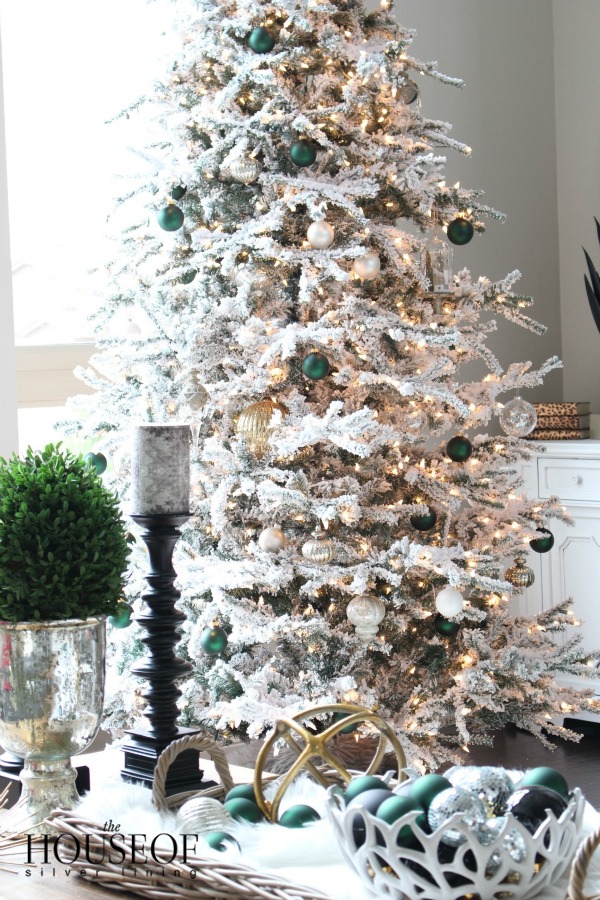 This is the first year I've had a flocked Christmas tree and oh my goodness…LOVE!  I found this 10 foot flocked tree from Wayfair and can't believe it came out of a box! It's so pretty that I decided to decorate it with simple ornaments in shades of emerald, silver and gold.These little disco ornament balls reflect speckled lights all over my ceiling and wall with the sun hitting them on the coffee table.  I love when unexpected things like that happen! So magical!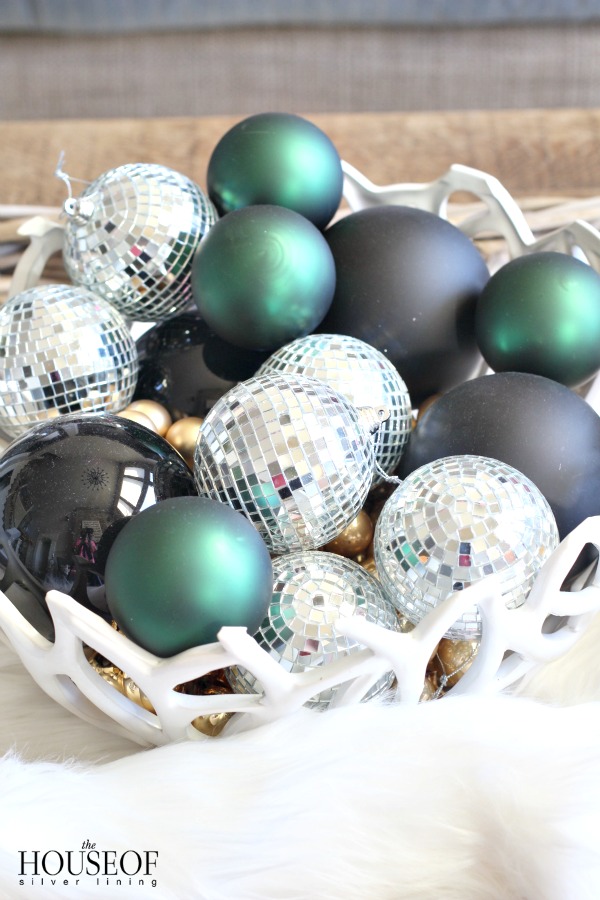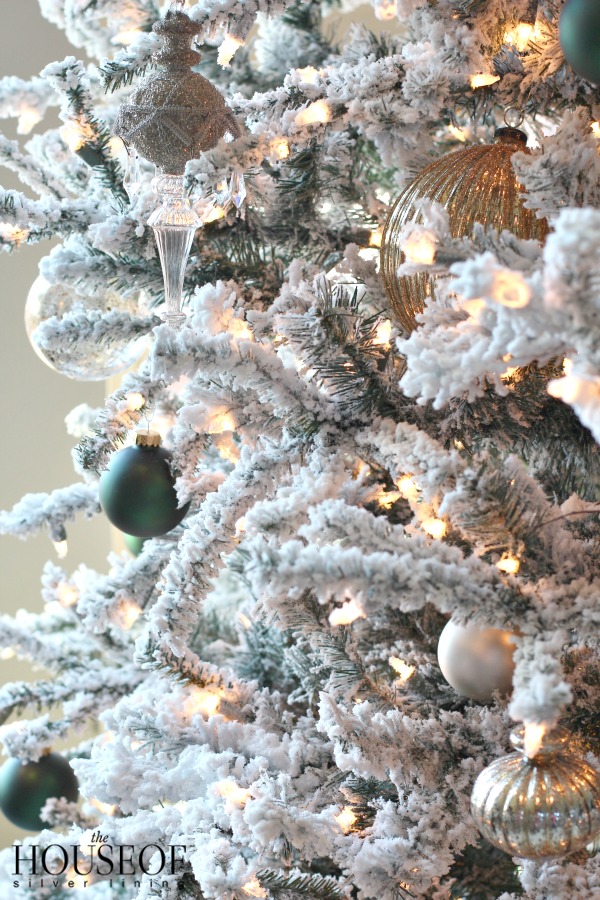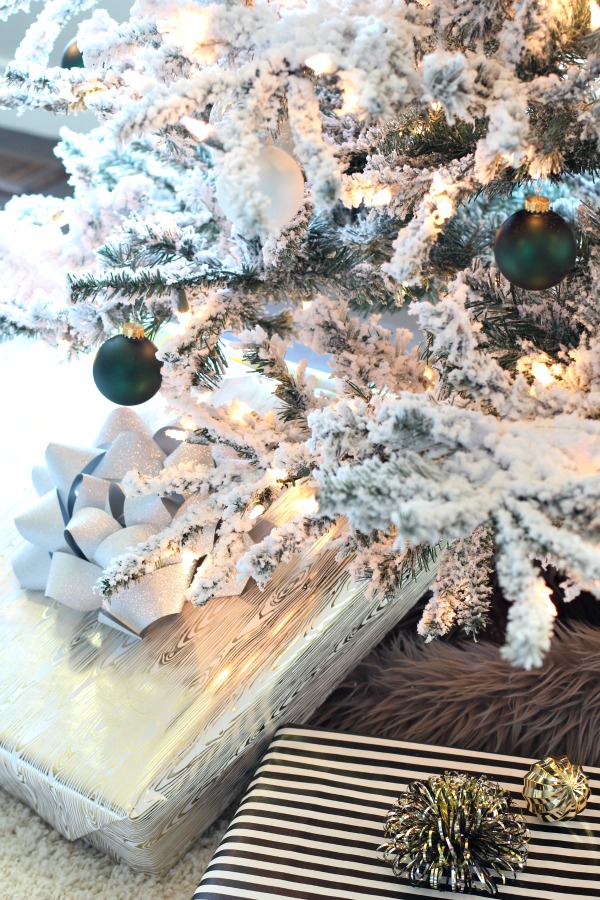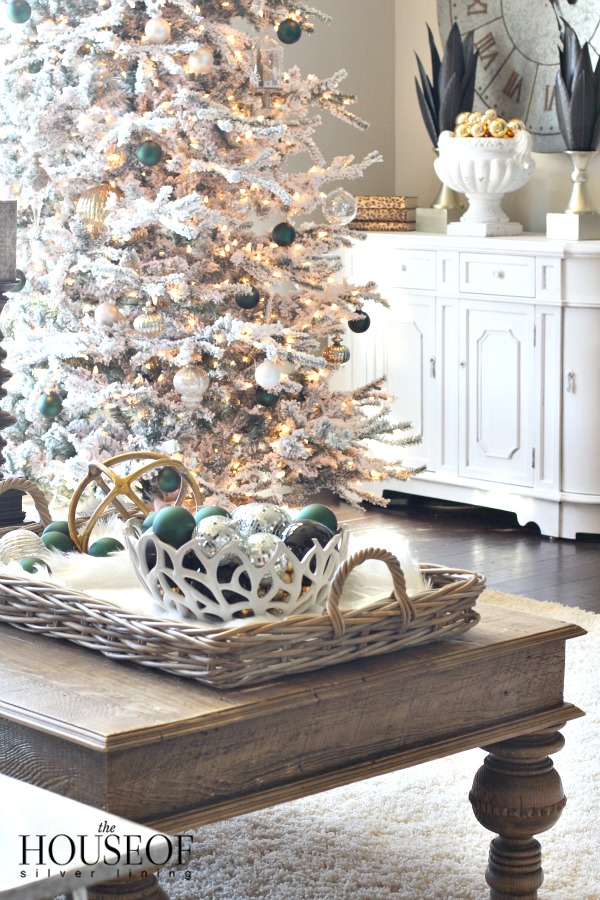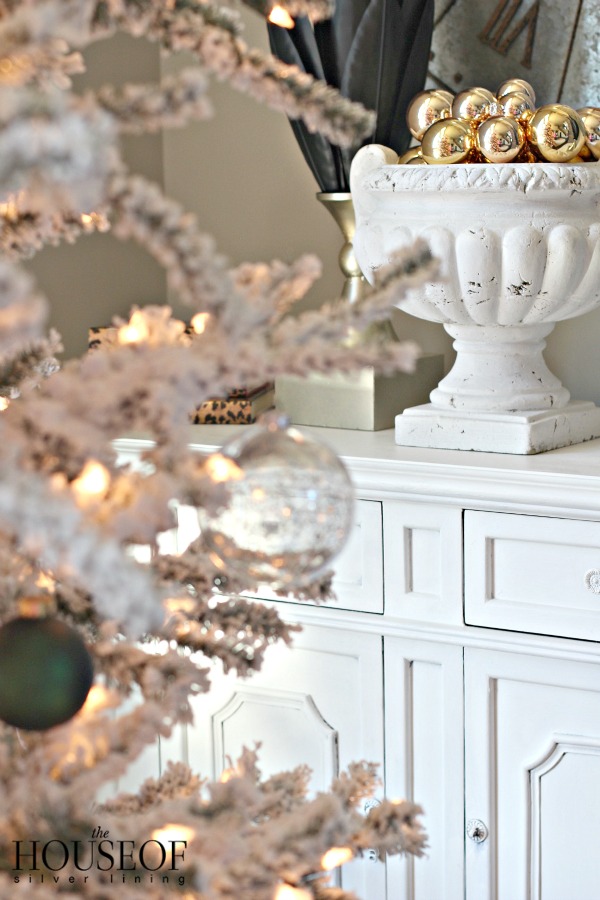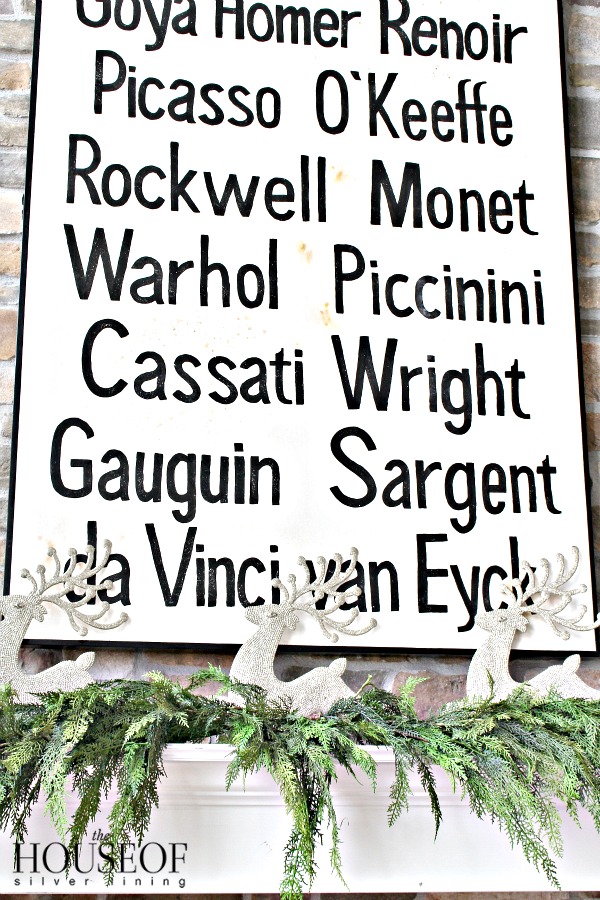 The mantle is ordained with simple garland and prancing reindeer.  The art work makes a bold statement so I like to keep my mantle more simple. We hang the stockings the night before Christmas as a tradition in our home.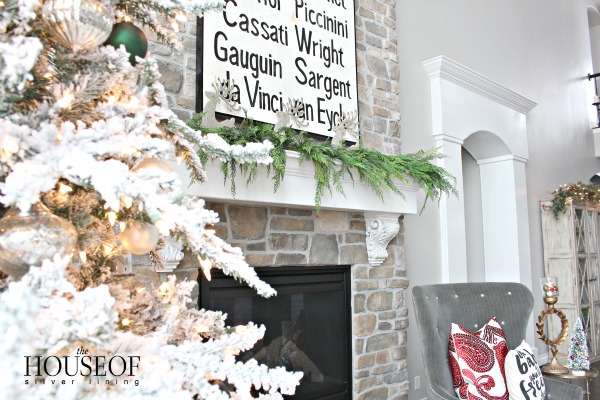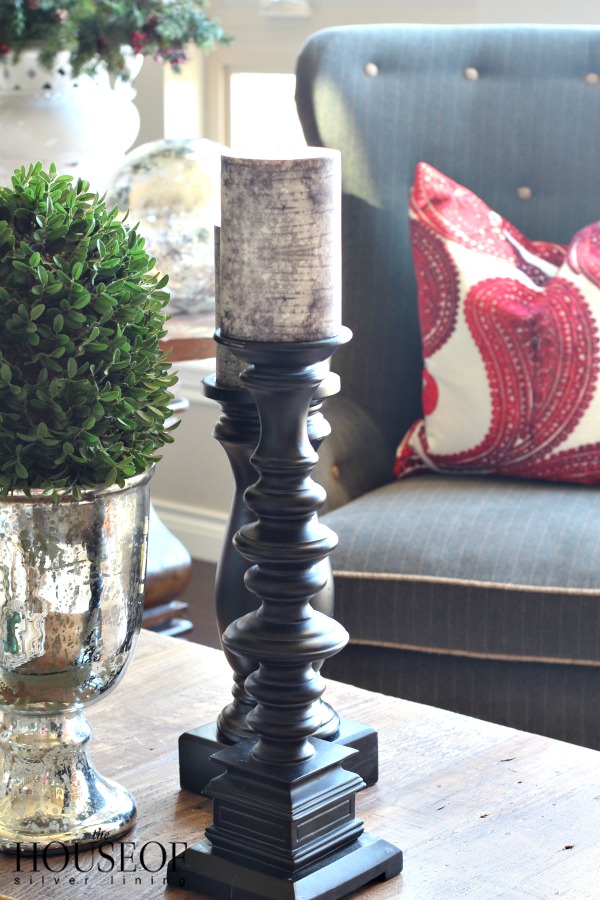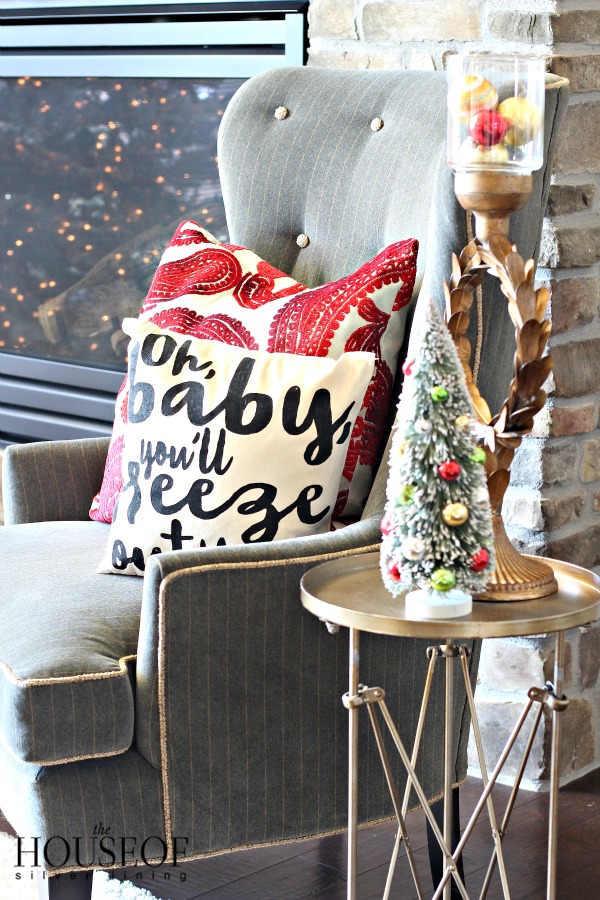 How perfect is this "Oh, baby you'll freeze outside" pillow by this cute Etsy shop.  The weather in Colorado is definitely freezing and we've had a few big snowfalls already.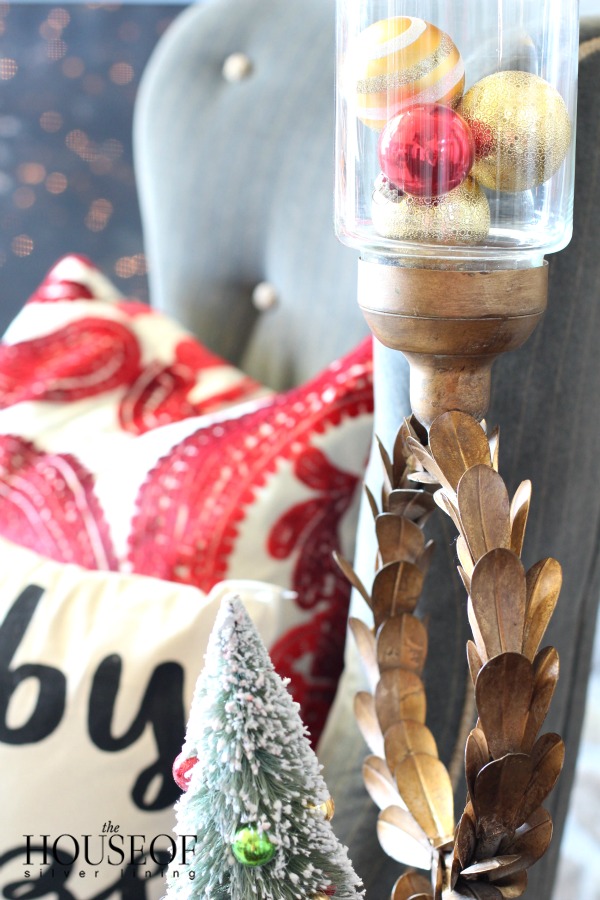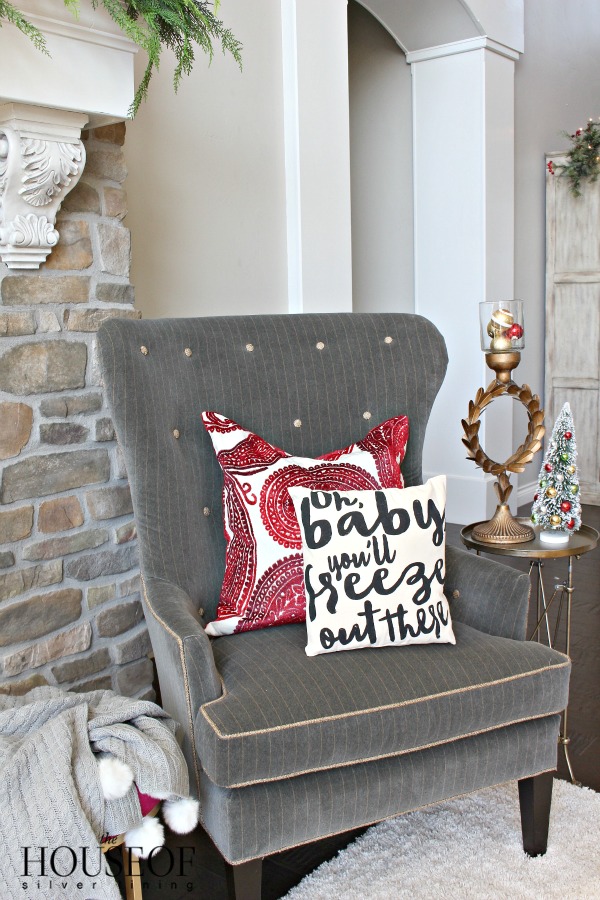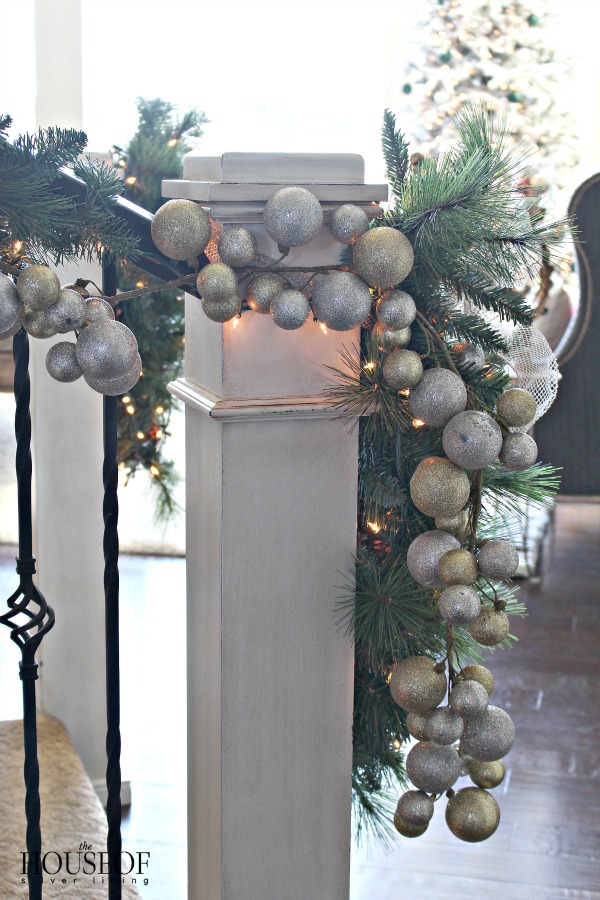 The stairs have simple garland with these amazing glitter ball strands that I found at Marshalls and Homegoods. I love how much fullness they add!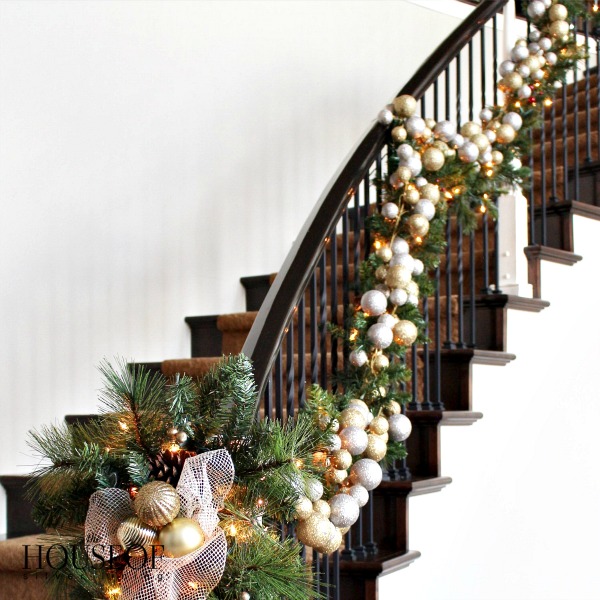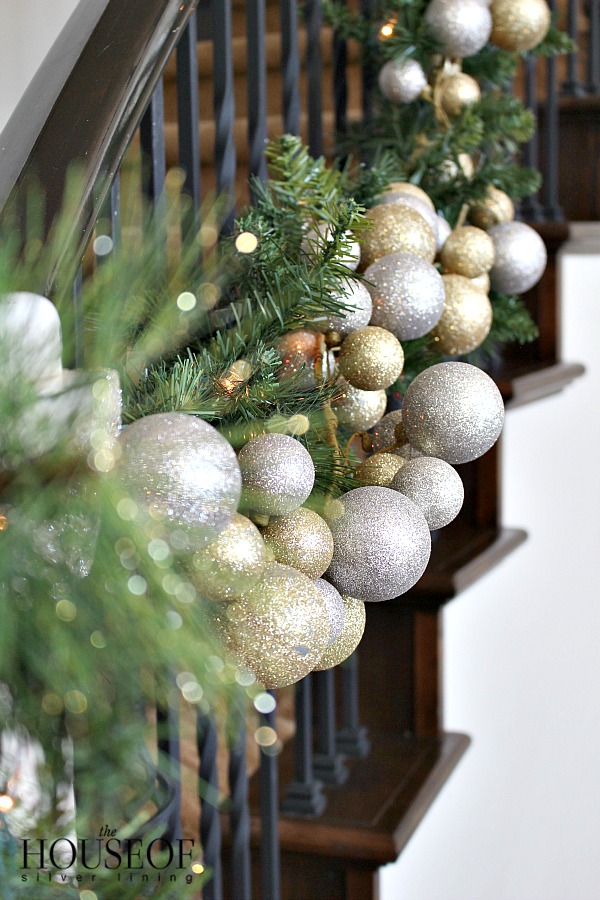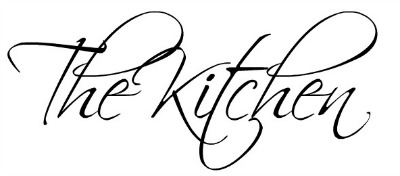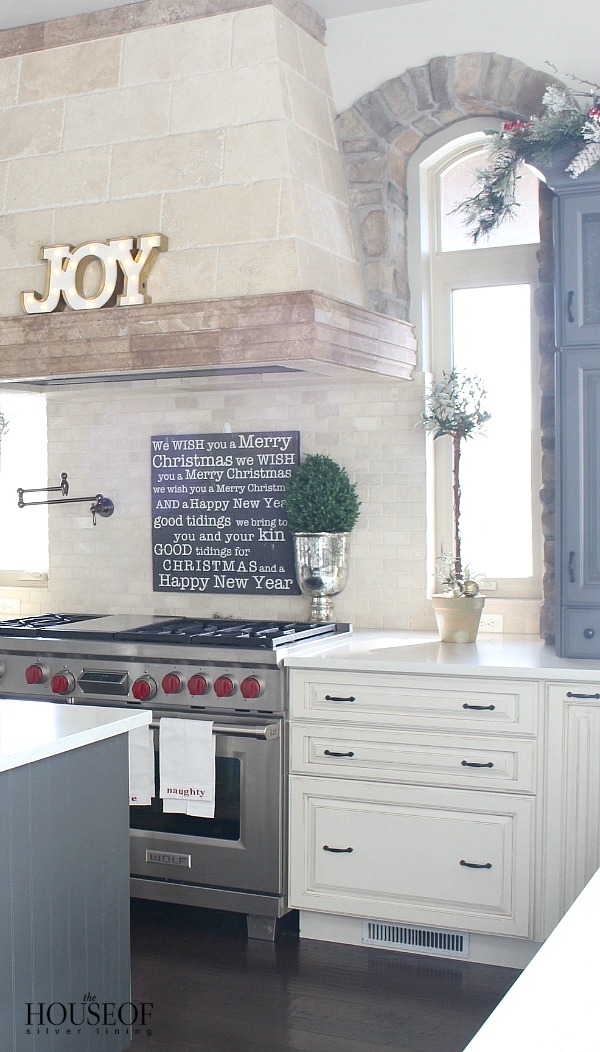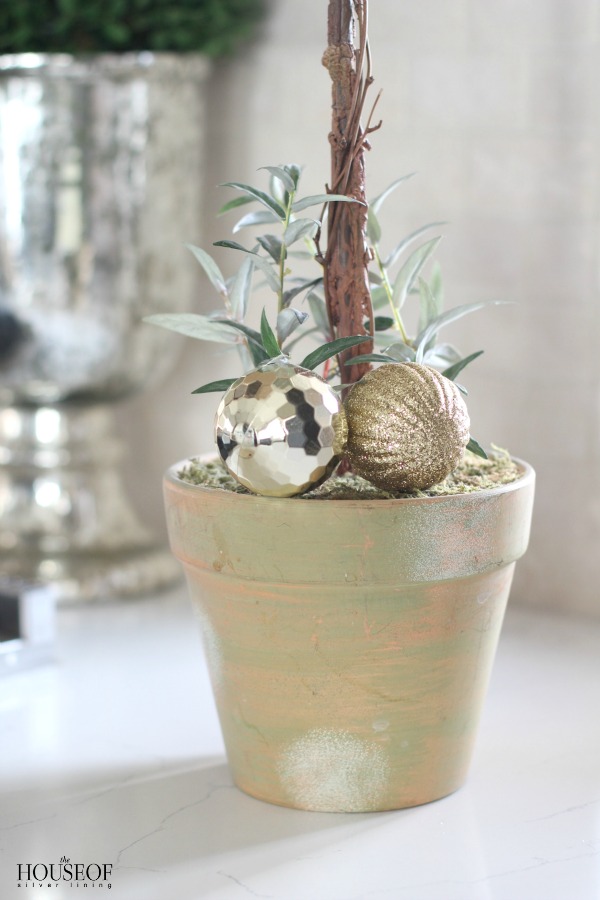 It's the little things that make me smile, like this JOY lighted sign from Target. I had holiday decorating on mind when we built this home so I made sure there were outlets on those upper cabinets for twinkle Christmas lights.  My Ballard Designs chandeliers get adorned with greenery every year as well.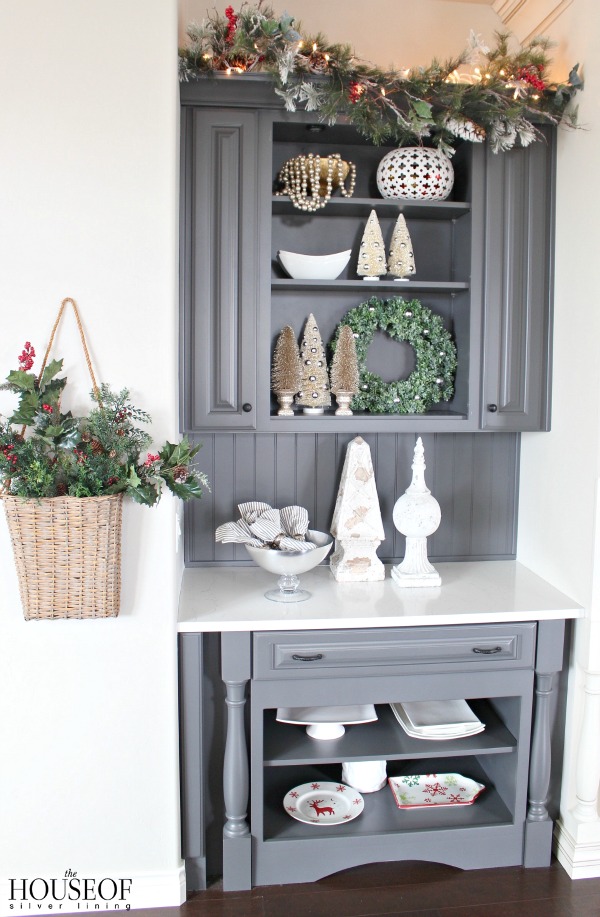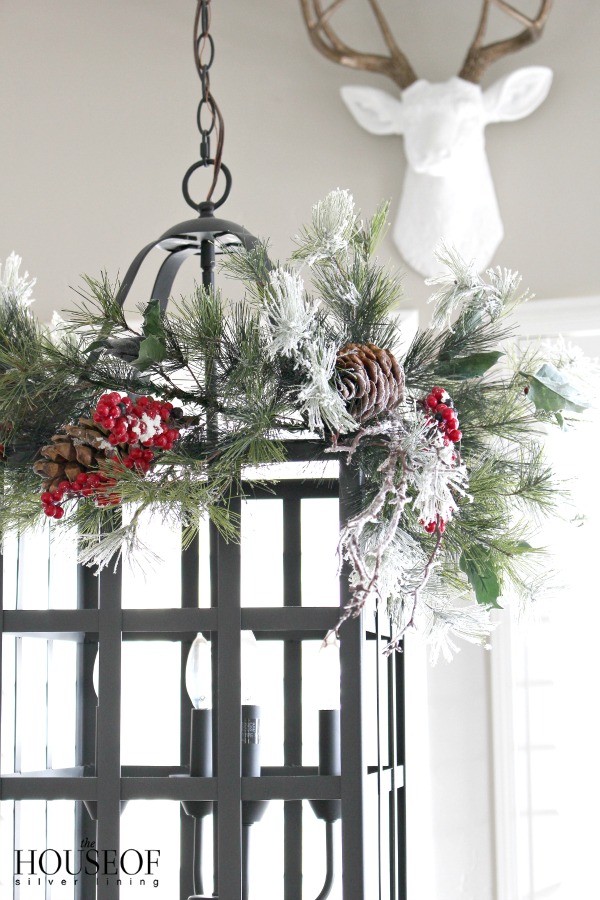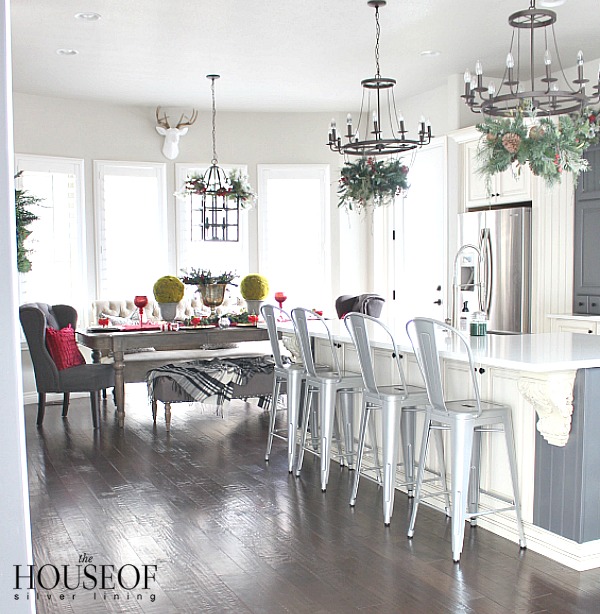 The kitchen table is an eclectic mix of red, gold, and a little cheetah print.  The pop of red in my predominantly white kitchen is bold yet traditional.  I draped a plaid scarf over my bench because every home needs a little plaid for Christmas. The fur table runner may be staying for a while…why not leave it until Valentines Day. Those cheetah print pillows from Homegoods…they make me so happy!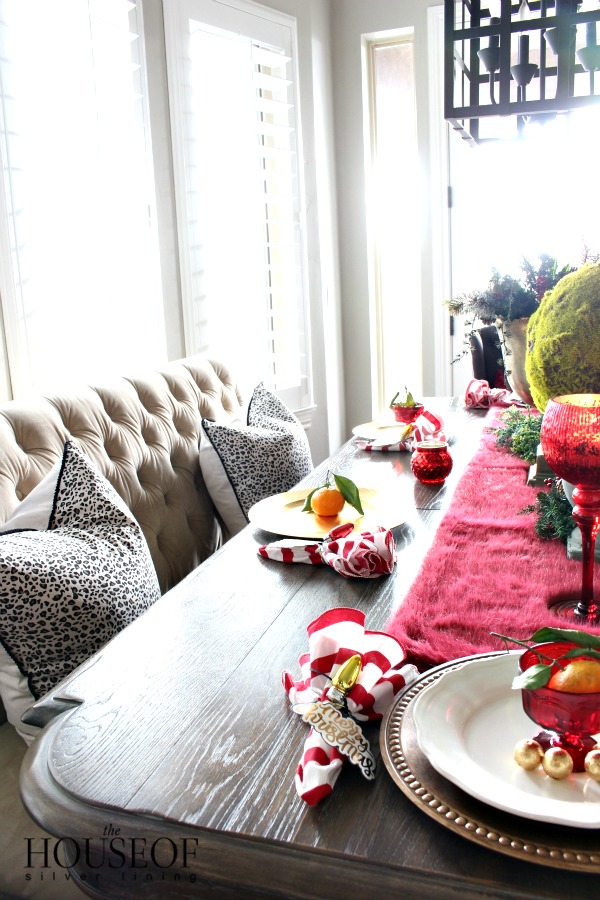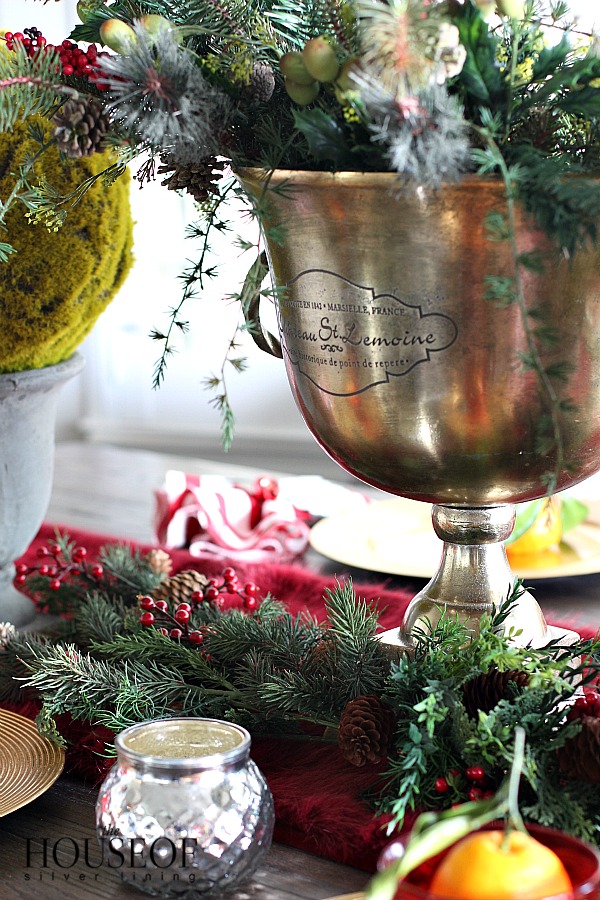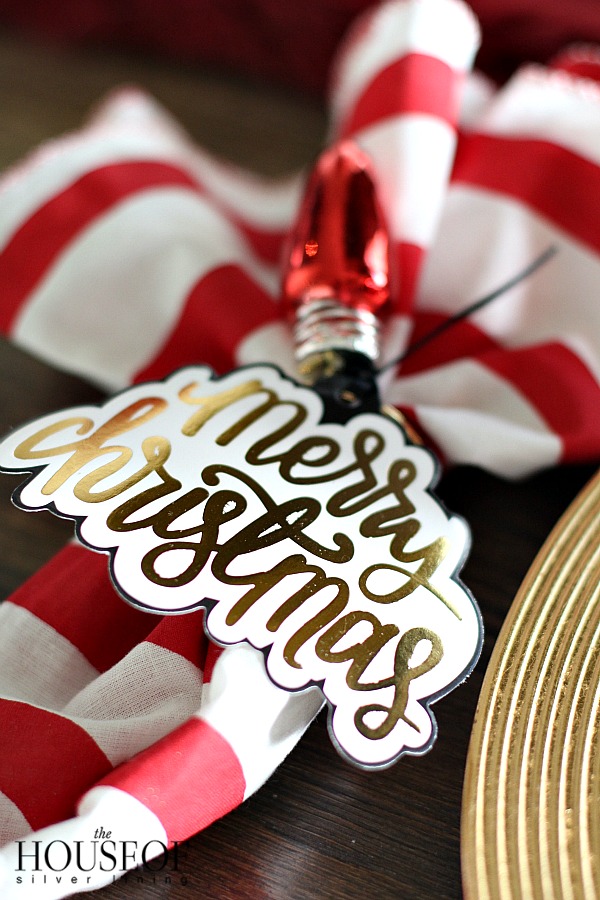 I used Merry Christmas gift tags from Target for a festive touch to my holiday napkins.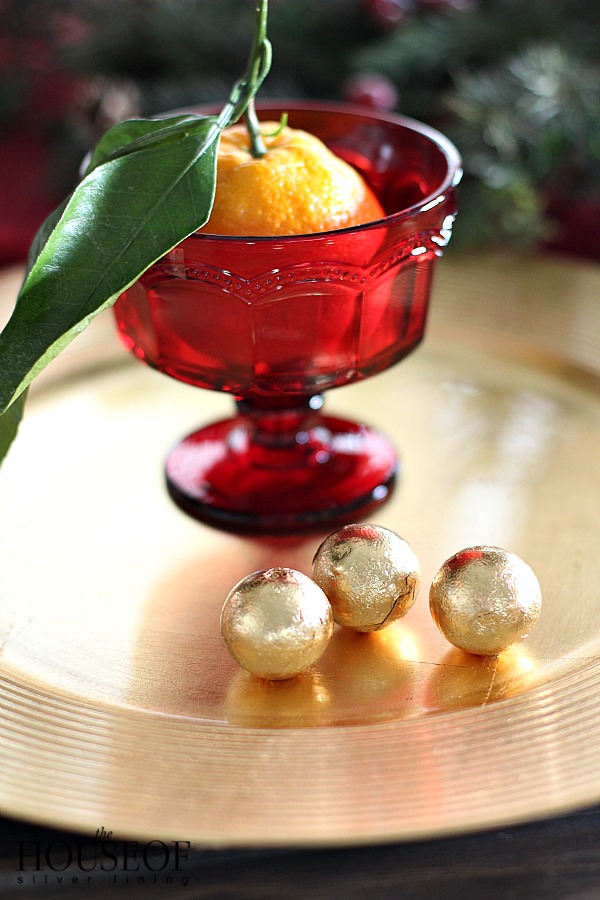 I have fond memories of red compote dishes from my childhood.  My grandmother always served ambrosia in these before our Christmas meal.  This year I'm going to make her recipe and serve this sweet appetizer for my family. You can see more of my Christmas table here.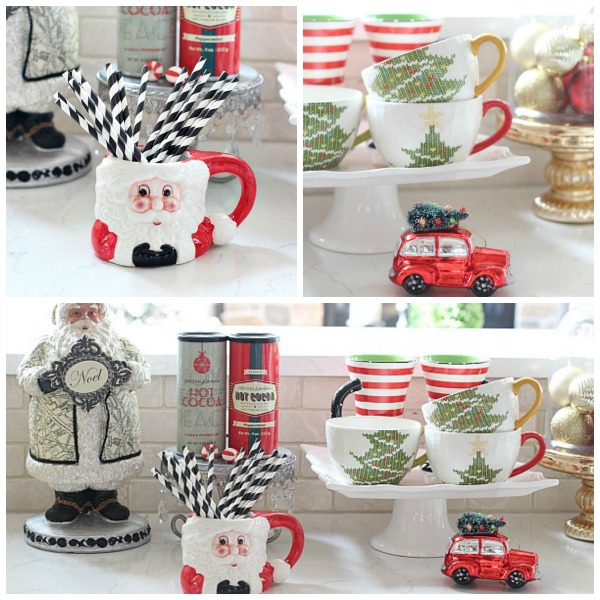 The hot cocoa station is where I display my vintage looking Christmas pieces.  The stitched Christmas tree mugs were from Target a couple of years ago.  The striped mugs and hot cocoas are from Homegoods. I've collected a few vintage looking santa pieces over the years and this one is my favorite.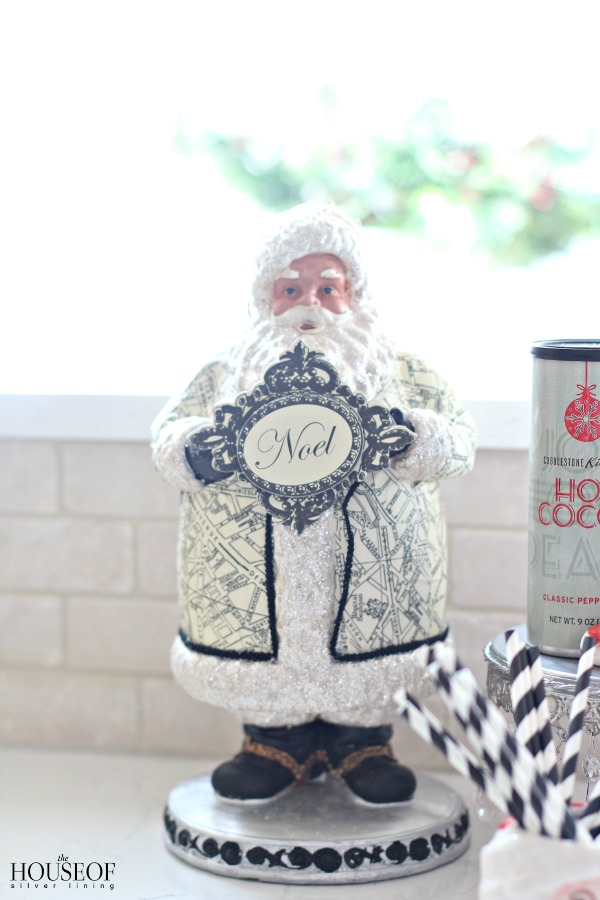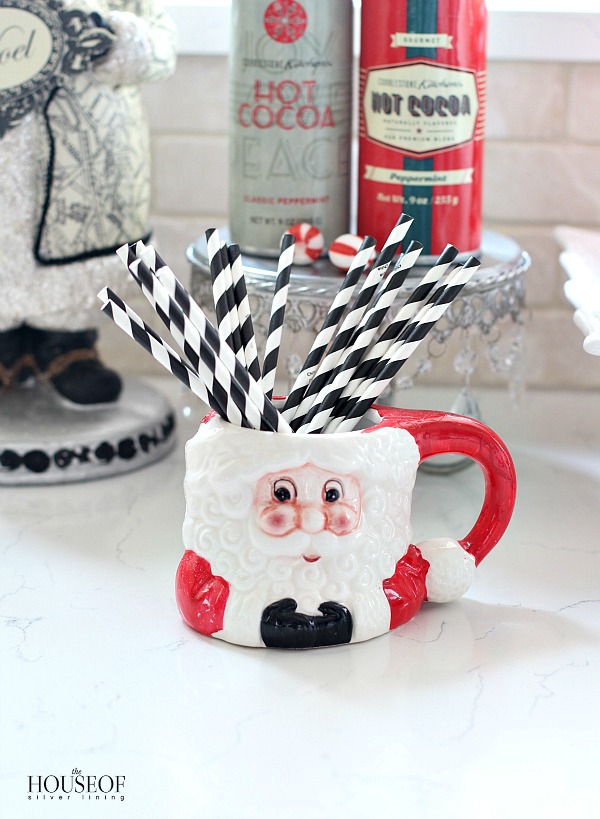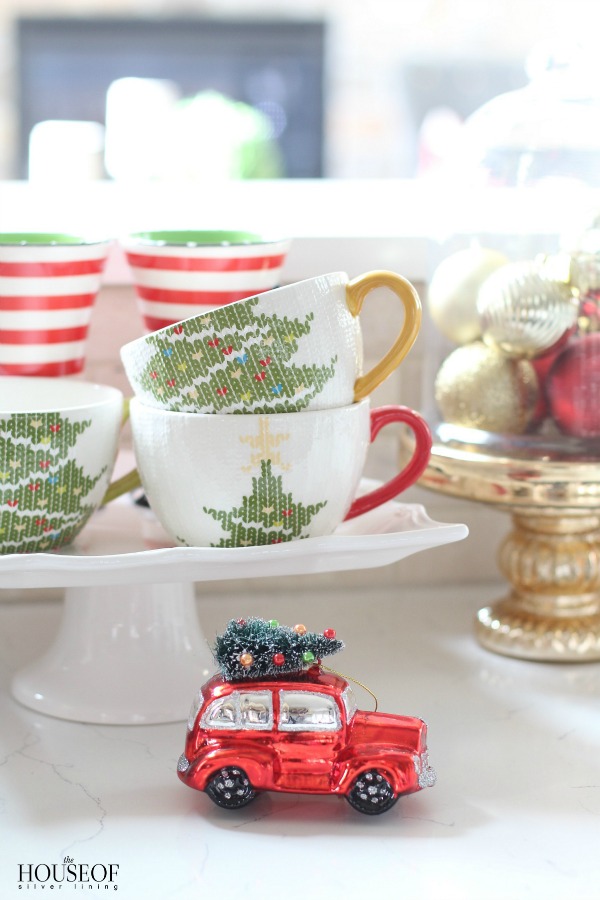 Every year I buy my boys a new tree ornament.  This year they got this vintage car with tree from Target.  It's the cutest little thing I've ever seen!  I had to borrow it for this photo!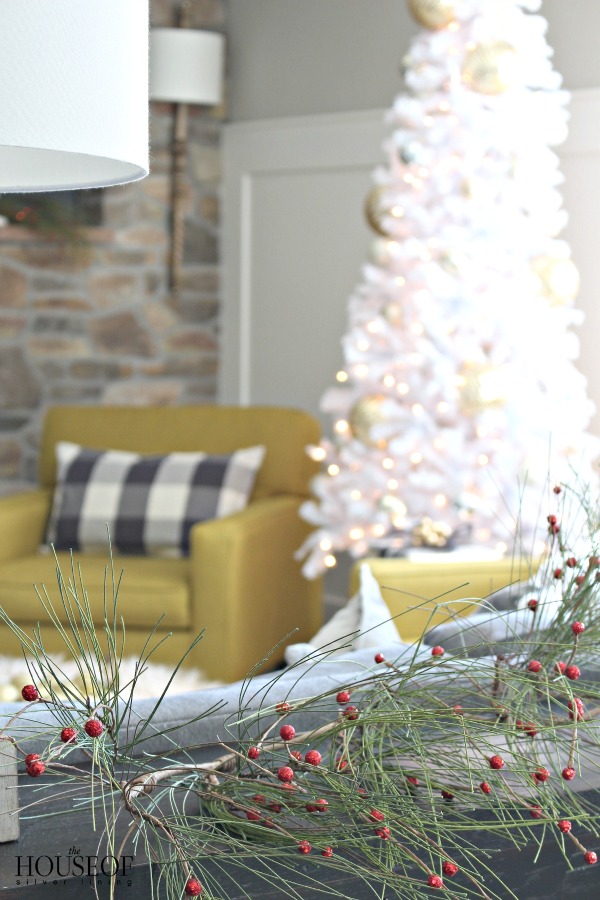 Our family room is where you will find us watching movies or gathering with friends.  We have white board and batten on the walls which is one of the best improvements we have made to our home!  I love this large space because it shows the transitional modern look I love. Adding simple Christmas touches is all it needed!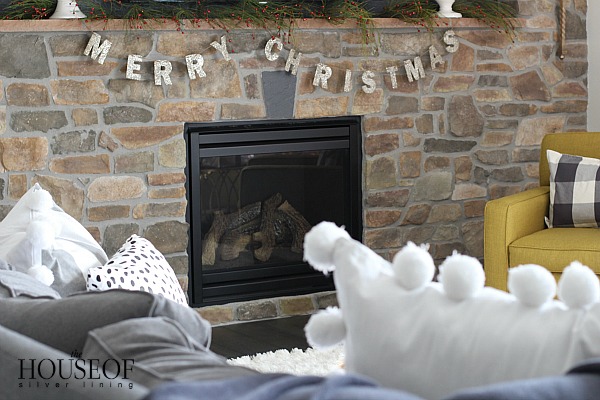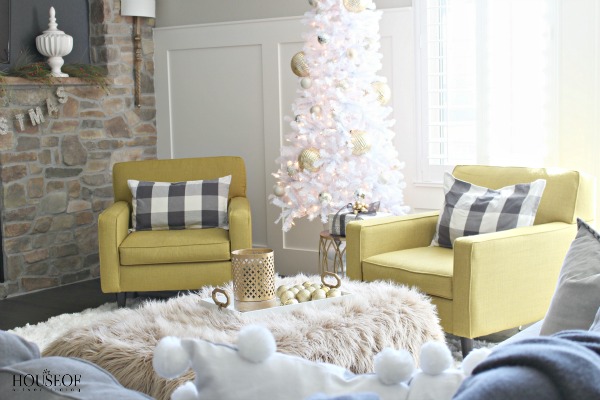 The buffalo check plaid pillow covers are my Pottery Barn favorites! I covered my normal decorative pillows with them and love that all I need to store after Christmas is the pillow cover rather than a bulky pillow.  I love the warm cozy feel of fur in my home and add it to almost every room. I found this fur blanket at Homegoods and draped it over our ottoman…so warm and fuzzy to rest your feet on.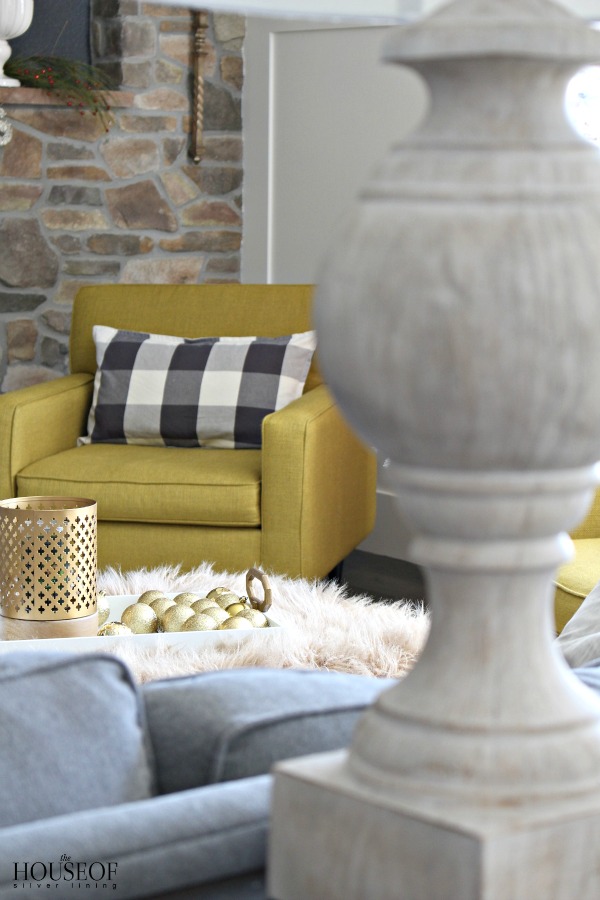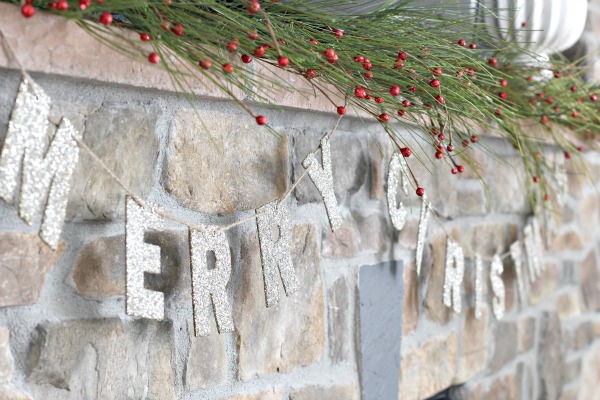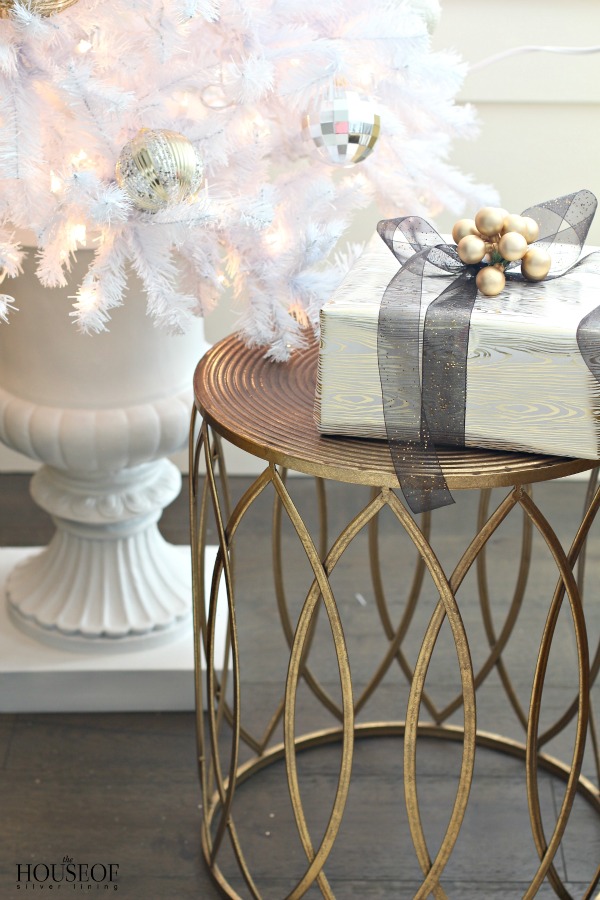 I've always wanted a white Christmas tree.  I found this one on clearance last year from At Home and had to wait all year to set it up!  I placed it in an old painted urn I had on hand which dressed it up even more.  The gold baubles are stunning against the white.  I'm going to be so sad when January comes and I have to pack this one away.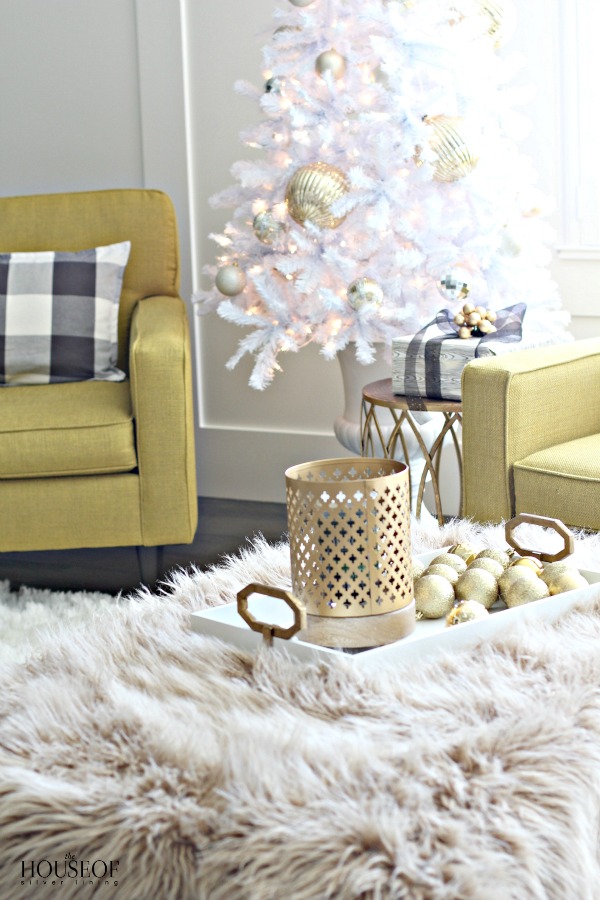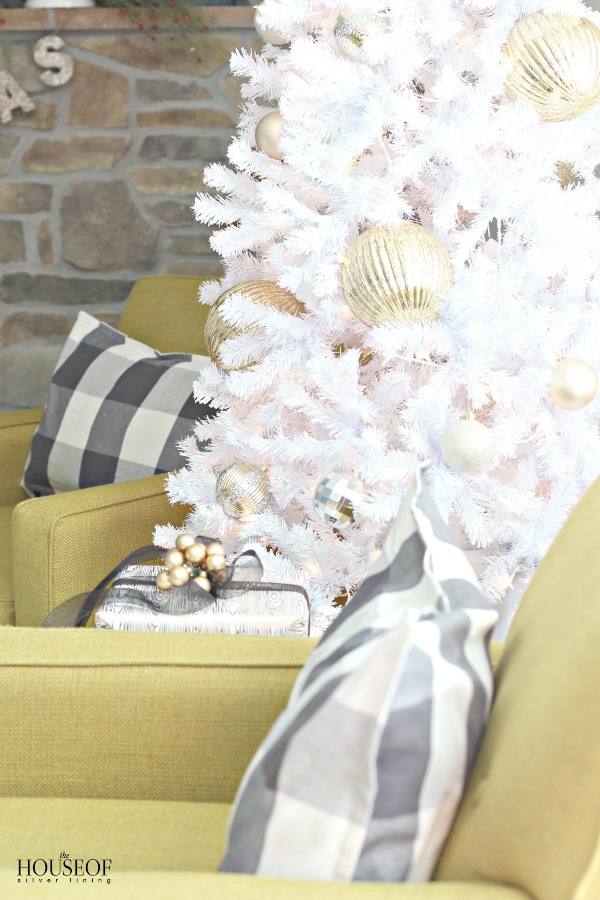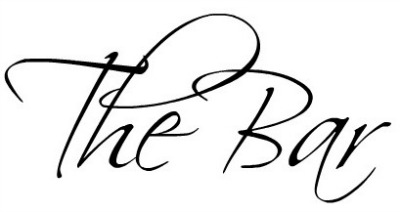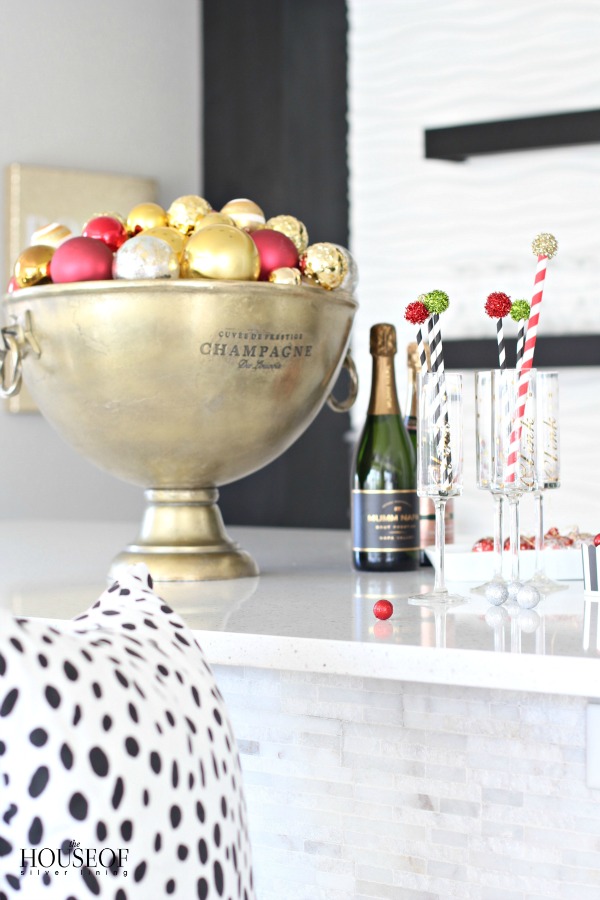 Welcome to my Bar!  My absolute FAVORITE space in my home!  It's swanky and chic and I'm pretty much obsessed.  You can see more of it HERE.  It sits right off of our family room and is such a fun gathering spot. You'll be seeing more of this scene in the upcoming weeks…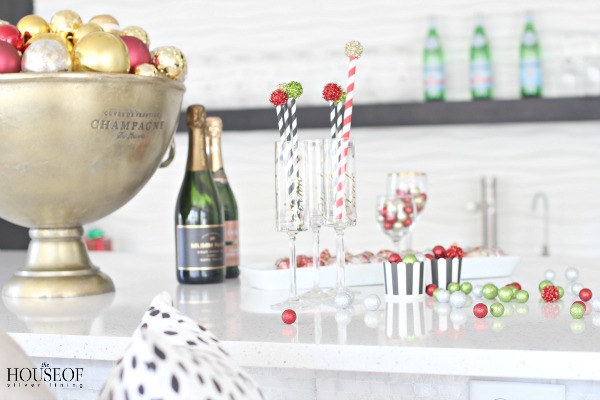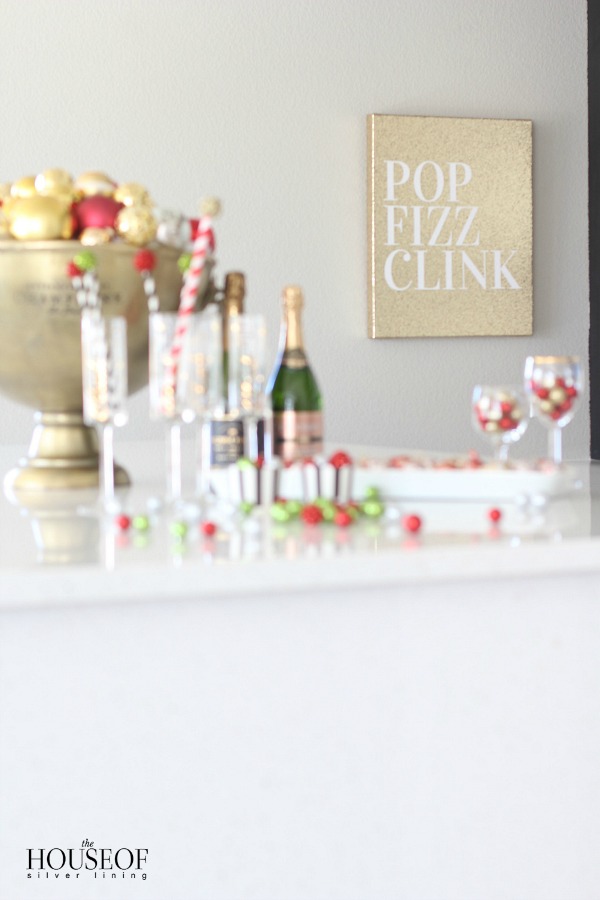 Getting ready to celebrate the New Year with champagne.  POP FIZZ CLINK!!
I had so much fun getting the house ready for this tour!  Opening the doors to all of you out there made the work so worth it!!  Later this week, I'll be sharing my guest bedroom dressed up for Christmas and my office got a little sprinkle of holiday cheer too! Here's a little glimpse…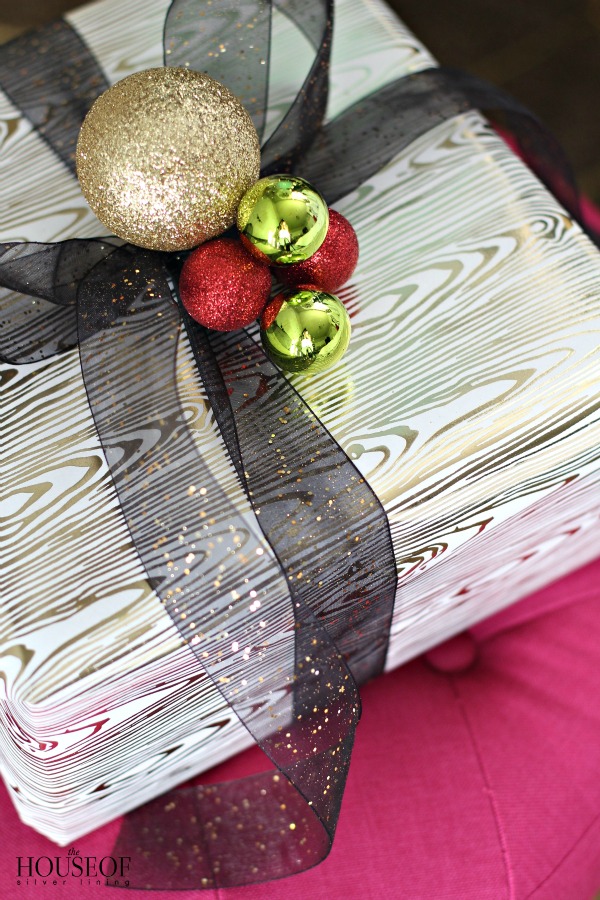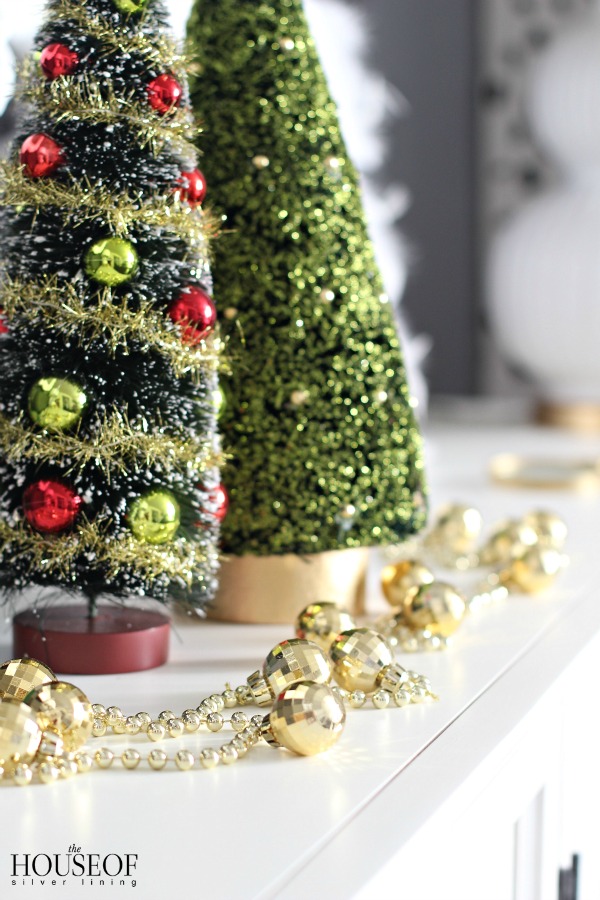 I hope you are enjoying this holiday season and are surrounded by love and joy.  In the midst of the hustle and bustle of this time of year, I reflect on what Christmas is really all about.  It's not about the gifts that we receive or give each other, but it's about Christ's birth.  He is the true gift to us and the only One who brings us true hope and joy. May you find peace in knowing this.  From my home to yours, I wish you a Merry Christmas!
The next stop on the Christmas Home Tours is my friend, Brittany at Addison's Wonderland.  Love this girl and love her style! I promise you don't want to miss her home!
The goodness keeps on going in these homes so be sure to stop by each one!  There's a wonderful eclectic mix of styles that are sure to inspire you!  You should probably refill that cup of coffee or hot cocoa now…my friends are waiting for you!
Thank you so much for stopping by my Christmas Home Tour!