Bold, Beautiful, & Glamorous Master Bedroom
I'm pretty excited to share today's post with you! I've partnered with Joss and Main in making over a Mother's Day retreat for a very special mom.  Since I'm not making over any rooms in our home due to our upcoming move (read all about The Forest Modern home HERE), I chose to take on my bestie's master bedroom.  Our friendship began almost 7 years ago when she hired me to decorate her home and we pretty much have been BFF's ever since.  Last September, she moved into a new home (right down the street from me!) and I have been slowly helping her get it glam-perfect!  Wait until you see her new Bold, Beautiful, & Glamorous master bedroom!
But first…the before photo (yikes!)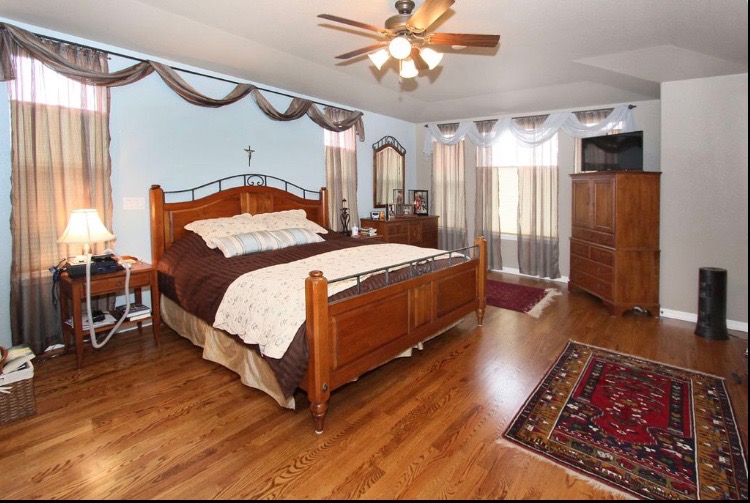 I say yikes because if you knew my friend, you'd know that this is the farthest design aesthetic that identifies with her personality and who she is. Your home should reflect your personality!  We can gather design inspiration from clues in our wardrobe and sense of fashion style.  I wrote all about my formula for designing a space in this post, you may want to read it!  This is what the bedroom looked like before she bought the home. She moved in and we had a blank slate to work with.
My dear friend is from Texas and loves to glam it up! She's a former beauty pageant girl and was a runner up to Miss Texas back in the day. I'm so proud of her!! She always dresses to the hilt and does not shy away from bold colors or busy patterns in her outfits. Basically, she could wear a sack cloth and look totally amazing. Girlfriend needed a bedroom makeover that evoked here true personality and sense of style and I had just the right plan for her. I love how she trusts me completely and let's me design her spaces without reservation. #bestclientever!  All room sources are listed at the end of this post (just in case you want to copy this look ;))
Bold, Beautiful, & Glamorous Master Bedroom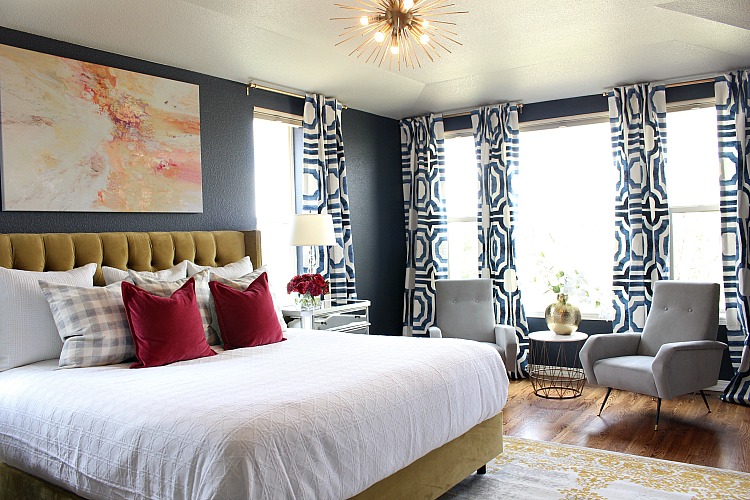 Affiliate links used in this post for your shopping convenience
In an ideal world of design, one get's to decorate a space with a clean slate. This was the ideal room because we started from scratch and built this boldly colorful master retreat.  It all started with this bed.  I'm a sucker for velvety goodness and tufting. To see the bed in person, even better! It's so luxurious!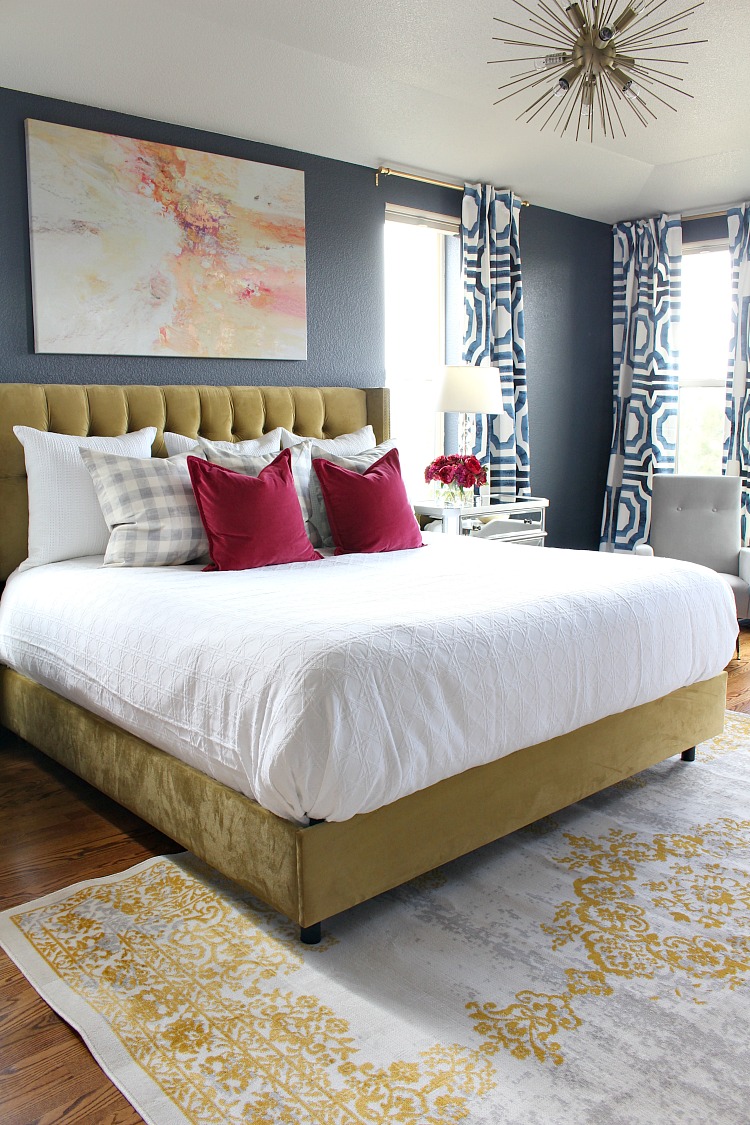 The walls were painted in Benjamin Moore Hale Navy and the ceiling is Benjamin Moore Revere Pewter. Navy is all the rage in design lately, but happens to be one of her favorite colors to wear.  I love how it adds a bit of masculinity to a glamorous bedroom. I think her hubby can appreciate that a bit! 😉
To soften the coldness of the hardwood floors I layered them with this fabulous rug. The color matched perfectly with the bed! The grey tones tie into the grey ceiling and soft grey chairs in the seating area.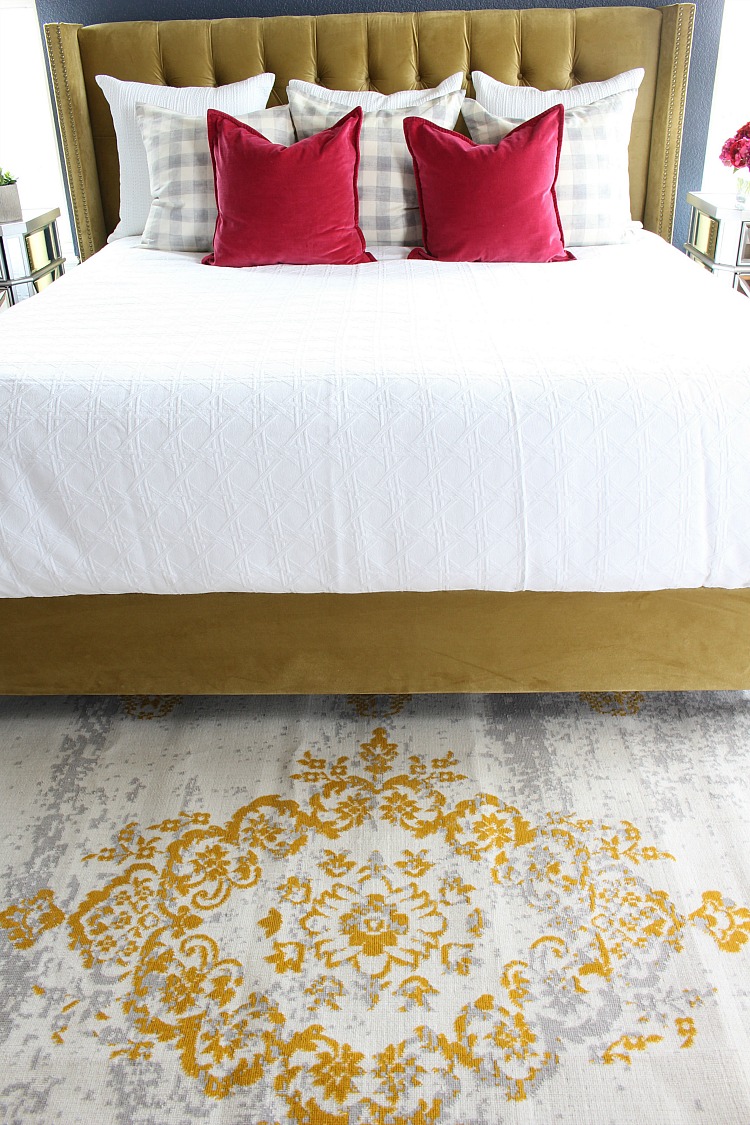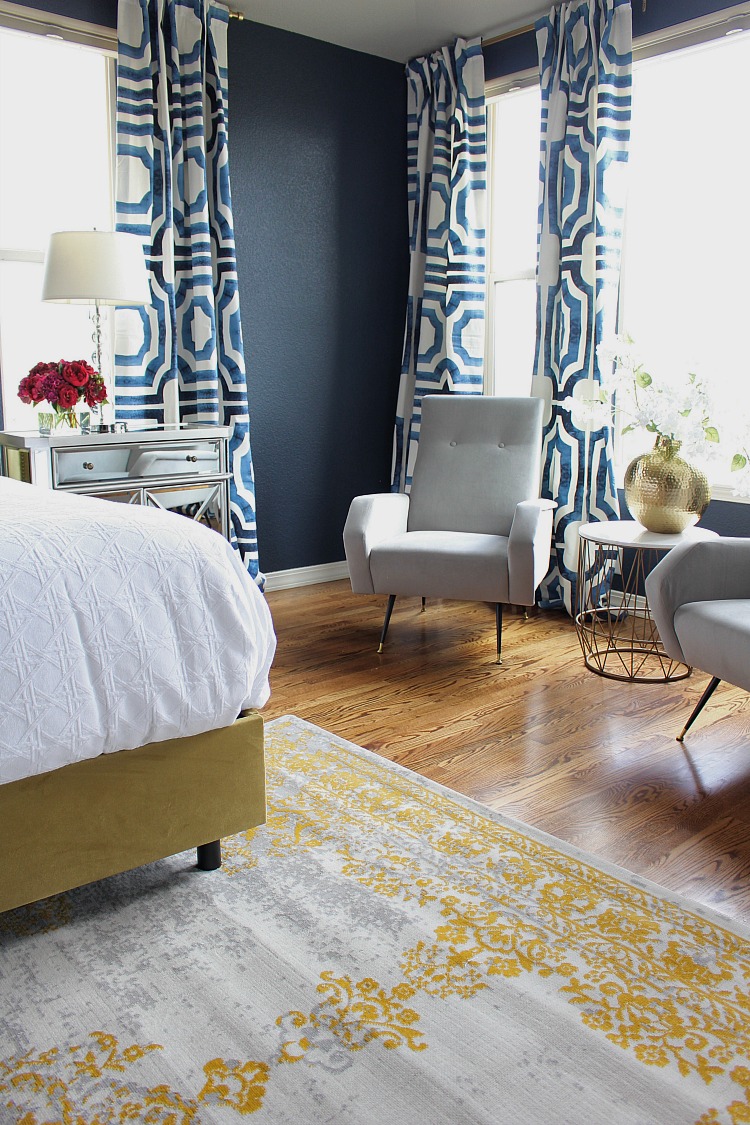 She wanted a place to sit and drink her coffee in the morning and look out her big picture windows at incredible views of the mountains.  These gorgeous velvet chairs have a nice mid century style and sleek look. Another way I balanced the femininity of the tufted bed and pops of fuscia in the bedroom. They are actually really soft to sit on too!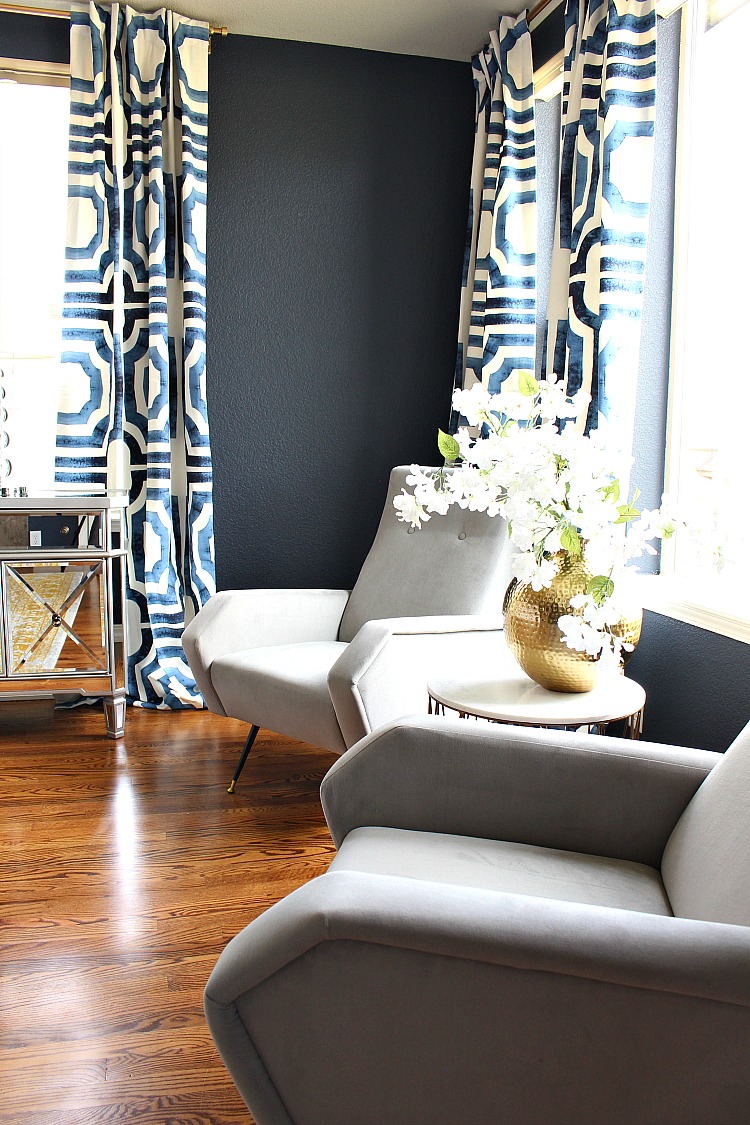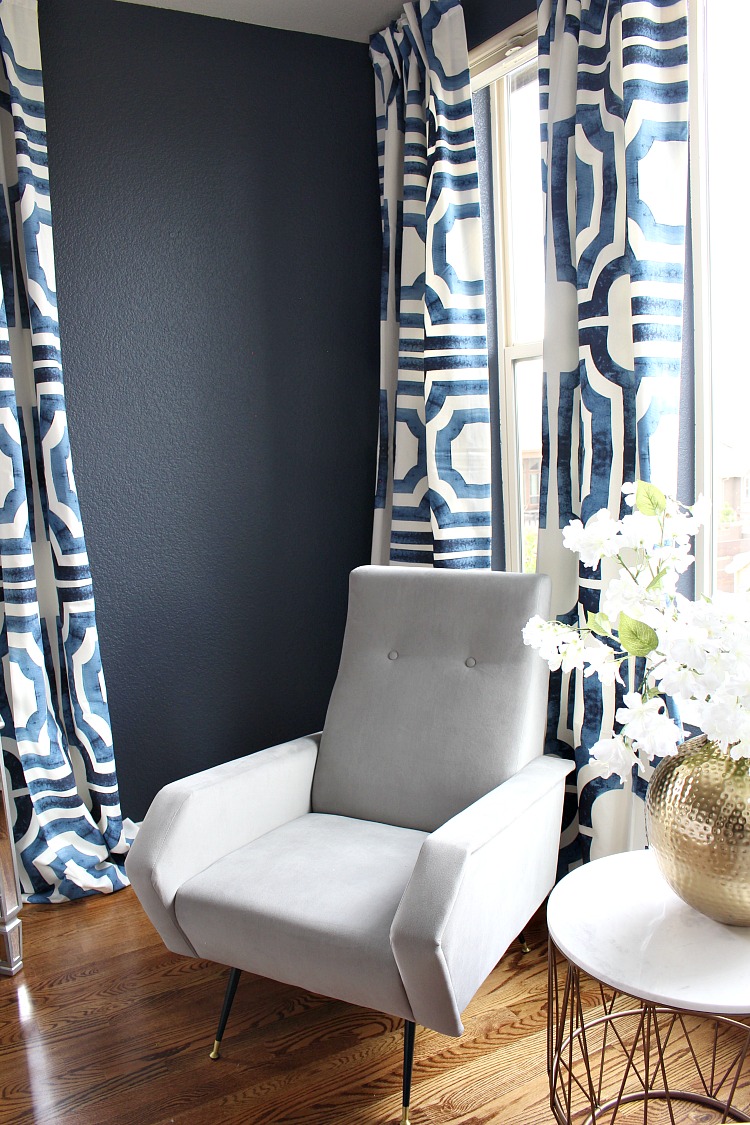 The marble top table is just the right size to place a cup of coffee and a good book.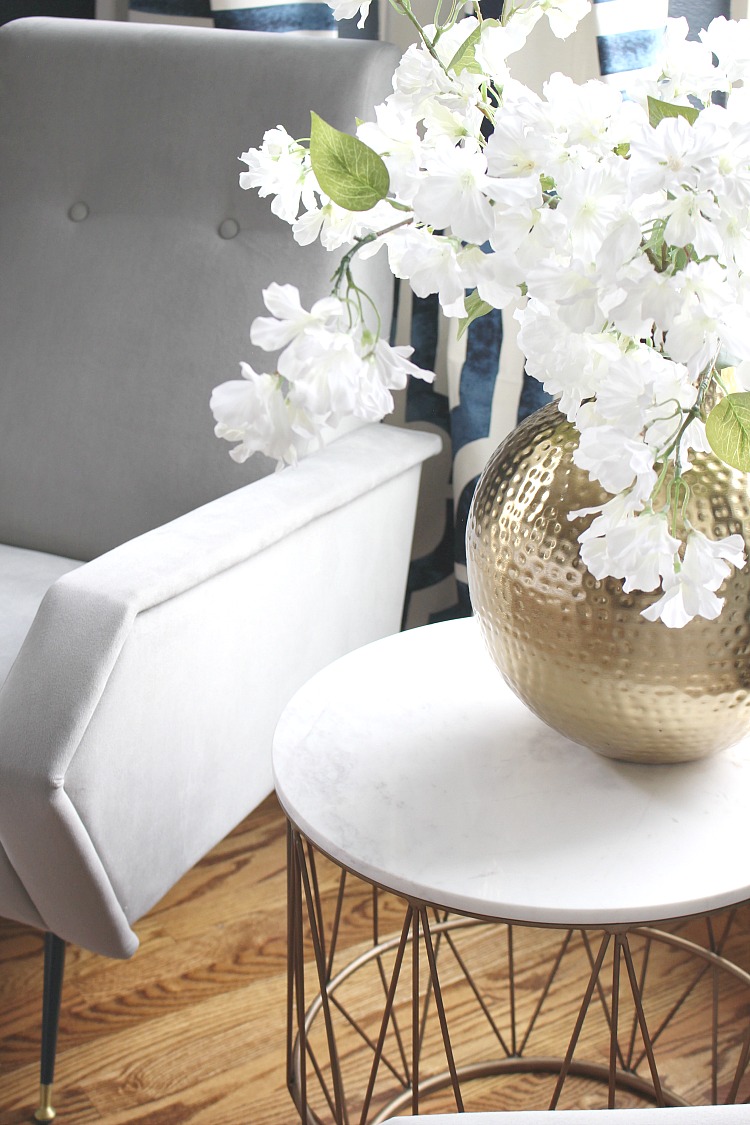 I've loved these drapes for a long time and have even used them in a different color in my home (see them in my piano room here).  They are a nice thick fabric with a durable lining that are good for blocking out light when drawn closed.  I'm so happy that the blue pattern was the perfect fit for this bold bedroom.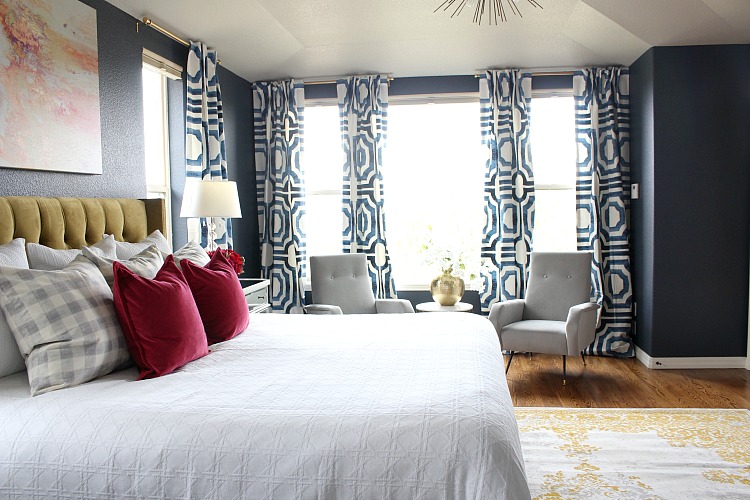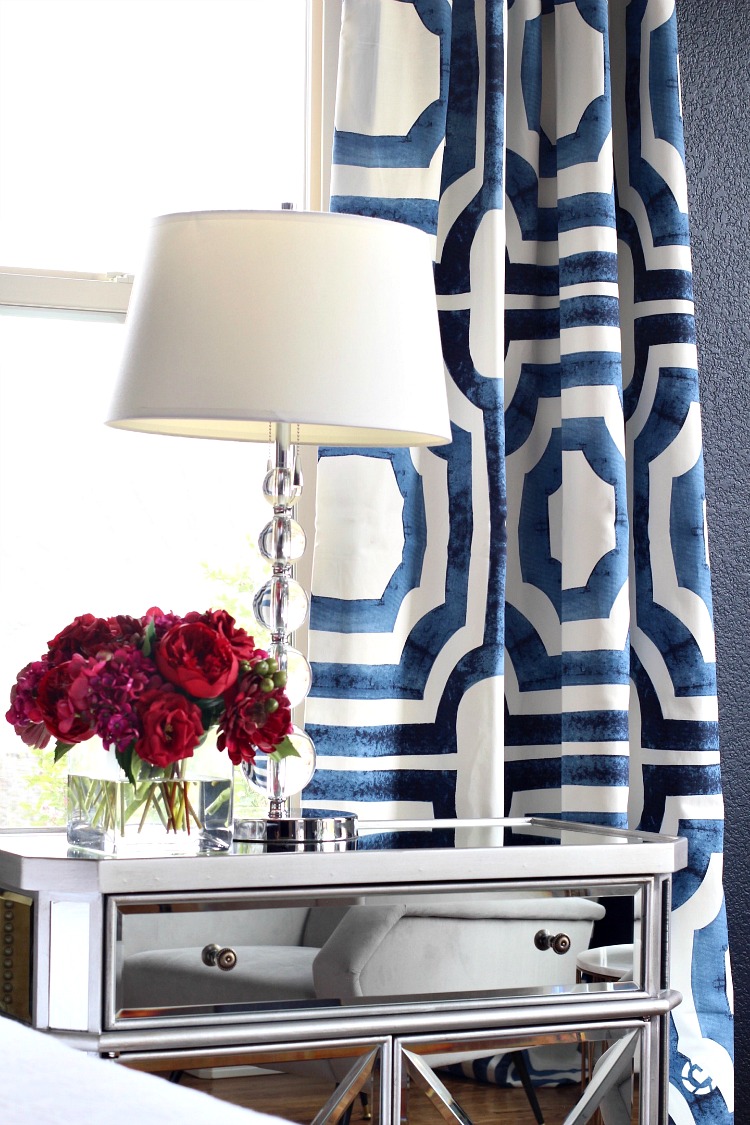 To add even more glam to this fabulous bedroom, the mirrored nightstands and clear glass lamps add the perfect touch.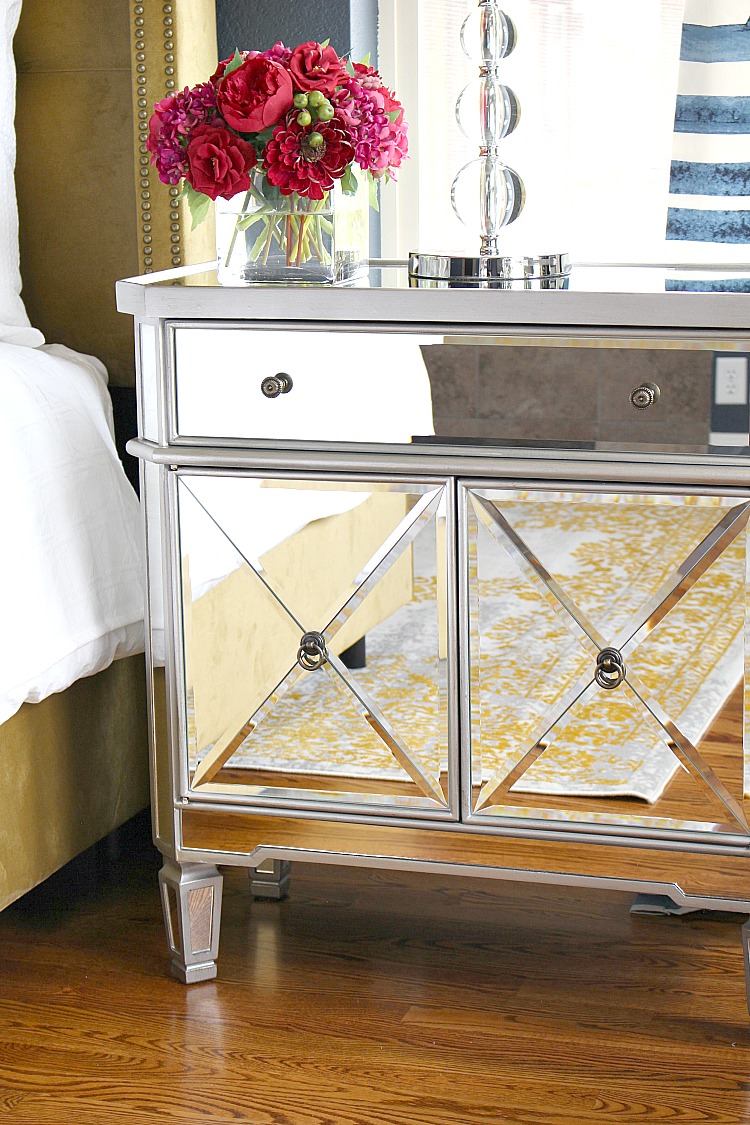 We "shopped" her home for a few needed accessories including the brass orb and set of books. Perfect for "his" side of the bed.  Instead of going out and buying all new things for a room, I love to see what I can find somewhere else in the home first. Most often, I find the perfect accessory that "the room next door" won't miss.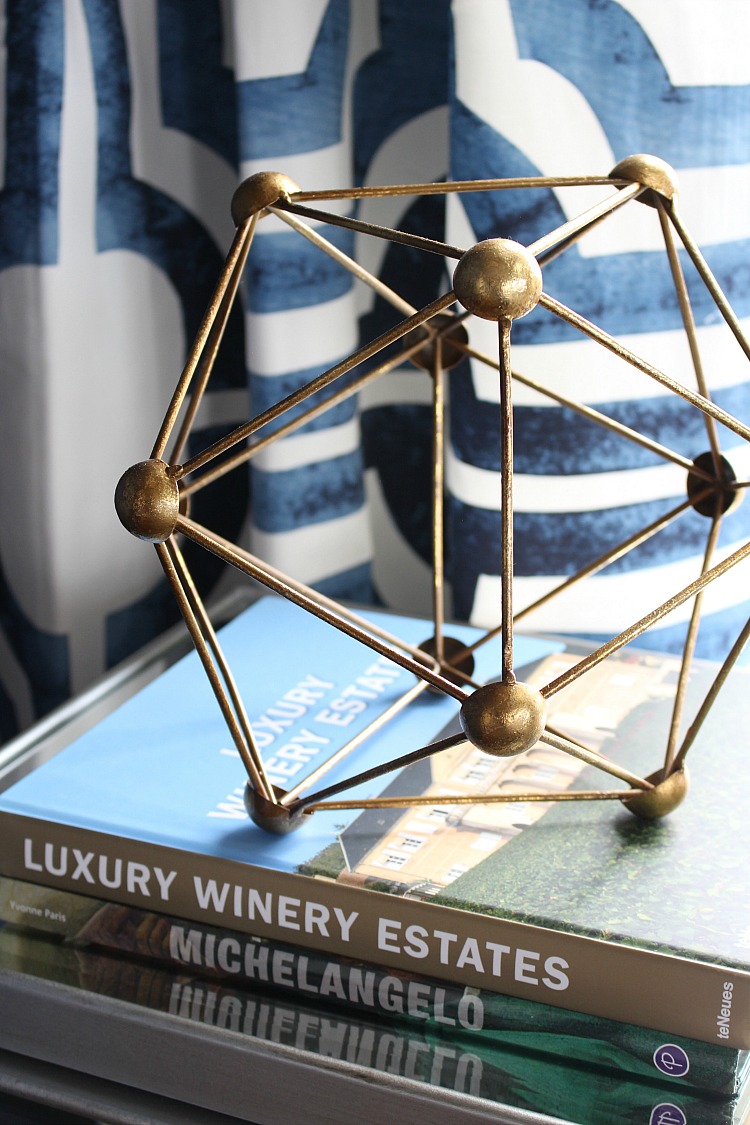 We played around with a few pieces of art she had recently bought at Homegoods and this one was the winner! It's as if it was painted in colors just for this room.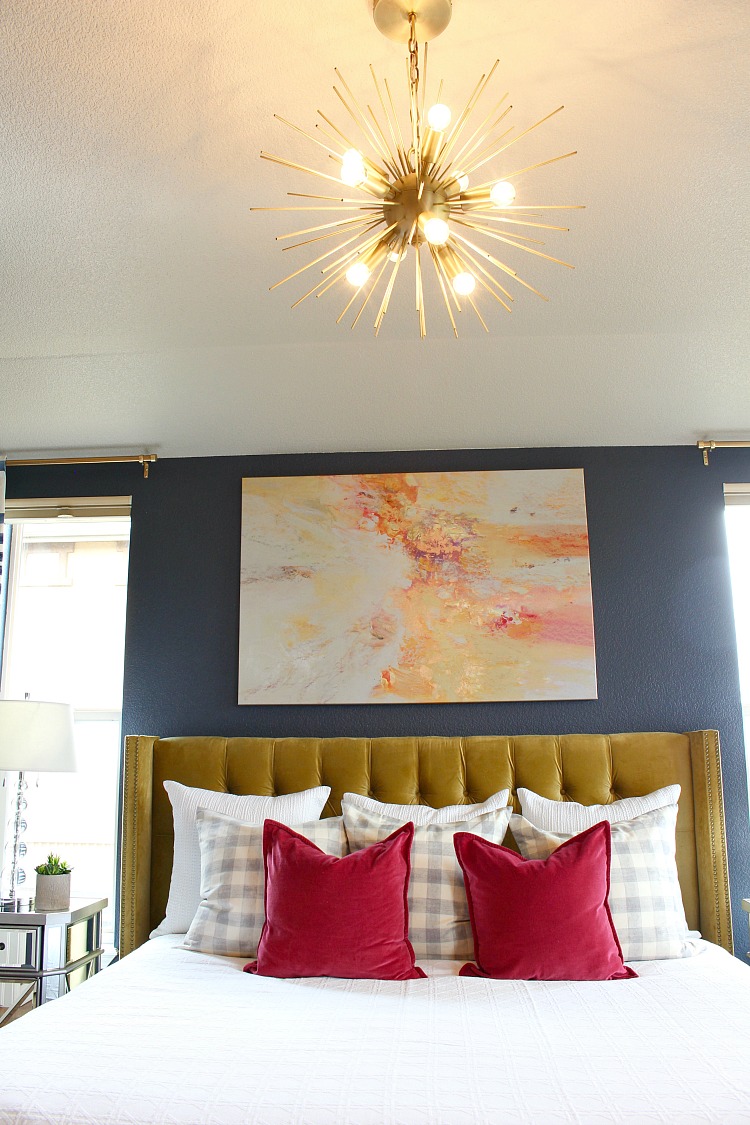 Normally, I take photos with all lights off because they can cast a yellow glow on a room, but this chandelier needed to shine!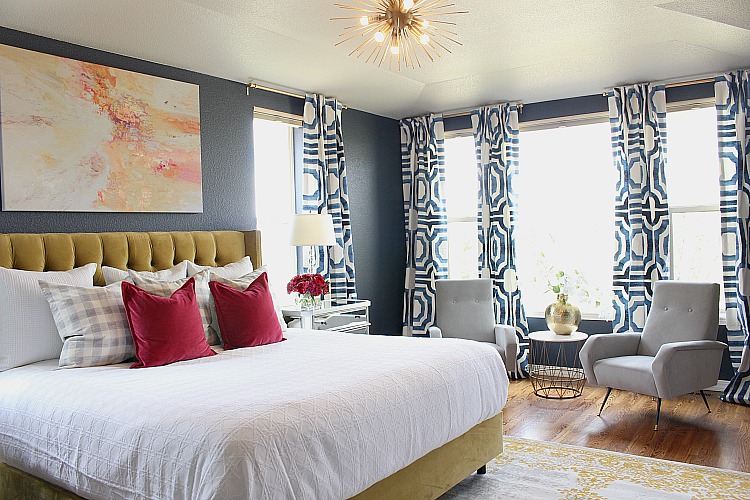 One little tip I taught my friend on bed making is that a coverlet is the best thing to have to protect the comforter below.  I generally use a white duvet cover or a white coverlet quilt which can be easily thrown in the washer.  Plus, the white gives your eyes a place of neutrality to rest upon between patterns and color.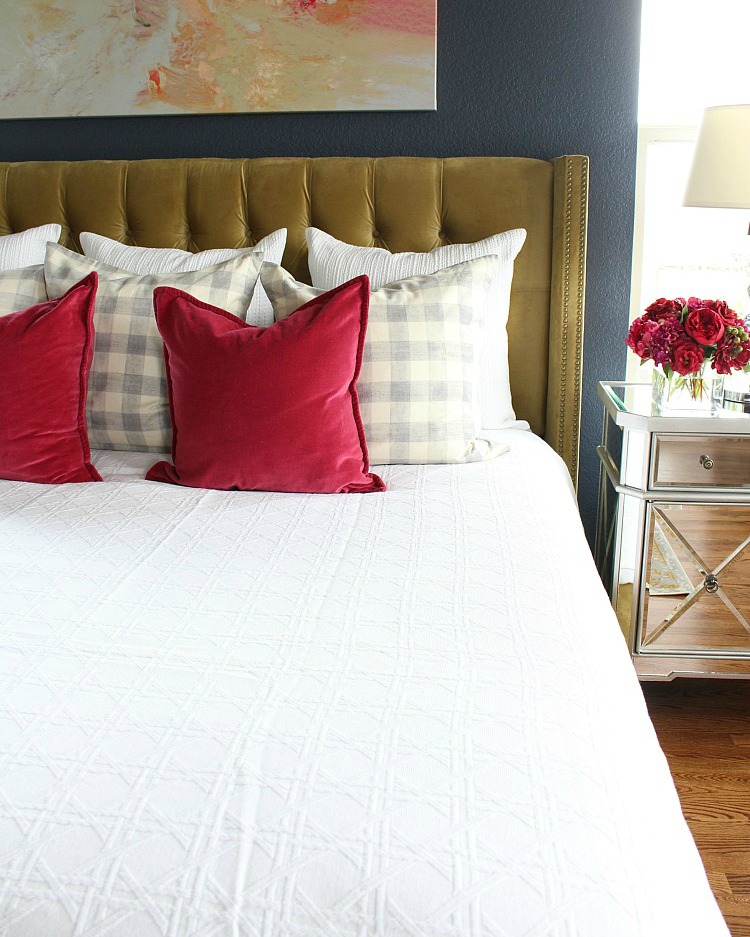 The pop of fuchsia in the pillows and flowers were the final touch.
I believe one can never have too many pillows on the bed. The more the comfier!! Especially at the end of a long day chasing kids around.  Moms all need a place to go to unwind and feel a bit pampered.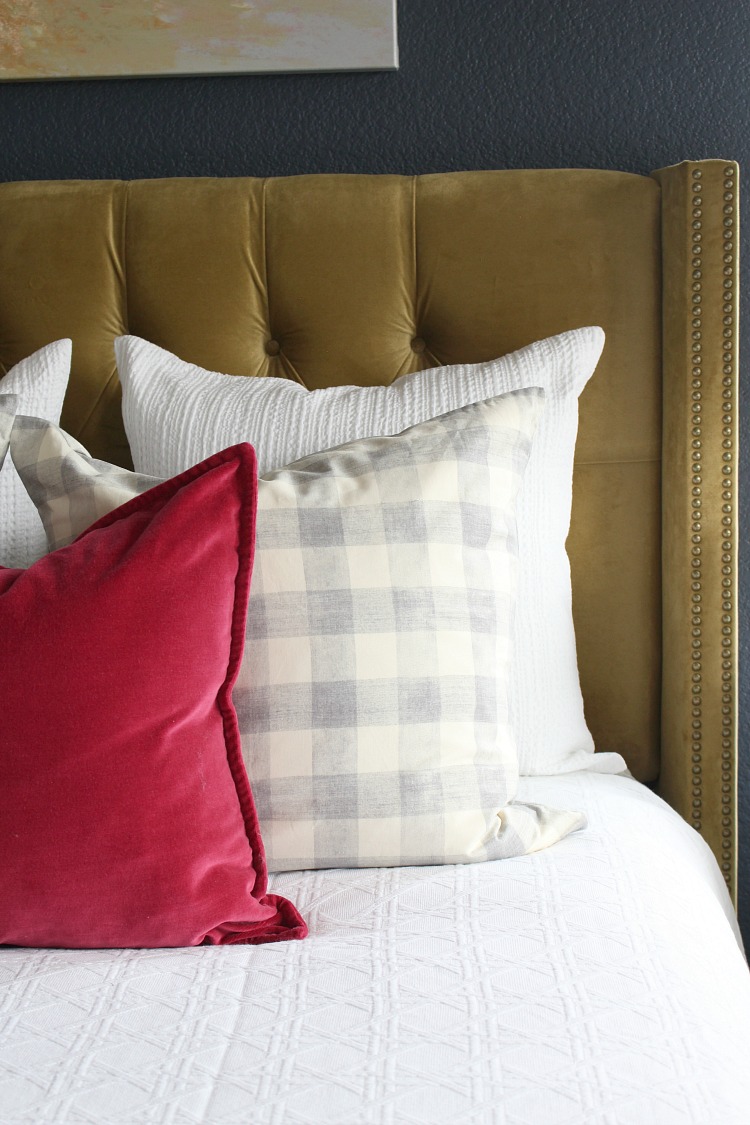 As a busy mom of two young children, my friend now can say she loves her new master bedroom and that it is a glam-perfect place of rest at the end of the day…or when the kids are napping. Don't you love nap time?





Please be sure to visit these other beautiful homes for the Mother's Day Makeover:
Jen at Migonis Home
Rachel at Maison de Pax
Nina at Nina Hendrick Design
Abby at Just a Girl and Her Blog
The other bloggers and I have teamed up to offer you a chance to win $250 from Joss and Main! Enter through the Rafflecopter below…good luck!
A huge thank you to Joss and Main for sponsoring some of the furnishing in this room.  I've shopped from Joss and Main for years and have always been pleased with their customer service and wide selection of home goods.  All opinions and photos in this post are my own.
SaveSave