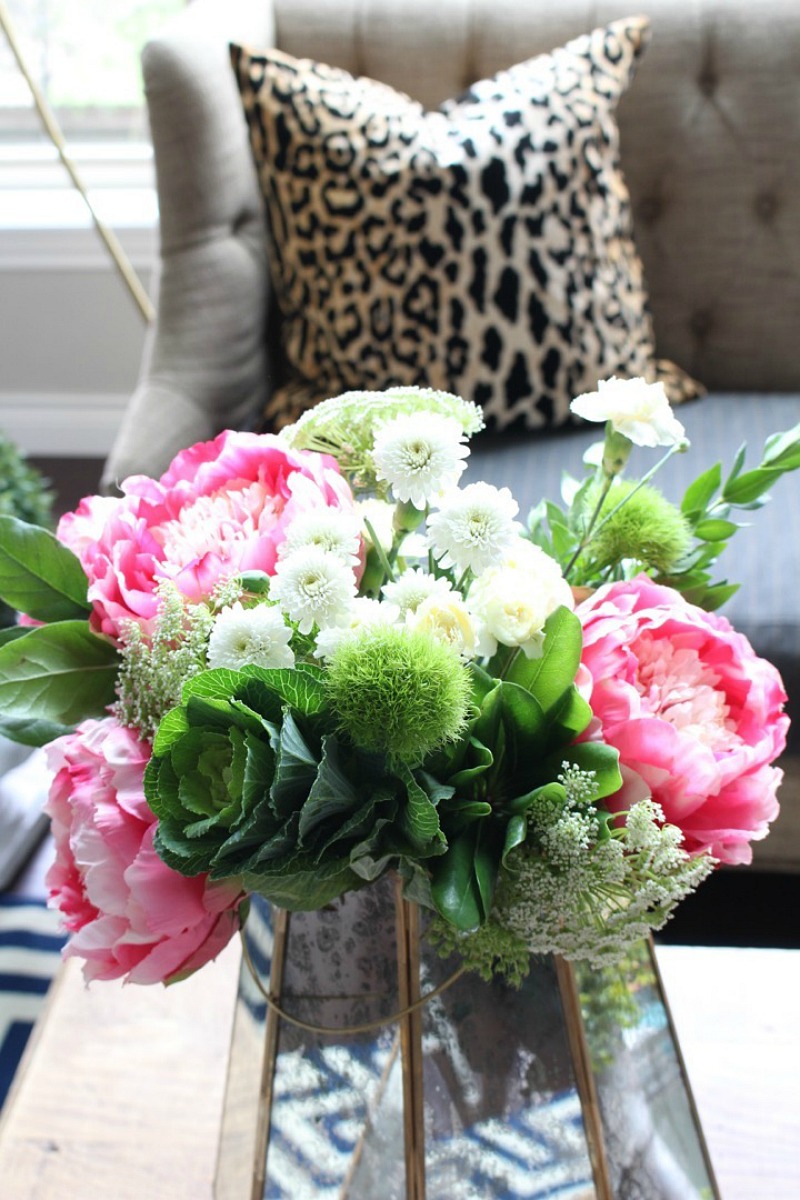 Have you ever tried a new color or pattern in your home and had a "what was I thinking??!!" moment shortly after? I've been there countless times myself, but one thing I've caught on to is where I find my design inspiration.  Ideas and inspiration can come from anywhere, but have you ever gathered design inspiration by clues from your fashion style?  Fashion and design play off of each other and is one of my favorite ways to study color, texture, and pattern for my home.
Take a clue from your closet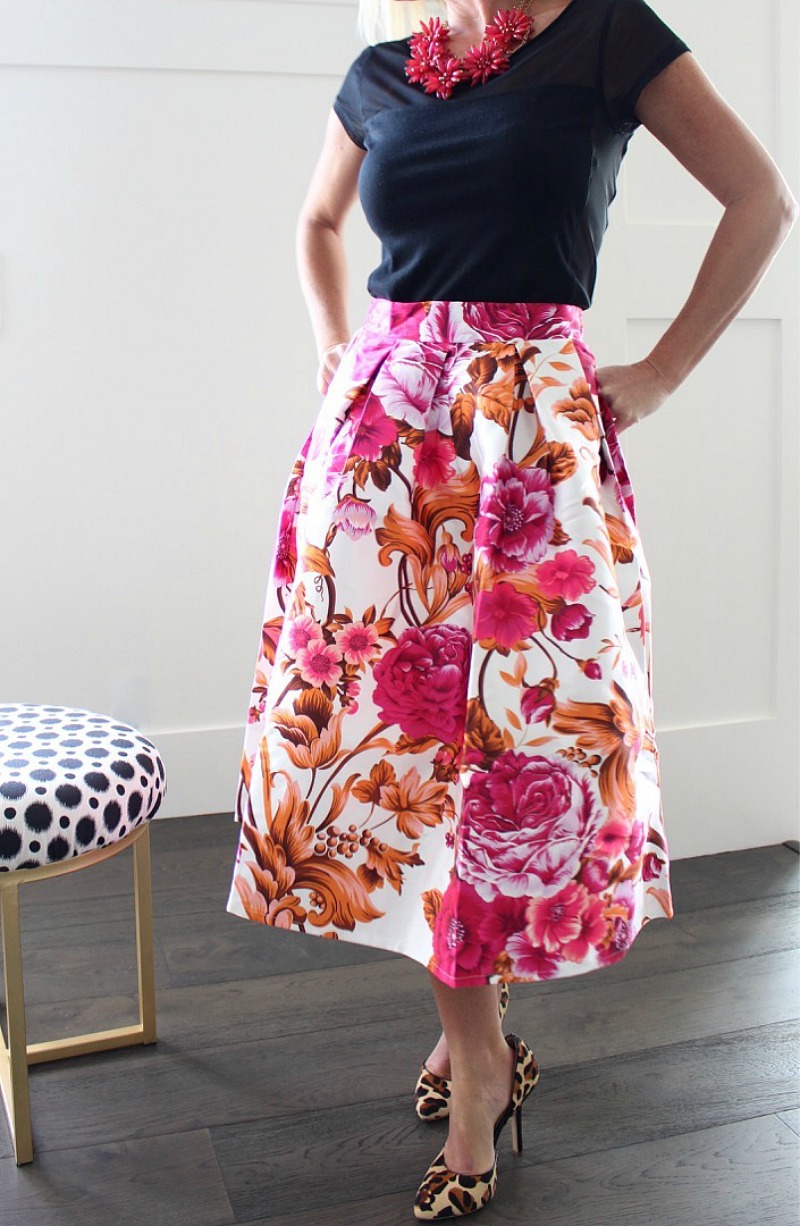 Get The Look

Go ahead, open your closet doors and look around.  What do you see?  Is there a mix of colors? Do you tend to wear a certain color repeatedly?  I have found that the colors that I am more likely to wear are the colors that I am happiest with incorporating into my home.  If you looked in my closet, you would see a lot of grey, black and white. Those are my staple pieces.  However, I do love color but mostly jewel tones. Not too many pastels.
The Color Theory
One color that I think is so pretty in the "right" home is pink.  I love pink, but you'll never see me wearing a head to toe pink outfit (who does that anyways?? haha!).  The color you put in your home depends on the mood of the home and the overall cohesive color story. Pink does not do well in our Colorado home.  I tried it with these pink stools by our newly built-in shelves, but immediately knew it just didn't "feel" right.  The color was just off and it made me cringe a little. You know that feeling? My stomach turns a little when there is a color in my home that doesn't settle well.  Remember my paint story HERE?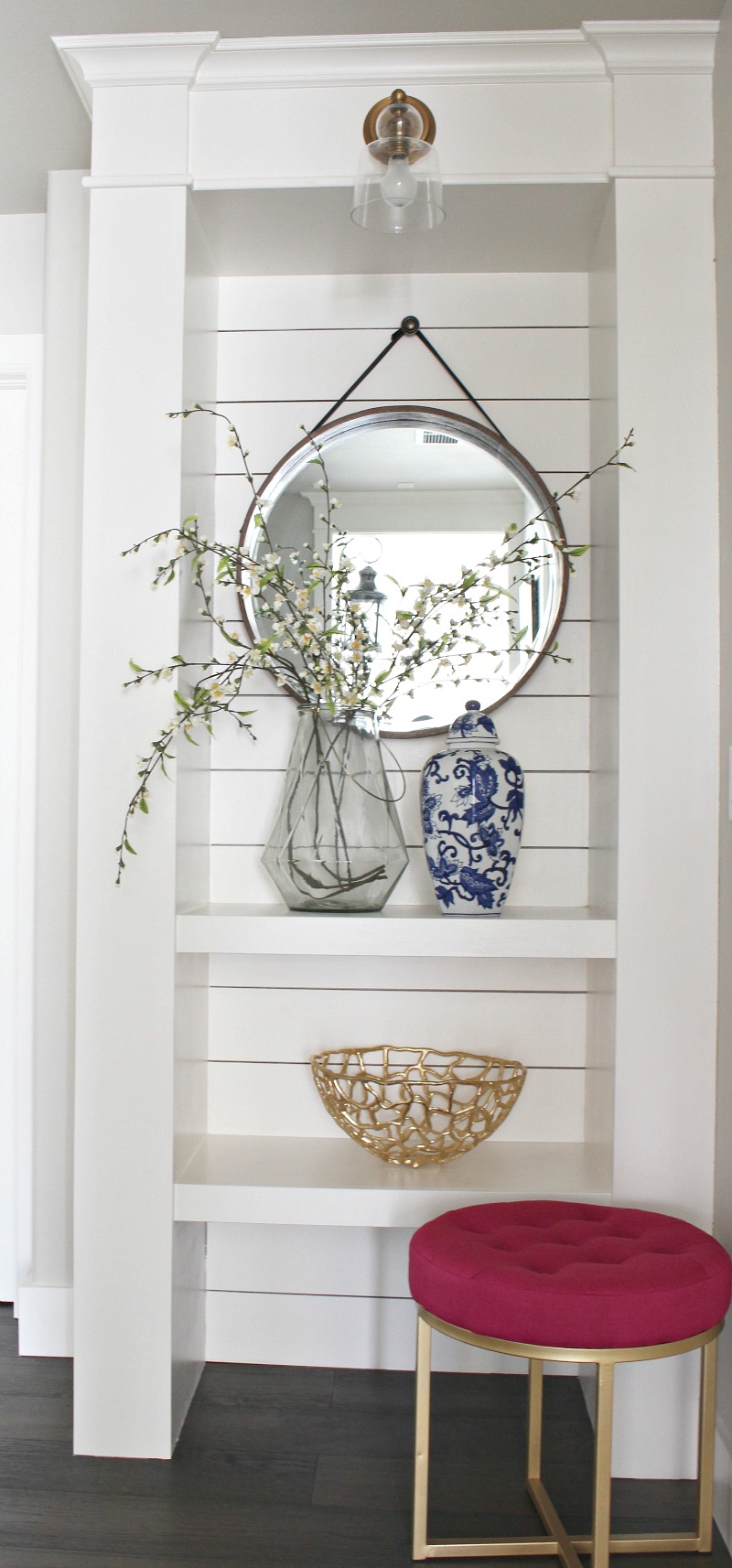 I ended up recovering this cute little stool which you can see in our basement family room.  However, I persisted in bringing a richer, more jewel tone pink in my summer throw pillows.  So far, these pillows are working for me since the color is deeper and the velvet texture is right.  Come back next month and that same pillow may have departed to the pillow closet..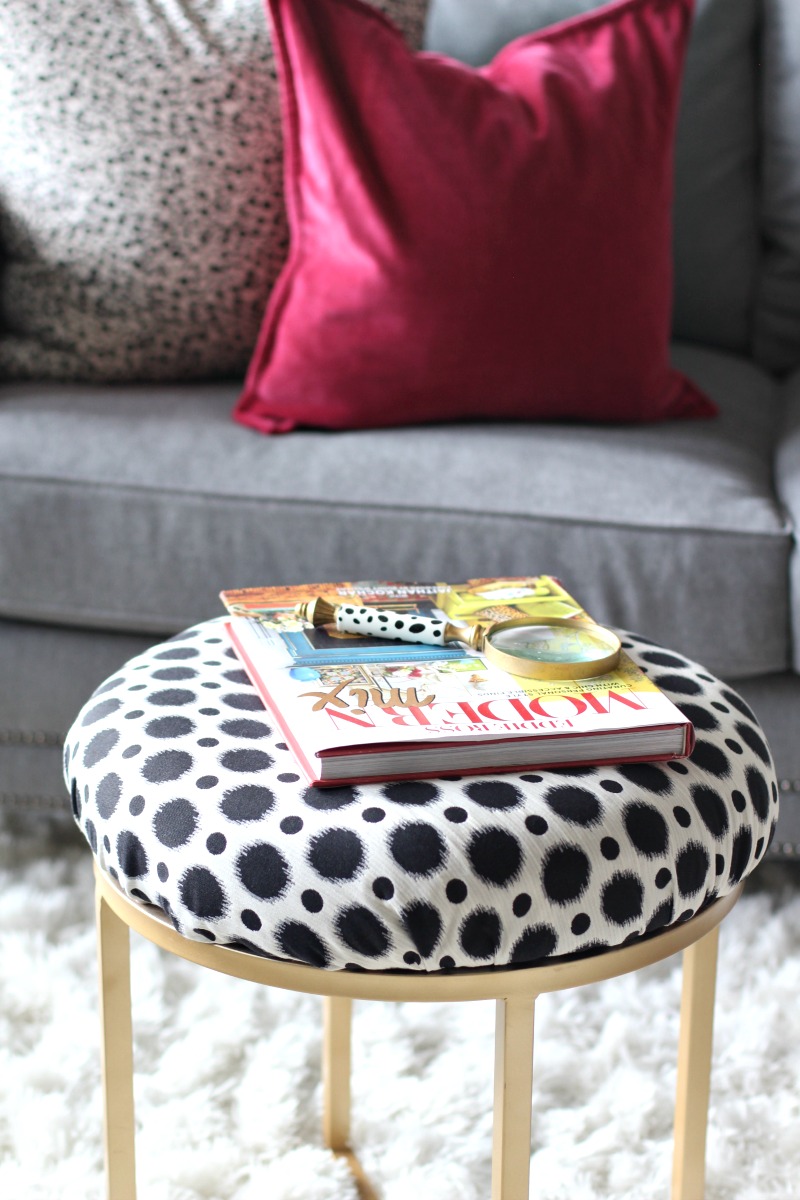 tour the rest of this space in our basement HERE
Get The Look

I find it much easier to incorporate my love for pink in our beach cottage.  Probably because this home is all white and airy. The pink truly pops against the white walls and driftwood floors.  I added a dose of my personality right here in our old vintage dining room chairs by recovering them with an inexpensive pink zebra fabric I found at Hobby Lobby.  My point is that I can only take pink in small doses, whether it be in my wardrobe with pink suede stilettos or in my home with accents in my floral arrangements or pillows.  Those are super easy to switch out if I get tired of them.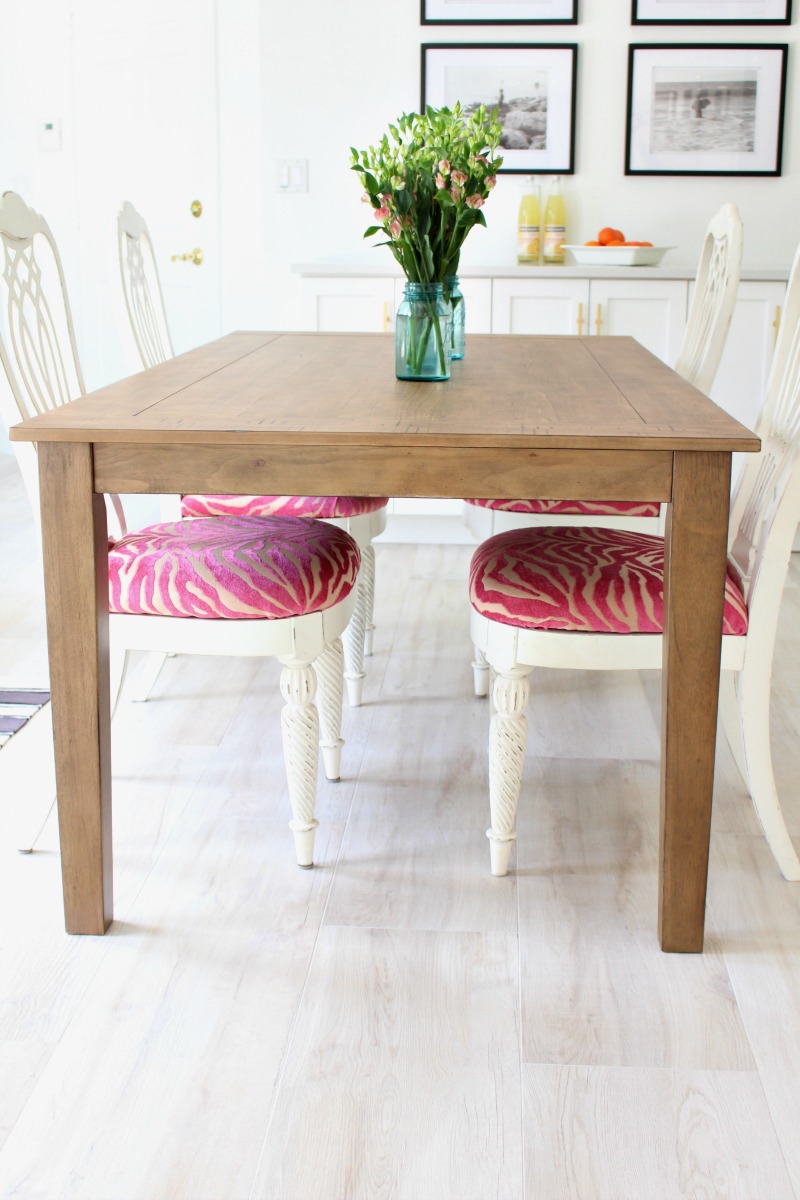 Get The Look

If there is a color that you love to wear, try it out in your home! Start by pulling that color in with throw pillows, throw blankets, simple accessories, or flowers.  That's an easy way to test the waters to make sure it's a good color for your space.  My theory is that the color you are happiest wearing is the color that will make you happiest in your home.
Go a step further, take a blouse from your wardrobe that may be an "unexpected" color for your home. Wrap it around a throw pillow on your sofa in your living room (or in the room you may want to incorporate that color in) and leave it for a few days.  What is the feeling you get when you now walk by that color in that room? Does it excite you and make you want to add more? Or, does it make you nauseated and make you want to burn that shirt and never wear that color again?? Not every color in your closet may be the color for your home, but use it as a "guideline" to explore the colors you love.
I saved myself on a big splurge a few months ago, when I had been"obsessing" over an emerald green sofa for our living room.  It would definitely be a wow factor "statement" piece of furniture. I took an emerald green shirt off my hanger and draped it over my sofa and within hours I knew the color didn't feel right in that room.  It's amazing how quickly a big color decision can be made by this simple test.
The Pattern Theory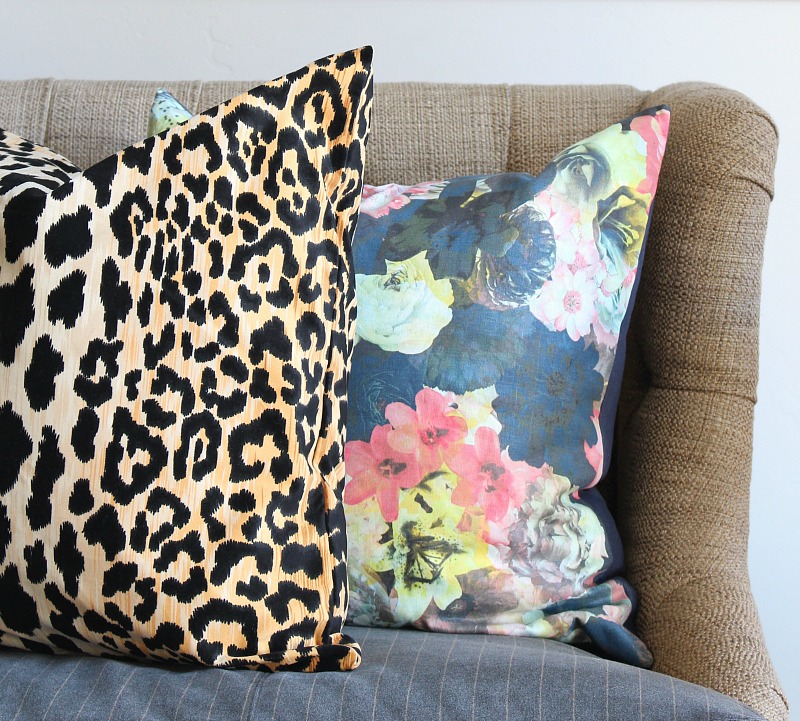 Leopard Pillow | Floral Pillow
When you look in your closet, do you see a lot of pattern?  This is where my personality comes out.  I obviously love all things cheetah and leopard.  You should see my shoe collection.   Even though leopard is bold, it actually is very neutral and goes with every color. As you can see from my outfit above (scroll up), I love to mix floral and leopard prints. My leopard shoes are a staple in my wardrobe whether it be wearing my favorite leopard sneakers with jeans and a T-shirt to wearing my leopard stilettos with my favorite floral skirt.  I love the mood and mix of the unexpected.
Does your wardrobe have a different mix of pattern? Do you see floral prints, geometric prints, stripes, polka dots, and so on? Or do you prefer more solid pieces with minimal pattern.  While you're in there digging through your wardrobe, if you spot any "mom jeans"…it's time to go shopping girlfriend! haha! Sorry, I couldn't resist, and for the record I just found a pair in my closet from ten years ago.  Mixing patterns in your home can apply to the same rules as your wardrobe.  I'll talk more about how I incorporate and mix pattern in a later post.
My office is my playroom and a place where I experimented with both color and pattern.  Notice the gold gilded frame? That's the "jewelry" of the room.  More on that later too! (wink)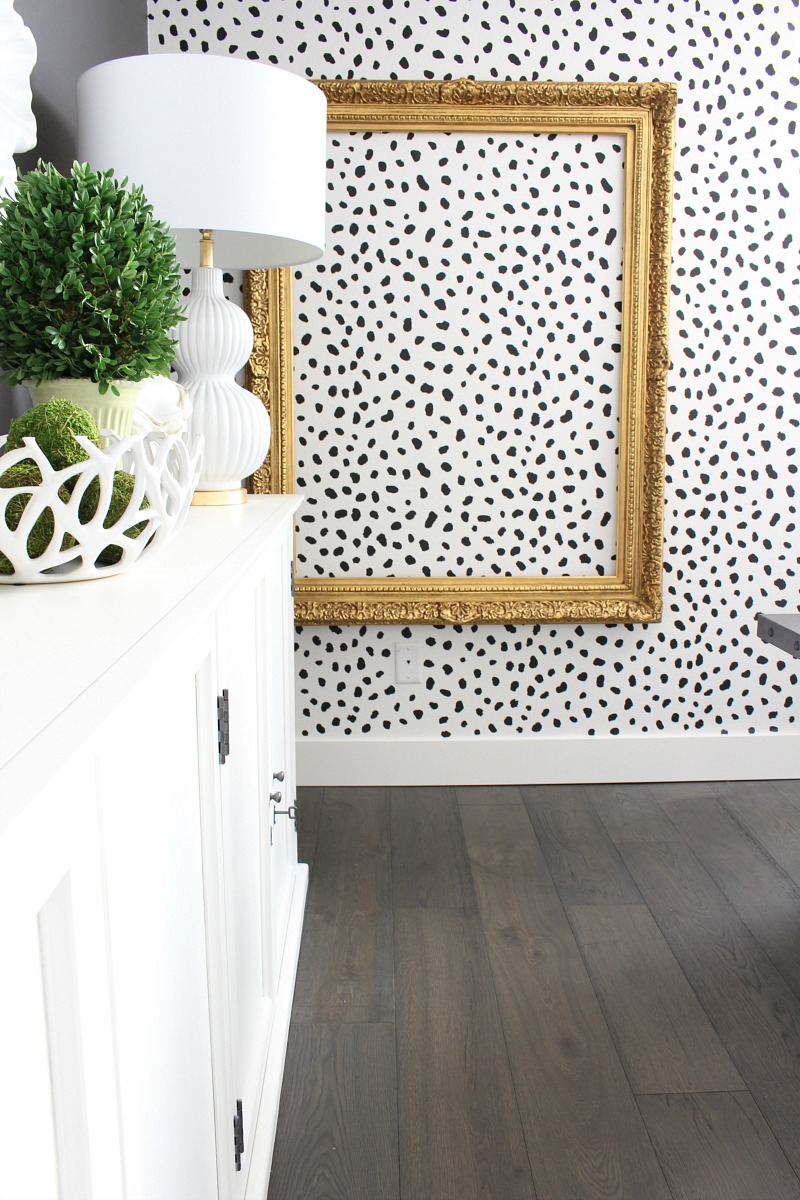 Sometimes, even a piece of furniture can make that big pattern statement.  I had the headboard in our bedroom custom made for a bold statement.
image from our Spring Home Tour HERE
We all have those colors that we feel most comfortable in.  Mine are definitely black and grey.  That explains why I painted my Colorado home in Revere Pewter by Benjamin Moore.  It's just naturally a comforting color to me.  But it would put me to sleep if I didn't add life throughout the home with my pops of color and doses of pattern in furniture, window treatments, pillows and accessories.
Study your closet and try a new color today!
I'd love to hear if you have found design inspiration by taking clues from your fashion style!  There is a new color trend I'm loving for this upcoming fall season that I will be incorporating both in my home and wardrobe.  I'm rounding up my favorite finds for you for our next chat!