Welcome to our Christmas Home Tour 2020! I had high hopes to decorate and photograph every room but nothing has seemed to go as planned this year, right? At least I got the main rooms decorated and I'm good with leaving it at that this holiday season. I love the magical feeling of Christmas with the twinkle lights glowing, the scent of balsam fir candles and a constant stream of holiday music. I truly appreciate our home now more than ever and I'm happy you are here to take a tour. So let's get started!
**Affiliate links are used in this post. Full disclosure HERE.
Our front porch hasn't changed since I styled it for Fall. I'm hoping to string some lights on these cedar trees. I love how realistic they look and actually keep them out year round since they match our forest setting so beautifully. Currently, our porch is covered in snow. You can see what it looks like during a winter wonderland snow storm in last year's Christmas tour HERE.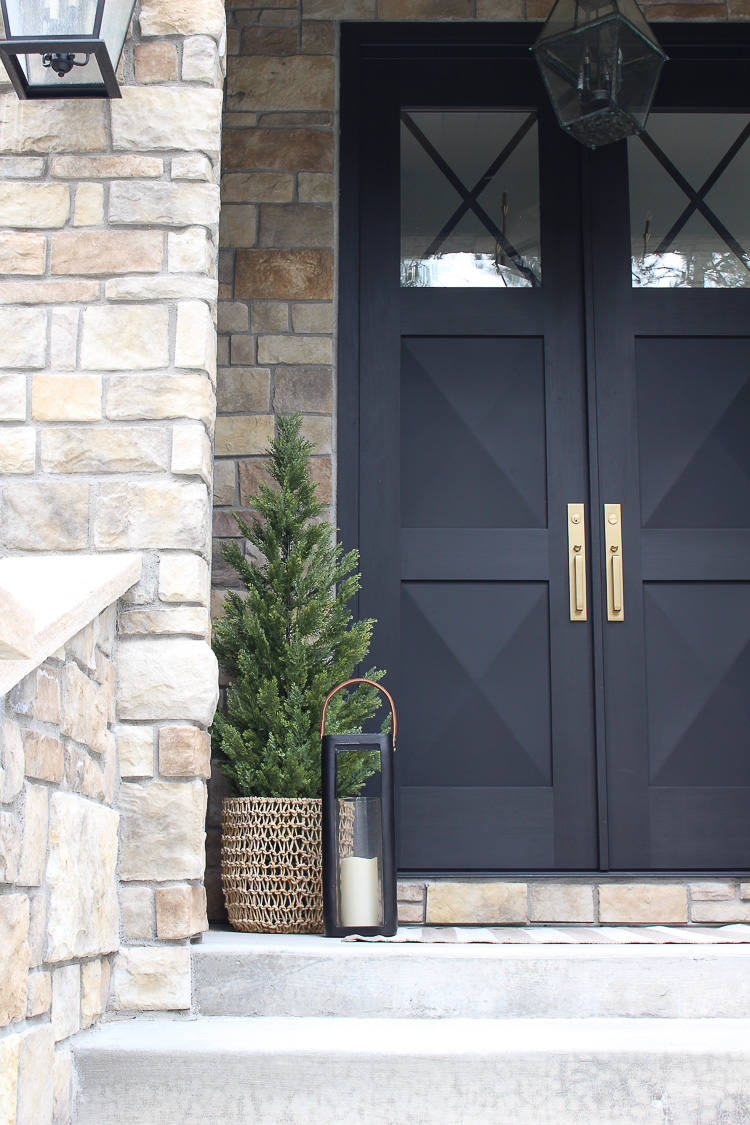 SOURCES: CEDAR TREES // RUG // LANTERN-last season. Love this lantern. Tree basket -Homegoods
SCROLL & TAP IMAGE TO SHOP THE LOOK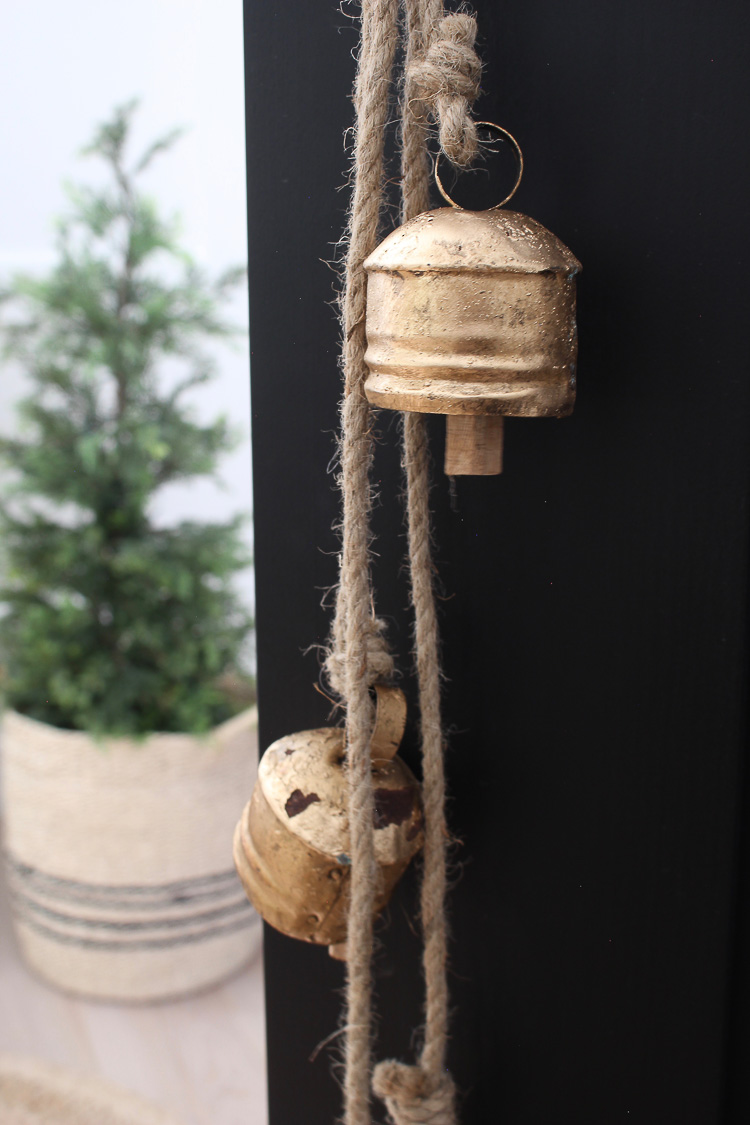 Step on into our foyer. I've collected beautiful garland from Marshalls and Homegoods over the years and love just simply draping it on any surface. The champagne bucket is an old treasure that I love to pull out for the holiday season. I filled it with ornaments that enhance the colors of our home. A mix of chocolate brown, bronze and grey marble (similar ornaments HERE.)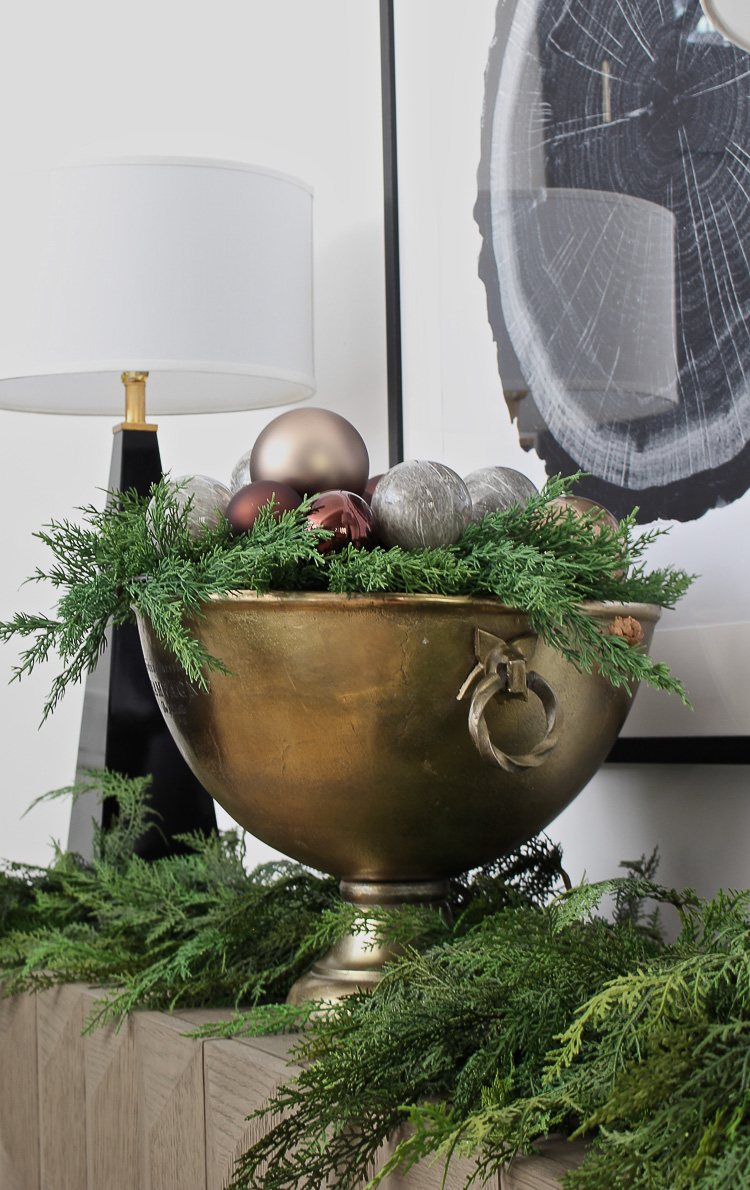 SOURCES: Lamps // Wall art // Rug // Sideboard – Restoration Hardware // // Champagne bucket and Garland – Homegoods
I borrowed this marble table from the hearth room to fill this corner. I filled my favorite black statement planter (similar option HERE) with non-traditional feathers and pampas grass along with cedar branches. That hint of crimson red in the feathers is the only red you'll see in our home.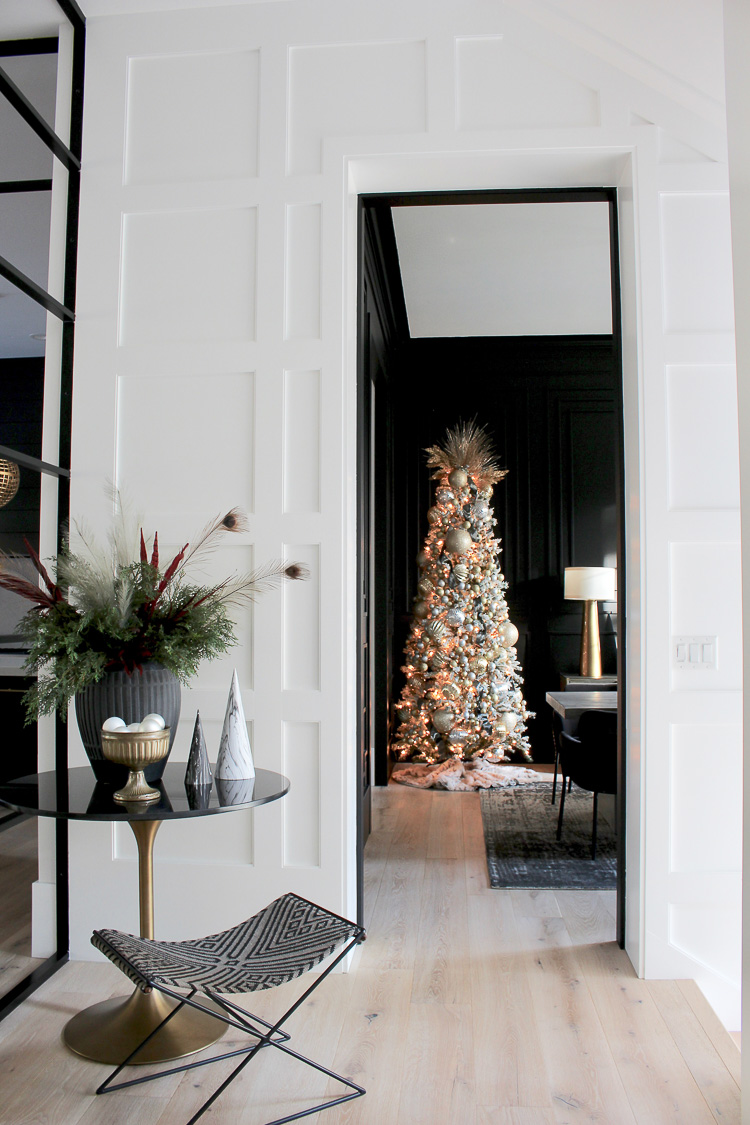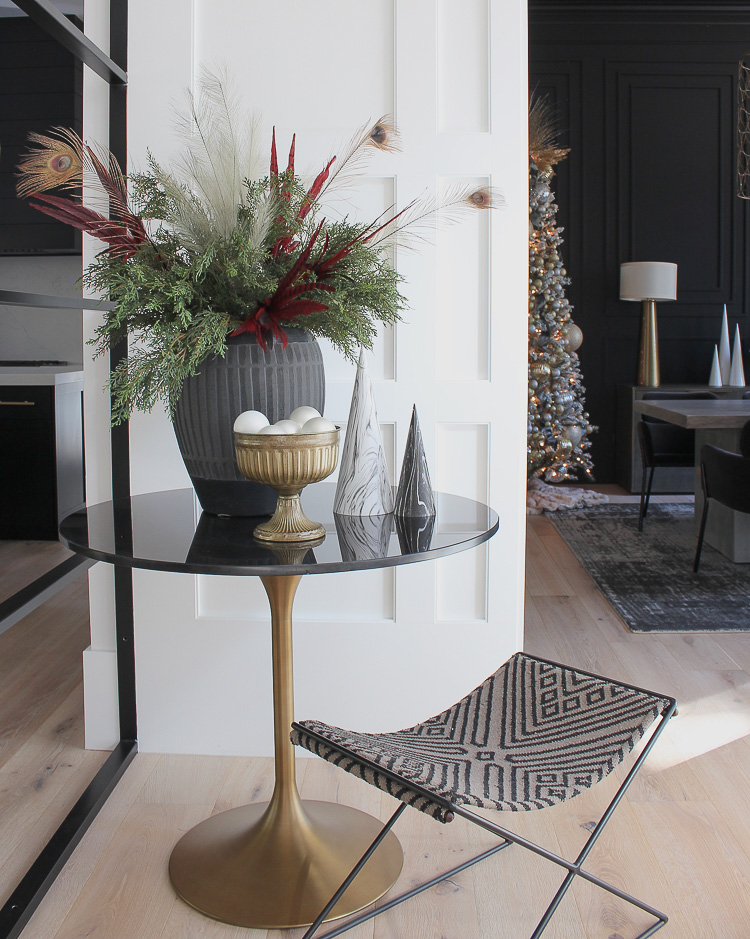 These marbled trees (similar option HERE) are my absolute favorite. I may even leave them out all winter long. They are so gorgeous and a great accessory.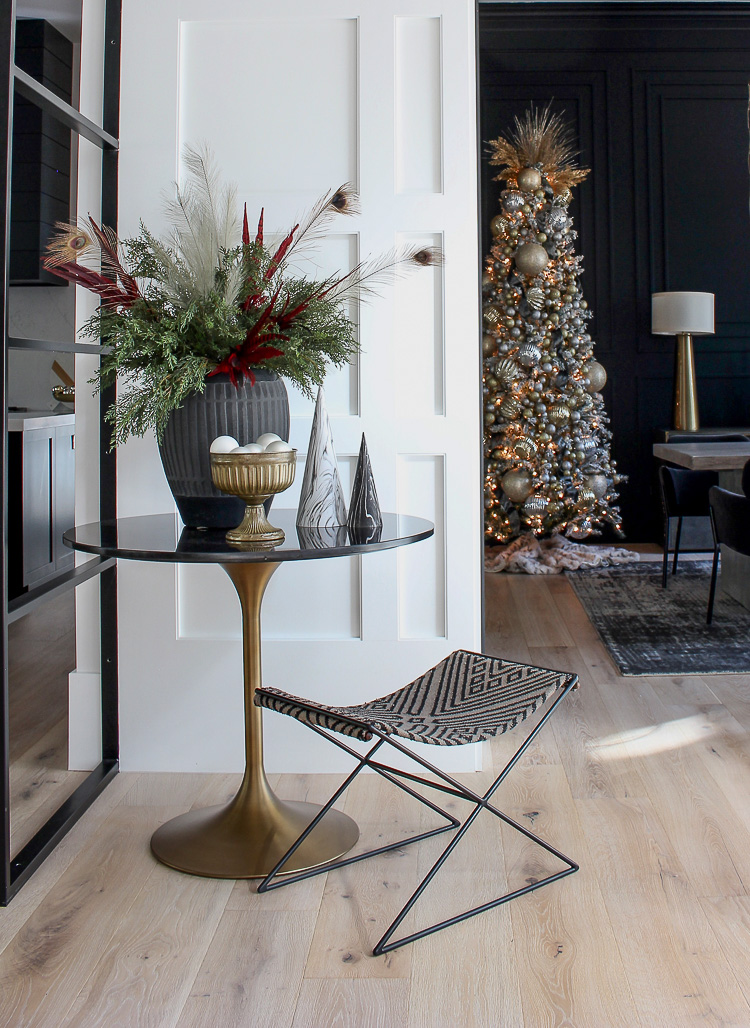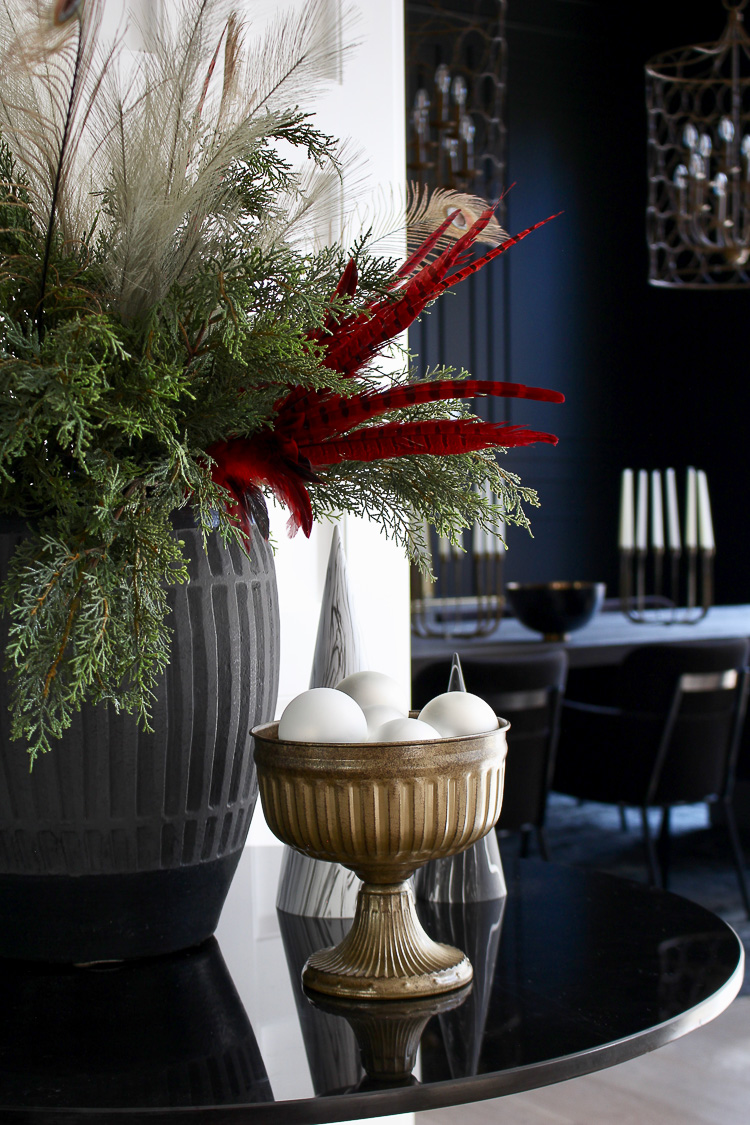 Moving on in to our dining room. I've decorated this Christmas tree the same the past couple of years with ball garland (similar here and here). To dress it up more, I added a beautiful grey velvet ribbon (Hobby Lobby). I shared my simple designer tips to get this look on your tree here. I love the elegant style against the dramatic, bold black walls.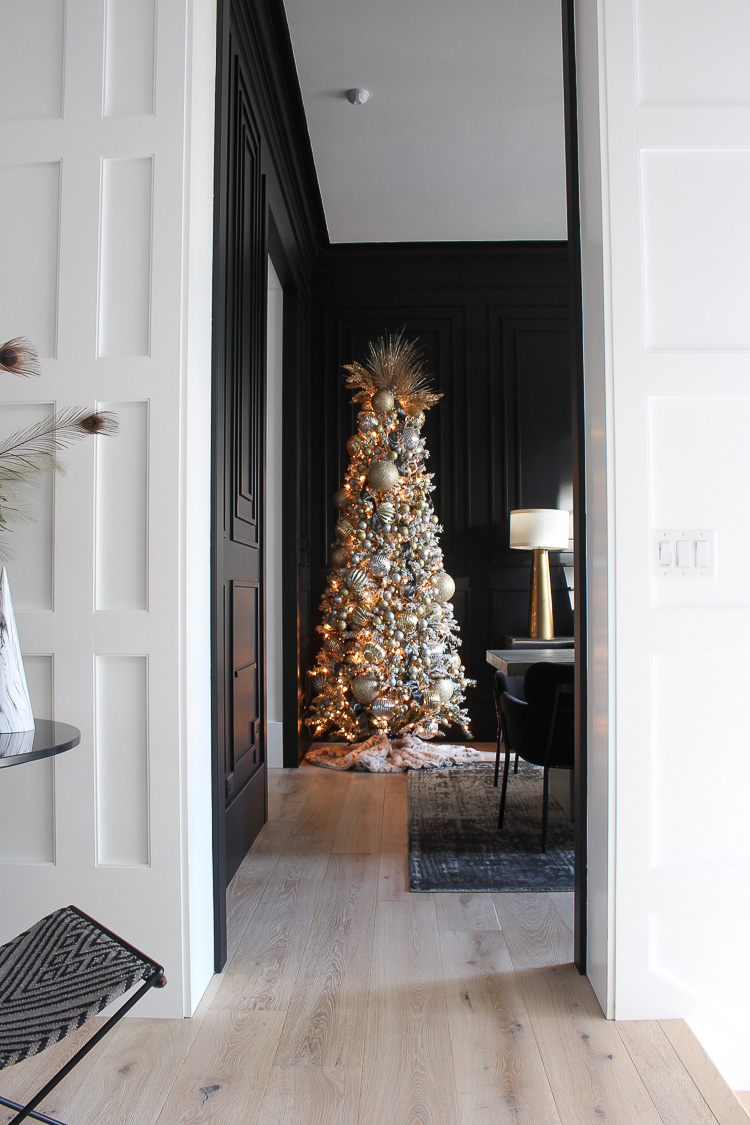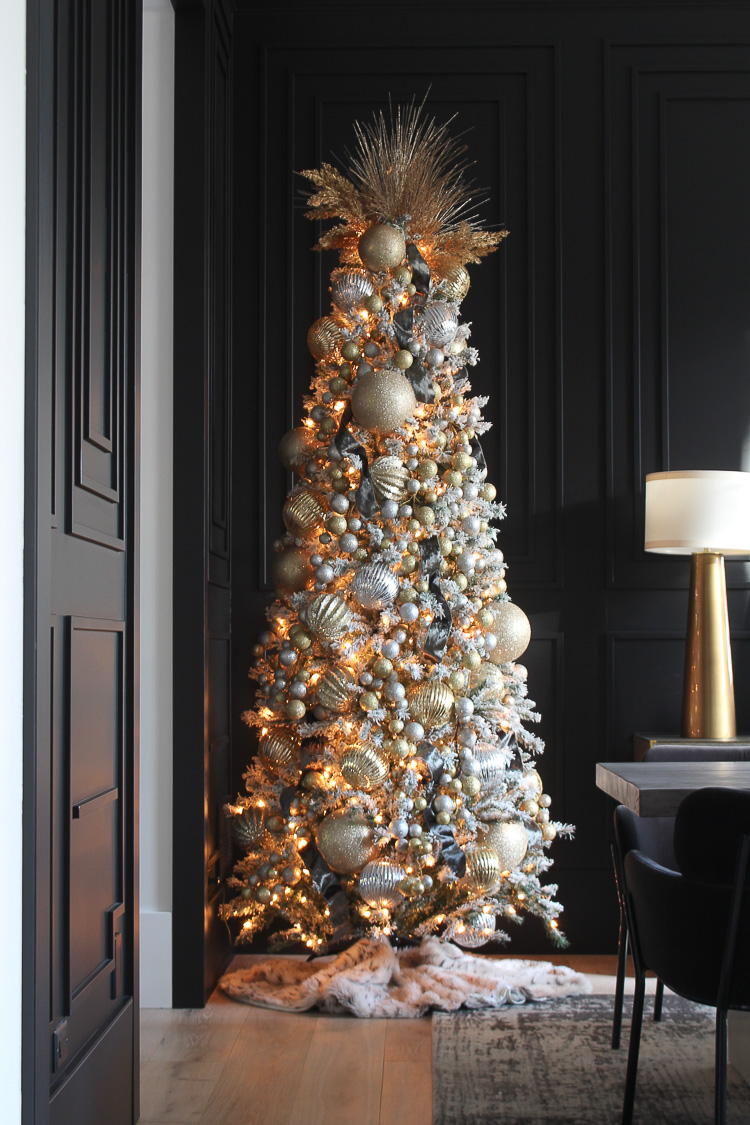 Everything about this room feels quite formal, however, we are very casual with our holiday meal. In fact, we never get out of our pajamas on Christmas day and that is how we eat our meal in here. Comfort is all that matters! Also, stretchy pants are a good thing too 😉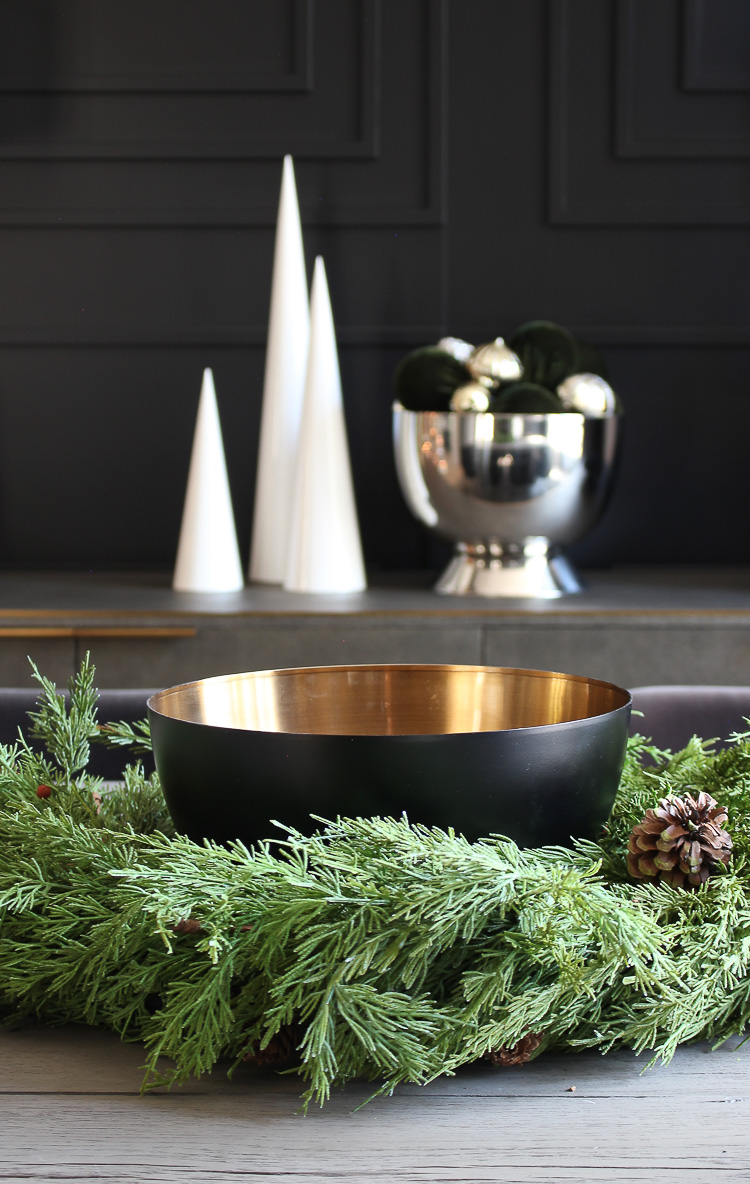 For our table centerpiece, I used a simple wreath. The bowl and candelabras are from years past. I love the dramatic statement of a large candelabra.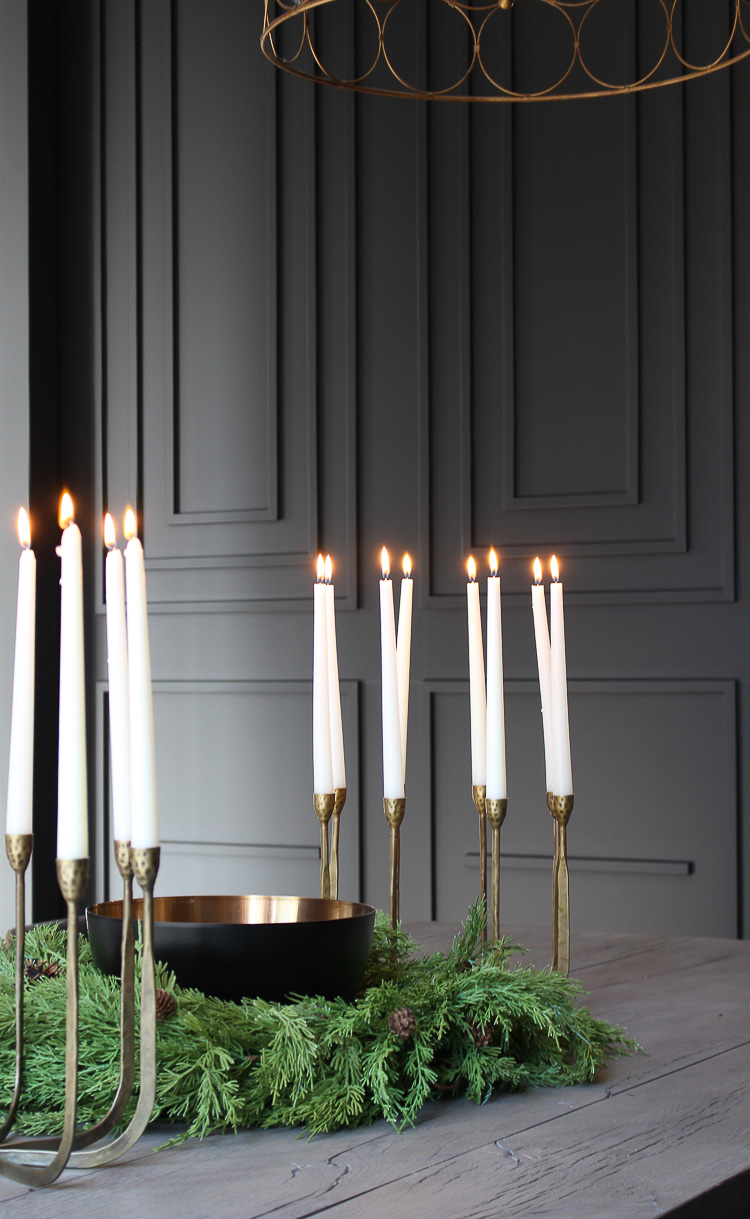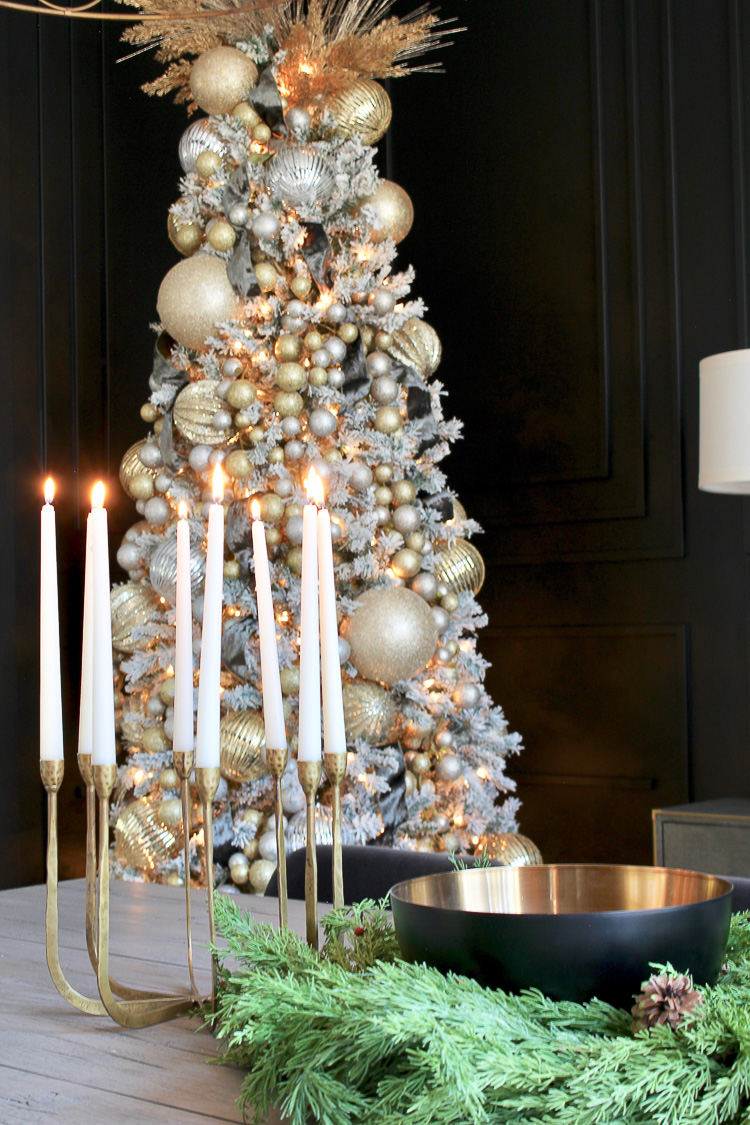 I found the paper honeycomb tree from Hobby Lobby this year. It brings back memories of paper trees I remember my grandma used to have set up in her home for Christmas.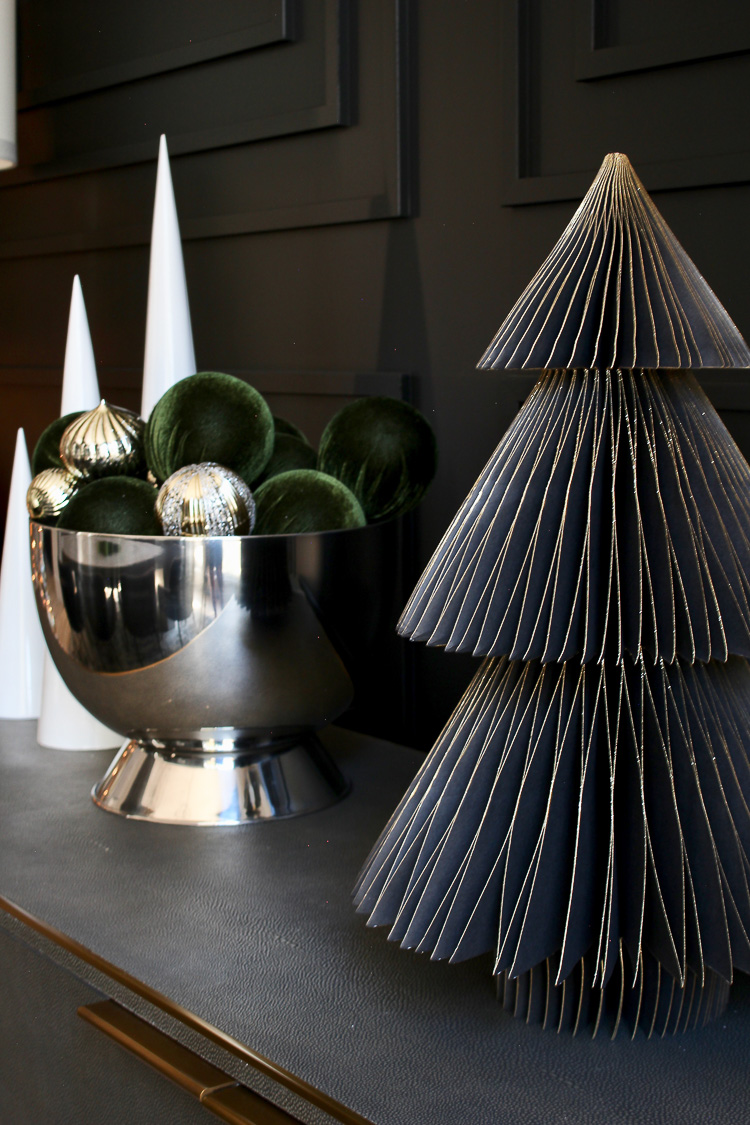 The white lacquer trees (similar option HERE) are new this year. I love the modern look. Also, another champagne bucket is pulled out of storage and filled with a mix of dark green velvet ornaments and traditional gold and silver.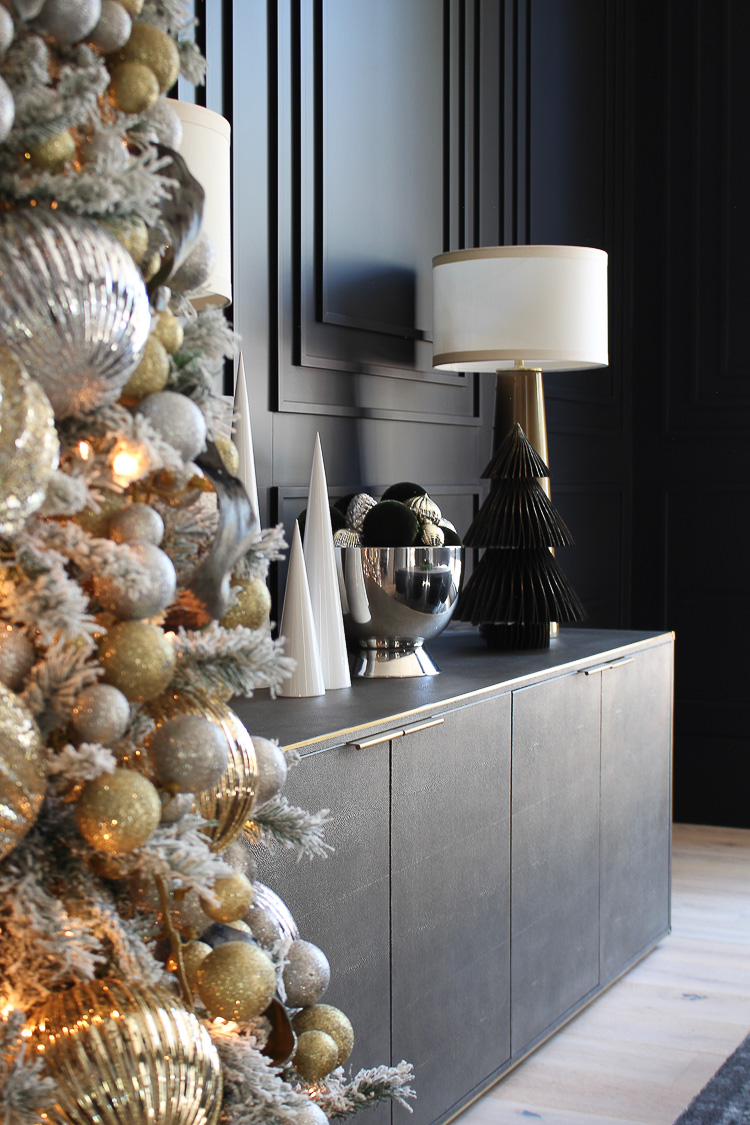 SOURCES: Chandeliers // Dining table and sideboard – Restoration Hardware // Dining chairs // Rug (color Steel) // Lamps (similar) // Christmas Tree (similar in 7.5 ft) // Ball garland (similar) here and here // Large tree ornaments (similar) here and here // White lacquer trees (similar here)
In the kitchen, I added garland, winter branches and twiggy pine trees. A few ceramic trees and gold ornaments add just enough of the Christmas feel.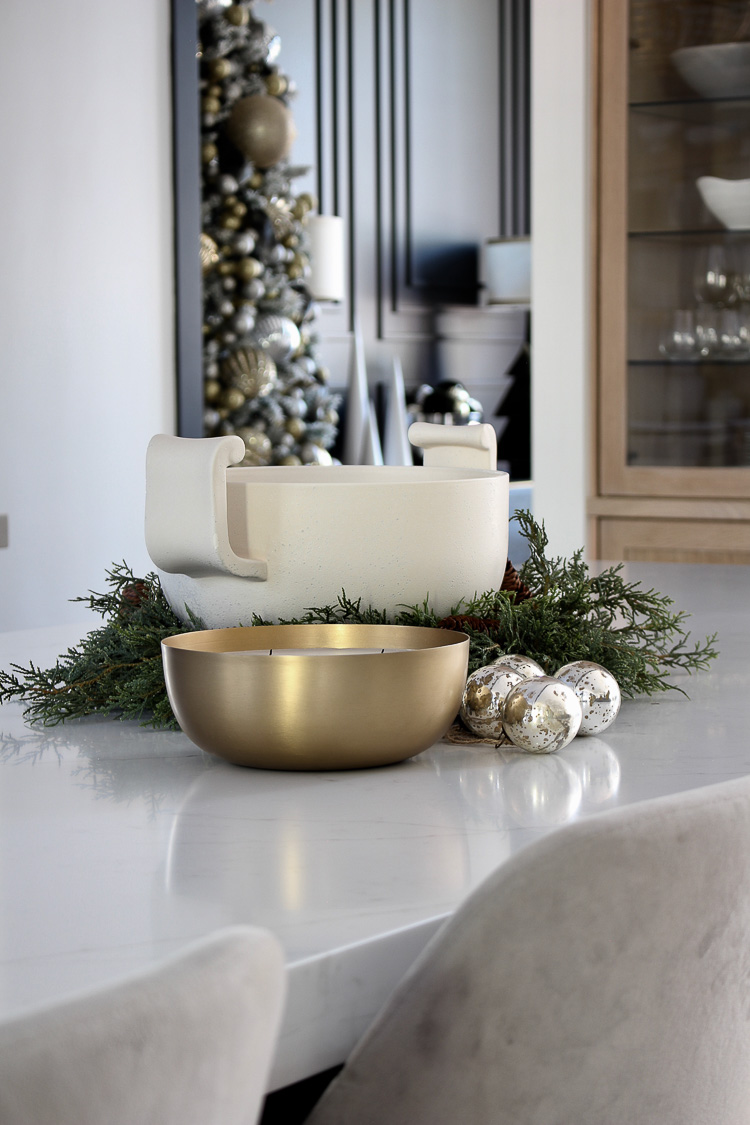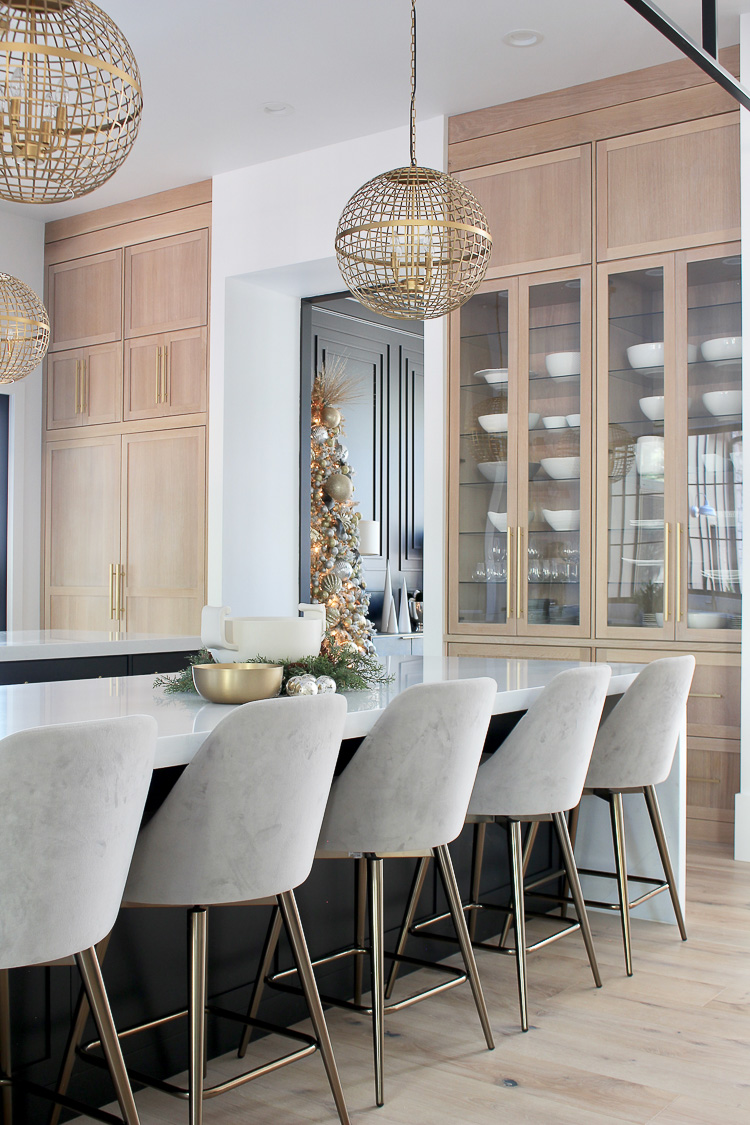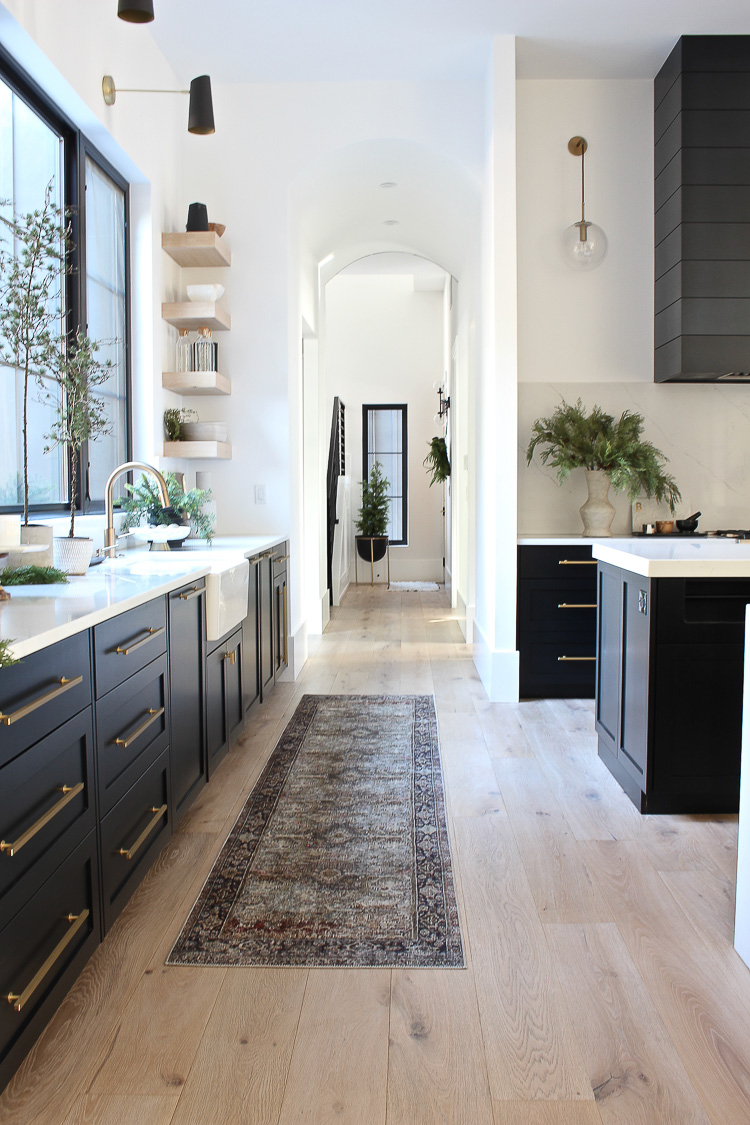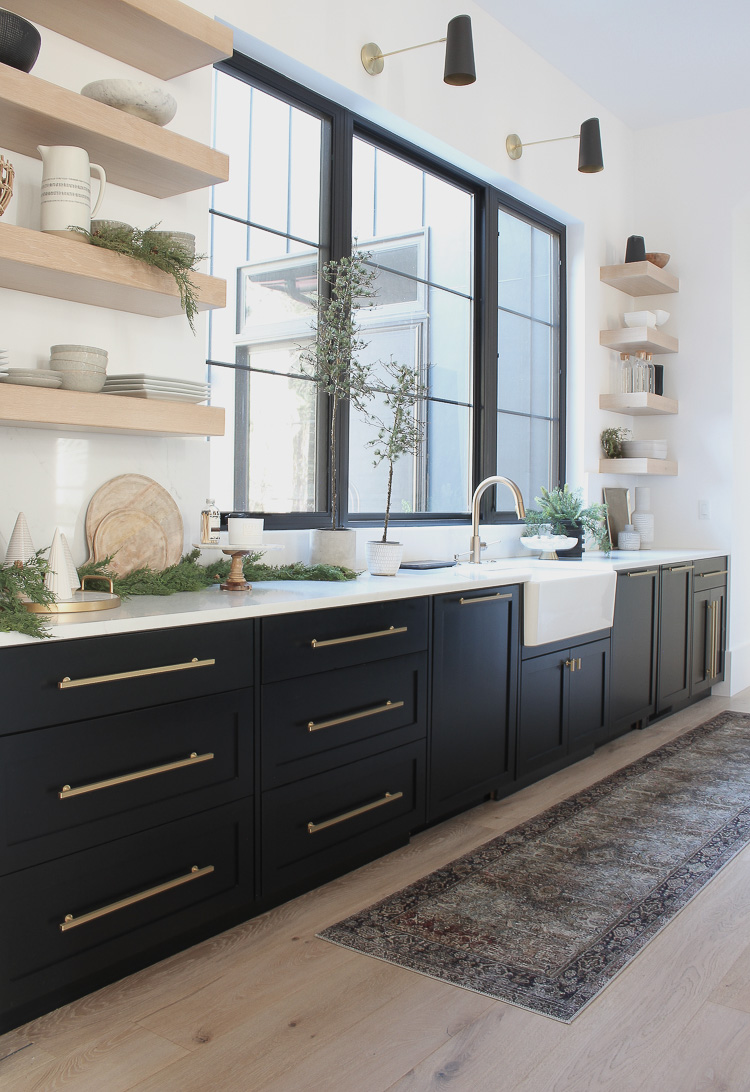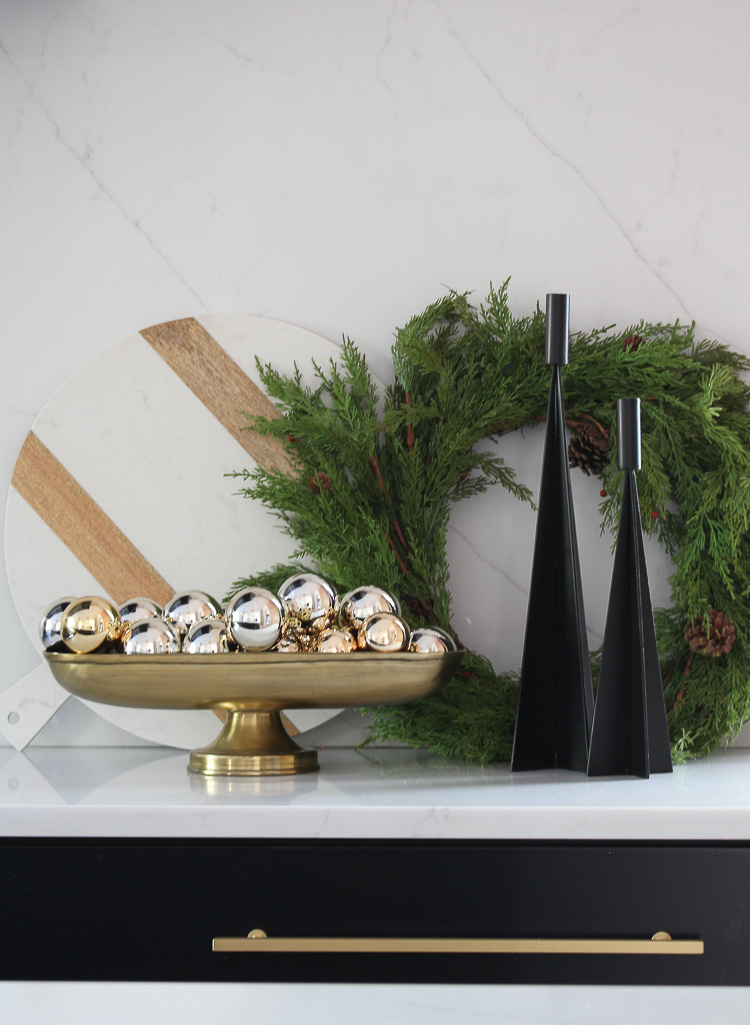 I noticed you can see my reflection in every ornament, haha! I should have dressed for the occasion!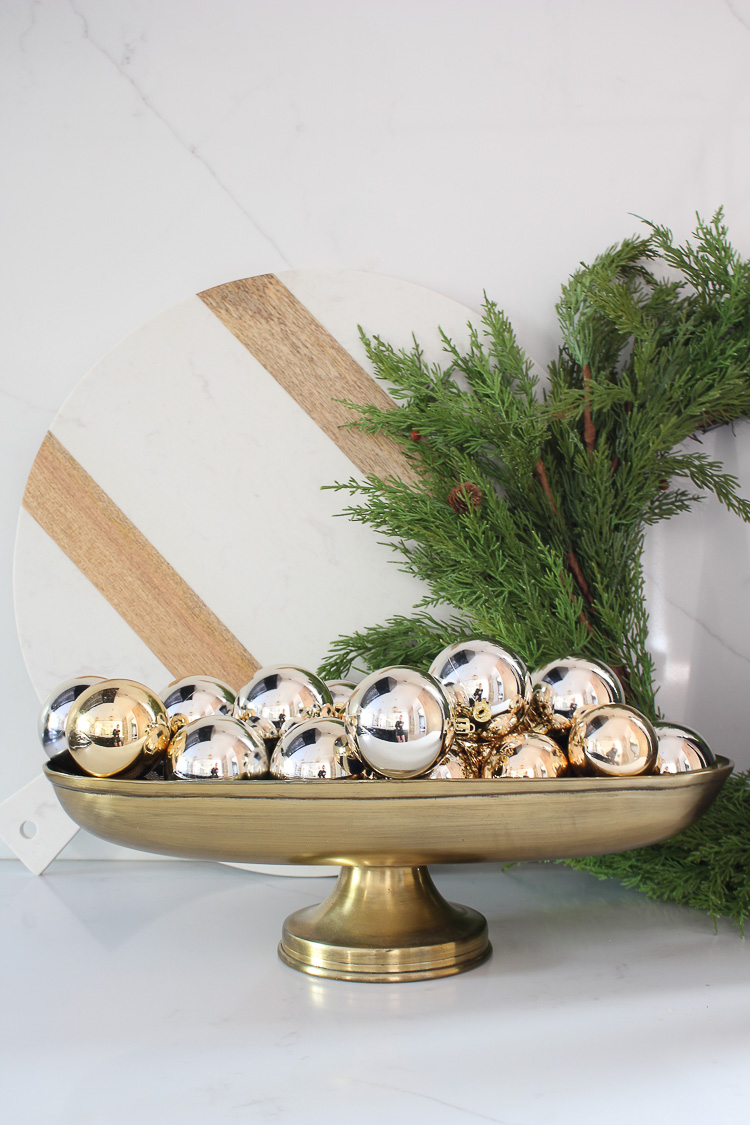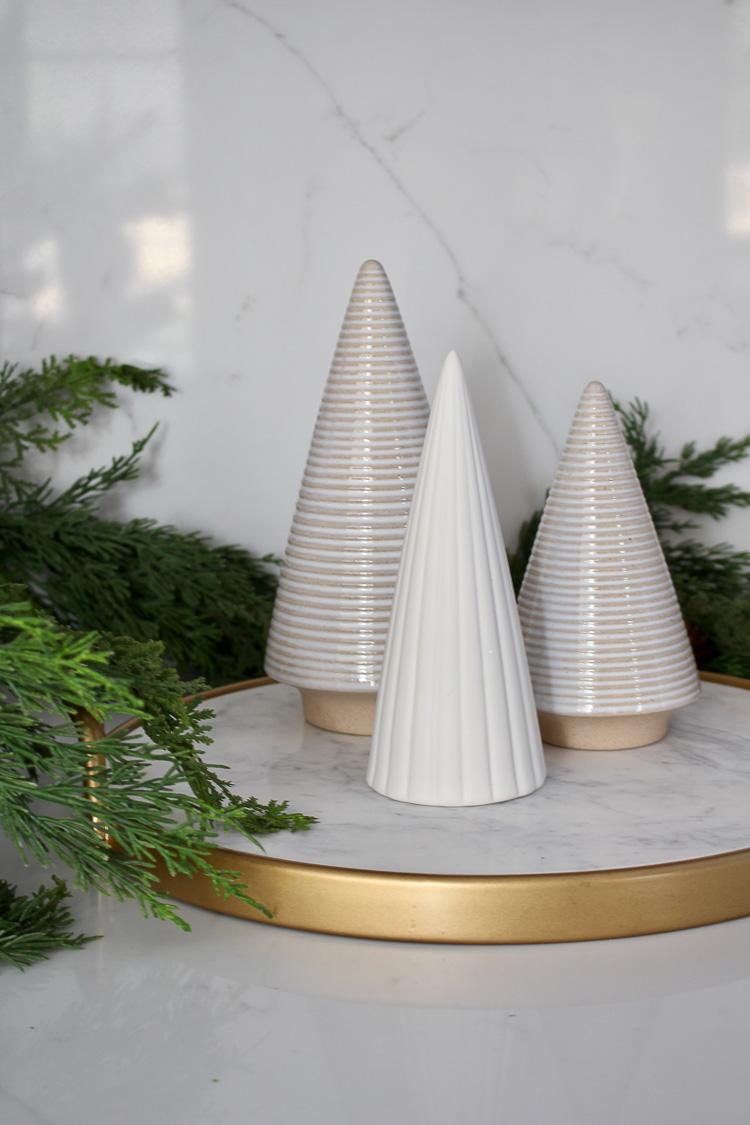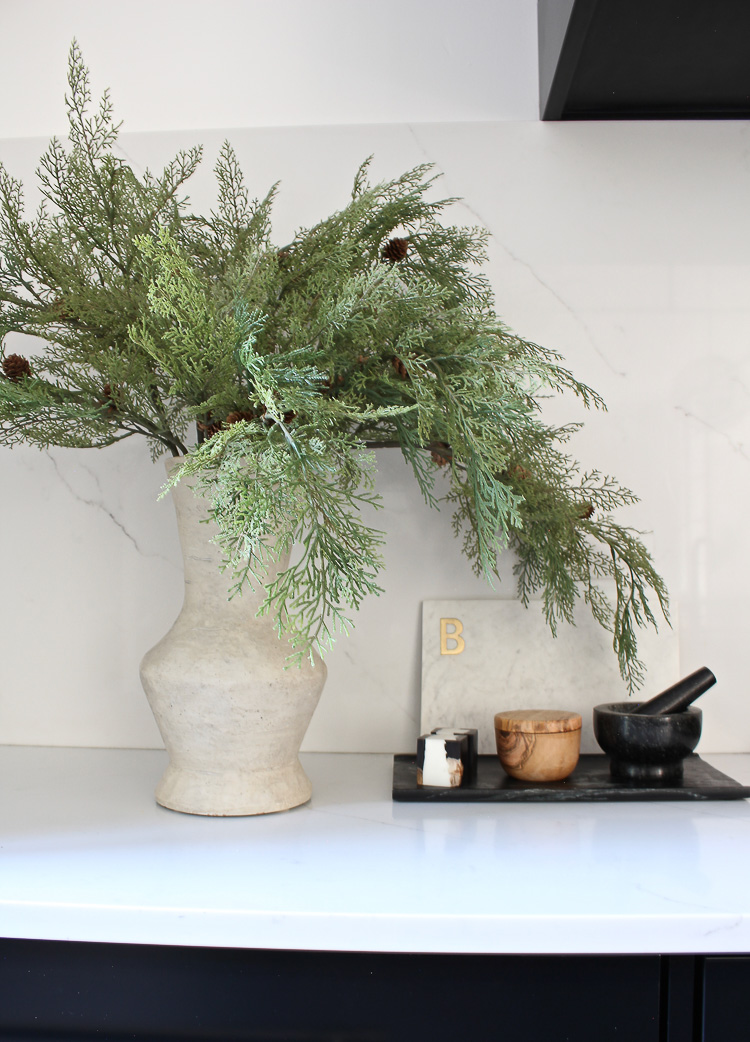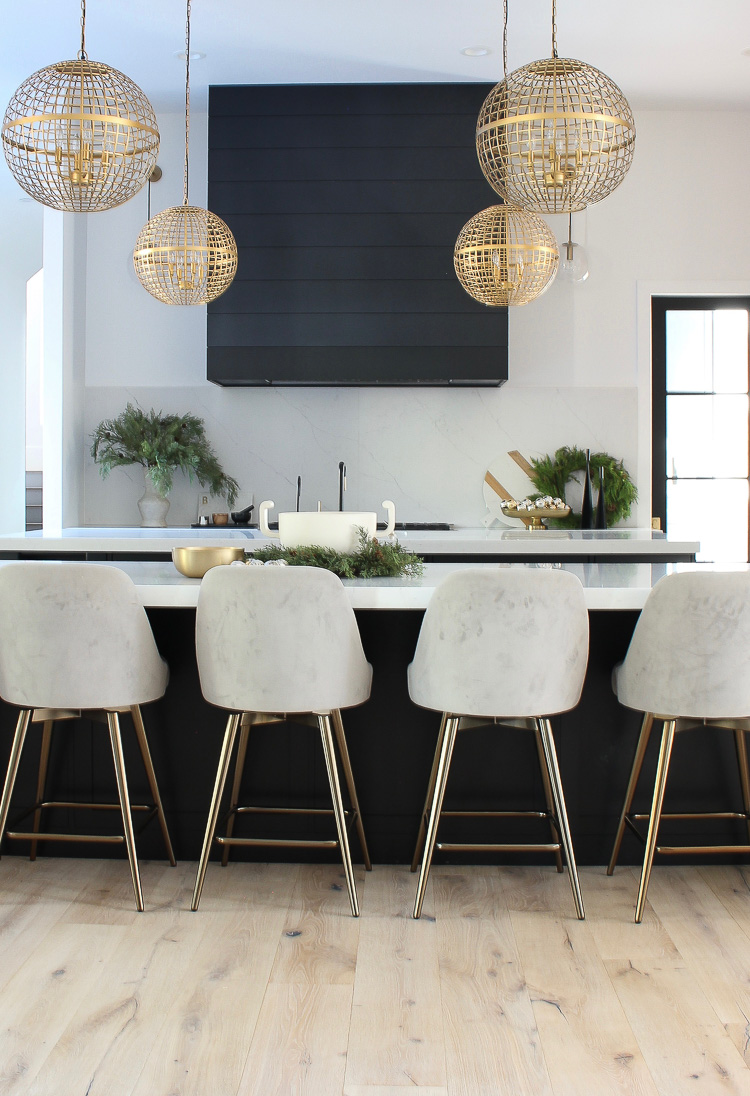 SOURCES: Orb chandeliers (similar) // counter stools (similar here and here) // Cedar stems – Hobby Lobby // Ceramic trees – JoAnn //Marble and gold tray // white marble and wood cutting board // rug // white farm sink // gold faucet // Black & gold sconce // cabinet hardware // black marble tray // Olive wood salt keeper // White handle bowl on island // Large brass candle bowl // Hallway twinkly light tree // Black and gold tree planter
I switched things up a little this year in our living room. I'm loving the natural green Christmas tree in here. Last year I had two trees surrounding the mantel. You can see that Christmas tour HERE. I moved those trees into the hearth room which we'll get to in a minute.
For the mantel, I repurposed some old flocked pine garland mixed with twiggy branches to create this asymmetrical swag. I love how it turned out and that it allows the Christmas tree to still stand out on its own.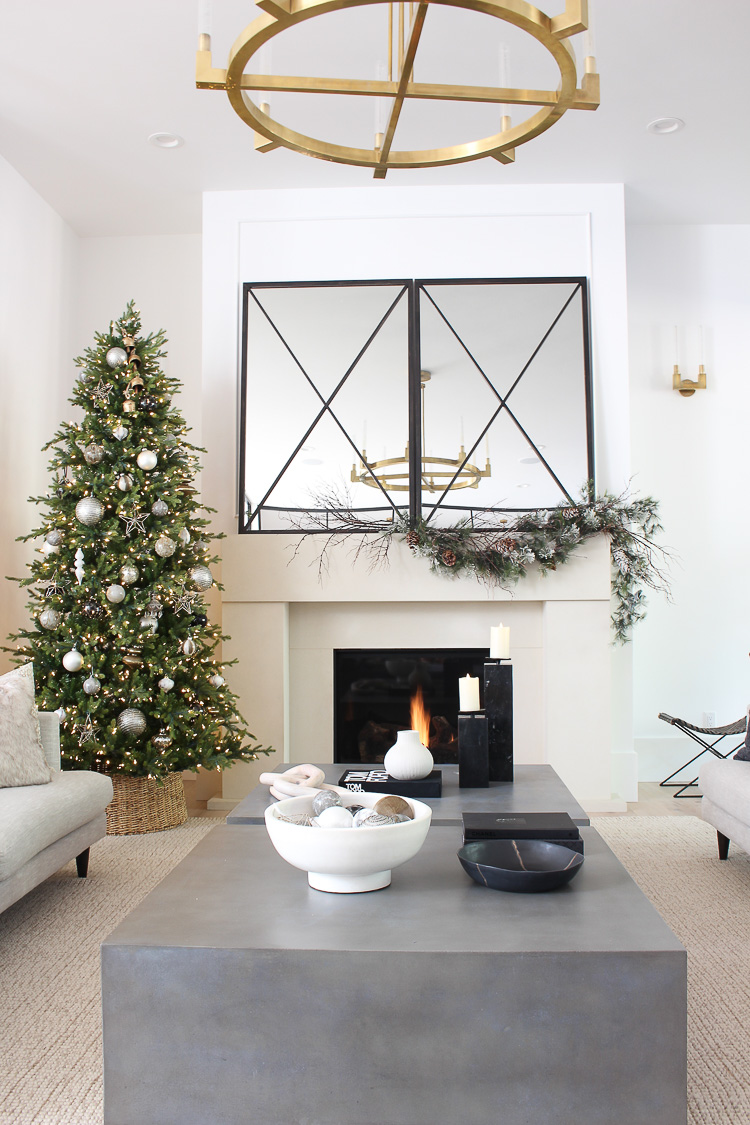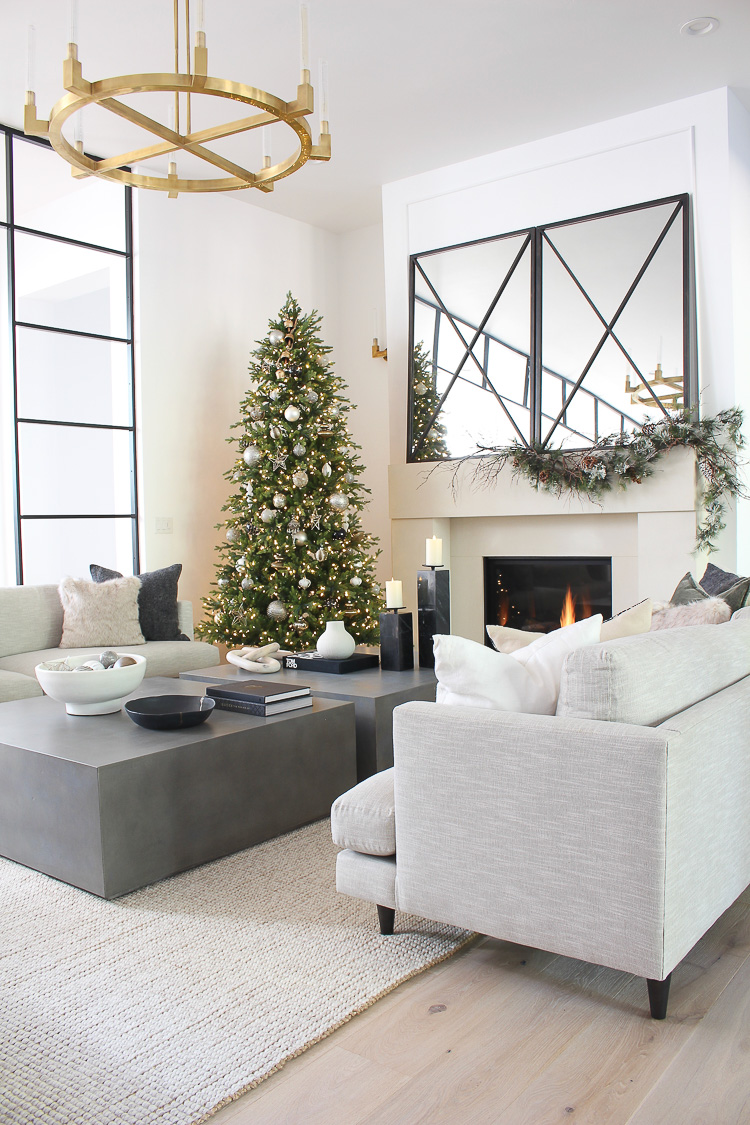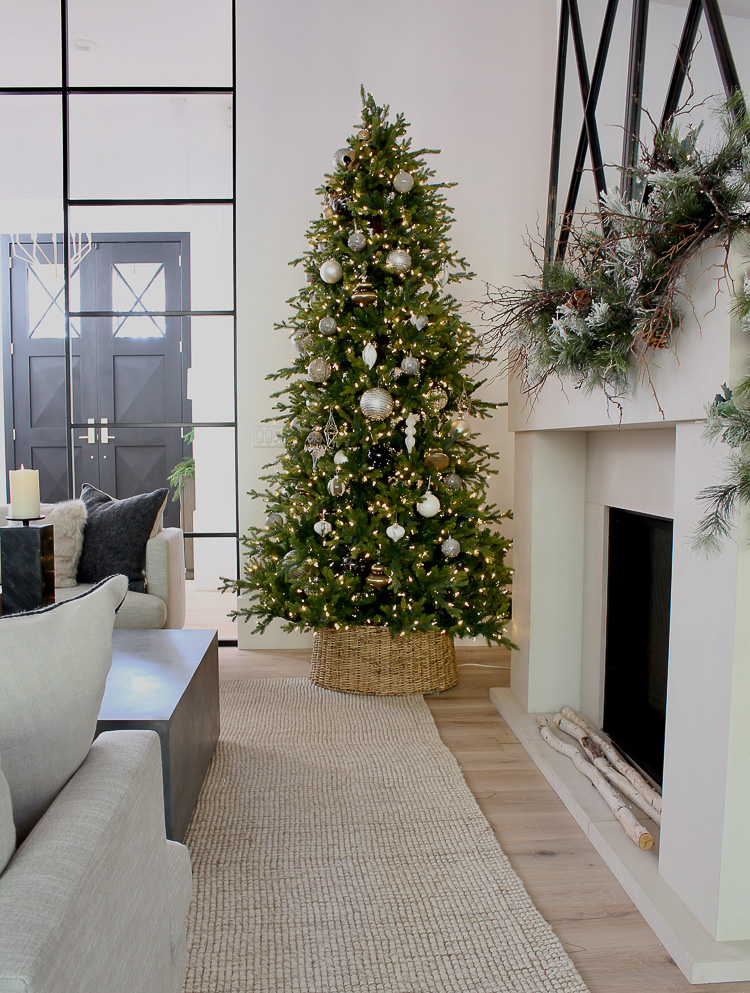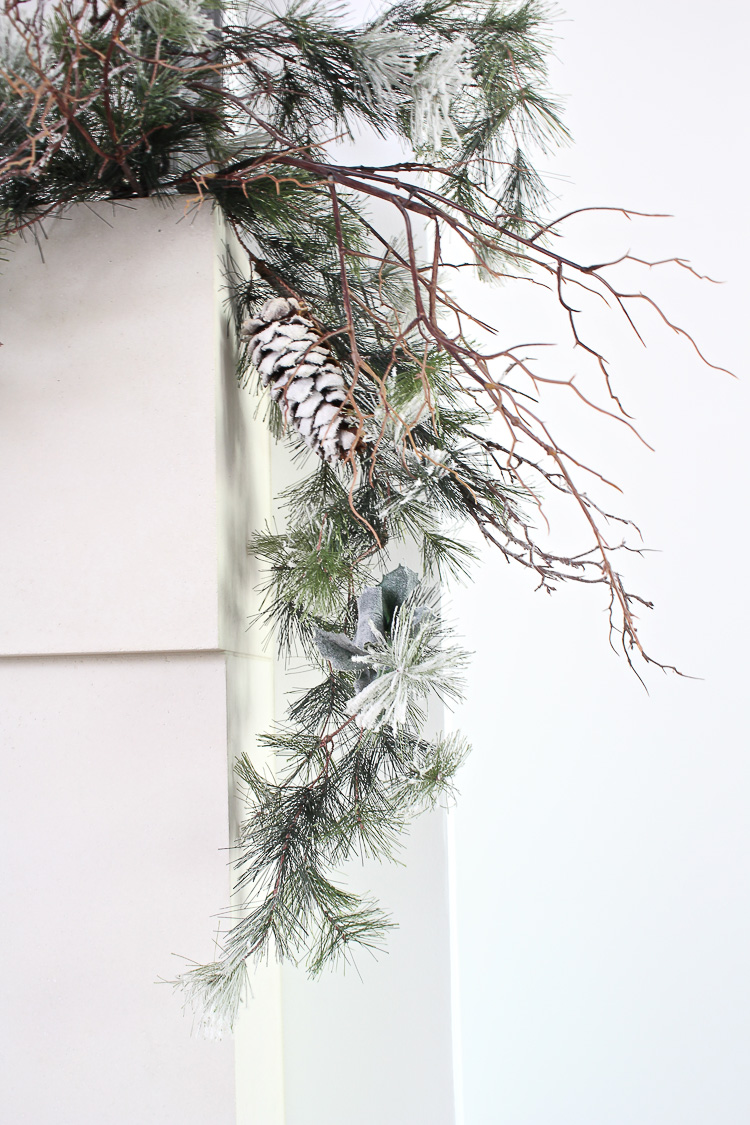 I gathered one of each ornament on our living room tree and displayed them in this huge coffee table bowl. I have a mix of various marble, metallic, wood grain and glitter star ornaments.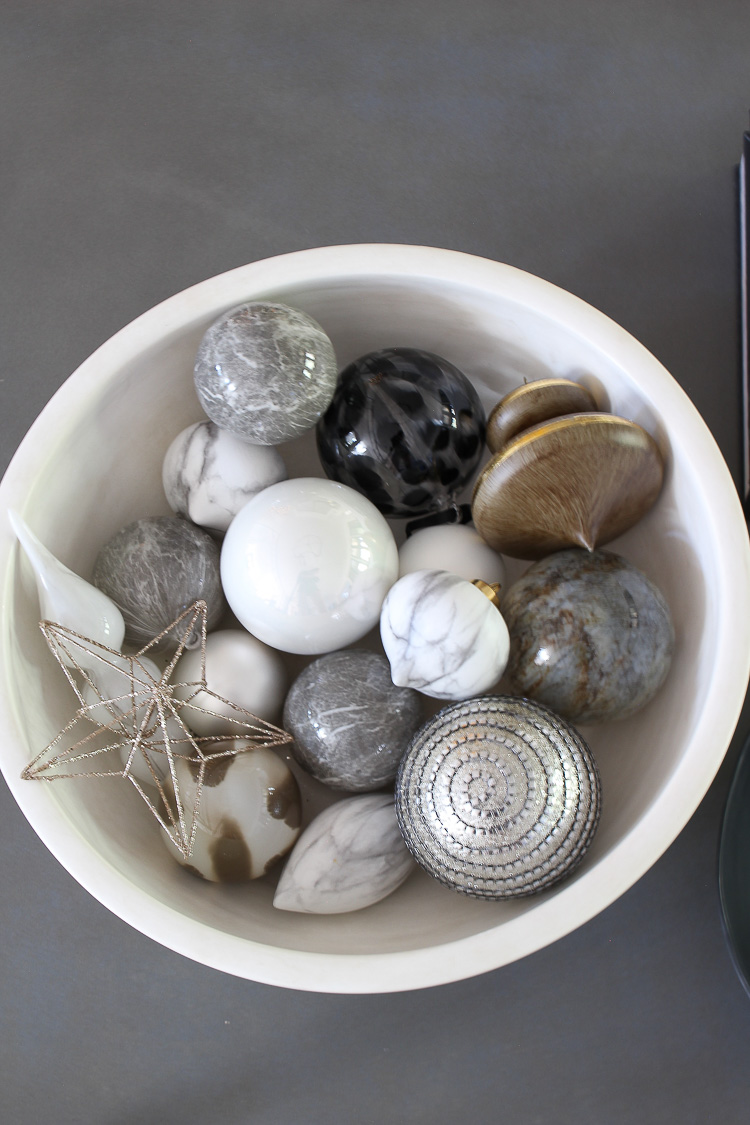 The disco ball ornaments are so fun! When the sun shines directly on them early in the afternoon, they cast a reflection over the ceiling in this entire space. It is stunning! I've had mine for so long I don't remember where I got them, but I found this set of reflective ornaments that would be fun to add to your bowl of ornaments.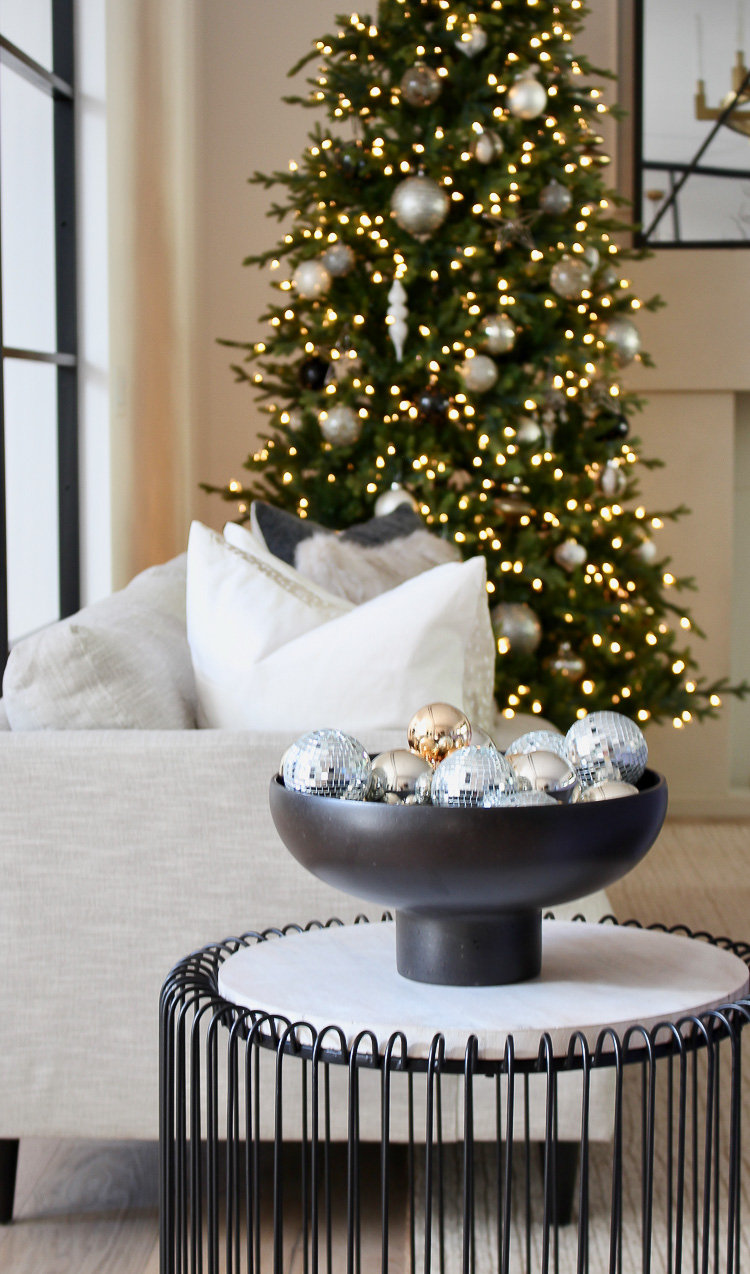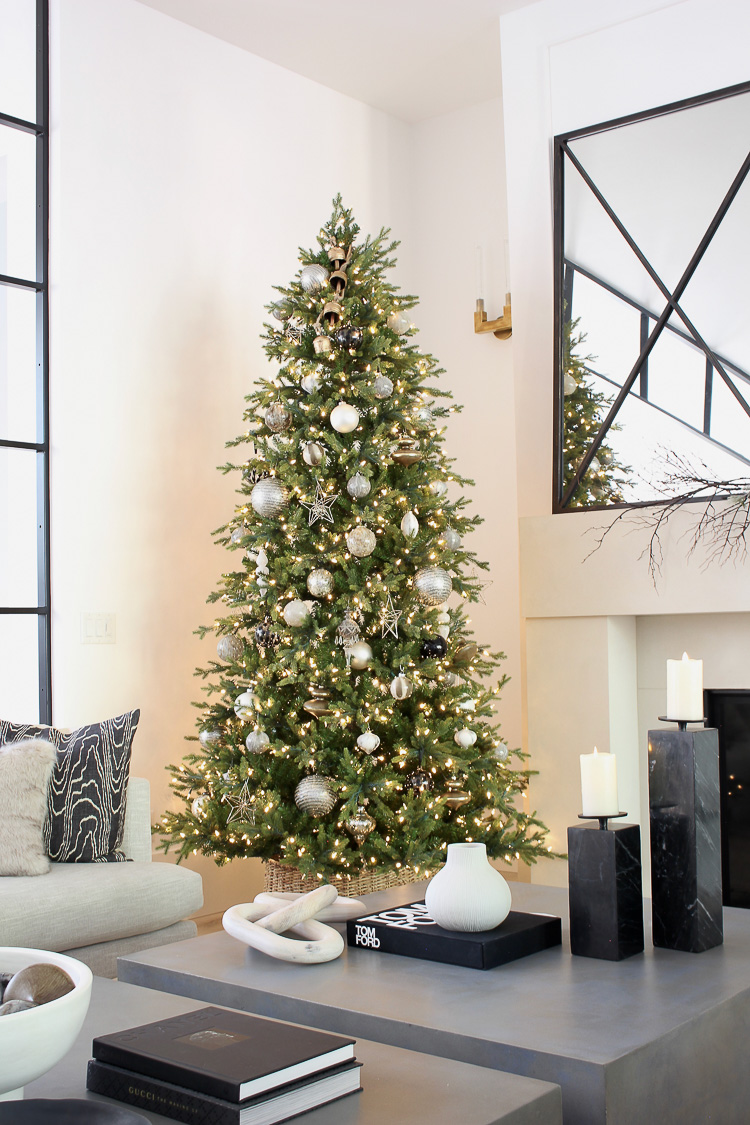 You'll notice in this last photo I added this feather wreath. My original intention was for it to be hung on the mantel. Instead I like how it looks on the coffee table. Everything about this rooms feels just right and it is so warm and inviting in the evenings with the fireplace on.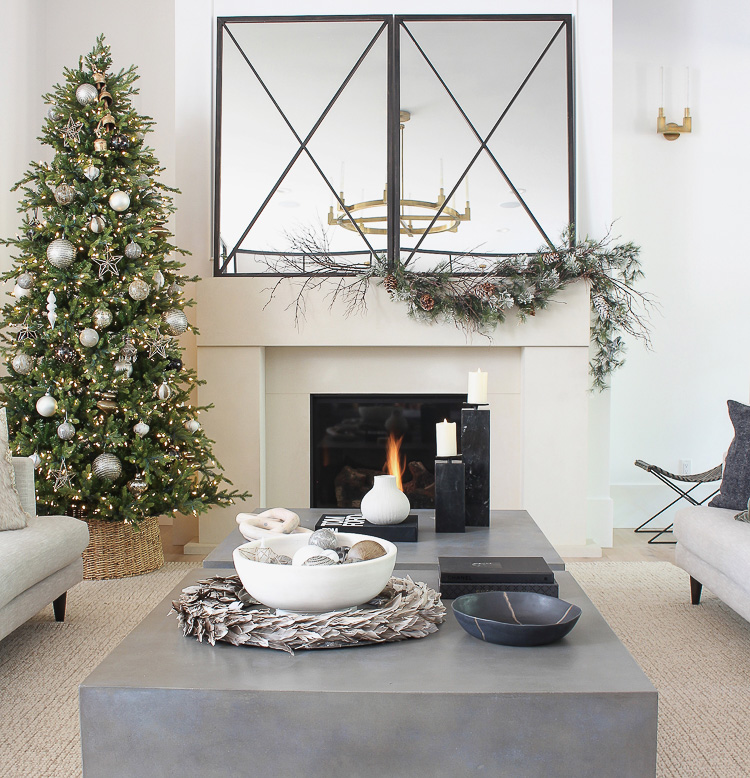 SOURCES: Christmas tree (similar here) // Tree basket (no longer available but love this newer version // Marble and wood grain ornaments – JoAnn // Metallic ball ornament – Kirklands // Black Tie-Dye ornament // Feather wreath // White coffee table bowl // Black coffee table bowl // black pedestal bowl // Tom Ford book // Gucci coffee table book // wood chain links // Fur pillow // Antelope pillow cover // coffee tables // rug // mirrors // Chandelier and sconces – Restoration Hardware // Sofas – Room and Board // wire/wood side tables – Homegoods // Tavi stool – Room & Board
The final room of our tour is the hearth room. Last year's living room trees made their way in here. I loosely strung bell garland on them. We plan to hang all of our collected family ornaments on these trees as well. So far though, I've loved the simple white lights.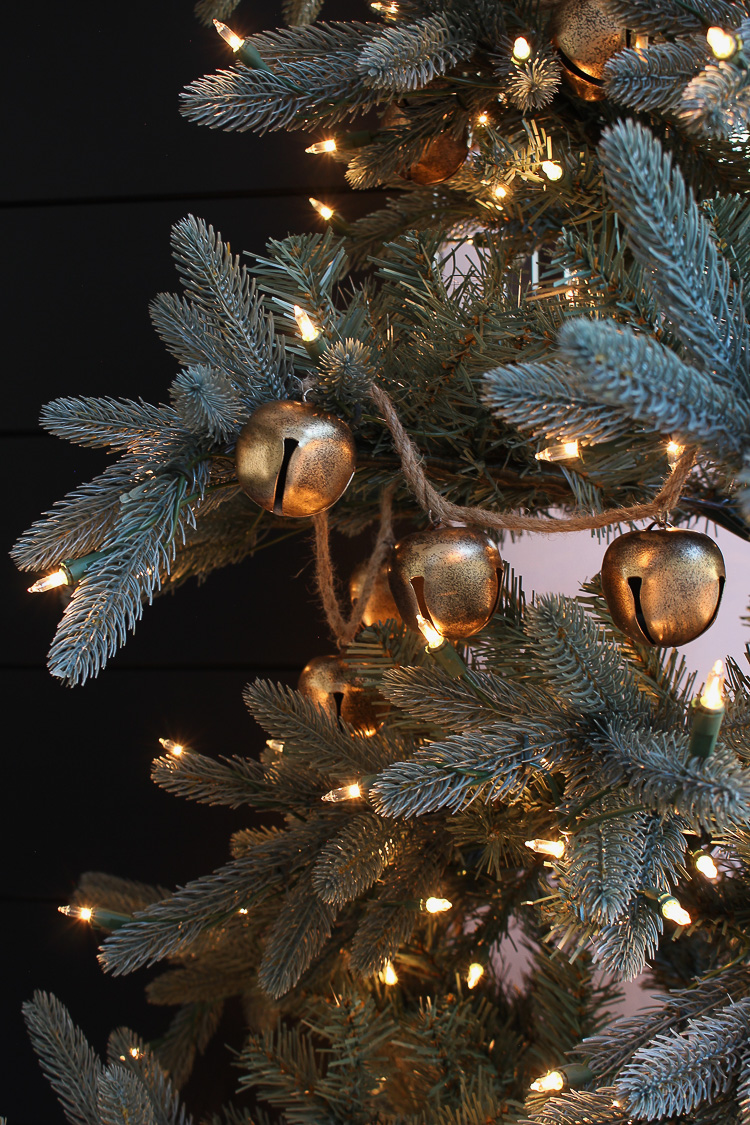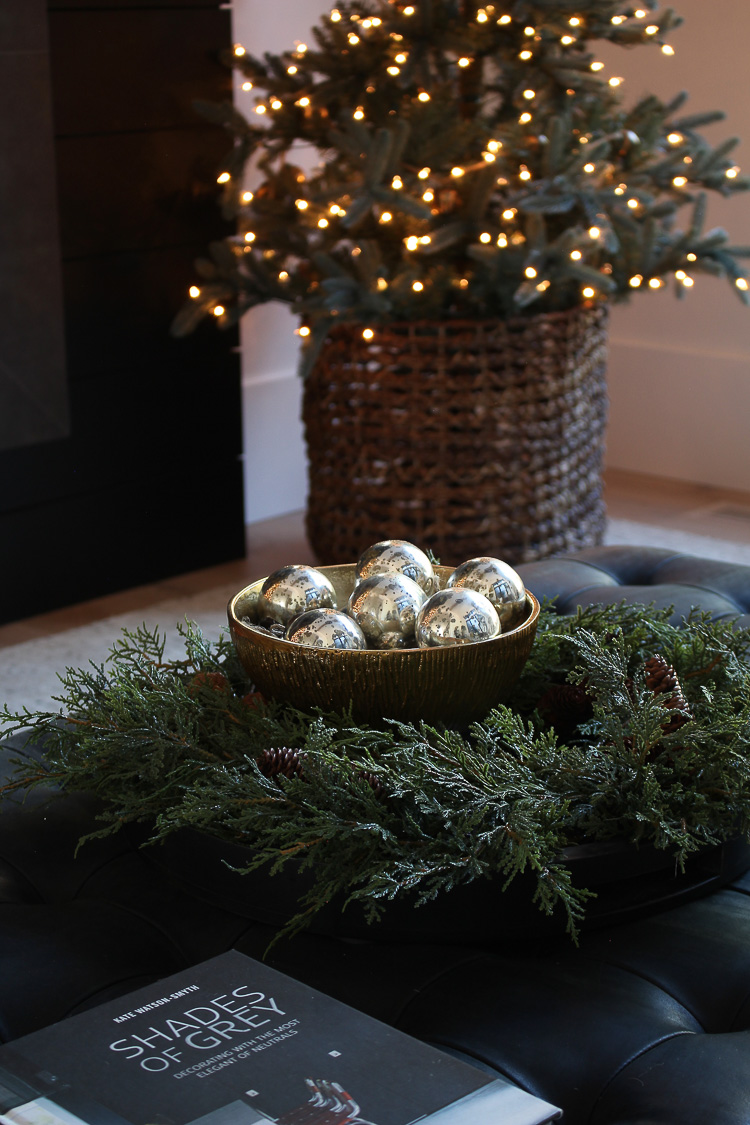 I switched out a couple of pillows with a soft fur pillow and a chunky cable knit pillow. I can even use them after the holidays for my winter look.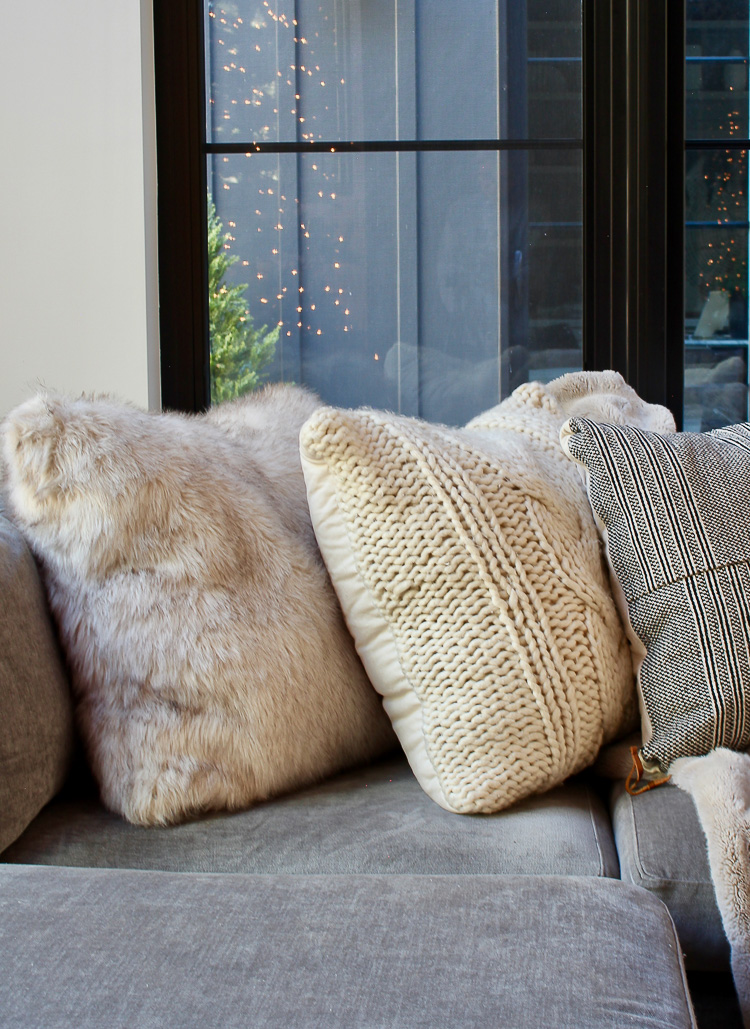 Available SOURCES: Black woven pillow // Rug // coffee table // Sectional sofa // Swivel chair
I hope you enjoyed our Christmas home tour. Thank you for stopping by! May you leave with a warm feeling from our home to yours. Merry Christmas!