Thank you for stopping by and welcome to our Christmas Home Tour 2022. This year I kept our Christmas decor very simple yet I feel that each room has the holiday spirit. I didn't get around to photographing every room that was decorated but here are a few of the main living spaces of our home. I hope you enjoy the mini tour!
Affiliate links are used in this post. Full disclosure HERE.
Dining Room
Hello bare Christmas tree. If any room could pull off an unadorned tree it is our black dining room. It just felt perfect for this season. Tim helped me DIY this urn into a tree base and once it was set up I was drawn to the natural look. We basically took an outdoor urn, filled it with ready mix concrete and a pvc pipe to set the tree rod in. It turned out beautiful and gave my tree almost 2 ft extra height. I may be keeping this one up beyond Christmas!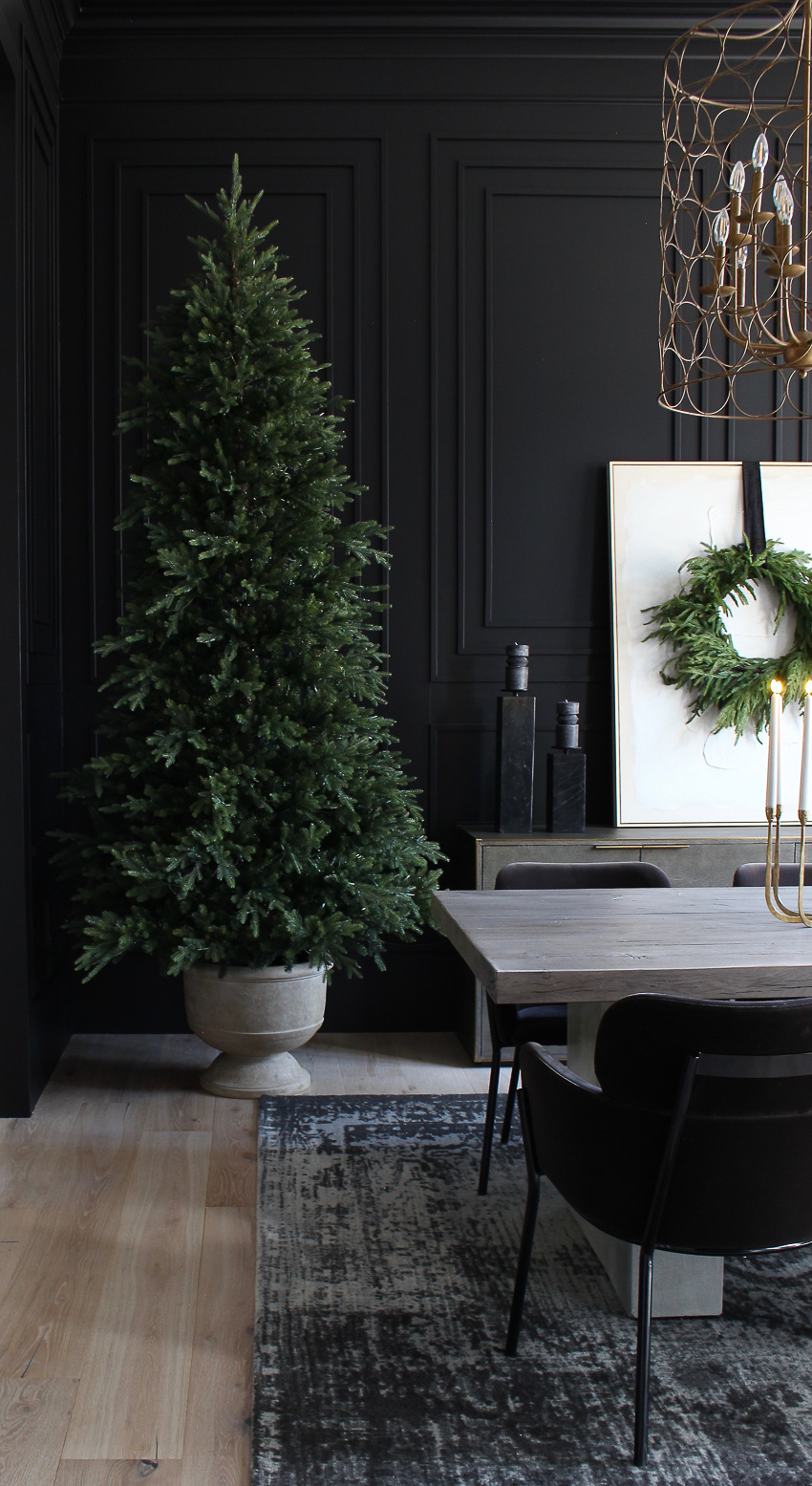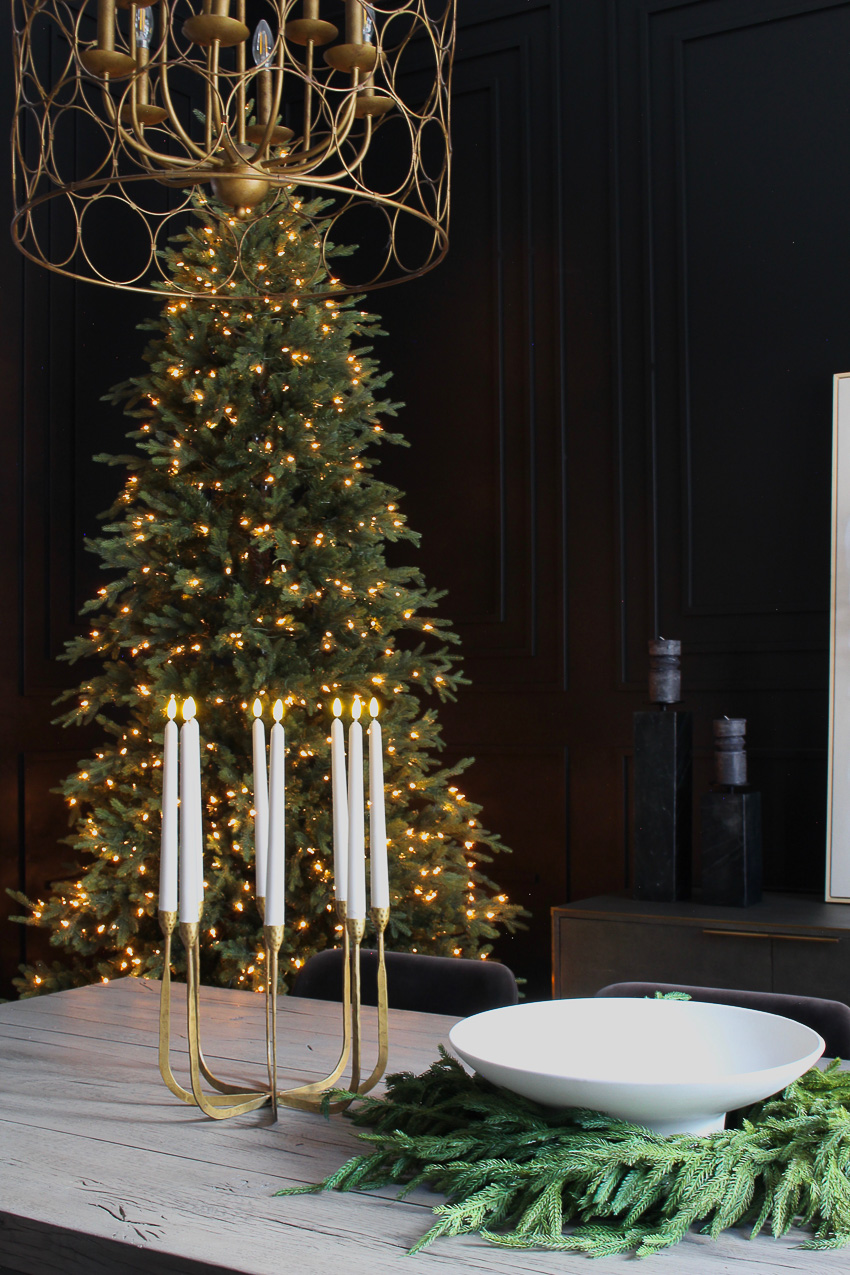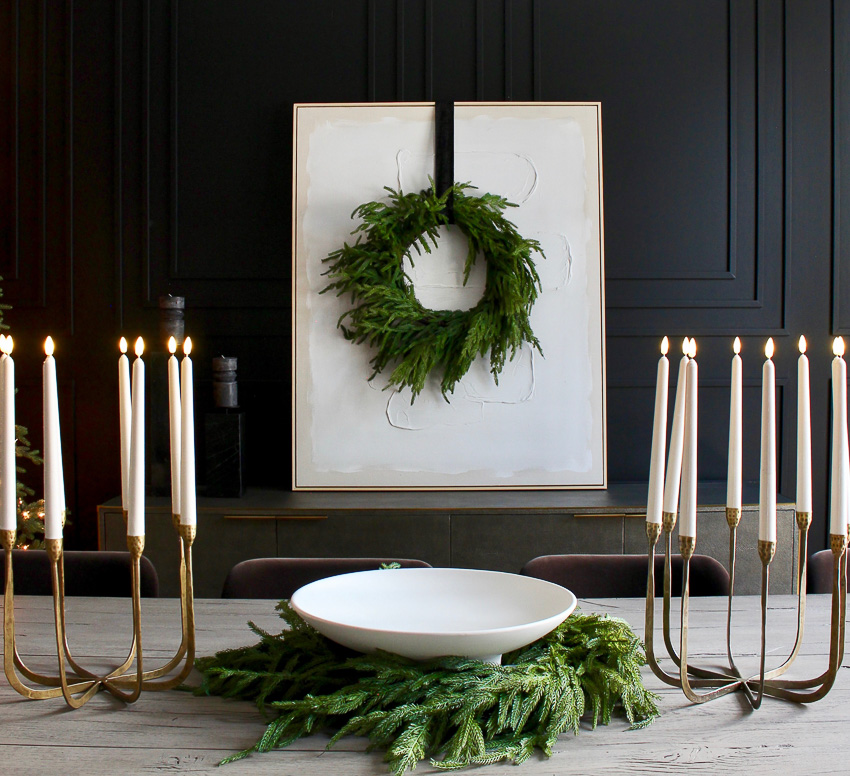 DINING ROOM SOURCES// CHRISTMAS TREE // RUG (color Steel) // CHANDELIERS // CHAIRS // WHITE BOWL // TAPER CANDLES // BLACK CANDLES // ART // DINING TABLE, SIDEBOARD – RH
KITCHEN & PANTRY
Spy the new pendant lights? This was a big change in our kitchen this year. I kept the iconic gold orb chandeliers in case I ever want to switch back, but for now I'm loving this look. I hosted a holiday party recently and everyone loved the new look!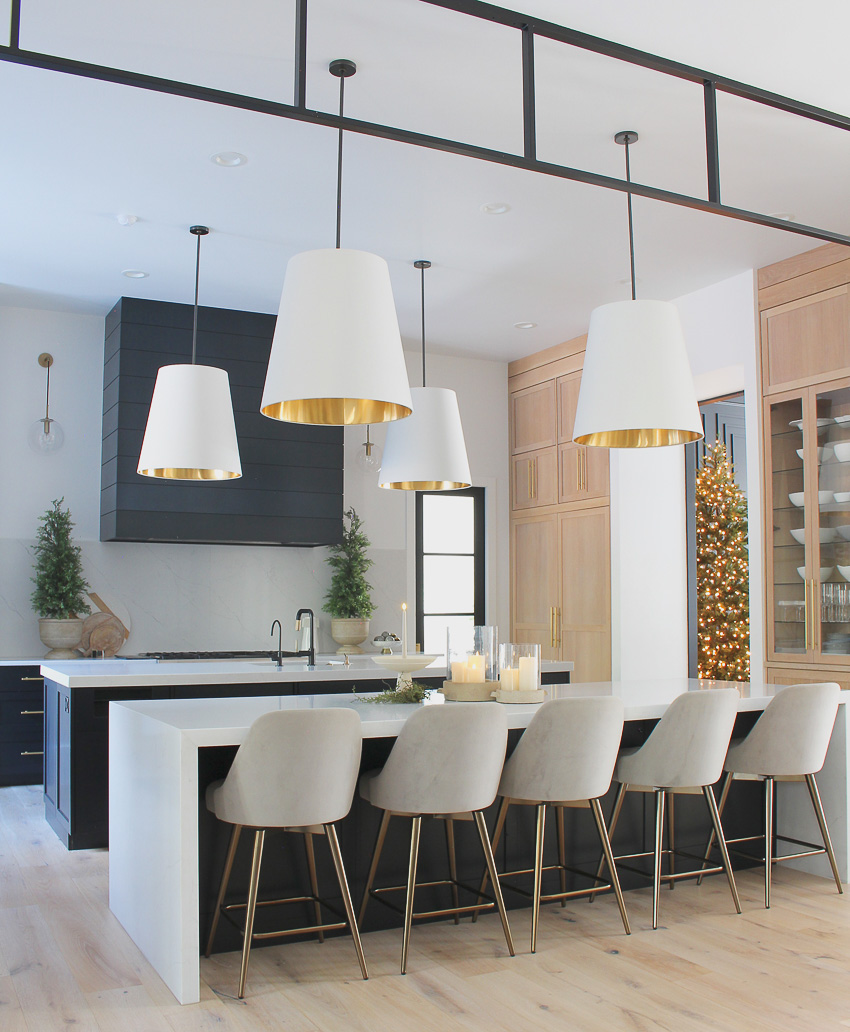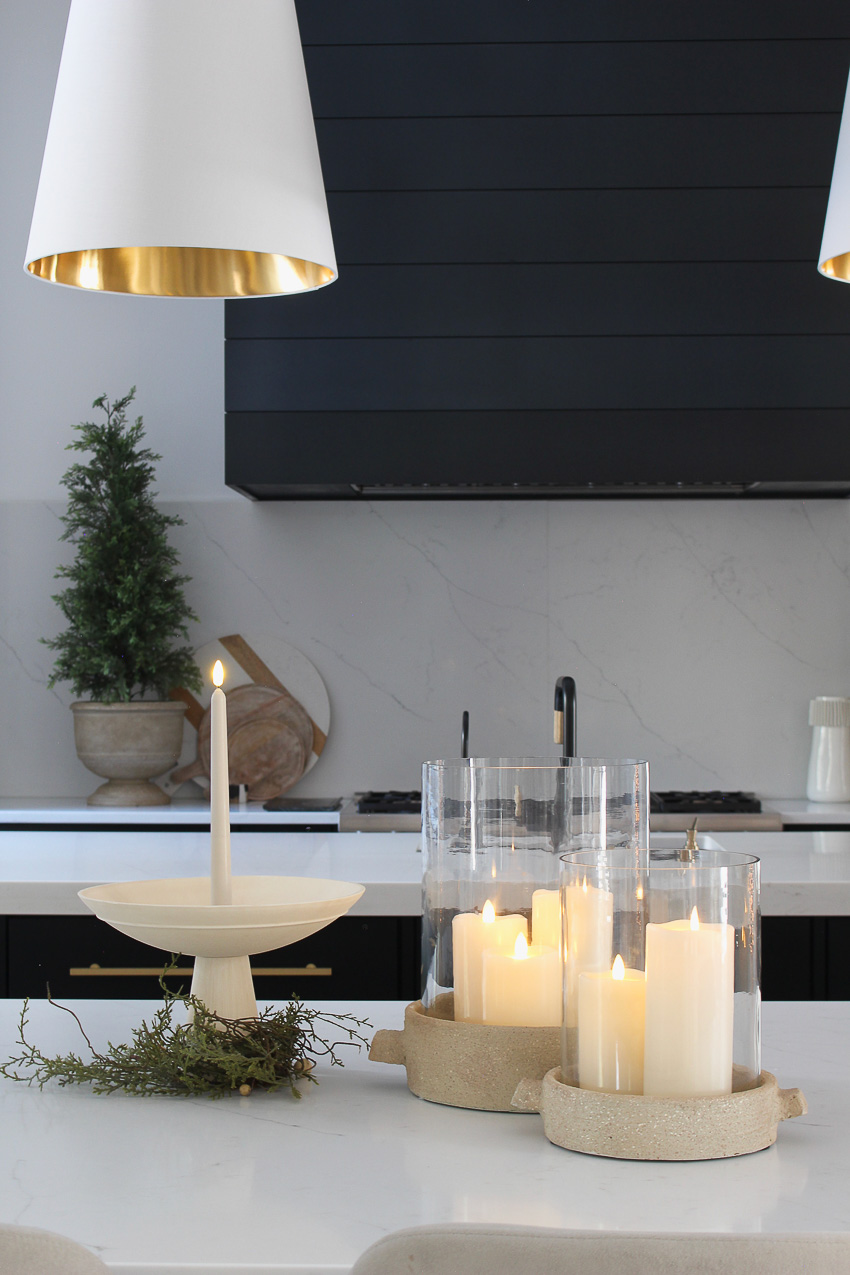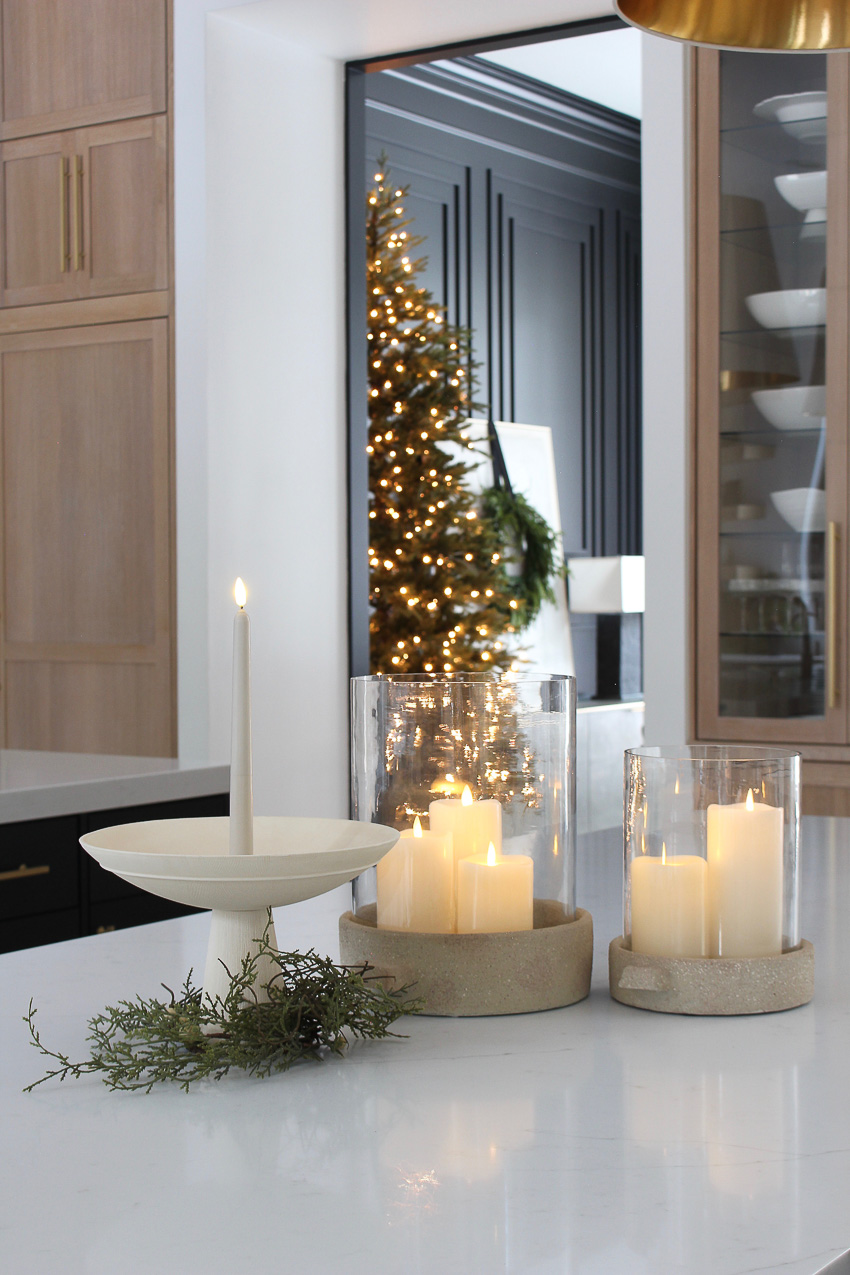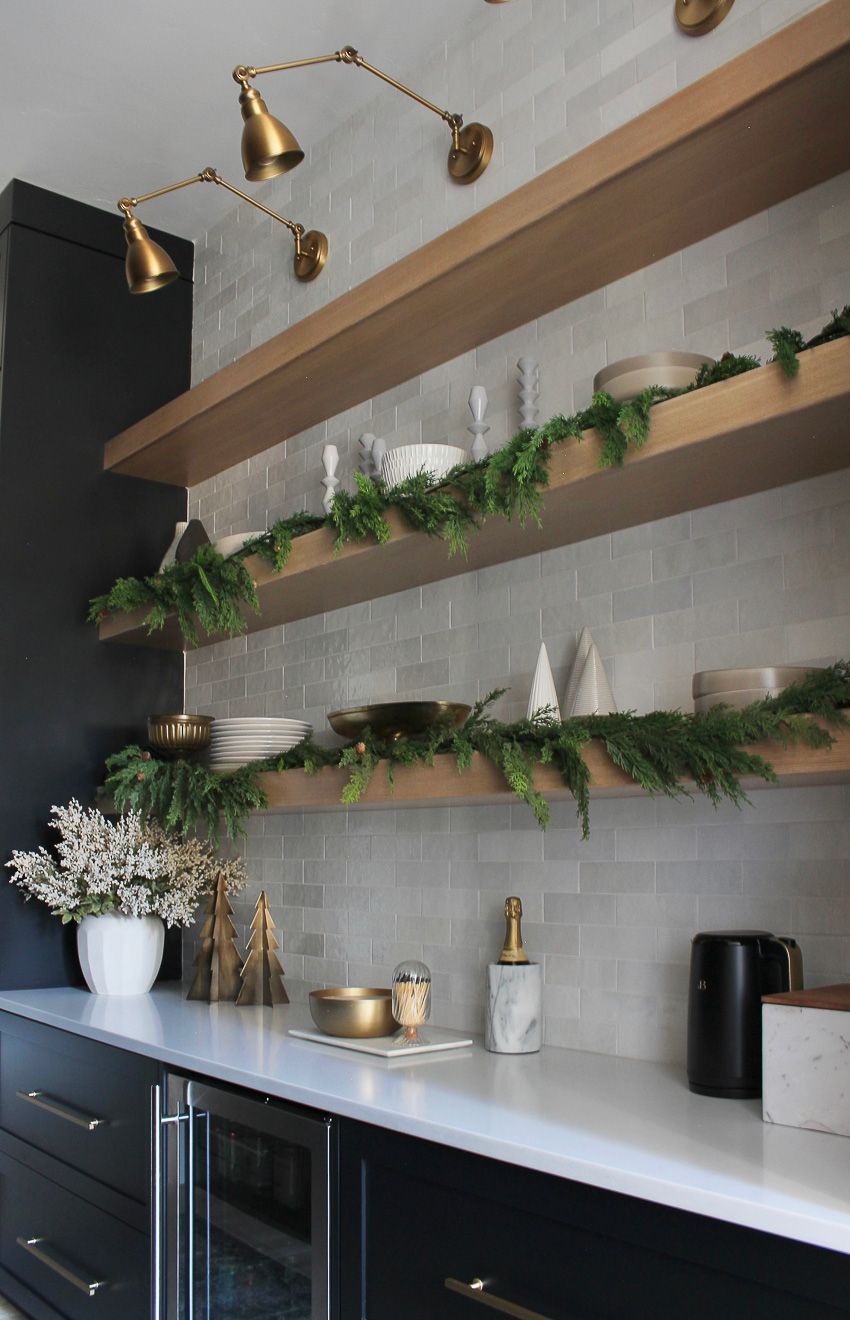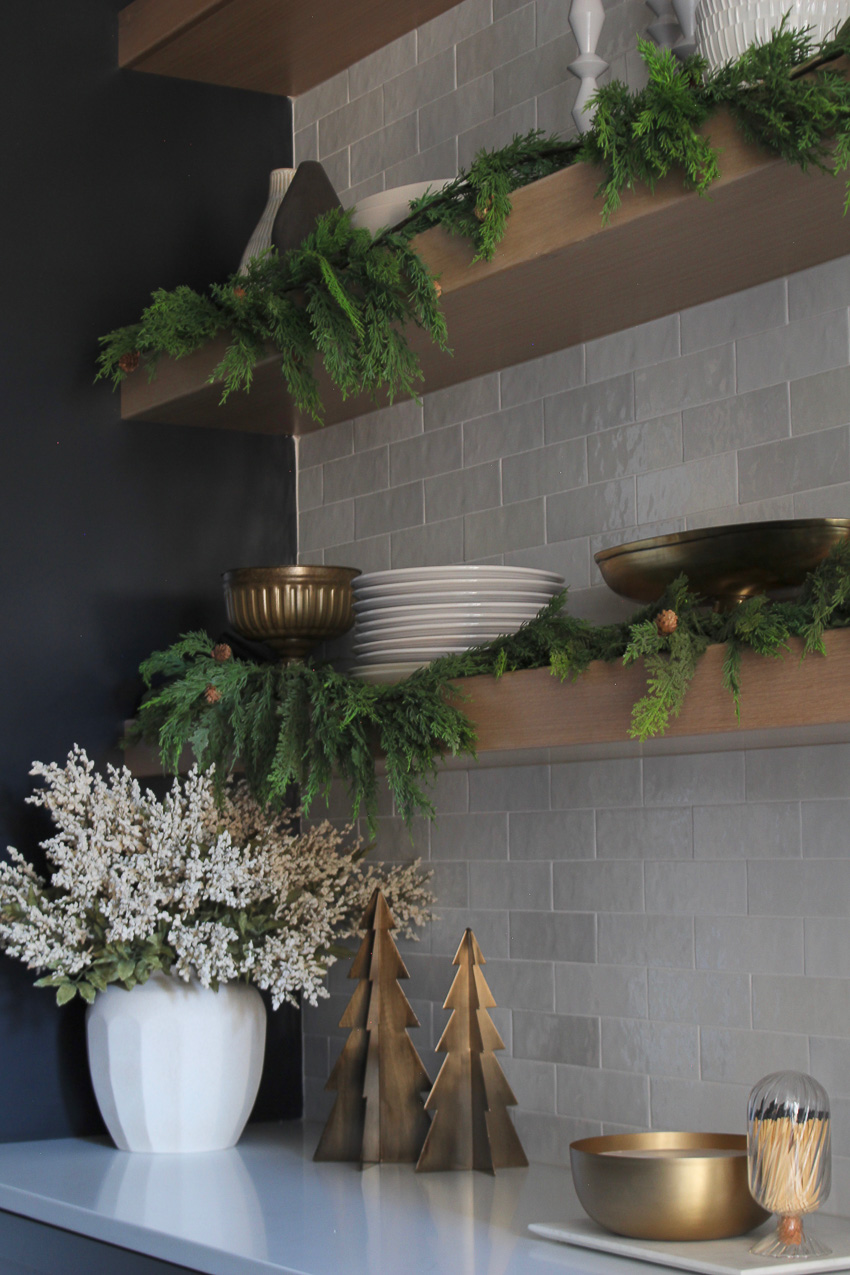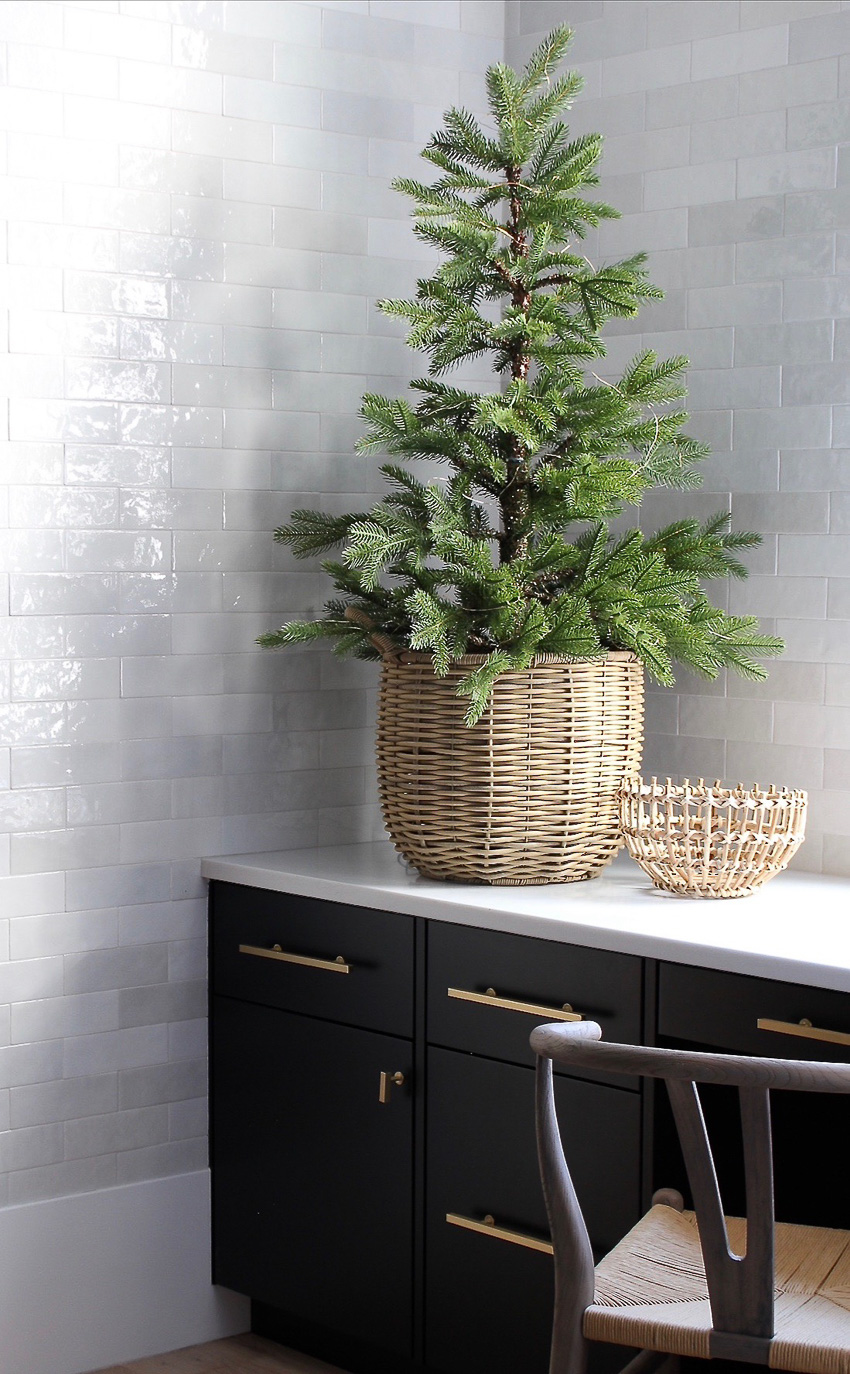 KITCHEN/PANTRY SOURCES // CABINET HARDWARE // WHITE PENDANTS (SIMILAR) OUR STEEL ROD PENDANTS – currently out of stock // CERAMIC GLASS HURRICANES // CENTERPIECE BOWL W/TAPER CANDLE HOLDER // TAPER CANDLE // FAVORITE CHARCUTERIE BOARD // BLACK/GOLD FAUCET // PANTRY TREE // FAIRY LIGHTS // PANTRY DESK CHAIR // PANTRY SCONCE // MARBLE WINE CHILLER // BRASS BOWL CANDLE // MATCH CLOCHE // CERAMIC TILE
HEARTH ROOM
I repurposed all older ornaments and ball garland for this tree. We also made an urn base for it. I think I'm ditching the tree skirts from here on out. I just love this look! This is my spot for early morning quite time and evening Hallmark Christmas movies. One of the coziest and most used rooms in our home. I have a new light fixture on it's way that will be replacing the beaded chandelier! I still have hopes it will be installed in time for Christmas!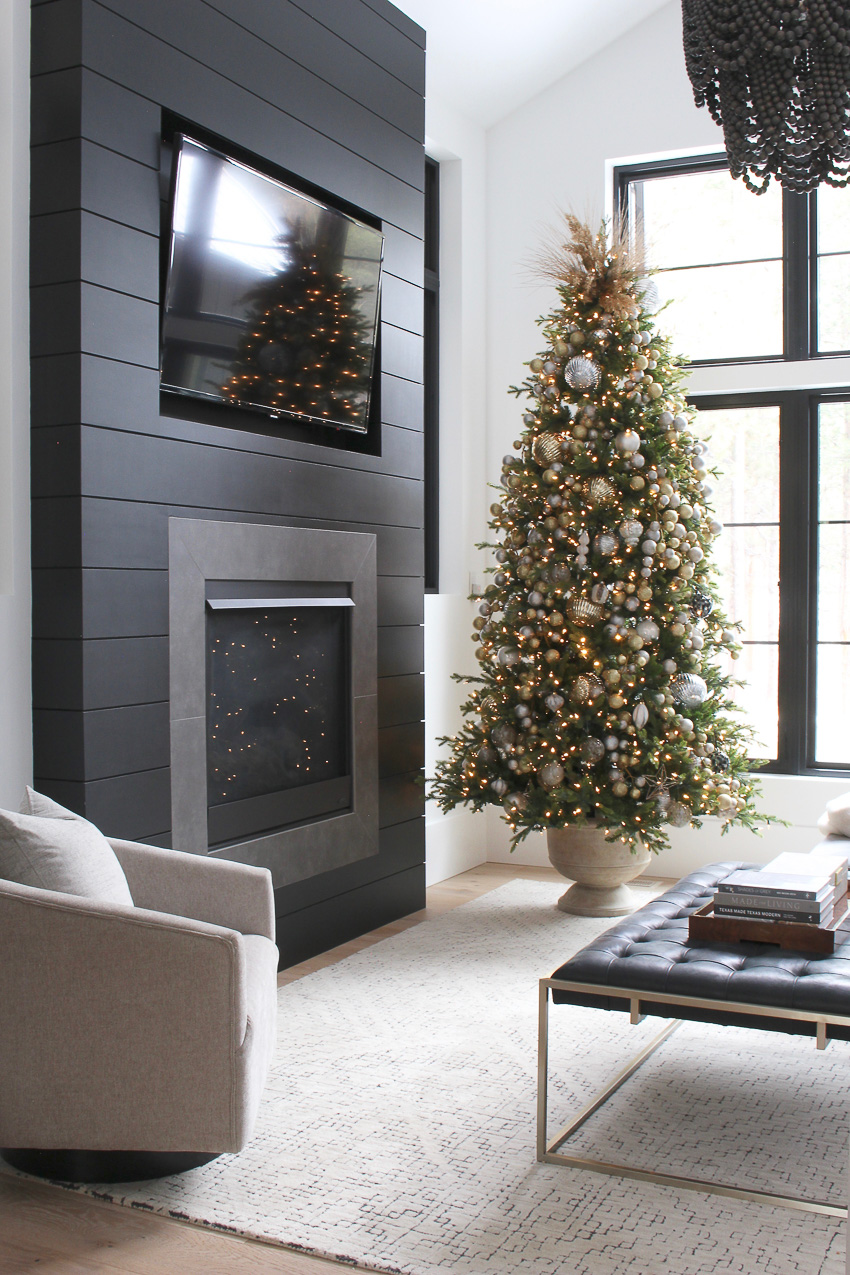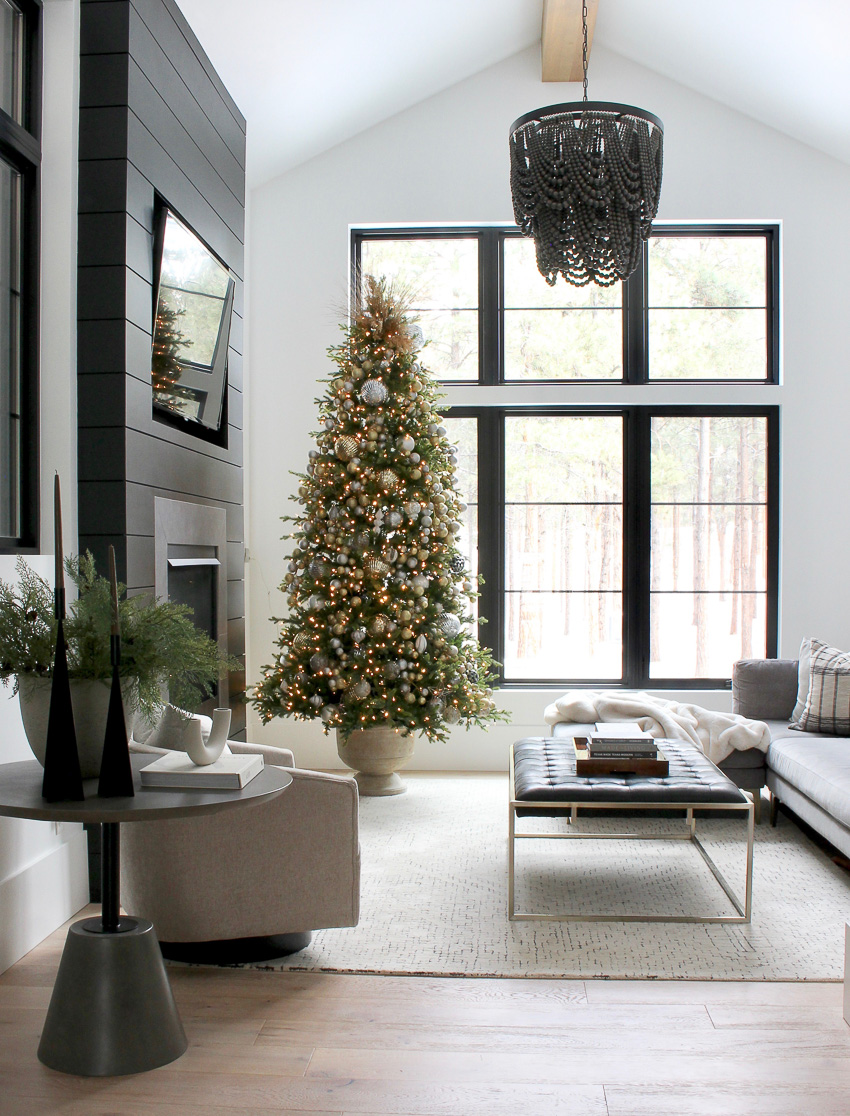 HEARTH ROOM SOURCES // CHRISTMAS TREE // RUG // COFFEE TABLE // SOFA SECTIONAL // SWIVEL CHAIR // CONCRETE SIDE TABLE // BURL WOOD TRAY // PLAID PILLOW // LINEN-LOOK PILLOW COVERS // AD BOOK // CERAMIC TABLE VASE // NEW LIGHT FIXTURE
LIVING ROOM
I have switched up a few things in our living room over the past few months as well. We added these gorgeous cabinets from RH on each side of the fireplace. I love to style them with my collections of white pottery and vases. The art is new as well and I feel like it was made for our home. It definitely speaks to my love of a neutral palette.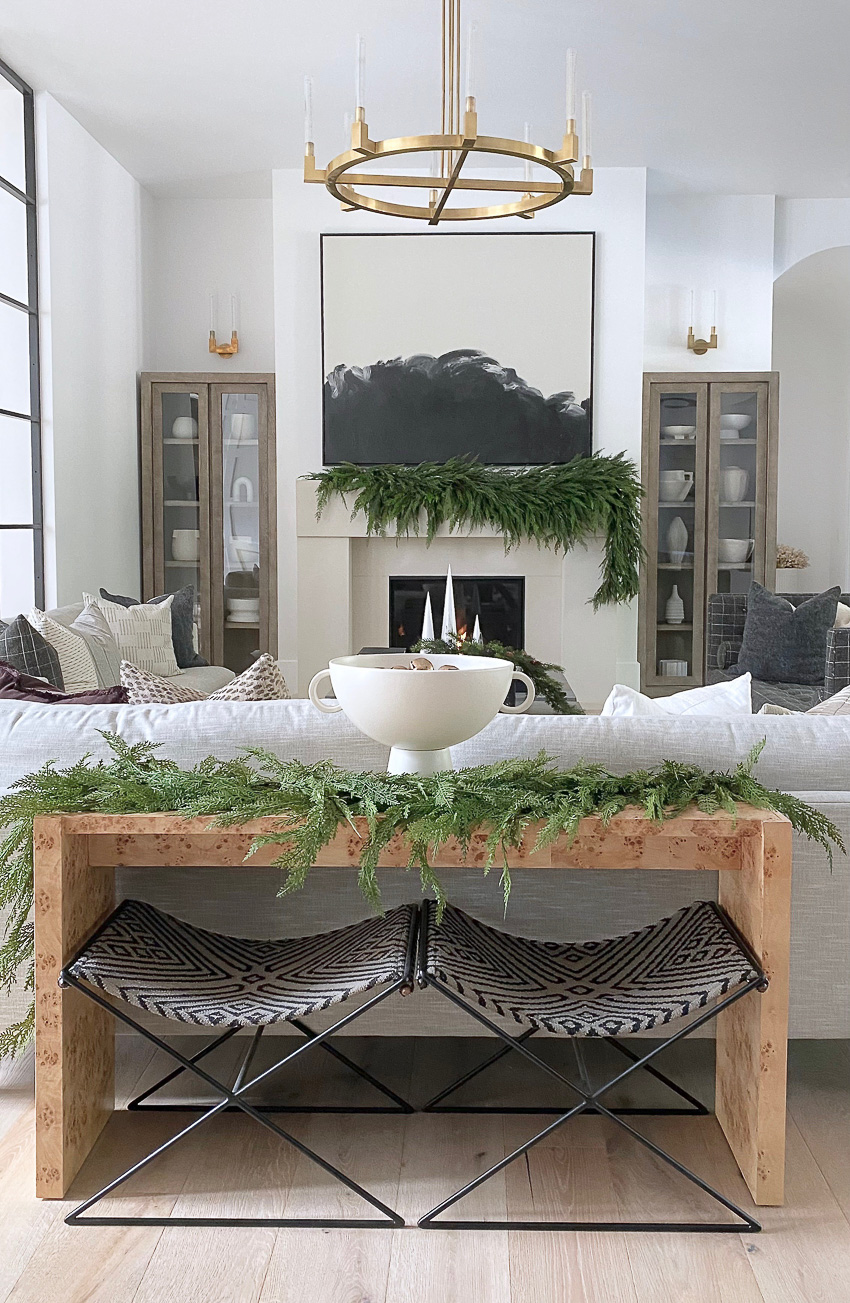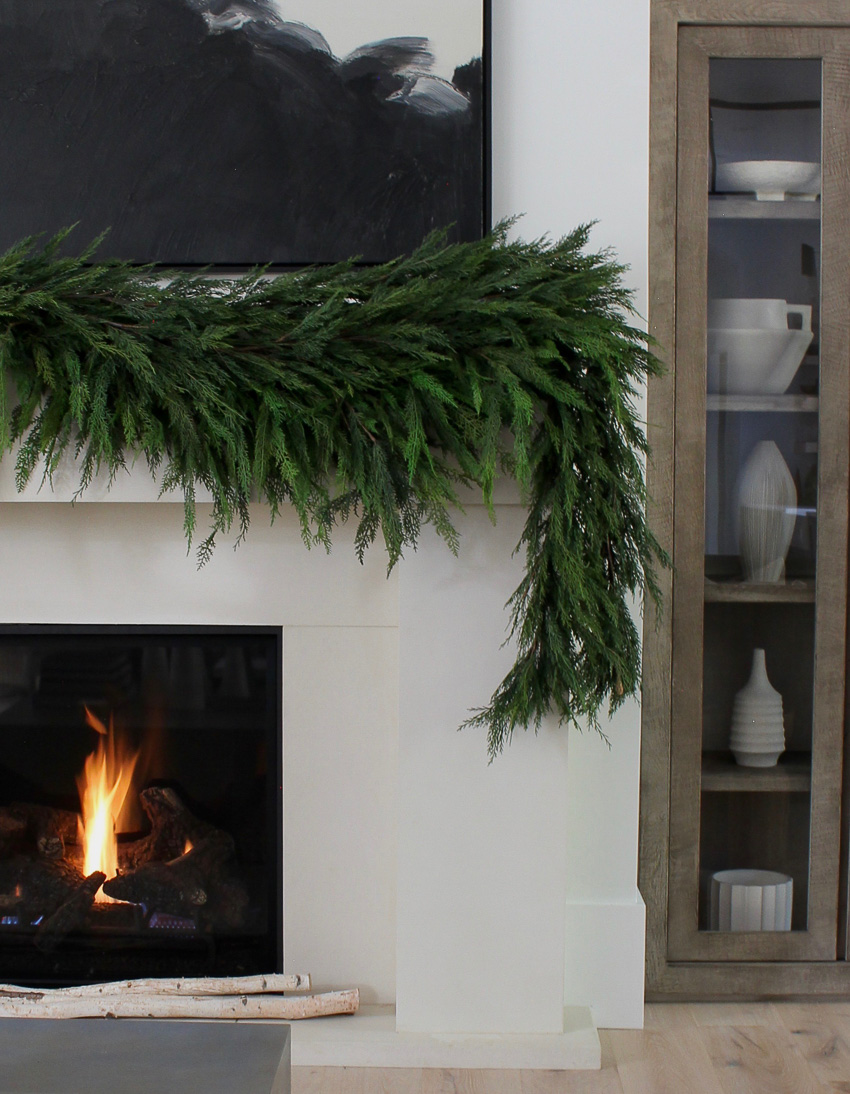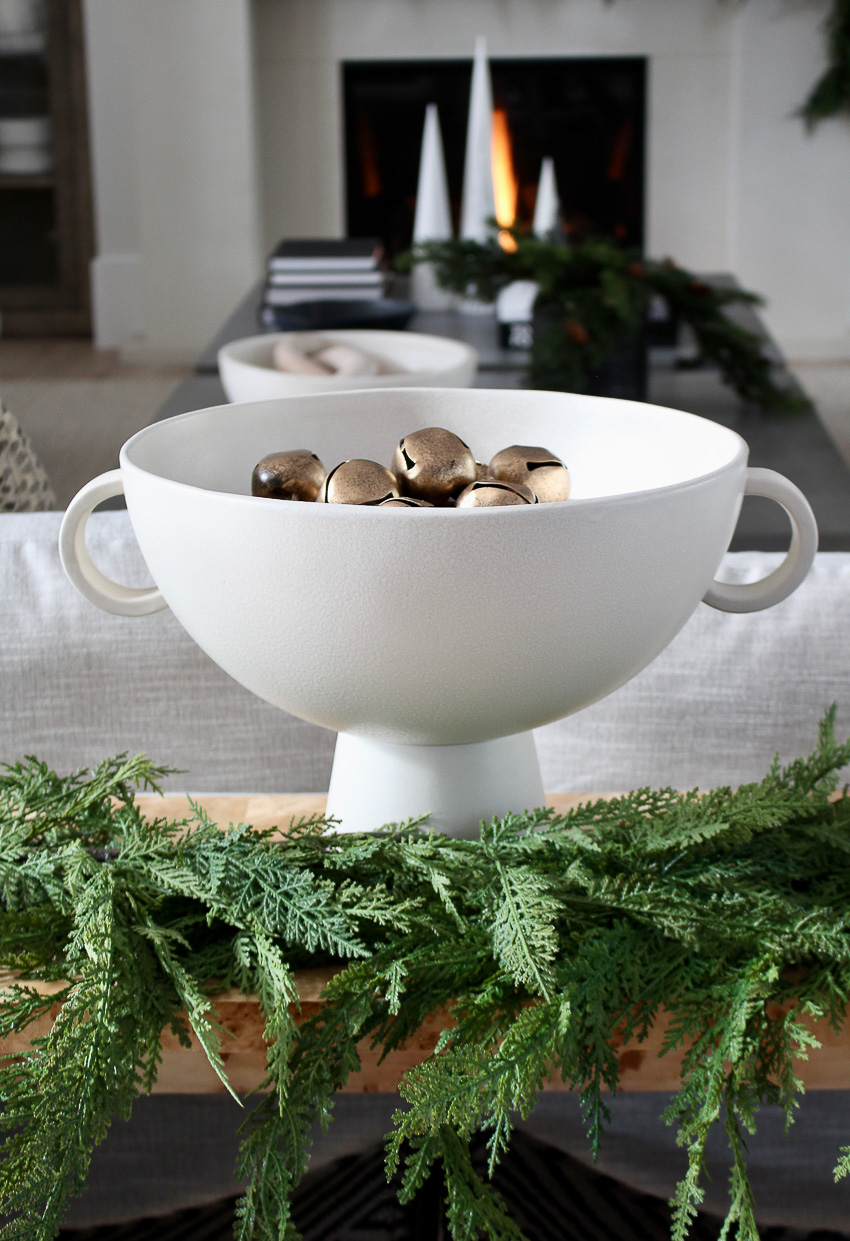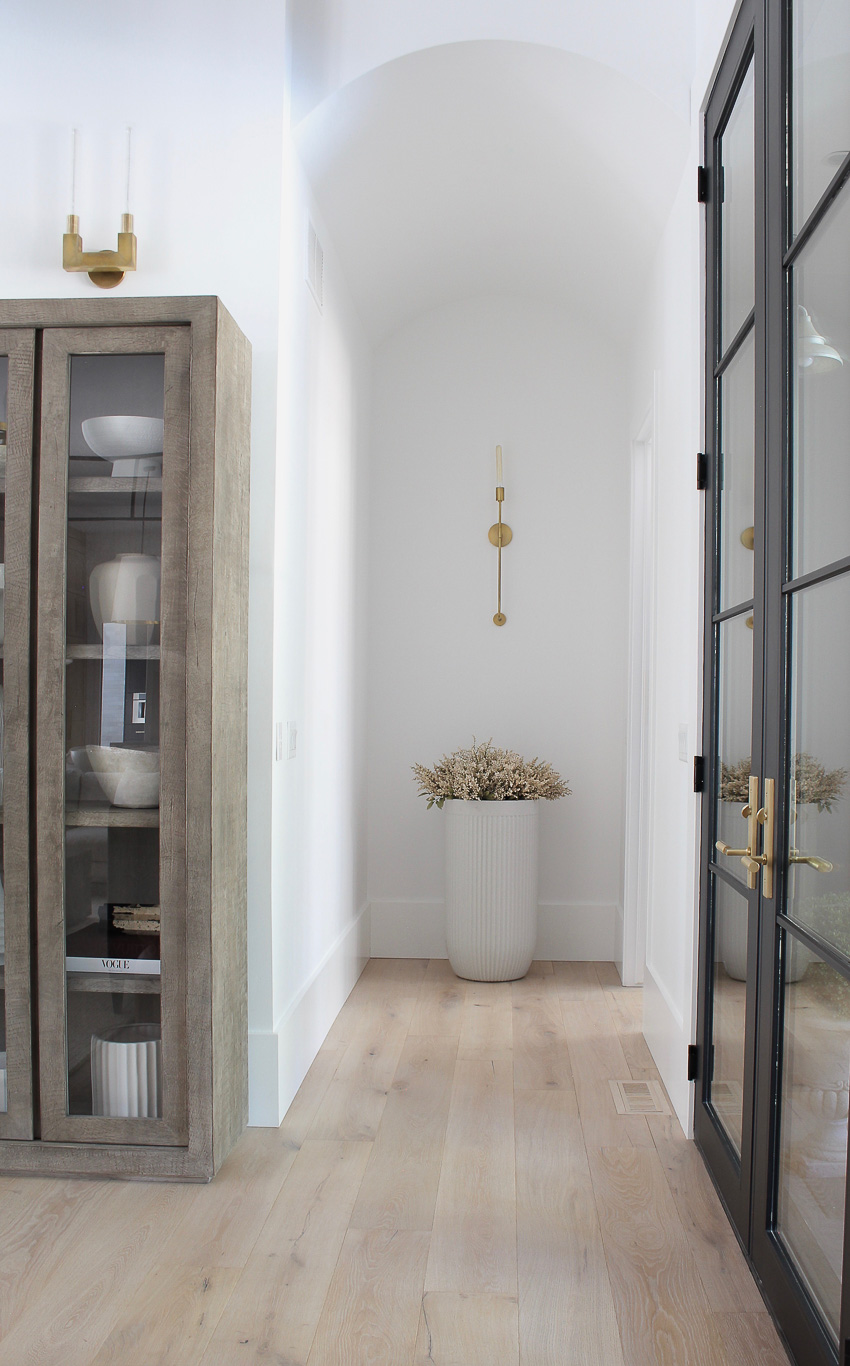 LIVING ROOM SOURCES / ART // GARLAND // COFFEE TABLES // RUG // CONSOLE TABLE // FOOTED WHITE BOWL // BELL GARLAND (in bowl) // WEST BOOK // TOM FORD BOOK // GUCCI BOOK // A TALE OF INTERIORS BOOK // LOUIS VUITTON BOOK VOGUE BOOK // LARGE WHITE BOWL // WOOD CHAIN 3 LINKS // BLACK BOWL // LONG ARM SCONCE // DOWN ALTERNATIVE PILLOW INSERTS // LINEN PILLOW COVER // CHARCOAL TEXTURED PILLOW // BROWN THROW PILLOW // ANIMAL PRINT THROW PILLOW // MODERN WHITE VASE
OFFICE
My office is never this tidy. I have been working many hours in here as this is a very busy year for me with two new design-build projects in the works. If you missed what I've been up to you can read more about these exciting projects HERE. A typical home office day looks like house blueprints and tile samples spread all over the rug. These new homes will be complete in 2023 and I cannot wait!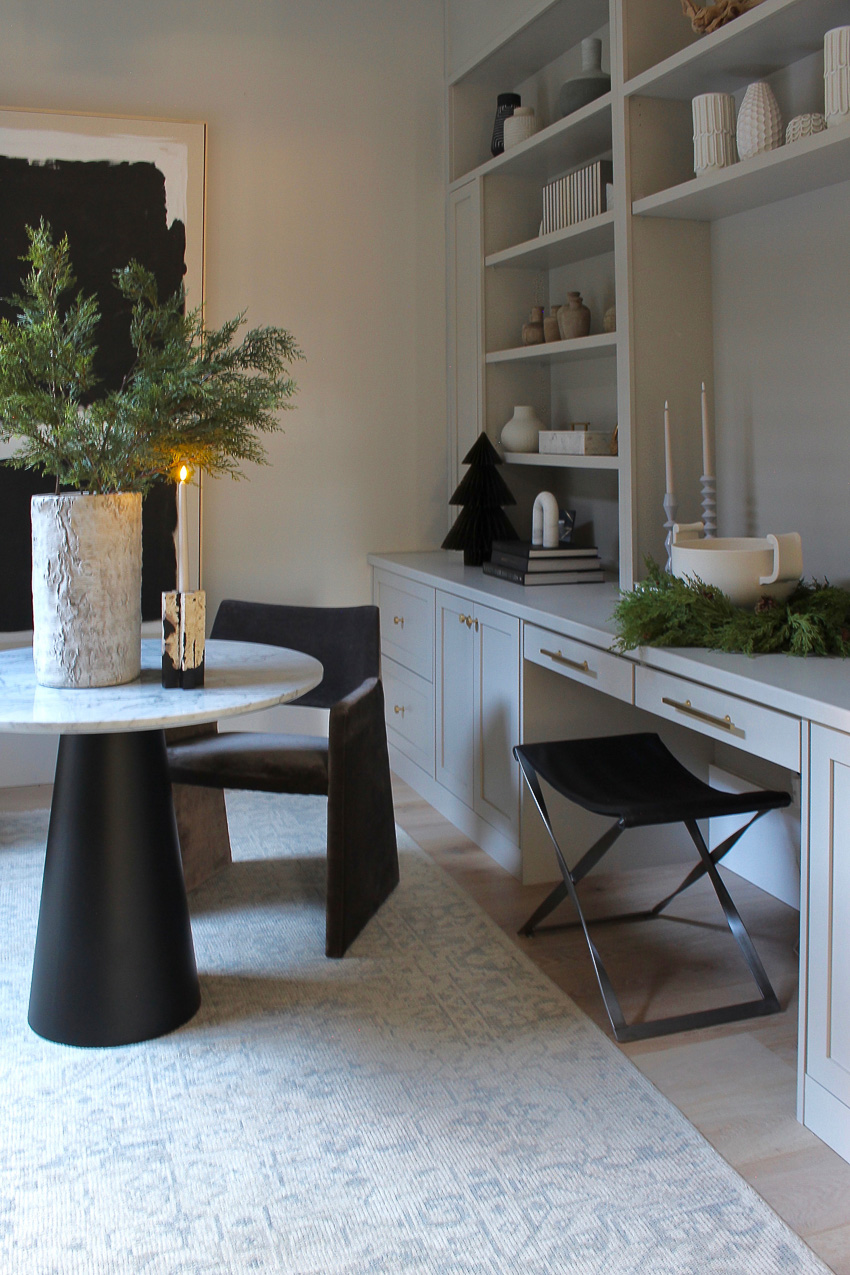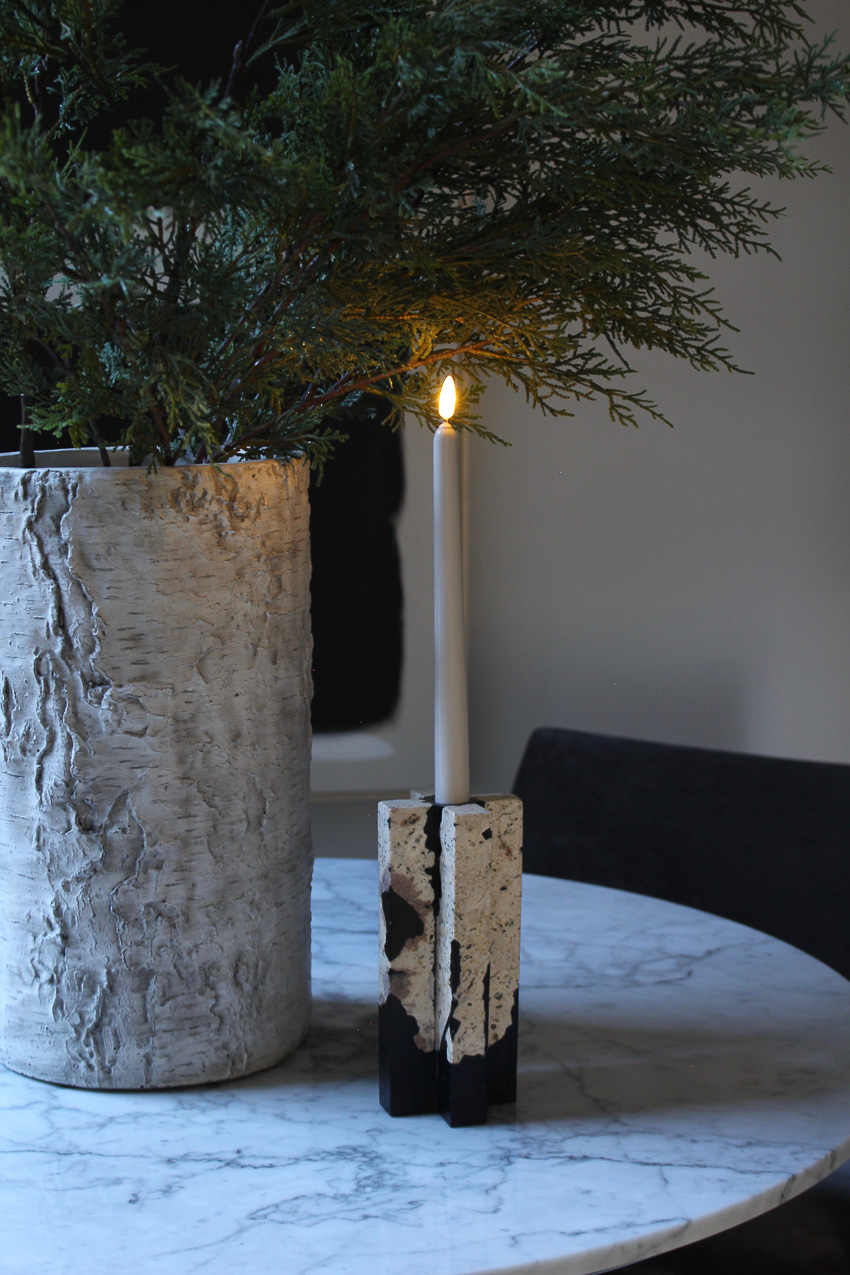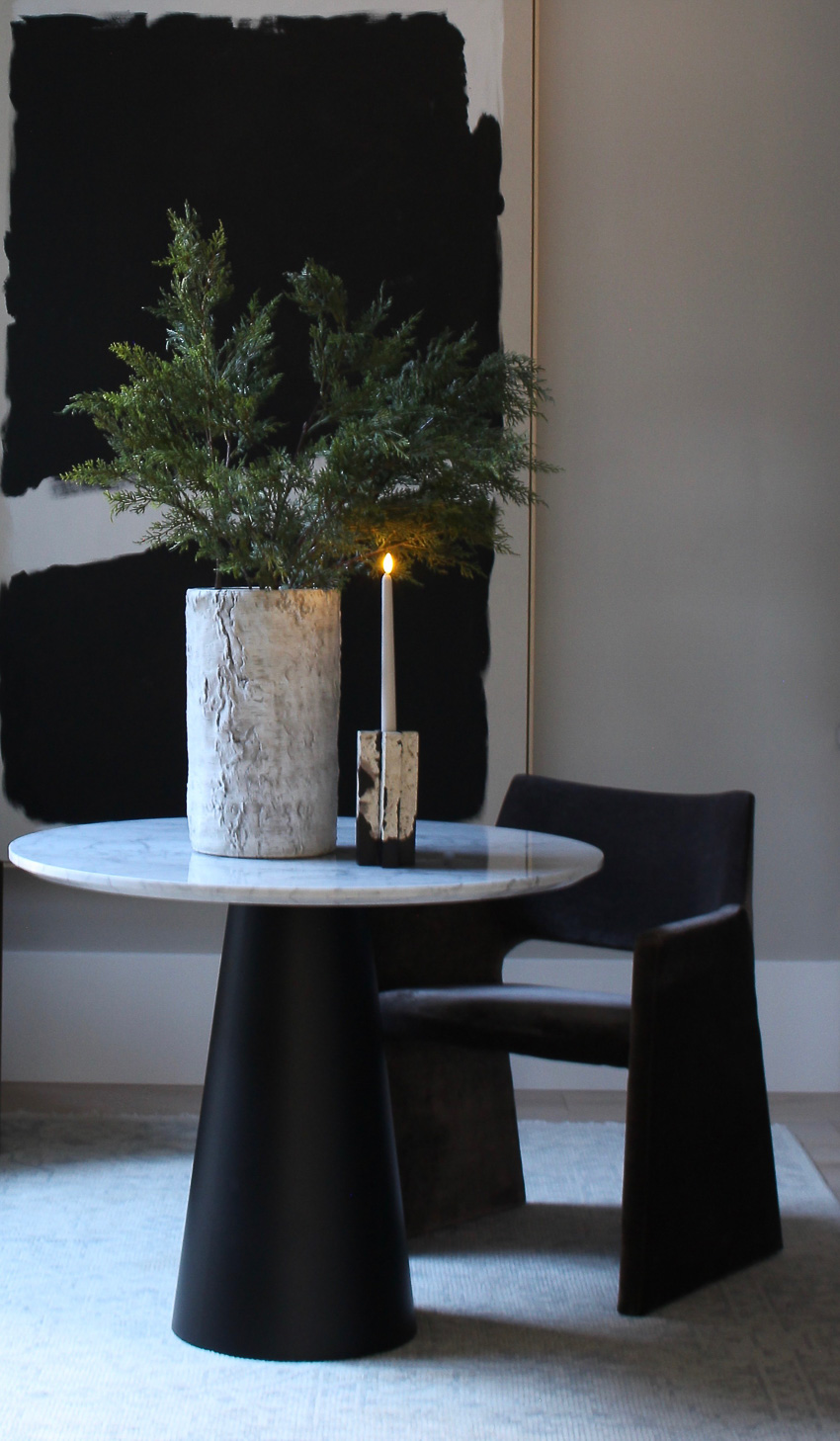 OFFICE SOURCES / TABLE, LEATHER BENCH AND RUG (in this post) // SIDE CHAIRS // VELVET CHAIR // WHITE BOWL // ART // CEDAR BRANCHES // TAPER CANDLE // GREY CANDLE HOLDER 1 // GREY CANDLE HOLDER 2
Wishing you all a very Merry Christmas and a Happy New Year!! I hope our Christmas Home Tour was a joy to you. If you still have Christmas shopping to tackle, be sure to check out my complete holiday gift guide HERE.