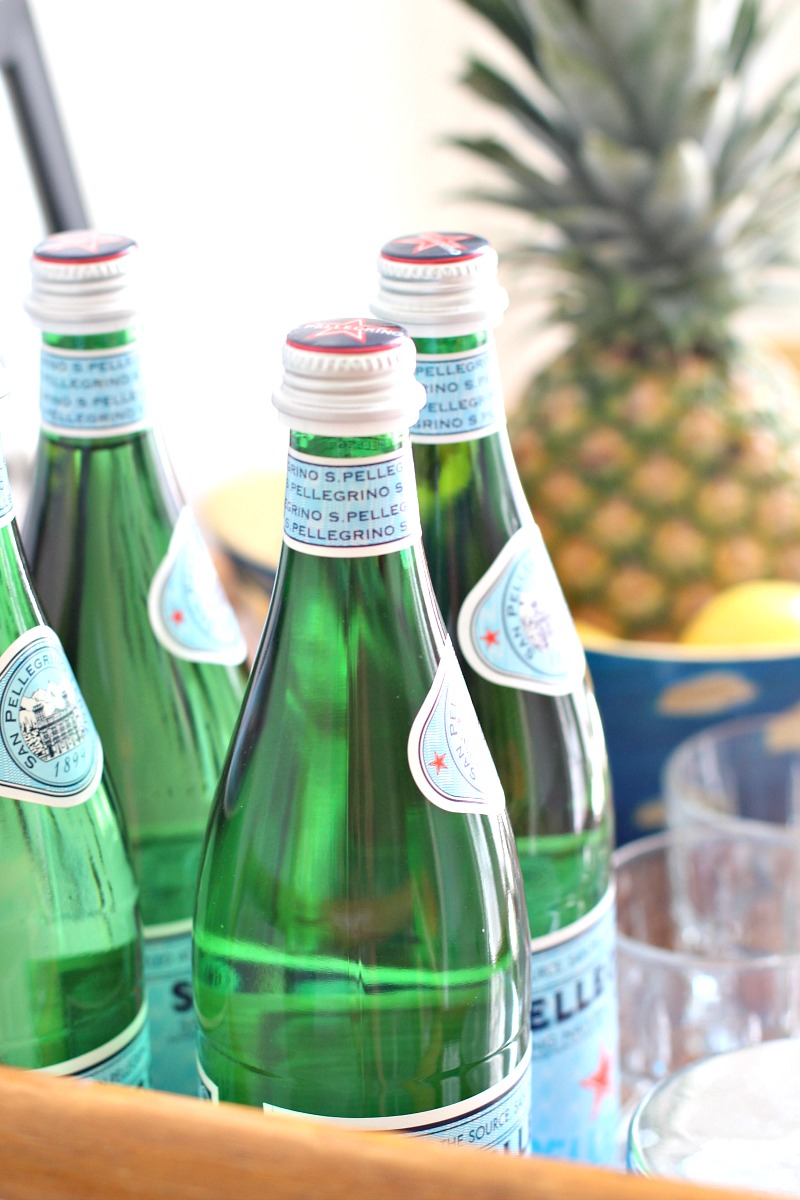 The bar cart has been on trend for quite some time and I don't see it rolling away anytime soon. Why do I say "coveted?" Well because they fly off the shelves in the stores because they are so versatile in design. Seems like every styled home lately has a bar cart somewhere. Recently I bought my own coveted bart cart and styled it four ways at the beach cottage.
Most often you see them accessorized with, well…barware. Fully stocked with assortments of liquor and all the essentials to make that perfect drink.  I have had many thoughts rolling through my head of different uses for that oh so popular bar cart.  So popular in fact, there may have been a little bit of tug of war action going on in the store when I spotted this cart.
What was I to do? Throw it in my shopping cart the moment I spotted it? Too big for that so I dragged it alongside and continued my shopping.  Turn my back for one second and I hear one of my boys whisper frantically, "mom, she's taking your bar cart!" Sure enough, I turned around to see a lady eyeing my coveted cart with her hands on the handle ready to wheel that beauty away. Not going to happen. Let's just say I was very polite (the boys may have a different version..ha!) and said "I'm so sorry ma'am but that cart is mine…..and you can't even imagine the big plans I have for it (exaggeration), maybe we can find another one for you." Of course I knew I grabbed the last one, but leaving her with a sense of hope made me feel a little better. Sometimes, you got to dig your heels in and claim that perfect piece.
I have had so much fun deciding where to actually put the bar cart in the cottage and we've actually tried it out in different areas.  I styled it four ways with these few design tips, but really the ideas are endless.
Beverage Station/Storage.  Grab your San Pellegrino bottles or any other of your favorite beverage, add some fruit to mix in, top off with fun straws and you're set. The bottom shelf is serving the purpose of storage by housing Gucci's dog treats in a thrifted picnic basket. Bar carts are great for small spaces when storage is small since you can creatively hide the practical items you use every day in creative storage containers.  When a holiday rolls around, dress up your bar cart with some festivity like I shared earlier this week in my 4th of July post HERE.
Side Table.  Our recently made over family room has a cabana style vibe going on with those drapes, so adding the rattan cart as a side table made perfect sense. 3.  Outdoor Pool Cart.  The wheels come in handy here when you need to roll the cart around. I've styled it up on our pool patio as a catch all for our beach towels and beverages. The uses are endless. Gather a few beach buckets to hold sunscreen, pool toys, and goggles. Having one spot to house all the pool essentials makes pool party clean up so much easier. 4.  Nightstand.  Our son's bedroom needed another nightstand.  Once I wheeled the bar cart in here, it stayed. Love the look with his coastal style room.  
I styled the cart four ways in my home but there are so many more uses for this versatile piece.
Shop The Post:

Design Tip: Other great uses for the bar cart are – coffee station, art supply station, bathroom linens/essentuals station, toy storage station, garden supply station, entryway "catch-all" station, block party condiment station.  The list goes on and on.
I've come to think of the bar cart as a staple piece of furniture that every home could benefit from. The wheels allow it to easily be moved from room to room depending on the current need for it. While we are at the beach cottage this summer, I've already used it poolside and in our kitchen. I hope these design tips get the wheels rolling (no pun intended-ha!) in your mind to style a bar cart in your home.