So what did you think of the Halloween Bash setting I shared yesterday? If you missed it, go back and see it HERE.  Today, is the super fun part where I get to show you a few of the fun halloween costumes our friends came up with! Every year the costumes have been so creative!  Since I love…LOVE!!!!…80's music, this year we went with an 80's costume theme.  As you can imagine, there was a whole lot of neon, leg warmers, big hair, and heavy metal rocker style. Oh! and someone was Madonna…ME! My girl let me fly out to her mansion and borrow a few pieces of her wardrobe.  Ya, we're tight like that. I even sing like her (#not).
I wish I took more photos of everyone who came but at some point I ventured onto dancing and kind of forgot I should have been taking some pictures.  Oh well, the memories are forever ingrained in my mind. If you follow me on Instagram, then you saw this one I posted of Tim and I just before our guests started arriving. We're the perfect mix of the 80's…Madonna meets the heavy metal, big hair band rocker! I think Tim pulled off the rocker look superbly! He cried like a baby when I forced him to get all those tattoos but he's recovering nicely now (#wink).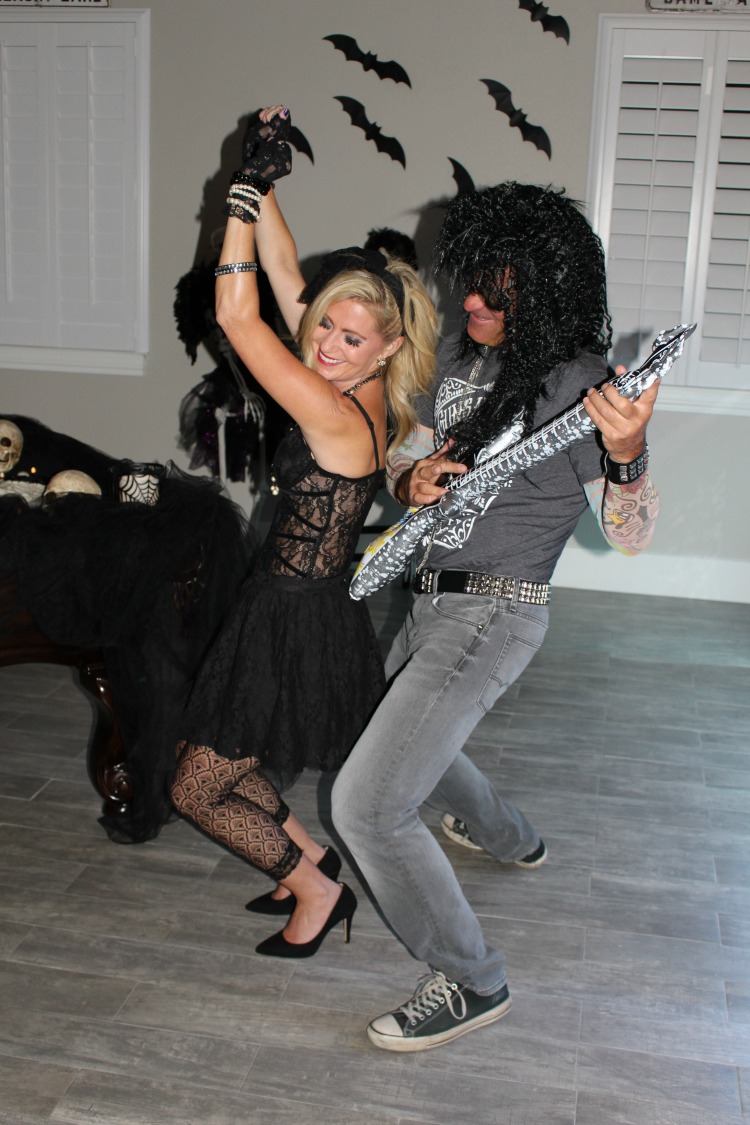 Someone asked me on Instagram how we got the red lights. Those are the lights that are built into our bar island and also on our bar wall.  They can flash any color of the rainbow or you can pick one color. I went with red since it just added to that eerie glow I was going for with my haunted mansion theme.  I had our annual Halloween Bash in mind when I designed the bar and put the lights in just for these parties. They totally transform the mood of the room!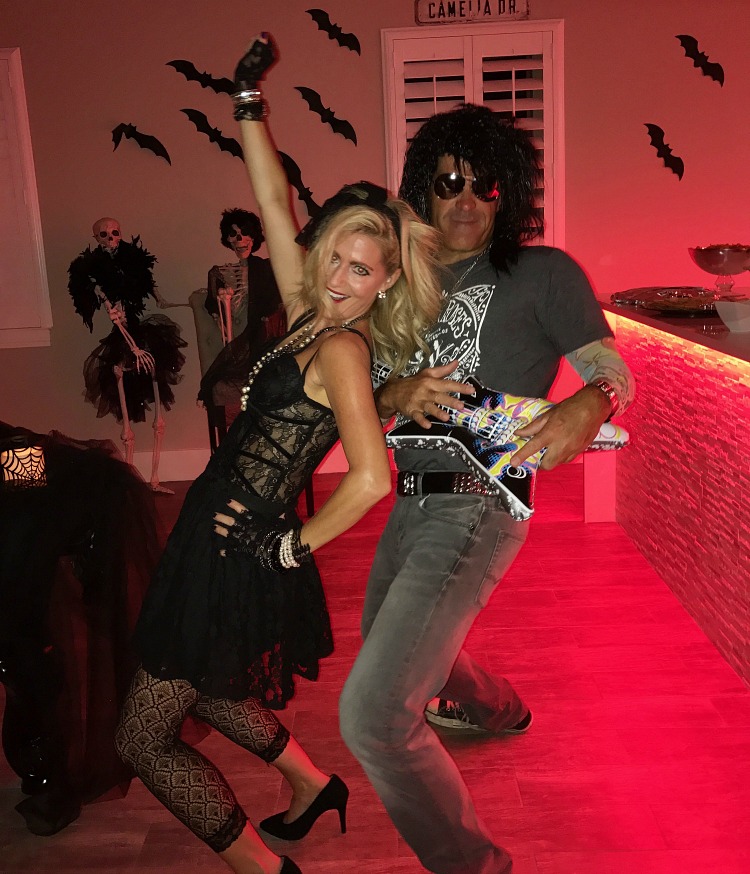 The Best of the 80's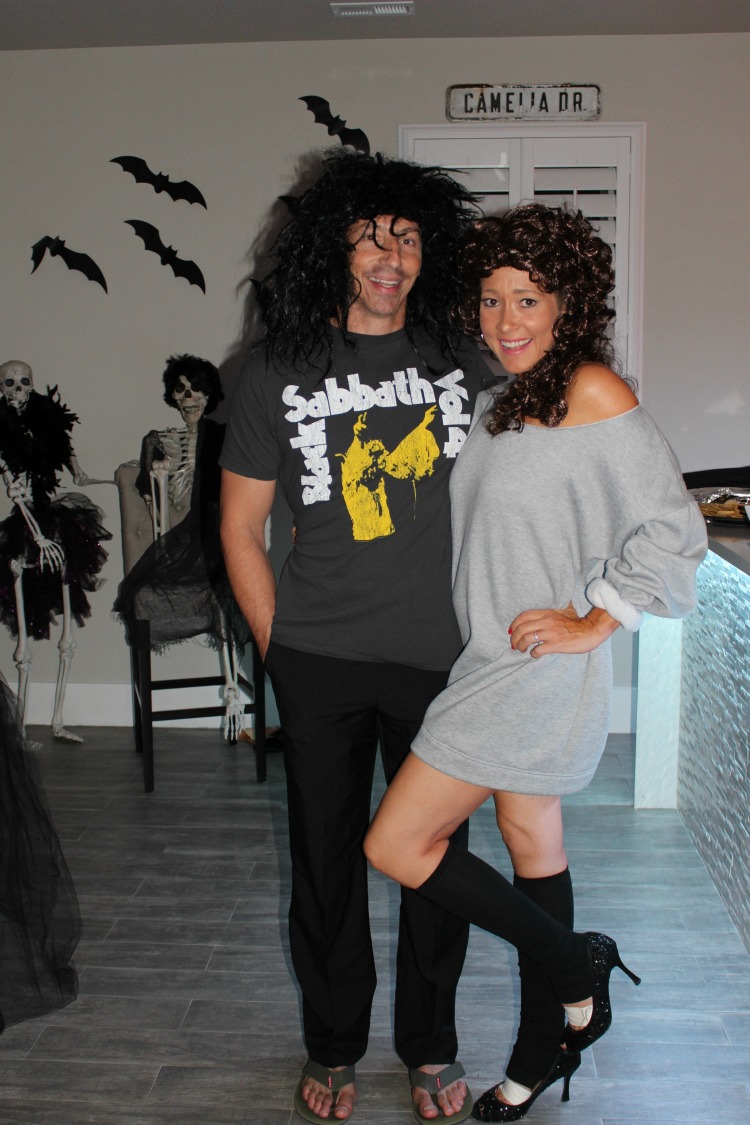 Flashdance & Rocker Dude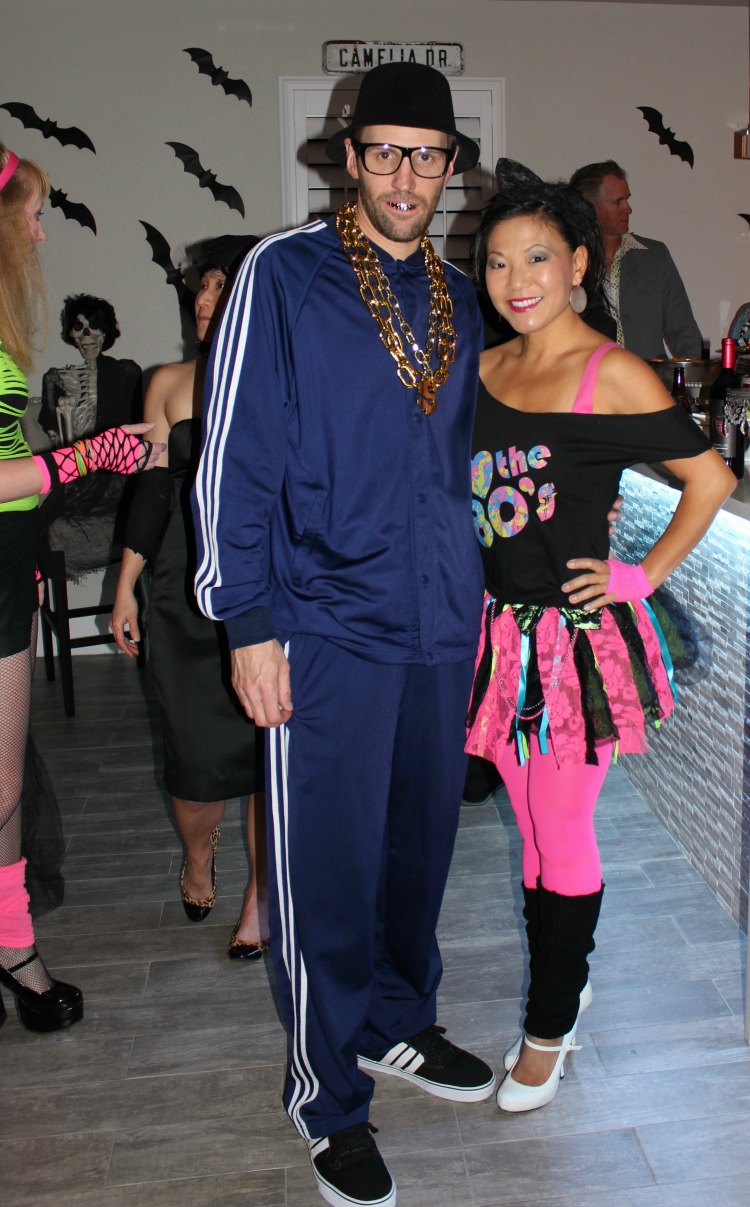 The old school rapper's grill had us in hysterics all night!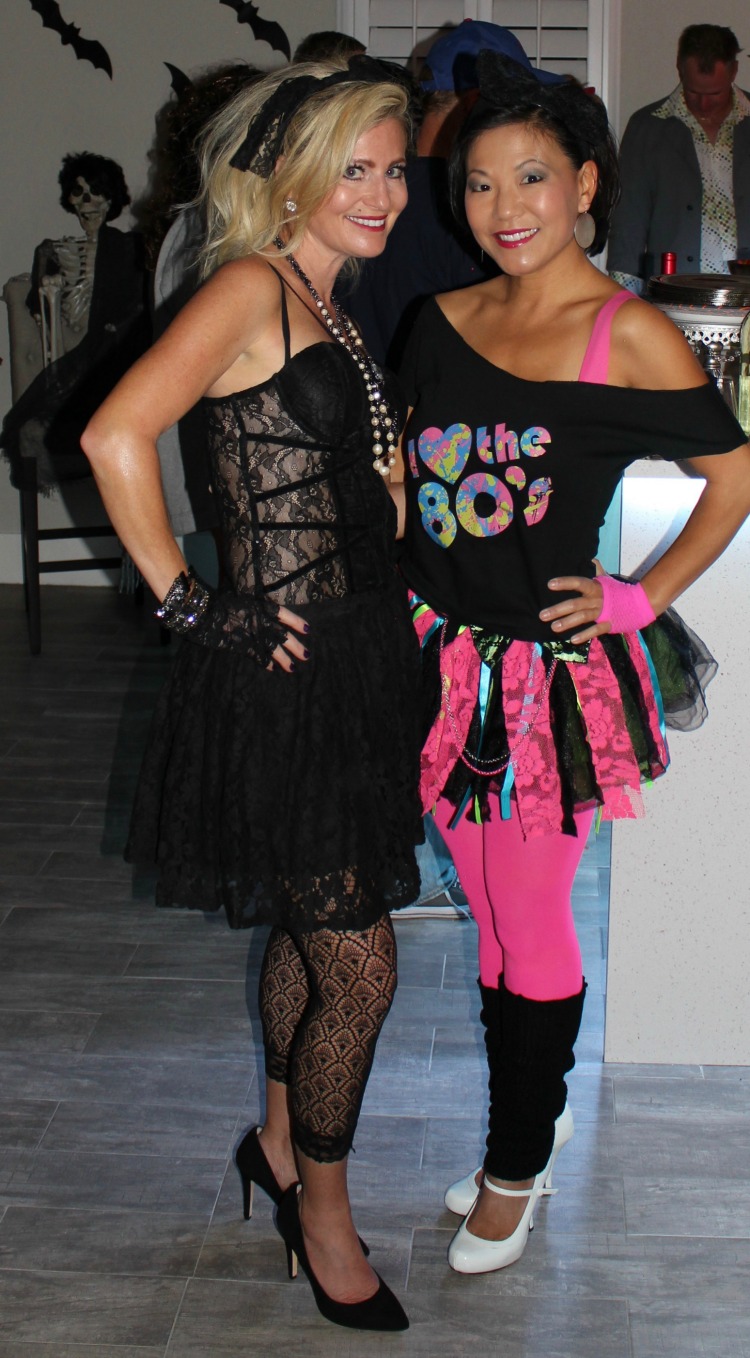 One of my besties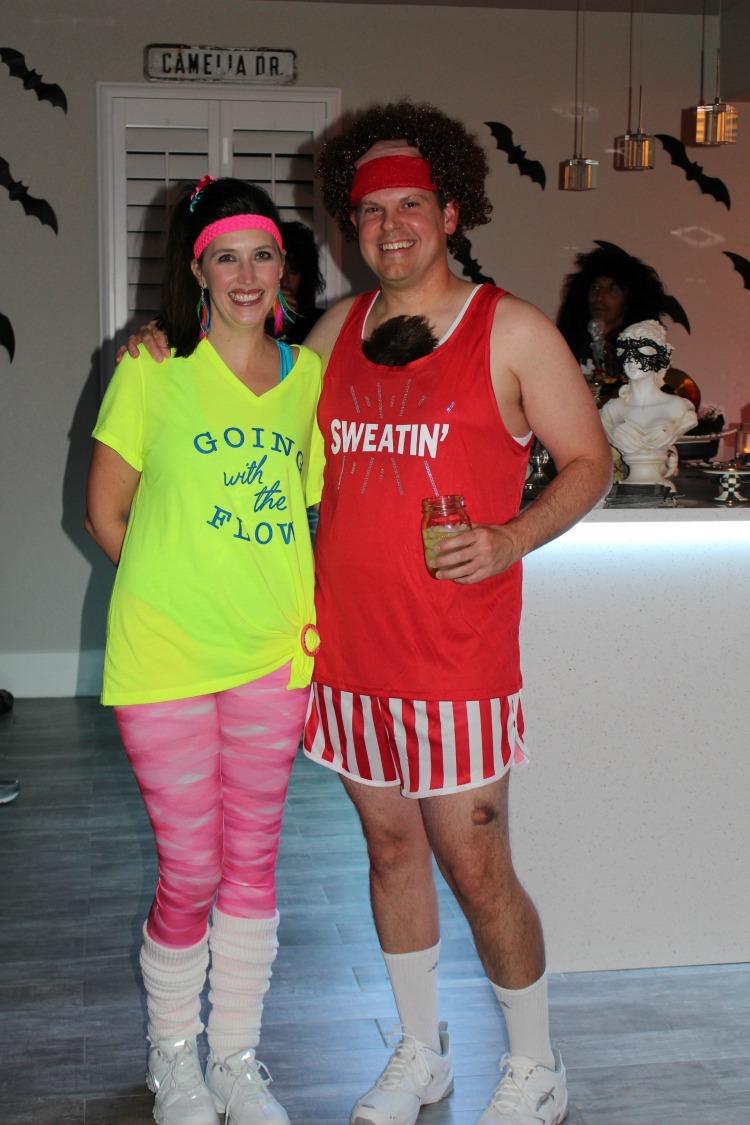 I could barely look at the bush attack growing on Richard Simmon's chest…haha!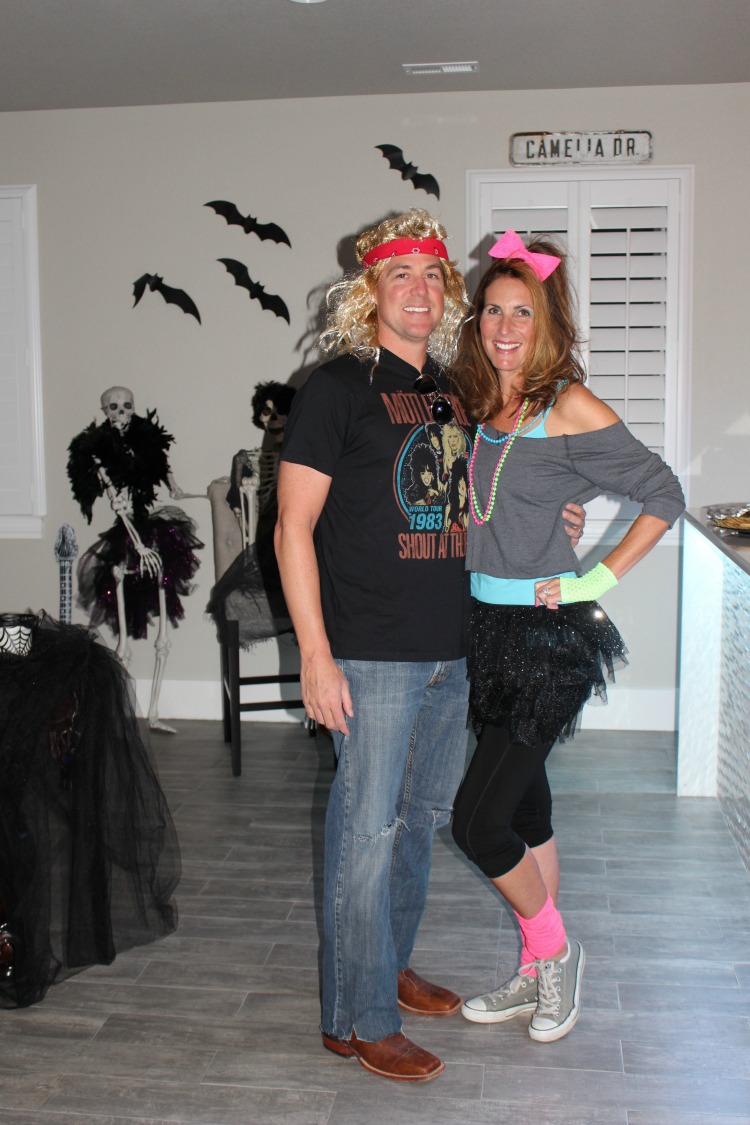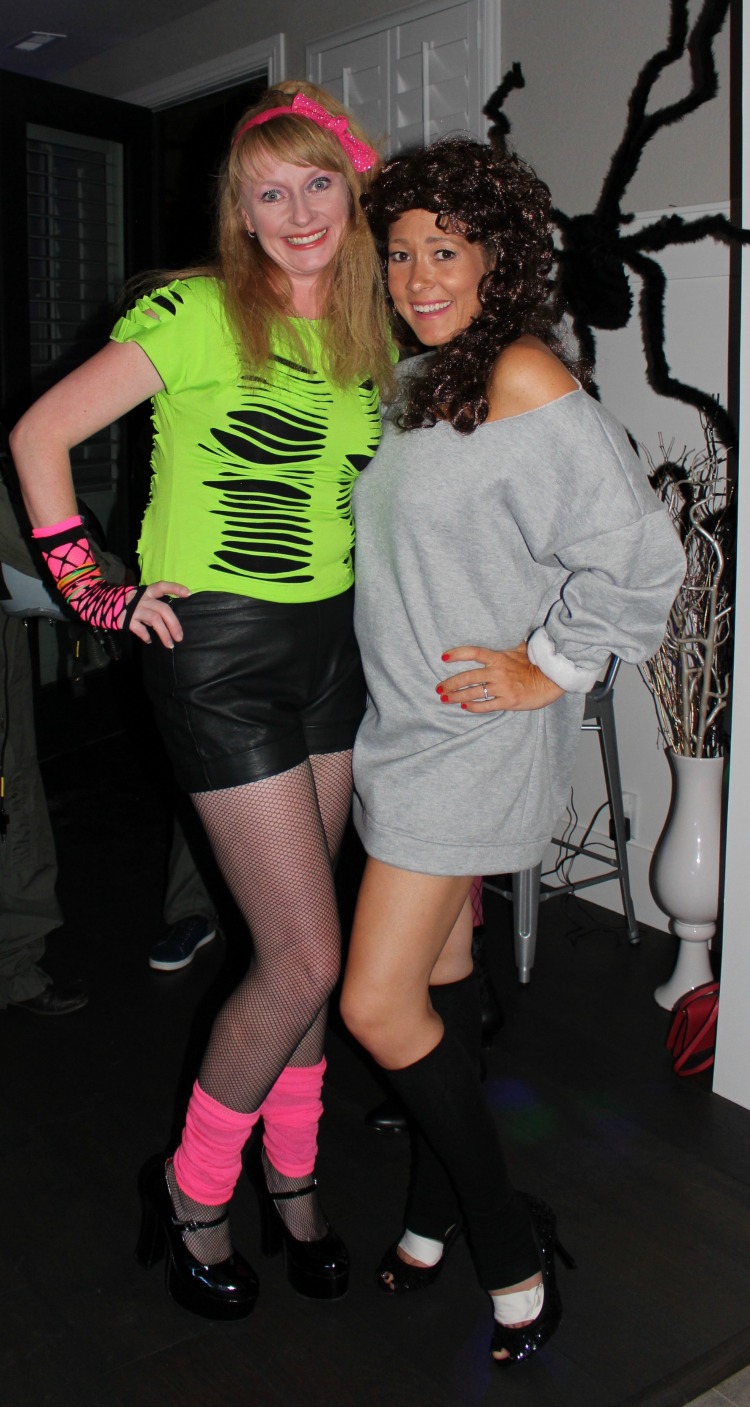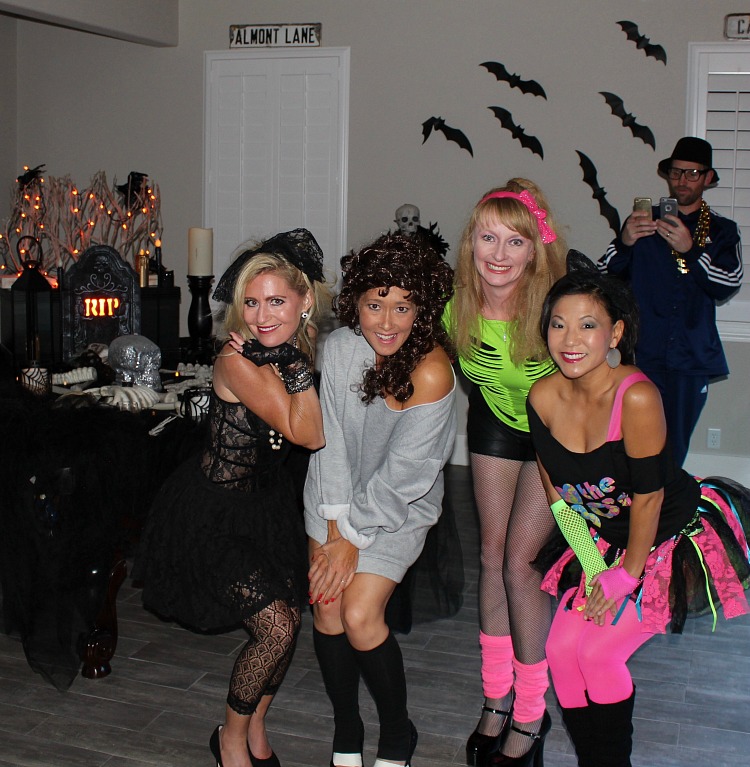 Love these girls (I spy a creeper paparazzi in the background)
I managed to get a couple of candid moments on camera.  As soon as Pandora shuffled to Thriller though, my photography duties ended.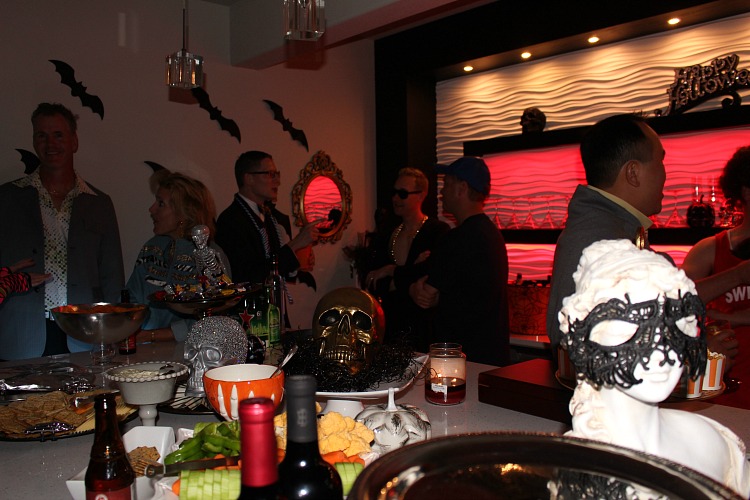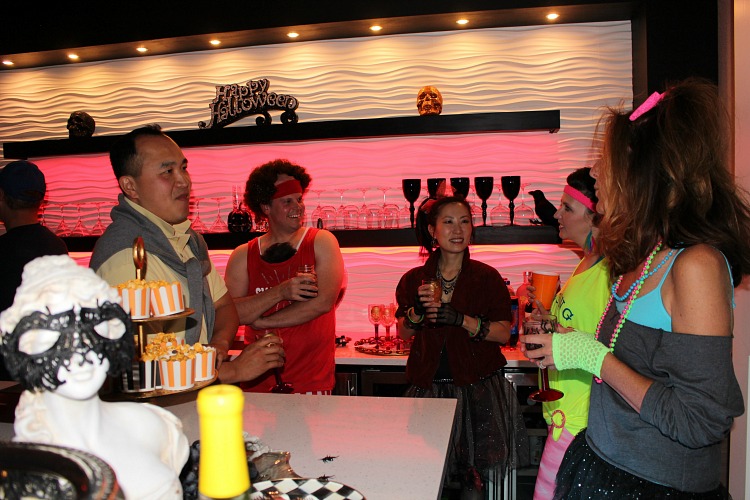 I don't know what made me squat down in my madonna skirt to capture this image, but isn't it such a cool shot? Can leg warmers come back in style please? #maybenotkidding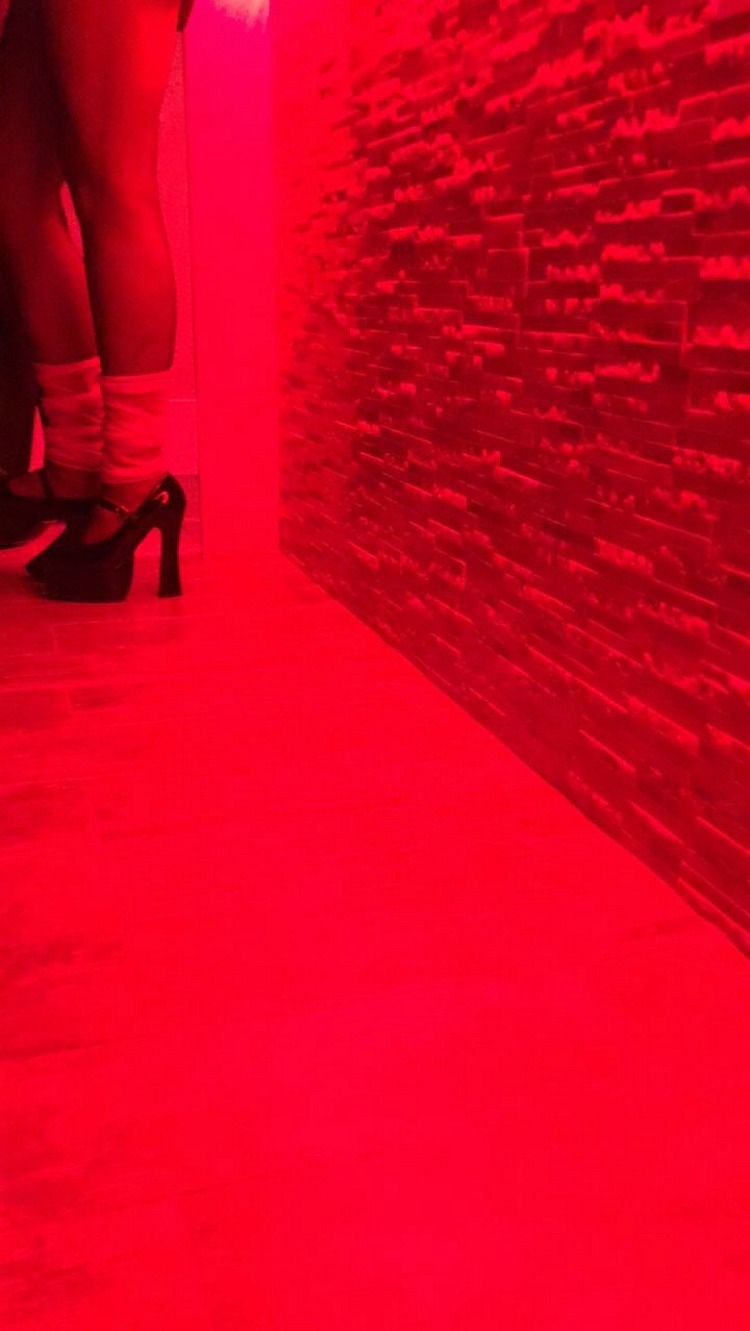 One little fun moment caught on the dance floor. I kick myself for not getting the disco ball lights on camera for you. Next year, maybe I need to hire a photographer (anyone want to volunteer??).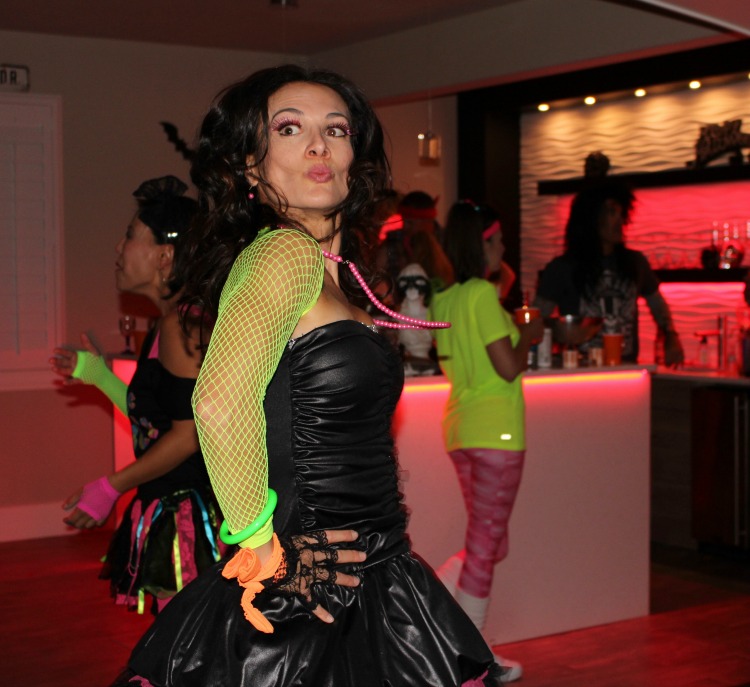 Let me just say that you learn a lot about your neighbors and friends by the music they dance to.  I'm a total 80's lovin' girl from Madonna to Def Leopard (give me all the big hair band music). Oh! and let's not exclude Journey!  Throw in some Footloose while we're on the subject. At one point in the night, my bestie suggested some old school rap (bleh!). But of course I said yes, and let's just say that once Sir Mix-A-Lot came on, the bar area cleared and everyone was dancing (even the gymnast doing cart wheels..lol!)  The doors and windows were open, the disco ball was spinning and the beat was going. Seriously, BEST.TIME.EVER!
I posted this video clip on my Instagram stories and thought I'd share it with you. It's not the best quality and it's dark but it epitomizes the night in 10 seconds.
Another Halloween Bash goes down in history. I love our neighborhood and friends and the good times we always share on this epic night.  I hope you have some fun plans for this Halloween weekend!
If you're still looking for some creative costume ideas for this weekend, check out my favorite costumes roundup from our previous parties HERE.