Hi friends! Over the weekend we had our annual Halloween Bash and I've been dying to show you all the fun photos! Today, I'm going to break down how to throw a hauntingly beautiful halloween bash that your guests will look forward to coming to.
Five years ago I started a tradition of hosting an annual halloween party for our neighborhood friends. Every year when September rolls around, friends start asking "when is the halloween bash??"  Despite all the work that goes into throwing this party in our home, the night always ends up being an ABSOLUTE BLAST and totally worth the effort!
Well, last week (of all weeks) I came down with the worst cold and bronchitis and almost cancelled the party. I was literally debating every day up until the day of the bash. I knew that if I just loaded up on some cold meds, put Tim in charge of the food prep so I wouldn't share the germs (germaphobe here!) then I'd still be able to pull this shin dig off without a hitch and that I did! (although now I have complete laryngitis from all the laughing that happened on our dance floor…so worth it!).
So let's break it down…Start by doing this first!
Clear a space for dancing
Some of you had asked how I can host a party that big and include a dance floor. Trust me, when there's a will theres a way. There's something about dancing in a halloween costume that's so crazy fun! Guests will come out of their shell and start busting out their best (or worse) dance moves. Last year, as a newbie blogger, I documented for the first time our halloween bash in our basement.  You can see how I cleared the space for the dance floor and protected our furniture in that post HERE.
The family room and bar area in our basement are a pretty large space.  This is a glimpse of it from our summer home tour.  Even if you have a small room or perhaps an unused dining room, set up a dance area. Your guests will come back every year, promise!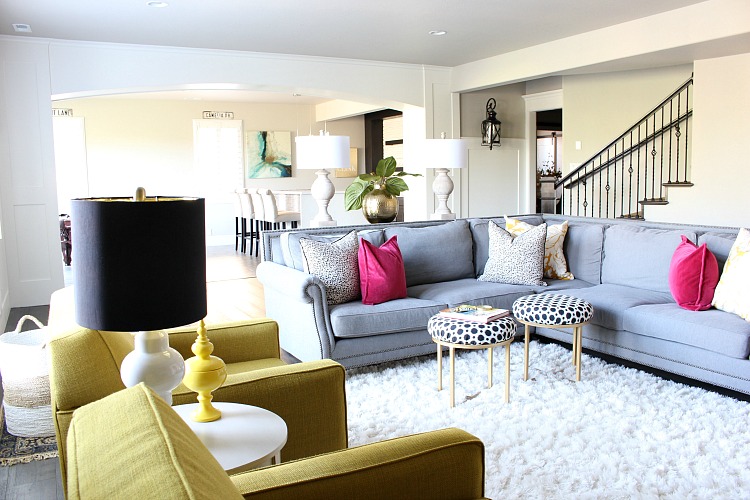 Due to me not feeling 100% this year, moving all that furniture was more than I could handle so I compromised a little. All we did was push the sectional sofa closer to the wall to allow some dancing room in the area behind it.  Our dance floor was a little more tight, but hey, that didn't stop anyone this weekend. Someone still managed to do cartwheels across the floor…haha! No Joke! I'll show you what we did in this space in a moment, but first, here is a look at the other piece of furniture that I always protect for the party.  Most people don't come to the bash to play a game of pool, so I had to get creative and incorporate a spooky scene upon it.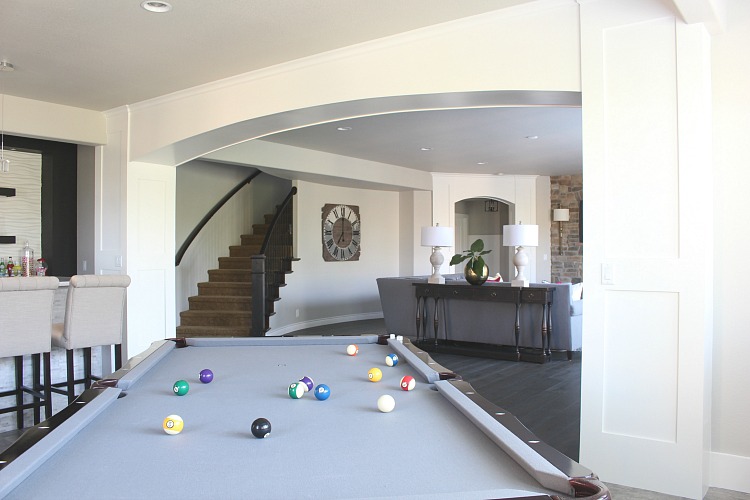 Now it's time for the fun photos of what the area looked like a few hours before the party started.  My son, Ethan, helped me out and whipped up these fun skeleton bodies to lounge on the furniture. He gets into this kind of thing as much as I do! You should see his bedroom right now, it's quite the fun, spooky halloween scene.
Here are the steps I took to create our haunted look…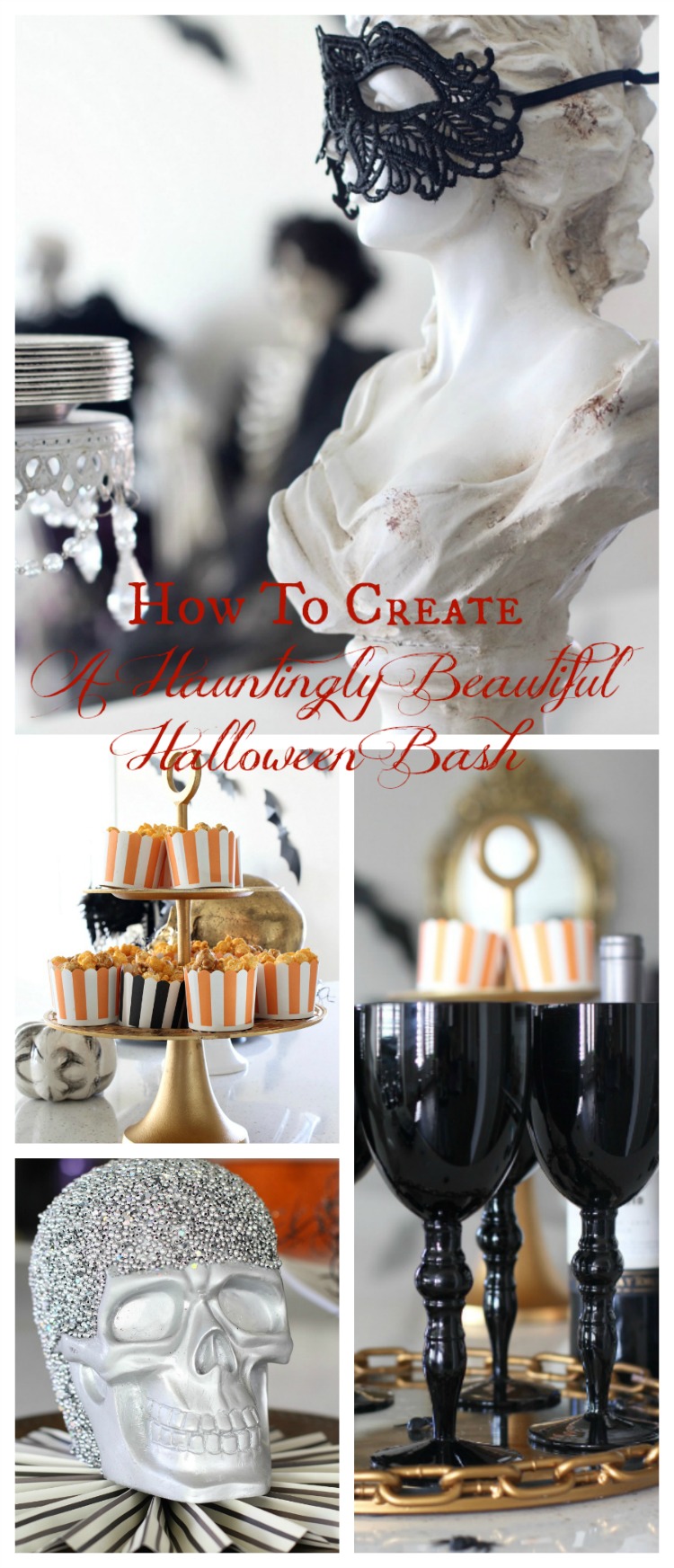 Drape white sheets over furniture for a haunted mansion vibe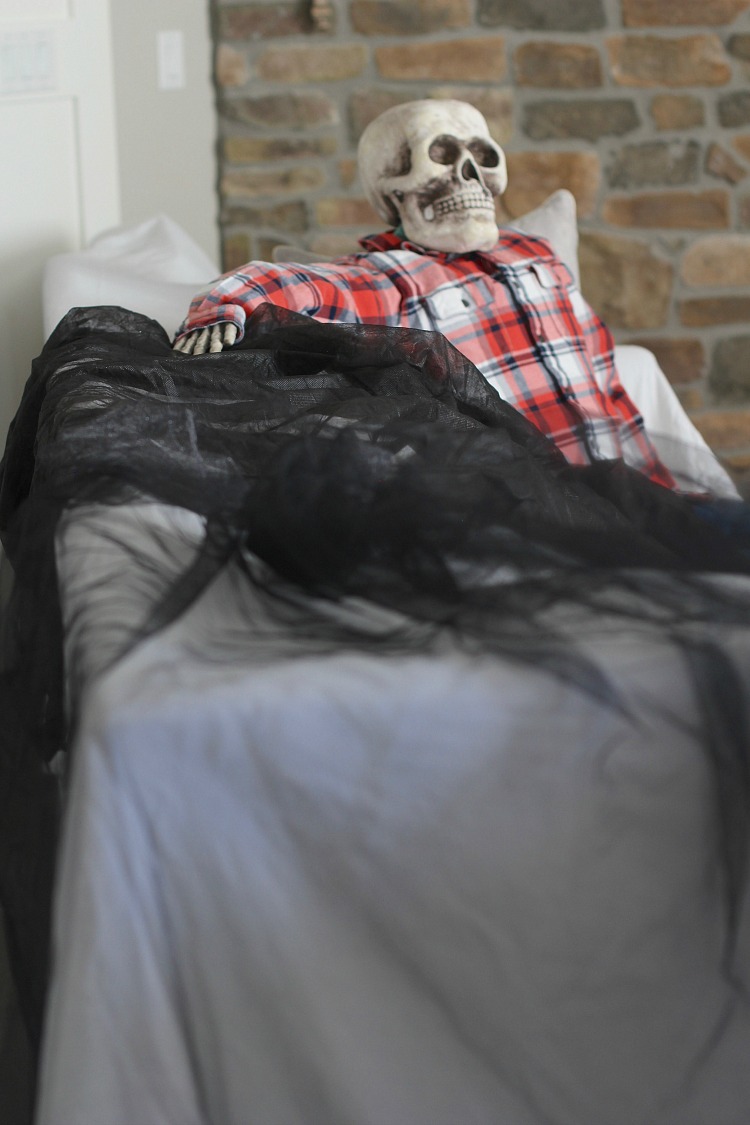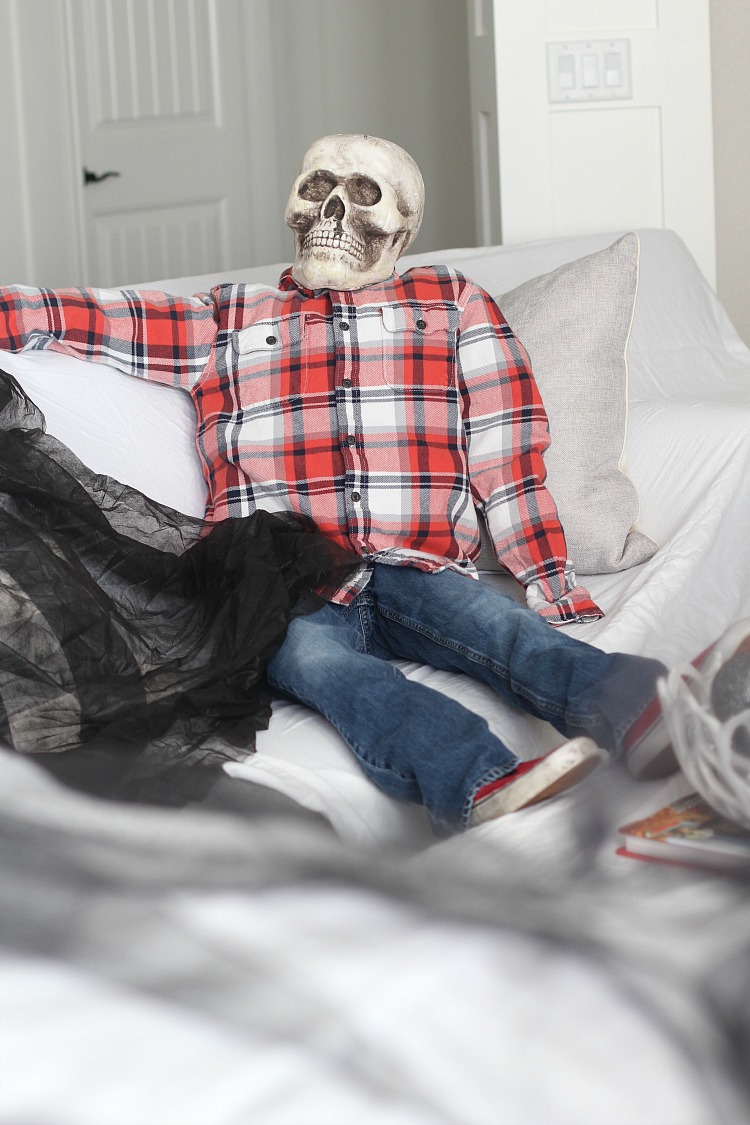 Next, layer over some black tulle for a bit of spooky elegance.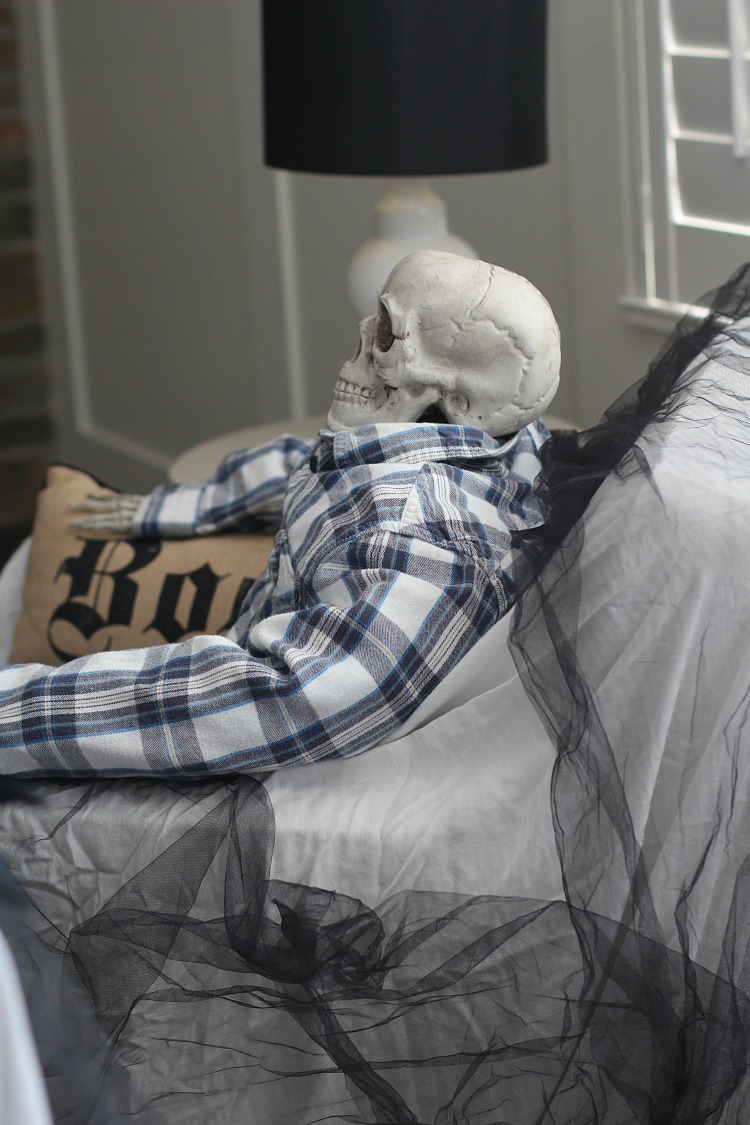 I love this guy!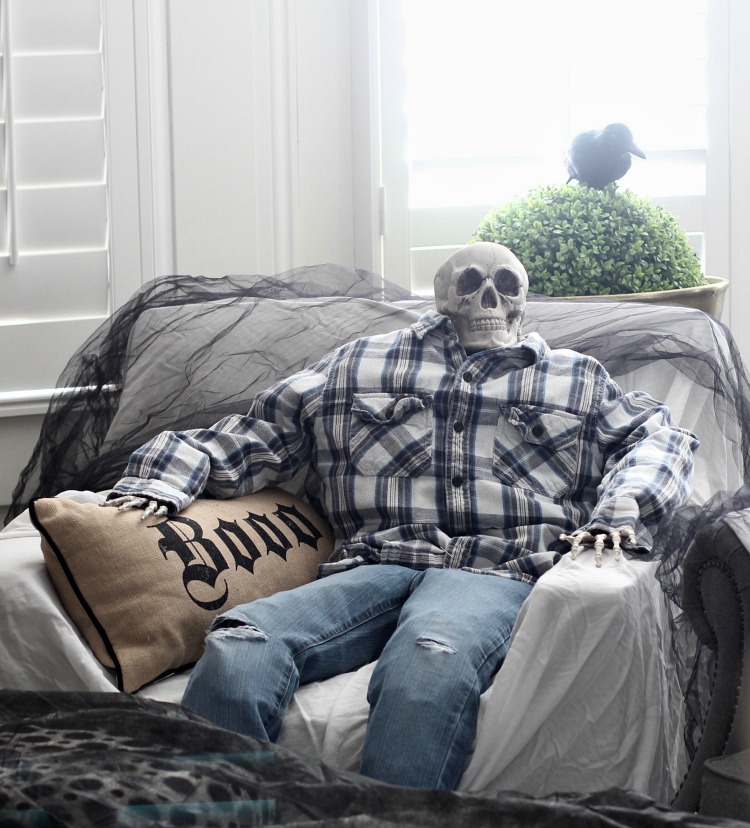 Ethan even put this awesome light bulb in that lamp so it would pulse to the beat of the music in different colors. He's such a genius and hooked it all up to control through my iPhone. If you have a party in the future, seriously, you need this light bulb!!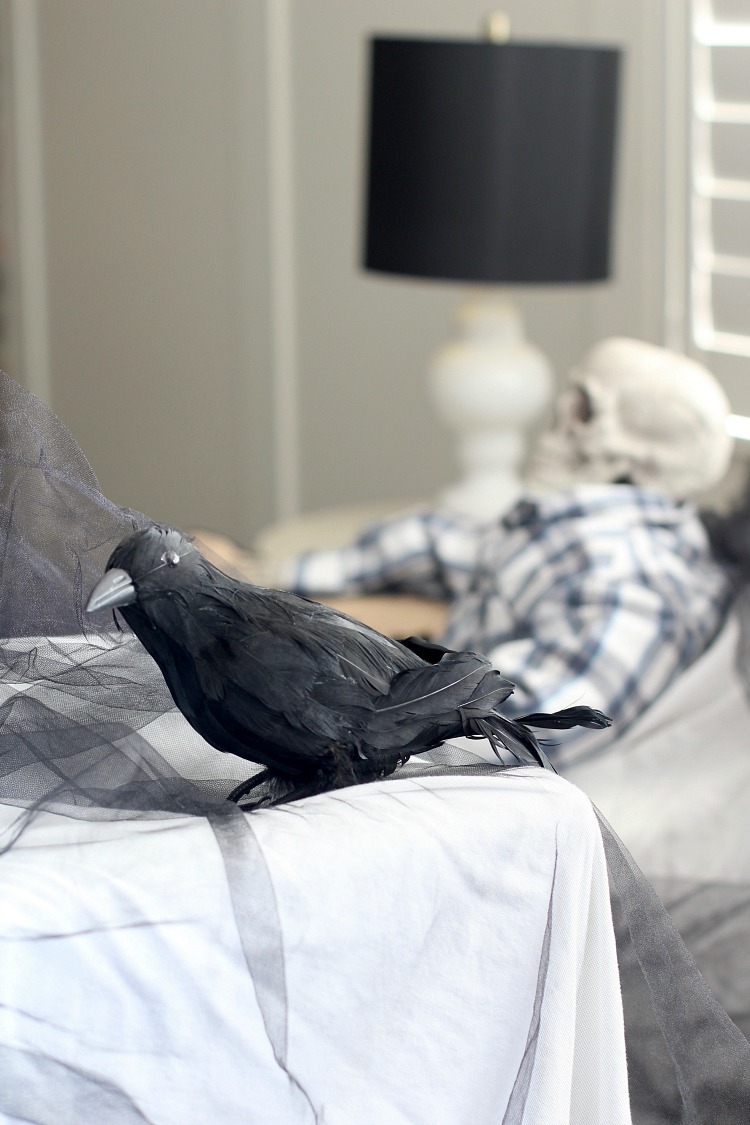 Have spooky ambience lighting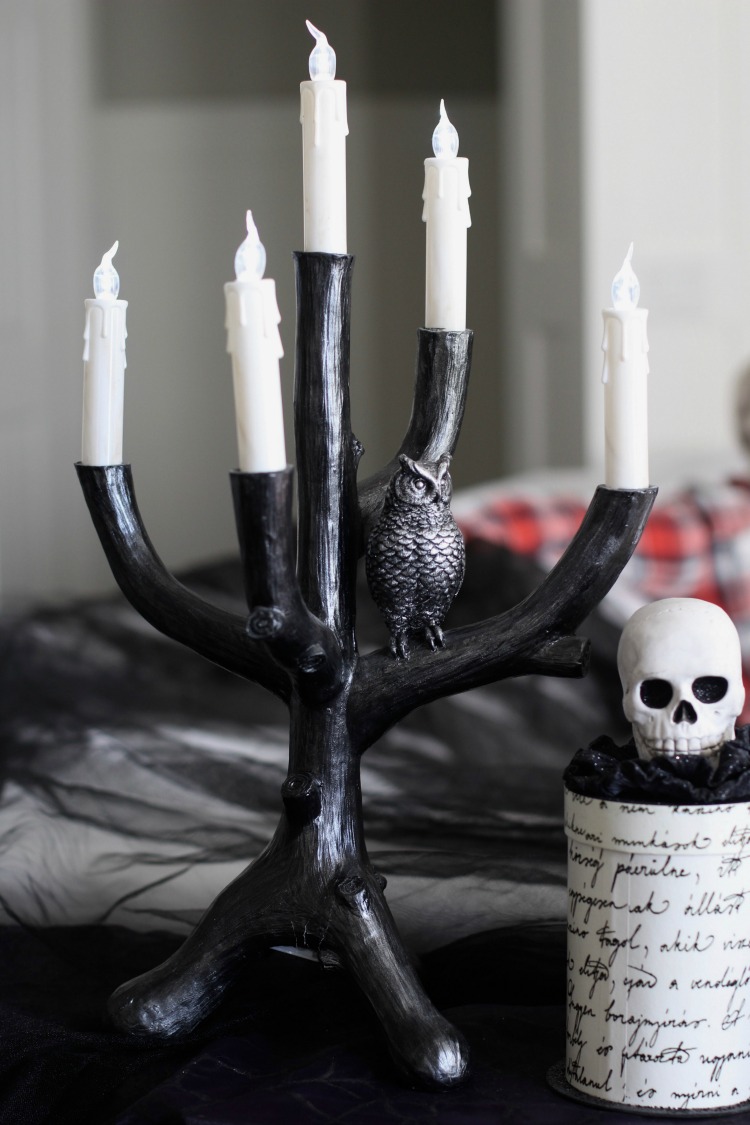 Most of my fun Halloween lighting is from Homegoods.  Actually most of my Halloween decor is from Homegoods unless otherwise stated. Glowing candles in a dark room are a must for setting a glowing halloween vibe.  In addition to glowing candles, add string lights to dead tree branches or twigs.
Remember the pool table? Here's how I solved the worry of a drink spilling on the felt top.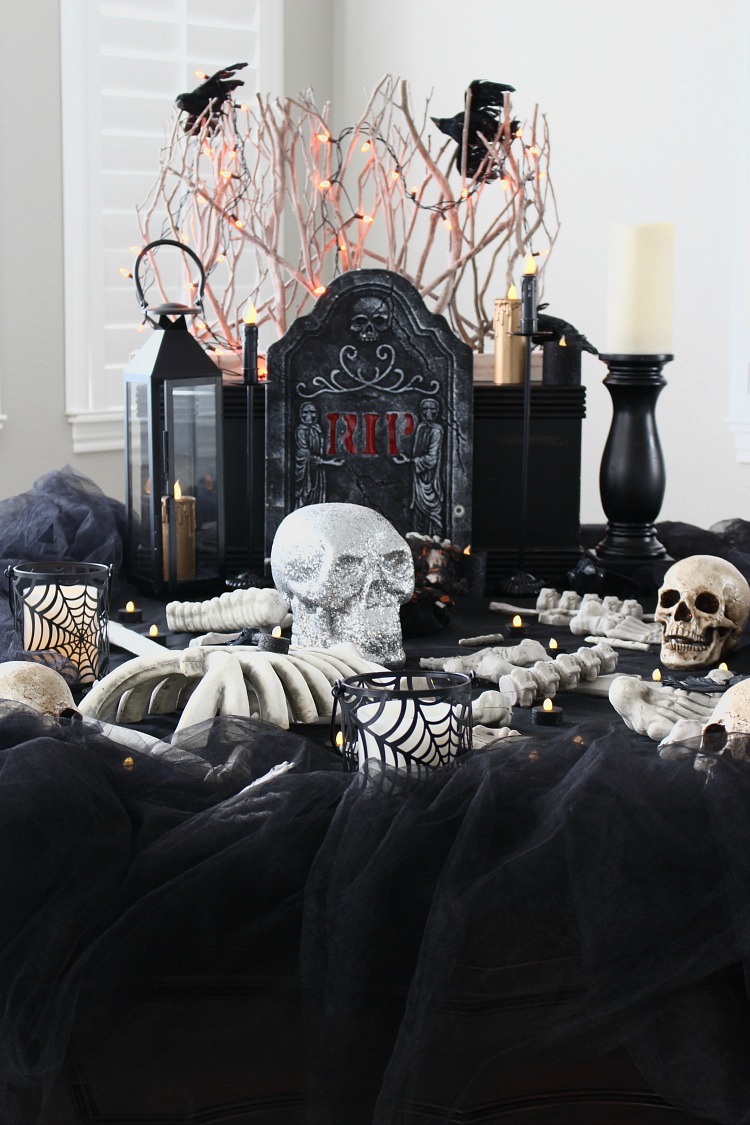 First, I layed a plastic tablecloth beneath a black table cloth. Then I loaded on the black tulle, scattered some bones and skulls and scattered black tea light candles all over. Lit up at night it was eerily frightful!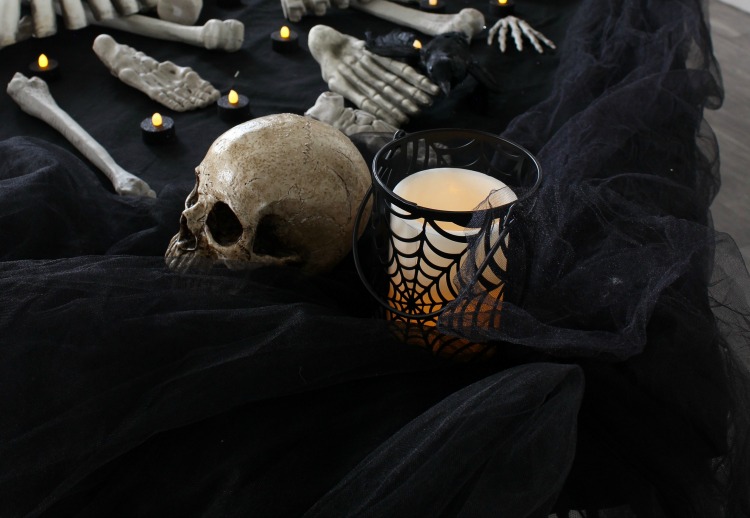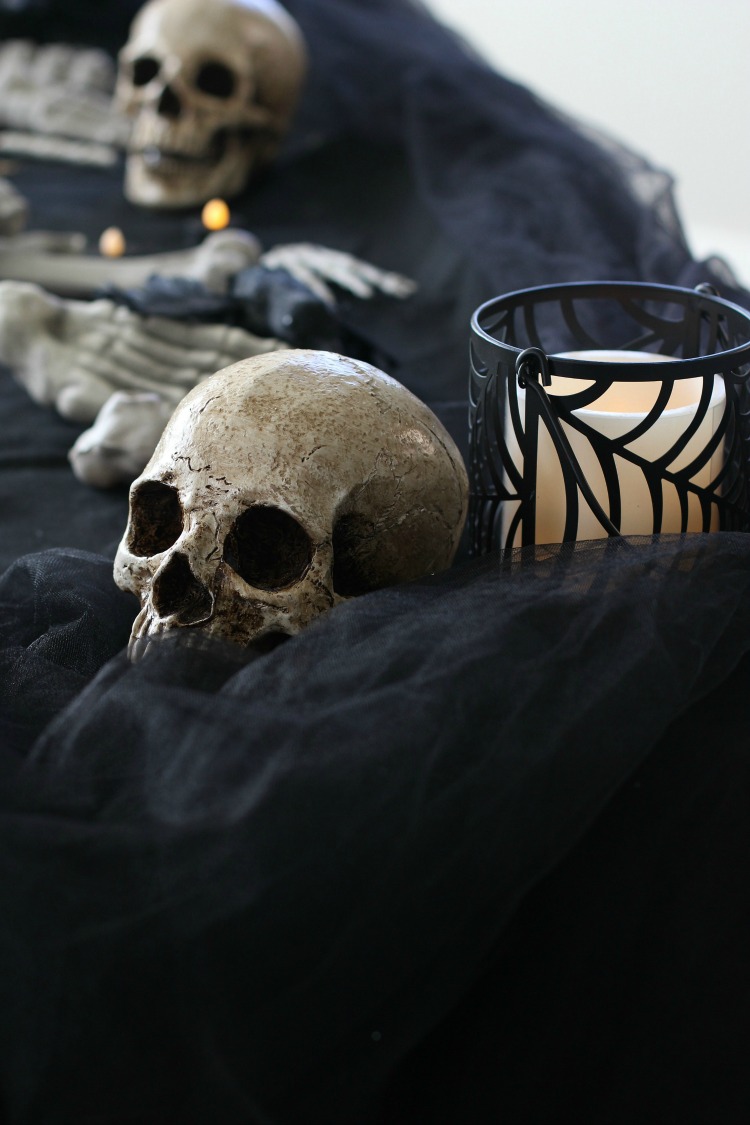 Show your sense of humor in party decor
A tradition started with our Halloween bash its second year when we had a skeleton sitting on a sofa for decor that somehow ended up on the dance floor all night and became the highlight of some dance moves (imagine that…lol!).  So every year, my skeleton crew grows and I have so much fun floating them through the house like the Elf on the Shelf.  You never know when you'll walk into a room in our home this time of year and see a skeleton possibly standing in the  shower, lounging by the fireplace, or sporting a tutu and wig. This skeletal crew is the life of the party.
The morning of the party I walked downstairs to see these two flat on their faces on the floor. I wonder if they were partying already without me?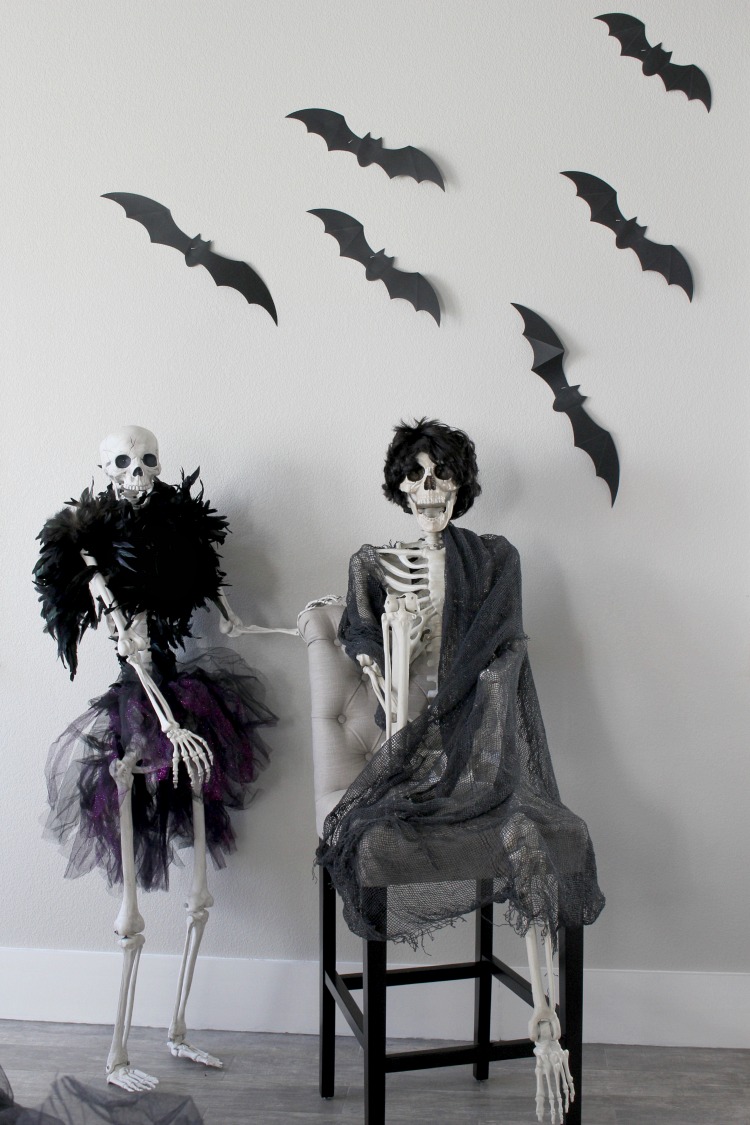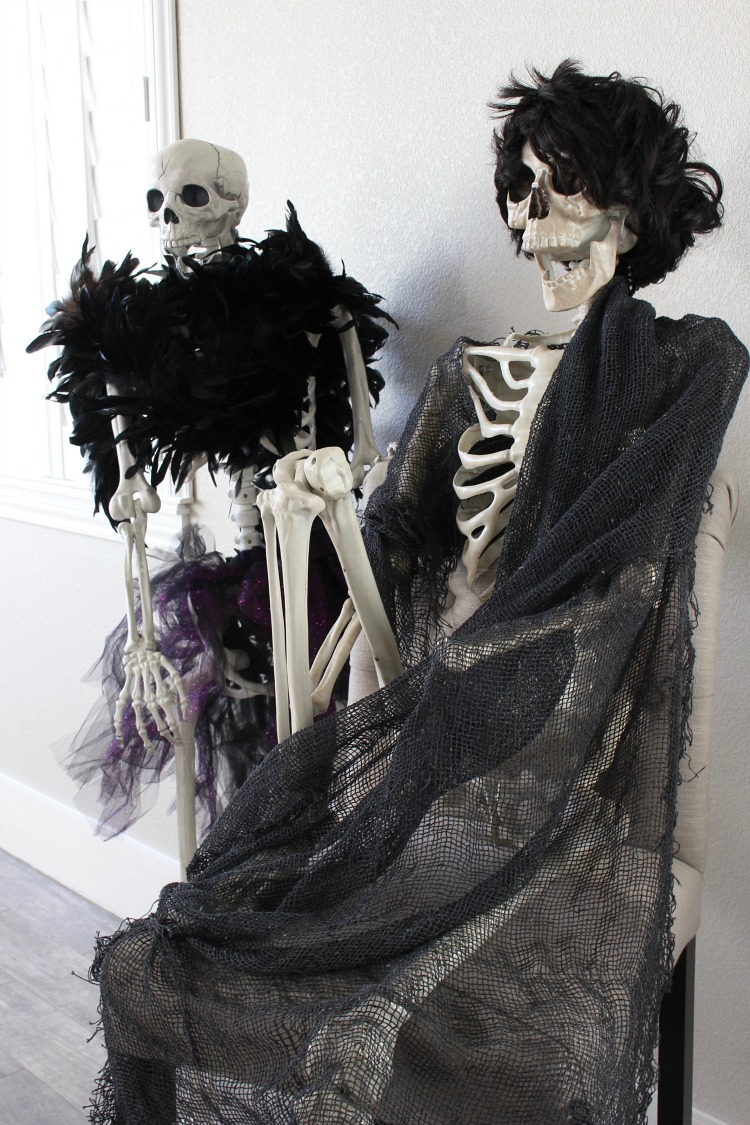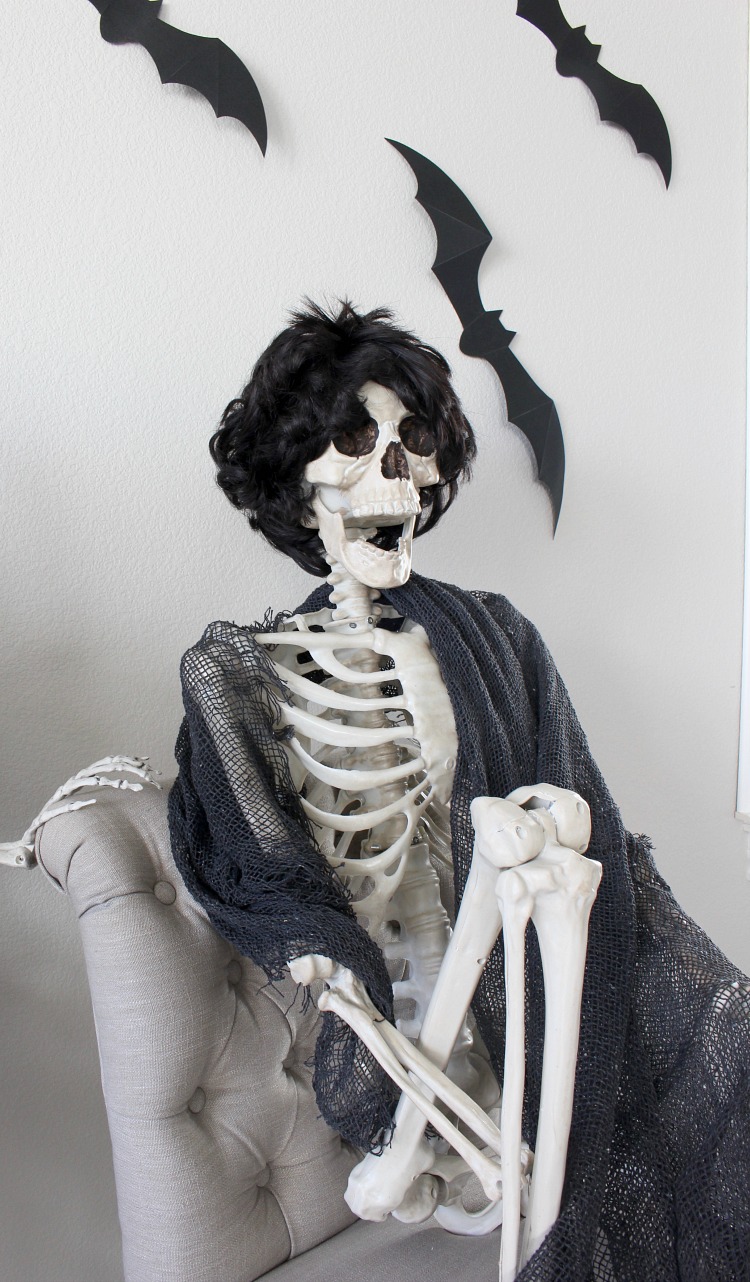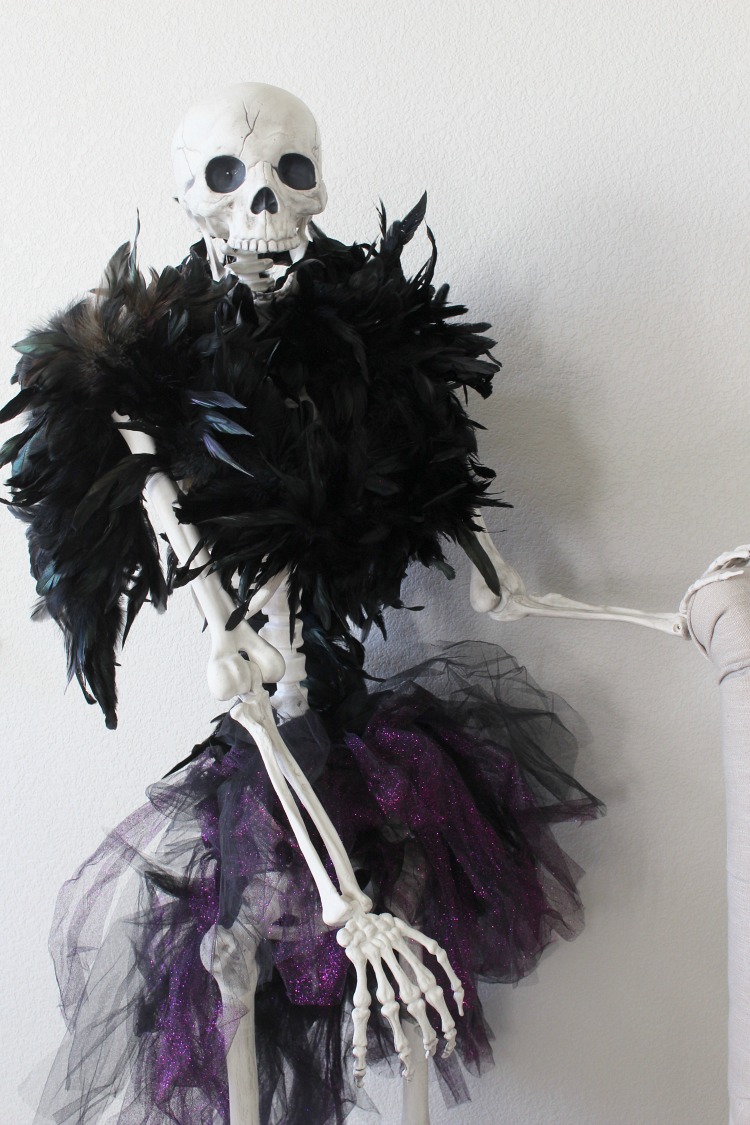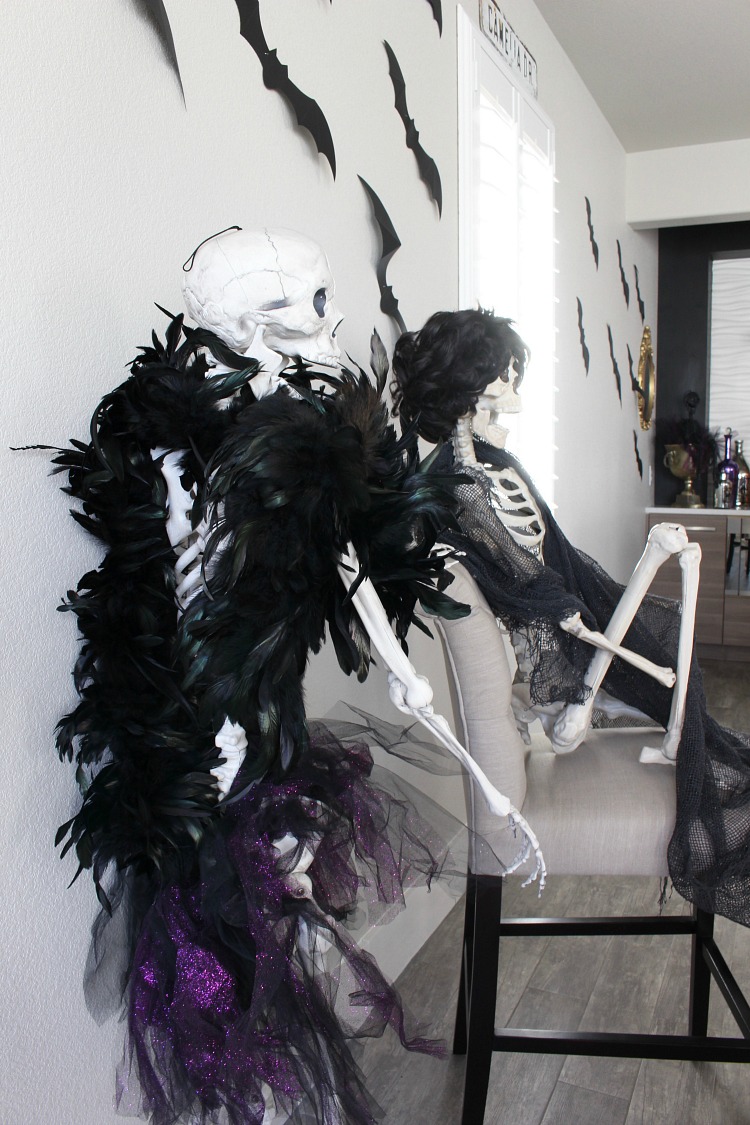 Those two crazies had a baby and now she's hanging out in the champagne bucket.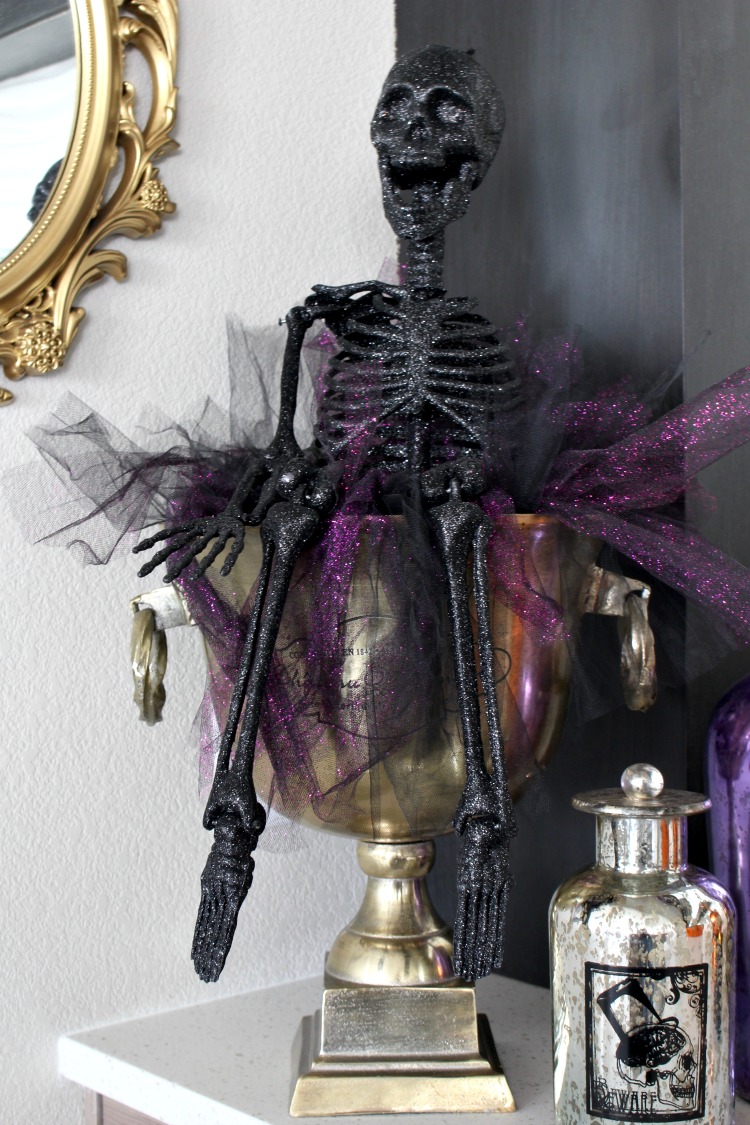 Shop your home for creative props
Some of you may recognize this little gold mirror form the Prom photoshoot I created in the forest last spring (see it HERE). I had halloween decor in mind way back then when I bought this baroque style mirror. Isn't it perfect for a haunted mansion?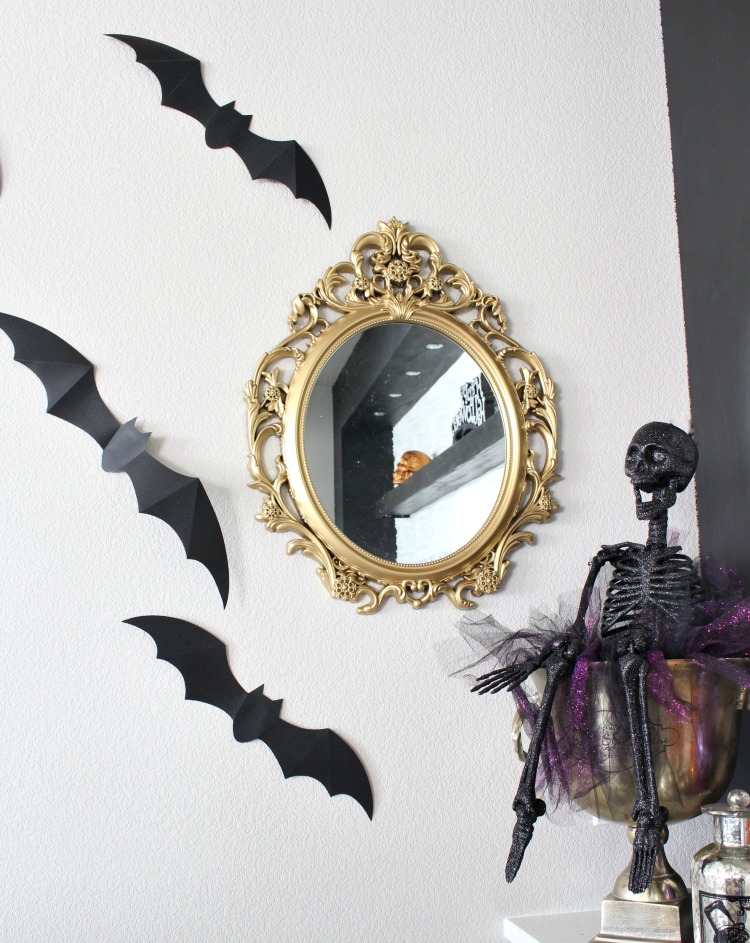 I also love to pull out some fun fancy cake platters and stands from the kitchen to make the food look a little more classy. Who says halloween candy can't be served on a silver platter? Actually I topped this silver stand with a gold charger that I borrowed from our halloween tablescape HERE.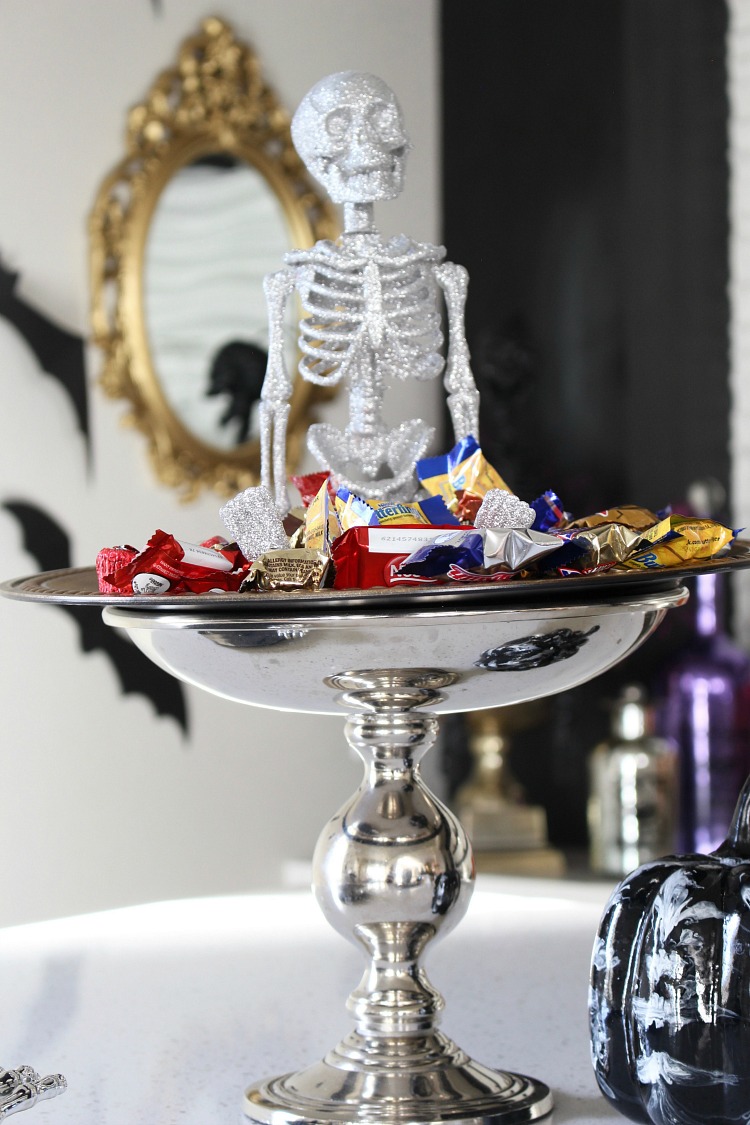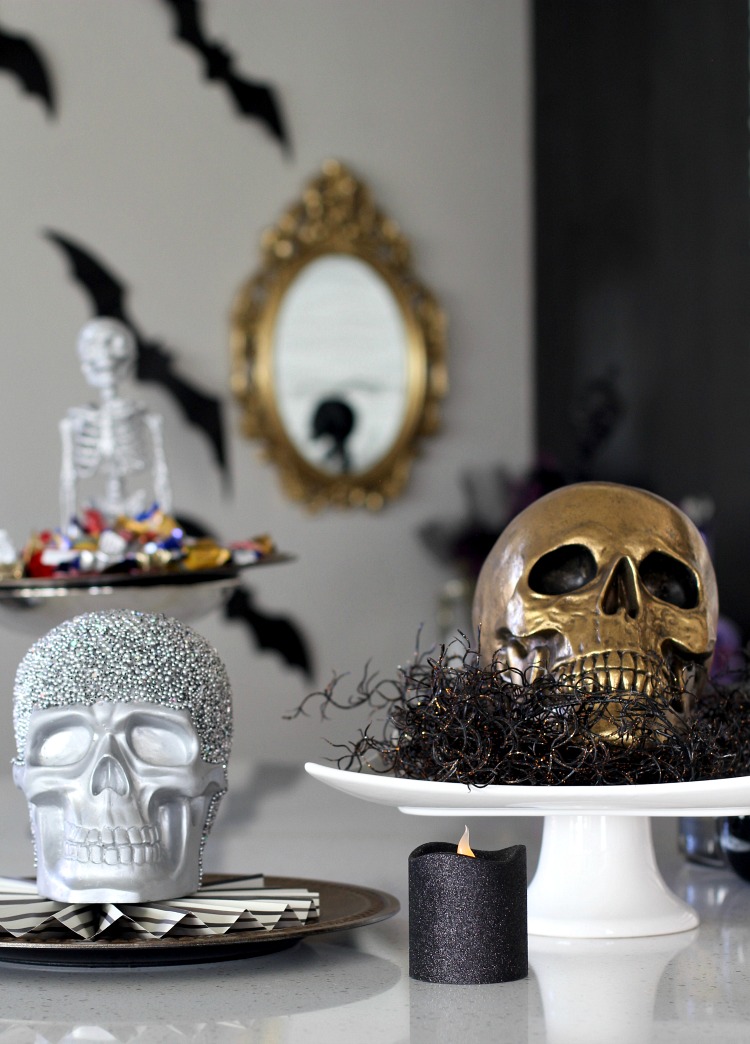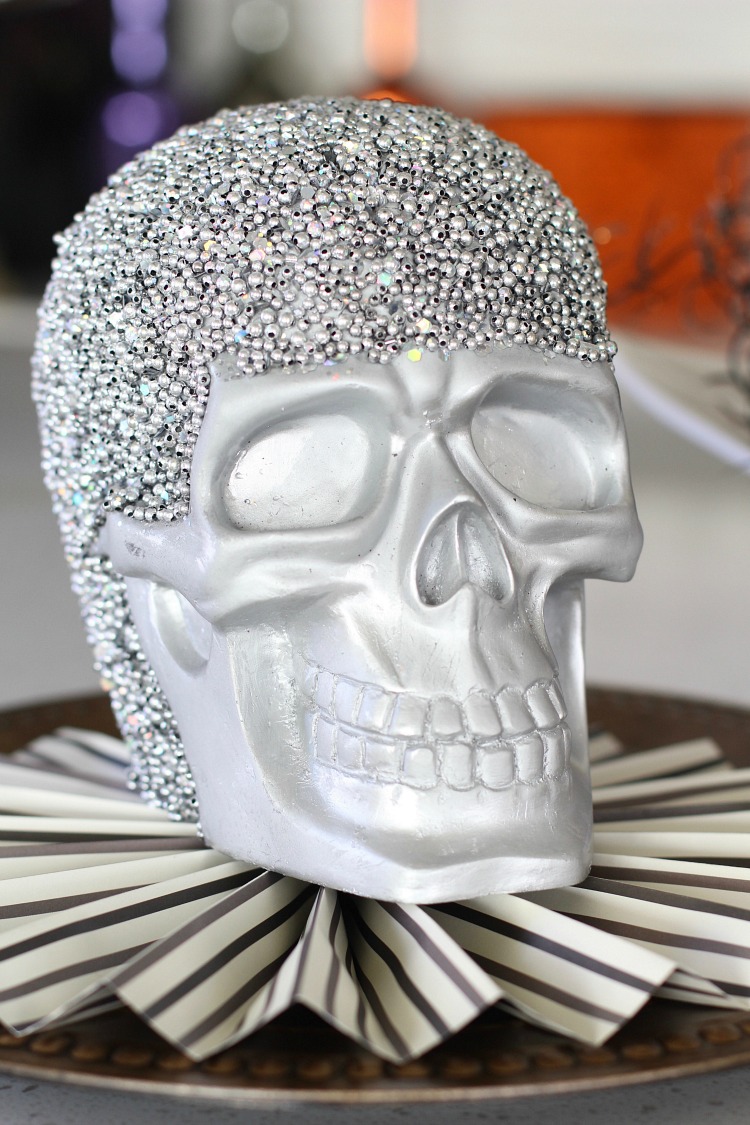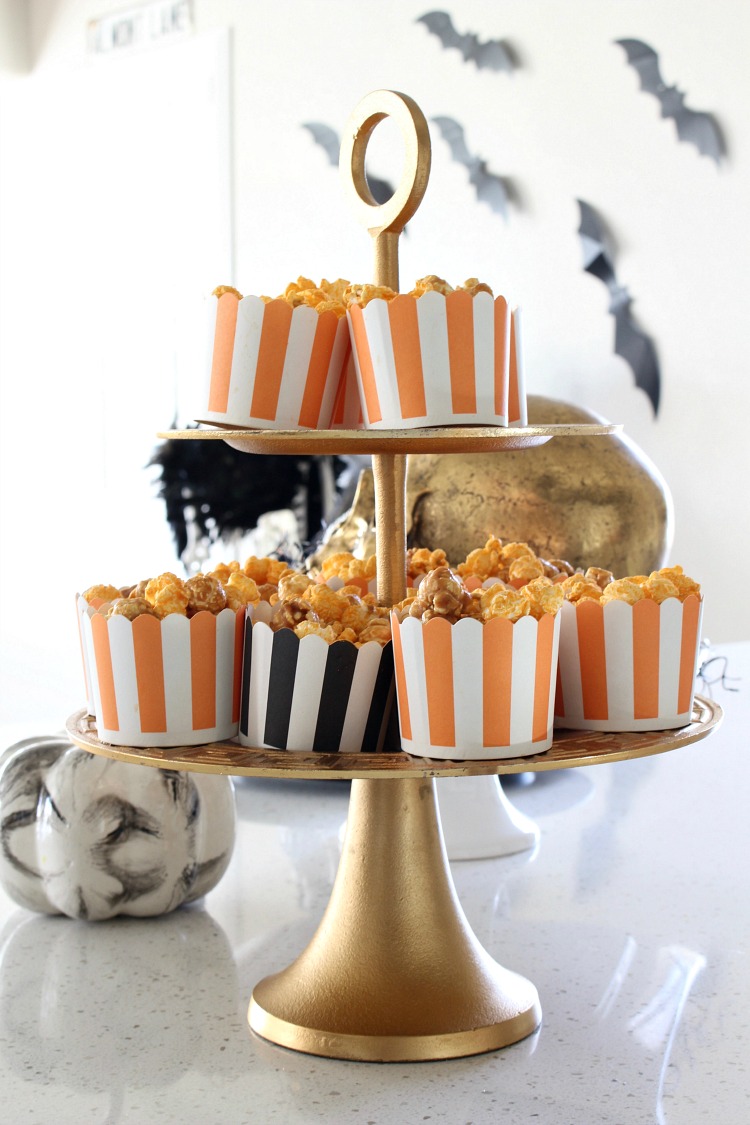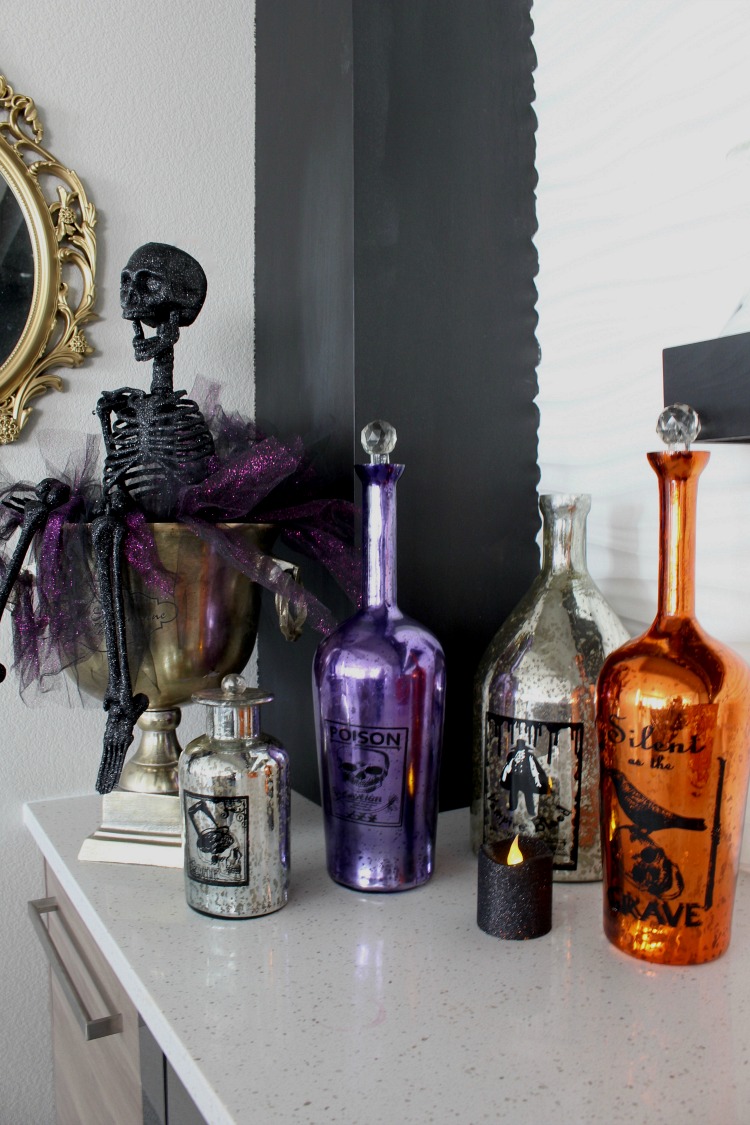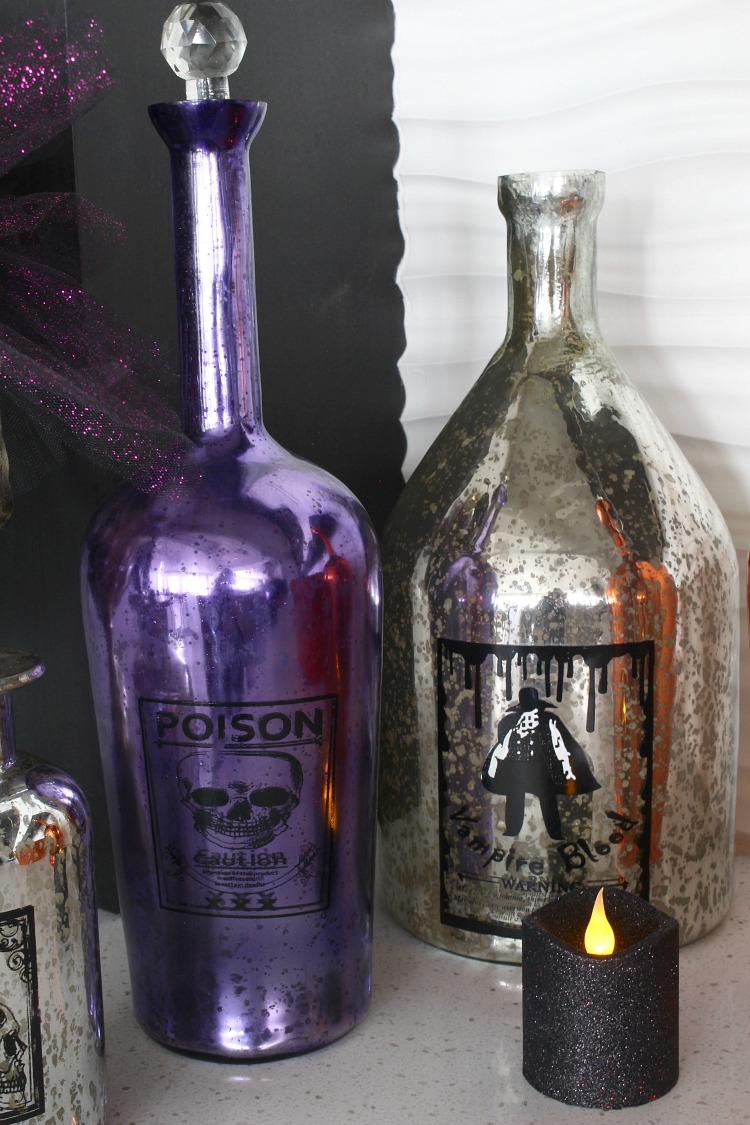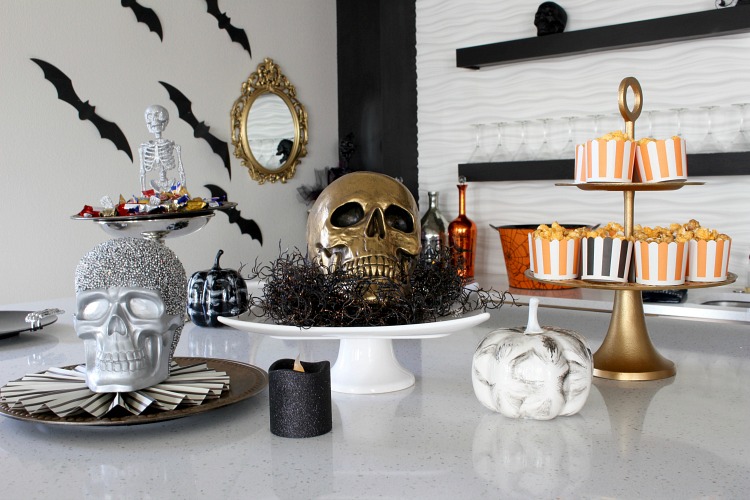 Fool your guests with elegant dinnerware
I found these silver metal plates from the dollar store and they look so deceivingly rich! So much better than paper plates for a big party but cheap enough to stock up for a big group and wash & reuse!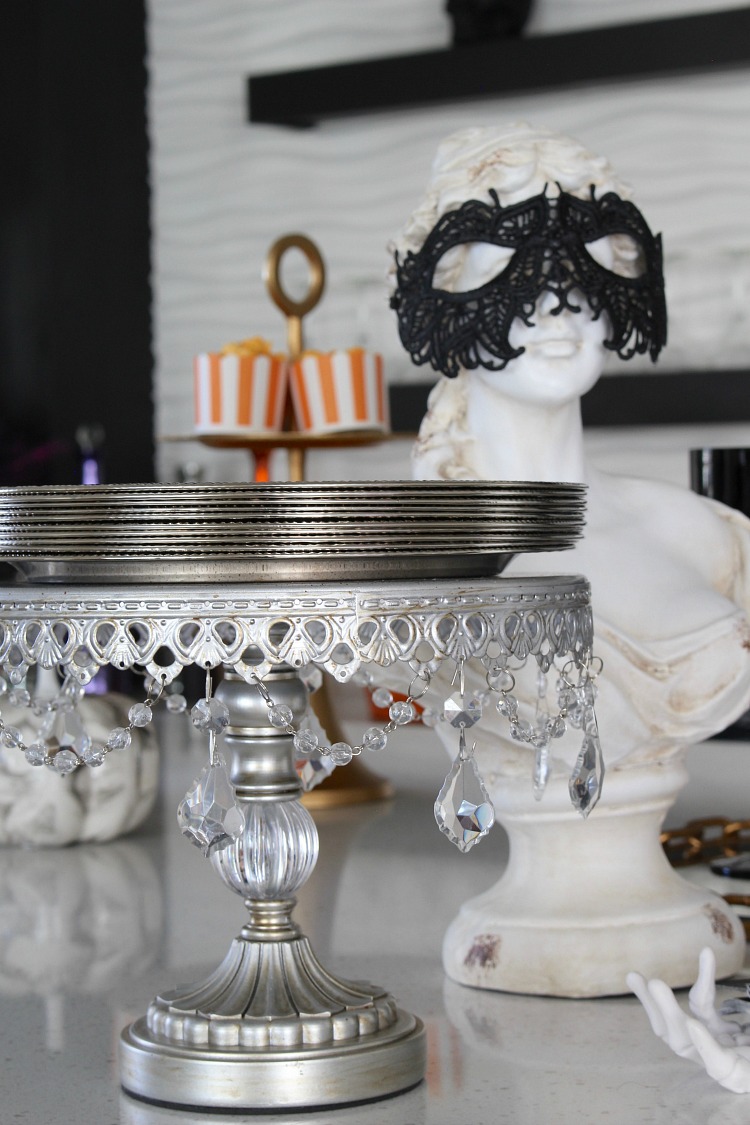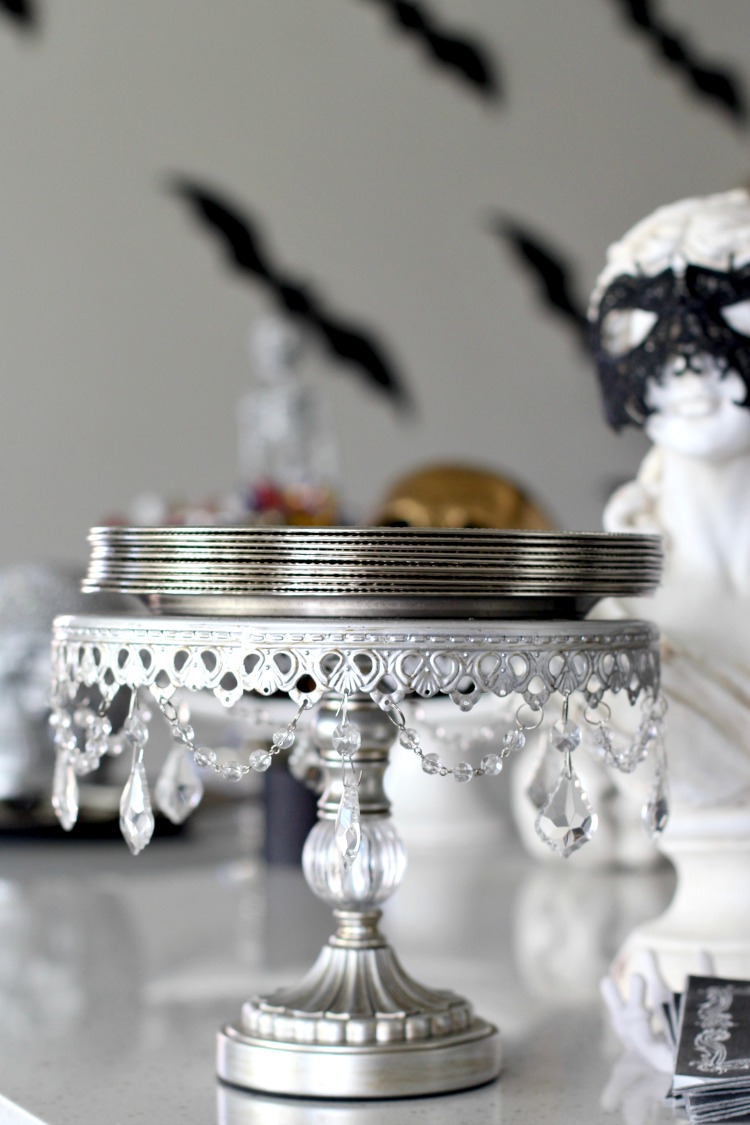 I blended in a few black goblets with the plastic cups.  I made sure the plastic cups were kind of hidden off by the beer bottles…haha!  Didn't need those killing the look!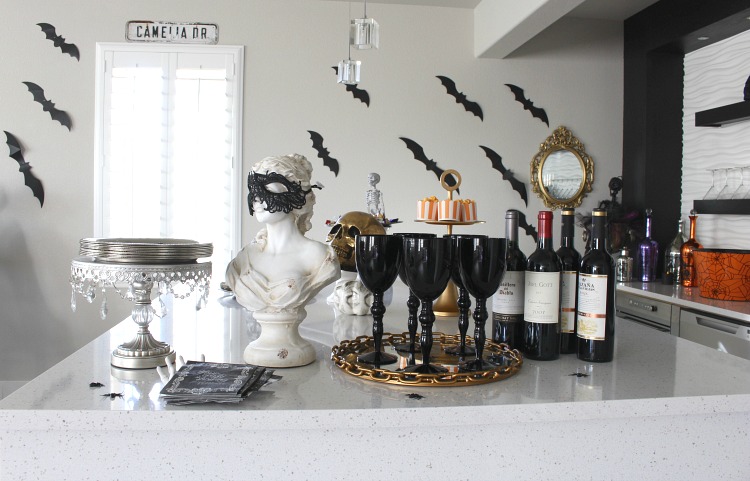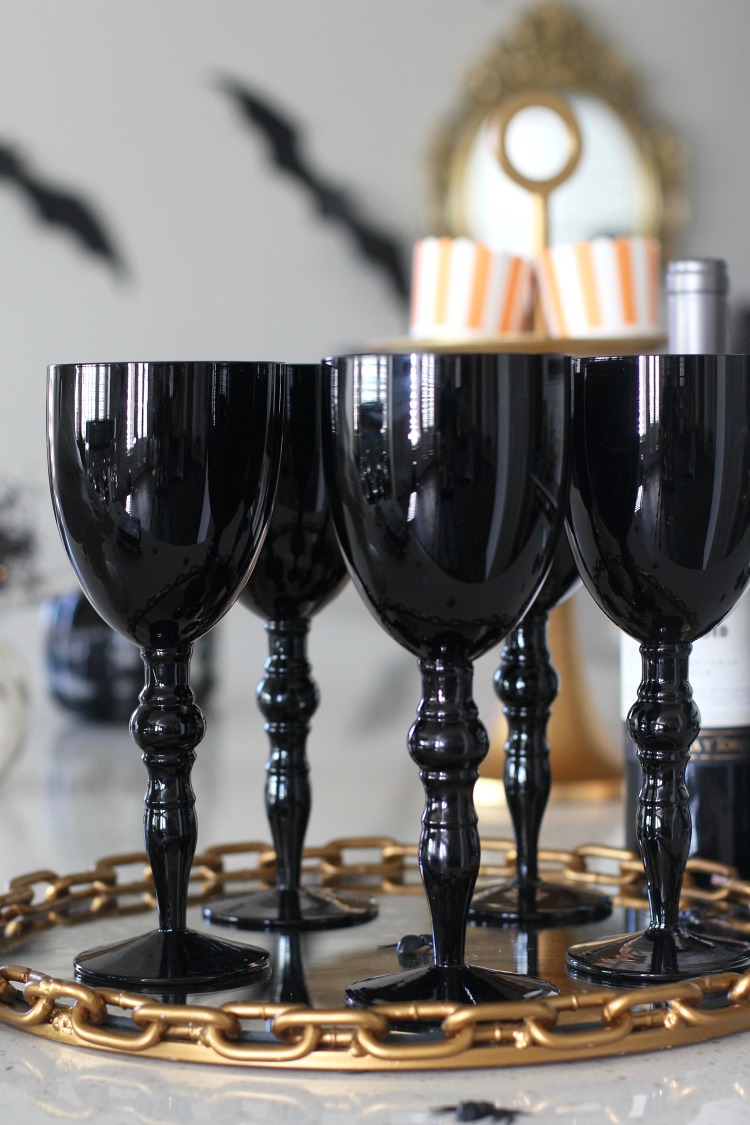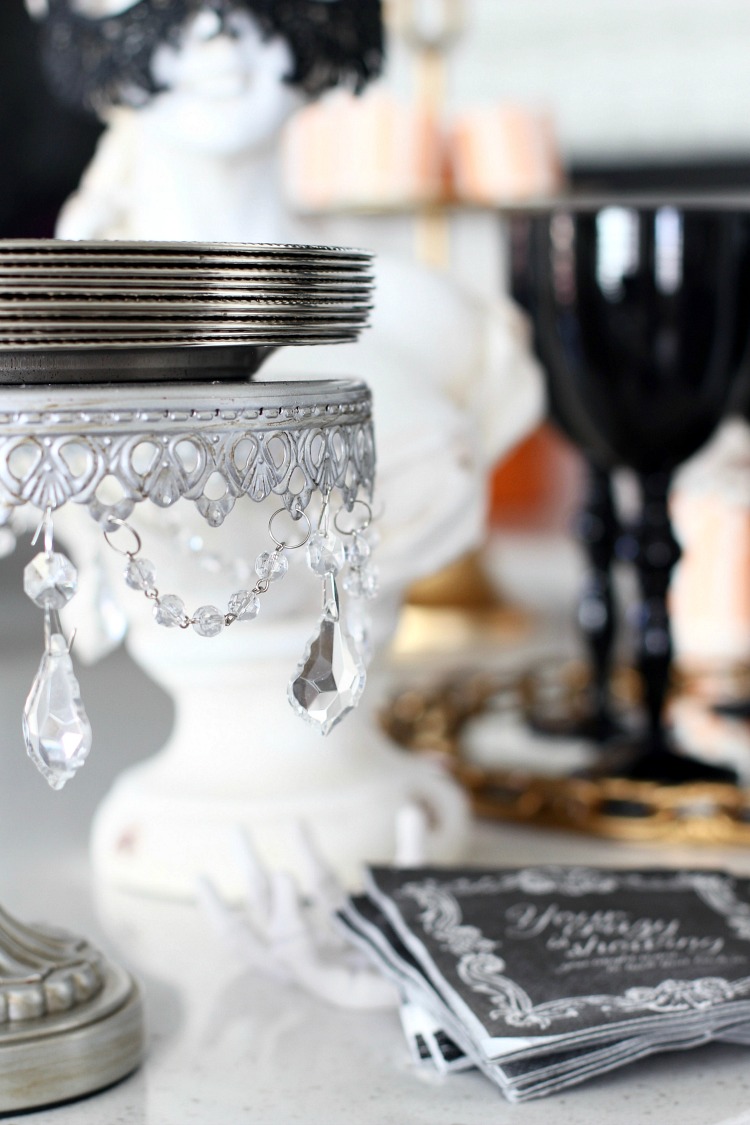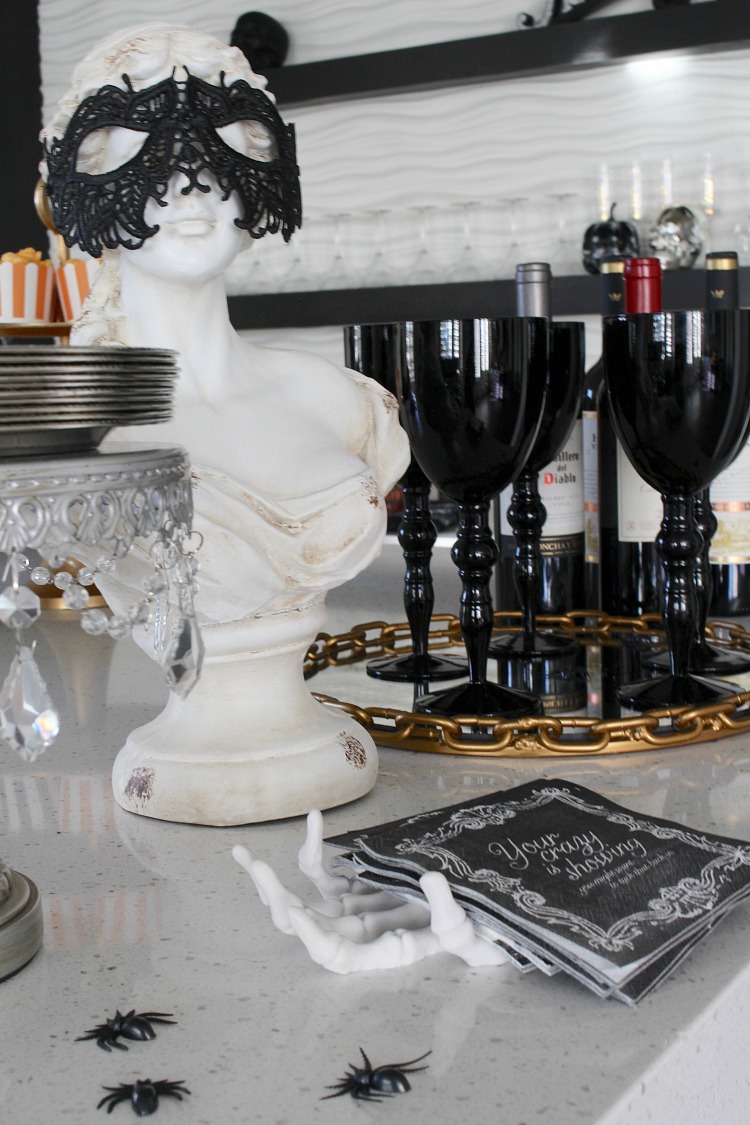 Add some fun quote party napkins
Have you ever had the party guest that you wanted to say this one too? "Your crazy is showing, you might want to tuck that back in." Wait, that's usually me they're saying that to…lol.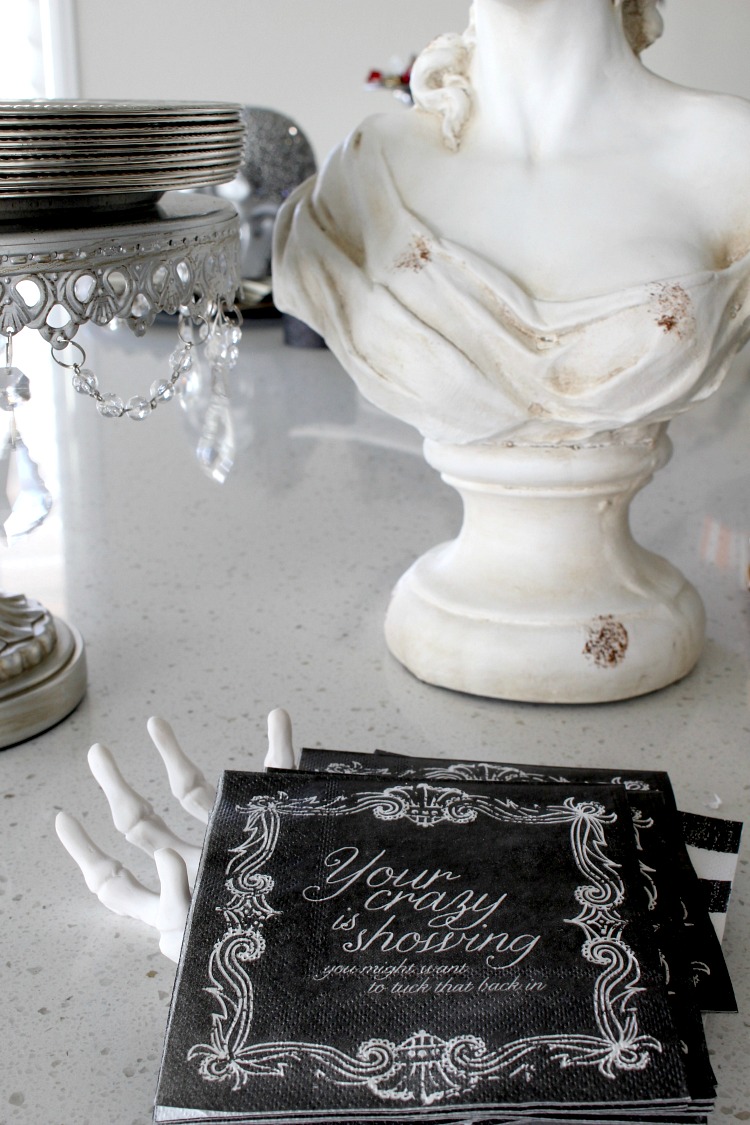 Bring out the big busts 
Get your head out of the gutter (I couldn't resist).  I'm talking statue greek goddess busts.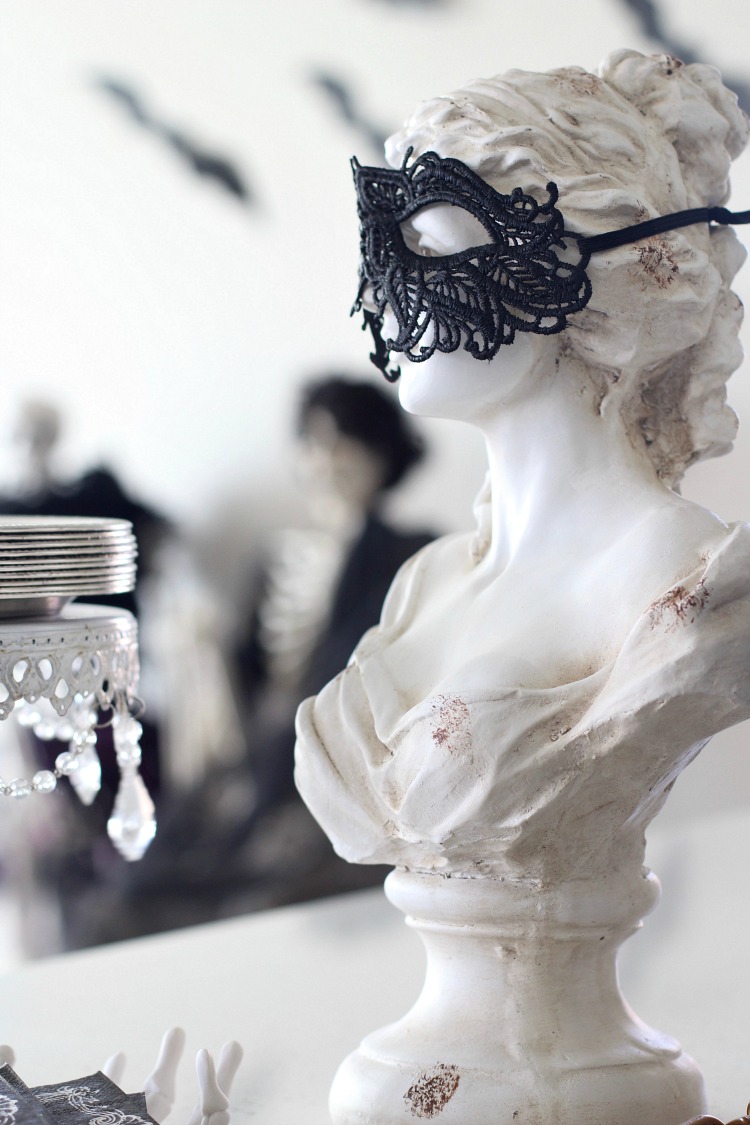 I'm having flashbacks of the Haunted Mansion at Disneyworld. Anyone??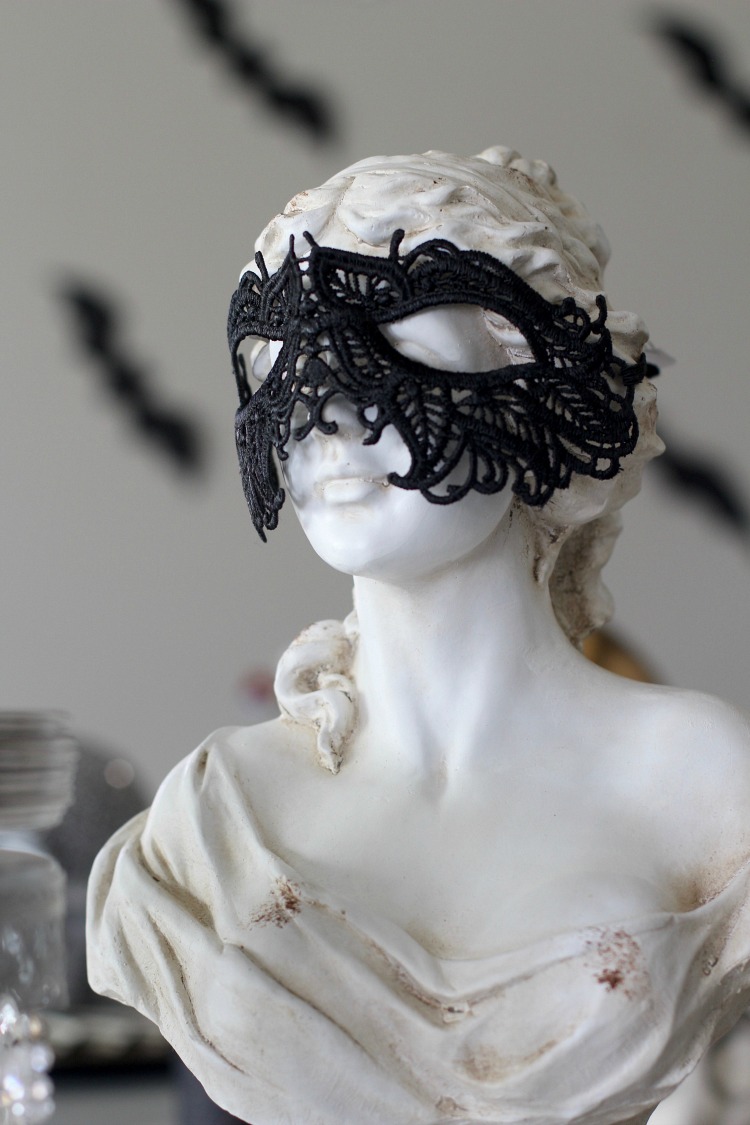 Now you have to come back tomorrow to see this halloween bash in action. The costumes were so fun and may give you some last minute ideas for your halloween attire!  Plus you don't want to miss seeing this place all lit up! Here's a peek!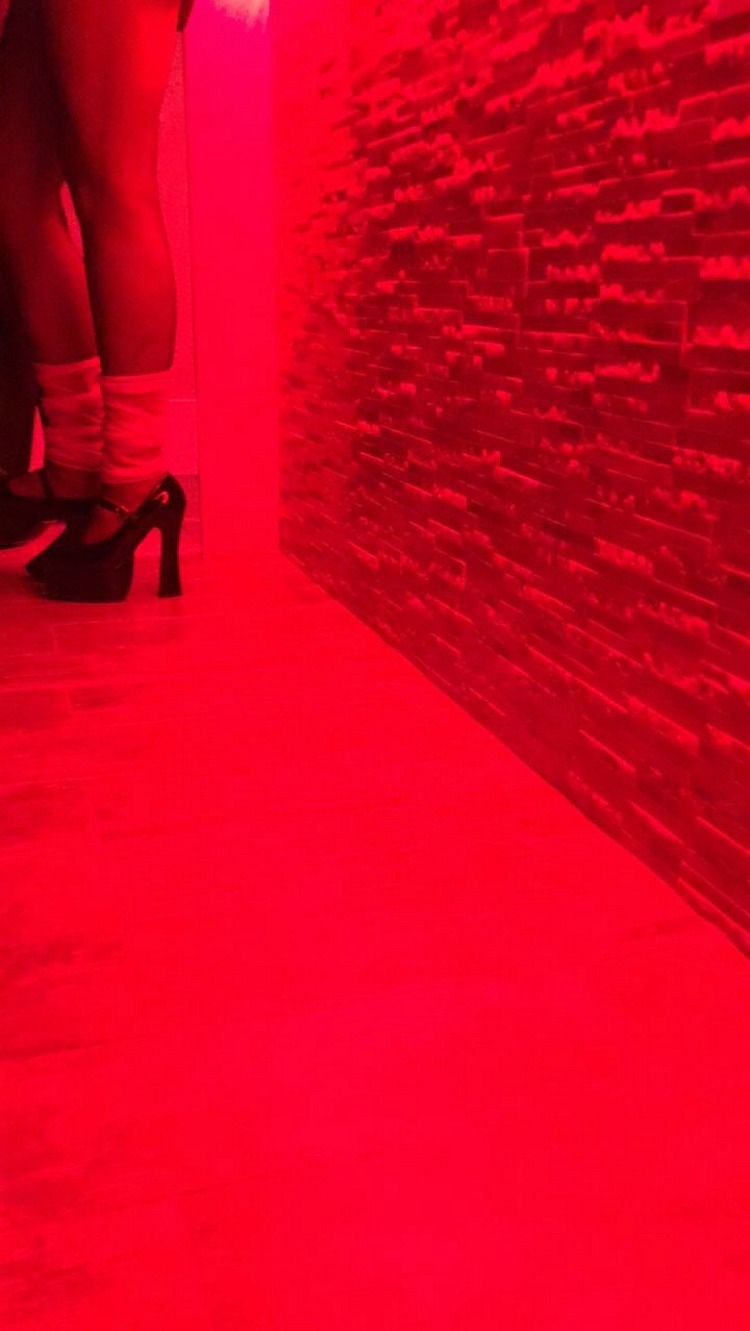 If you're still looking for some halloween decor ideas for this final week, be sure to check out our Halloween Home Tour HERE, our Elegantly Spooky Dinner Table HERE, and 20 Ways To Decorate for Halloween HERE.
Need some last minute halloween party props? Get the Look



UPDATE:  See our Halloween Bash HERE
 *affiliate links used