My Biggest Kitchen Design Mistake: Soapstone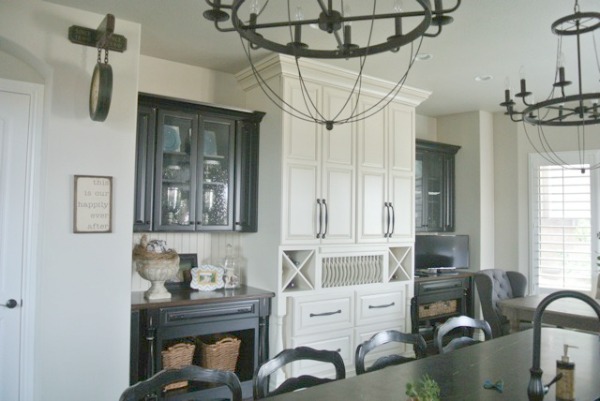 I hope you enjoyed my Colorado kitchen tour earlier this week. You can see it HERE if you missed it! This doesn't look exactly like the kitchen you've seen, I know.  In my last post I mentioned that our kitchen has gone through two big changes in the six years we've owned it.  I'm not shy one bit in admitting I've made my fair share of design mistakes, but it's those mistakes that make me grow and learn.  When I've lived through the torture (yes, I consider design mistakes pure torture to live with) I want to make sure no one else makes the same mistakes.  I use the word "mistake" because in my definition it means a regrettable decision.  I made more than one regrettable decision with this home. Hands down though my BIGGEST kitchen design mistake was soapstone.
Rewind to the first week in our home.  I said soapstone was my biggest mistake, but not my only mistake.  Two words:  YELLOW PAINT.  Remember the paint tragedy I mentioned HERE?  That yellow was killing my kitchen, in my opinion.  It reminded me of a big bumble bee.  I tried to convince myself that it would tone itself down in time (how does that happen? lol).  That did not happen and the nausea grew inside me day by day with those yellow walls closing in on me.  As you can see in the rest of the photos and now that you know what my kitchen looks like now, we repainted the walls with Revere Pewter by Benjamin Moore. SO.MUCH.BETTER!!!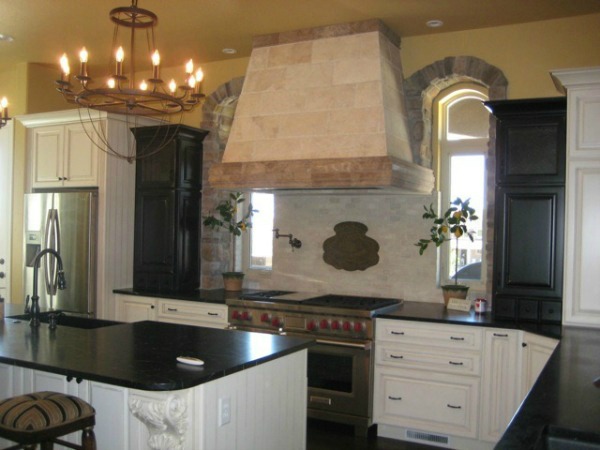 Oh! We painted the black cabinets too! They're now charcoal grey.  The black cabinets were fine originally with the soapstone, but you know that design domino effect I've mentioned before.  Change one thing, then another thing needs changed.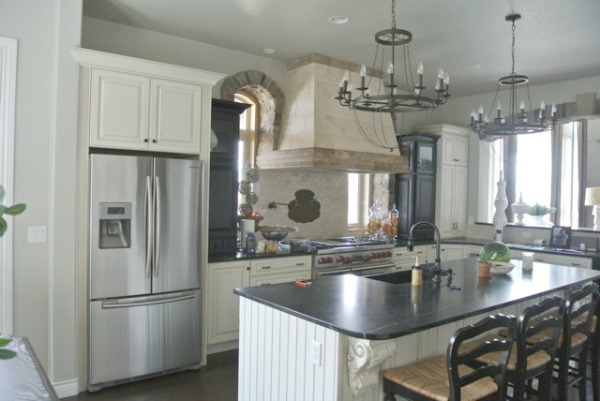 Back to my soapbox on soapstone…haha! I had to say that! Compare this photo to the photo with the yellow walls.  You can see that the soapstone was dark and shiny there. That was right after we moved in. The above photo was what it ended up looking like after some time.
I'm sure you're looking at this beautiful black soapstone and thinking why would she want to rip that out??  This girl must be crazy!!! I promise you, I was crazy!  My soapstone was making me CARAAAZYYY!!  I'm going to give you my little spill on soapstone as my own opinion from my own personal experience.  Someone else's opinion and/or experience may be different than mine.  If you have soapstone and love it, GREAT!! You have better luck than me or I just picked out a "lemon" slab.
When we were building this home, the standard option that our builder provided was granite.  I didn't love the selection of granite and I wanted to be different than every other house in the neighborhood…no shocker there!  I loved the look of soapstone with its creamy veins.  I did my research online and visited soapstone distributors to see the product.  One of the soapstone distributors I visited even had a soapstone kitchen sink that they actually used in their showroom kitchen.  I remember looking at it and thinking why didn't they rinse it out and wipe it clean before I came to visit?  It looked kind of like oatmeal had been dumped in the sink and not rinsed.  That's the best way I can describe it.  Little did I know at that moment was that what I thought was dried up oatmeal was actually gouges and chipped soapstone all over the sink.  Nice. They failed to elaborate on that one for me.
I had read so many mixed reviews about soapstone maintenance and durability.  The biggest complaint I read was that it scratched easily. I remember reading more cons than pros about this stone that feels smooth and soft like a bar of soap. Sometimes though, I think I convince myself that those pros far outweigh the cons and that everything will be just dandy!  So not the case friends!  I even did the scratch test on a piece of soapstone at the above mentioned soapstone distributor.  Yes, it scratched, but I was told that it buffs right out, no problem.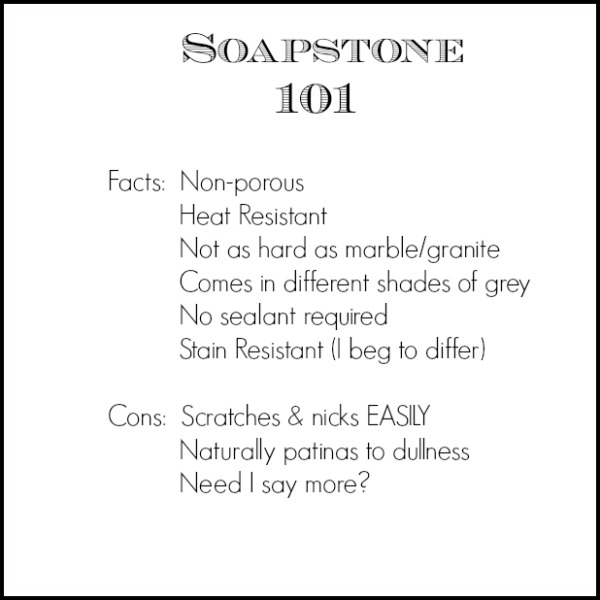 I figured that the bad reviews I was reading was probably from homeowners that maybe were not as gentle on their countertop surfaces as I would be. Surely, my soapstone wouldn't scratch because we would take excellent care of it! Oh to my dismay to find that those scratches were happening within the very first few days of living in our brand new home.  My heart literally sunk to my toes when I saw that first scratch.  I may have even said a few "words" to the matter.  I immediately got out my fine grit sandpaper to try to buff the scratch out and that just opened up another can of worms.  The scratch DID NOT come out and the area around the scratch was now duller than the rest of the soapstone.  This was not going as planned. I had read that mineral oil can be used to shine up soapstone and give it that black, lustrous look. So I tried it and it worked! Temporarily.  The scratch seemed to disappear but now my island felt like a slippery, oily surface from the mineral oil. I wish I had better photos of how bad it actually looked.  This photo was taken when I was having a baby shower for my friend.  You can see that it is not as shiny or dark as the first picture I showed you.  All the little specs are the wear and tear. The cream streaks are actually the normal veining. I had actually used mineral oil on this day to try to make it look better before the party.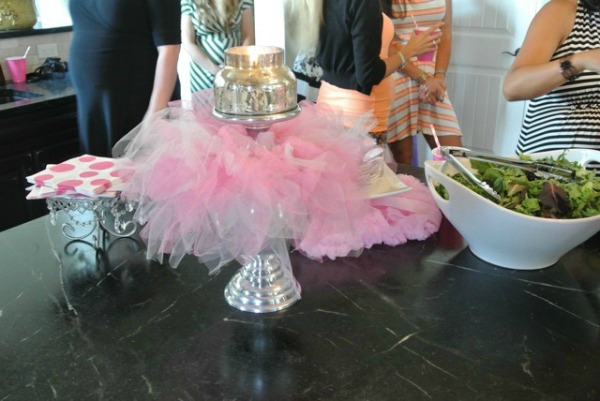 Around the stove wasn't quite as bad but it still had scratches and the edges were all scratched up.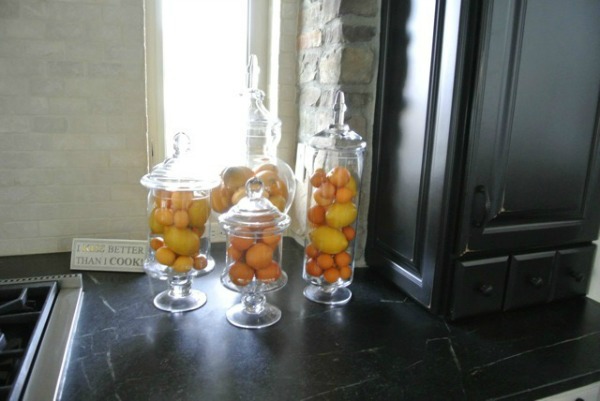 The mineral oil was only a temporary solution, kind of a like concealer over a blemish.  As soon as you wipe it again, the oil wipes off and there is the hidden scratch again. Soapstone is just so soft and anything will scratch or engrave it. My son does his homework on the island and I noticed one day that his handwriting was actually imprinted on the soapstone!  Believe me, he wasn't putting all his force into that pencil solving his arithmetic either! One time, we had a large gathering of friends over and what does everyone do when crammed into a room? They lean against the countertops.  The next morning, there were scratches along all the edges of my perimeter countertops apparently from the buttons on jean pockets rubbing up against it.  I'm talking white scratches on a dark surface.  Someone opened a bottle on the island and it left the imprint of the the shape of the bottle on the surface.  I kid you not, this was my soapstone reality.
I thought I was such a genius having our island sink made out of soapstone too. It would all blend beautifully together.  Well, that "oatmeal" appearance soon appeared in my sink and it wasn't caked on food in a grimy sink. Just dropping a spoon in there would cause a ding. I felt like we had to delicately set a dish in the sink.  It was such a nightmare and no way to live in a kitchen.  Kitchens should be pretty but still functional.  My countertops were not functional.
I was to the point where I was embarrassed to have people over who had never seen our new home. They would see my sink or scratches all over my countertop and asked what happened.  Oh just an awful design decision!  Who wants to admit that?!!  I finally got to the point where I was so disheartened with my kitchen.  I even wished I had put in the standard granite.  We lived with it for three years however.  I felt like I needed to just deal with it since we had paid so much more than what granite would be.  Soapstone is comparable to the cost of a high end granite.  I couldn't justify replacing it right away.
I was so disappointed in my design failure.  Knowing we were going to replace it, I shifted gears and wanted to bring in a white surface. My whole design aesthetic was changing in my home after repainting our walls the light grey.  I was craving calm and light tones after the bumble bee disaster in my kitchen.  I knew though that whatever I replaced the soapstone with had to be bullet proof.  That is why I went with quartz.  I wanted carrara marble like everyone else does it seems but I had read and heard too many stories about it's maintenance. I wasn't about to trade in one set of problems for another.  Maybe carrara would have held up better than the soapstone, but I didn't want to put myself or my family through the stress of another "high maintenance" surface.  All of my research led me to the decision that quartz was the best option for us.  I even took my car key and tried to scratch the quartz sample and it didn't even leave as much as a hairline mark.  The fact that it is scratch resistant and stain resistant was a win-win in my book!  For the record, soapstone is supposed to be stain resistant too but grape juice stained ours.  Go figure.
The quartz I went with is Pental Quartz – Venatino.  It is bright white but has pretty grey veins.  What a huge transformation in the kitchen!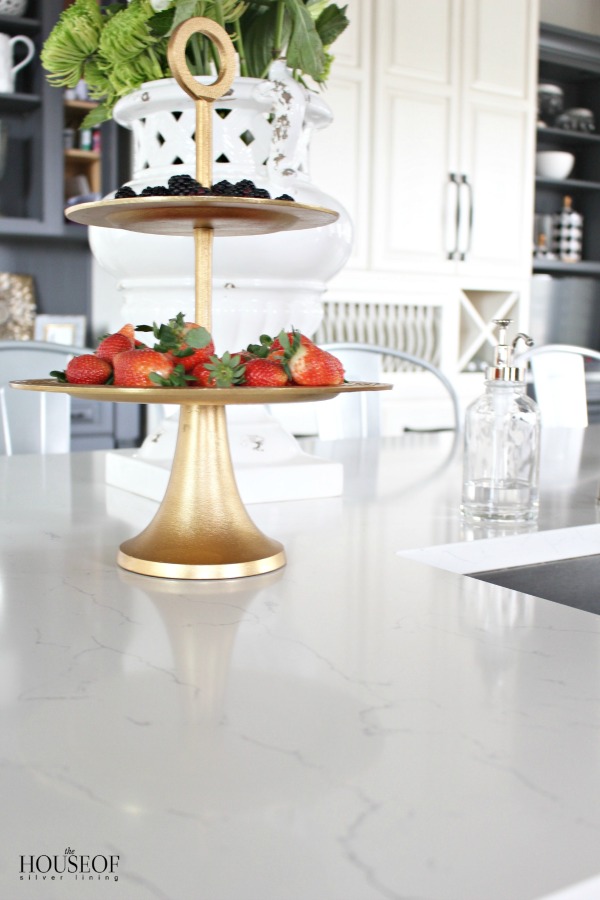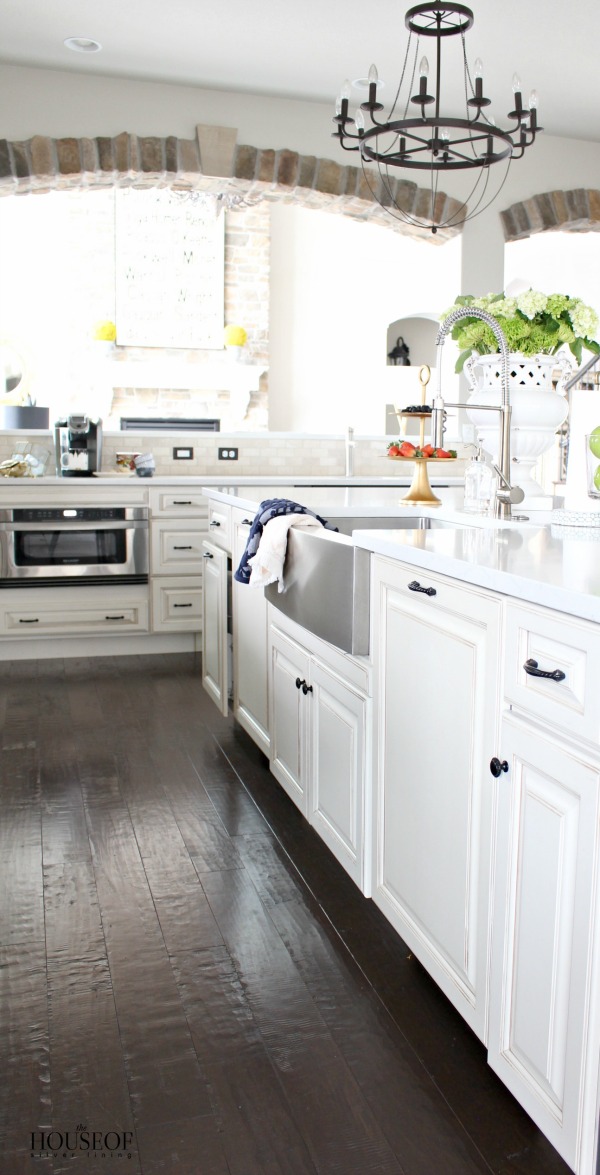 I have been 100% happy with the easy care of quartz!  It cleans up beautifully!  Not one single scratch in going on two years.  We also replaced the sink with this stainless steel farm sink by Kraus.  I love how it comes with a metal rack that fits perfectly in the sink base to prevent scratches.  I can't even tell you how amazing this sink is!  I highly recommend it if you are doing a kitchen remodel or building a home.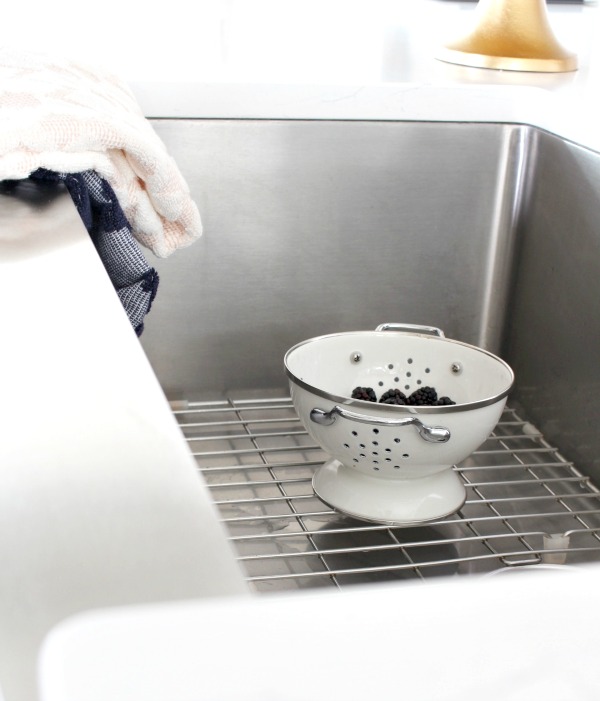 I hope you are a little more educated on soapstone now.  If you have soapstone, I hope your experience has been better than mine was.  I just like to let you know my own experiences in hopes that it prevents you from the same mistakes.  Just a little advice from your designer friend…who doesn't always get it right.