Our Black Mudroom with Brick Herringbone Floors
Today I'm giving you the first look at our black mudroom with brick herringbone floors. There is so much that I love about this space but the brick floors are my favorite! This room is directly off of our garage and is still a work in progress. I haven't thought much about the full design since we moved in. You may even recognize our old dining table banquette bench from our previous home. I posted this photo on Instagram last week and got so many questions that I'll answer here today.
Affiliate links used. See full disclosure HERE.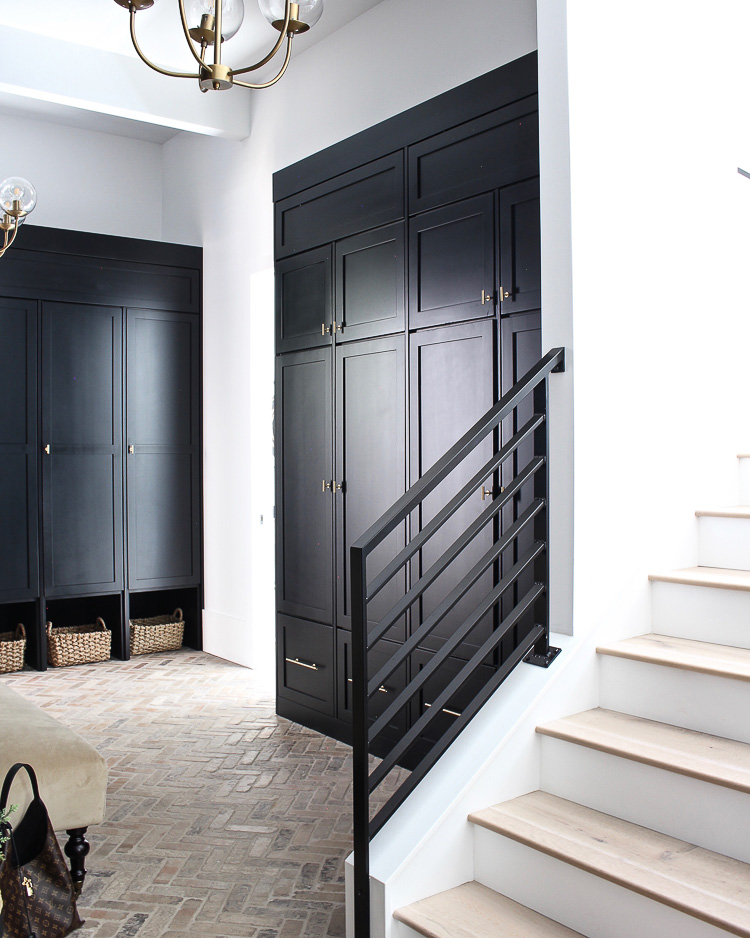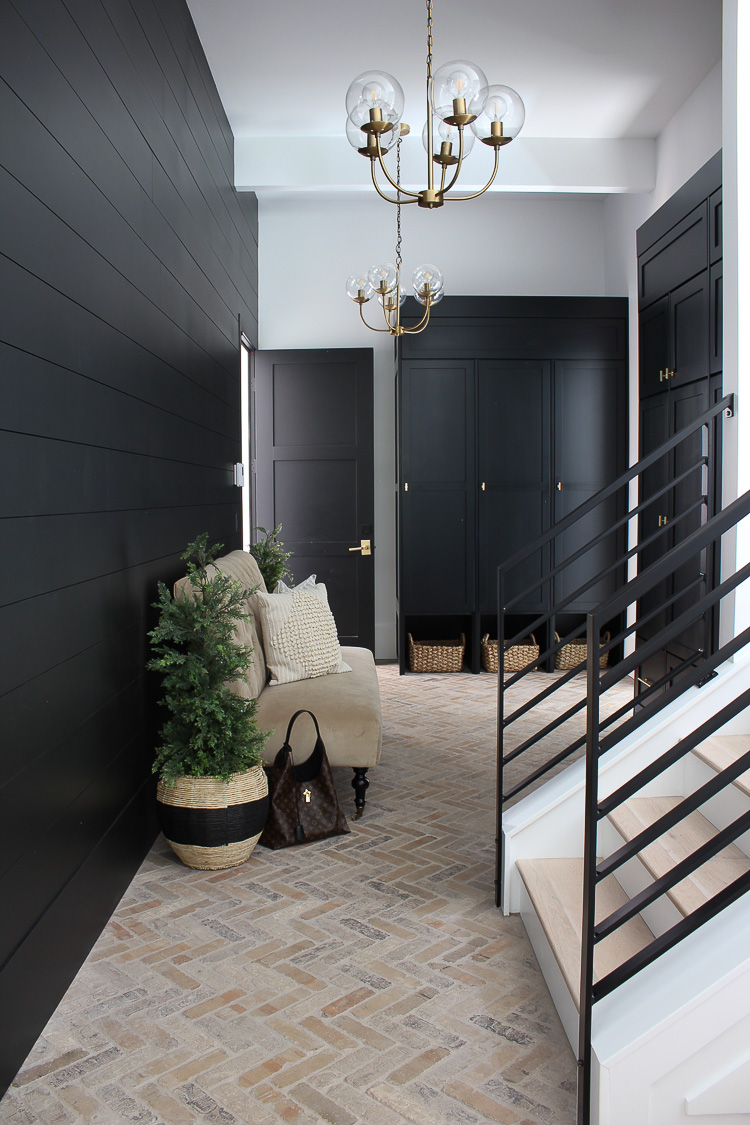 The brick floors not only are so pretty, they have been great functionally for this space. We have very long snowy winters and the brick is great for dropping wet snowsuits on. It's not slippery and it never looks dirty. I'm sure there's plenty of grime that builds up but I only mop them about once a month and I vacuum with our soft brush central vacuum every couple of days (or more when I feel dirt on my bare feet). I'm all about choosing floors that hide the grime!
Brick Source: 1/2″ thin brick by General Shale, color is Ironworks. Unfortunately, I don't remember the color of grout I chose but it's a tan color.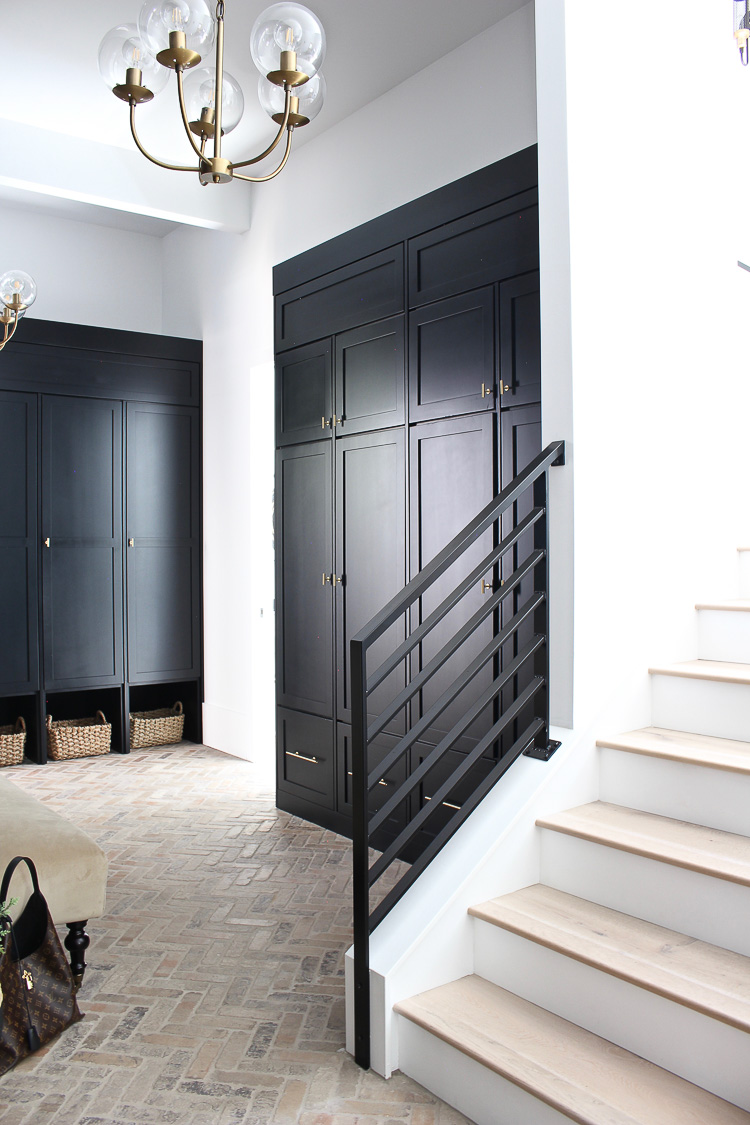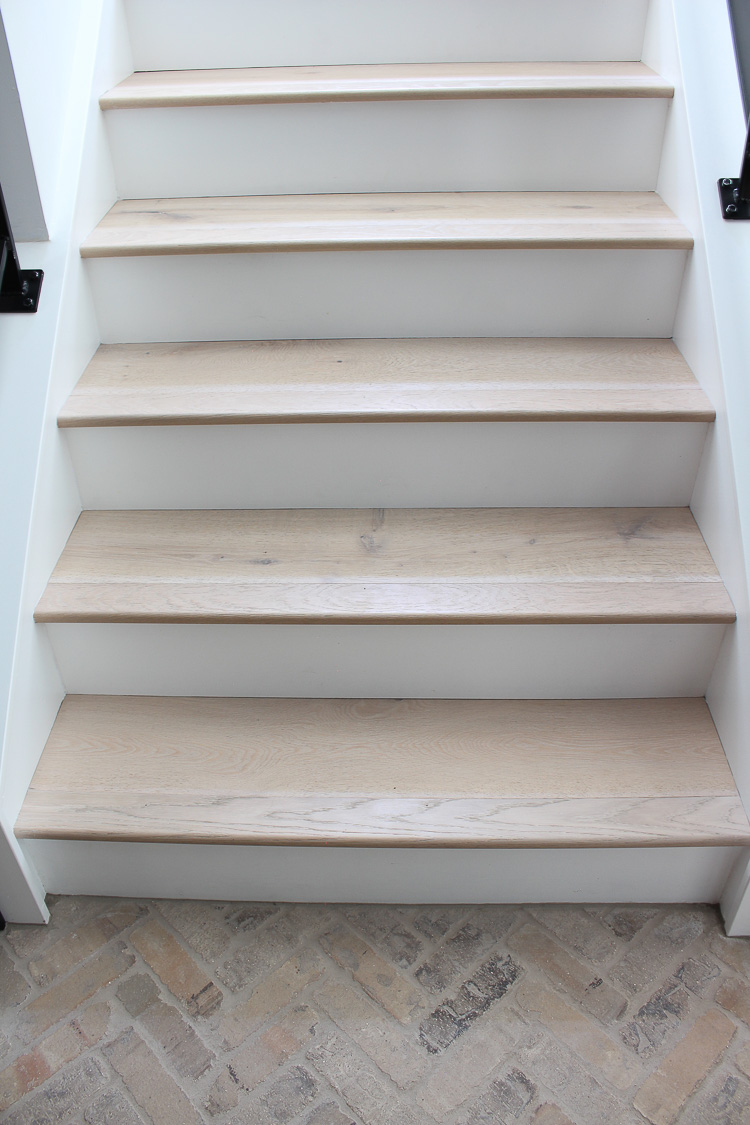 I love having these separate set of stairs up to our home gym and the boys' rooms. If you're curious about our stair treads and hardwood floors you can read about them HERE.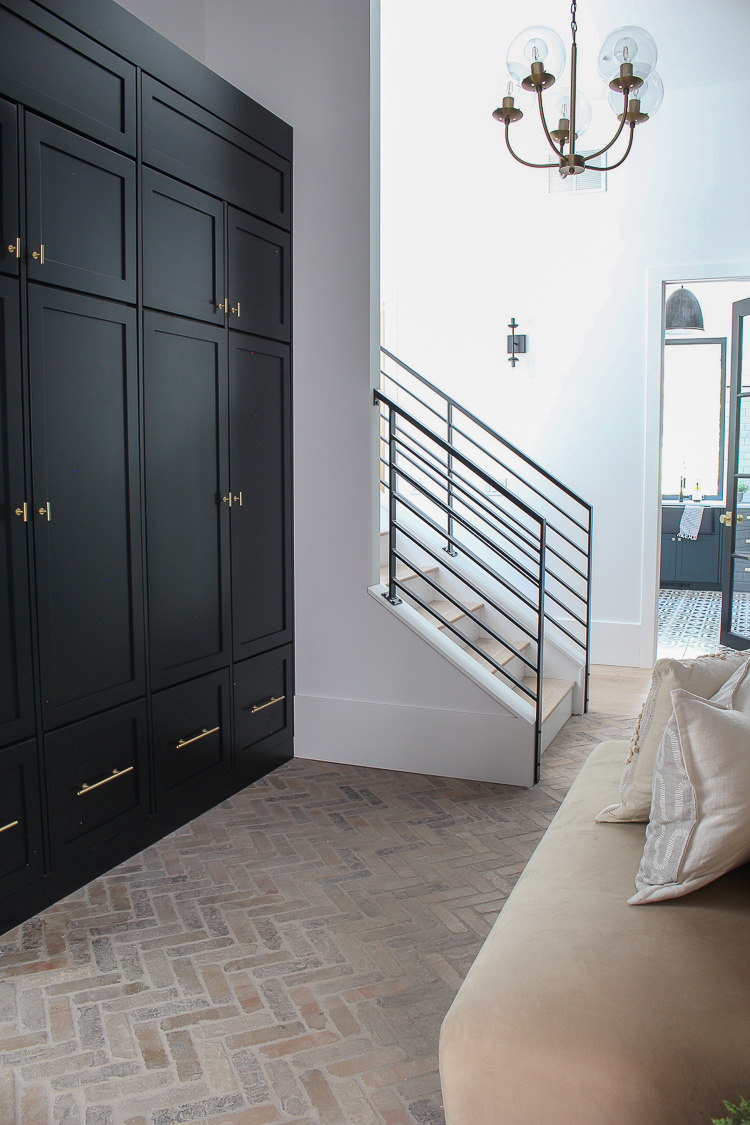 We are definitely not short of storage space. I designed these locker style cabinets with coat rods inside. I like the look of pretty cabinets rather than a coat closet. The cabinets are 10 ft tall (ceilings 12 ft). The panels on top flip open for additional storage for items that I don't need access to regularly.
Cabinet Color: Our custom cabinet maker used M.L. Campbell Wood Finishing Systems varnish in color 25-17 Black. It's a true solid black with no undertones.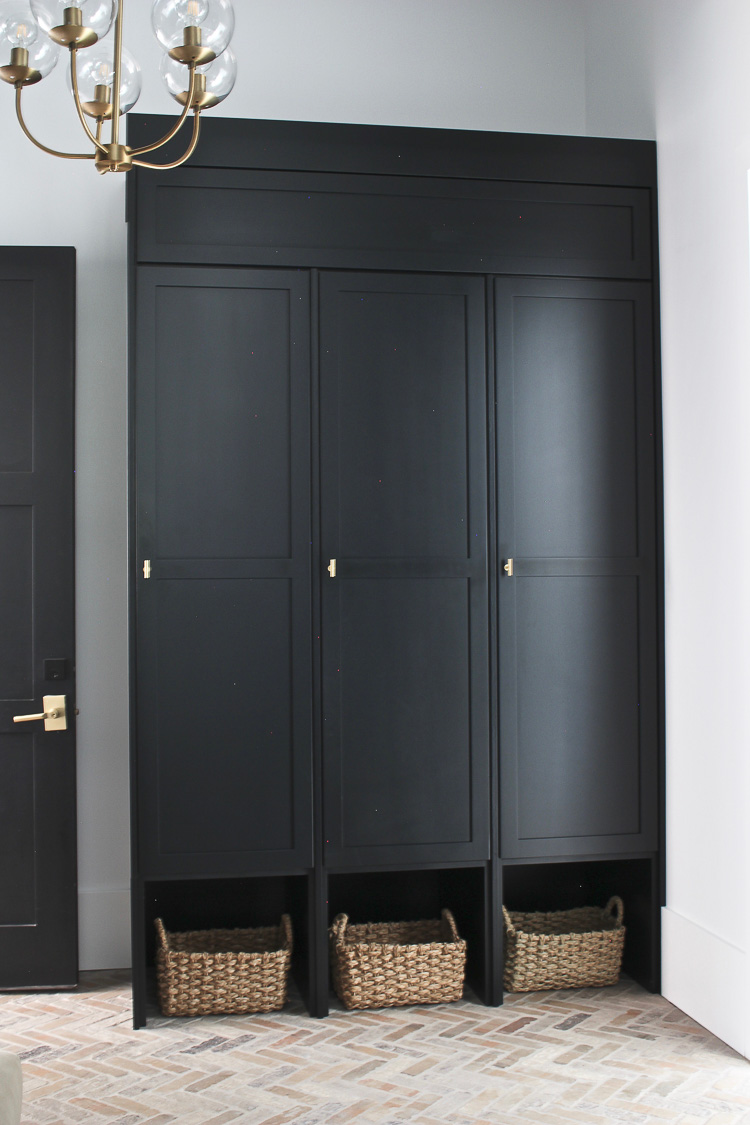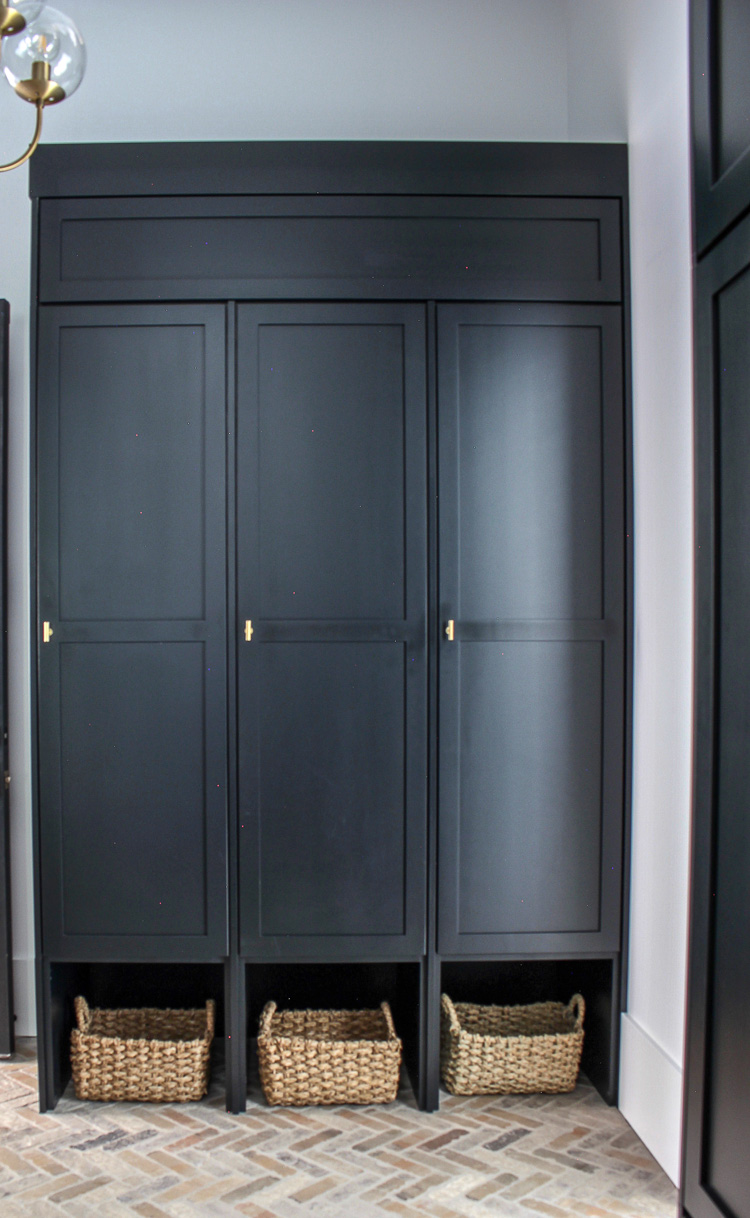 This wall of cabinetry is for the boys. Complete with backpack hooks and inside shelves. The drawers below are for shoes. I like hiding all the clutter!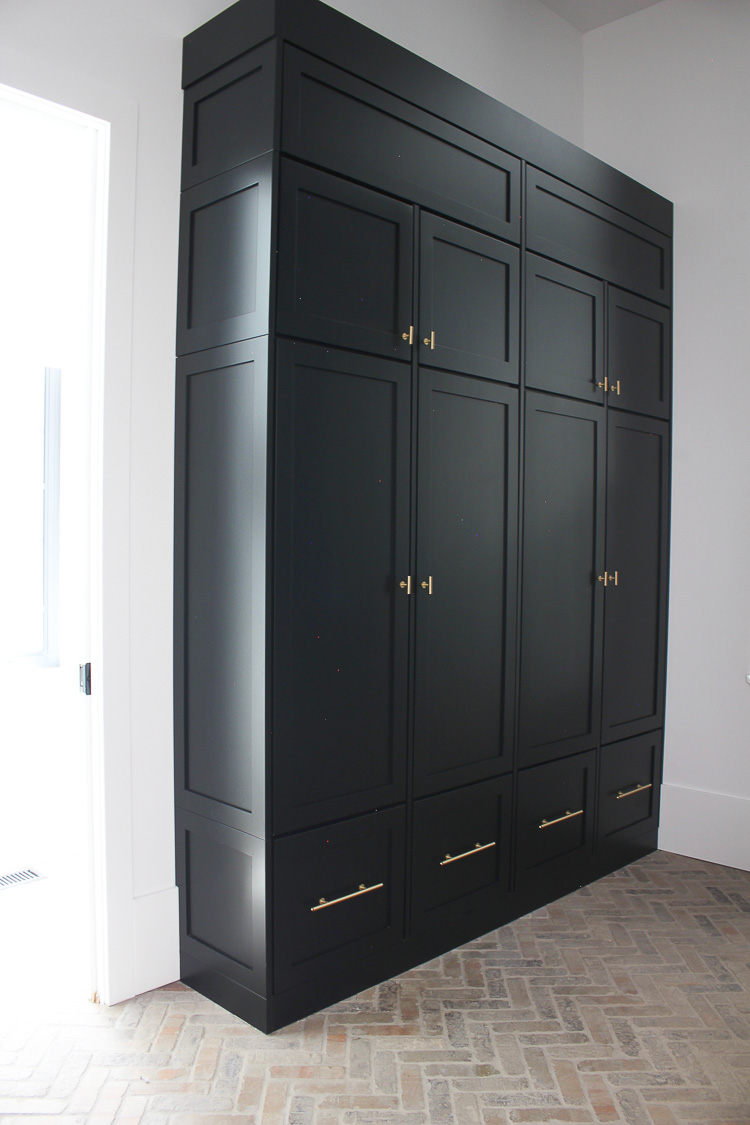 There's a small powder bath off the mudroom with a pocket door. I'll show you that cute space in a later post.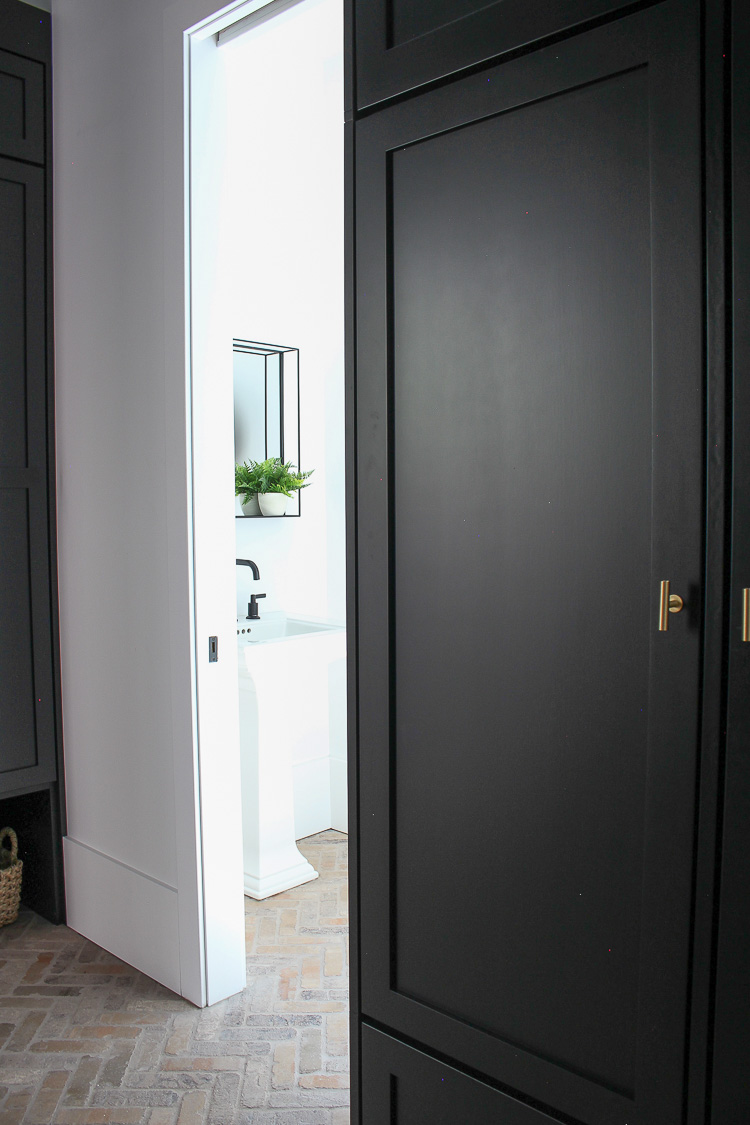 You can see our laundry room straight ahead. The glass door is for our dogs, Kodak and Gucci. We don't want them to feel so isolated when they sleep in here at night. If you haven't seen our laundry room, you'll want to check it out HERE! I'm still obsessed with my cabinetry color choice in there!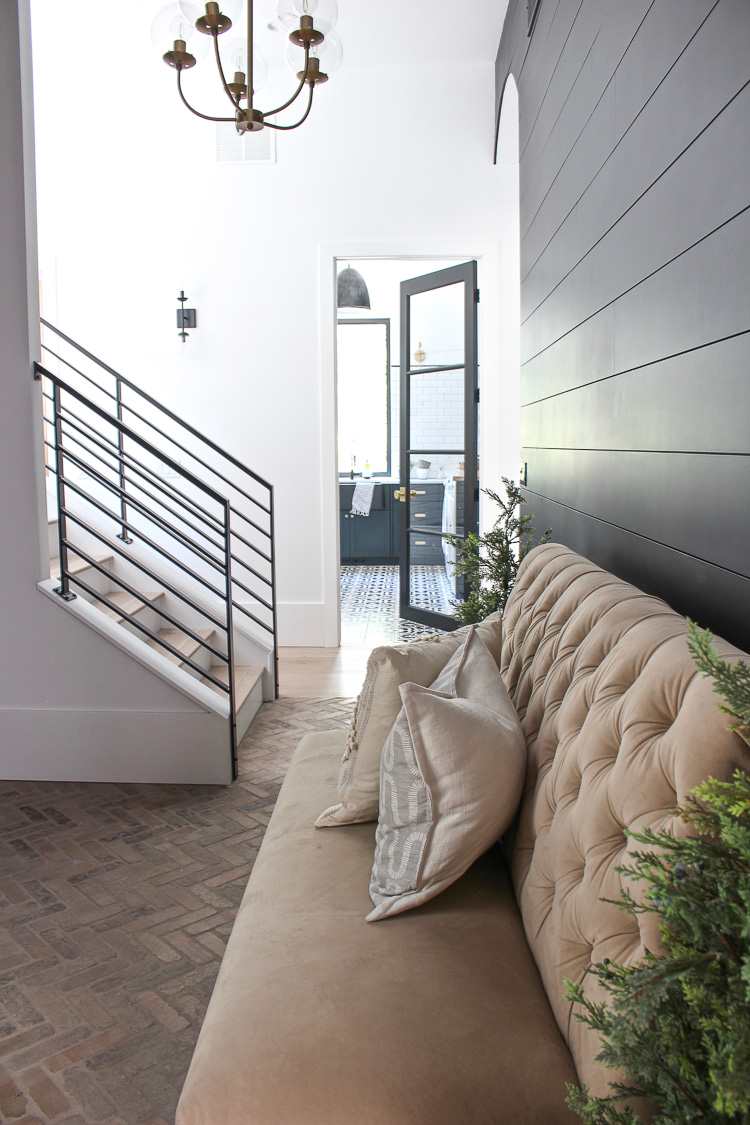 What do you think about the black shiplap walls? I LOVE. Color is Tricorn Black by Sherwin Williams, painted in eggshell sheen.
Yes, they need something more and I have plans. I'm thinking of two long rows of photo ledges, stacked with various size frames. I have my eye on these frames. I love groupings of candid family photos, all in black and white. I think images of ski trips and hiking 14ers would be fun. My problem is narrowing down the photos to display. Maybe that's why this wall has taken me so long…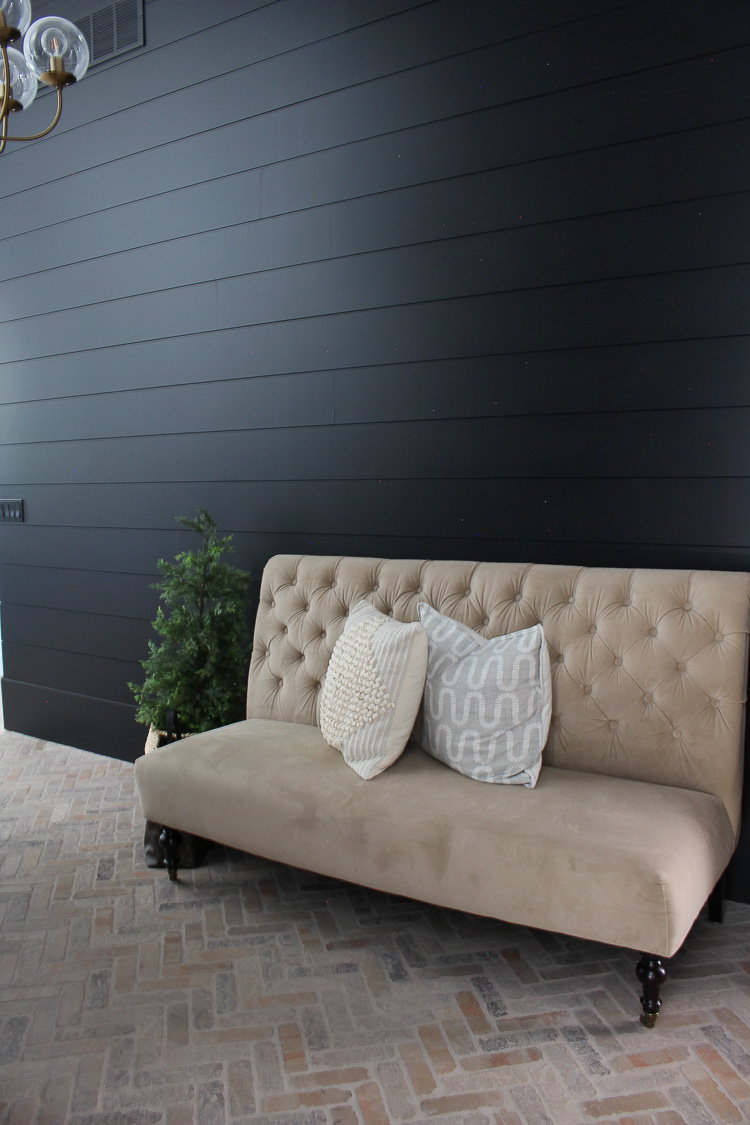 Eventually I'd like to find a different bench. I haven't found one yet that speaks to me so I wait. Yes, furniture calls my name when it belongs in my home. There's really nothing wrong with this tufted banquette, other than it's just not my style anymore. I'm anxious to see what this wall looks like when I get it all figured out. Progress pics will come, I promise. You know me though, snails pace. You're all so patient with me!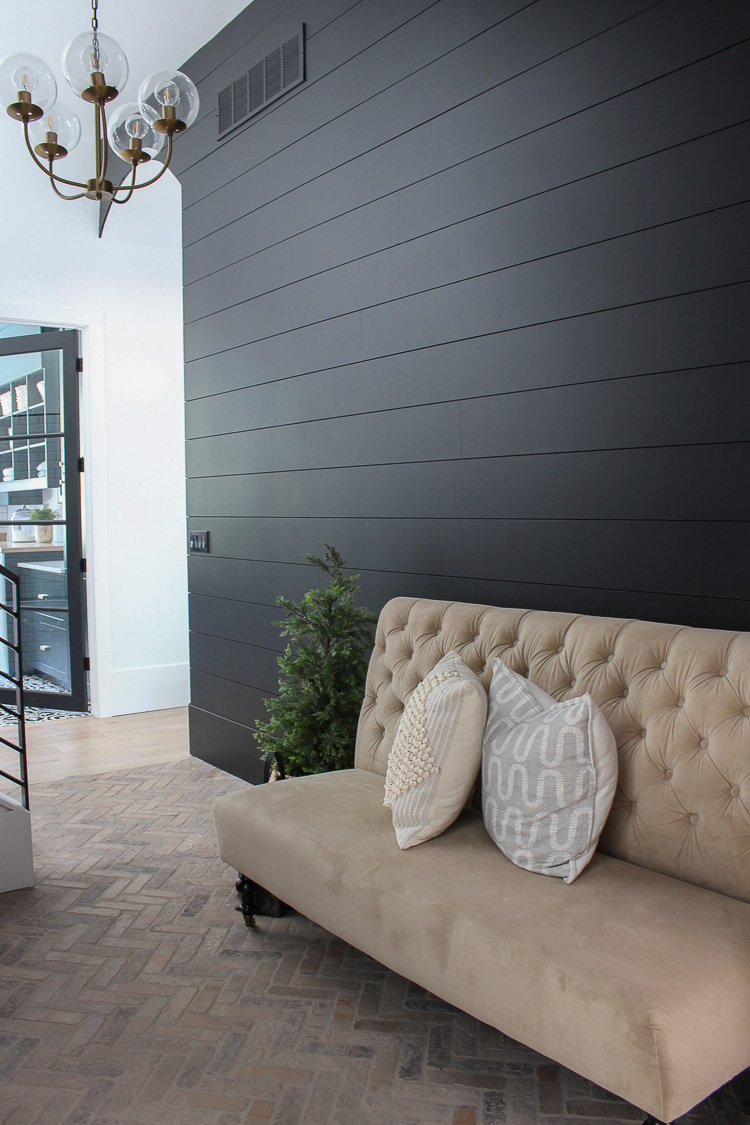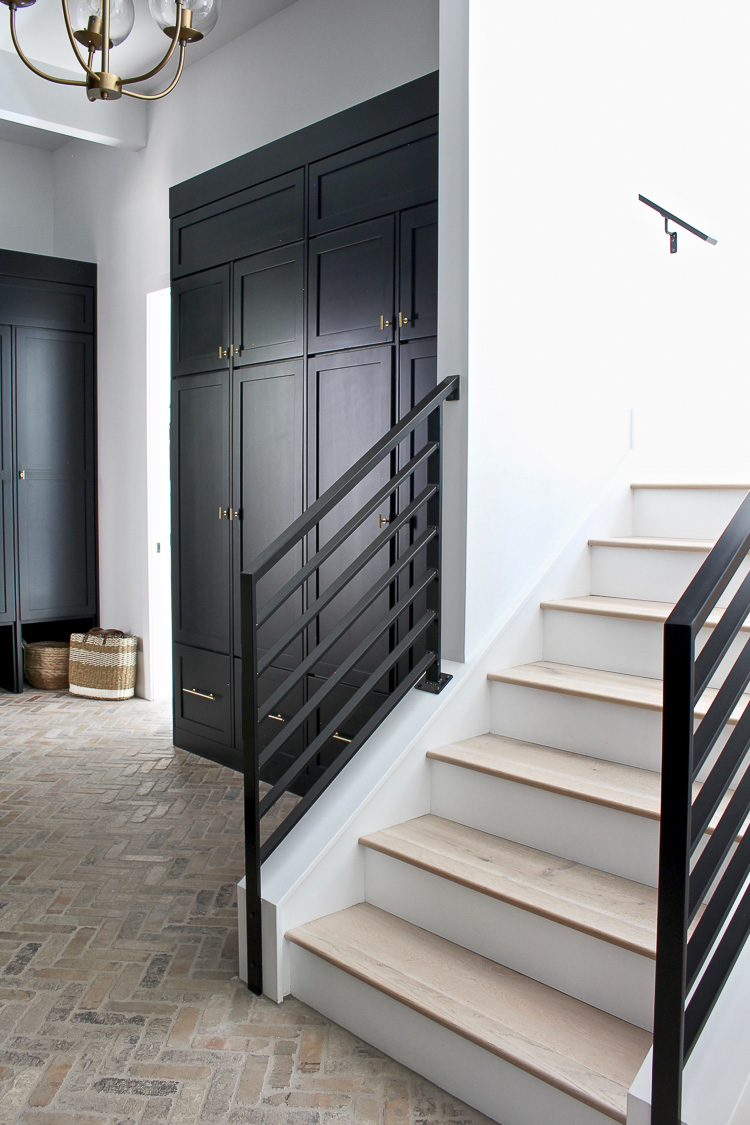 I hope you enjoyed this little tour of our black mudroom. I'd love to know what your favorite part is! Brick herringbone floors, black shiplap walls, or that old banquette (teehee!) 😉
Sources:
Chandeliers – currently out of stock.
Similar chandelier options HERE and HERE
Tufted Banquette/Bench – no longer available but from this store
Pillows – Homegoods/TJMaxx