We have been sleeping in our new home for approximately three months without window treatments. I never realized the sun rose at 4 a.m.!!! Okay, that may be a slight exaggeration but every morning at 5 a.m. we get our wake up call.  You may wonder why in the world I didn't have our window treatments already planned out and installed right away once we moved in. Well, let me tell you, nothing happens fast and in a timely manner at The Forest Modern. I was focused on too many other things to worry about the important things like blocking that blasting sunlight every morning.
Remember our teen son's modern industrial bedroom? I'm still in love with that brick that he masoned himself! If you missed that post you can check it out HERE.
**Affiliate links used in this post for your shopping convenience. See our full disclosure policy HERE.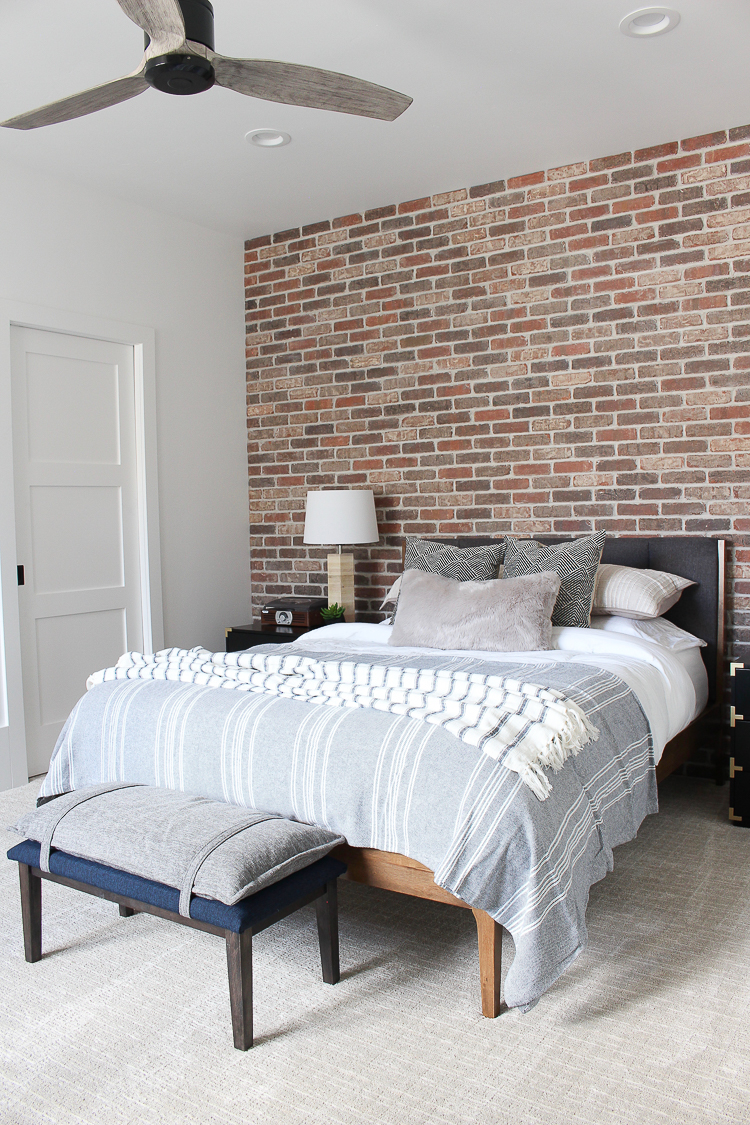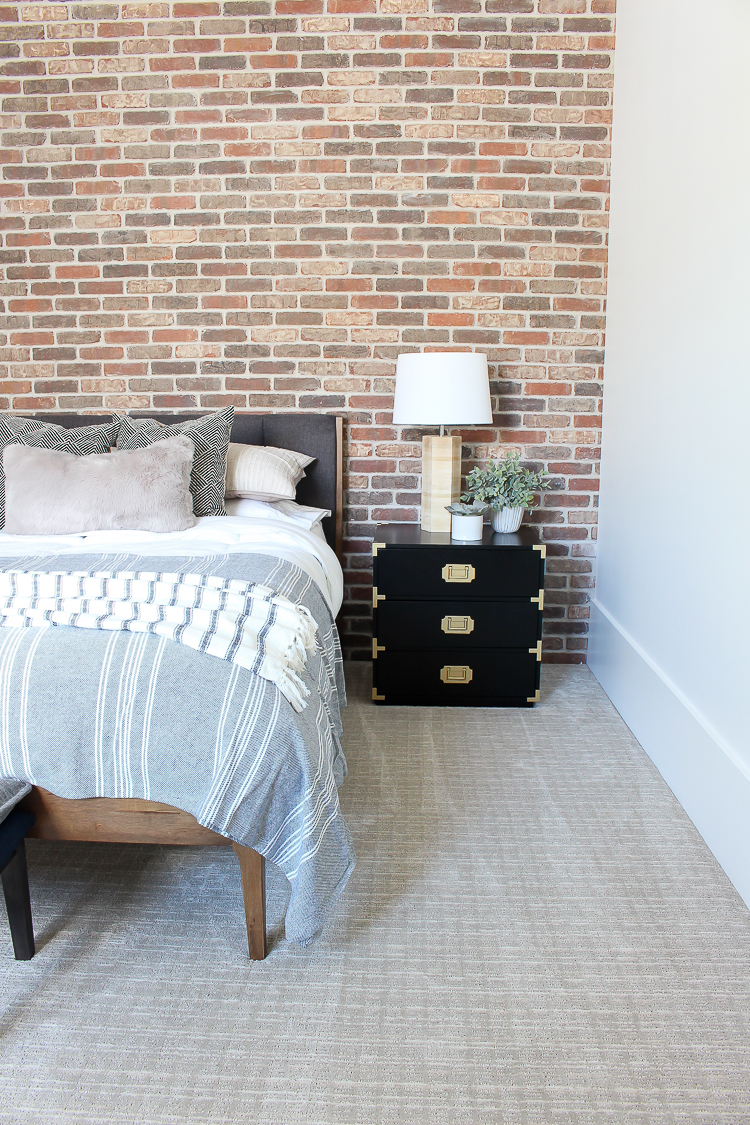 In our last home, we had white plantation shutters in all the bedroom windows. Although I loved them for their clean look and practicality, they wouldn't work with the design in our new home. I didn't want to block any views of our pretty forest nor did I want to cover up the black windows.  When Blindsgalore reached out to me to consider them as an option for window coverings, I couldn't wait to get going and look at their selections.  They have so many options to choose from with quality brands!
My approach to window treatments for all of our boys' bedrooms was to find something that blocked that morning sunlight yet didn't take away from the views outside during the day. Roman shades were my answer. After looking at all the many options out there I decided to go with Blindsgalore Designer Roman Shades.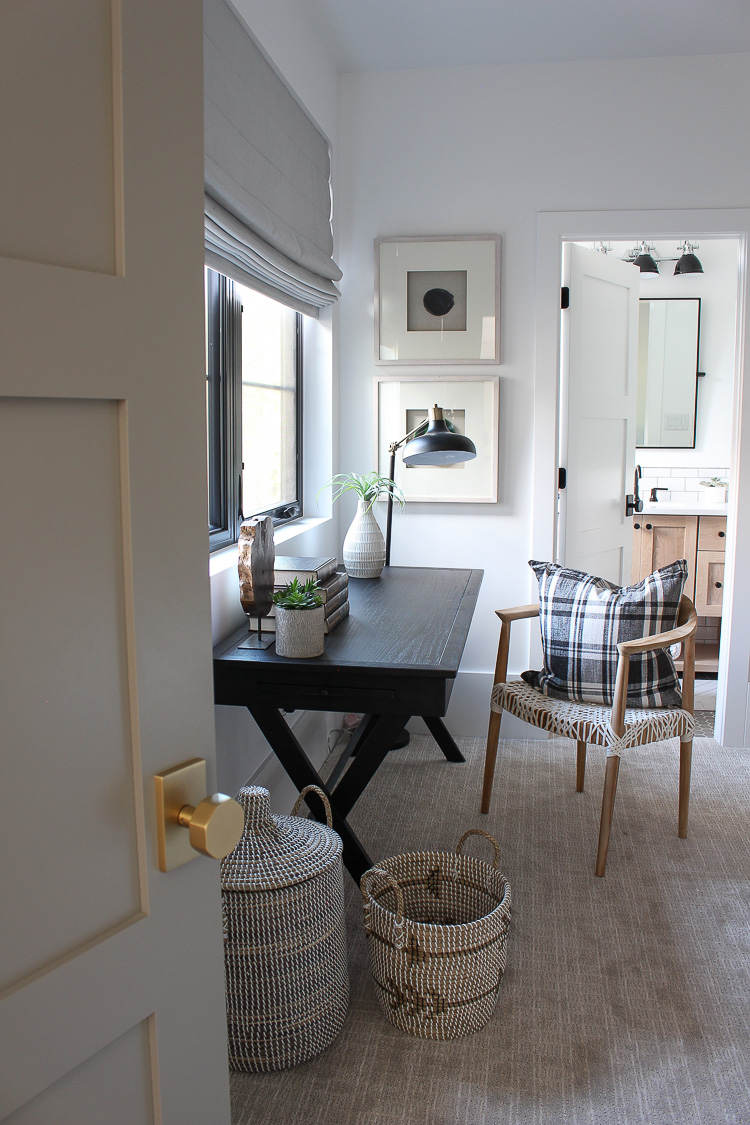 They are affordable and available in many color options and can be made with light filtering or room darkening features. You can check out all of their styles, features and the roman shades I chose HERE.  I love how neatly they stack up. A modern, refined look.  I went with a plain fold in a color called Americana – Silver Dust 477.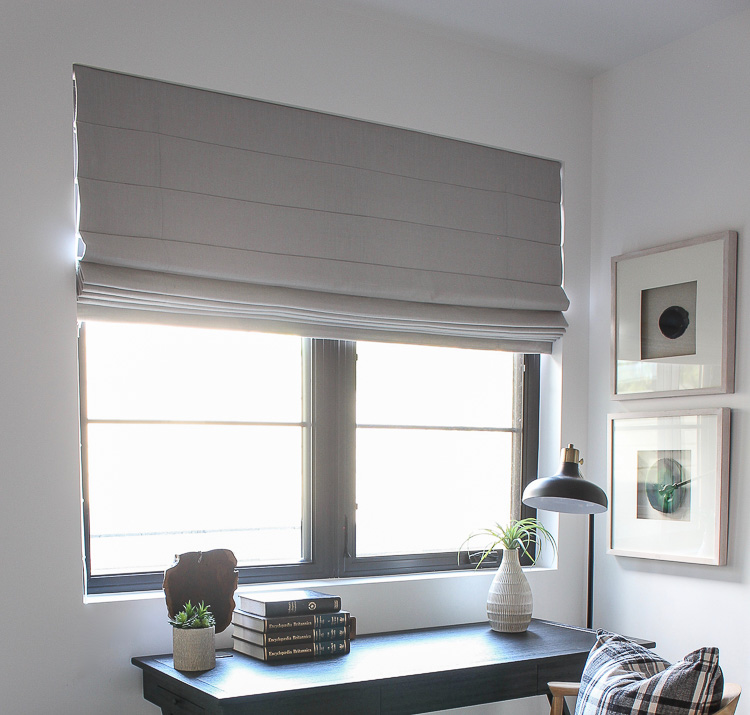 Funny thing is, our son (Ethan) got so used to having no window treatments all summer long and the sun being his "alarm clock" that now he leaves his roman shades open most of the time so the sun will wake him up in the morning for school.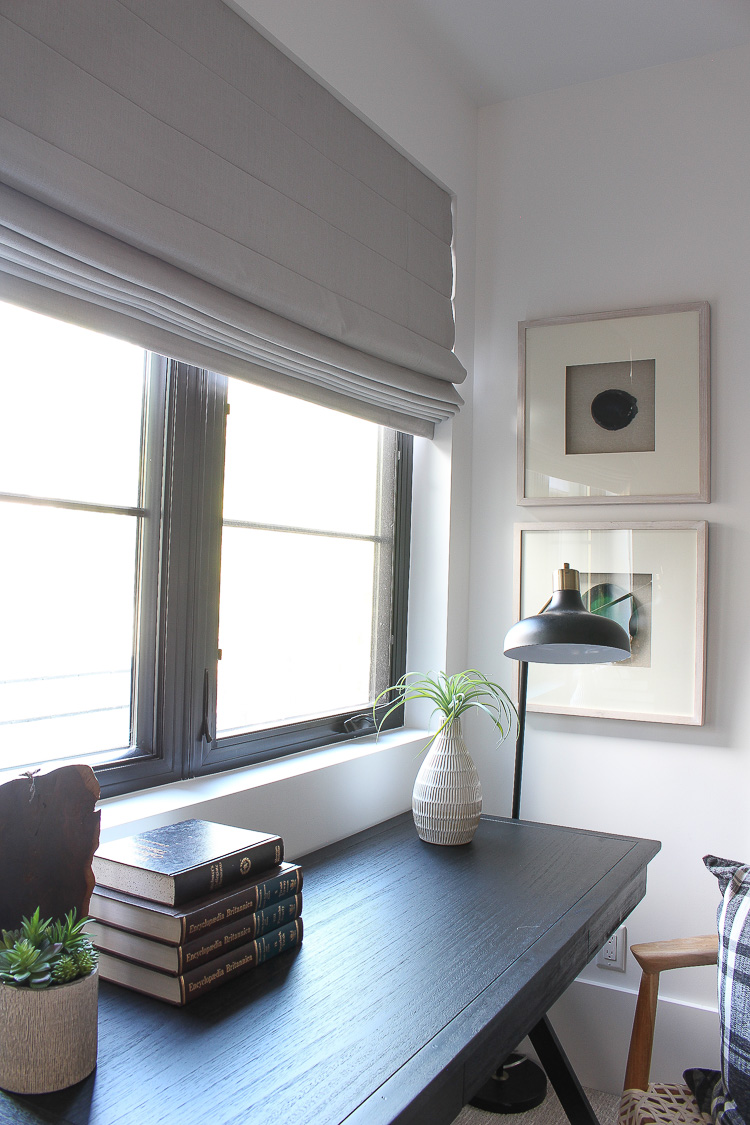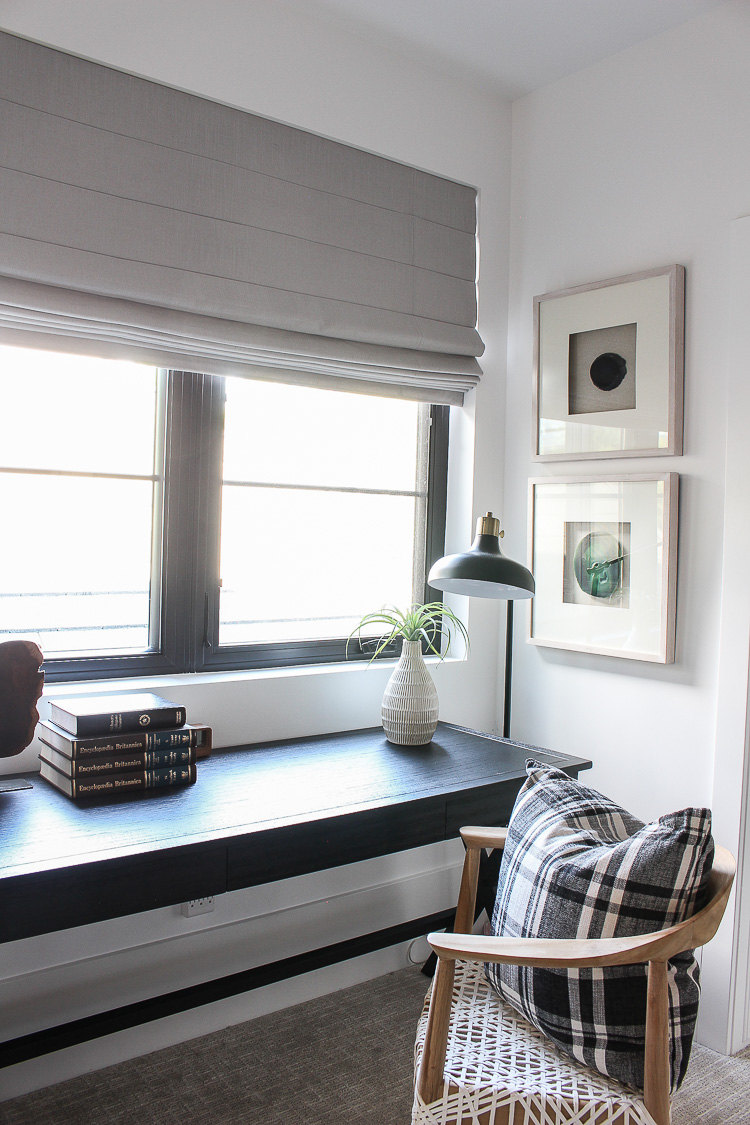 We also finished up this side of his bedroom with this desk which has been a favorite of mine (our younger son has the same desk in this color).
Remember in my recent post HERE how I mentioned buying furniture that can be shuffled from room to room? Well, this chair was borrowed from our work station in the pantry and I'm about to order another one (currently on sale!). I love being able to play "musical chairs." Also, do you recognize the wall art from our loft in our previous home? (Side note: that room blew up Instagram and was the most popular room in our previous home. Tour it HERE).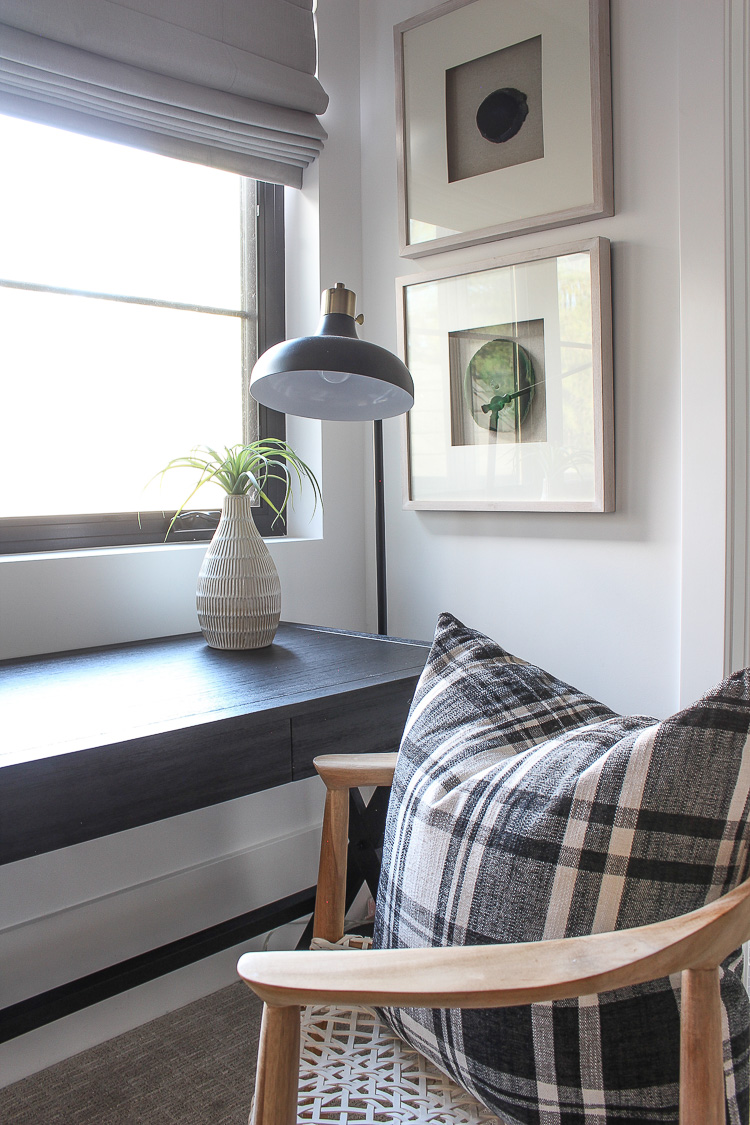 Of course, no kid uses hard copy encyclopedias for homework anymore but I still love using them in my decor. Truth…one of my favorite decor pieces that I hunt down at thrift stores and goodwill.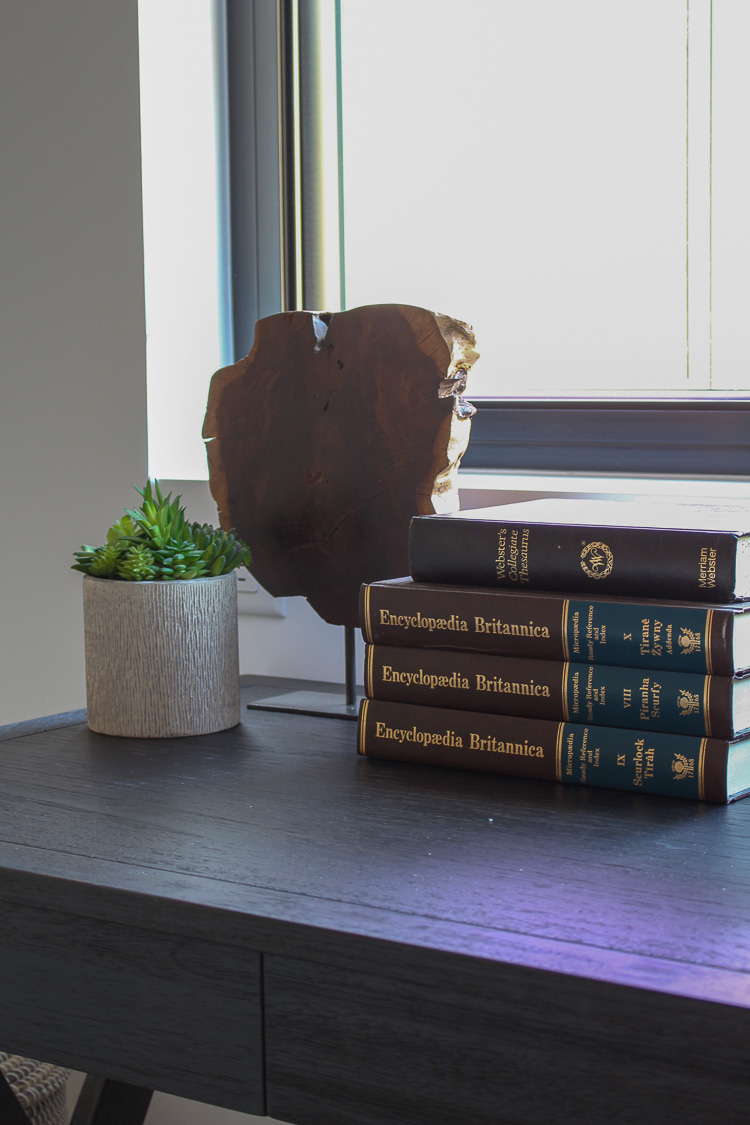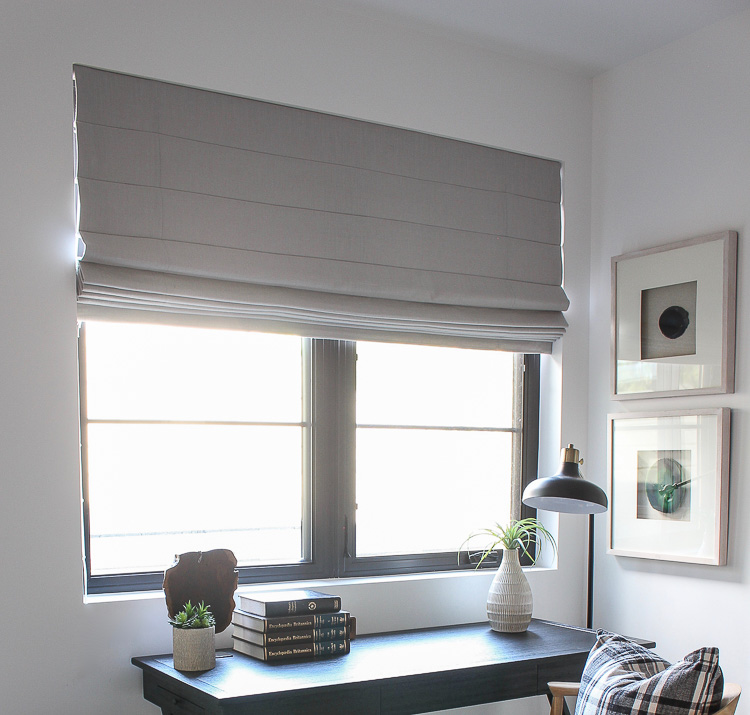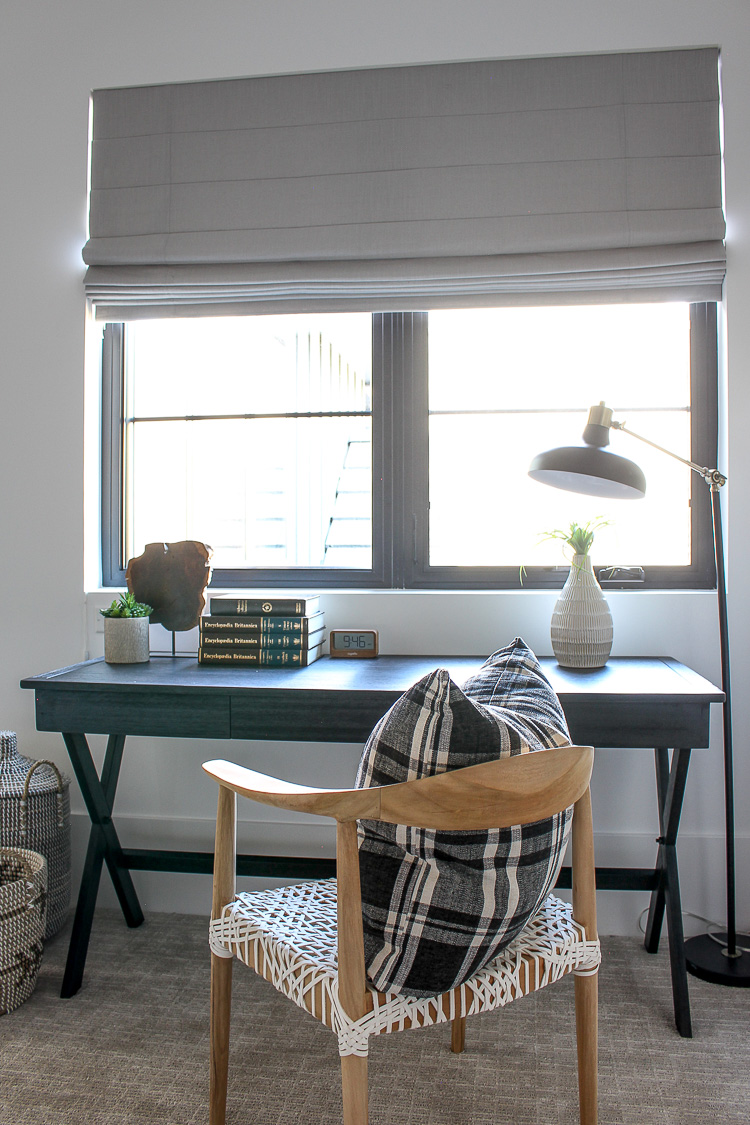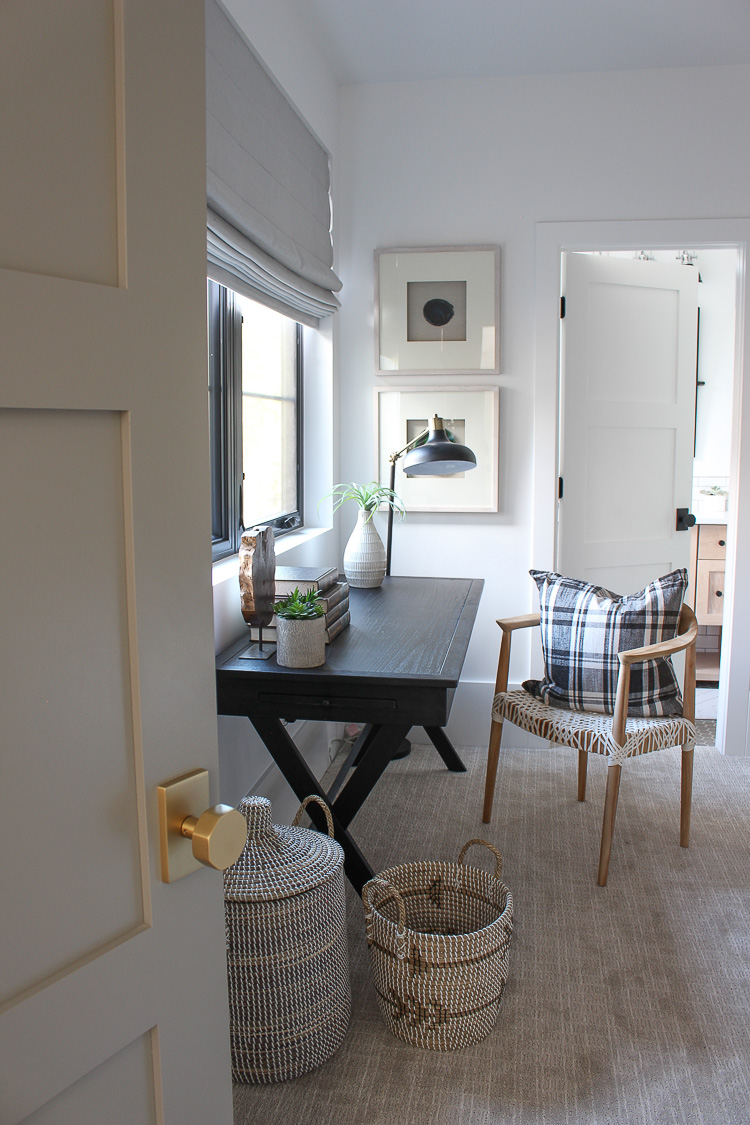 As you can see, there's a teeny tiny glimpse of his bathroom. That reveal coming to the blog soon! Of course he helped me with the design. I may need to hire him as my new design assistant. 😉


Thank you to Blindsgalore for partnering with me in this post. I partner with brands I trust and can confidently recommend. As always opinions and photography are my own.