The Forest Modern: Windows and Stairs
Hello hello!! This week has been quite the crazy one with SO.MANY.DECISIONS to be made at The Forest Modern. I have some new updated photos to share of our windows and stairs! No more climbing 12′ ladders to get upstairs! Woo!! Panic would set in every time I had to get on that ladder, even worse is the going down part. I'd give myself a confident little pep talk every time. Thank goodness those days are now behind us!
My kitchen island has become my permanent desk top with drawings and plans scattered all over. Certainly doesn't look as sparkling clean as it did in this post. I did manage to keep those flowers alive for a week which is pretty darn good for someone who rarely can keep a plant or flower arrangement alive for more than 3 days.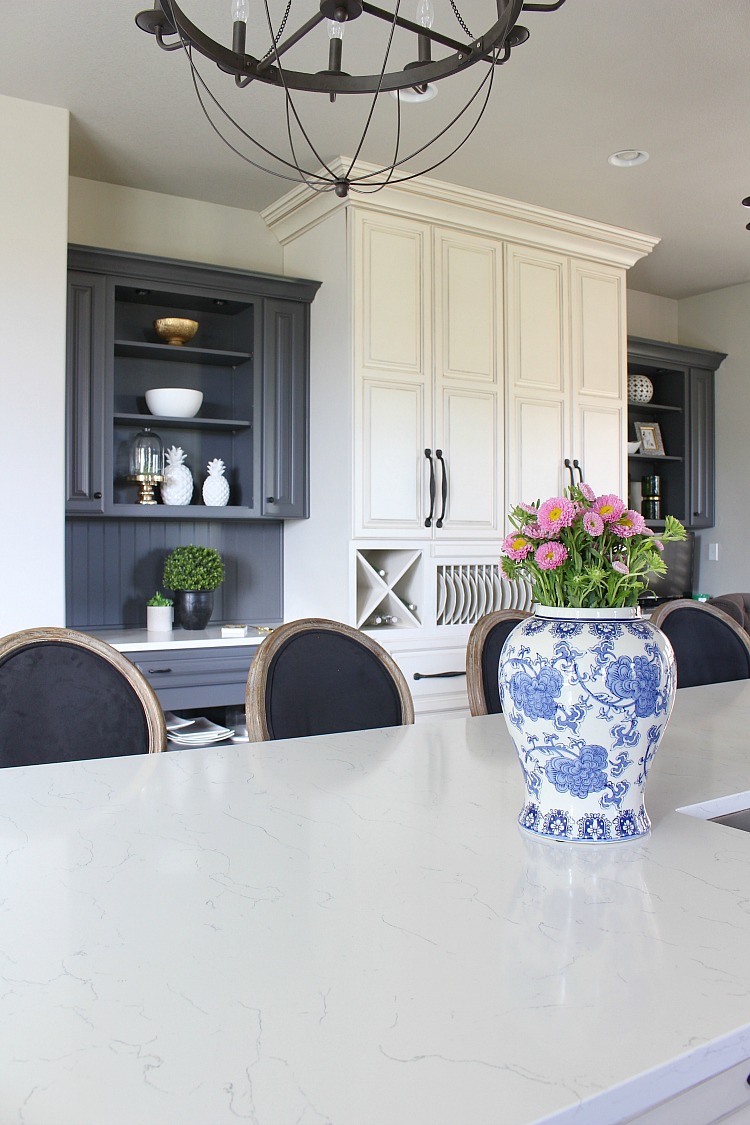 Kitchen Sources HERE
I shared on Instagram earlier this week that I'm having a hard time slowly saying goodbye to this home that we've lived in for over 7 years. I feel like I'm breaking up with it and it's definitely bitter sweet. We are so excited to be in The Forest Modern, but that doesn't mean we don't still love our current home.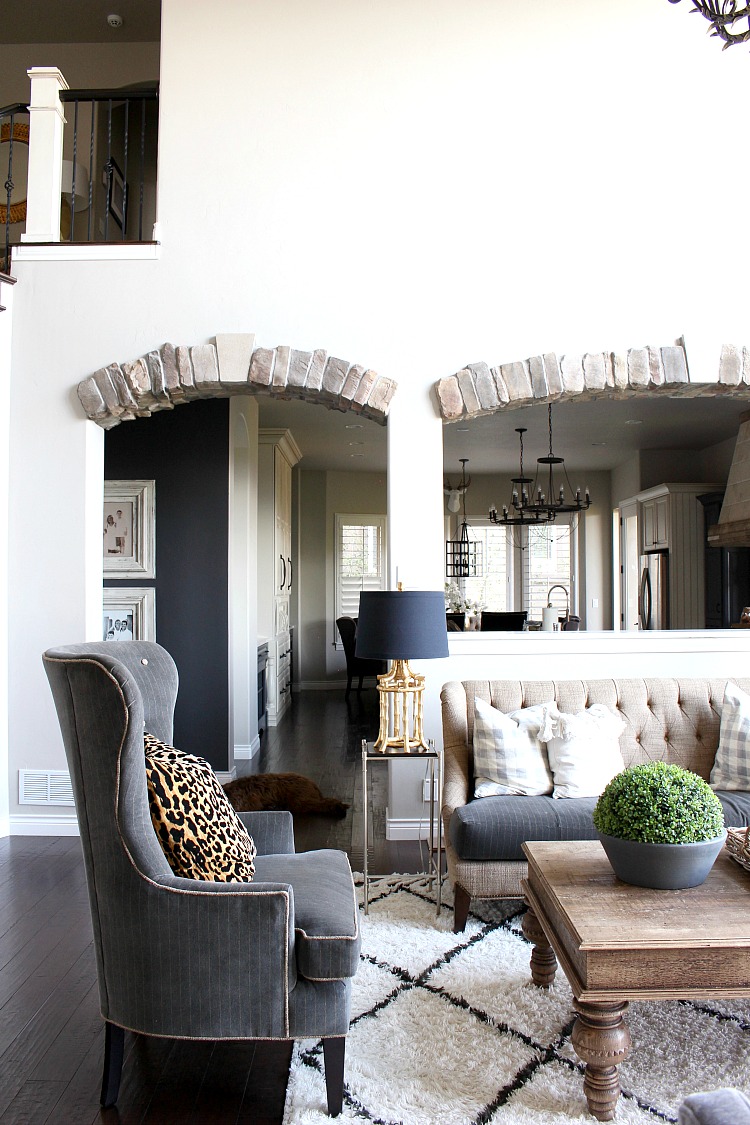 The main reason we decided to move was because we wanted to live on more land with more privacy from surrounding neighbors. We love our current neighbors but our houses are just way too close. It'll be so nice to look out our new windows and see forest trees instead of what our neighbor is having for dinner which you can see straight from our living room. No offense to them, but I prefer the trees ;).
I think what I'm struggling with most is that I'm a nester by heart. I LOVE to nest in my home. Clean, organize, rearrange furniture, decorate and so on. I barely have enough time to keep it as clean as I like it be now that I'm in the complete throes of overseeing this new home being built. I still make sure my kitchen is cleaned up after every single meal. I can't stand a dirty sink and I love the sound of a dishwasher running. Music to my ears. However, our countertops are overflowing with house plans, bathroom and kitchen fixture magazines, sharpies, sketch pads…you get the picture. Train wreck for sure.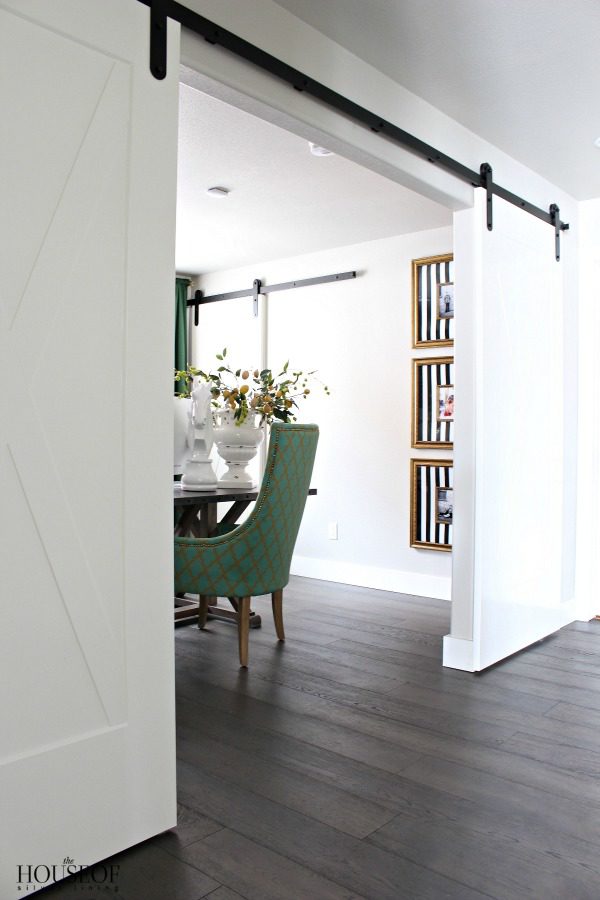 With summer here and the boys home I've planted all my work in the kitchen instead of my office. It's just easier to be in the hub of the home rather than in my hole in the basement. We shuffle the clutter to the side so we can eat meals and then I spread it all out again. The new norm around here.
I miss so much though just puttering around the house and tidying up and rearranging throw pillows or even shopping for new little updates for the home. It makes no sense to buy anything new for this home and I'm kind of proud of myself that I've kept to this for almost a year. Well, maybe a few Homegoods pillows landed in my cart once, but who's counting? Oh, and maybe these buffalo check pillow covers that I LOVE (on sale for under $30!!). I bought them after I did this master bedroom makeover.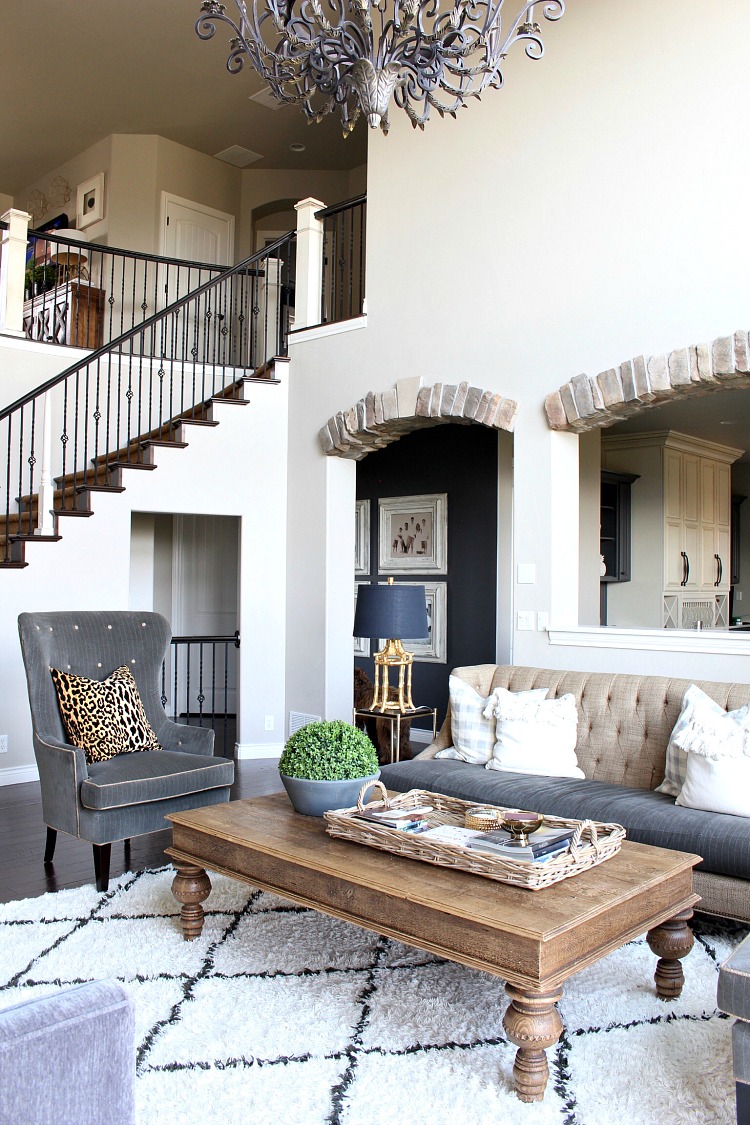 Living Room Sources HERE
Designing our new home has become my full time job and all focus has to be on that baby for now. With that said, there has been a whole lot of good things happening at The Forest Modern this week!! Framing is just about complete and I am thrilled with how its turned out! Seeing this home develop from initial ideas in my head to my amateur sketches on paper to actual walls and a floor plan is so surreal!
We started this project with an architect over a year ago but, long story that I won't get into now, we didn't finish with that architect. This house design is about 90% my ideas and sketched floor plan with honestly about 10% of that architects "ideas". We finished with a draftsman that completed our plans as far as getting us through the final structure tweaking and onto engineering. Not the easiest avenue of designing a home but I've learned a TON through this long, hard process. I think its groomed me to better help future clients in new design builds. The best thing we can gain from our trials is turn them around and help others not make those same mistakes, right??
I will say that one great idea our former architect had was to add these stairs off of our mudroom.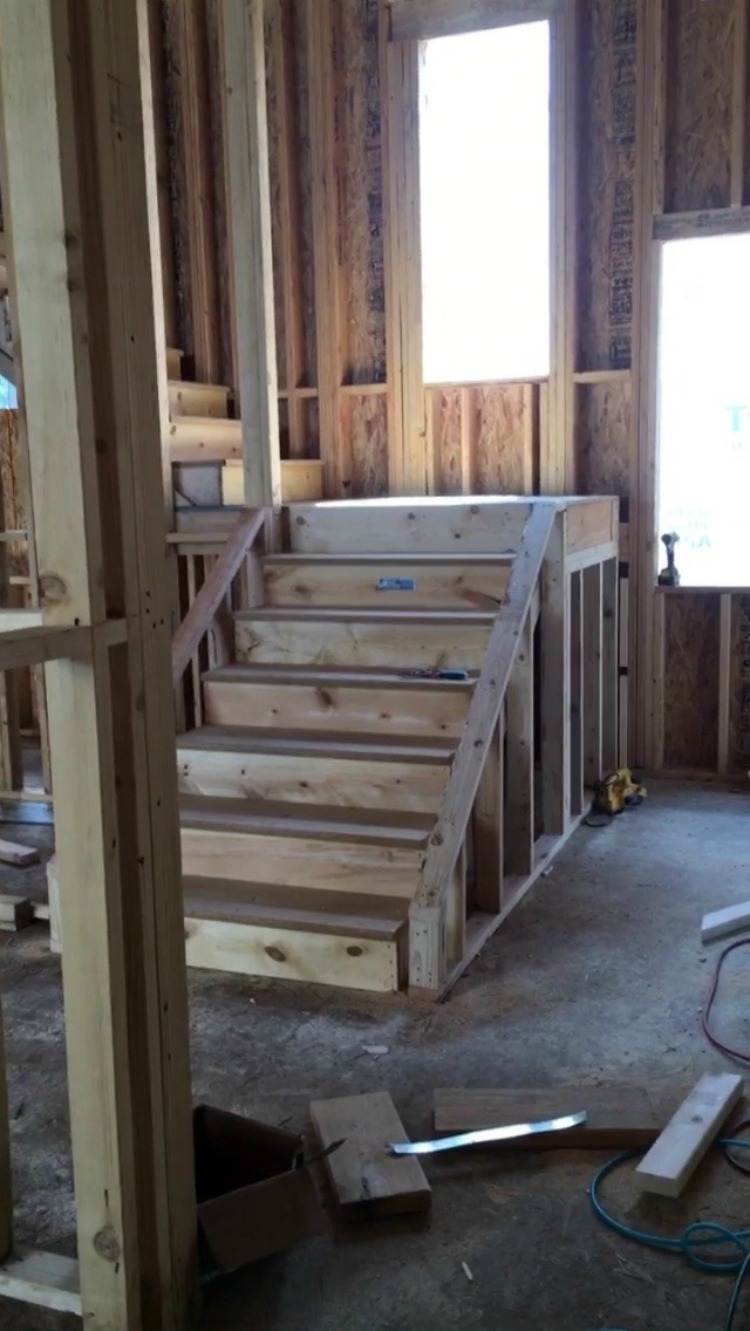 I have plans for some fun built in lockers in this space which will be a dream to store the winter gear, shoes, backpacks. You know, all those things that we tend to trip over when we walk in through a back door or garage door. Everything will have a place, neat and tidy, just the way I like it.
The stairs at the front of the house were also installed.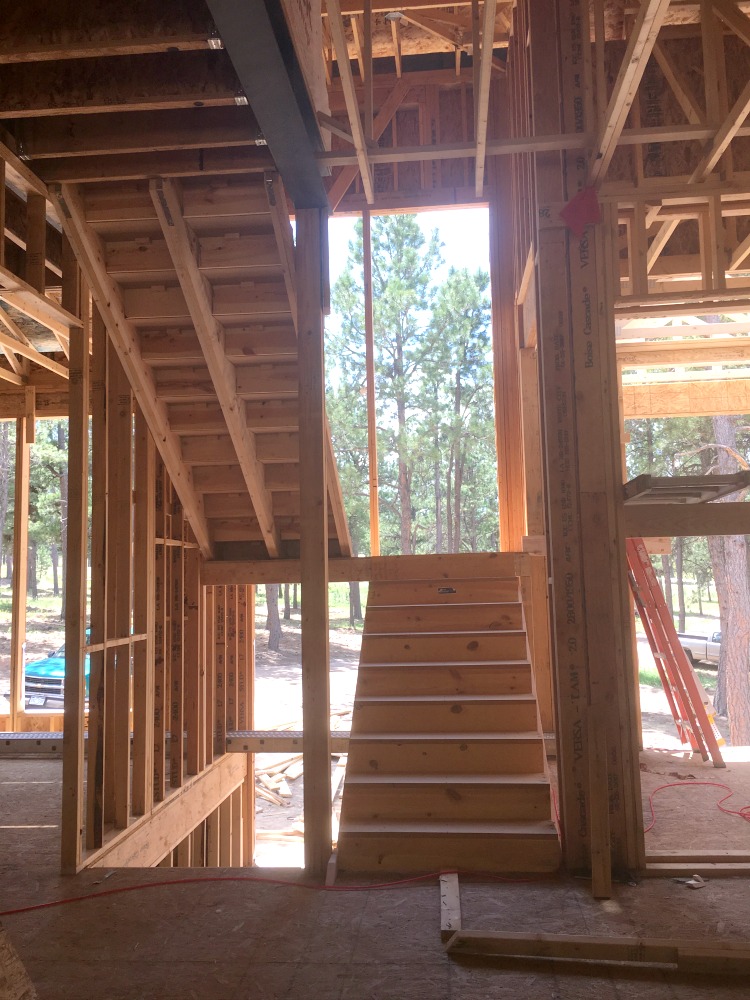 From the exterior, this area is a huge focal point. 12′ stacked windows will be in place soon and you may find me just running up and down those stairs for days, because I LOVE! Off to the left is a peek into our dining room and to the right is our main entrance.
All the windows arrived this week and are currently being installed. I spent months (not joking) figuring out our windows. I'll get into the details of why I chose these windows in a later post but I'm over the moon that they are black inside and out. They are the Andersen 100 series windows.
I mentioned before that as the house was being framed I decided to add more windows in a few rooms. Our hearth room is one of those rooms and the change made a HUGE difference.
Before, the wall to the right was enclosed.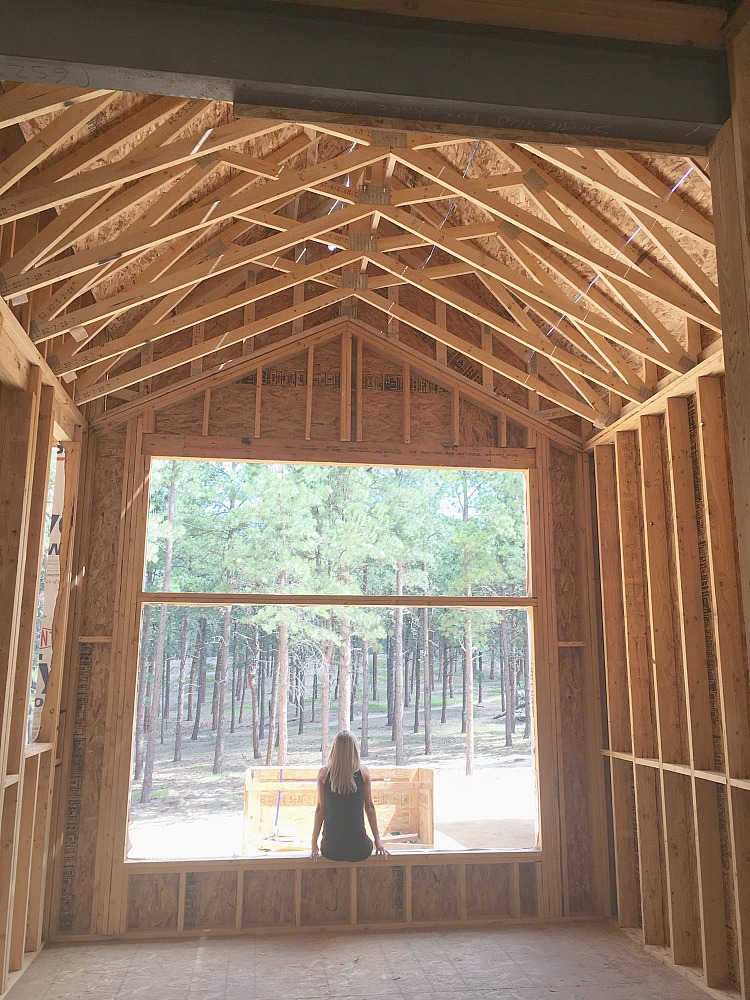 I had my framers open it up this week and I am so happy I made this decision! The view below is standing where our kitchen sink will be. Now I can look straight through those windows. The space feels less confined.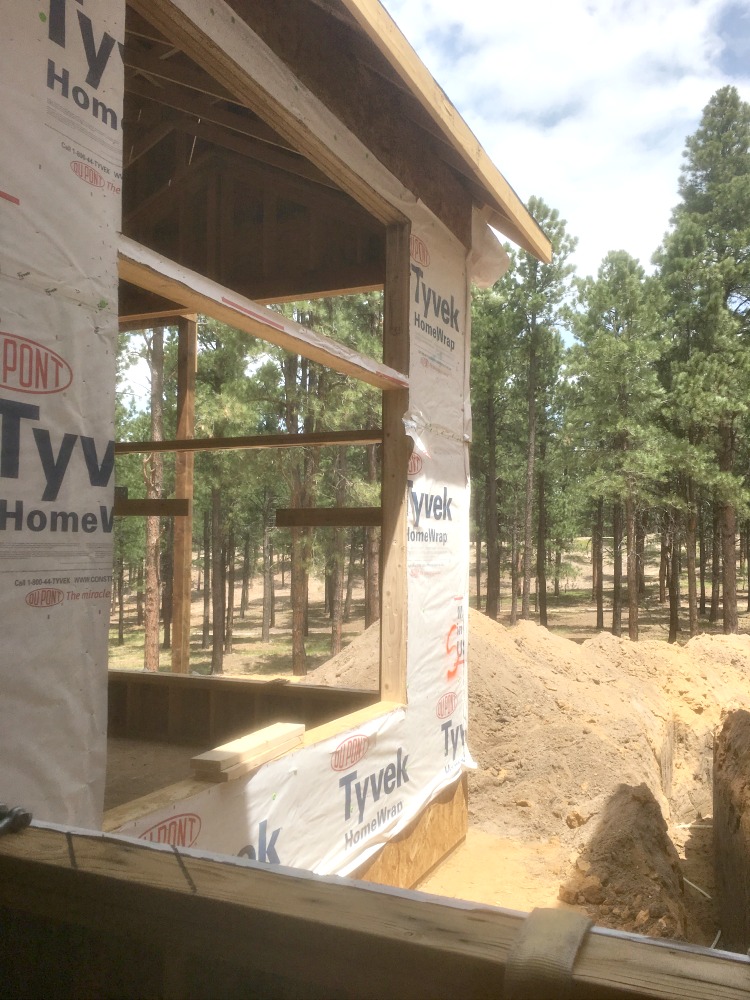 Here's a better look at it from the outside. You can never have too many windows in my opinion. Since we have no one behind us I don't even plan on covering them for privacy either.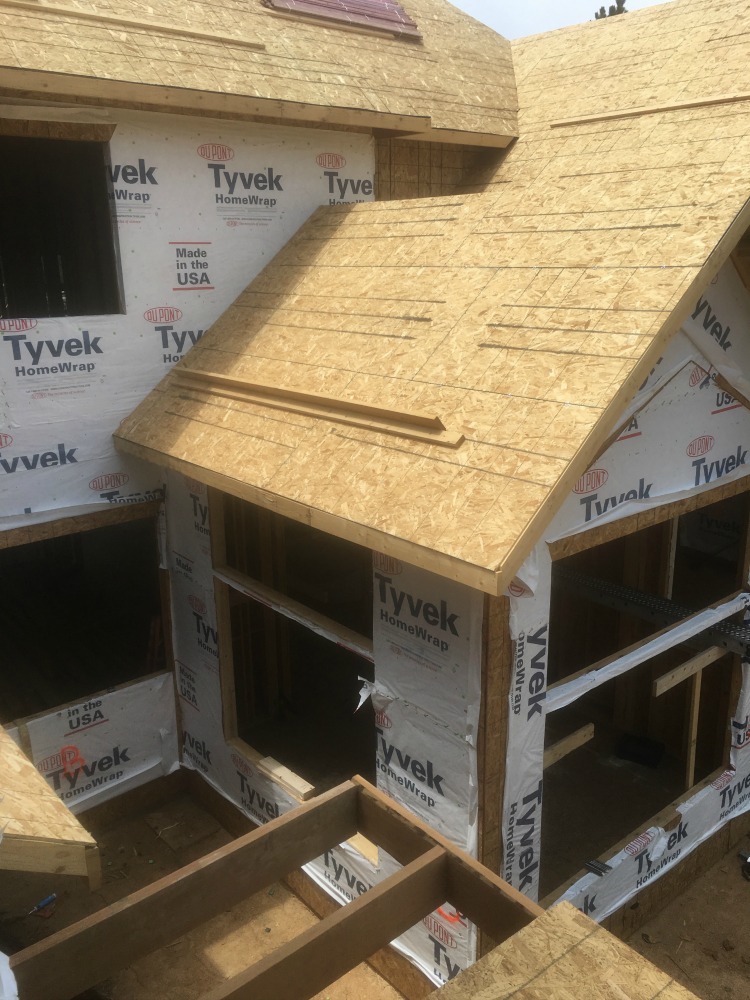 The room I'm standing in to take this photo is a fun one with this little balcony. It will be our exercise room and I plan on planting a treadmill right in front of those doors.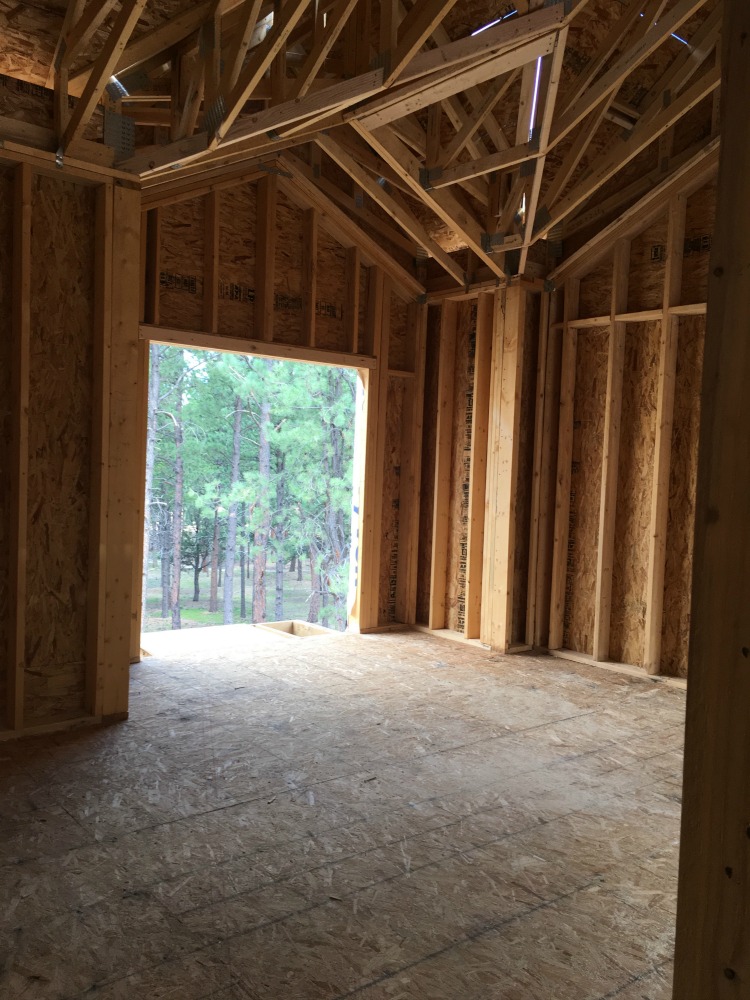 For the days it's too snowy to run outside. I'm telling you, where we are moving is a nature lovers dream. So many good places for me to run. I may run into a bear, moose, a few deer. Okay, that freaks me out a tiny bit…probably won't see a bear. I keep telling myself that, especially after I saw a bear cub running around in this area a few years ago. Hopefully, mama isn't around!
Last but not least, I finally figured out the layout of our kitchen, primarily our island. I spent four hours at the house yesterday with my cabinet maker taping out island layout options. I debated back and forth on one big island or two smaller islands. The best way for me to make a design decision is taping it out on the floor. You may recall this is how I designed our bar and it's layout HERE. We even placed 2 x 4's down as well to frame out where the island(s) would go.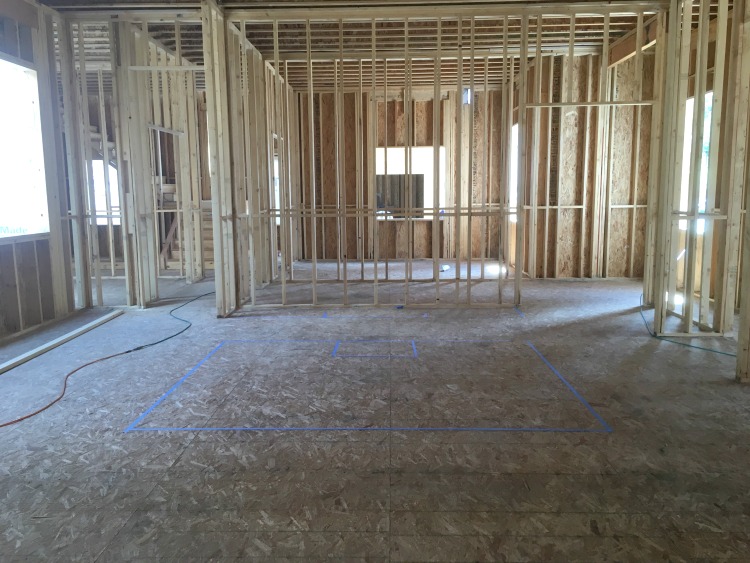 I decided to go with one big island. I think it's going to look fabulous!! Now I need to get busy with designing all our cabinets. I'm fine tuning all the looks I love and getting serious about dimensions and details now. This is where it gets super fun!
I'm so glad the framing is behind us. Gosh, that was so stressful not knowing what this house would actually look like once the walls were up. I can say that overall we are thrilled. Yes, there could have been a few things done differently but I think that's the process for any new home. It's just not reality to get every single detail perfect. You have to give and take, compromise in some areas and go for it in other areas. Building a custom home is a labor of love and you have to be ready for a roller coaster ride when you begin that journey.
Thanks so much for following along with our journey of The Forest Modern! I love hearing from you all and getting emails. You can always leave me a comment below if you have any questions. I'm working on a Q & A blog post about the ins and outs of building a home. So if you have a question you'd like me to consider for answering, leave a comment!
Have a great weekend!