Thinking of Styling The Pool Oasis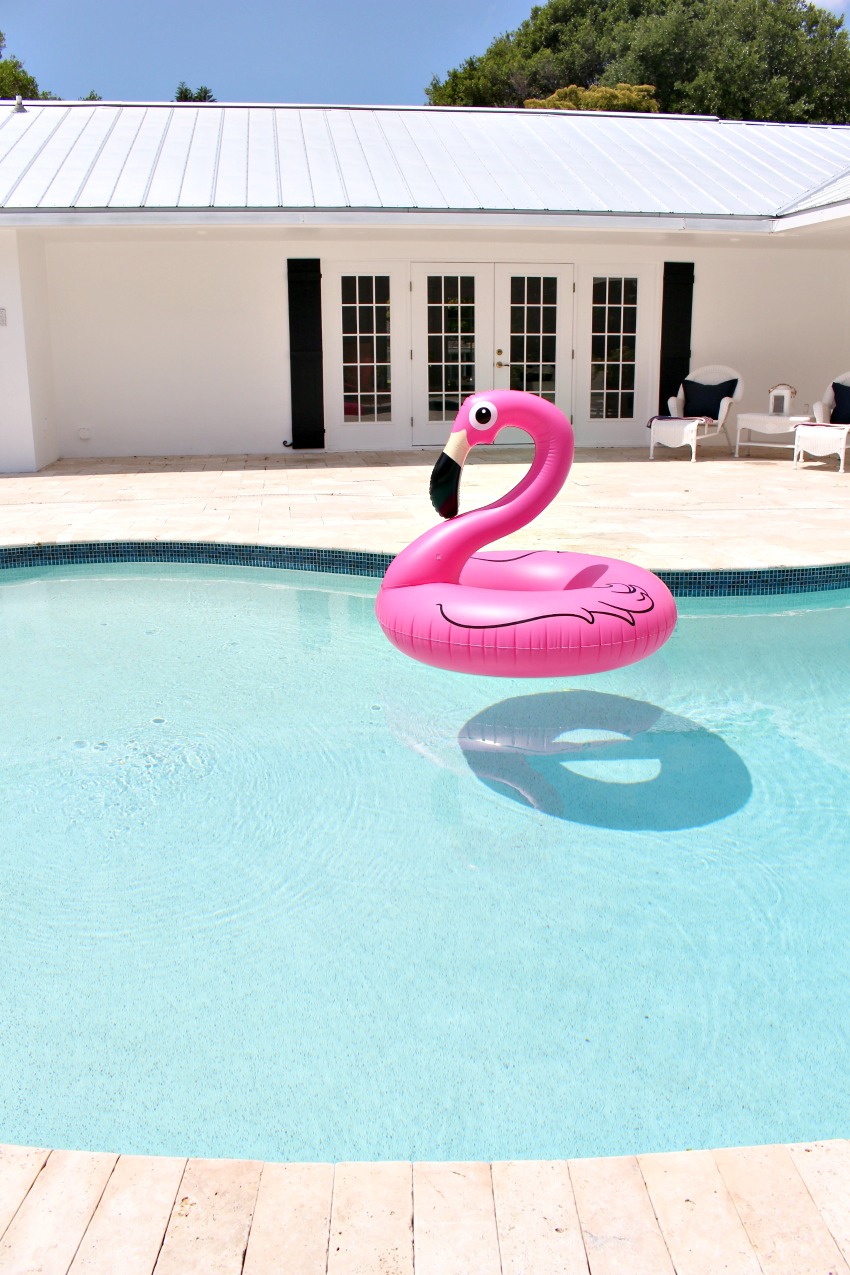 I haven't shared too many photos of our backyard at the beach cottage which is funny since that is my favorite part of the property.  When we bought the house, remember I mentioned that it needed a lot of work and gutting? Well, the pool and courtyard area did receive a huge gutting a few years ago.  I need to dig through my old photos to share with you what it looked like before. The pool was crumbling, the brick on the patio was moldy and a huge ugly screened lanai made it feel "not so oasis-y."  With summer upon us and longer weeks spent here for vacation, I've been thinking of styling the pool oasis.
We've never invested in nice patio furniture since we face the issue of where to store it while we are back at our Colorado home.  The heat and humidity in southwest Florida can destroy anything left outside if not frequently wiped down and cleaned.  Well, that's just not practical for us since sometimes we aren't here for a couple of months at a time.  Now that we have finished gutting the inside of the home (if you're new to the blog, you can see the renovations HERE), I'm ready to spice up this outdoor area that we love so much.  Big ol' pink flamingo is definitely adding the pop of color I love (haha!), but doesn't she look a little lonely??
Our pool patio area is actually quite large and we have different areas that we could create some nice seating areas.  As of now, we only have those two wicker loungers you see in the corner and an old patio table with HOT PINK chairs (ties in with the flamingo ;)) that I got on mega clearance from Target a few years ago.  Nothing fancy.  We don't need fancy here but we do need some more comfortable seating, maybe a nice lounge chair so I can stop laying on that hard travertine tile to sunbathe, and an umbrella for our table so we can actually eat lunch out here without frying in the sun.  Did I mention how hot it is here??? All you southerners can relate I'm sure.
I've been on the hunt for the most important need, which is the umbrella and have rounded up a few that caught my eye. (psst…#1 stole my heart!)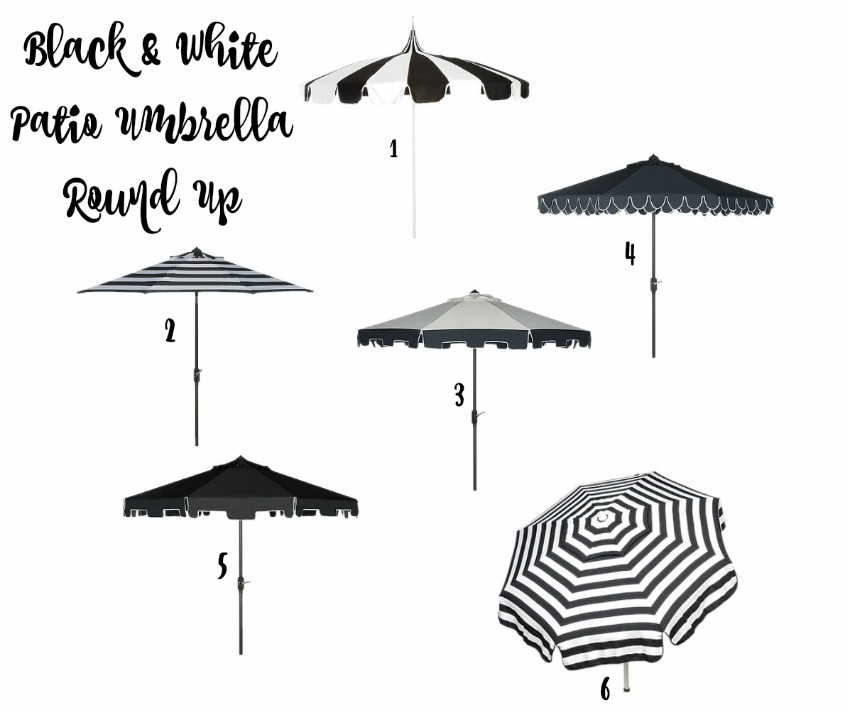 Black and white stripes are my thing here at the beach cottage. From this chandy in our living room to these drapes in the family room.  Notice the house is white as well with black shutters.  It's like those shutters give that strip of black needed to carry out my black and white style.  So when I found these patio loungers, I.wanted.them.now.  They are a GREAT price and even on SALE! Woot!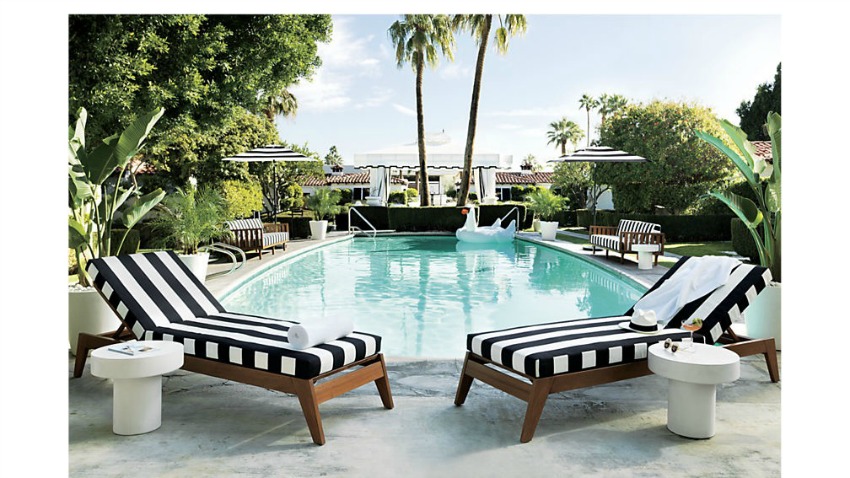 And how about these outdoor-safe stripe sofas? Also on sale. Woot Woot!!  If we lived at the cottage full time, I'd guarantee buy these! Can someone please just buy these up for your patio and send me a pic?? I'm serious here, I need to live vicariously through someone. Outdoor furniture is getting crazy good these days.  Gone are the days of the folding lawn chairs.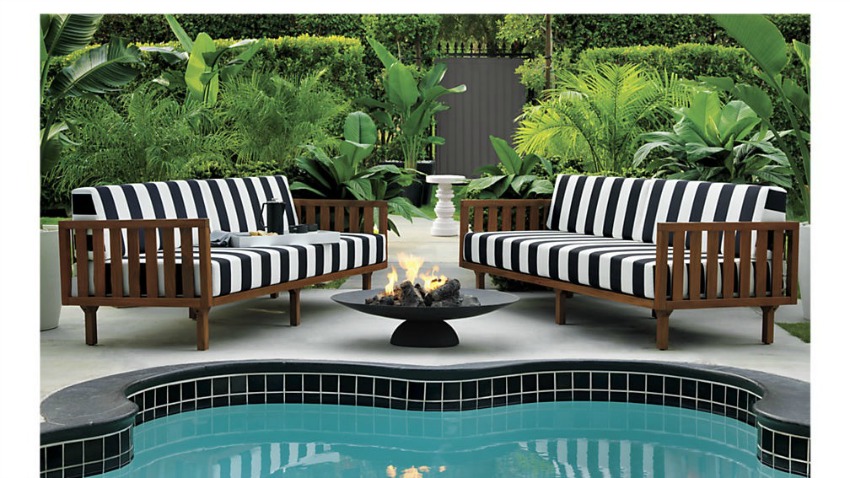 Need a little makeover for your pool oasis? Black and white is timeless, classic, and makes such a strong, bold statement. We're heading to the cottage this week so make sure you're following me on Instagram to get more updates on this space!