Hi friends! First off, I want to say THANK YOU for all the love you showed about the fall home tours I kicked off the month of September in. They were so fun to put together while getting the home fall cozy, but I'll admit, left me exhausted. There is so much that goes on behind the scenes to get a home "photograph ready" for a blog tour. Now that I'm a blogger I can truly appreciate all the work that goes into bloggers opening up their homes to cyber-world to share design and decorating inspiration. This is the season I love in blogland.  Fall Home tours, Halloween Tours, Thanksgiving Tours, Christmas Tours…I eat them all up! As I venture into the known busiest season of bloggers I'm evaluating a very heavy plate I have ahead of me.  This post is about balance, priorities and what's to come.  So if you're here to read purely about design and decorating, then you may want to skip this post, but if you're a momma…read on.  Before you exit, I do have an exciting announcement at the end! (wink)
Balance
A few things have hit me hard lately. Let me emphasize like a "semi-truck hitting me head on" kind of hard.   If you're new to the blog, please take a moment and read more about our family HERE. You'll see that I'm a mom of boys.  Being a mom has been the most important job of my life. I quit my nursing career (pre-design career days) many years ago as a neonatal ICU nurse to be a stay at home mom.  I can honestly say, I have always loved being home with my boys and raising them.  I understand that it may not be as blissful to others out there, but for me, I really have had no greater joy.  I blinked and they grew up. Literally seems that fast.  Our oldest son is in his senior year of high school and that means we are now counting the months, "months" we have left with him home. No more years…months.  Last week I shared on Instagram how I had just gone to a senior meeting at his high school to listen to the college and career counselor give her spill on what needs to get done this final senior year. College applications, college essays, ACTS, SATS, touring campuses, scholarship search, and on and on. She then said something so profound that made me want to bust out in the ugliest cry ever in front of all these parents sitting in the auditorium.  She asked, "did you take the first day of school photo?" and then she repeated, "did you take the last first day of school photo."  Cry.me.a.river.  I realized this is our last September with him home.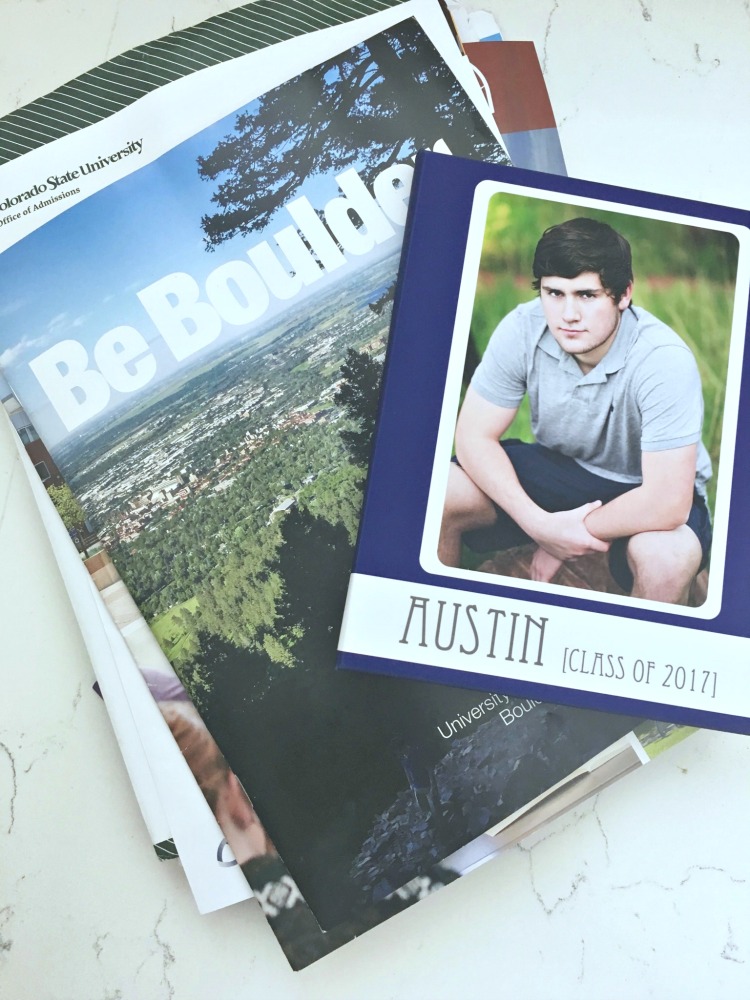 Sitting on our kitchen countertop are the piles of college magazines, offer letters, and applications we receive weekly. I'm so proud of the young man he has grown into and I know that God has an amazing plan for his life. I'm just not ready to let go.  So what does this have to do with blogging? Well, a lot, actually. As I've mentioned, blogging is a ton of work and a full time job. But yet, I see that my most important job is not finished yet.  Raising Austin through his senior year and cherishing sweet moments with him from now until when he leaves for college is the job I want to be best at. Also, pouring into the lives of his younger brothers who are growing up just as fast.  That may mean that all the design clutter in my mind may not be poured out as often here on the blog. It may only be once a week or more if I can manage it in. I do love this blog and I love all of you, my readers, who have been so faithful since day one!
Priorities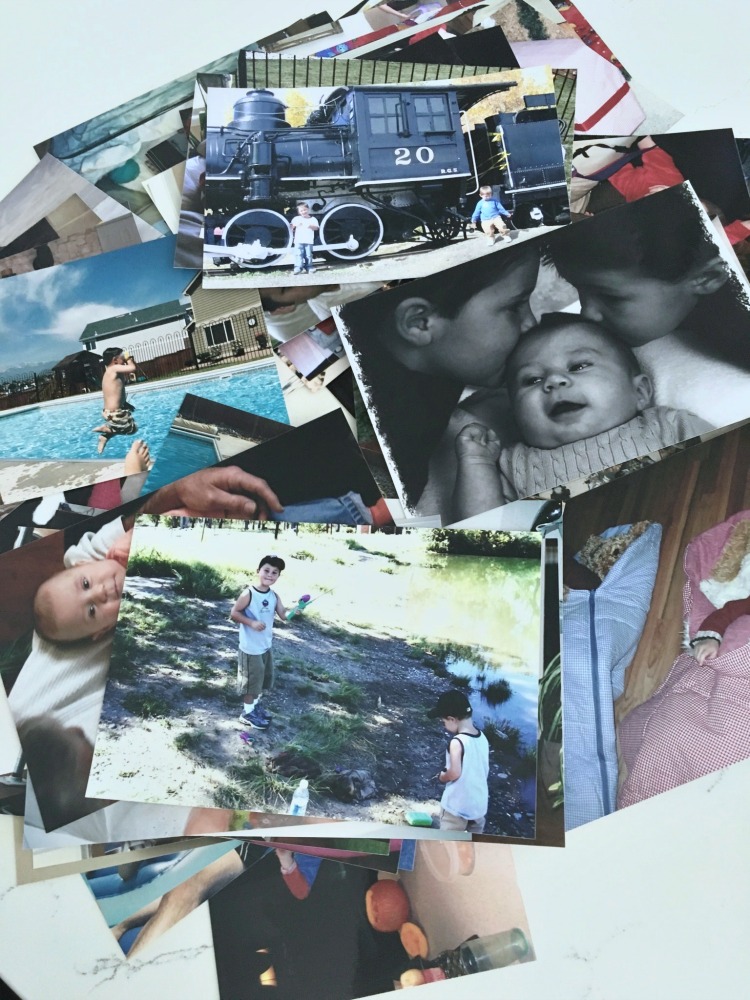 I love photos and have literally thousands printed out from the days pre-digital and pre-iphone.  Not to mention the 10,000 photos I have saved on a hard drive of our family life. This does not include home decor photos. Yes, I may be a little camera happy but my fear is that one day I'll forget so many small moments of my boys life that I'll need the photos to remind myself. I once even was a scrapbooker (Creative memories anyone??).  I got as far as making a 4″ thick 12 x 12 baby album of Austin. Who has time for scrapbooking anymore? I love it but seriously, no time. However, I believe that digital photo albums are doable and I need to just get over the idea of embellishments on every single page. Don't get me started on the embellishments, stickers and scrapbooking tools I've collected over the years.  Enough to fill an entire closet. I have made a few digital albums through places like Shutterfly and even through my Mac program and have been very happy with them.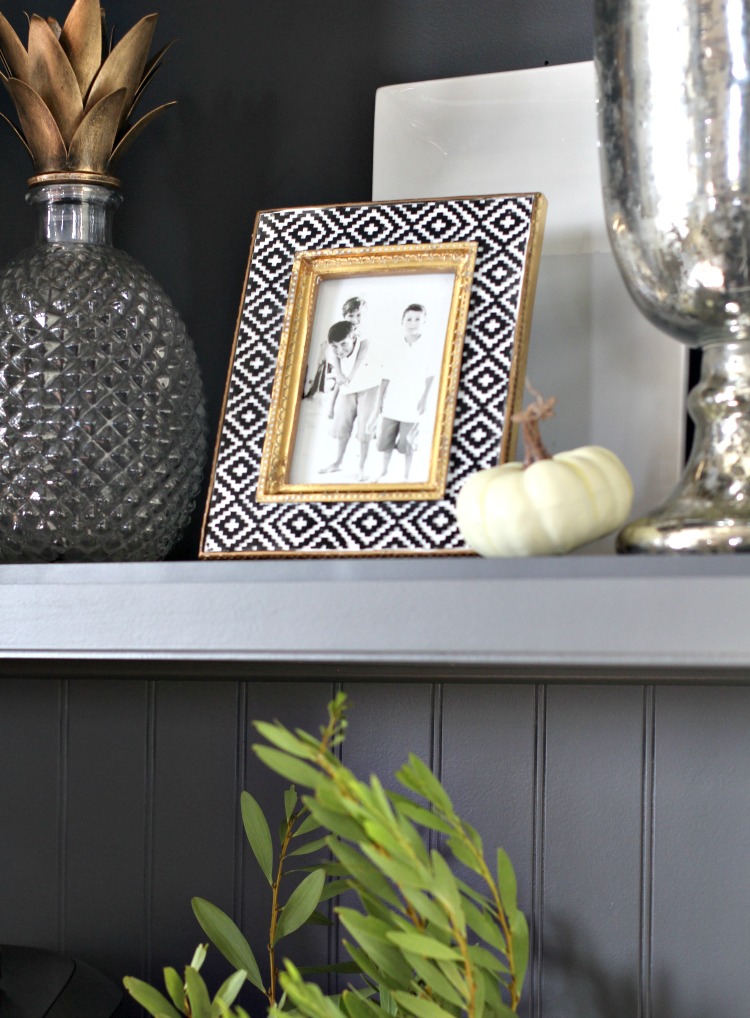 Why am I going on and on about photos? Yesterday, after our youngest son's (Dylan) lacrosse game we went out to eat.  He looked at me as he was sitting next to me in the booth and asked again after countless times before, when was I going to make his photo albums?  It's one of those things I keep putting off with good intentions to make all the boys an album for Christmas or for their birthdays, yet it never happens. What Dylan said next in a sweet voice gave me a lump in my throat, "mom, you're going to regret not making those albums one day." Out of the mouths of babes, right? He's so right, I absolutely would regret not making those albums for the boys in years to come.  My mother in law was so good at capturing all of Tim's memories of his childhood and growing up in albums. He cherishes those.  I want to do the same for my boys. With that said, this is one more thing that will be taking up sometime this next year.  It matters and it's important and it has a lasting message to my boys. Now if I can just find an easy way to scan all the thousands of photos that aren't digital, I'll be in a better position. I'll take any tips from you…it feels a bit daunting.
I almost hit delete after writing this post, thinking who really cares about my sappy mom moments and thoughts. But then, I thought that maybe one person out there is struggling too with finding balance and establishing priorities in life. Over the past 6 months, I've really analyzed where I put my efforts and the reasons behind them. I always ask myself, "will this matter this time next year?"  Most often the answer is no and there is something that really does matter that takes precedence of my time. It's a struggle though because I want to achieve so much, yet I want to be so present for my family as well.  There is always a string of sacrifices when balancing it all. I'm still figuring it out, but I'm looking forward to spending less time on things that don't matter and more time on what truly does.
What's to come…
This blog has opened many doors, more than I ever dreamed of happening. Last year, before my blog was even published, I was invited to the Better Homes & Gardens Stylemaker Event in NYC. This is an event where a select number of home decor, DIY, fashion and food bloggers gather together and hang out with the editors at Better Homes & Gardens. What an honor and exciting trip that was for me! I wrote a little about it HERE.  This year, I'm so excited to be invited once again. Next week, I'll be packing my bags with probably 5 different outfit options for the one day event back in NYC.  I'm even more excited to go this time around since I will be meeting up with so many bloggers I've gotten to know over this past year.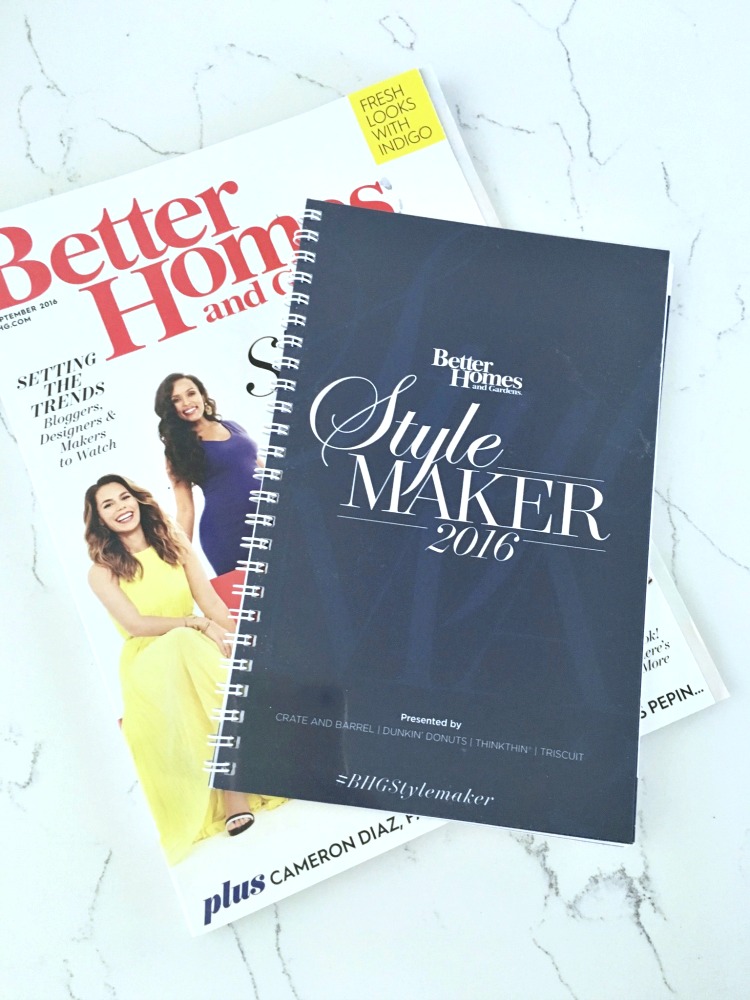 Oh the suspense…
You know how much I love to journal design journeys, like our beach cottage renovation. If you're new to the blog you can read the story of the year that we did something a bit crazy and bought a beach house 3,000 miles away HERE.  Fast forward 7 years later to this time last year and we completely renovated it, that story HERE.  Although I wasn't physically present every step of the way with the cottage makeover, I still loved being able to share updates of the process with you every time I'd fly out to Florida from Colorado to check on progress. I think everyone loves to read about the process and realize that there's always a diamond in the rough. The reality is we don't snap our fingers to make a well designed space. So much thought and consideration of detail goes into that job. I learned a lot through the cottage renovation process and that it is actually possible to completely design a space and execute that vision through sketches, texts, and emails to a good contractor who gets the vision.  If you're in the Naples, FL area and need a good contractor, I highly recommend Kevin at Edgewater Builders. Tell him I sent you!
I've been working on something else this year that I've been dying to tell you about. Keeping this one under wraps until the green light is on has been pretty hard! Are you a bit curious??  I can keep a secret really well and carry a strong poker face. We're getting close…but still just a bit longer until I get to take you on this journey.  Stay tuned friends, I'll be walking a road I've never walked before and I'm a bit nervous, but so ready to BRING IT ON!
Up next on the blog
I managed to decorate my home for fall for three different fall home tours without one sign of a skull or skeleton. You should be proud of me. I get that not everyone celebrates Halloween and would rather not see the decor around that day. I grew up watching the Adams Family (remember that blast from the past? or did I just age myself..) and somehow the dark, eery, yet elegant decor captivated my heart. So if you like to see some tasteful halloween decorating with a famous skeleton, then you'll want to come back in October as I'll be participating in two different halloween decor home tours. My form of scary is a few scattered, bedazzled, crystal studded skulls and maybe some spiders…amongst other things. Trust me, not enough to give you nightmares..haha! I'm the biggest scaredy cat in the world, I can't have my own home giving me nightmares!
If you missed my fall tours you can see the first one I participated in which was with Homegoods.  Y'all know that's my favorite store to shop so being on a tour with them was bucket list for me.  See that tour of our kitchen and newly designed loft HERE.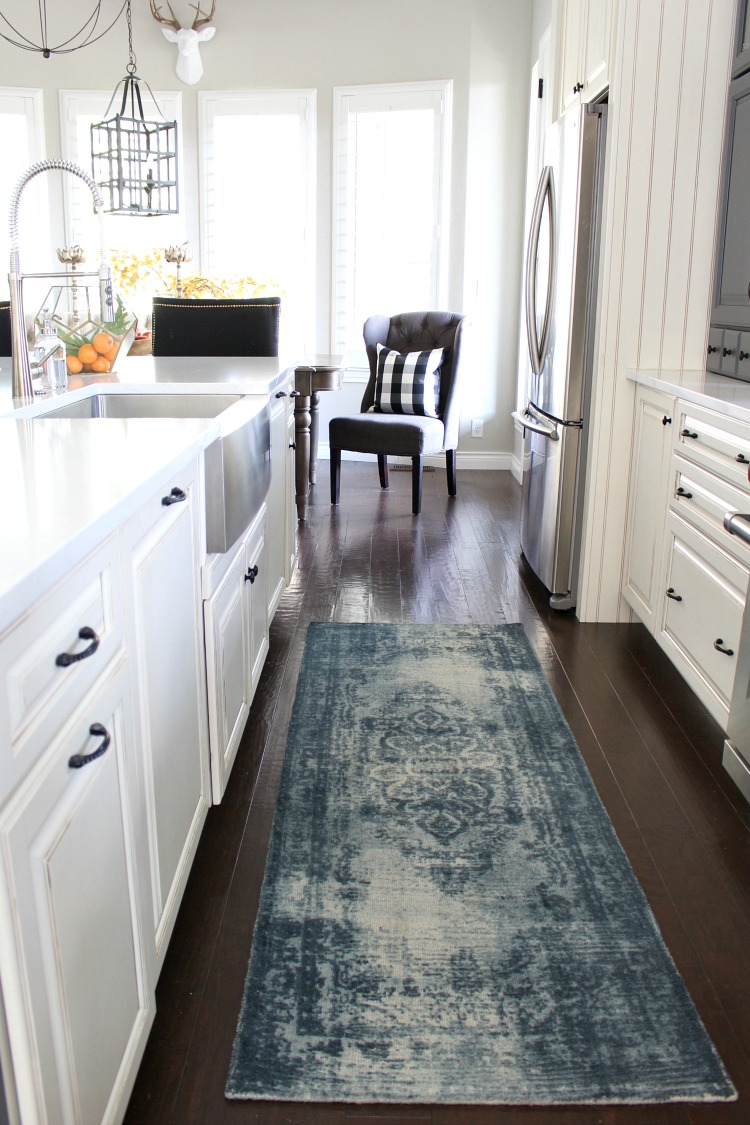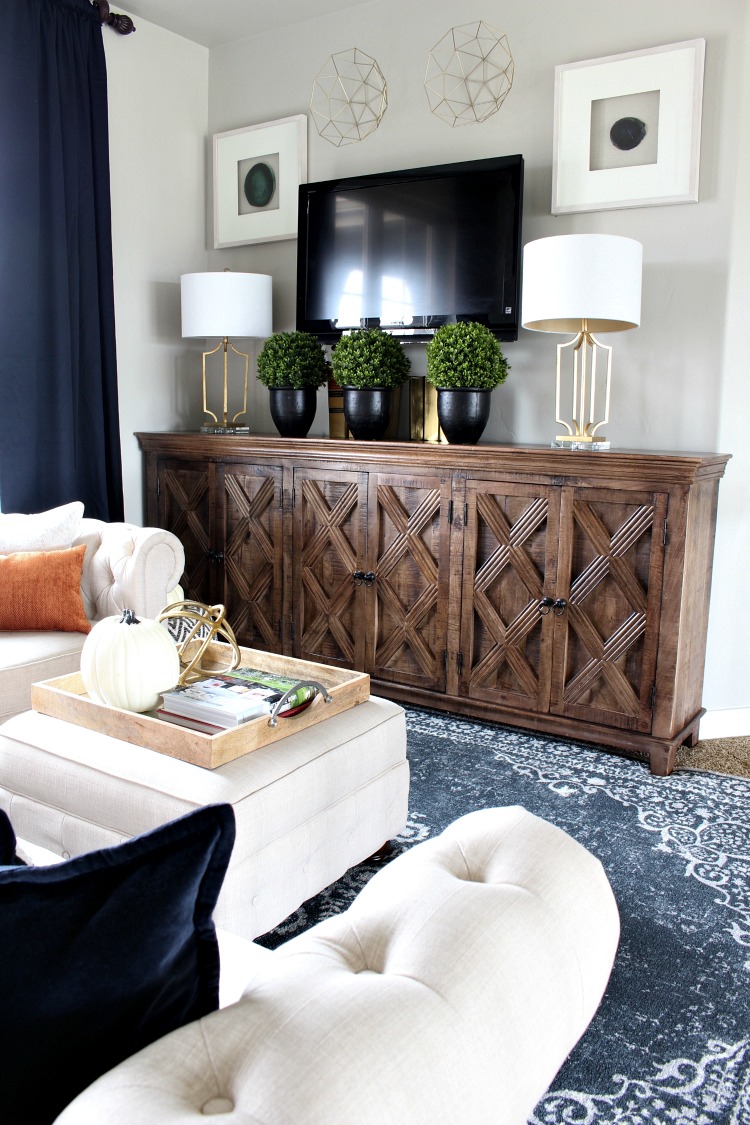 Our family room fall tour can be seen HERE.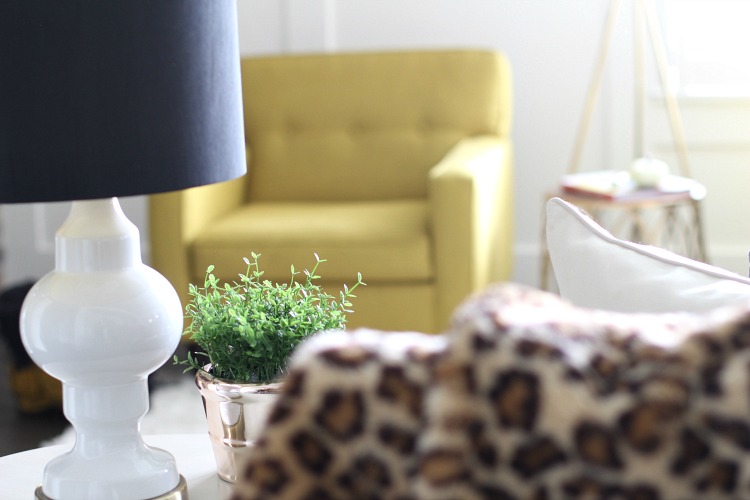 Our living room fall tour can be seen HERE, featuring my new velvet crush.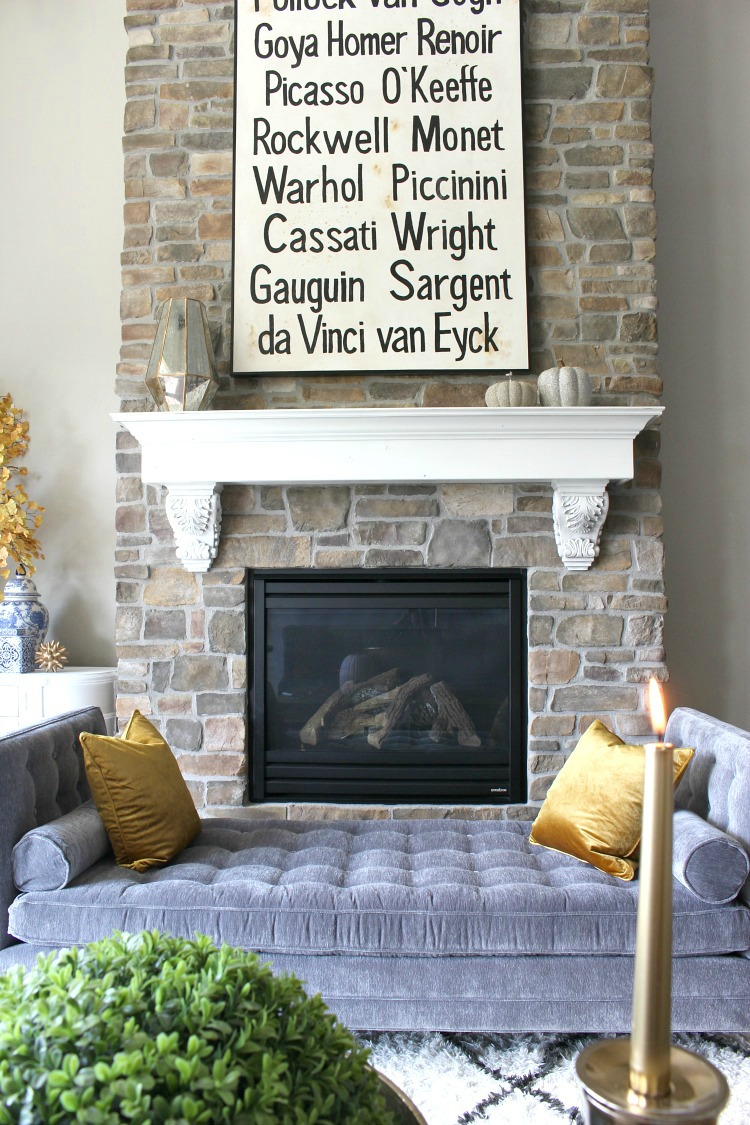 Over 50 bloggers joined me on these tours so be sure to check them all out.  I've pinned lots of fall inspiration from these homes.  Make sure you are following me on Pinterest!  Oh! and because 3 fall tours aren't enough, I'll be in another one next week showing you more simple fall decorating.
That was a lot to digest. Thank you for staying and reading until the end. I appreciate you so much and all the support!  Be sure to subscribe for our weekly newsletter below if you want to be a part of all the exciting things to come!