Built in Shelves: When Ugly Plumbing Stands in Your Way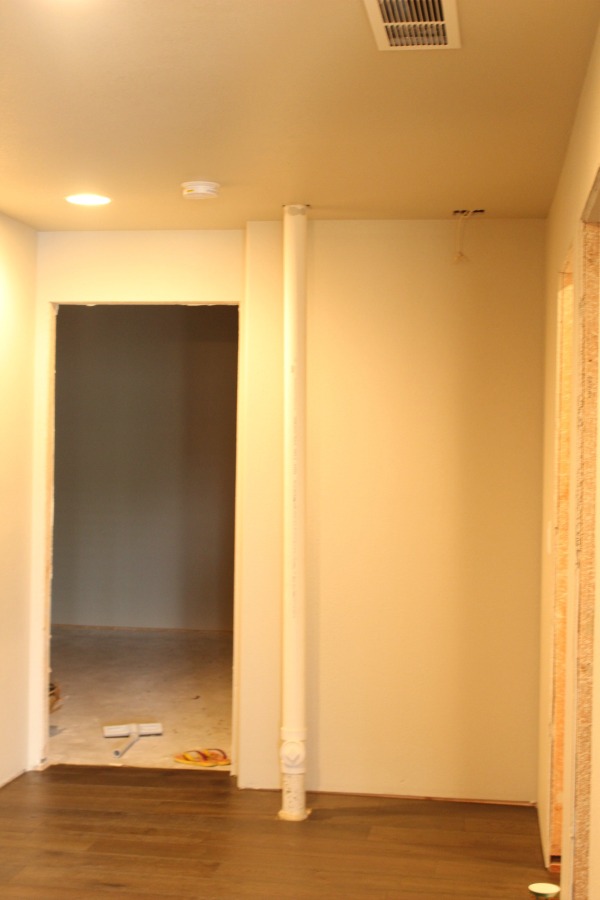 Looking back through renovation photos of our Colorado home, I realized I had never shared this finished space with you.  I call last year "THE YEAR of renovations!  We finished the second half of our basement and created my own office HERE, a powder bath HERE, new floors HERE and then some….(a whole house renovation at the beach cottage HERE). We've been a little  BUSY! The area you see here is the open walkthrough passage that leads to our home gym through that door frame.  My office is on the left and the storage closet as well as new bathroom are on the right.  This is the area you can see a peek of from our family room/bar area HERE.  Phew! If you clicked through all those posts, I hope you made it back to this spot which is all about addressing that ugly plumbing pipe.
Why don't builders think of these things when they build a home?? They could have easily tucked that plumbing right next to the unfinished basement wall so we could have easily framed around it.  But no, it was almost two feet from our finished wall.  I didn't want to build the wall out to enclose it either because then I would have lost that whole corner of space that could have been used for something!
I put my thinking cap on and brainstormed for a while. That usually looks like me sitting on the floor just staring at a wall and a big ugly pipe.  I called up my handy trim carpenter who did all the board and batten work in our family room and together we drew up an idea of built in shelves that would frame around that big ol' eye soar.  Sorry for the grainy night time photo but you get the idea.  I love how it turned out! We framed around that pipe and added two simple shelves, simple shiplap on the wall, and crowned out the top.  I had our electrician wire for a light to come out of the front face of that top center section, too.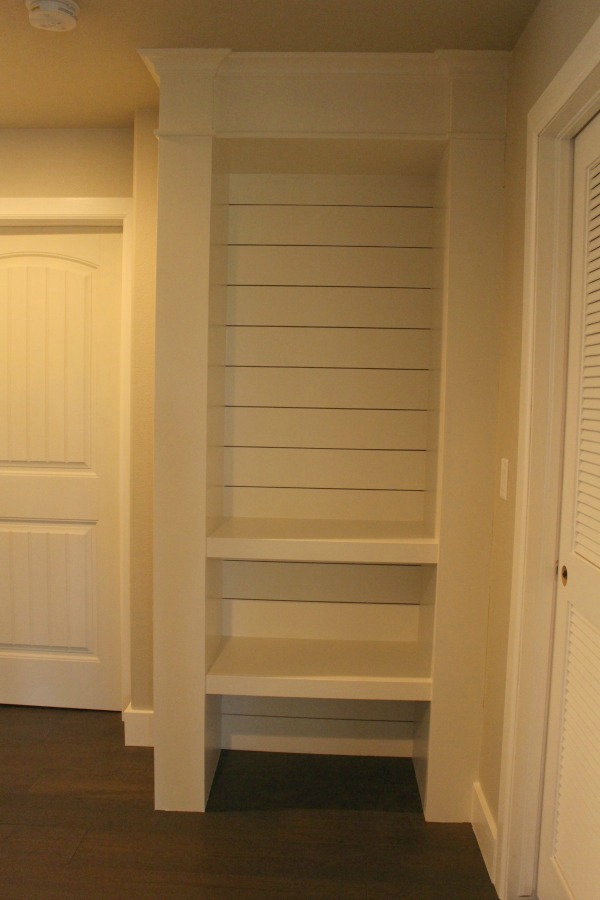 This is how I spend my Friday nights. Painting with a spotlight since the electrical wasn't turned on yet.  Three coats of paint later I think it turned out pretty darn awesome!  Way to add some interest and character to an otherwise boring hallway.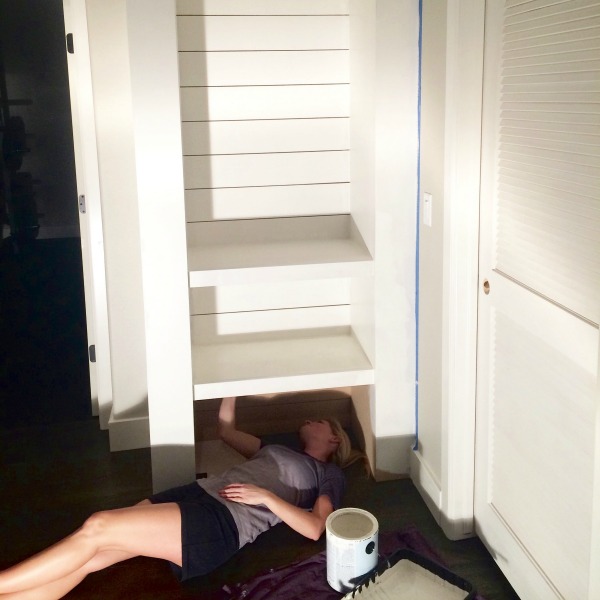 I think this little nook in my basement is one of my favorite features.  The wall color is the same throughout the home and is Revere Pewter by Benjamin Moore.  I always get my paint color matched at Lowe's in Valspar paint, pure convenience since Lowes is my neighbor practically.  The trim is Swiss Coffee by Behr.  I actually would have preferred a brighter white trim but the rest of the home is in this shade so I wanted to stay consistent throughout the home.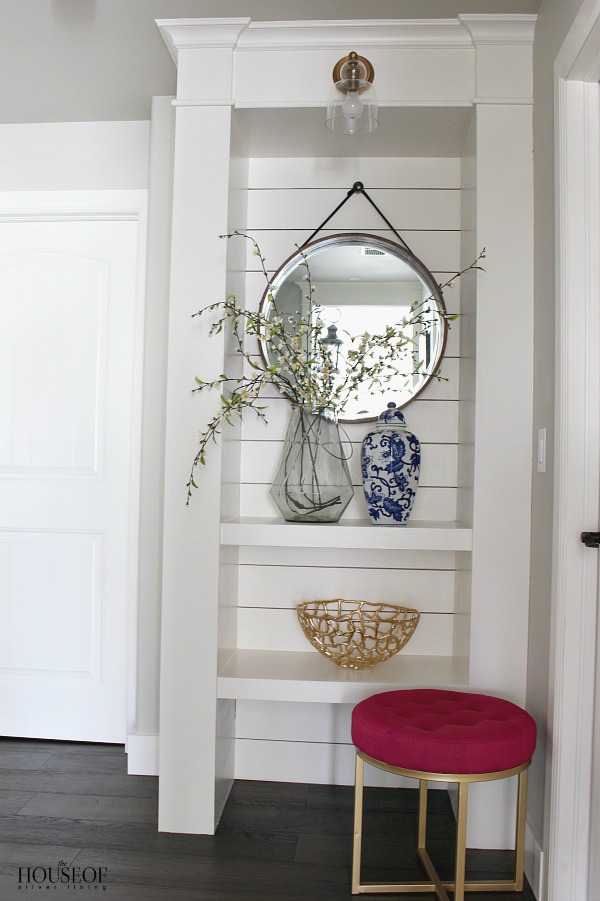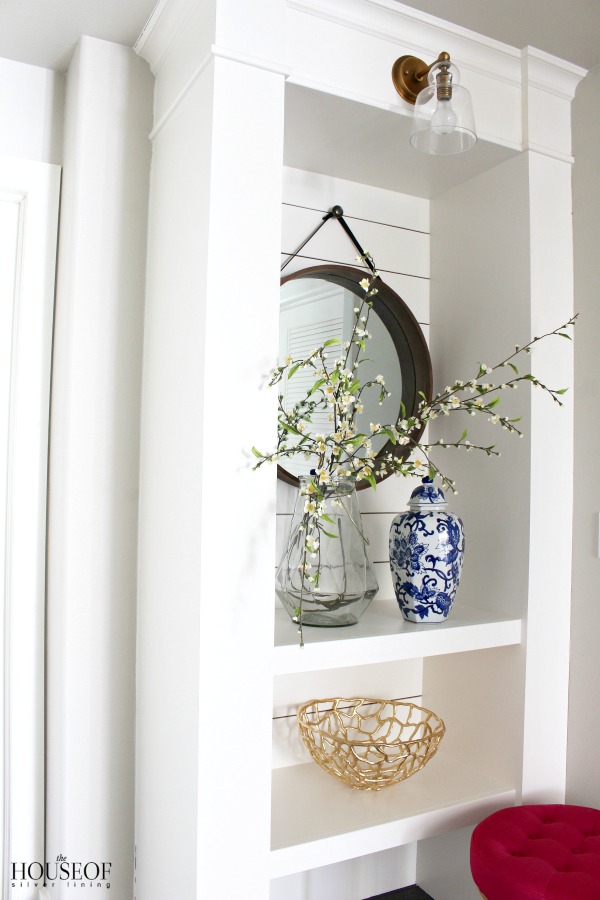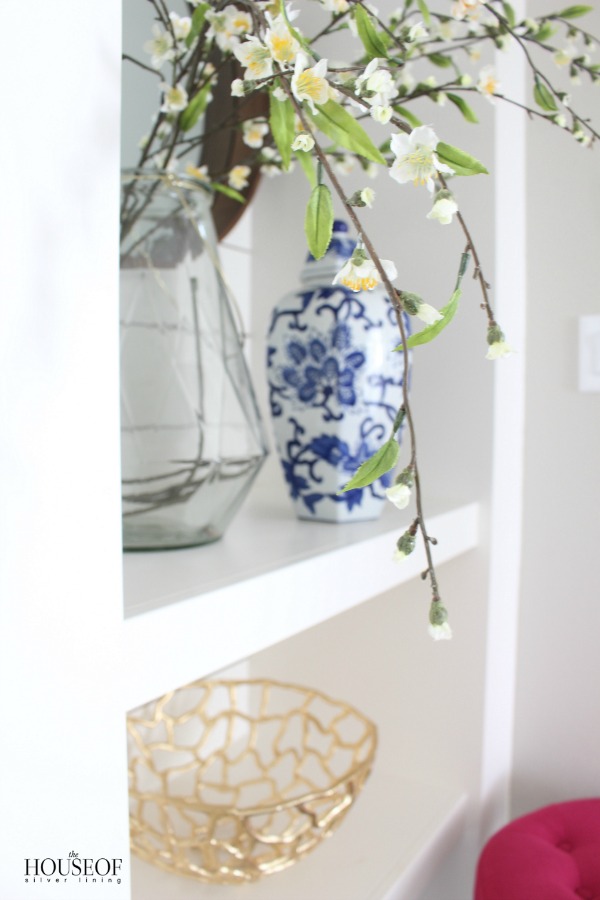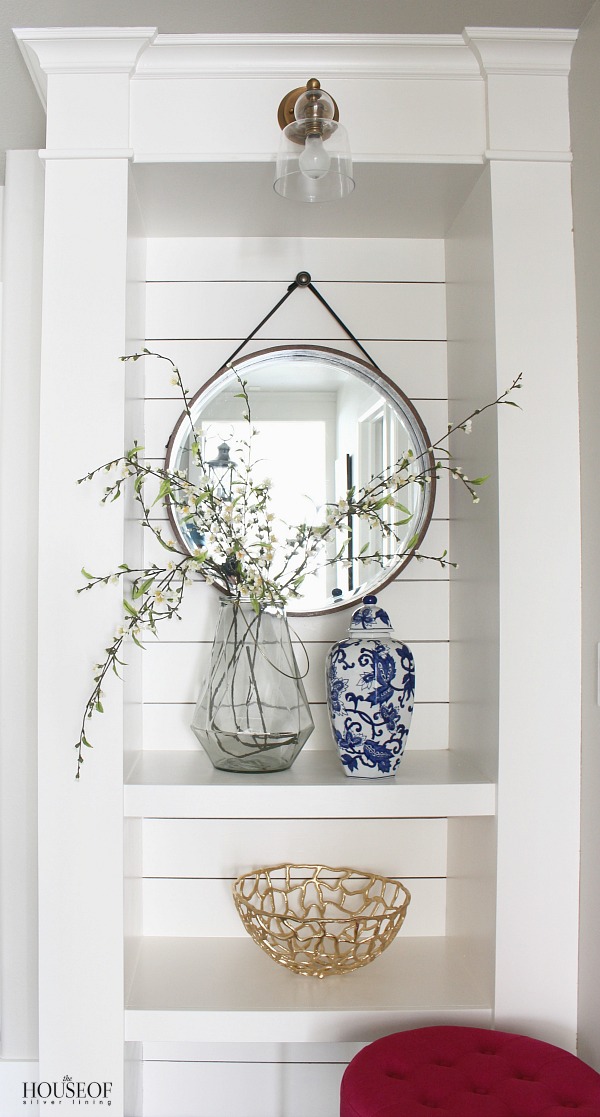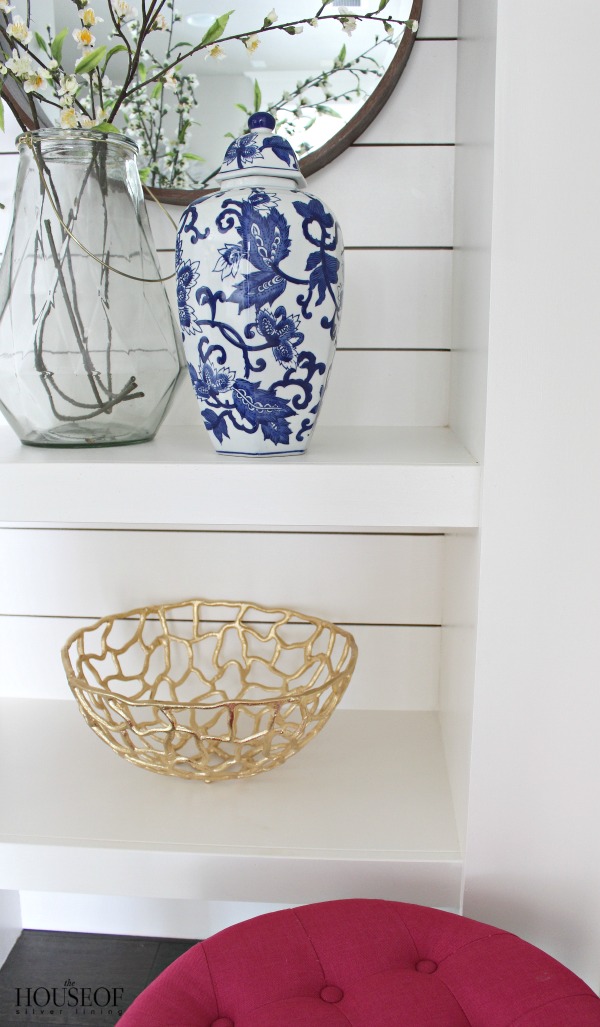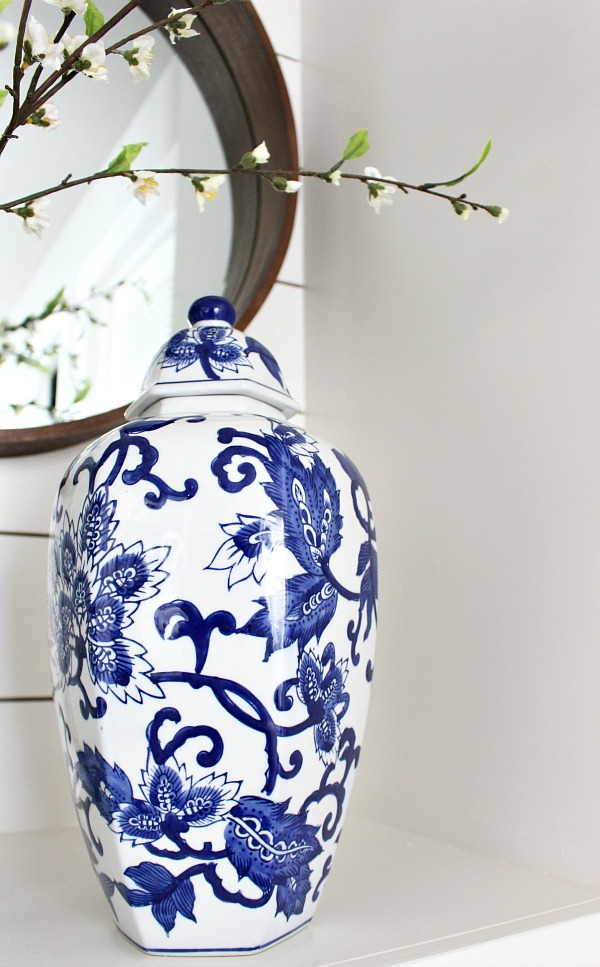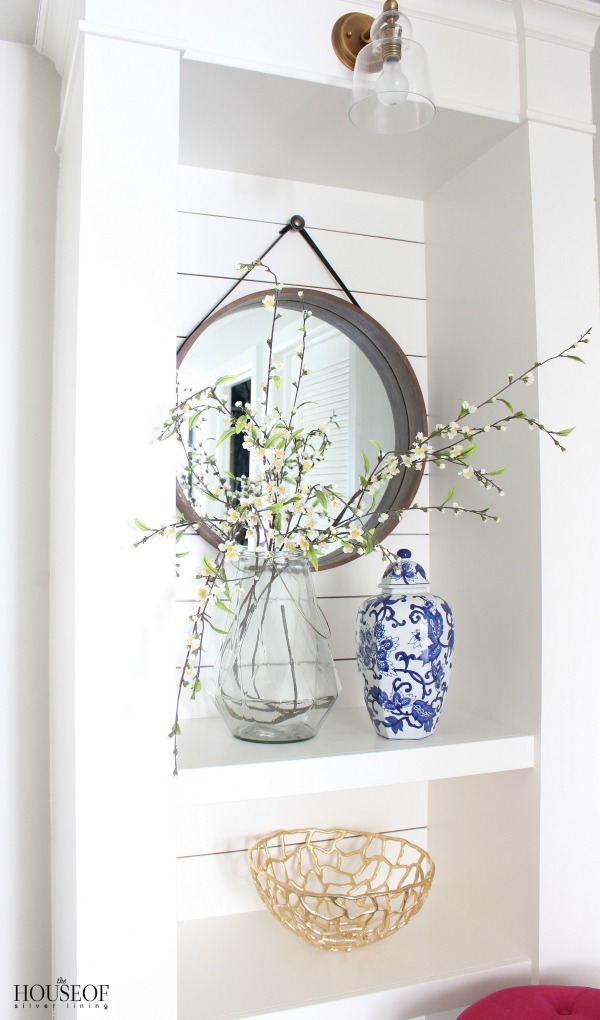 That pink stool is still trying to debut somewhere in this house of boys. She migrates from room to room with her pink twin.  Remember they used to be in my office? Some day they'll settle, or I'll just reupholster them;)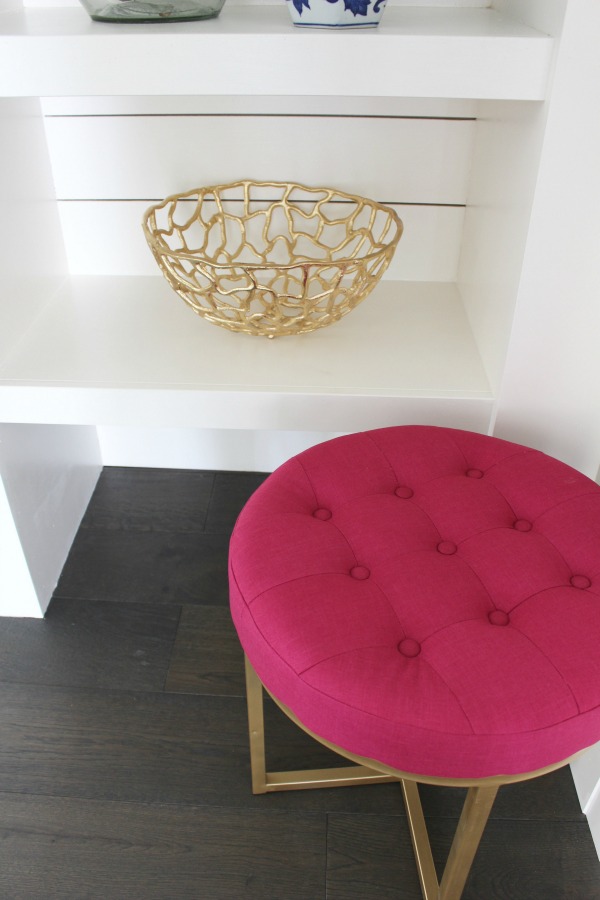 SOURCES:  LIGHT | MIRROR, STEMS, CLEAR GLASS VASE – HOBBY LOBBY | GINGER JAR, GOLD BOWL – HOMEGOODS | STOOL (TARGET -no longer available)