Friday Ramblings, New Fashion & What's To Come
Friday ramblings…here goes. Do you ever have one of those days where everything that happens is so outrageous it almost becomes comical? Today, this post has nothing to do with design so feel free to exit if you'd rather not hear me ramble. I'm having a day. One of those days. I'd like to say the calm before the storm, but seems like the storm has come early. Let's start from feelings at 6 a.m this morning shall we?
Nashville sadness…Can I just talk about one of my favorite TV shows for the moment? "Nashville" is one of the only shows I bother to turn the TV on for. Last night's episode left me sobbing, I mean SOBBING!! The ugly cry. If you watch it but aren't up to speed, I won't ruin it for you. I'll just say that someone dies that is so unbelievably unexpected and it broke my heart. I literally woke up this morning feeling sad. If you don't watch the series, look it up on Netflix. So good. I'm drying my tears and telling myself it's just a show, but I think it's because this character resonates with me and the role played. That's all I'm telling. Go watch it now and have some kleenex on hand.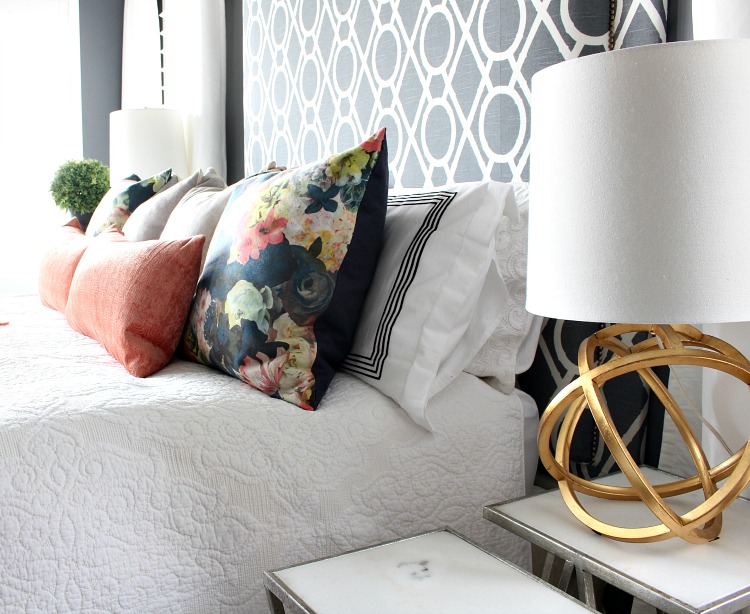 The Kodak moment…10 minutes into our morning, our new puppy, Kodak, "Dak," pooped all over our bedroom carpet. Earth shattering to this germaphobe. I really blame myself because I didn't give him enough time to tend to his duty when I let him out first thing this morning. It was FREEZING outside and I couldn't stand and monitor him from our icy deck. Back up, usually I let him out through our walk out basement so I can stand inside and wait for him to get the business done. Then I rush out and scoop it up before he decides to eat it for breakfast. Not sure why he thinks it's appetizing…sigh.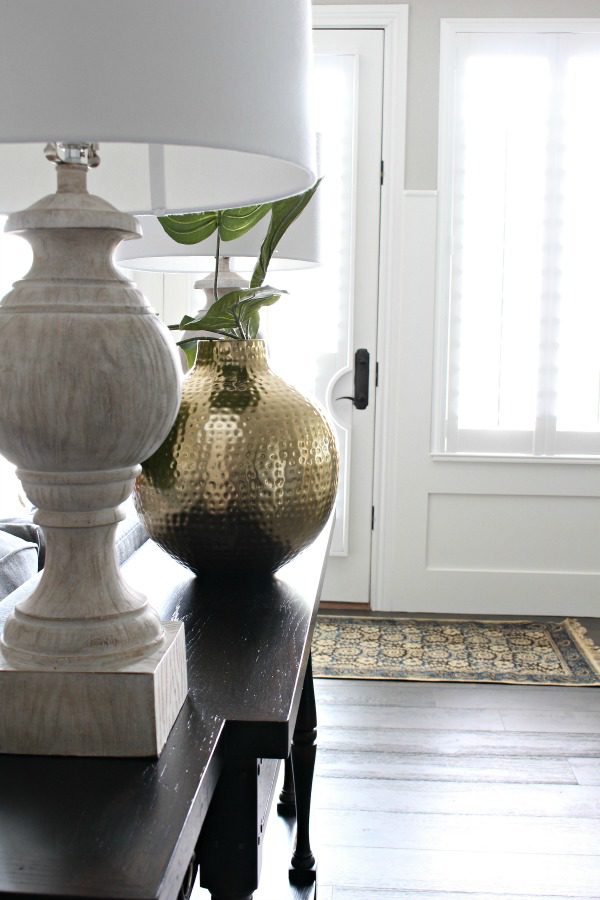 Well, our basement door was installed improperly when the house was built and has been a nightmare to open and close from day one in our home. Especially when its freezing cold outside, the door just won't open. I scrubbed, disinfected and did my best to salvage the carpet. THIS is why I hate carpet and soon we will have zero carpet in our home. Hardwood floors all the way.
Mom threw away my school project…oops! I had just finished cleaning up Dak's mess when Austin came asking where his school project was that he had on the kitchen counter. You mean the big poster that looked like an advertisement? The one that was in my way the day I was photographing our kitchen for our spring home tour next week? The one I thought was just "trash??" Yes, that one.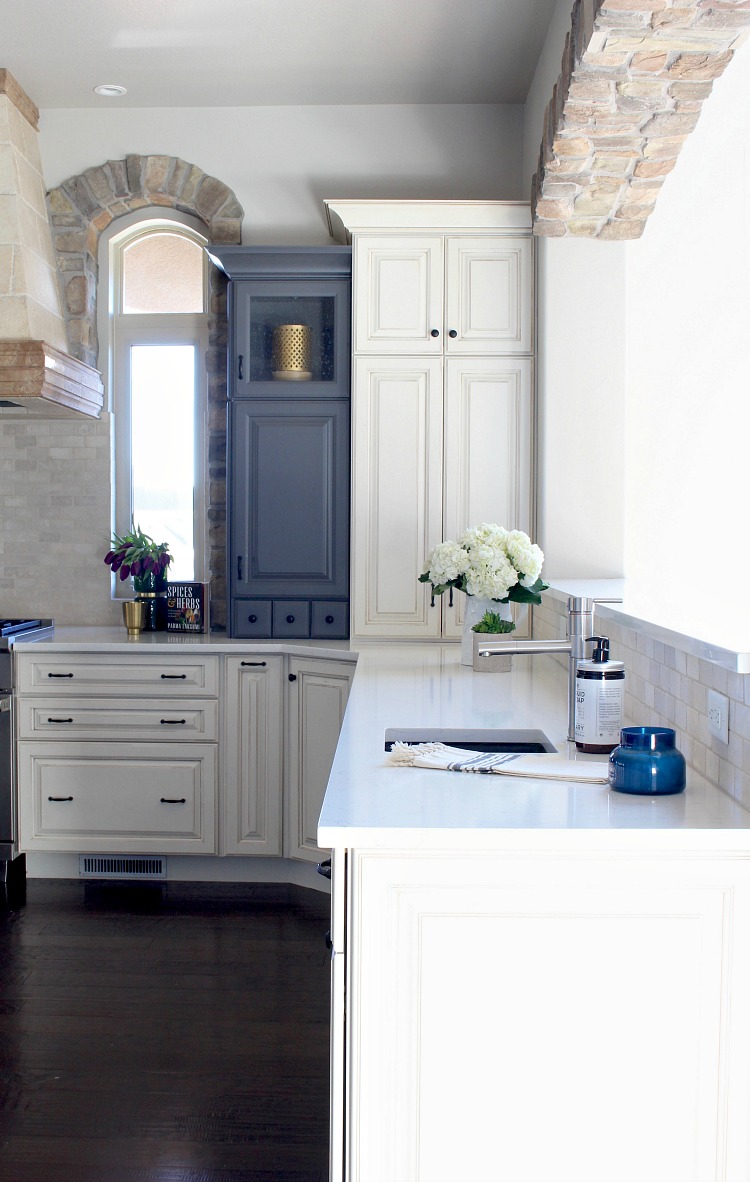 I ran out to the recycling bin and dug my way through the papers and found it. Stained and tattered. I just won #momfail of the year award. By this time my coffee was cold and now I had a big assignment on my hands. I ruined it, I fix it. Let it be known, that I did emphasize this is why we don't throw our school papers on the kitchen counters (constant battle), that's why we have an office. I can close the door and not look at the paper pile up. After 2 hours at Staples, I got Austin's poster recreated. God bless the young man at the Powers Blvd Staples who helped me out considering I was looking and feeling quite challenged.
I wore that to a very important design meeting???…That storm I mentioned at the beginning, it's a good one that'll rock my world the rest of this year. First thing this morning, I had another meeting regarding said storm where I had to present to a board of people. Not having much time to get myself ready…hmmm, I wonder why? I threw myself together thinking I looked presentable. Halfway to the meeting I realized I forgot some important materials and had to drive back home to get them. Ugh! So that made me late which is not a good thing. Fortunately, the meeting went well, shocking, considering how my morning was going.
As I'm heading home, I looked down and realized I was wearing my work out leggings. I had grabbed the wrong leggings for my outfit!! These are the leggings I've ran probably over 100 miles in. Not my super flattering leggings from Nordstroms. What's worse, they had white wool hairs all over them that looked like dog hair from our old living room rug. Ya'll can't even imagine my horror at this point. I had on my favorite black booties and my cute leopard coat, and leggings that looked like I had just rolled around in dog hair. Winning all around today, aren't I?
The Starbucks moment…since I never finished my cold coffee this morning, Starbucks needed to save my day. Going through the drive thru, "I'll have a grande hazelnut latte, skim milk, with double shot of vodka." Oops! Did I just say my thoughts outloud?? Maybe the window clerk won't notice my dog hair leggings.
The Black Booties…after almost 5 hours of running around I'm finally back home and praising Dak for holding his puppy bladder that long in his kennel. Turn my head a few minutes later and he's devouring my black boots. That's okay, now they match my tattered, dog hair leggings.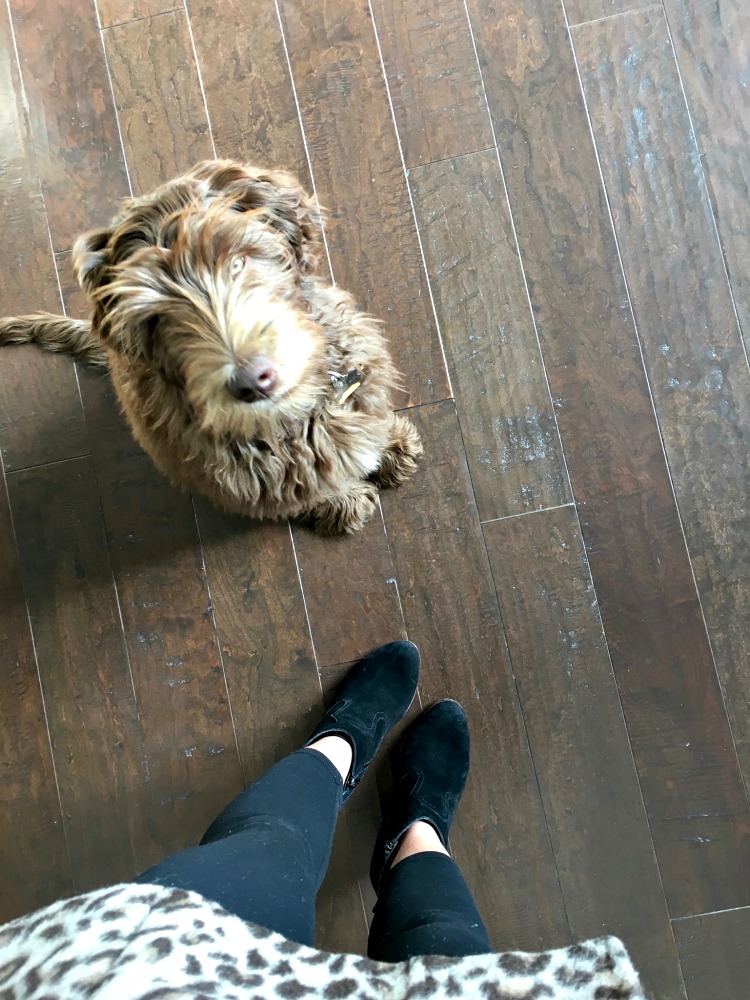 How can I be mad at that face!
I feel much better now that you let me ramble. Thank you. On to some excitement now! Next week, I have a big announcement! Actually, I have two announcements and one involves our beach cottage.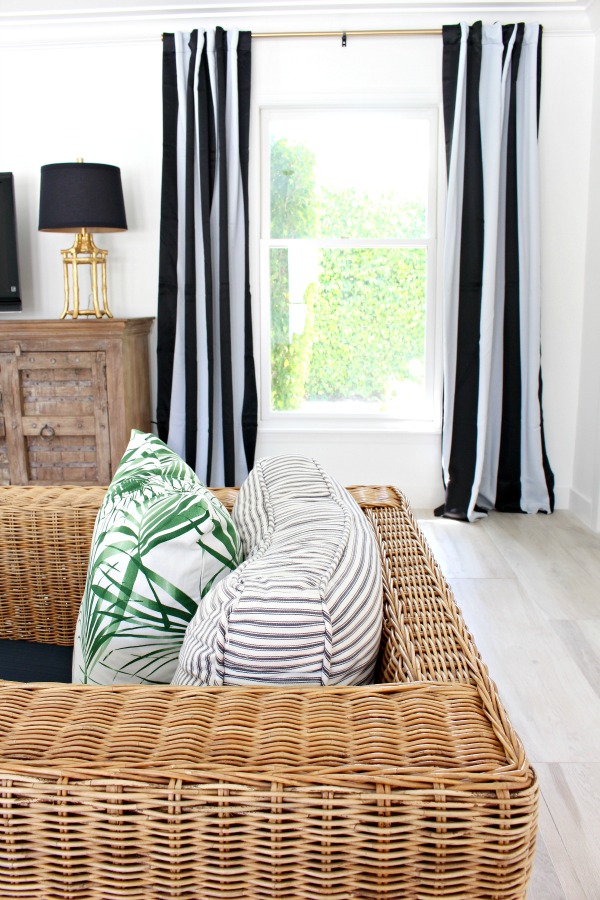 The suspense of telling you has been killing me! Can't wait!
Next weekend I am heading to San Diego to visit one of my blogging besties, Erin (Sunny Side Up), and get to tour her beautiful home! I have a crush on her home like no other! I seriously cannot wait! We are then heading to Beverly Hills to the Design Bloggers Conference and meeting up with more blogging friends.
Girl's trip and design conference means cute outfits are a must! While I was shopping the Nordstrom Winter Sale I found quite a few new fun pieces.
Click on images to be taken to shoppable links. Affiliate links used for your shopping convenience.

One final thing. Things are looking up. I bought flowers for the spring home tour photos. My droopy tulips (I shared this image on Instagram this morning) got a second wind and are now reaching for the sky!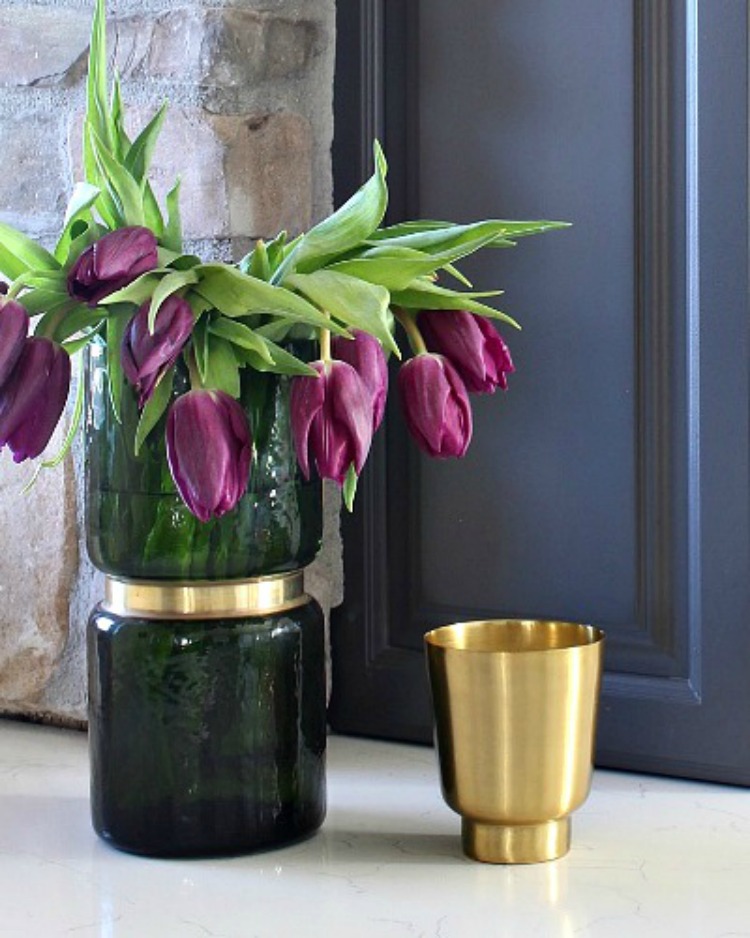 Although I do still love the droopy look. Something about them cascading over the vase. Speaking of, don't forget to check out my round up of favorite vases I shared last week if you missed it.
Have a great weekend!