Beach Cottage: Family Room Plans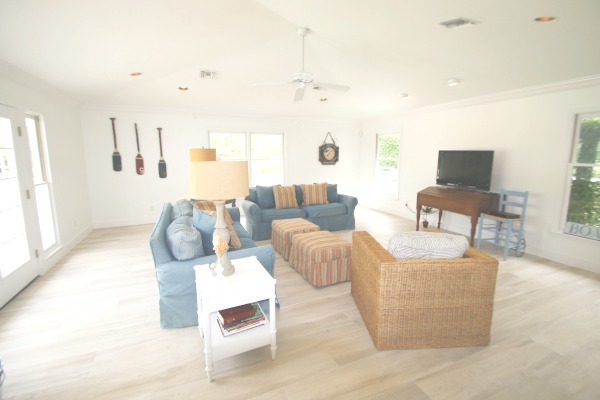 Today, I'm showing you a little glimpse of our beach cottage family room and the plans we have for it.  When we renovated the house recently (see all renovations HERE), the family room basically got new floors installed and a fresh coat of white paint.  Other than that, we put all the old furniture back in since I had zero time to figure out the direction I wanted to see this big room go.
If you recall, over Christmas break we spent two weeks here putting the whole house back together after a 3 month long complete renovation. Sadly, we spent a good amount of that vacation working and organizing.  Actually it was fun for me to purge all the old yard sale/thrift store furniture and decor I had collected over the past seven years here.  We spend a lot of our time hanging out in this very spot and my boys are not happy at all about those blue denim sofas going GONE!  Those things drive me crazy!! The back pillows are always smooshed and deformed and I gave up fluffing them a long time ago.  The denim duo has definitely seen better days. The boxy rattan chair, side table, and TV stand were all thrift store finds that will actually stay since they are in great shape.  I never have wanted the cottage to lose it's cottage feel and sense of nostalgia by replacing every piece of furniture.  With this being our vacation home, I want it to always feel collected and treasured.  Memories are attached to each piece of furniture that was hunted down during all of our antique shopping/thrift store days the first summer we moved in.
The problem with this room is that it is large and airy.  Okay, that's actually a good thing! But it has always felt a little "cold" if I dare even say that about a Florida home where it's always smokin' hot outside.  We definitely need a rug to pull in the seating area.  Another big problem in here is the lack of window treatments.  We don't need them for privacy.  Our entire yard is lined in 10′ tall ficus hedges that give complete privacy from neighbors.  I LOVE looking out all the windows in this room and seeing green…everywhere!  The yard is what made me fall in love with the home, so I never wanted to block my view of it from inside.  Problem is that the sun beating in those three windows and a wall of french doors bleaches out the furniture.  Those sofas actually were much darker when we bought them.  They look like they've been a little acid washed now…lol!  Having drapes on the windows will allow us to pull them closed when the house isn't occupied.  That'll keep the new furniture from fading and probably cut down on our monthly AC bill.  Yes, we run our air conditioner when the house is unoccupied. We have to in order to prevent humidity in the house which could lead to mold.  That's just one of the down sides to owning a southern home.
Here's a little design board I originally created a while back with some "options" for the new family room.  Everything was designed around this indigo sofa sectional  I had ordered a while back.  I just found out that it is on backorder now (actually would be arriving mid May) and won't be arriving within the time frame I was going to be at the cottage for my next trip.  I was so disappointed to learn of this and basically have been scrambling to come up with a Plan B!  I love the mid century lines and the dark indigo color.  It's a great sectional for an amazing price so if your'e shopping around for one, you should definitely check this one out and all the colors it comes in.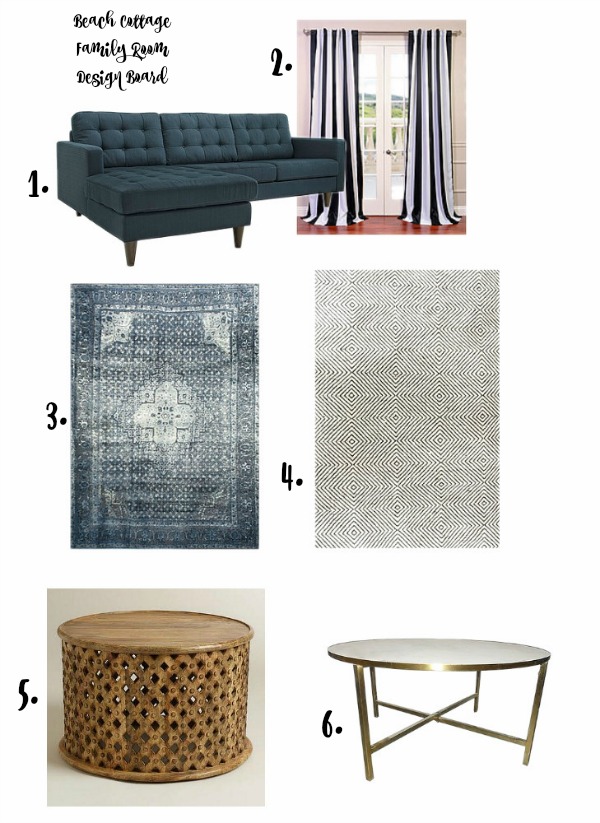 SECTIONAL SOFA || DRAPES || RUG #3 || RUG #4 || WOOD COFFEE TABLE || MARBLE COFFEE TABLE
I couldn't decide between these two rugs or coffee tables. I was taking a risk of the blue sofa and blue rug not matching (or just clashing awfully).  Now that I won't be getting that sectional, I'll be hunting for something that feels similar and it'll have to be from a local store in Naples since I don't have time for shipment. The rugs are on order and I'll go with the best match for the new sofa selection.  The other rug will most likely end up in our master bedroom. The only sure thing happening in this room is the drapes.  I love the black and white stripe cabana feel which is a design trend you can see happening throughout the cottage, including this living room light that I still think is the best little jewel of the whole house!  Even the house is white with black shutters.  Those drapes had me at "hello."
I am so excited to see this room come to life over the next two weeks!  Next week I'll be back at the cottage for some R & R and will be pulling this room together.  Full room reveal will be coming in May!  In the meantime, keep your fingers crossed I find that "plan B" sofa!
If you're new to the blog and want to catch up to speed on all the beach cottage renovations and room reveals, you can read all about them here:
Beach Cottage: Modern Black + White Bath
Beach Cottage:  Little White House with Black Shutters