Summer Patio Tour (Black and White With a Splash of Color)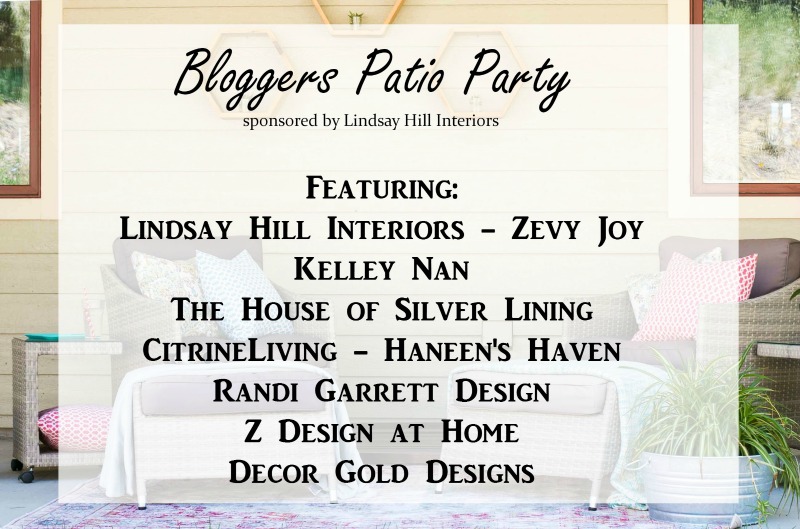 Welcome to our summer patio tour here at the beach cottage. Today I'm participating in a fun Blogger's Patio Party hosted by Lindsay Hill Interiors. If you're stopping over from Kelleynan, I'm so happy you're here! Kelley always knocks it out of the park with her design sense. Grab yourself some lemonade and take cover in the shade because, friends, the heat and humidity here in Naples, FL is in a fury lately.
When we recently renovated our 1960's fixer upper, I chose to paint the exterior a crisp white with black shutters for stark contrast. I love the clean look which is the perfect backdrop to add splashes of color.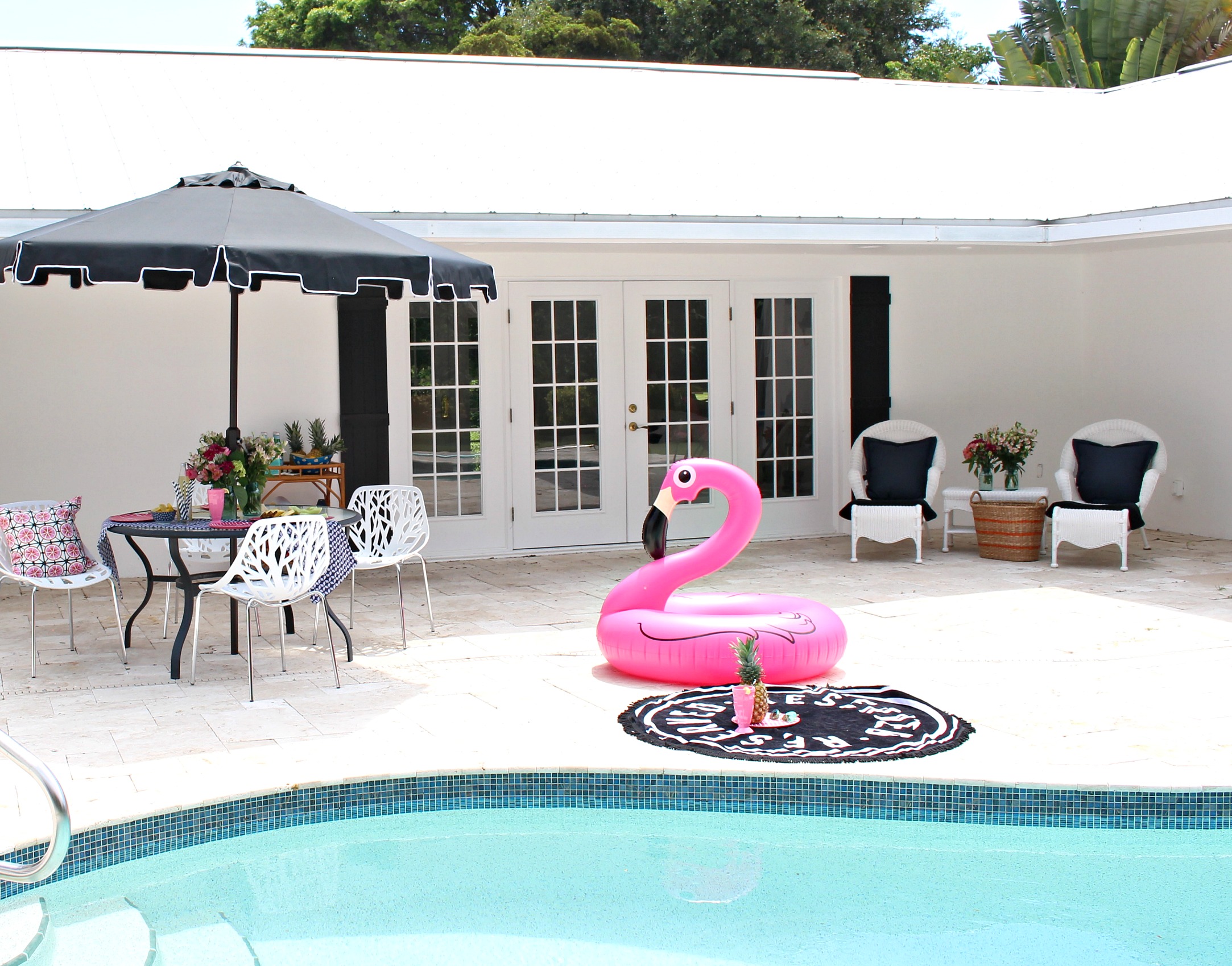 Recently, I shared some furniture ideas I have in mind for this outdoor living space. Dreaming and scheming and waiting for that money tree to grow so I can move forward with those purchases.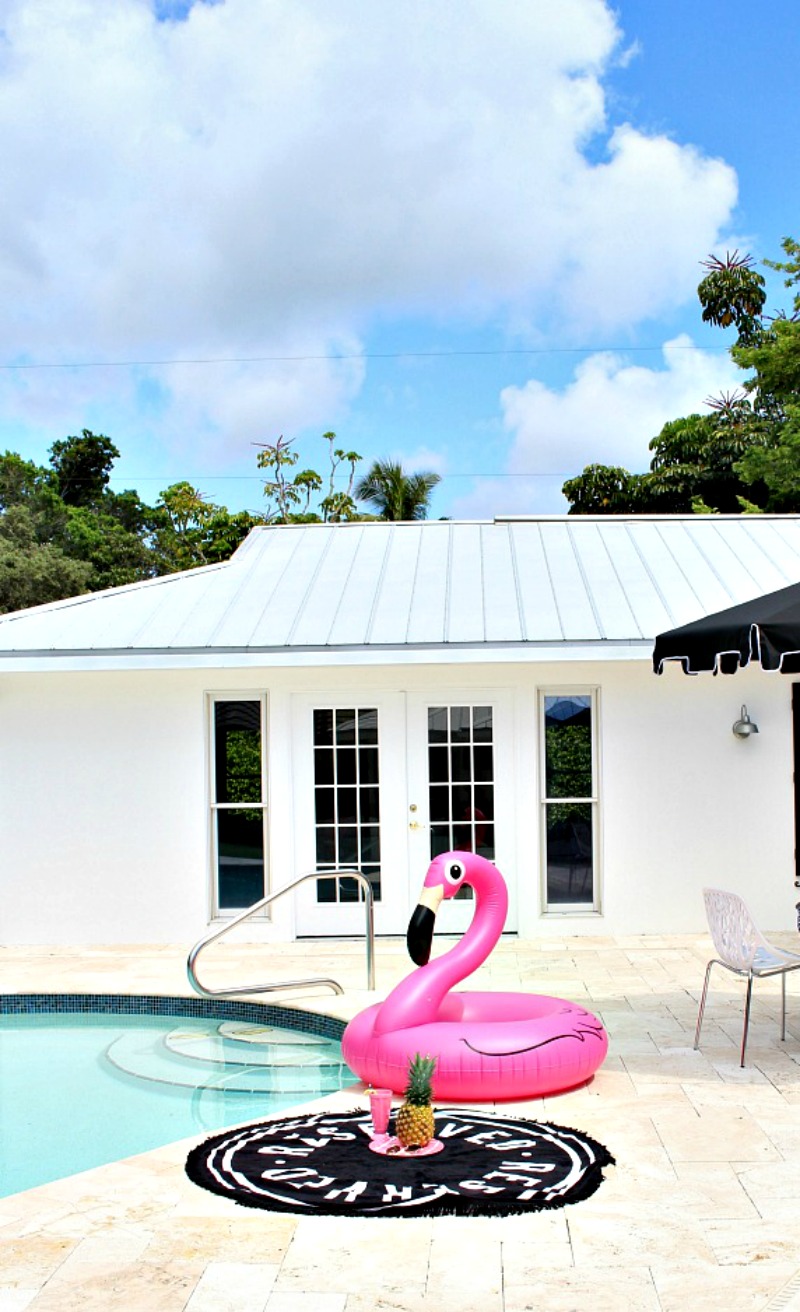 The pink flamingo has become quite a hit around here. She's always floating in the pool and just puts a little grin on my face when I see her. Plus, she adds that pop of color!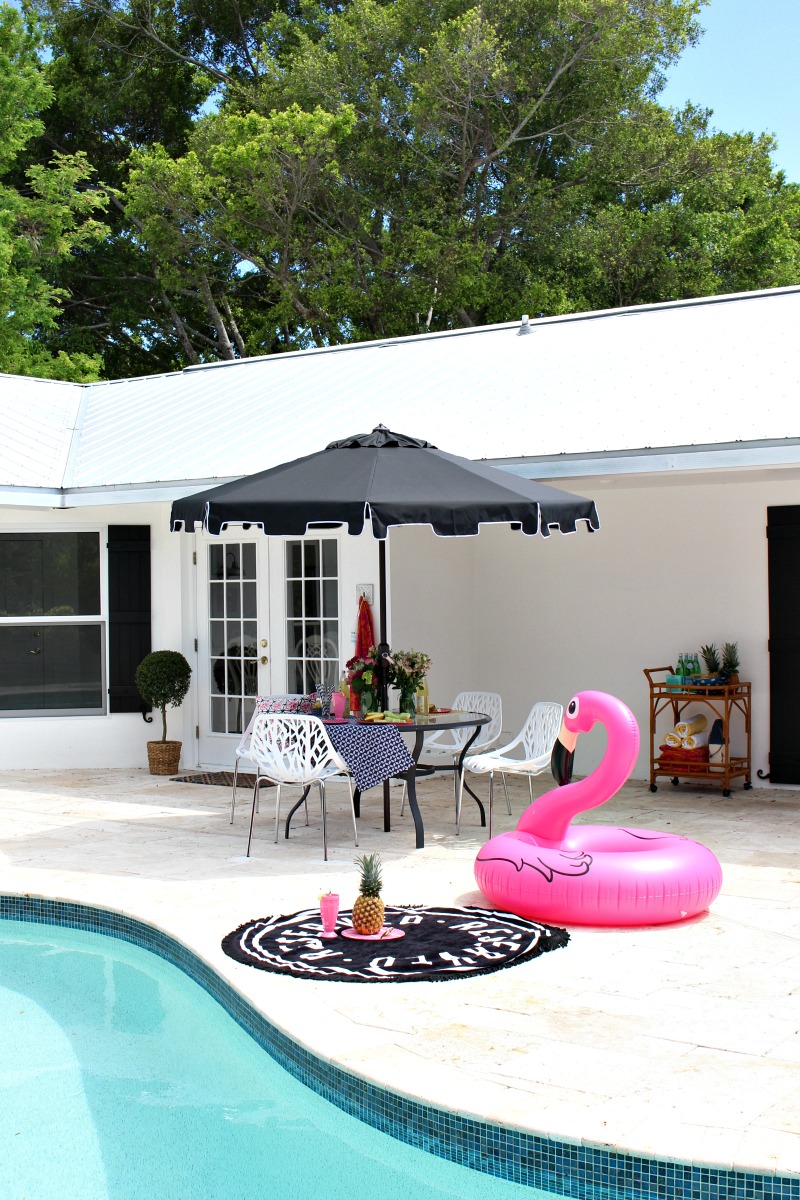 If we're not splashing around in the pool, we are taking cover under the umbrella at our patio table. Good grief, the heat and humidity in the summer here is downright sweltering if you're not in water or in shade (maybe drag a portable fan around with you-ha!).
We have a hodgepodge of furniture out here. These fun retro chairs were meant for my dining table, but after I got them I decided they looked better outside.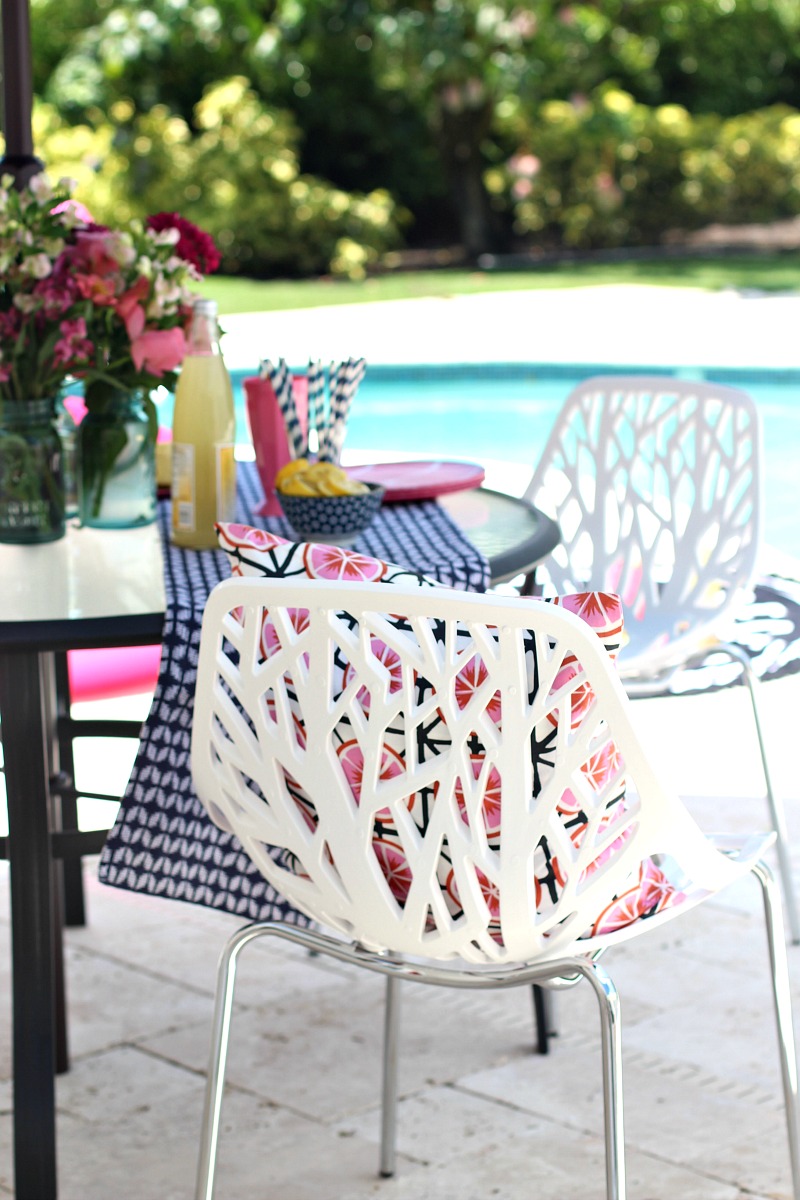 Fresh fruit and icy drinks are a must when lounging poolside.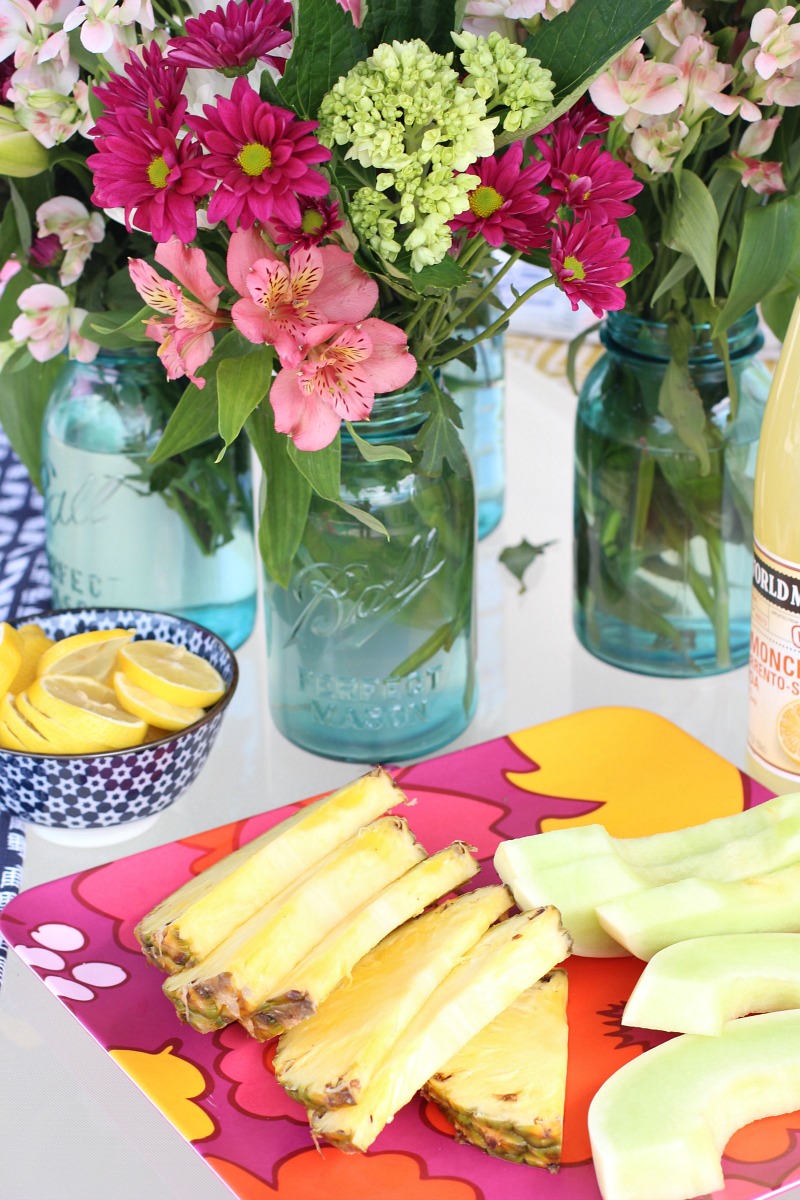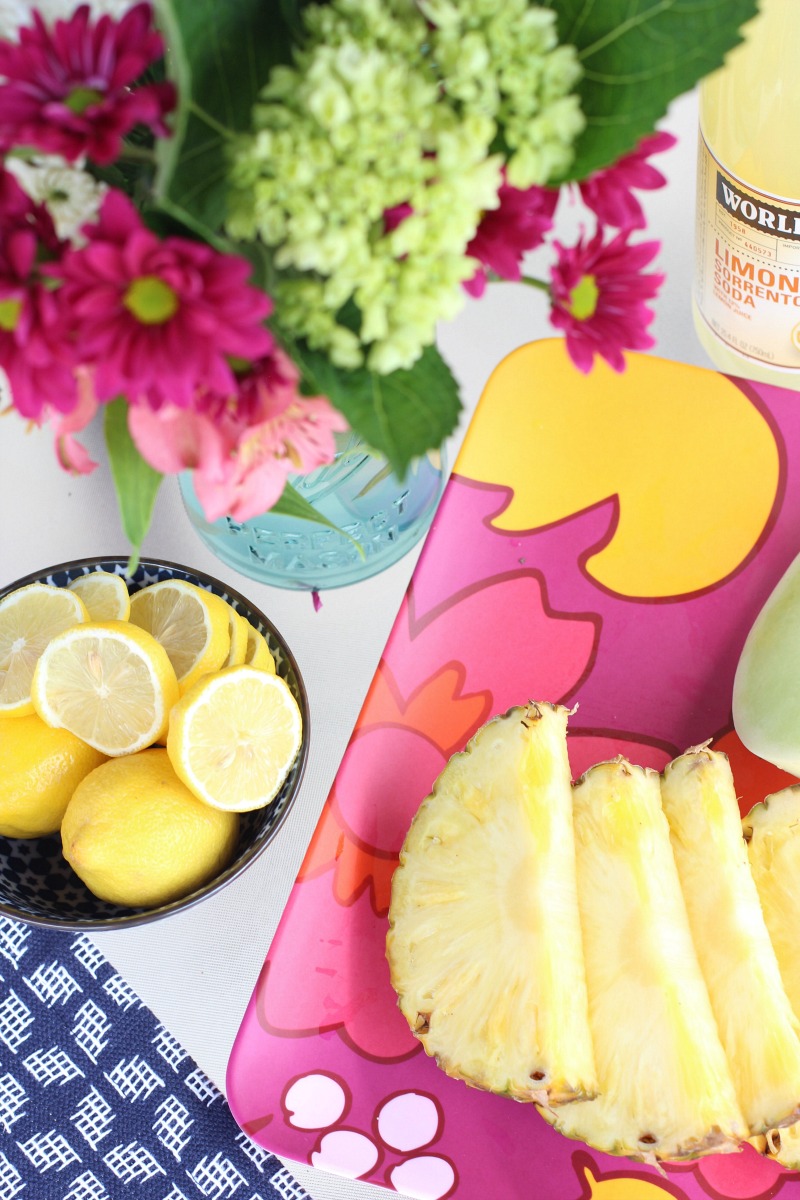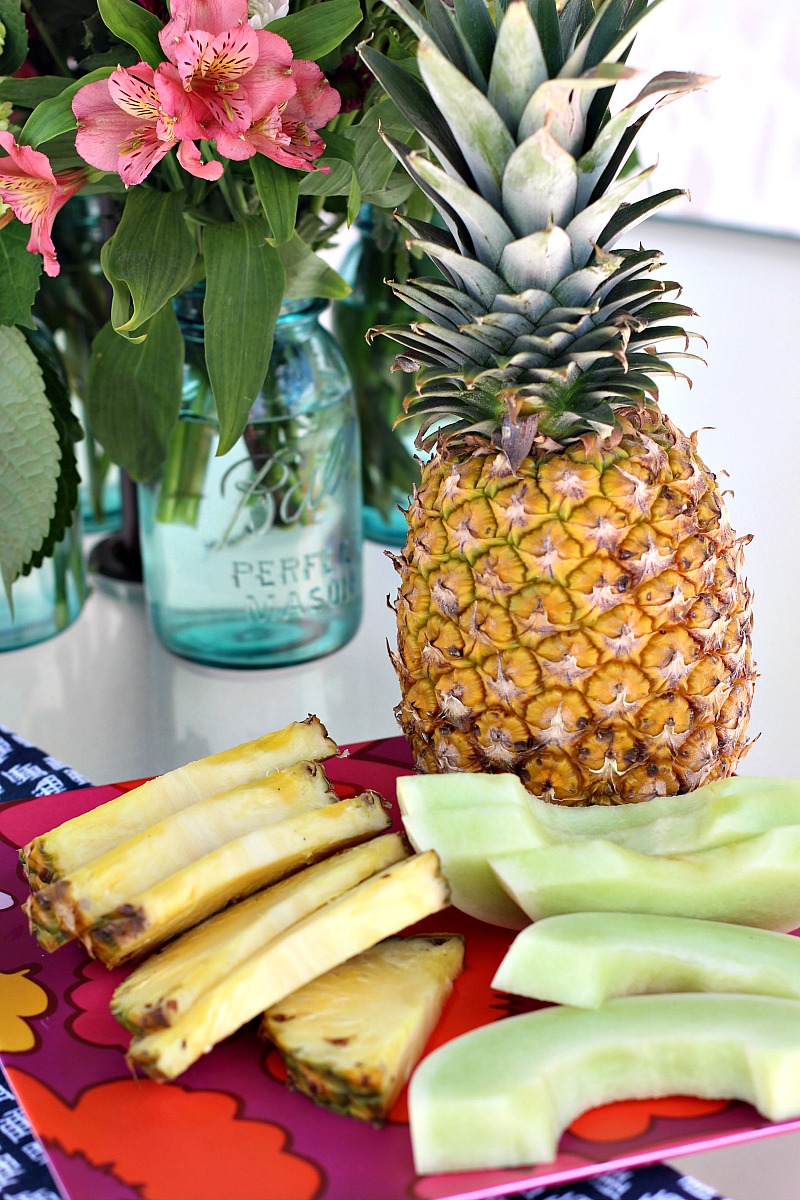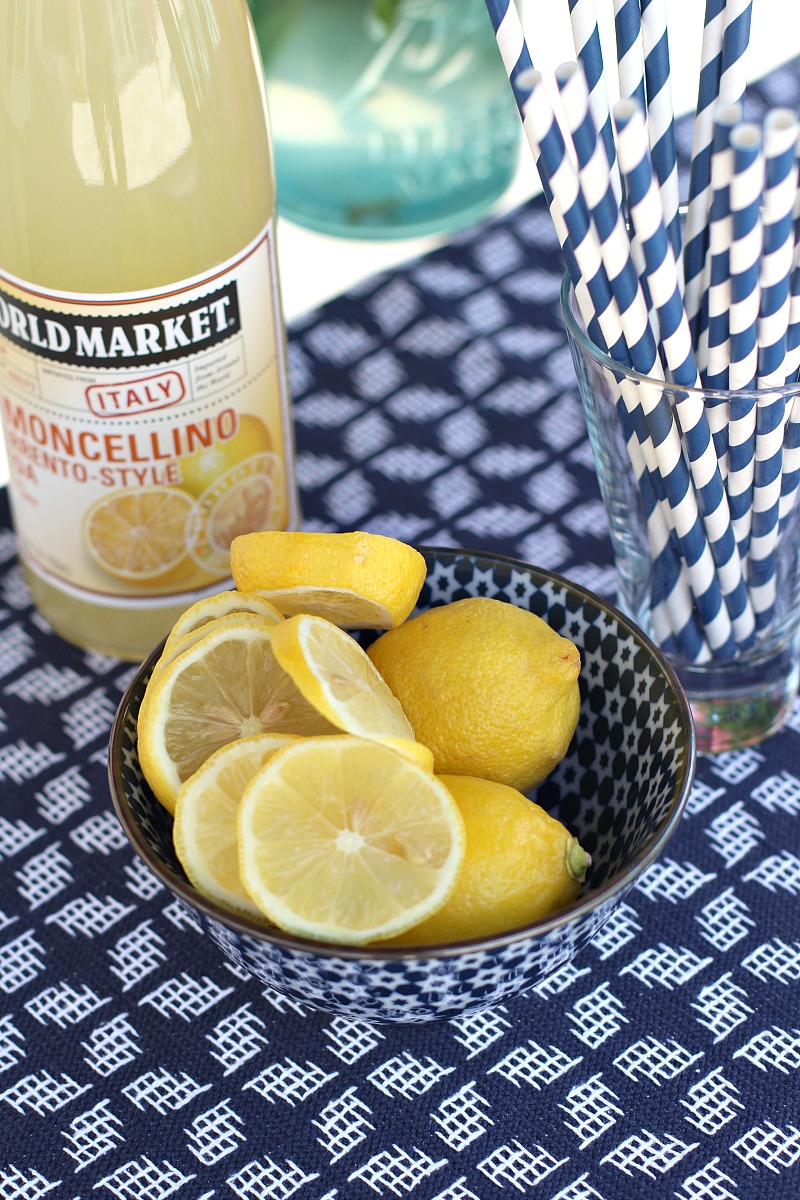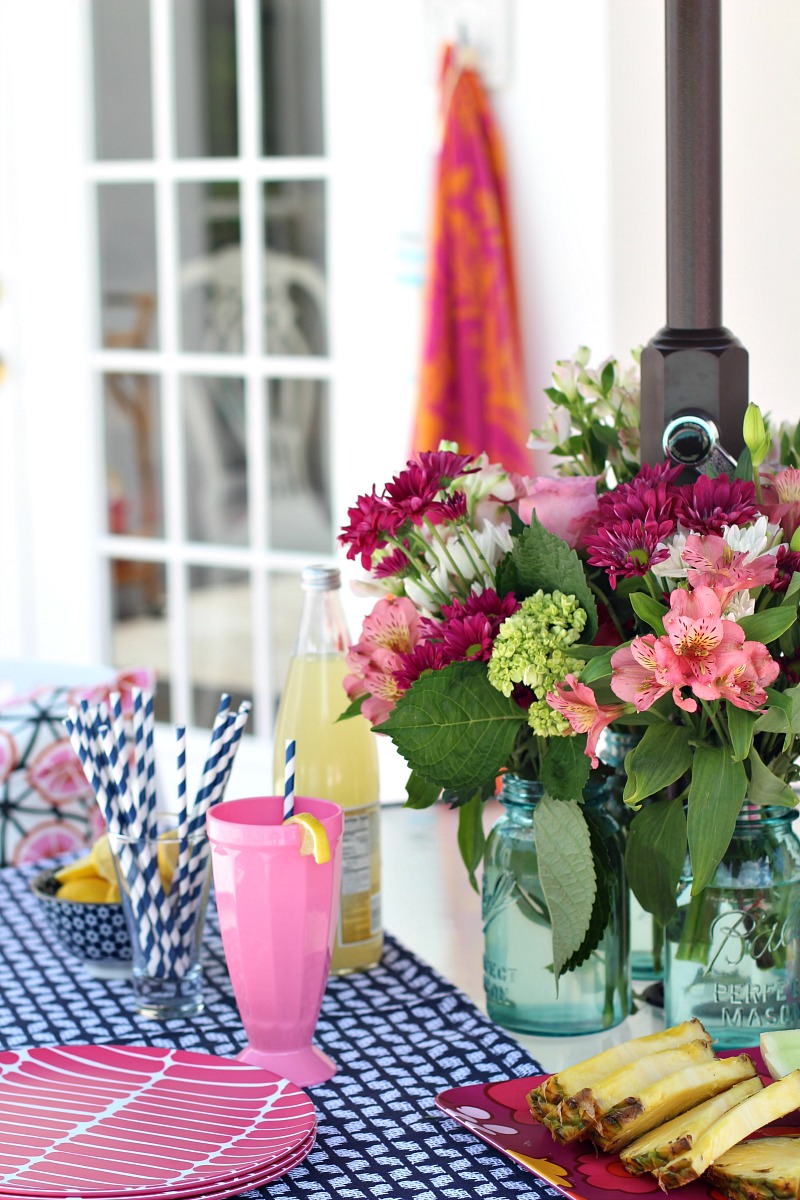 I could live on fruit in the summer time. Speaking of fruit, we have a huge mango tree in the back yard that has the yummiest mangos this time of year.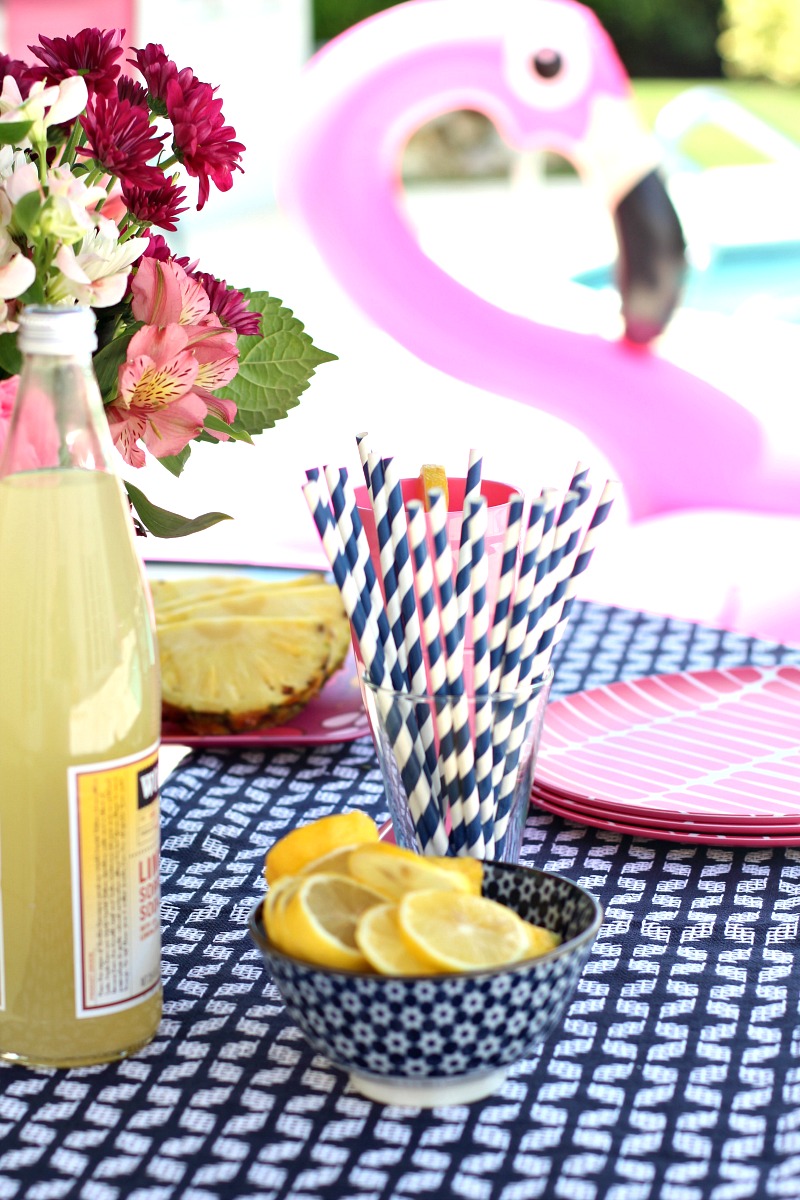 Design Tip: Think of different items in your home to use as a placemat. Here I used a  $1 pillow cover to lay the colorful base for my patterned plate to rest upon. Cloth napkins work well too and allows versatility and multi-use.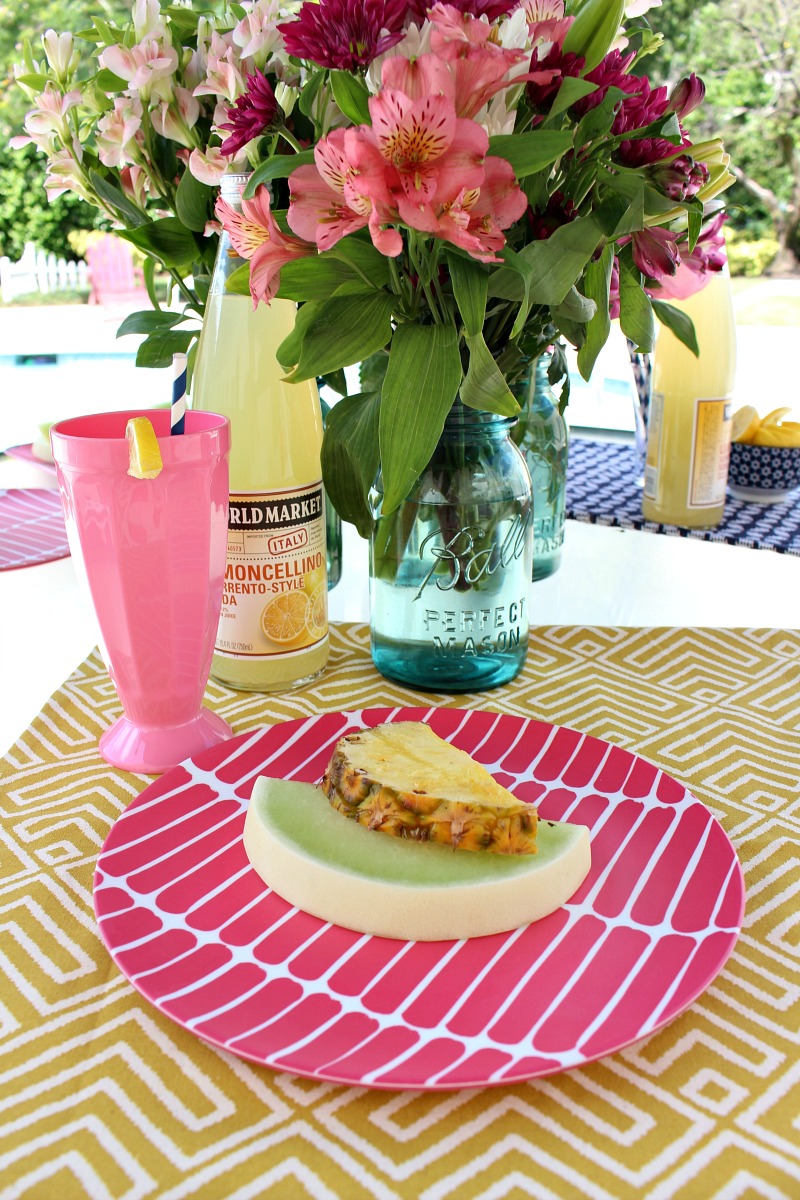 With such a stark black and white house, another way of adding color to a white or neutral space is with flowers and dishes to add that punch of vibrancy.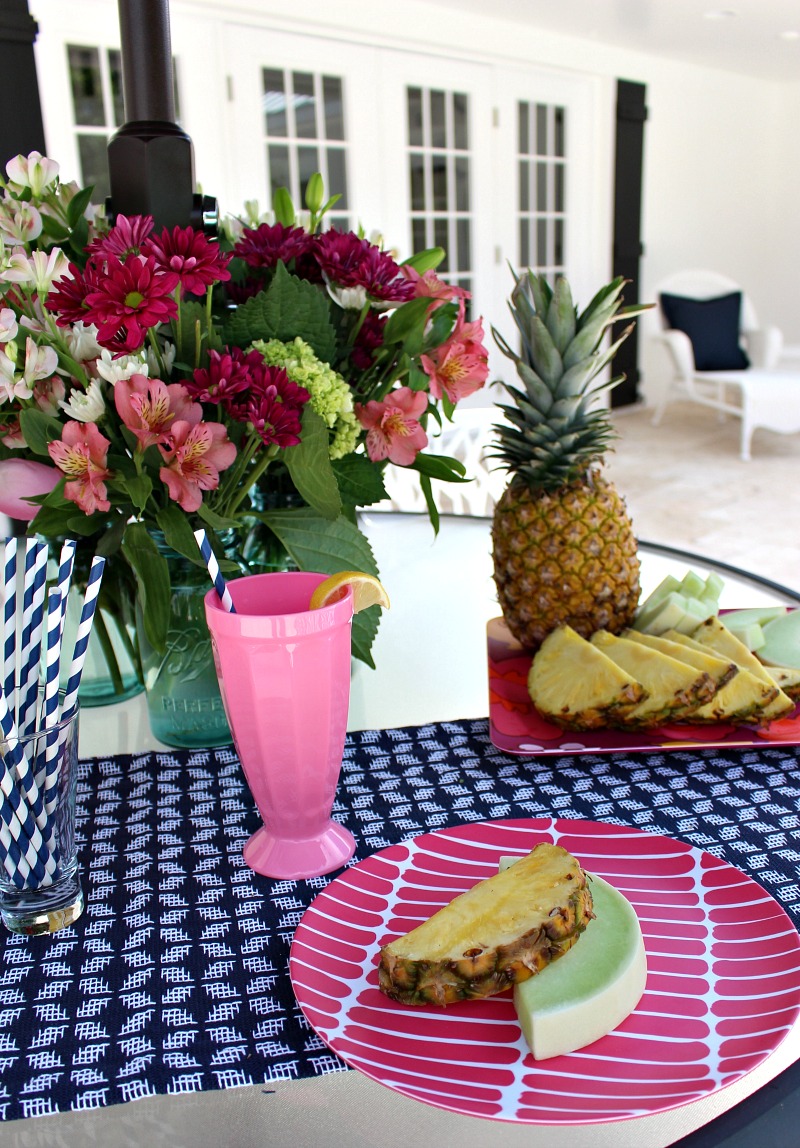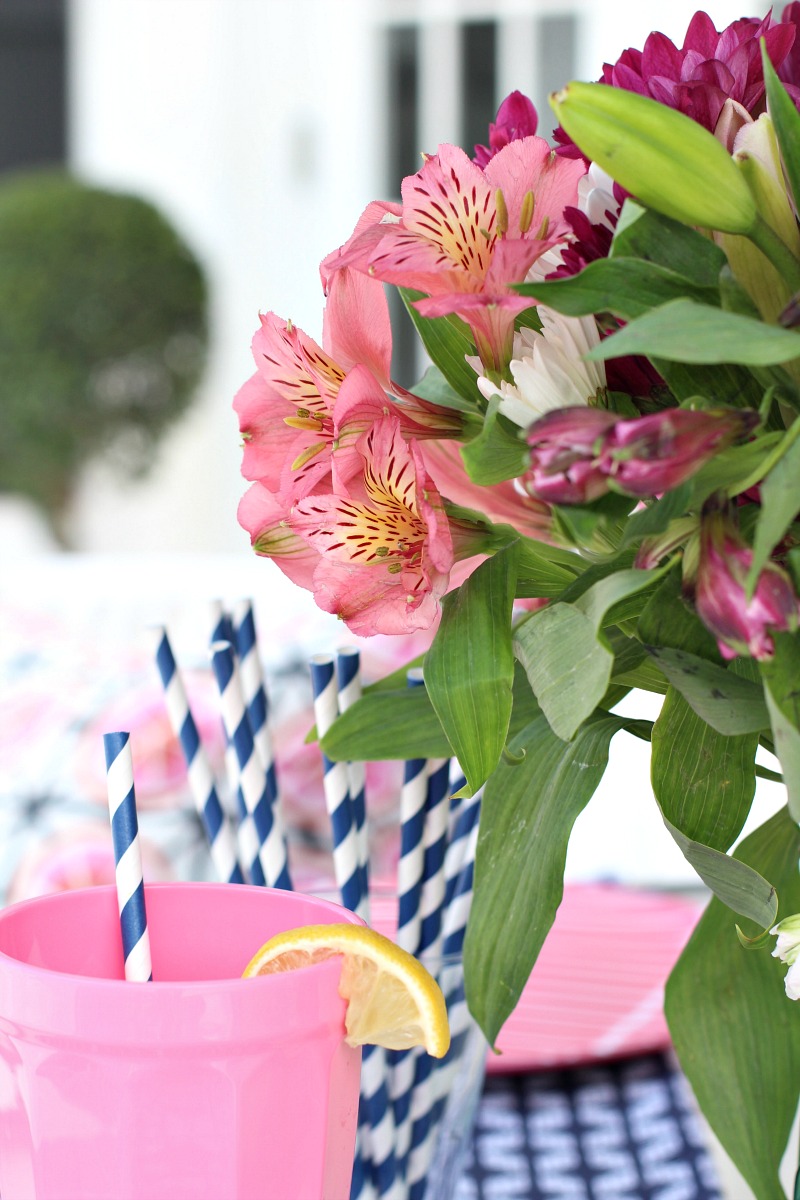 My "reserved" spot to dip a toe in the water. The real truth, it's never a toe, more like full body submersion, because…HEAT. As I try to have my "zen" moment on my pink flamingo, one of our three boys is usually doing cannonballs right next to me or bonking me in the head with a football.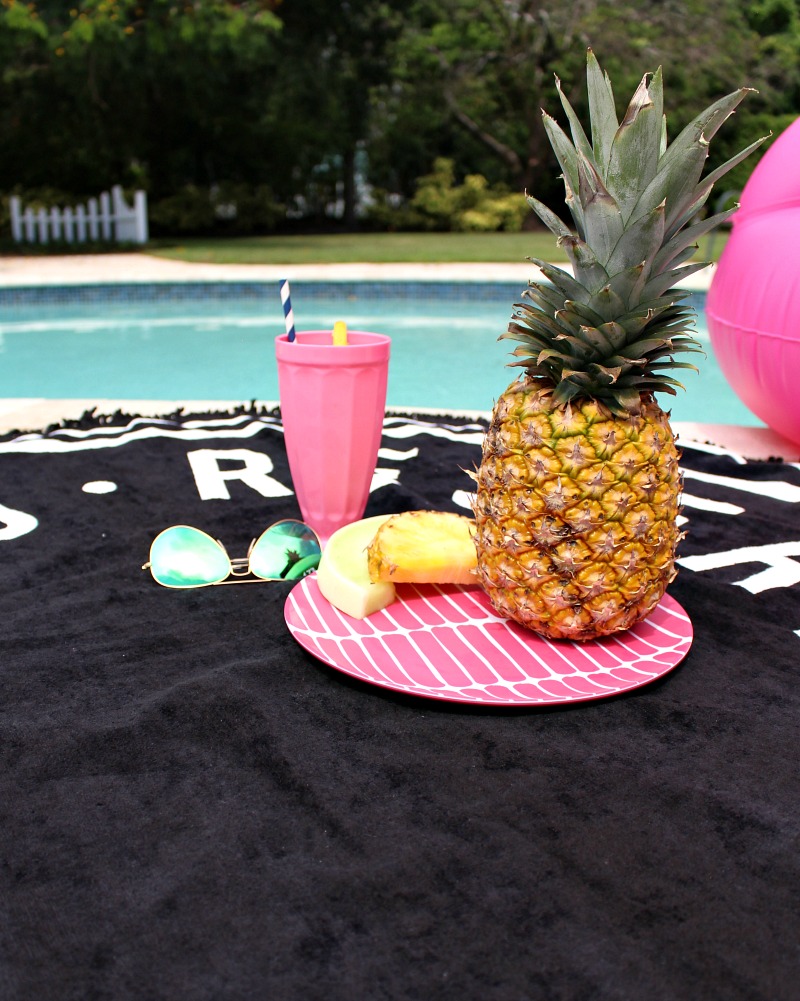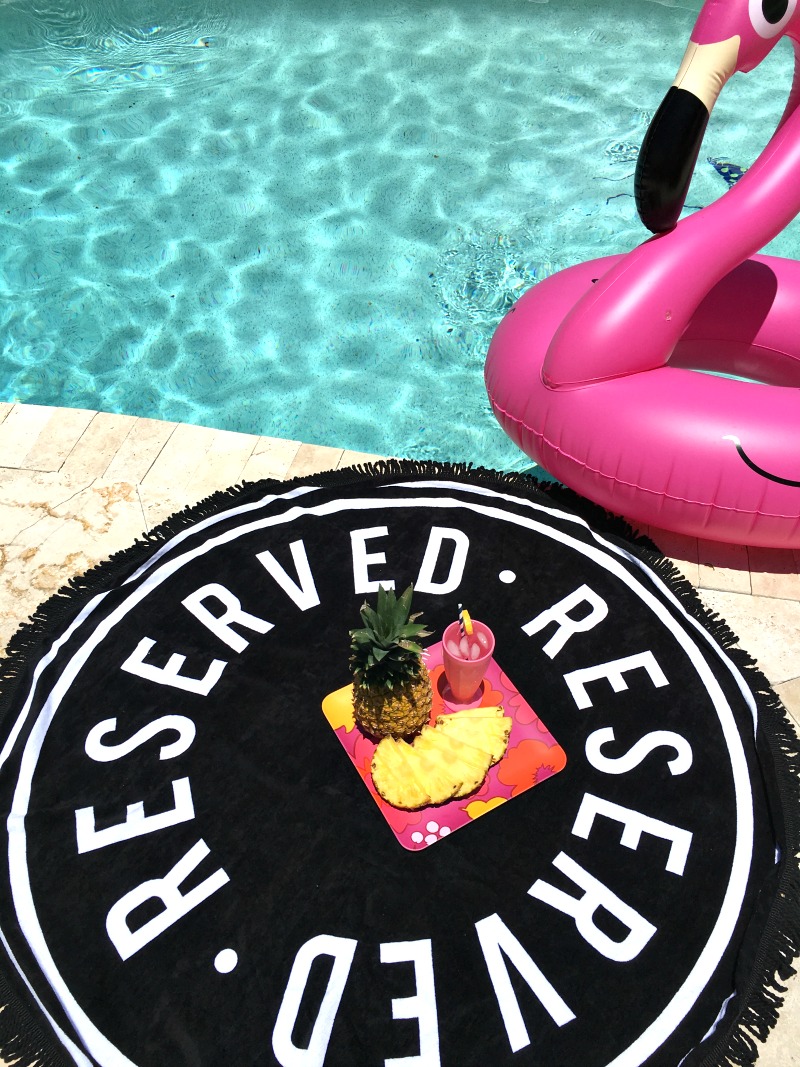 I styled this fun outdoor bar cart with a few pool essentials. Outdoor speaker (outdoor music is a must), bottled water (never can have enough), beach towels (we go through about 20/day…never ending laundry), and fruit (because this heat zaps the appetite and fruit always tastes so good on hot days).
Sidenote: See the different uses of this cart in the home  HERE.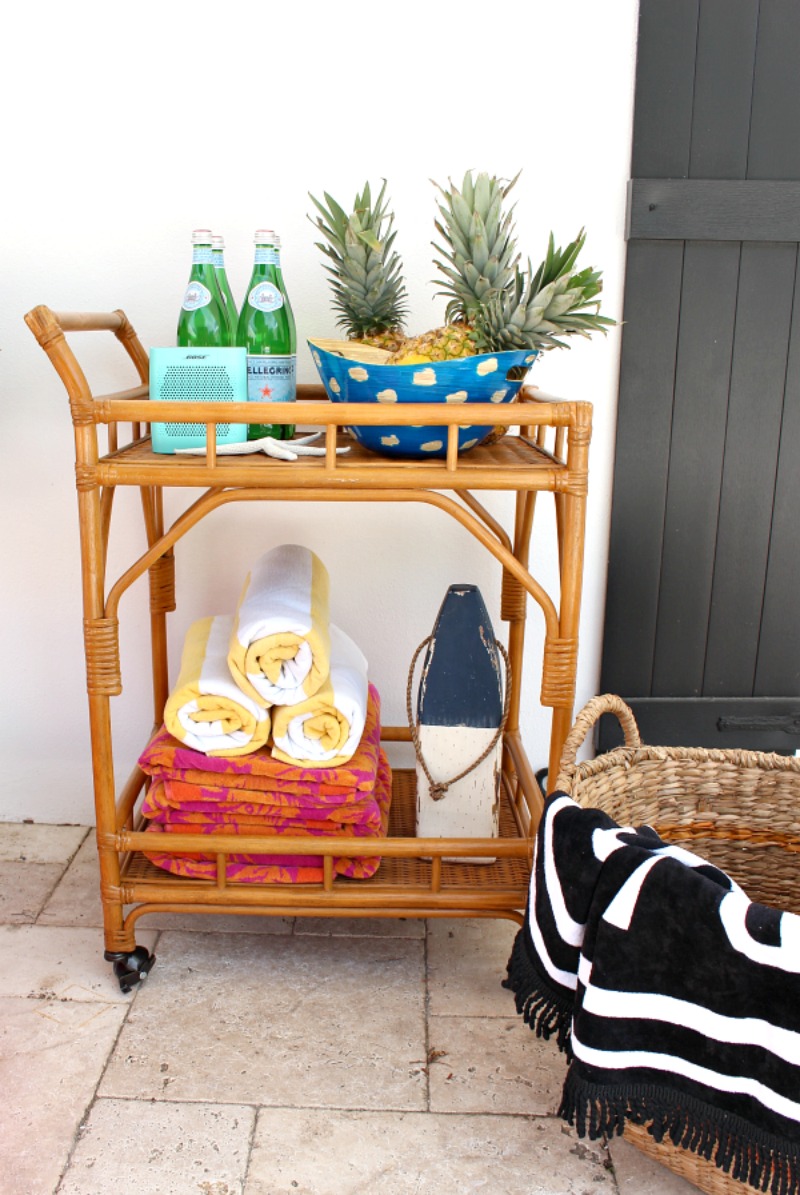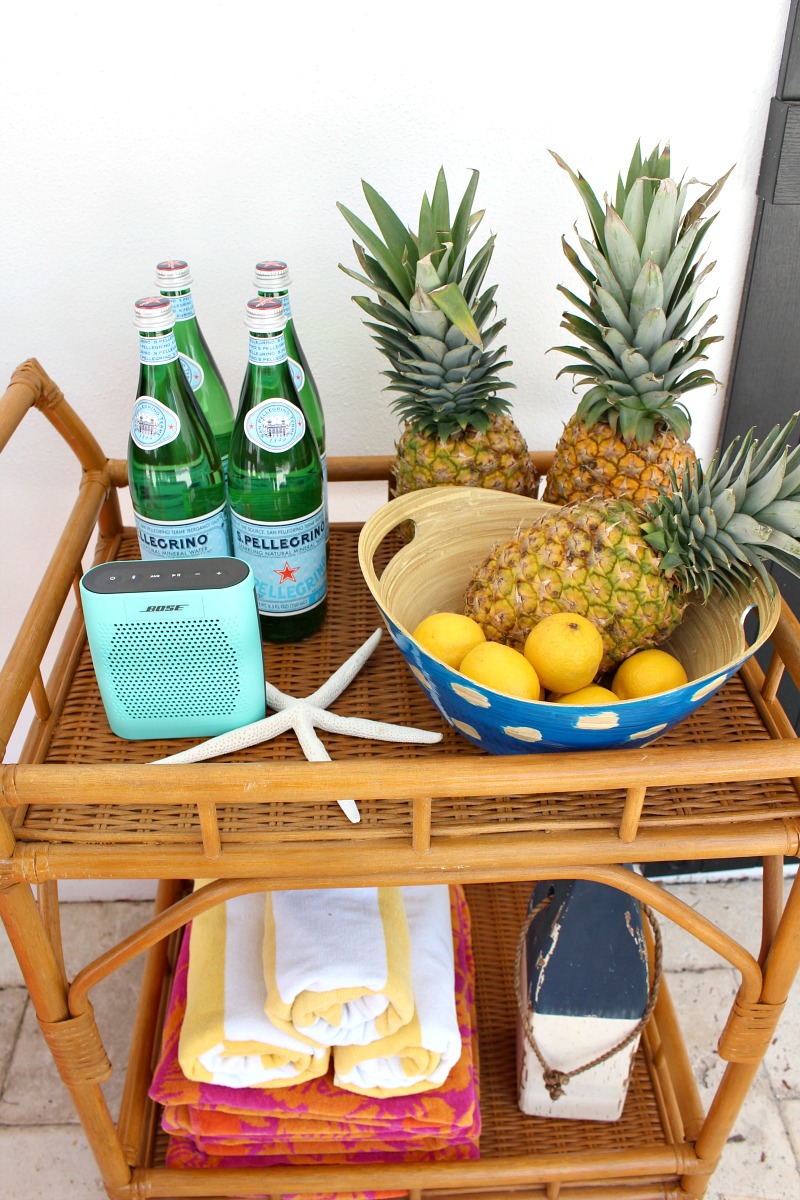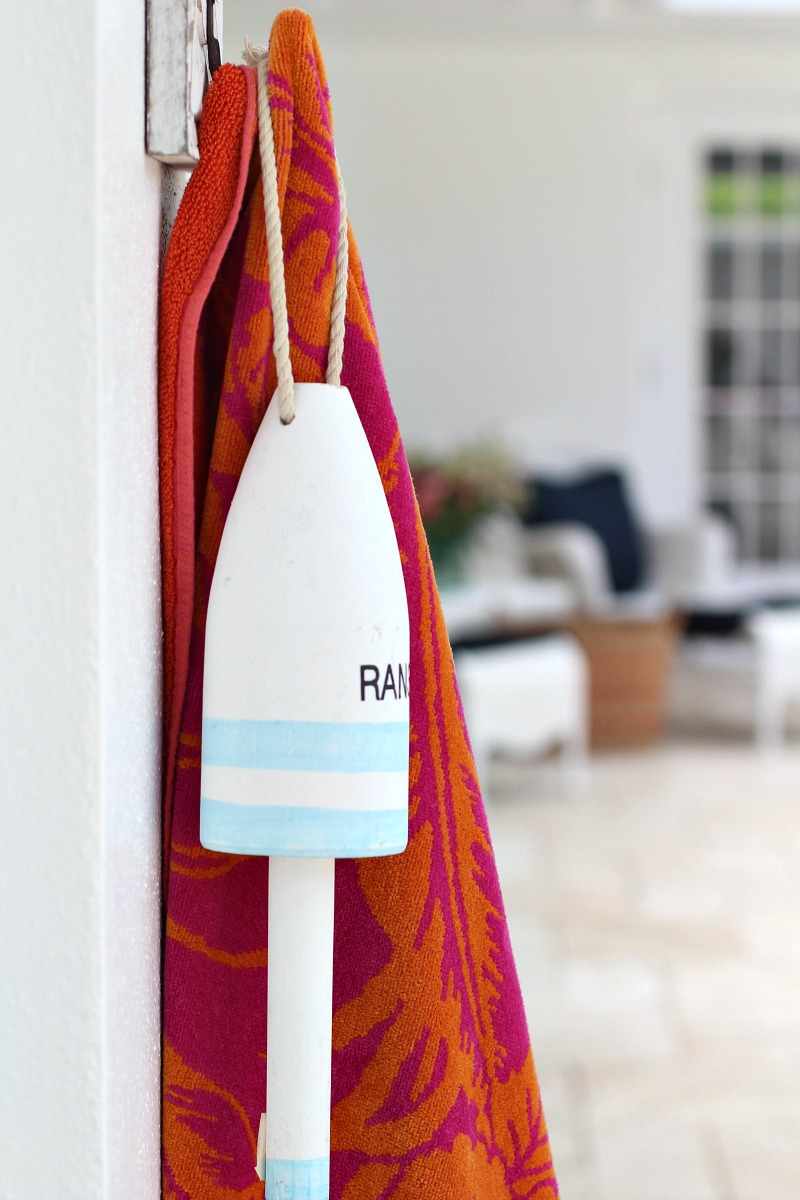 You know those "I Spy" books where you have to spot an object in a "sea of objects"?? Try to spot the lizard here (leave me a comment below if you spy it!!). I didn't even notice him until I started writing this post. Those little lizards are just about everywhere here.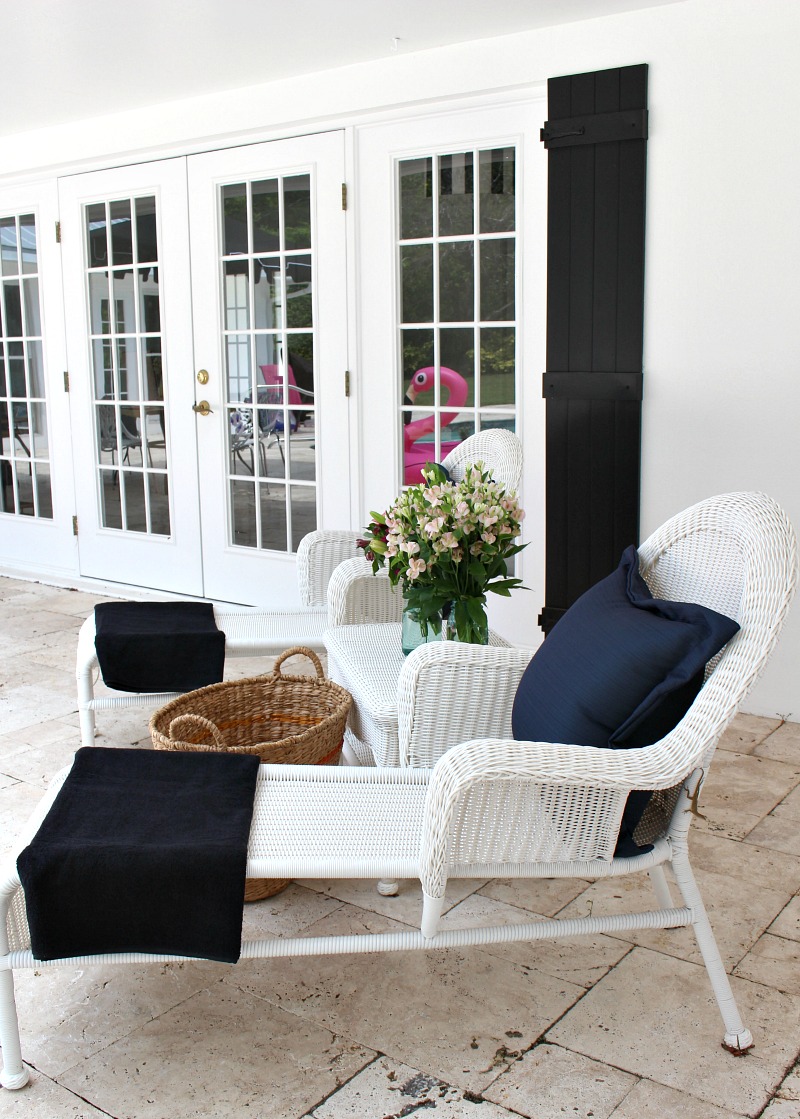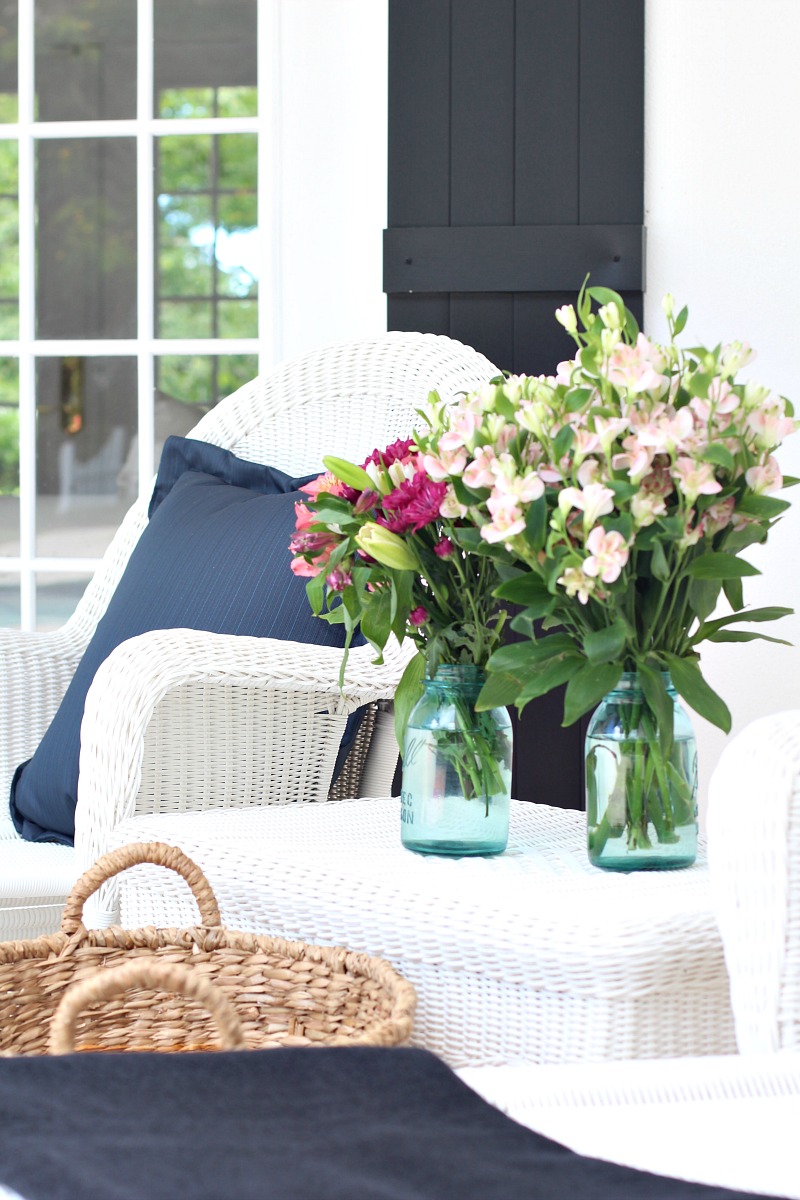 Thank you for stopping by and visiting our summer patio tour.  Please continue on with the Blogger Patio Party at Citrine Living. Tamara's home is in the dreamiest outdoor setting. You don't want to miss all of these participating homes today:
Lindsay Hill Interiors // Zevy Joy // Kelleynan // Citrine Living // Haneen's Haven // Randi Garrett Design // Z Design At Home // Decor Gold Designs
Shop The Post (click on images):

*affiliate links used
Check out our newly renovated beach cottage home tour HERE.  When we are not vacationing at the beach cottage, we are doing life in our Colorado home that you can tour HERE.