Our Bold Black Dining Room Reveal, Styled For Christmas
This room reveal has been a long time coming. Quite possibly the greatest design risk I took in our new home was to be brave enough to go all out BOLD and DRAMATIC and paint our dining room black. The result is breathtaking. If you've been following along through our building process, you may recall this post where I debated over paint colors for this room.
**affiliate links used for your shopping convenience. See our full disclosure and photo policy HERE.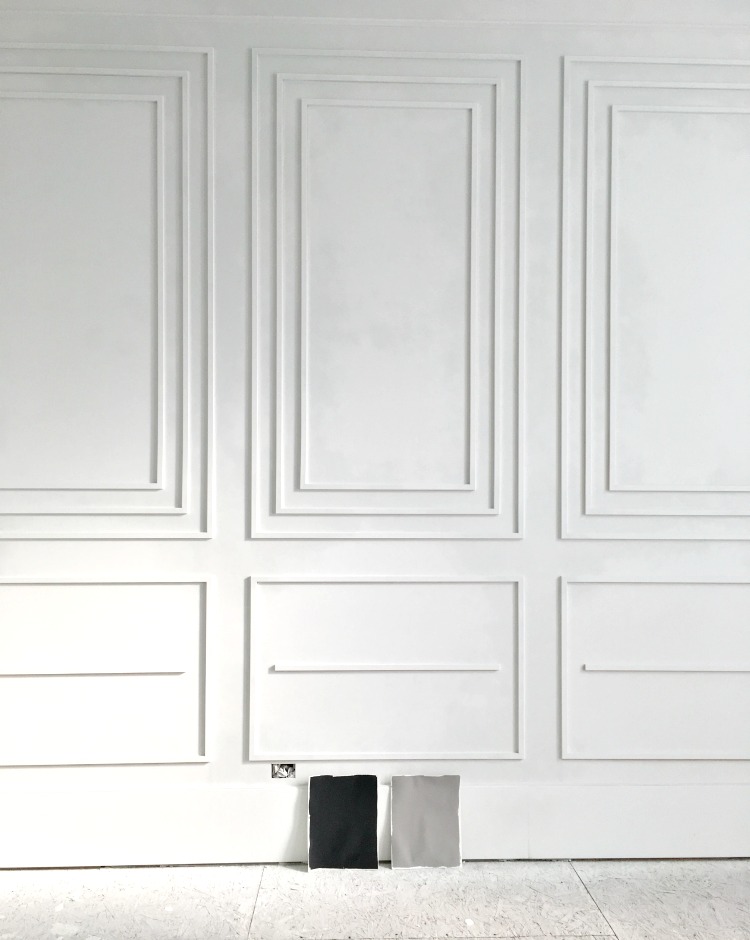 Black can actually be a really tricky color to work with, especially if you are trying to avoid undertones of unwanted shades. Sometimes it can cast off a blue undertone or even a grayish-taupe. I wanted pure black. I pondered a gray color (for about 5 minutes) and then realized I better go with my love language color which is BLACK. It's a color I feel really comfortable with both in interiors and fashion. You should see my wardrobe, about fifty shades of black. Obviously, I feel quite comfortable with it on the exterior of our home as well. You can see that paint color HERE.  Our wall color is Tricorn Black by Sherwin Williams and we used a satin sheen.
We have 12 ft ceilings in this room and large windows that are south facing. The sun pours in here daily and casts the most beautiful haze against the black walls.  Our trim carpenter did such an amazing job creating the millwork design I sketched out for him. The modern style of moulding details give a beautiful dimension to the black paint. I'm simply obsessed with this space and love all the drama it brings to our home. The good kind of drama!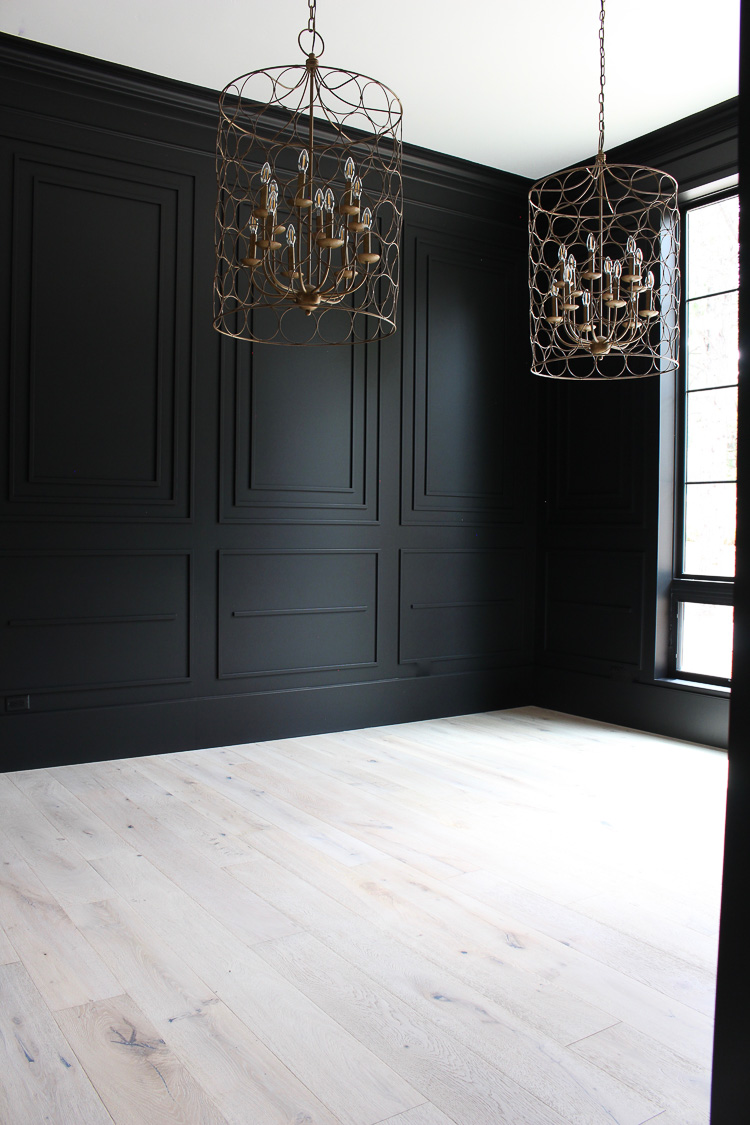 As much as I wanted to show this room off, I've been very patient in getting a feel for how the remainder of the design should be with this much dramatic appeal. Over the past few months, I've thoughtfully made decisions on furniture that felt timeless, sophisticated, refined and inviting. Sometimes a room design can come together all at once, yet other times it can be so important to get one piece at a time to see what the next design move should be. That's how I approached designing our dining room. I probably spent 30+ hours researching dining tables and I just kept going back to his one from RH. The reclaimed french oak planks resting on concrete slabs felt so right for the style of our home. It balanced out our french oak floors and didn't fight against them. It's 108″ long and will seat 10 people comfortably.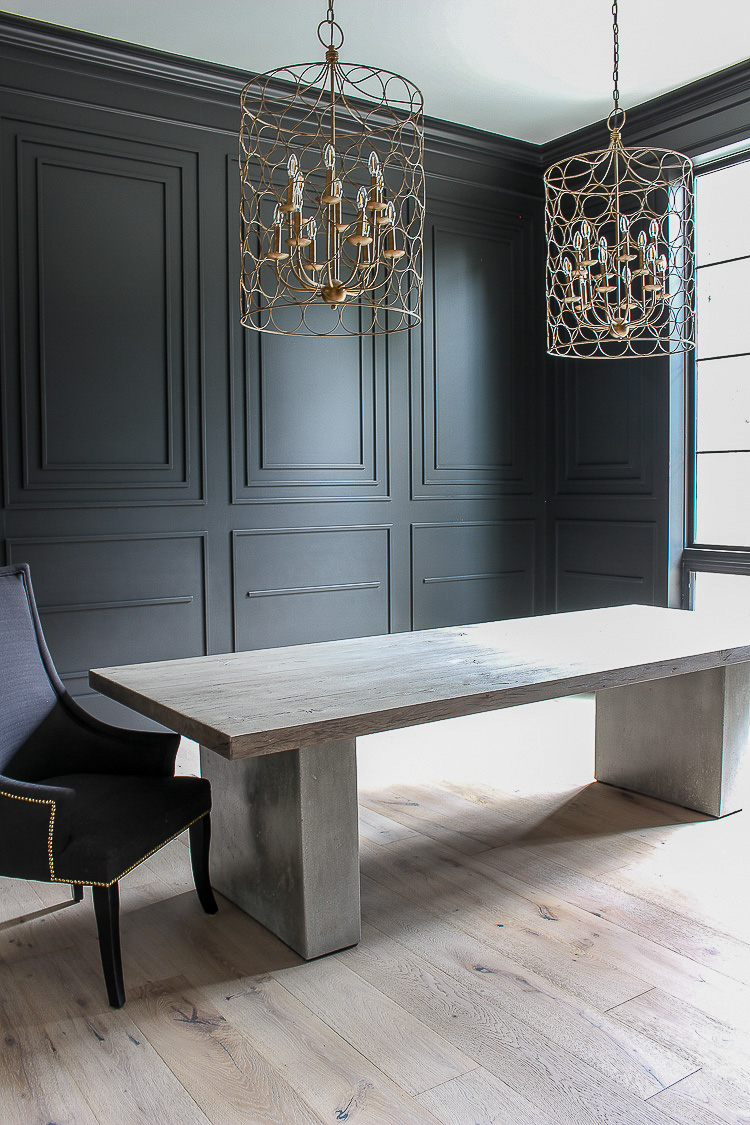 One thing I'd like to point out. It's always much wiser to have your rug in place before the furniture is delivered. I had one of those enlightening "oops!" moments when the table was delivered and I realized how heavy it was. I had "commitment issues" when it came to choosing a rug. Would it be bold and colorful? Bursting with pattern? What style? I could go so many directions.  A rug can make or break a room design. My rule of thumb in designing this home is that I should be able to take any piece of furniture, pillow, rug, etc and shift from room to room and it still look cohesive. I wanted this home to have a sense of unity in style and feel.  A curated style where every room is in harmony. I'll show you in a minute the rug I finally landed on. I'm really happy with it and it's absolutely gorgeous! But first, getting the rug under the HEAVY table…sigh. Each concrete base is around 400 lbs and the wood top is extremely heavy.  Thank goodness I have a very strong (and patient!) hubby, and our son was home for the weekend from college to help.  They disassembled the table and wheeled it off into pieces in the next room so that the rug could be placed. Let's just say I better LOVE this rug because it's never ever getting moved out from under that table.
Are you ready to see the reveal? Just in time for the holiday season!! I hope you love our moody black dining room as much as I do. I've chosen to let all the moulding details on the wall be enough of a statement. No need for art or anything else on the walls. Maybe down the road, I'll change my thoughts on that. Our dining chairs arrived last week and we will be having our very first family meal in here on Christmas day. I'm so looking forward to it!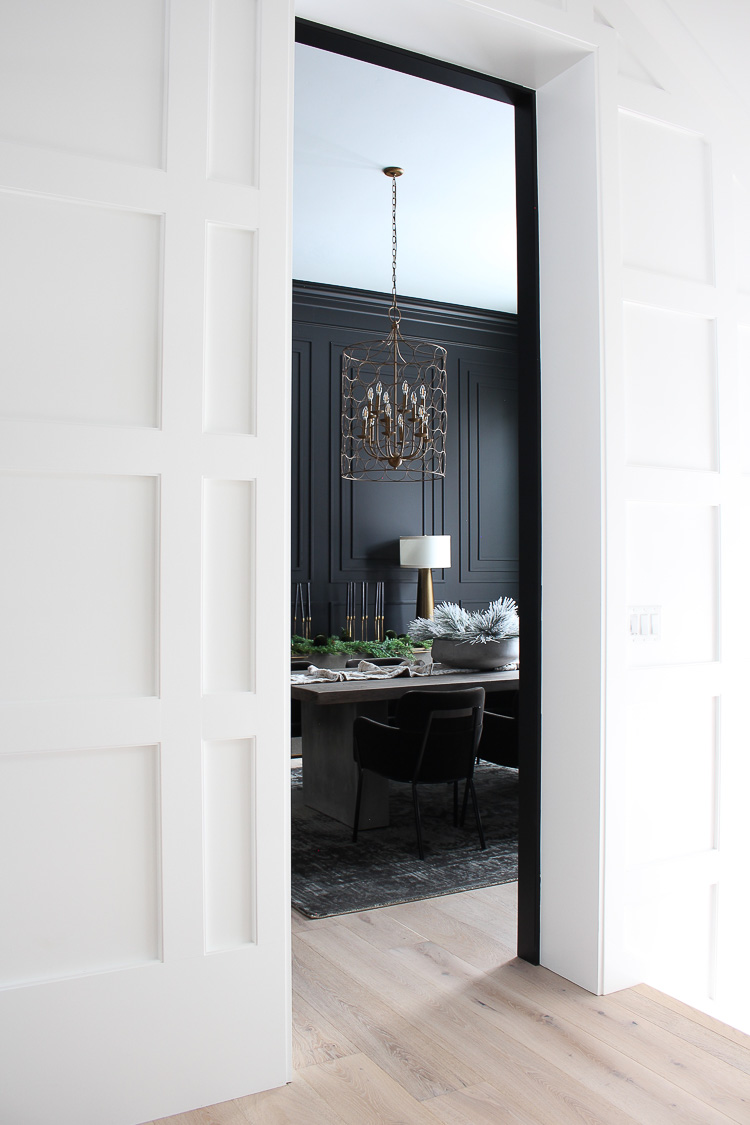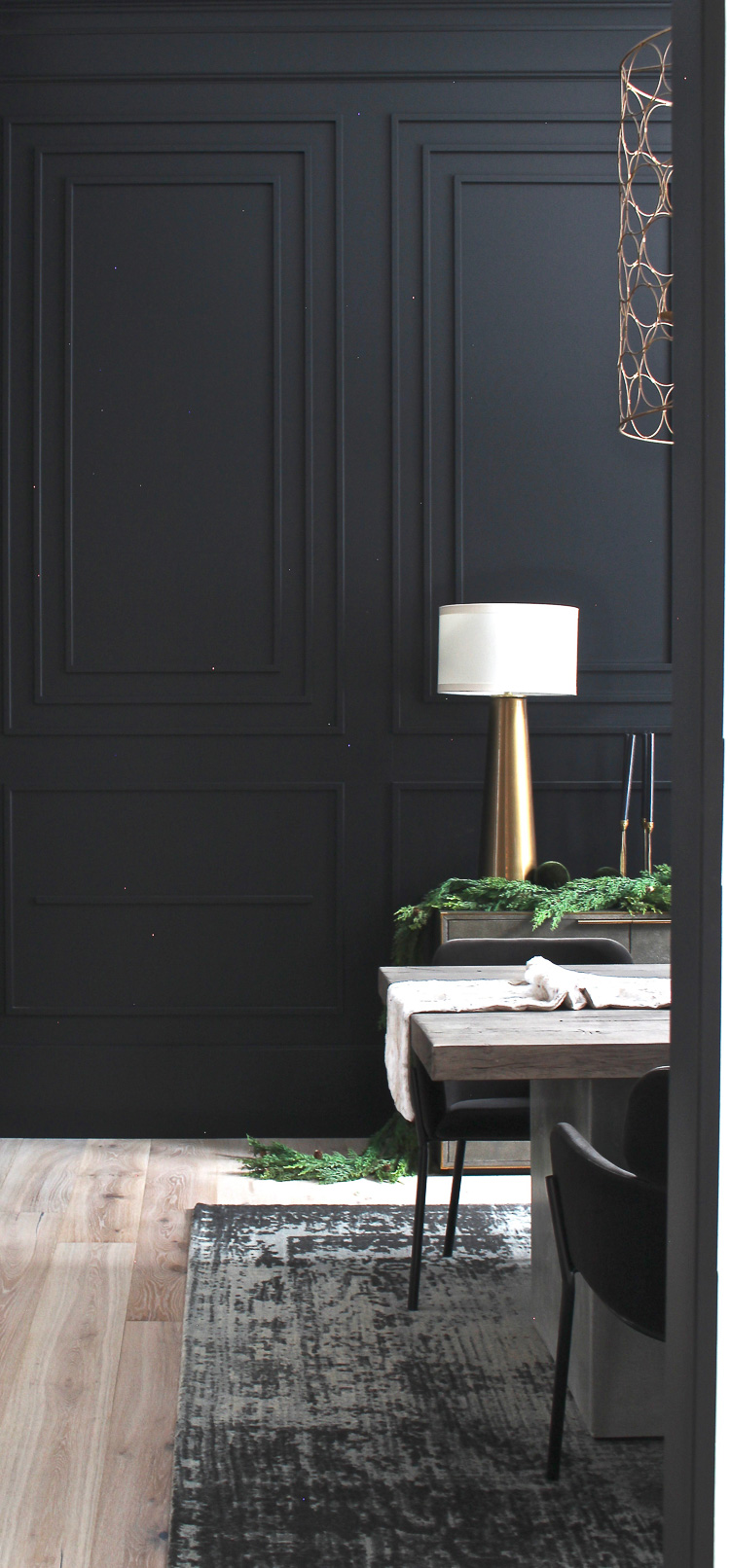 My approach to holiday styling this season is minimal and simple. Garland that looks real with velvet emerald green ornament balls are enough to sense the Christmas spirit.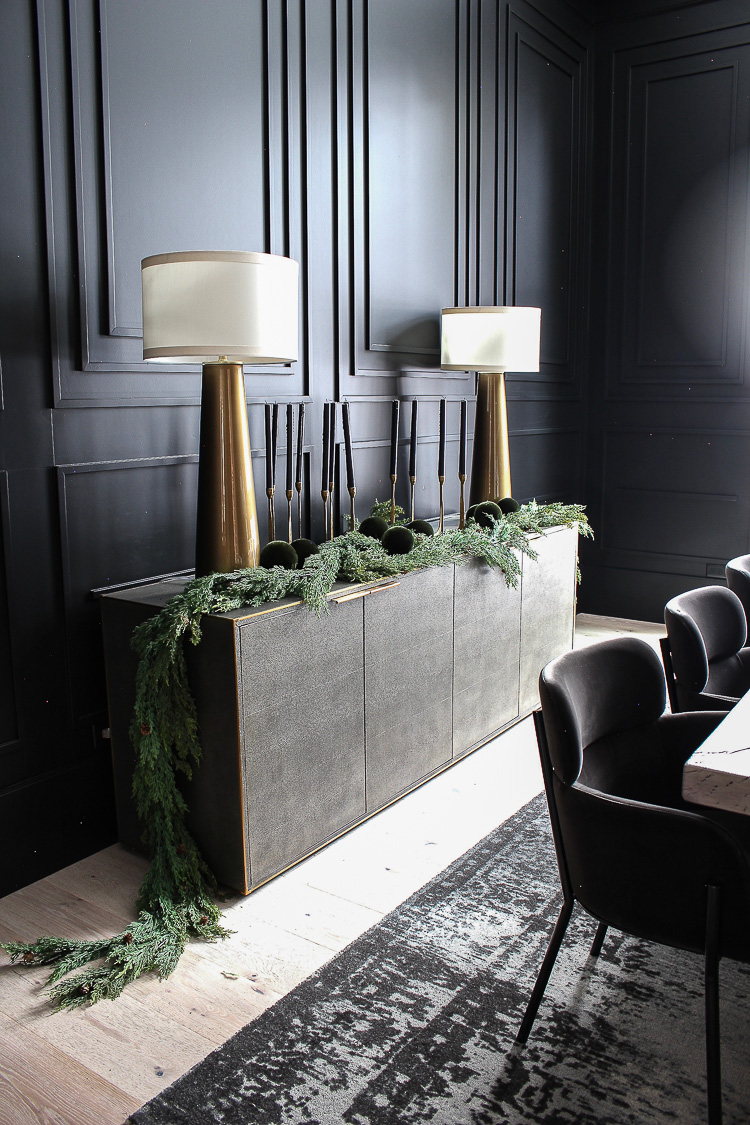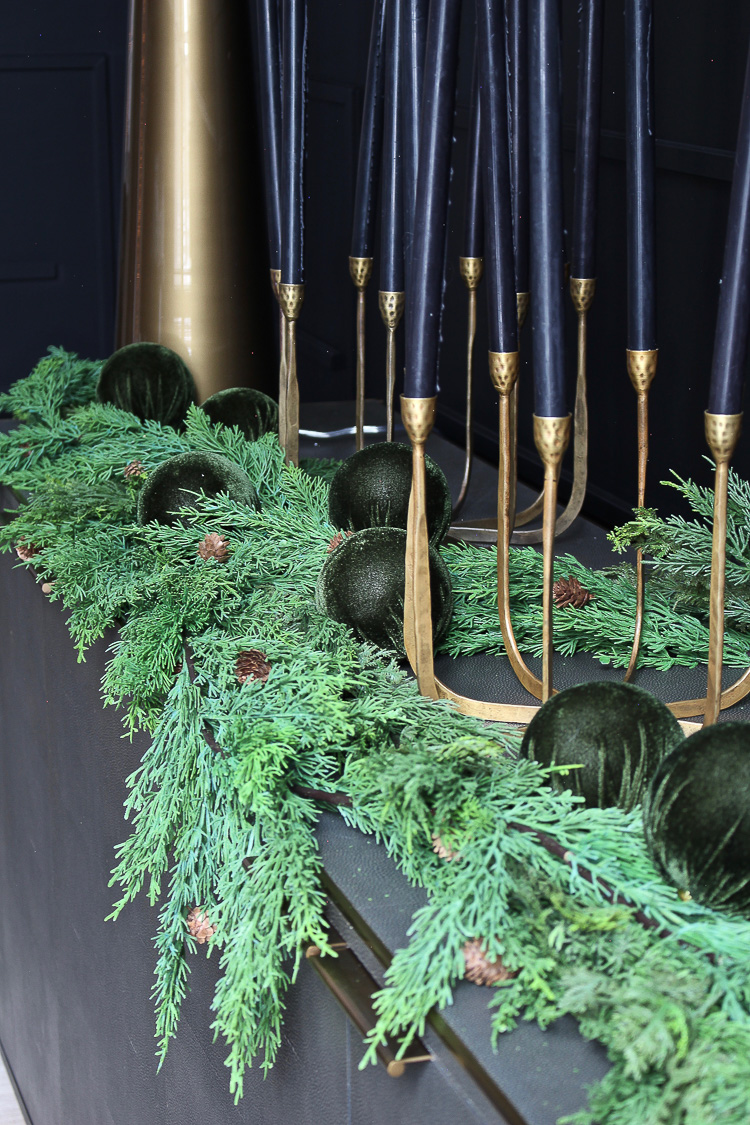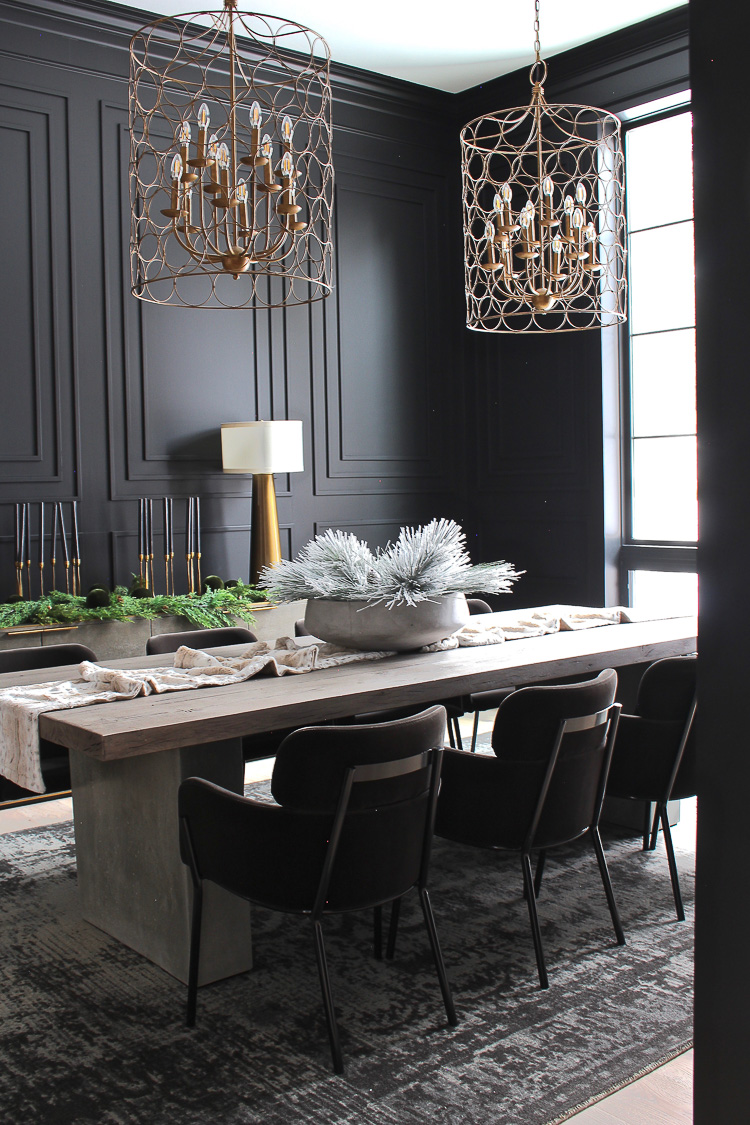 I simply tucked some frosted branches I've had for years into the oversized concrete bowl for a statement centerpiece.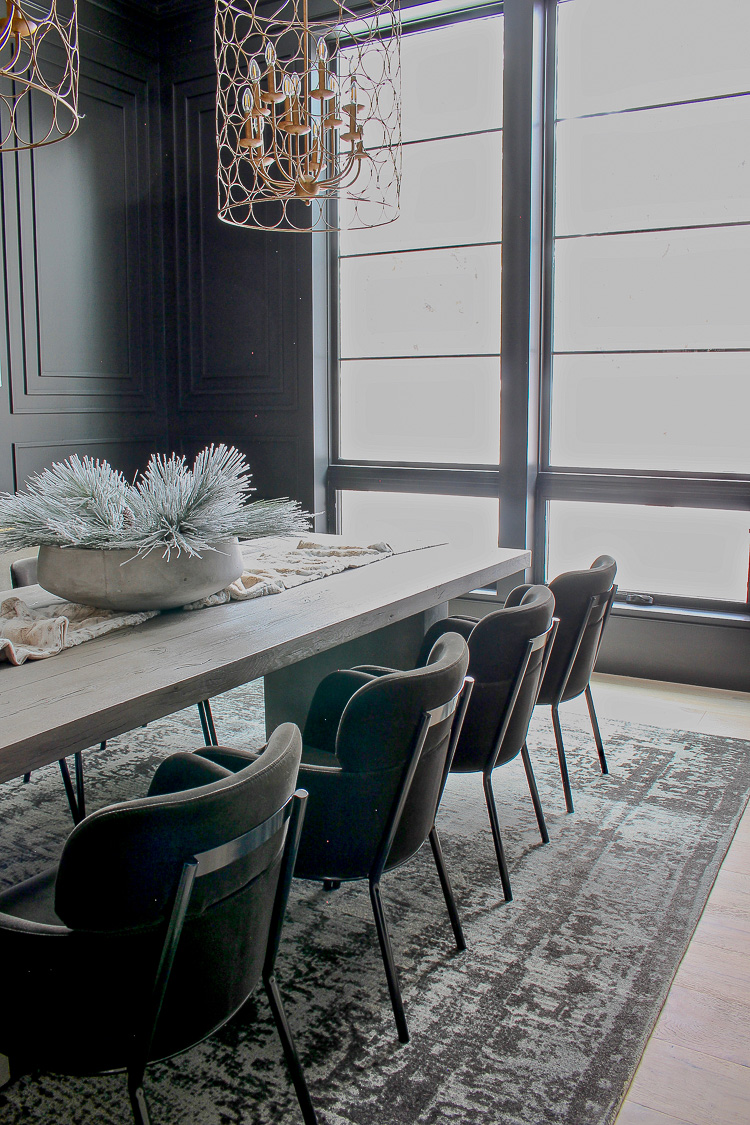 The rug I chose is so beautiful with it's thick wool texture. The color tones are dark charcoal and steel grey with almost a hint of blue undertone depending on the lighting and time of day.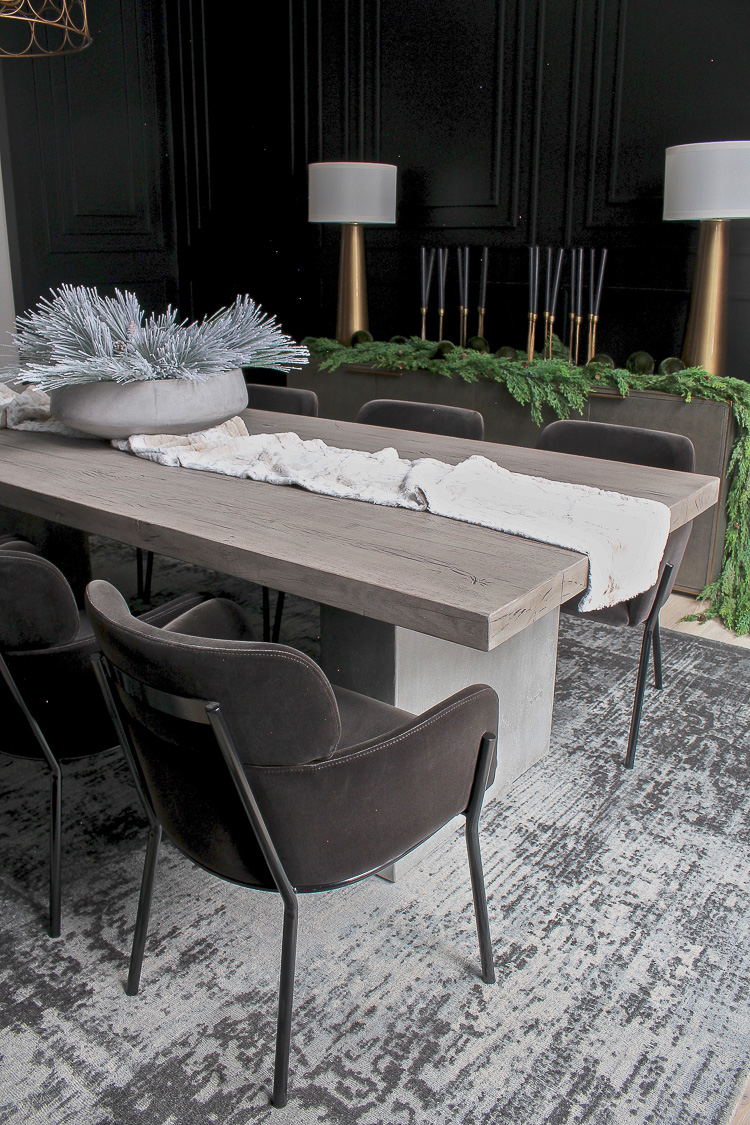 Can we just have a moment for these grey mink chairs? I may have taken almost 5 months to realize what I wanted in here, but that just shows that patience is key to good design. I was able to see this chair at the store and try it out which is a bonus in helping make a wise decision.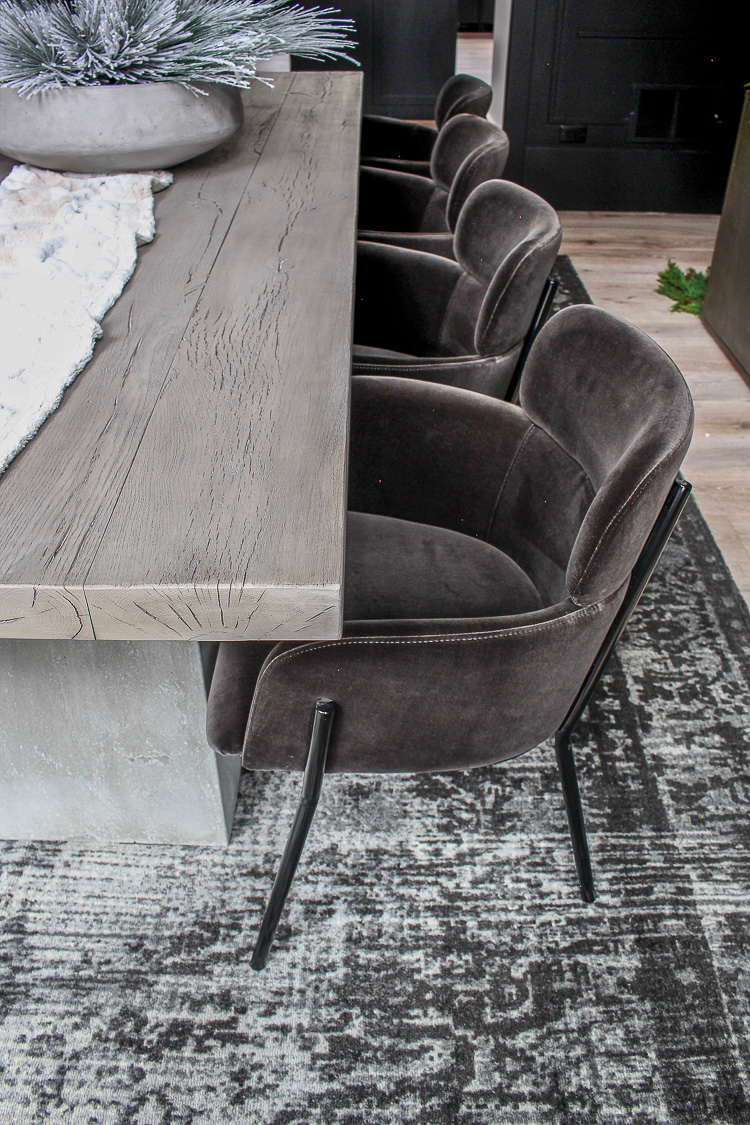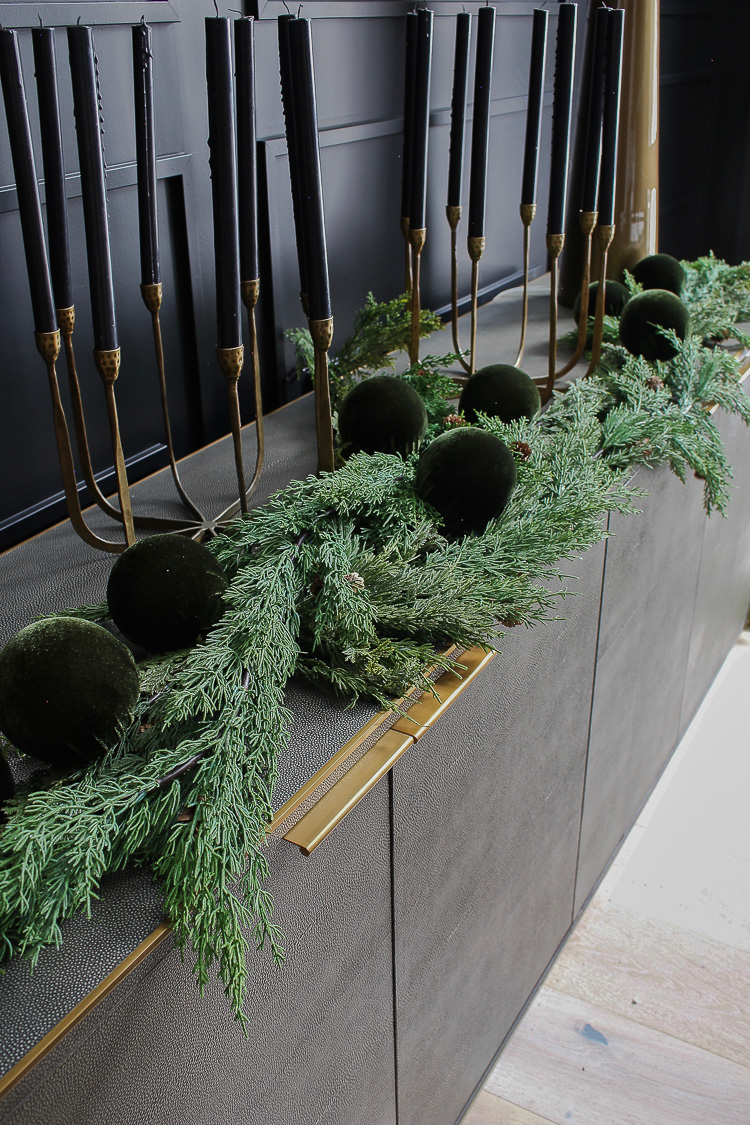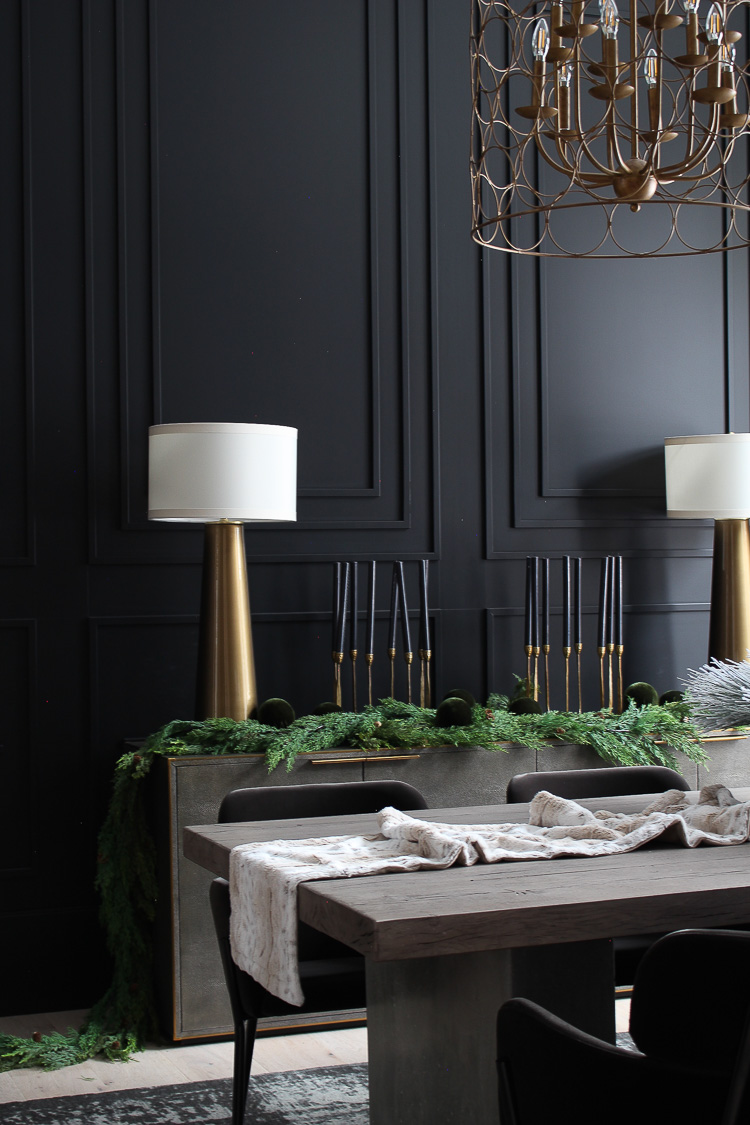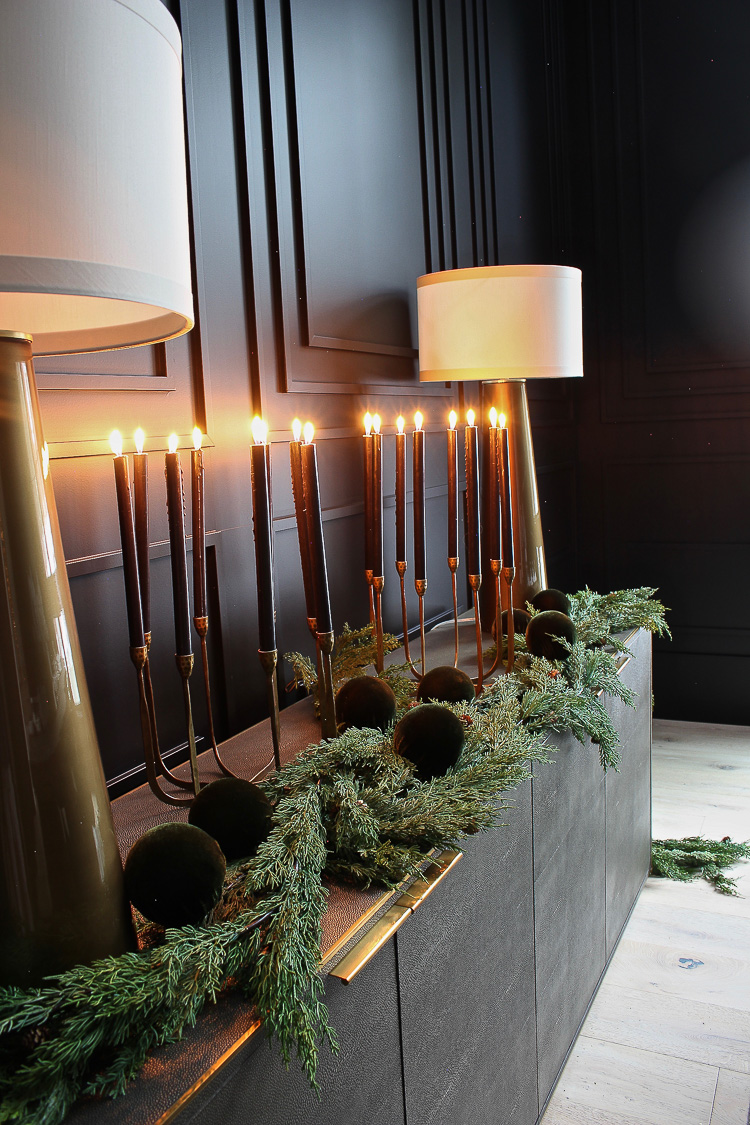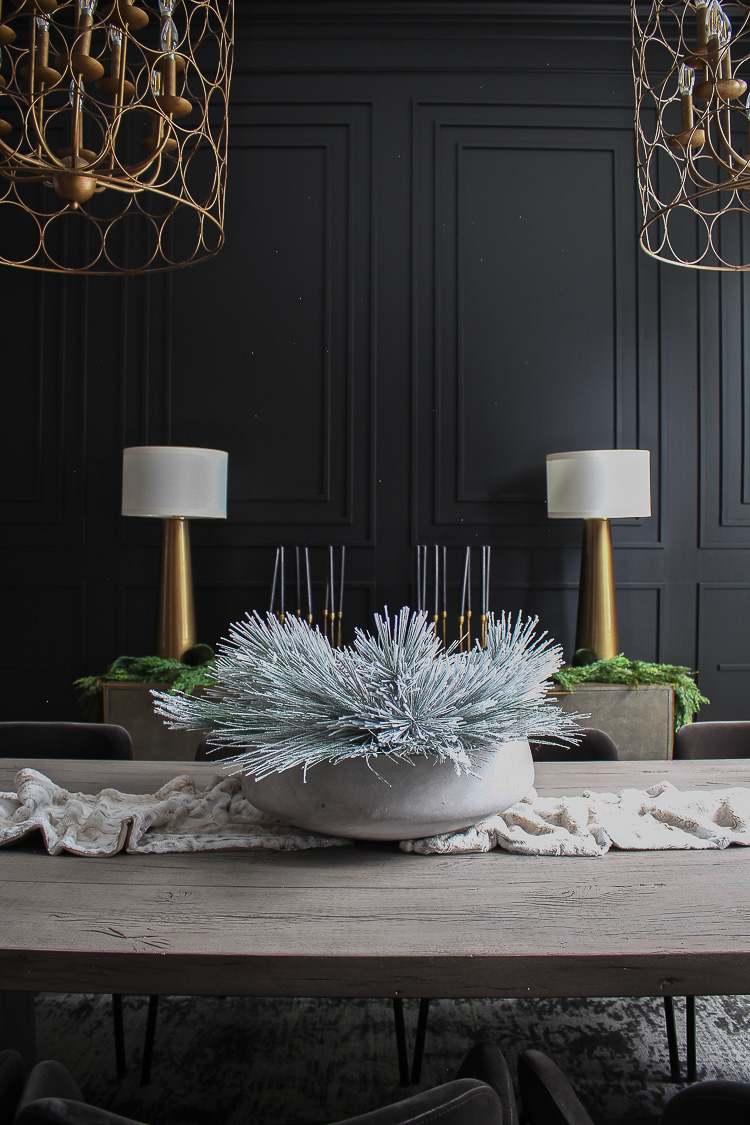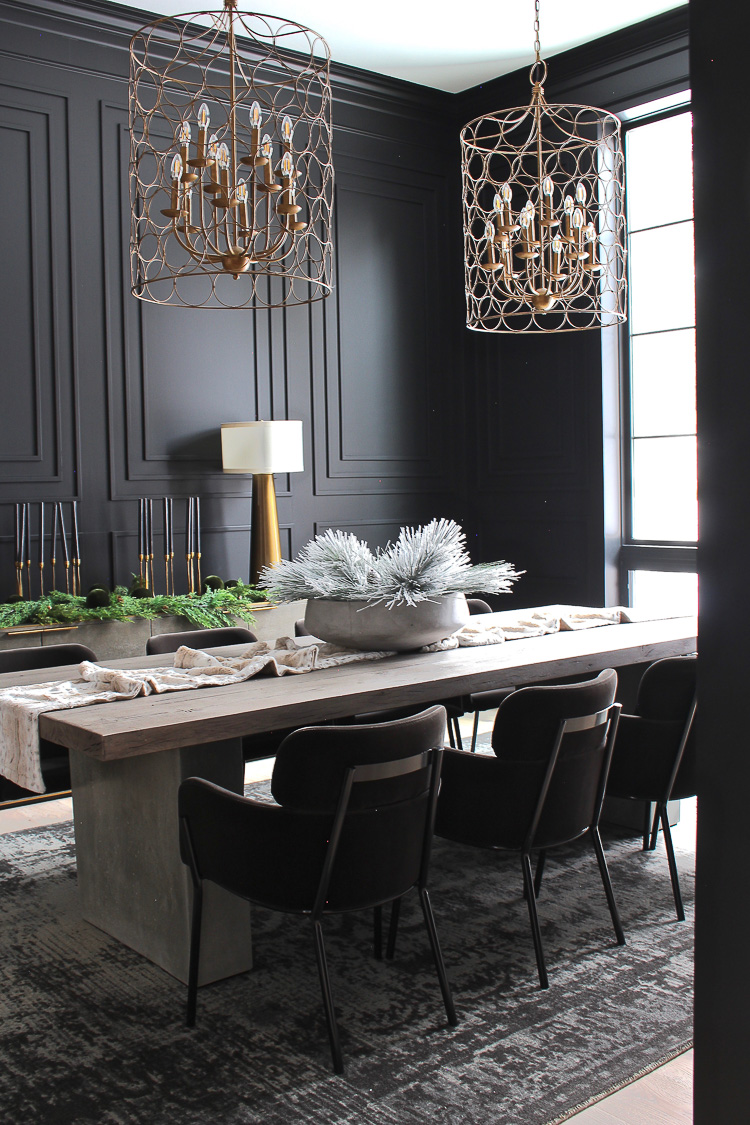 The next phase of design will be window treatments. Long elegant drapes. I'll share the update as it evolves.
Thanks for stopping by! In case you missed it, check out our Christmas Kitchen HERE. Also, you can tour our home, The Forest Modern, HERE. I'm slowly adding rooms as they are complete!

Concrete bowl – no longer available, but found similar HERE.
Candle holders – From Crate & Barrel but unfortunately no longer available
Faux Garland – Marshalls
Velvet ornaments – Hobby Lobby
Info on our windows can be found HERE.
Info on our hardwood floors can be found HERE.