Hello friends! It's been a few months since I've been on the blog (since before Christmas!). It's time to dust off the cobwebs and reconnect with you all! Honestly, my heart has been so heavy in light of the pandemic, Covid-19, that has turned our world upside down. I didn't know if now was the right time for the blog to come out of "hibernation." We are all feeling isolation. We have been called to STAY HOME. I think now though is the time to really connect and let you in on glimpses of our new normal at The Forest Modern.
Yesterday I dusted off my camera (yep, that hasn't been used since December) and snapped some photos throughout our home. I'm a true nester at heart. Cleaning and tidying my home has always been therapeutic for me. Especially now I feel the need to make our home feel like a sanctuary and as well kept as possible with all five of us home. It's a constant process. I know you can relate the struggle is real keeping a home tidy right now! Some days are better than others.
I took a lot of photos because my mind needed to feel creative once again. I love looking at my home through the lens of a camera. I'm not calling this your typical "blogger spring home tour" but instead what it really is. Our Shelter in Place. I typically don't throw this many photos on one blog post but since I figure we all have a lot of time on our hands, all the photos may help your mind escape for a bit.
As you tour through our home, I hope you see more than pretty images. I hope you feel the life in our home. The heartbeat. A big piece of our heart is no longer with us and I wanted to share it with you all. Our sweet Gucci, our pint size, spitfire yorkie passed away on March 14. Back in December he was diagnosed with pulmonary hypertension. We didn't expect him to live through Christmas but he did and we had 2 more months of beautiful life with him. He was 11 1/2 years old and lived a wonderful, well loved life with us.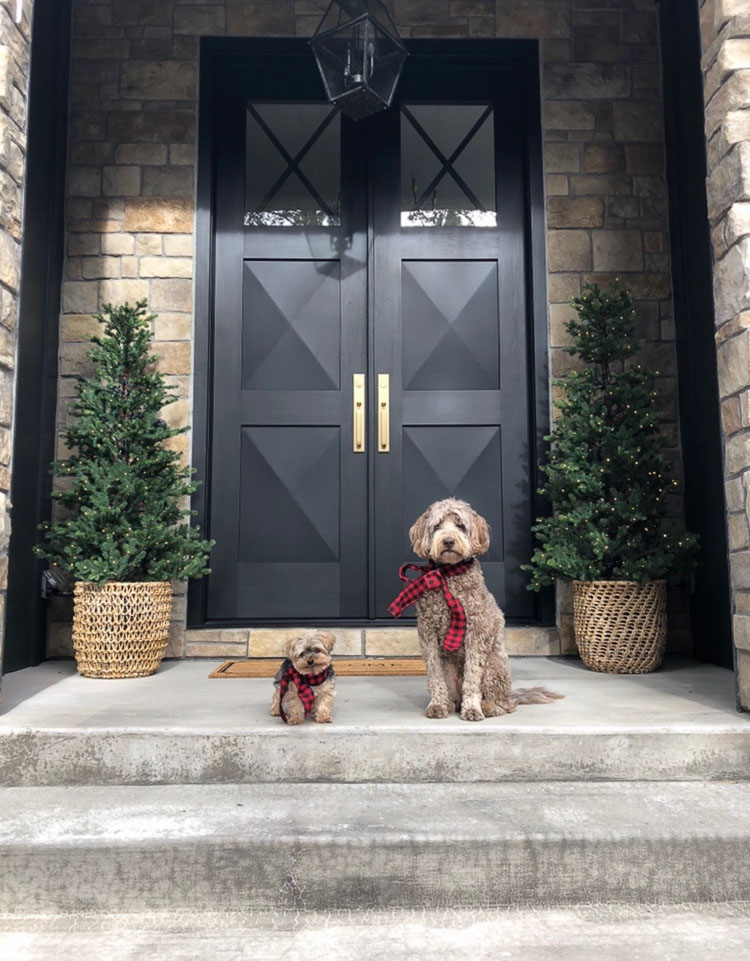 Our hearts are broken. We are so thankful that he now has a beautiful place to rest in our forest. Kodak seemed a little lost without him the first week. He still will not walk by his grave, as if he is showing his own sense of respect.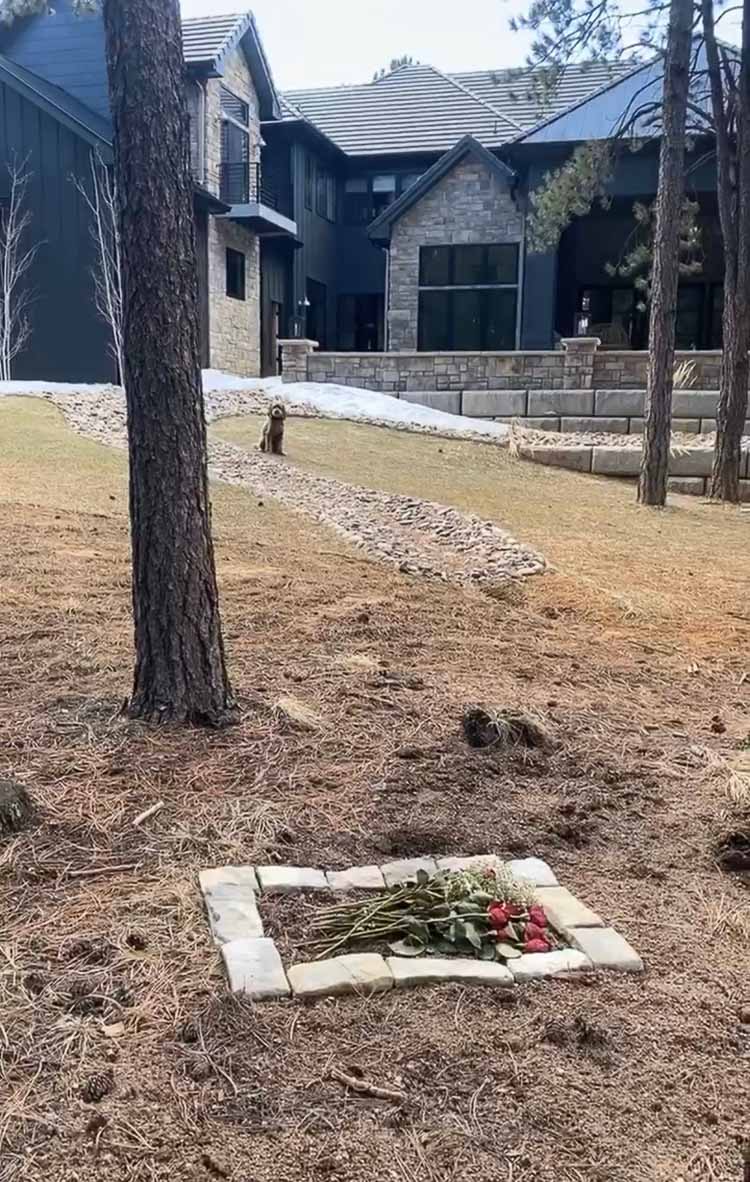 I share this with you all because I know how much you have loved Gucci over the years seeing him debut on some of our photos. He loved the camera and always seemed to show up in the frame when he heard me snapping the photos. I miss him! He will be greatly missed in all those photos.
Let's dive in now to what our Shelter in Place currently looks like. Starting in the kitchen. The absolute most used room in our home right now. We've been quarantined in our home since March 15 and I broke my cooking streak of 5 days in a row a long time ago. I've become the on demand chef for breakfast, lunch and dinner. Tim cooks a meal here and there but I'm primarily the one. I'm thankful though that I can do this for my family and that I'm healthy and we have food. That blessing is certainly not taken lightly or for granted.
**This post contains affiliate links.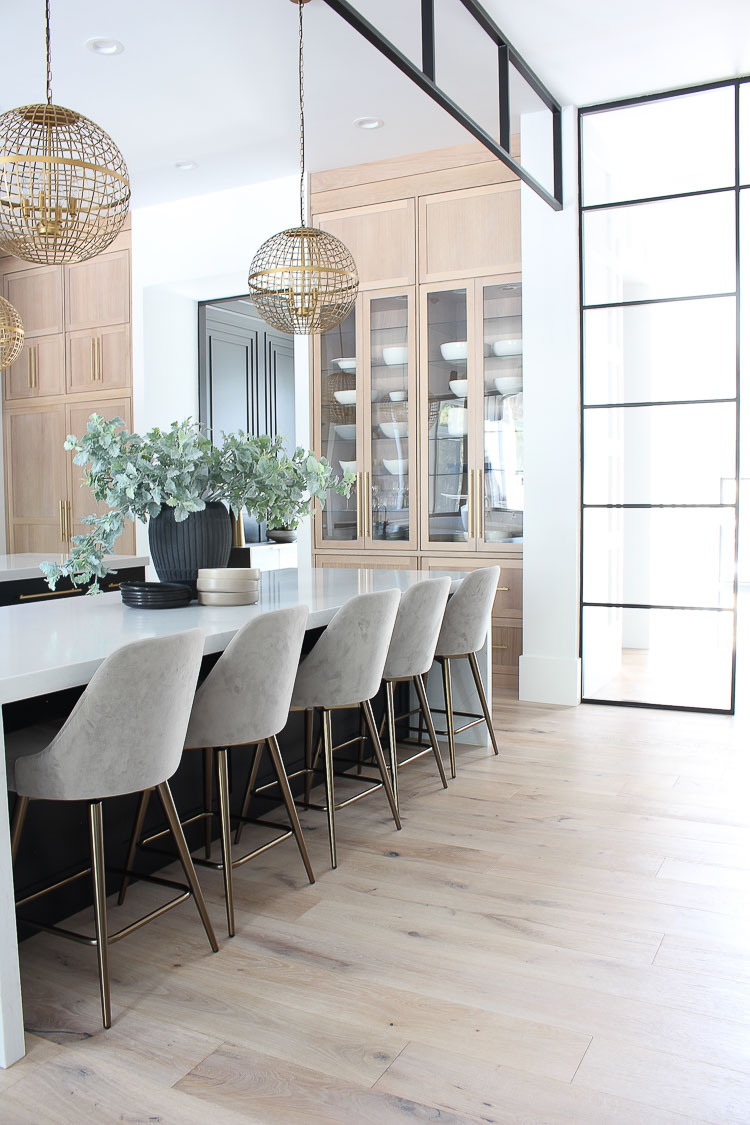 We eat at our kitchen island for all the meals. I've always been a clean freak in my kitchen but now more so than ever. I keep our kitchen this clean after every meal. It's my sanity. I'm grateful for two dishwashers that help with all the dishes that get dirty in one day with a family of five. Currently, I run three dishwasher loads a day.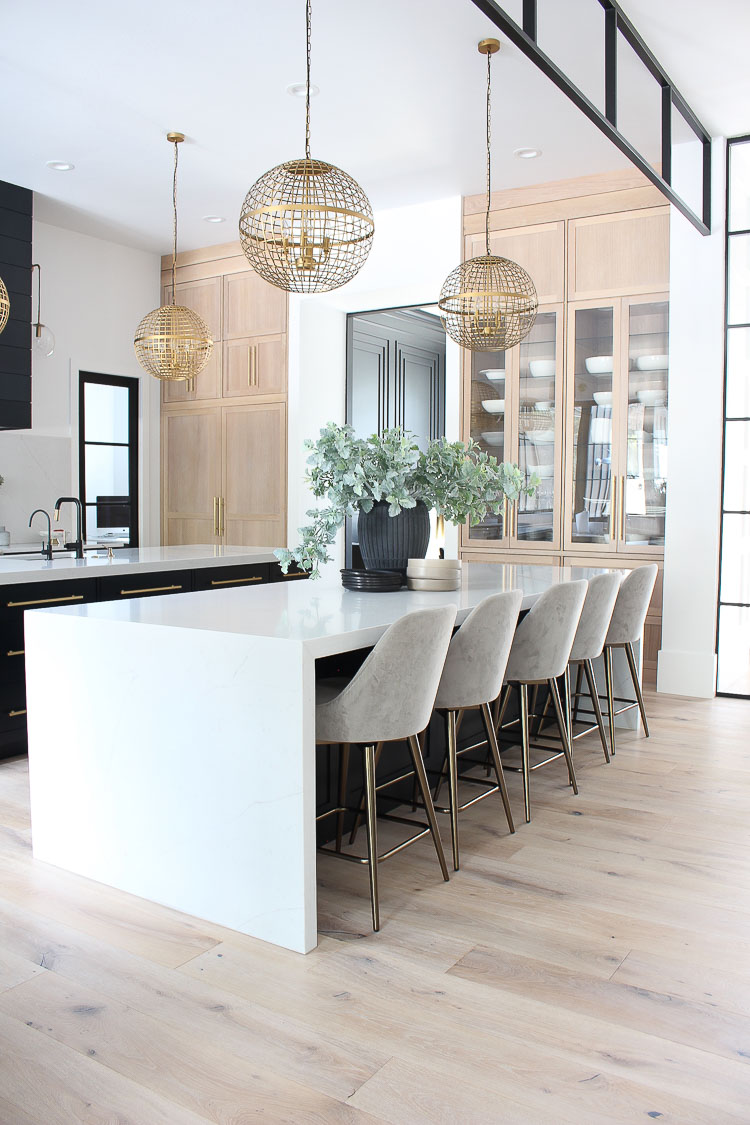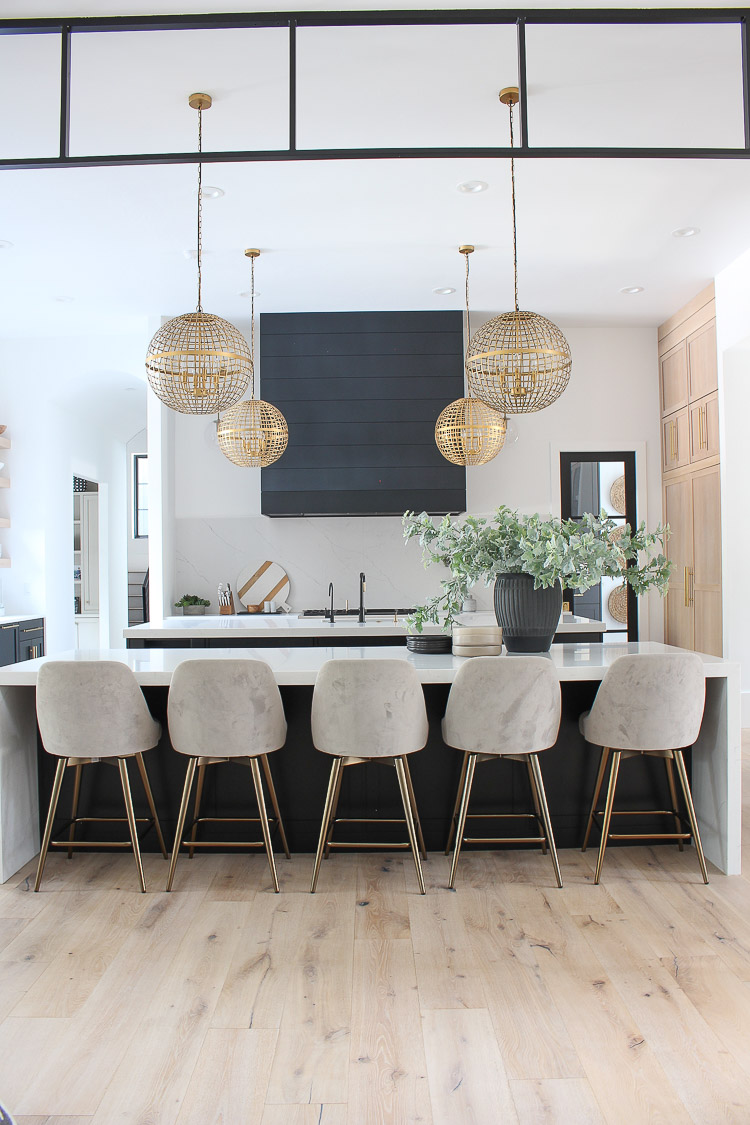 I had a birthday in March and I bought myself a new knife set. Who am I?!! lol. For over a year now I have truly "learned" how to cook "good" food and follow recipes. Thanks to one of my dear friends who has taught me so much through her passion for cooking. I can't say I'm passionate about it but I admit that the idea of following a recipe isn't so intimidating for me anymore. Part of being a good "chef" is you need good cooking tools. My old knife set was a hodgepodge of knives that I used as a "saw" to cut anything. They were pretty bad. I feel "official" now with this pretty knife set.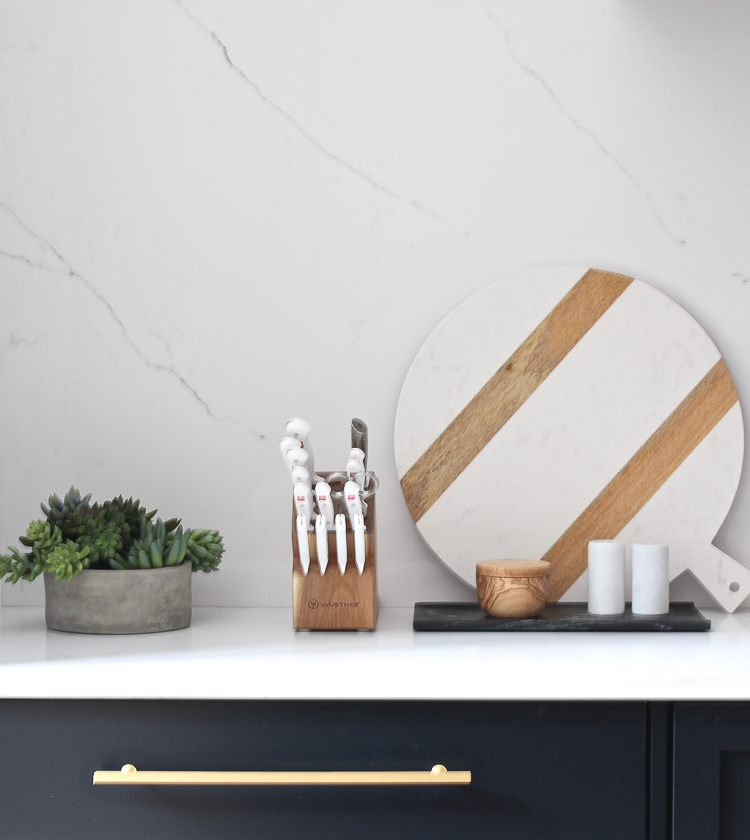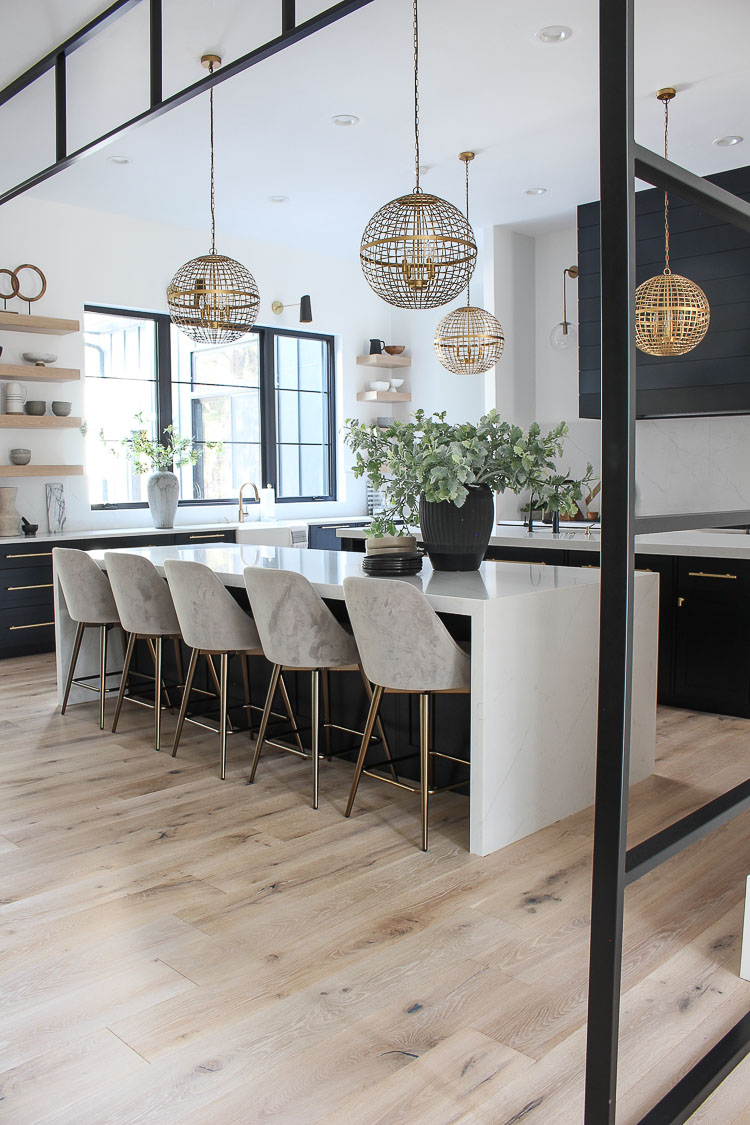 Up until this week I still had my winter greenery in my vases. Truth is, winter still abounds here in Colorado but now that April has arrived I am needing some spring/summer vibes in our home. These succulent stems are a favorite of mine that you'll see throughout our home.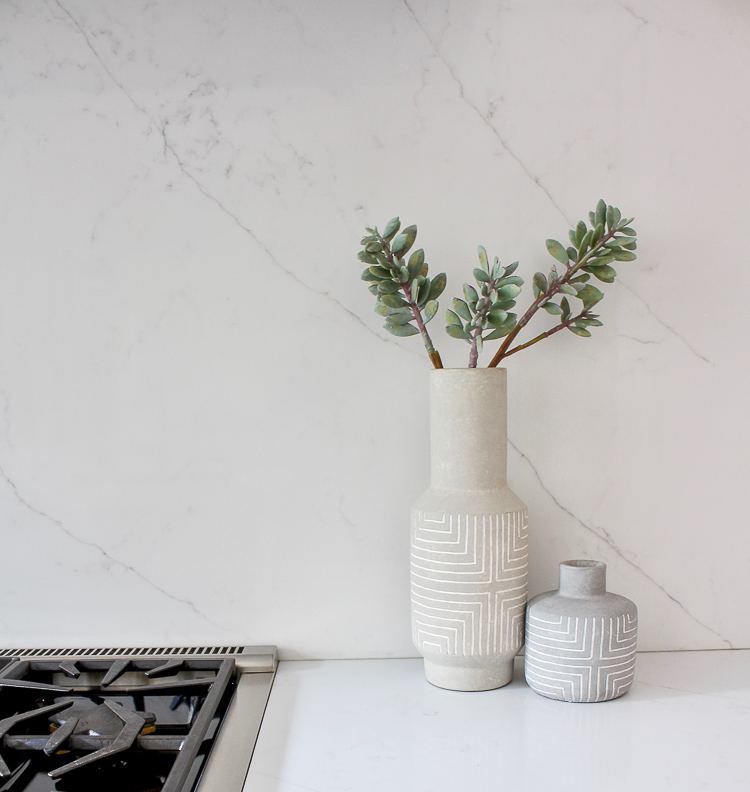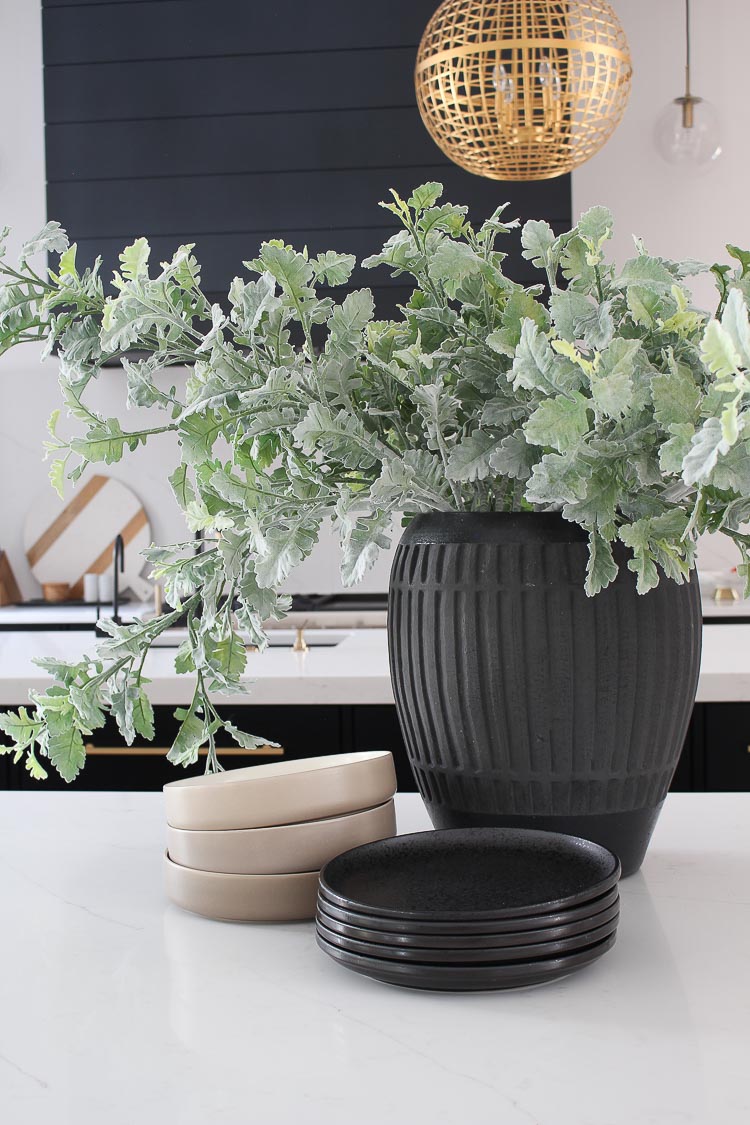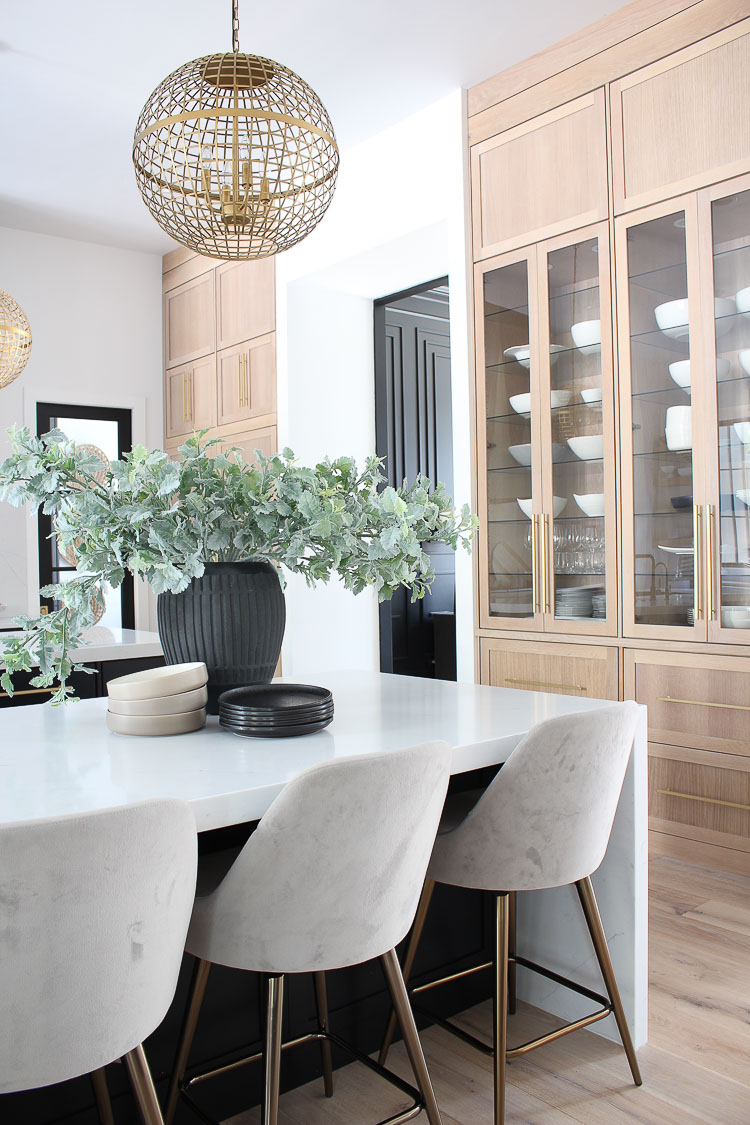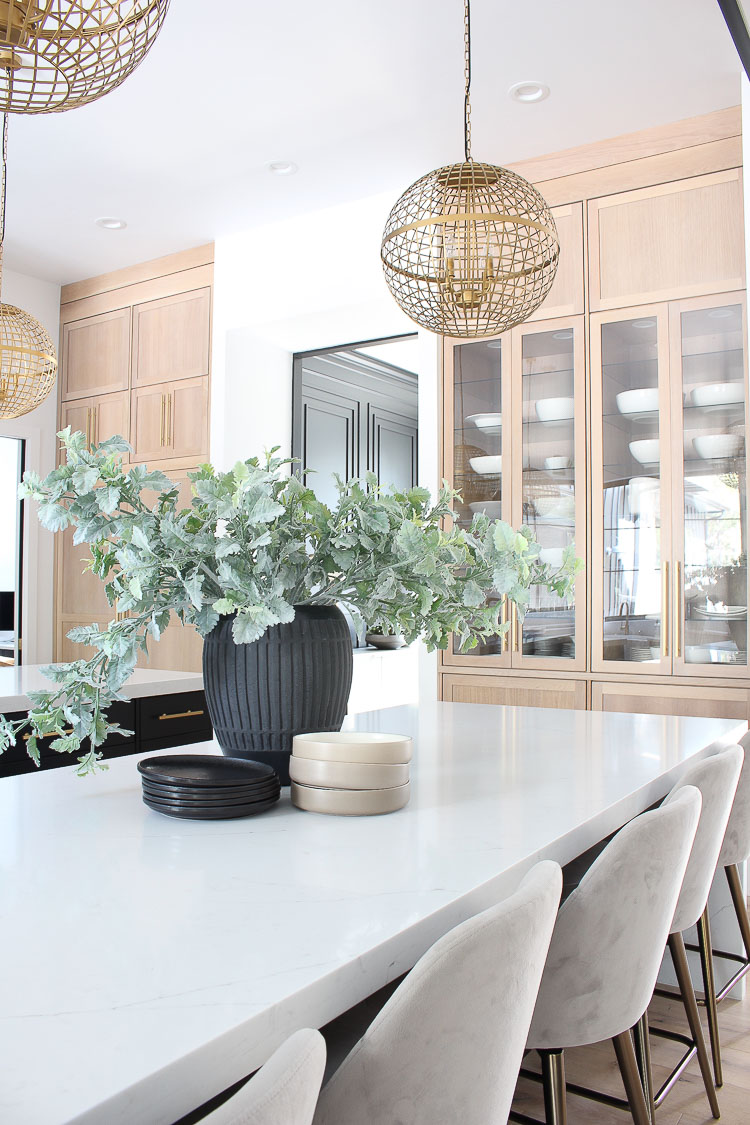 Our pantry is on the other side of that glass pocket door. The cabinets are fully stocked with food. Never did I think they'd ever be so full when I designed them. I'm thankful for the smart storage space now.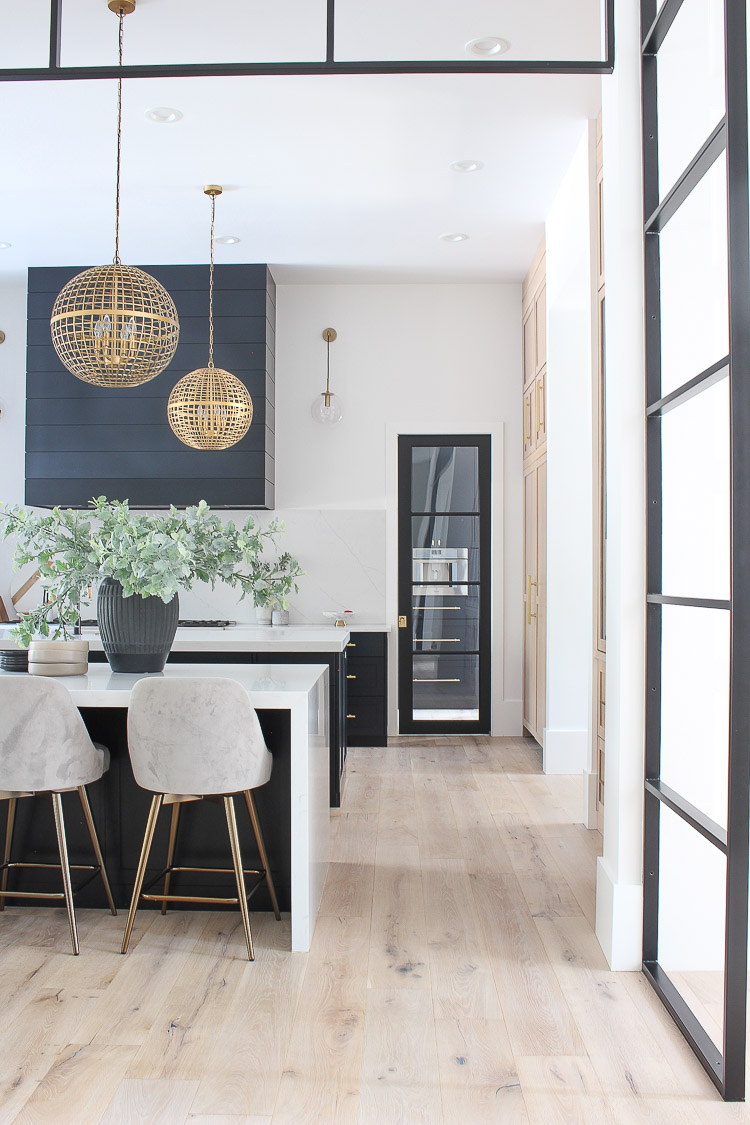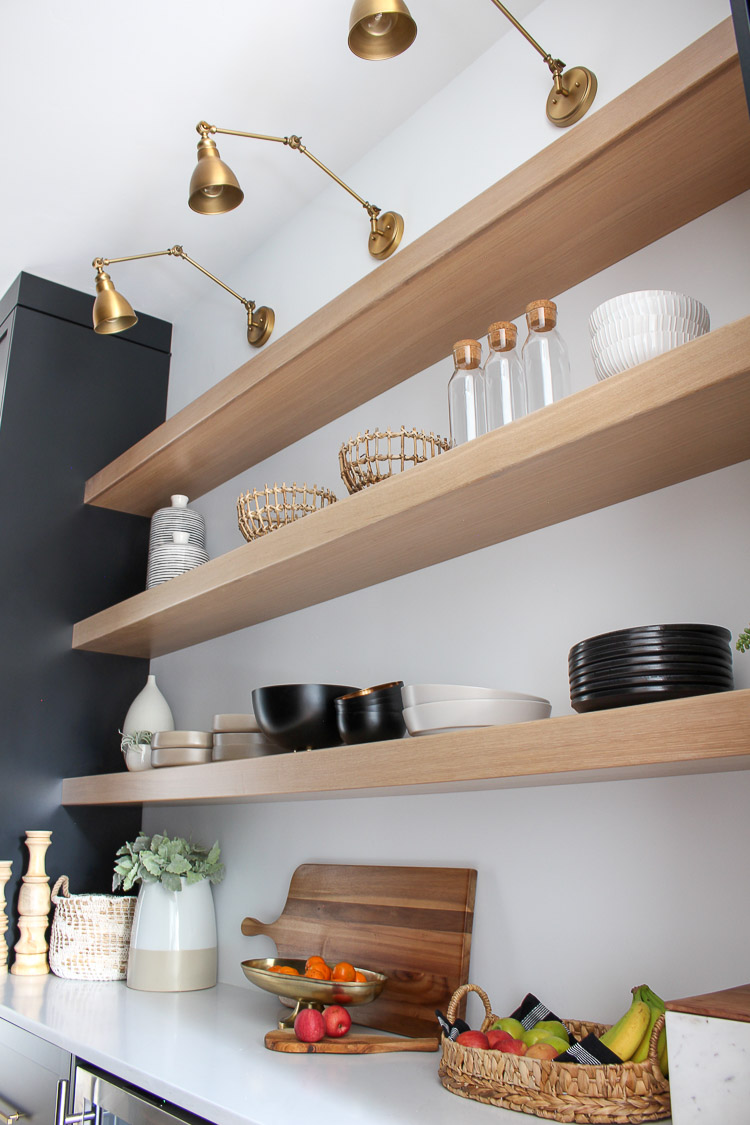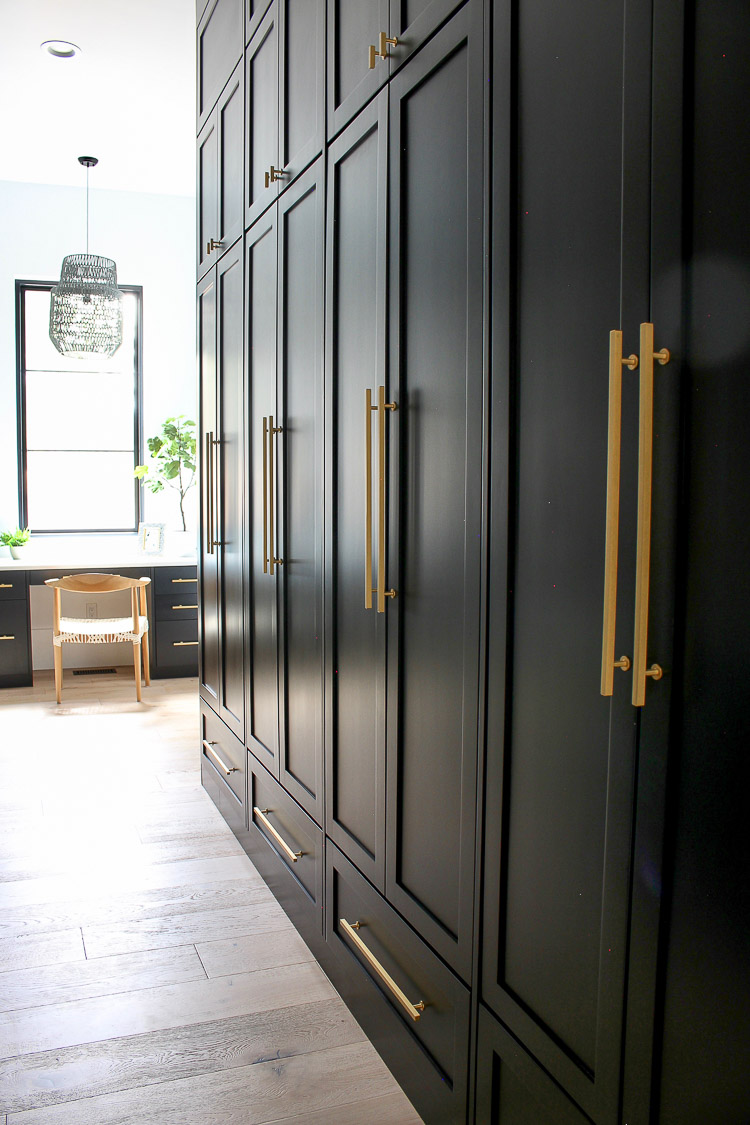 Our dining room has never had more action than now. The dining table has become online school station and puzzle zone. I'm thankful we had quite a few puzzles on hand. The boys have been spending hours putting them together.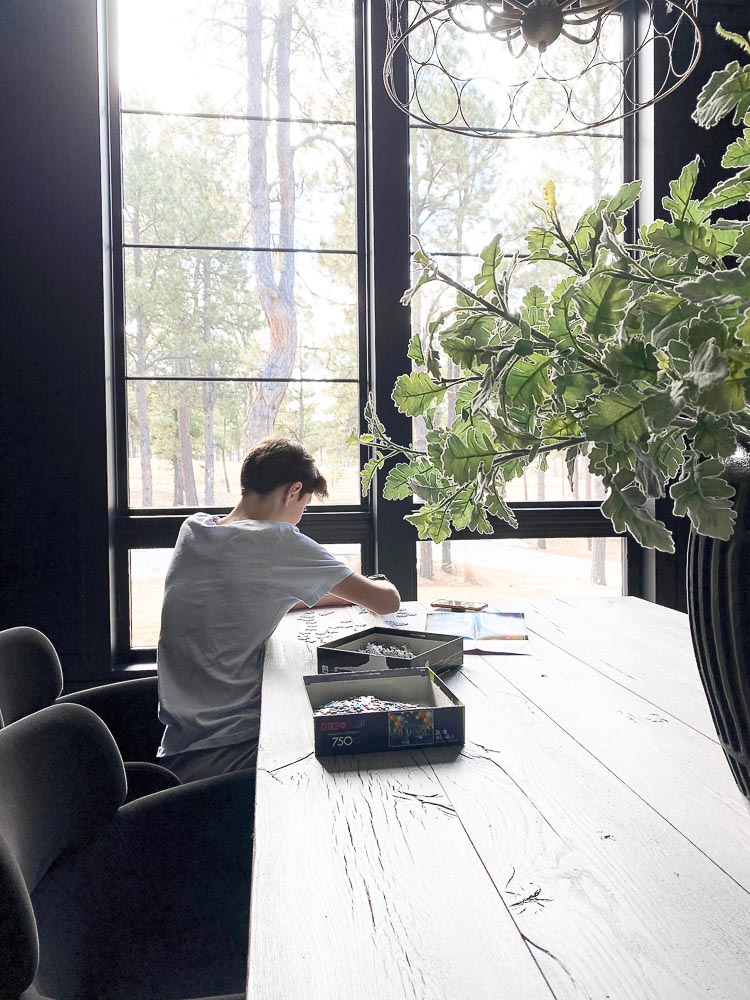 My office typically doesn't look this clean. This week though I sorted through the paper piles and cleared my desk. My goal is to keep it more tidy. We'll see about that!
Kodak is tired from all of his exercise these past couple of weeks. I take him out running or hiking the beautiful trails around our area twice a day. Being outside in nature and exercising has helped me tremendously. Fortunately I can do this right outside my back door.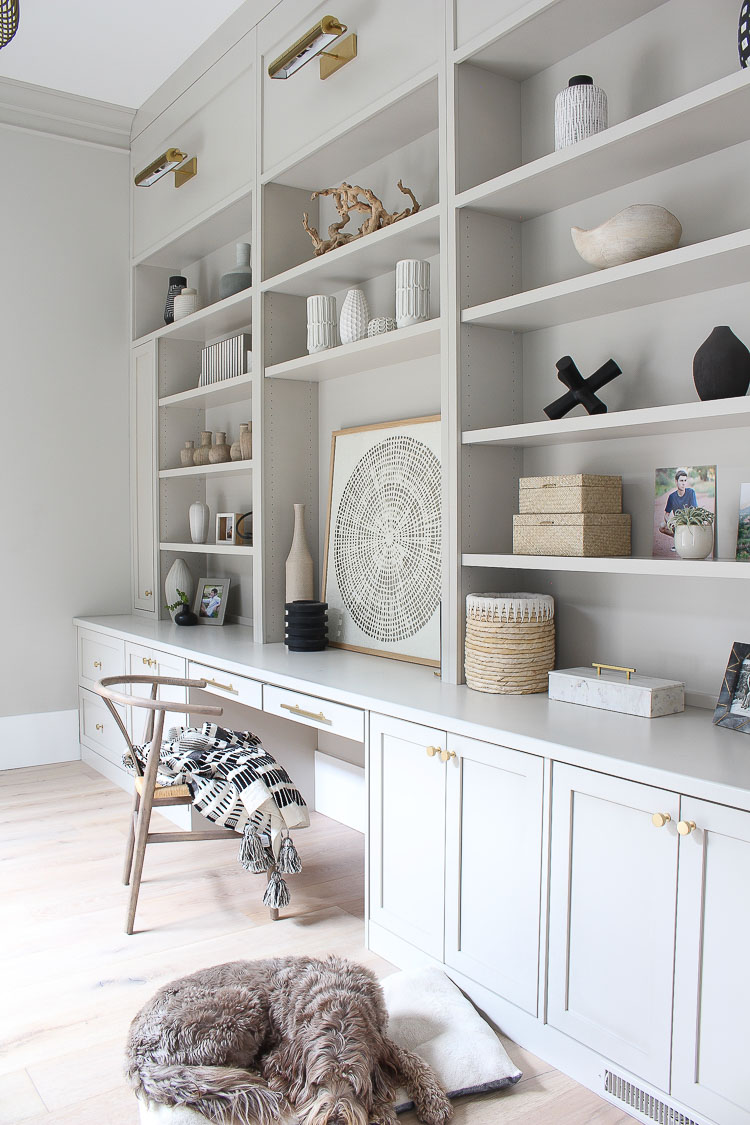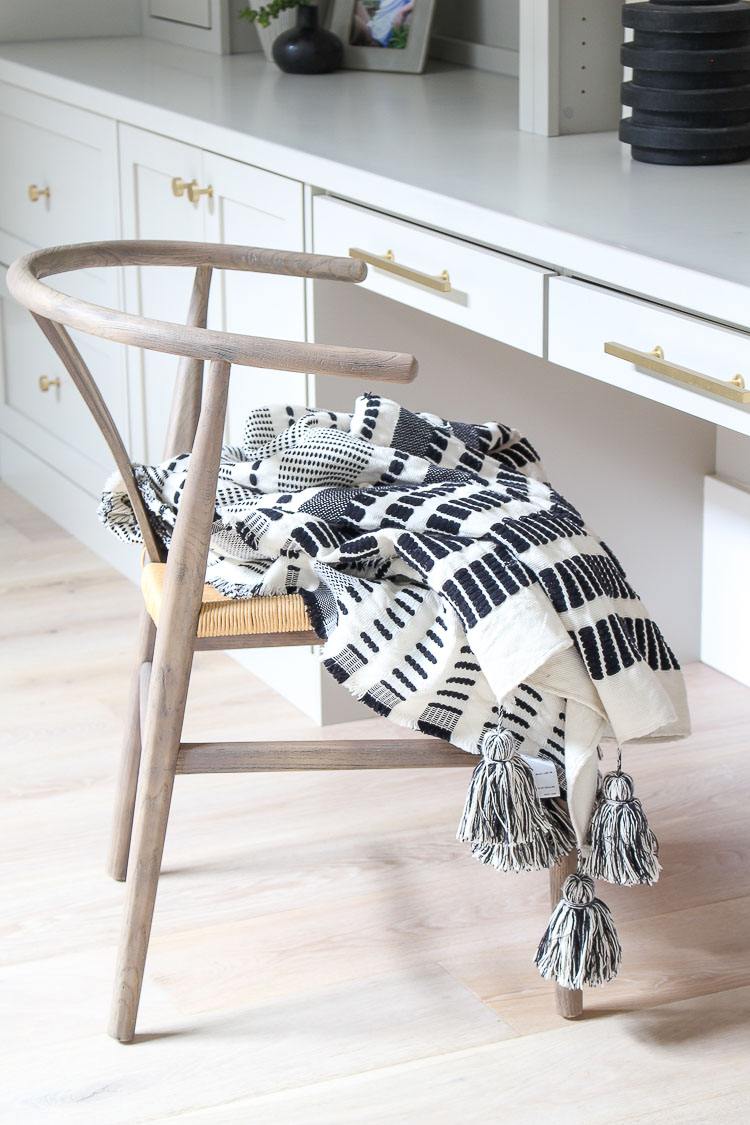 Having a tidy home just puts me in a better mood. Three boys and one rambunctious dog that brings dirt in on his paws after every hike makes it more challenging. We have a central vacuum that I use every day on the hardwood. Picks up all the kitchen crumbs and fine dirt. Usually you'll see Kodak's dog toys and stuffed animals in just about every room on the floor. I kicked those out of the photo frame but they're lurking around the corner.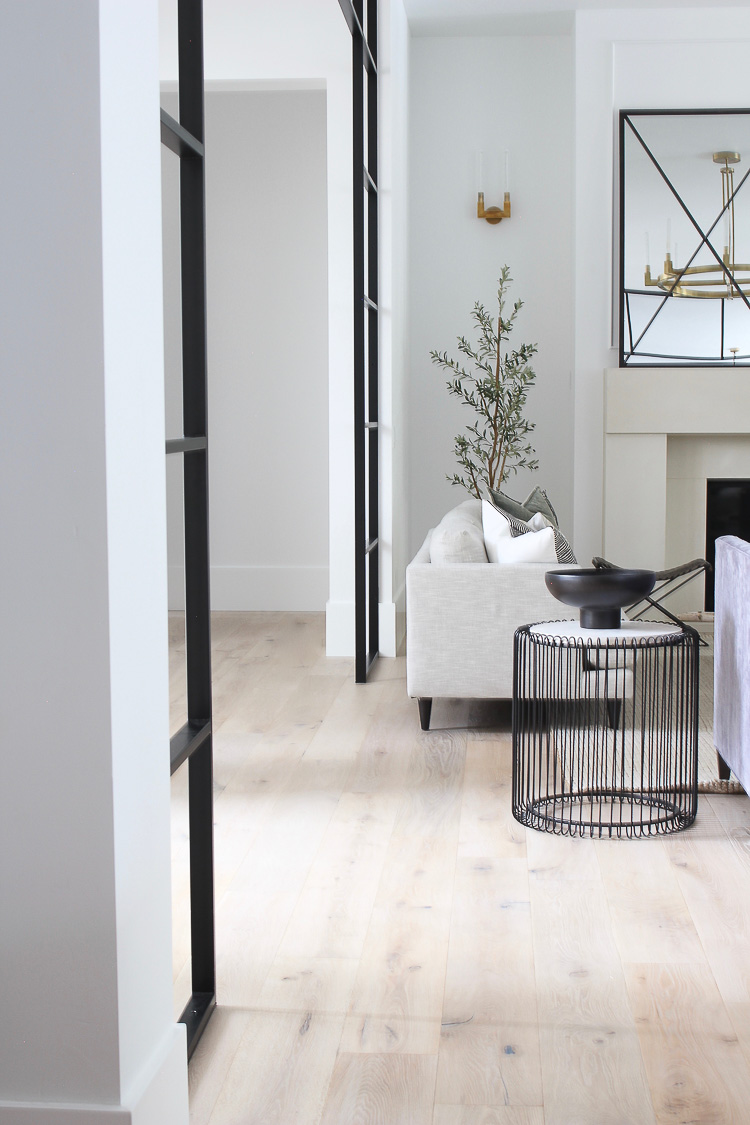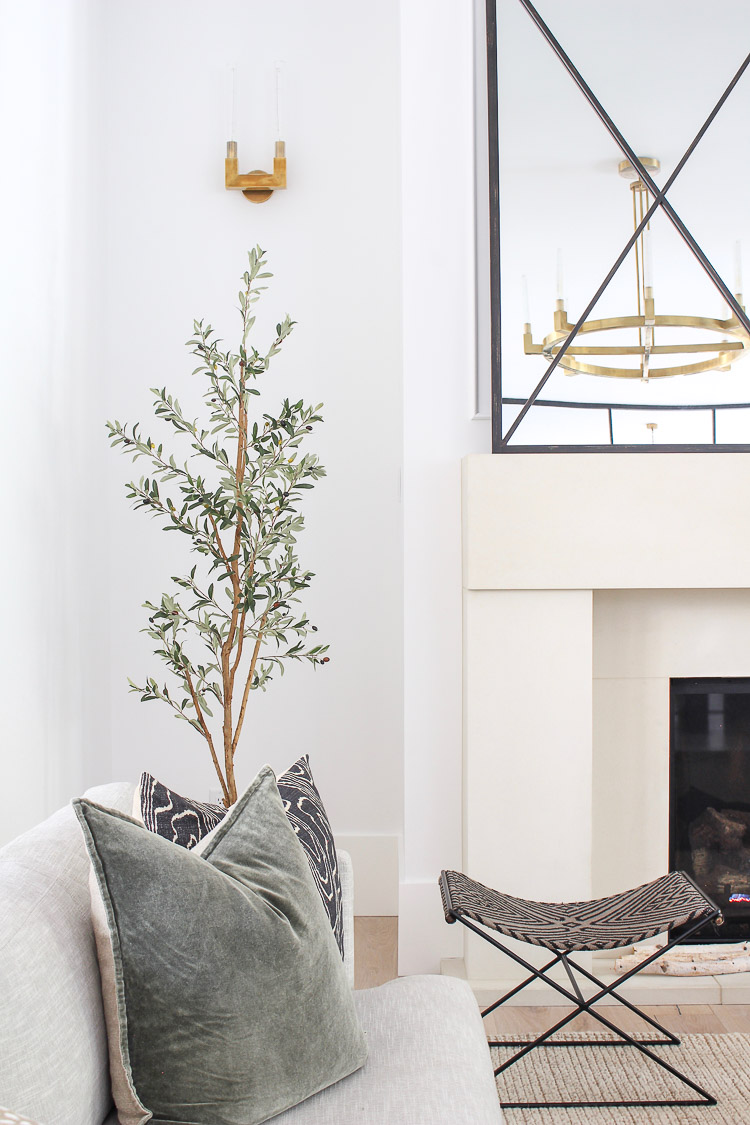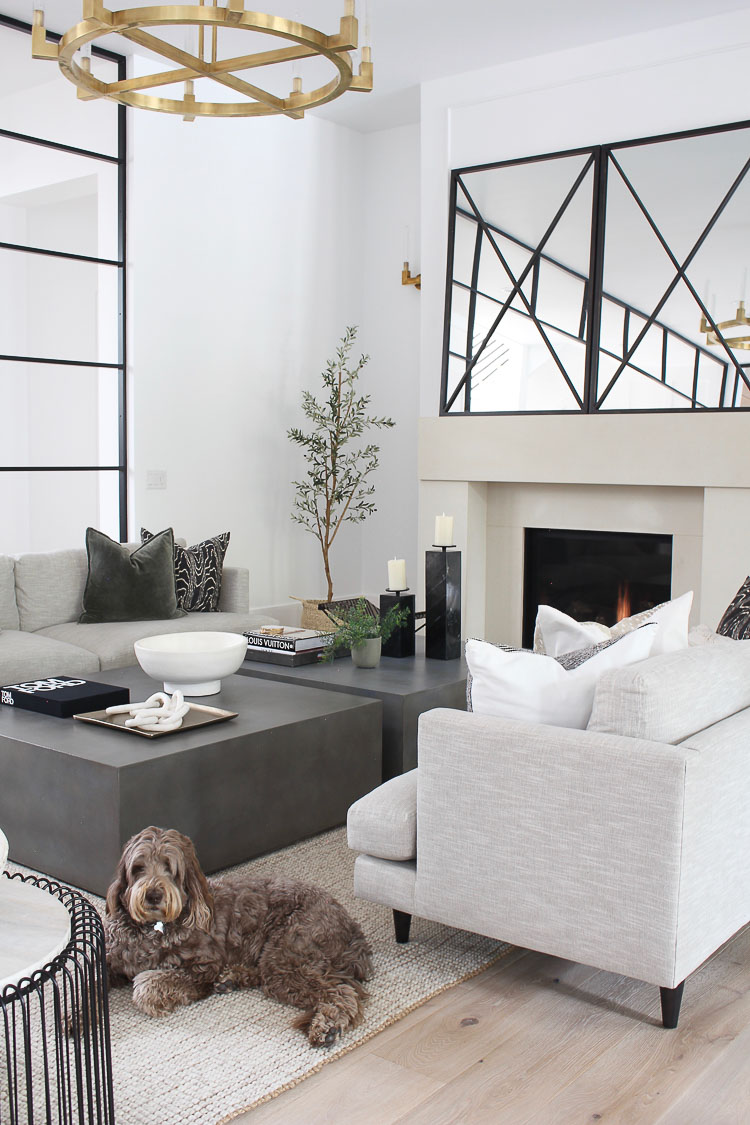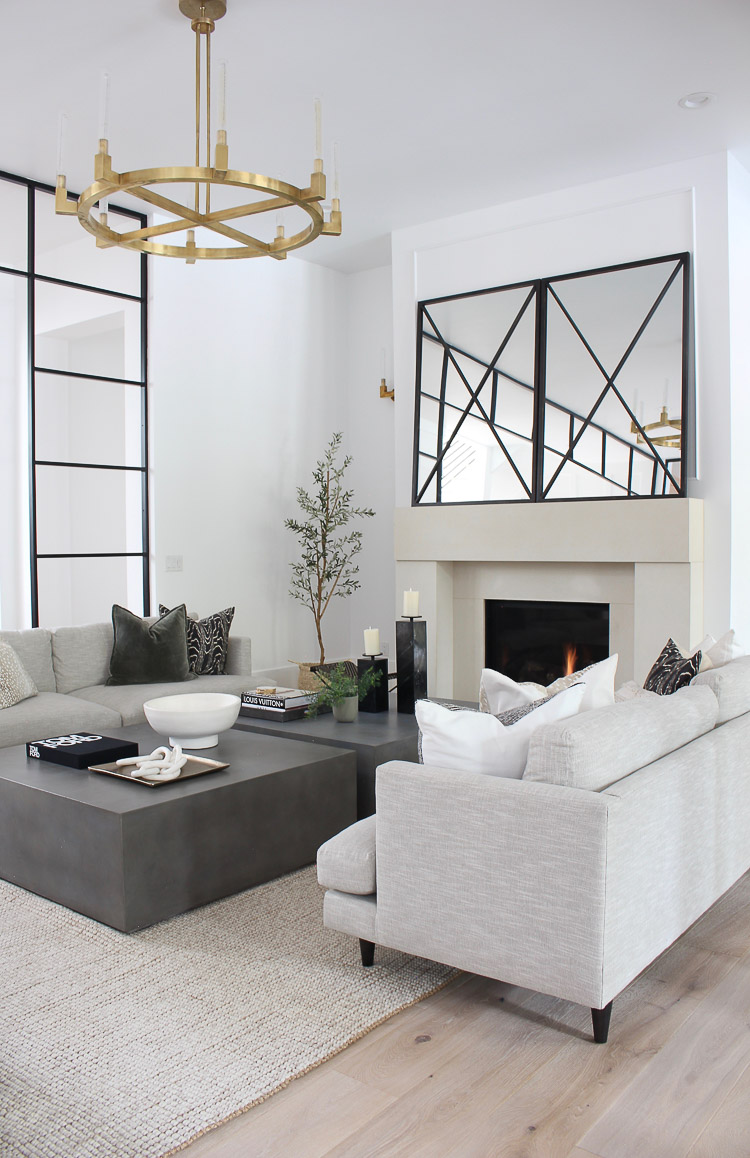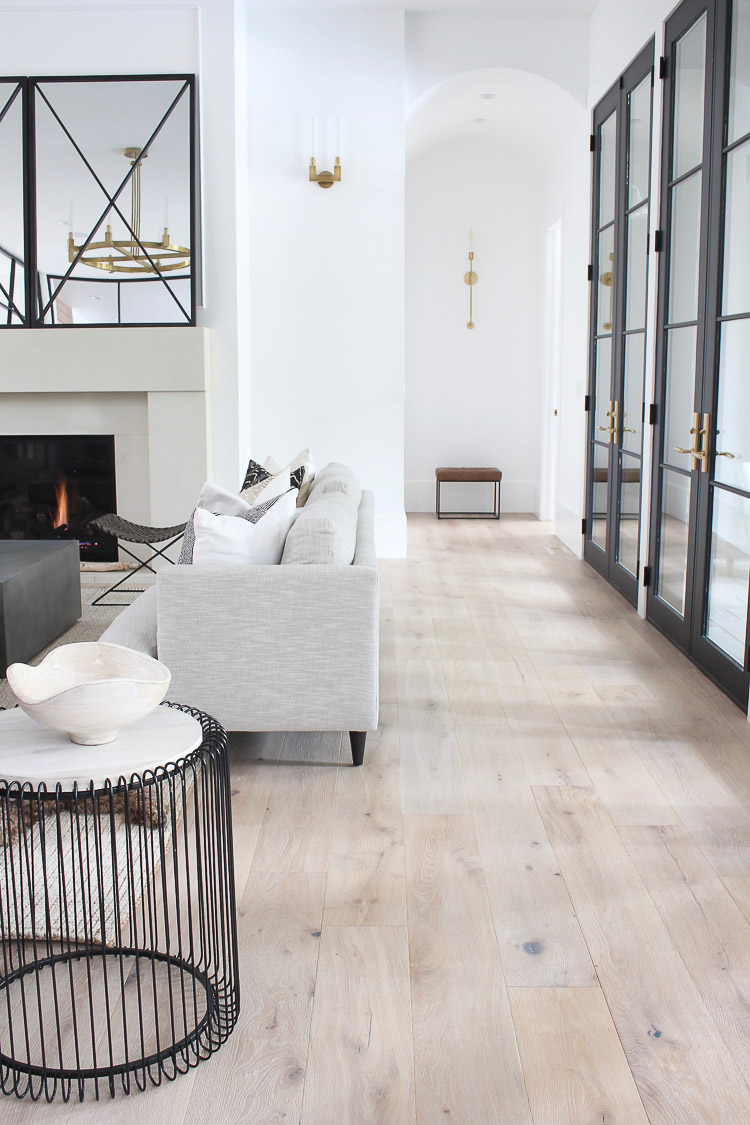 Living Room Sources
Sofas – Room and Board. Details in this post // Chandelier & Sconces – Restoration Hardware // Side table – Homegoods (Similar option)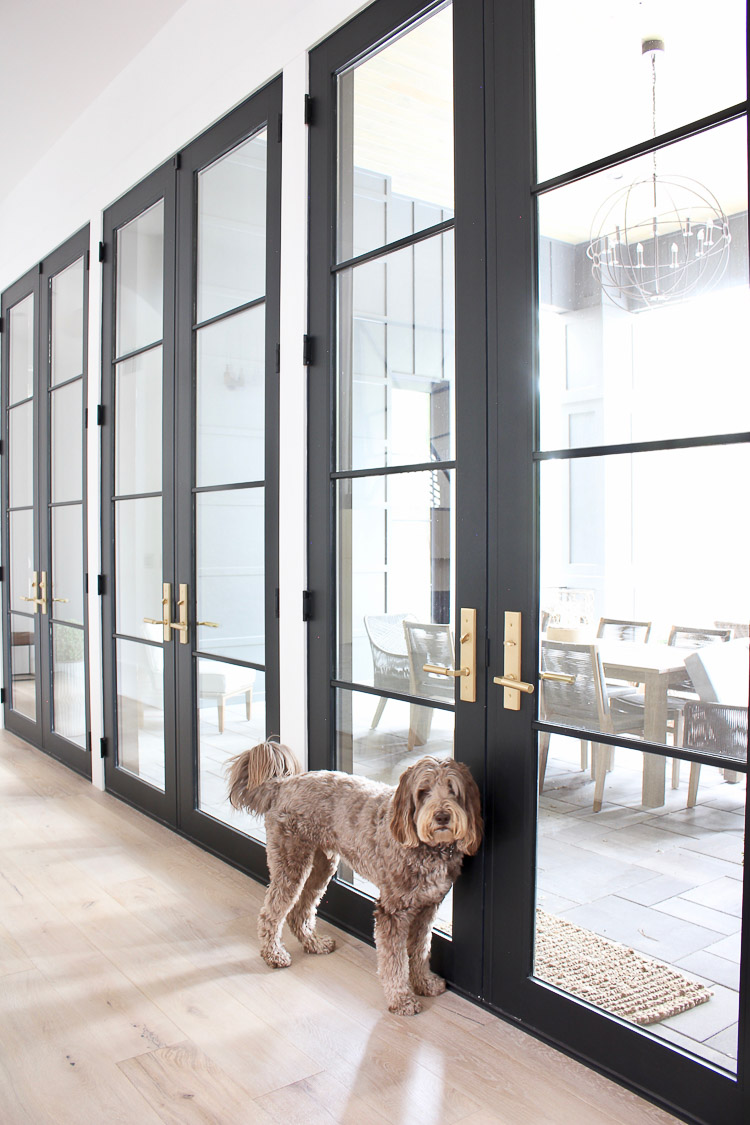 Our Hearth Room gets a lot of lounging around. I can assure you that most of the time the pillows are smooshed on the sofa. We recently got this new rug. The black and white plaid rug that was in here before has been moved into the family room in our lower level. I still LOVE that rug but we needed a replacement for the one downstairs after Kodak got sick all over it a week after we got it. Ugh!!! He had pancreatitis and let's just say the rug was soiled beyond repair because I didn't notice it for a few days. Gross, I know!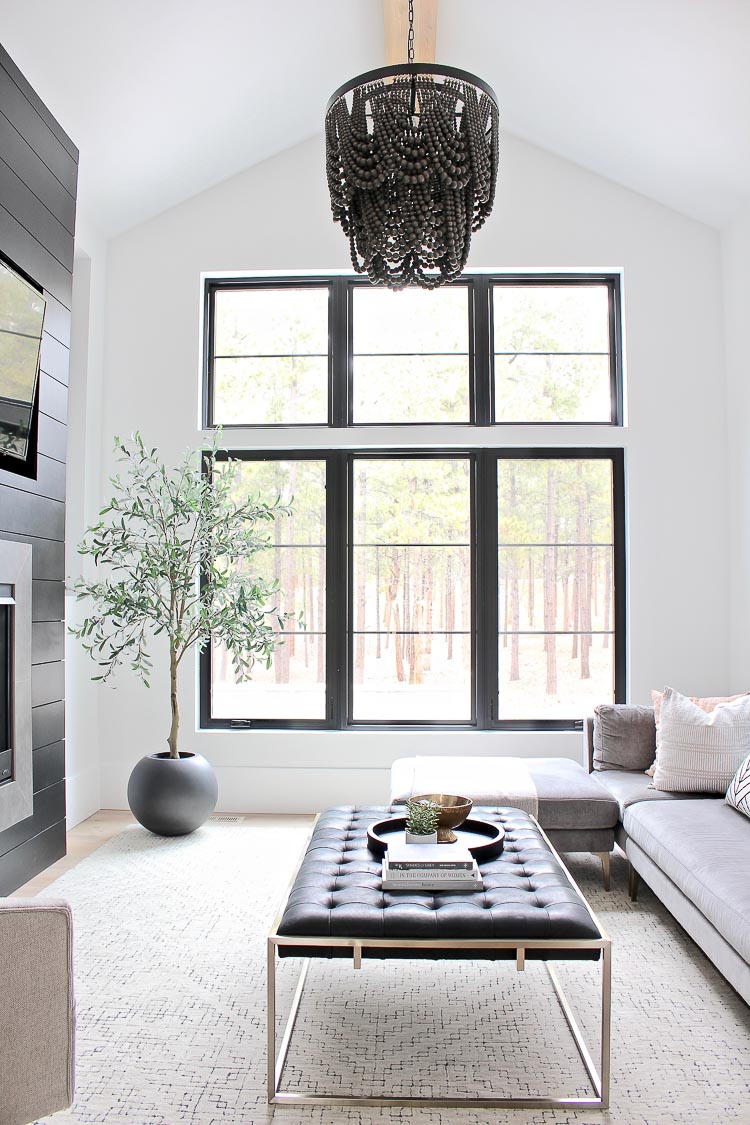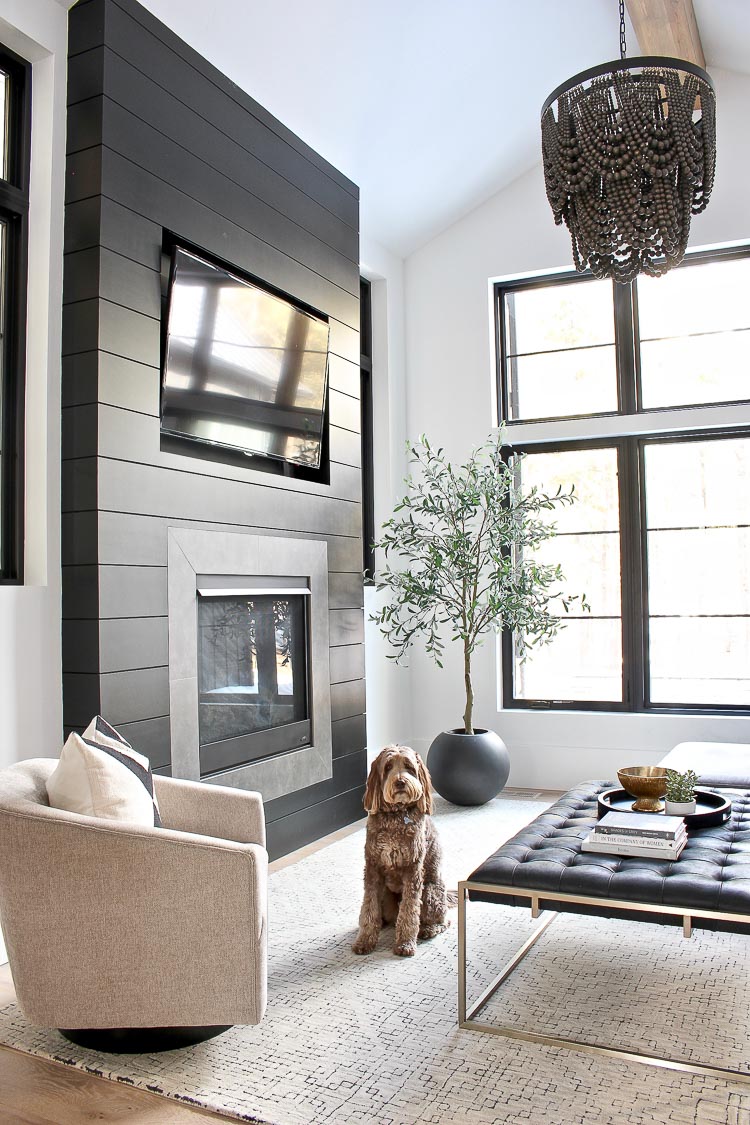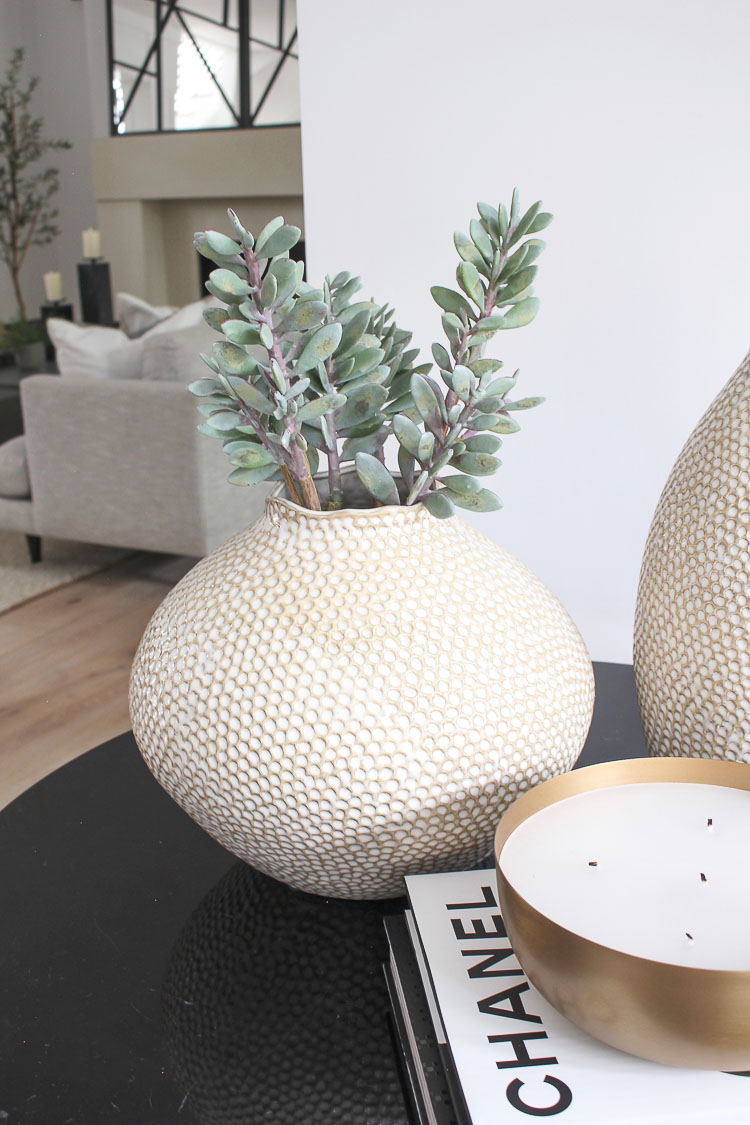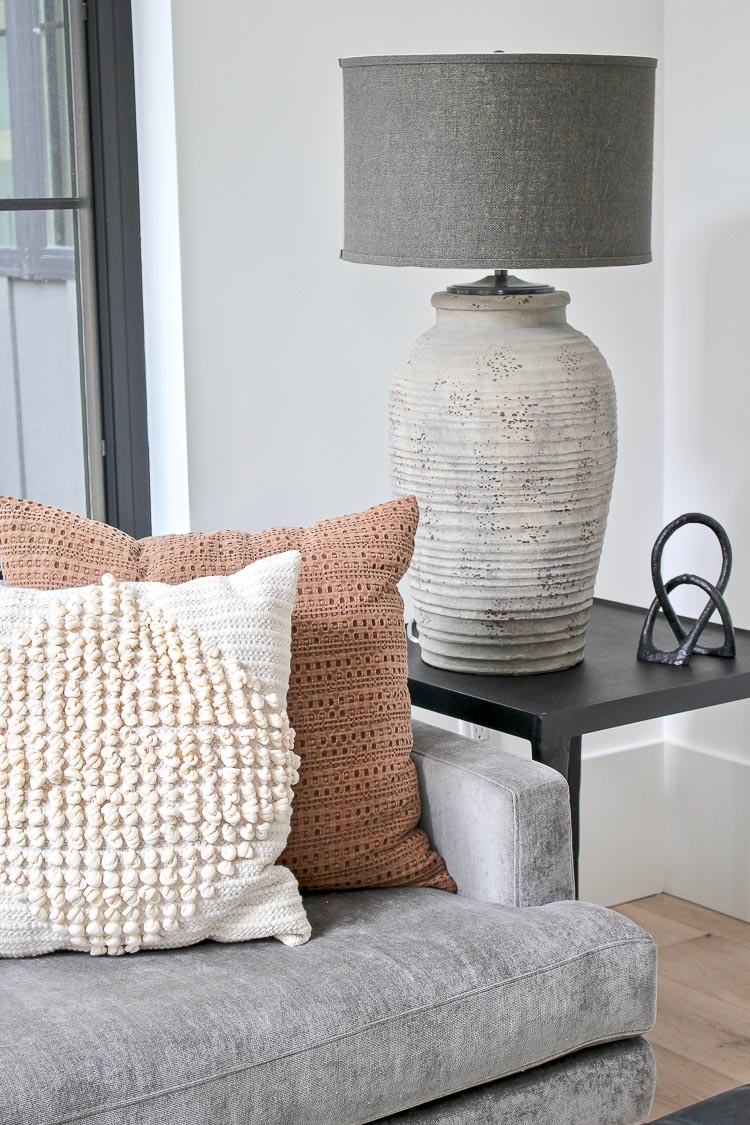 At this point it feels like I've scrubbed my hands raw from all the hand washing. This is one of our powder baths that get's a lot of use. Refilling the hand soap constantly and switching out the hand towel daily is a new norm around here.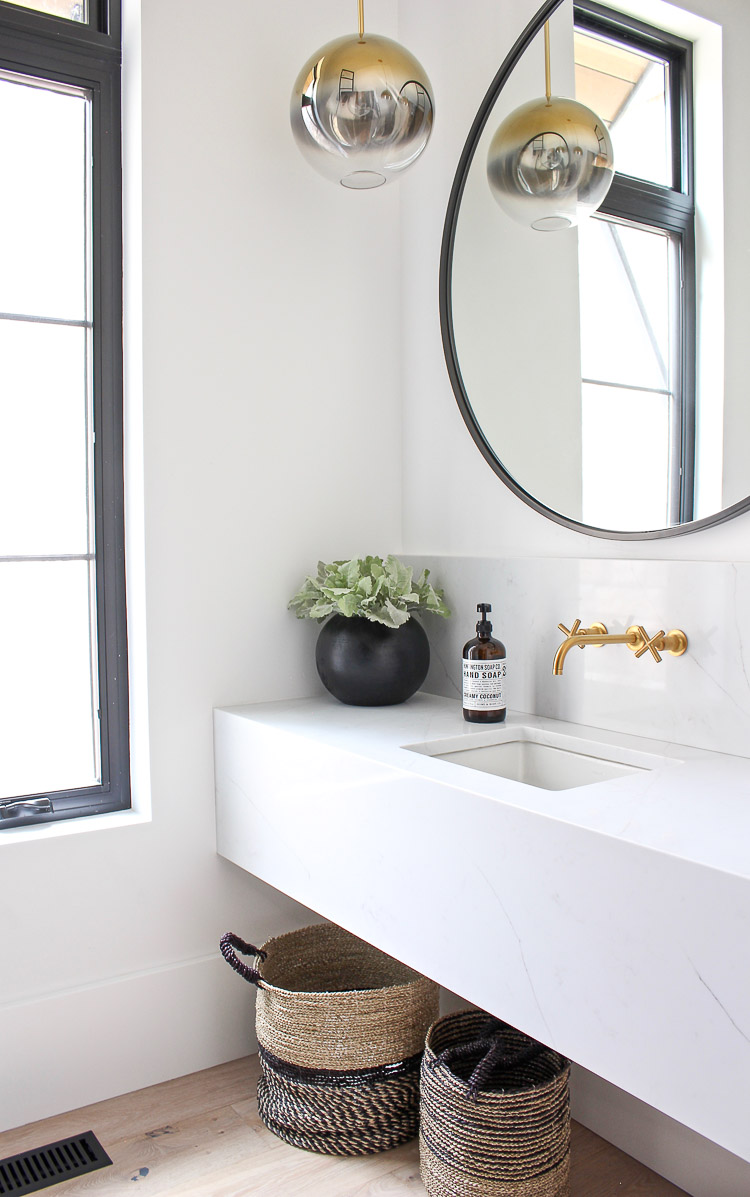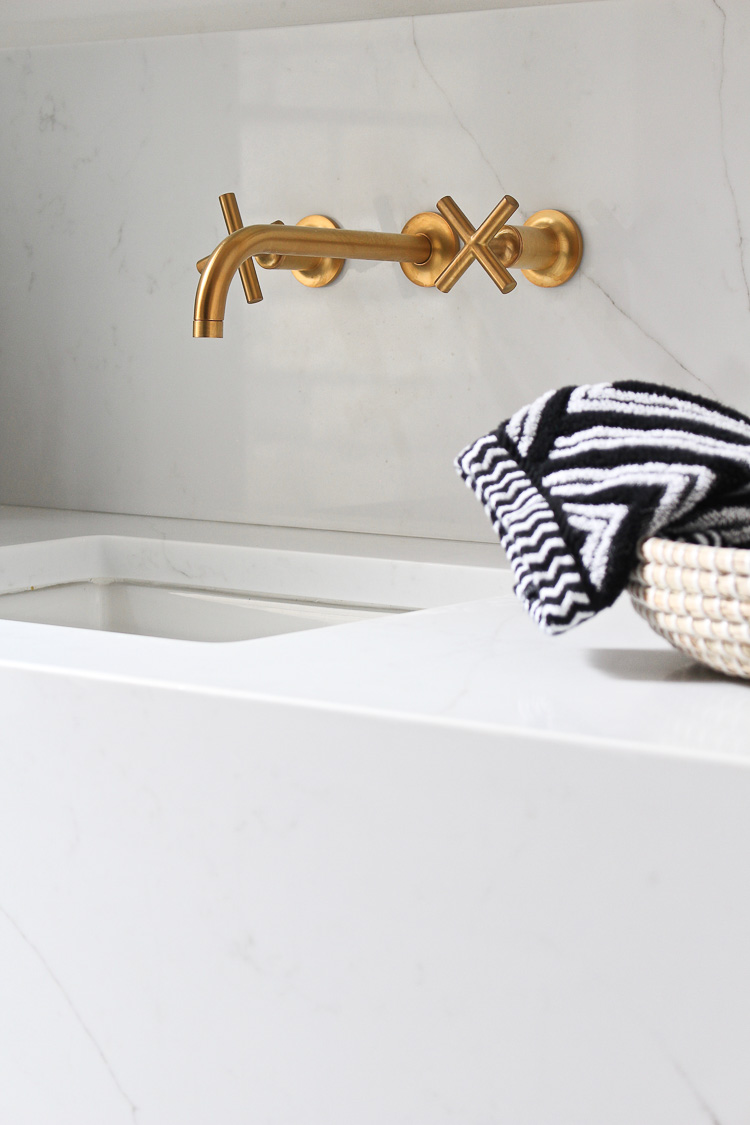 Our master bedroom feels like a sanctuary retreat at the end of the day. I've never been one to make my bed daily but since we've been sheltering in place at home I want to make my bed every day. Something that makes me feel accomplished.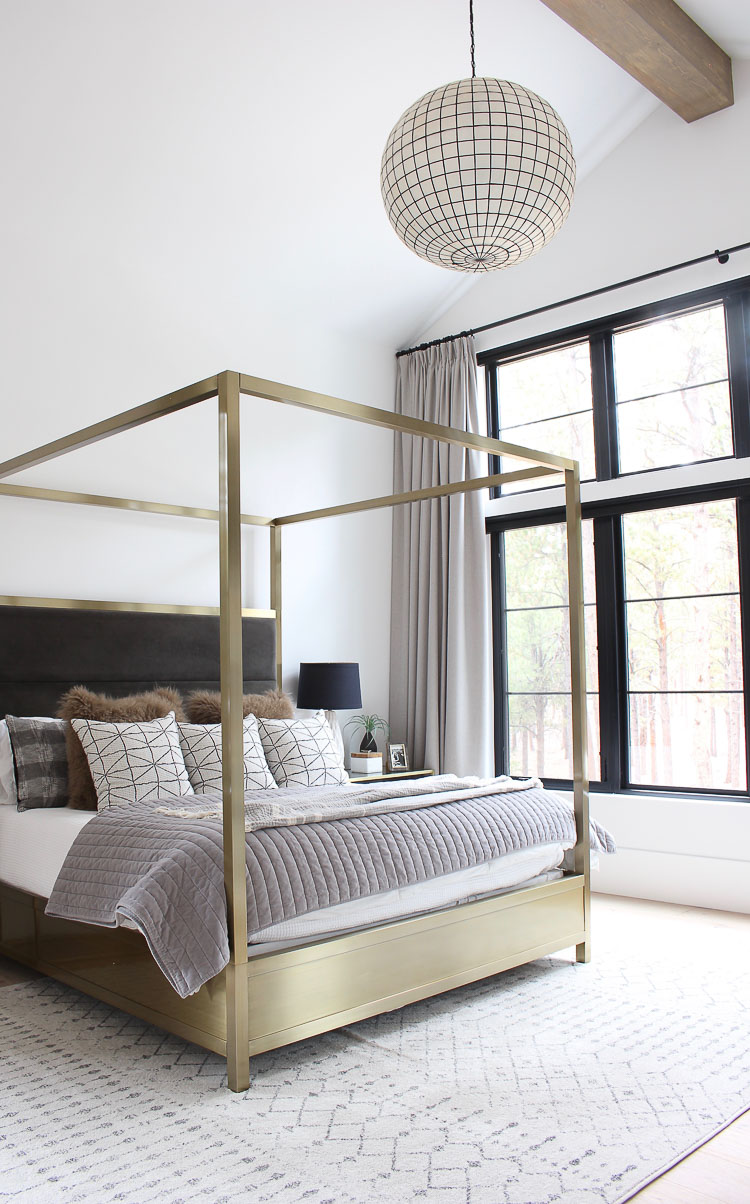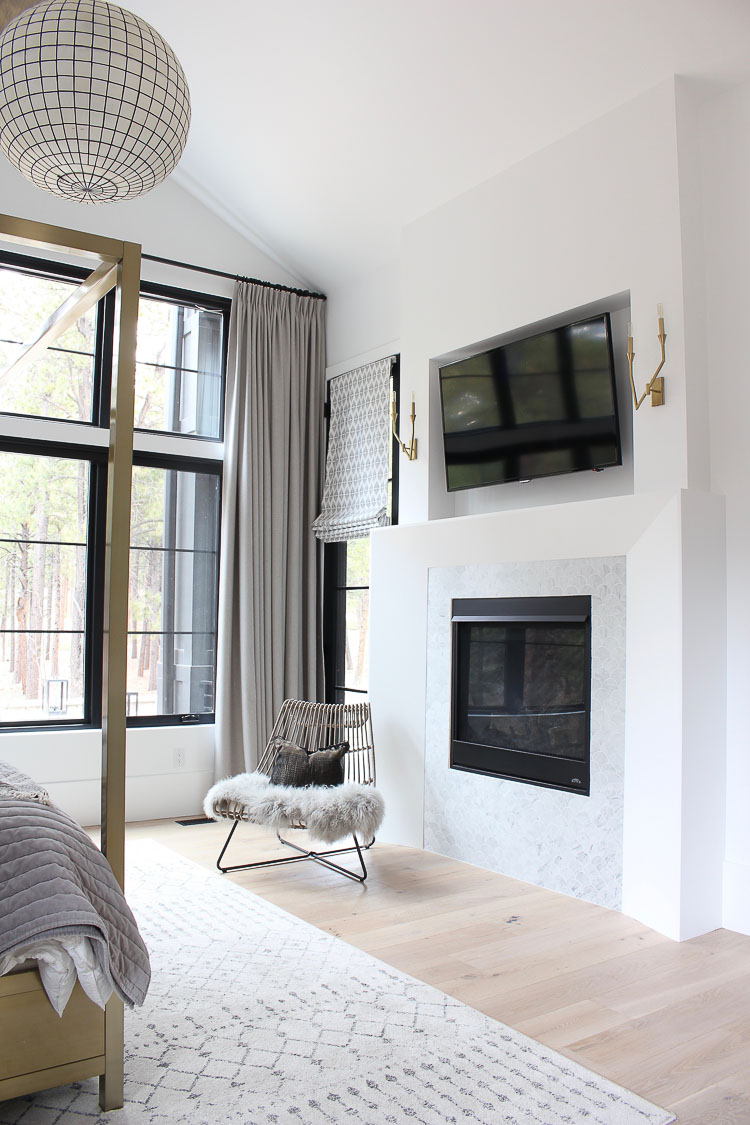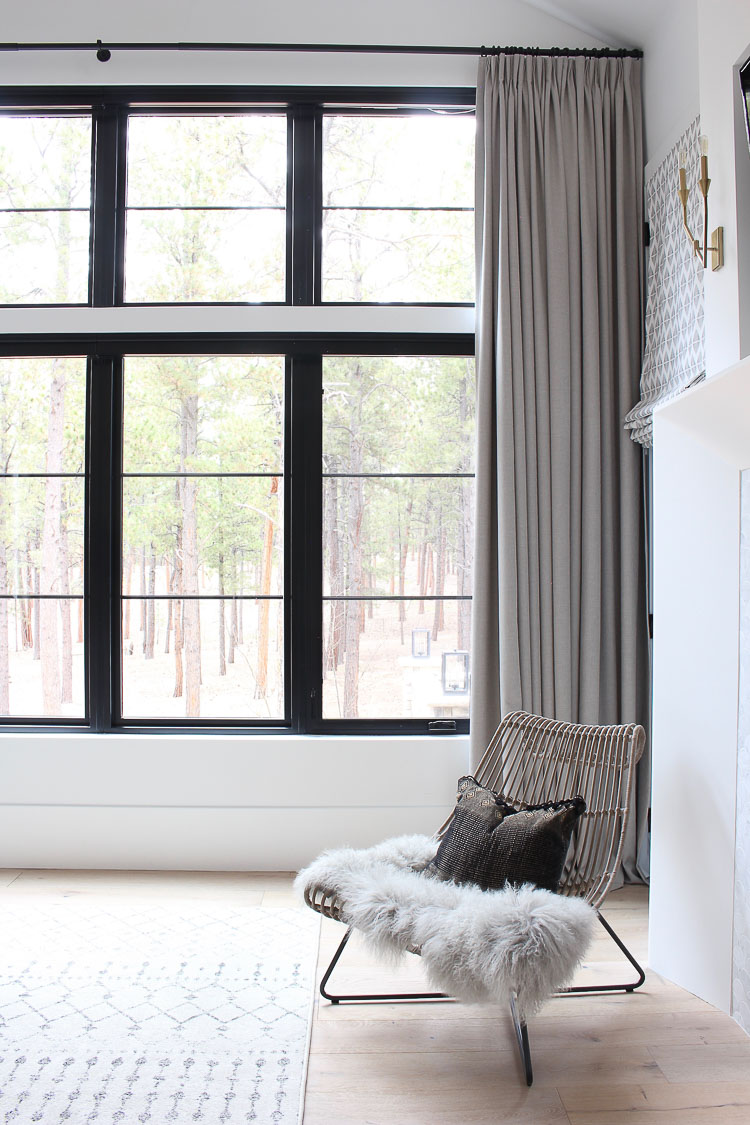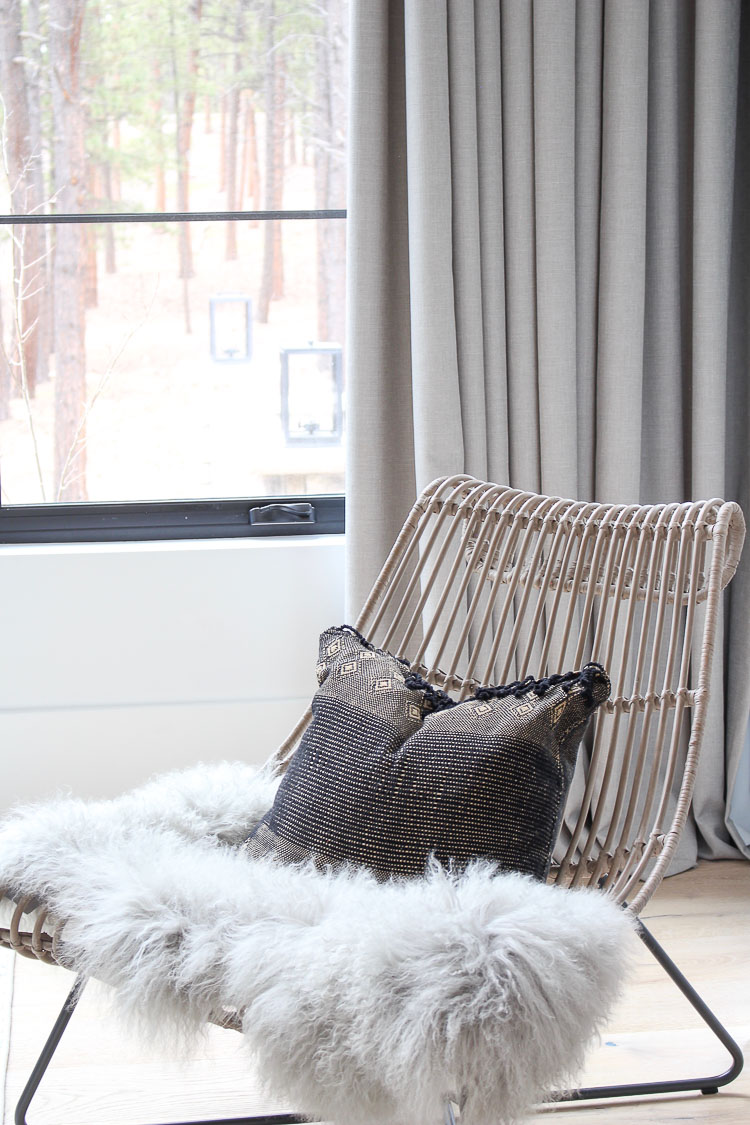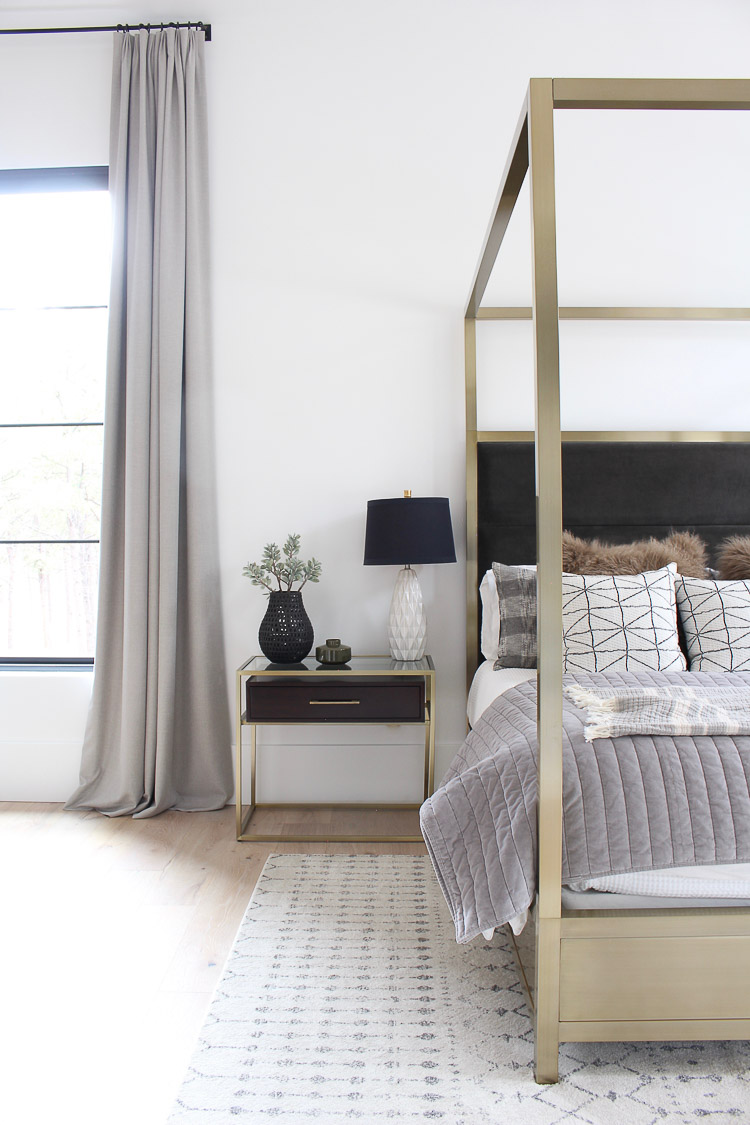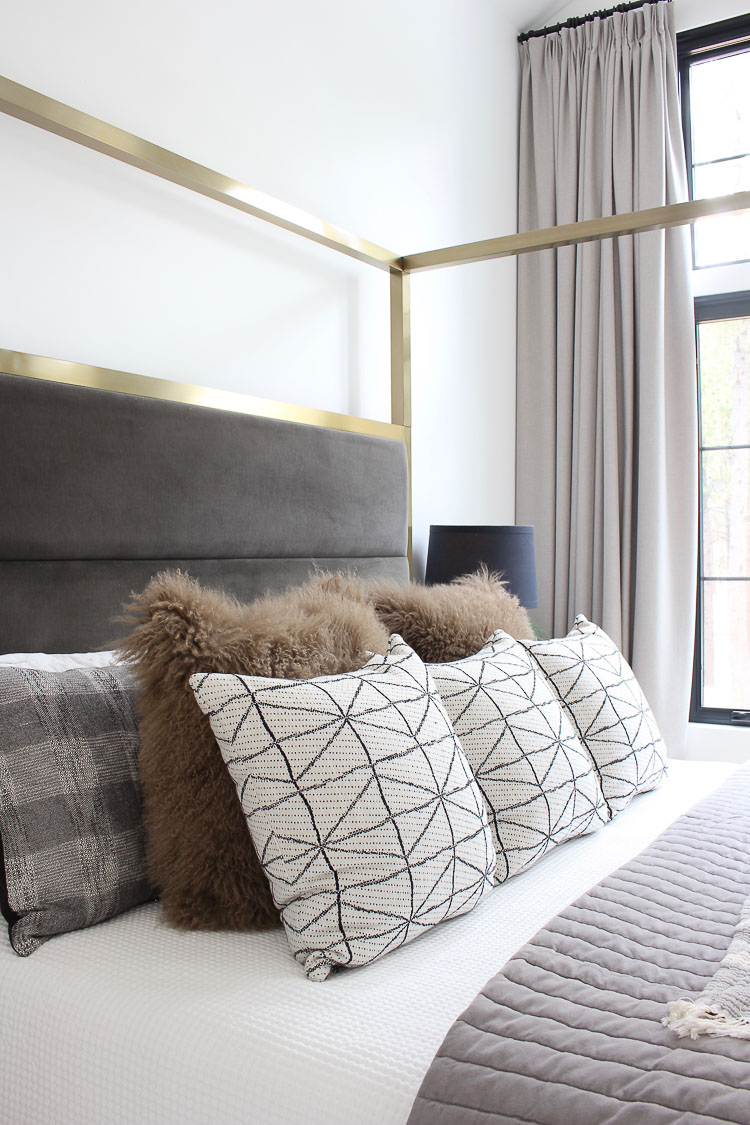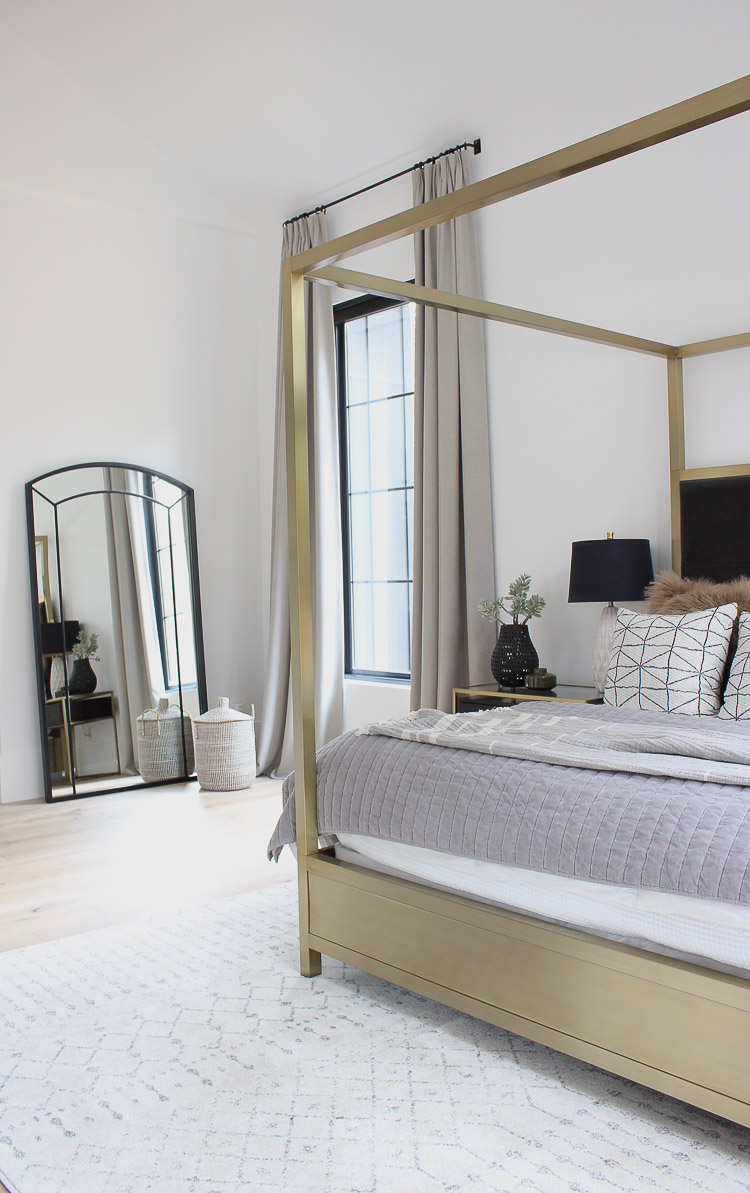 Bedroom Sources
Drapes/Black & white pillows – Custom by Tonic Living (Details in this post) // Chandelier – Restoration Hardware // Lounge chair – no longer available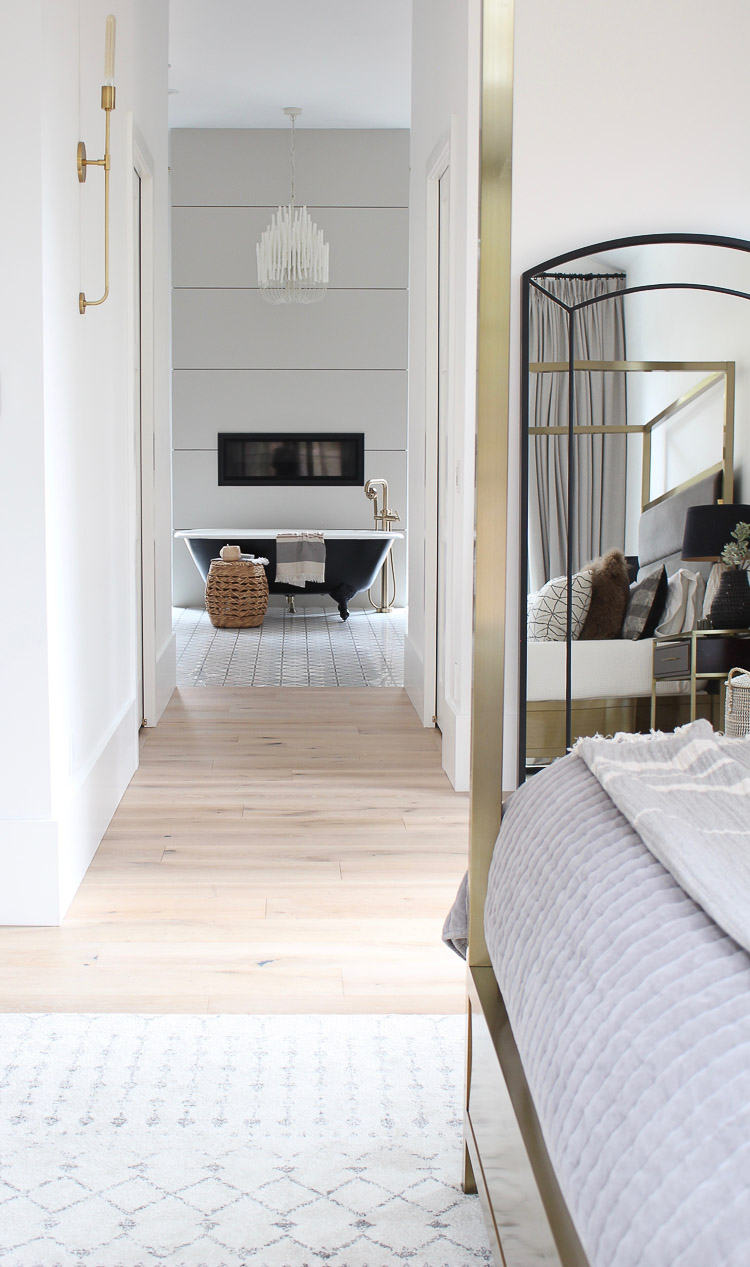 I've never been one to frequently soak in a bathtub but that has all changed as of late. Sometimes even in the middle of the day I'll escape to this sanctuary. The scent of eucalyptus bath salts scooped from the handmade wood bowl by my dad. The fireplace on (remember it's still cold here in Colorado) and just unwind. I made sure we put a tub in here that was just the right size for my 5'3″ frame so I don't feel like I'm drowning trying to keep my head above water. This tub is perfect for me. I'm grateful for this tub right now. It's just another comfort that I can look forward to at some point in the day.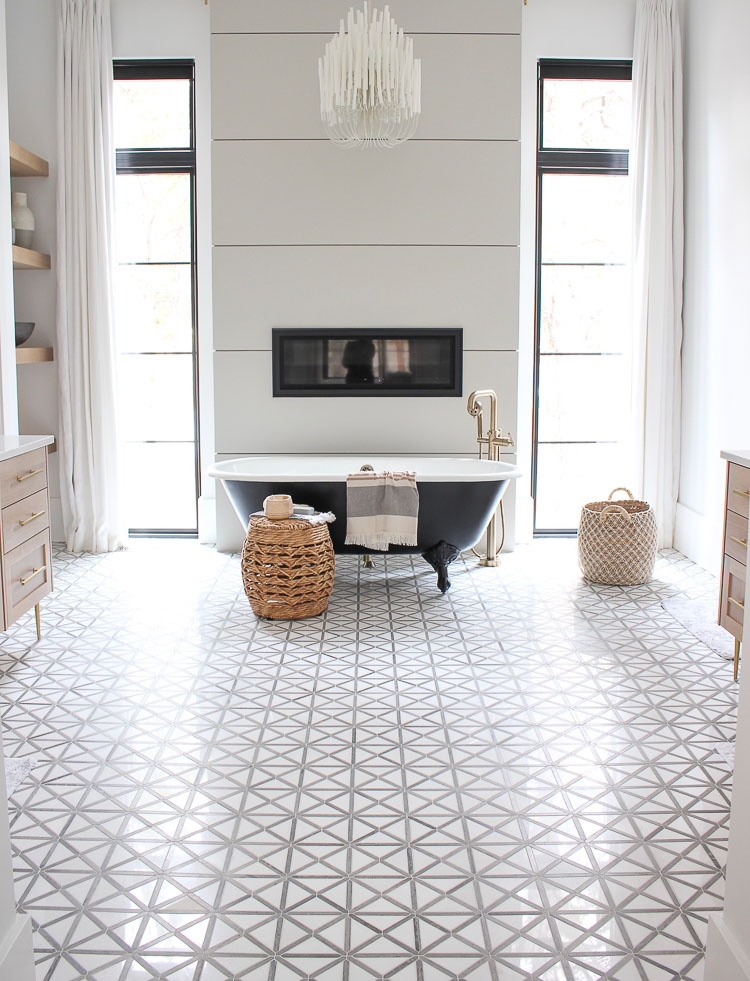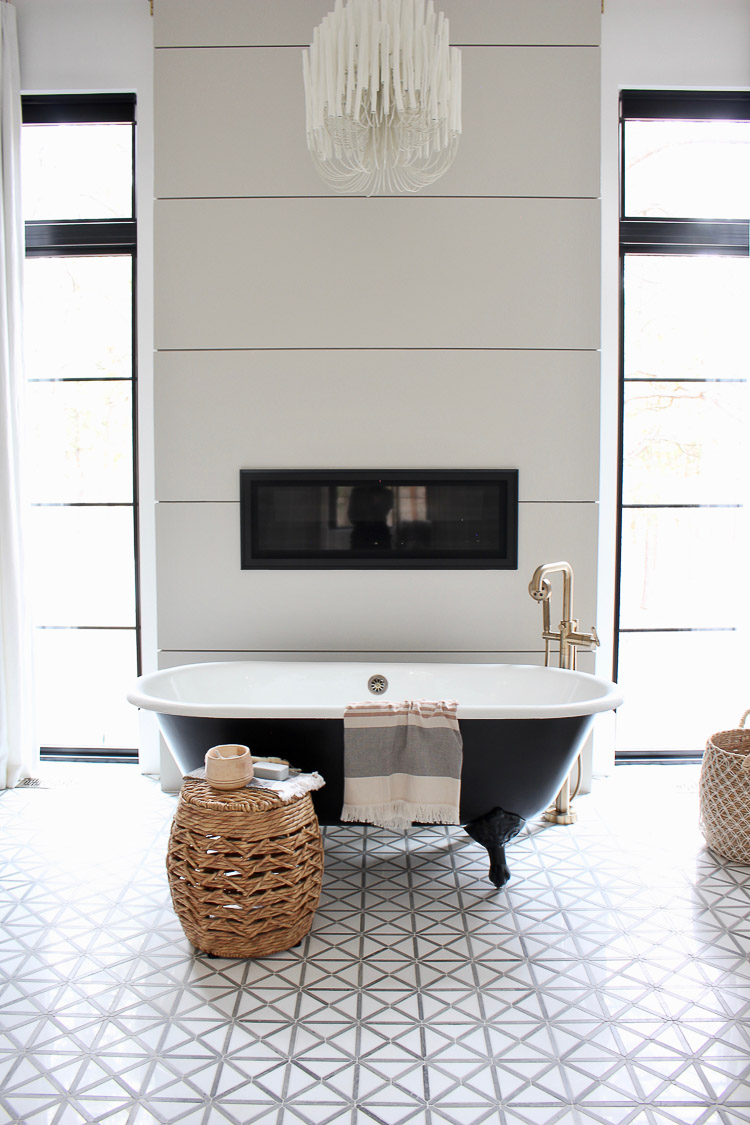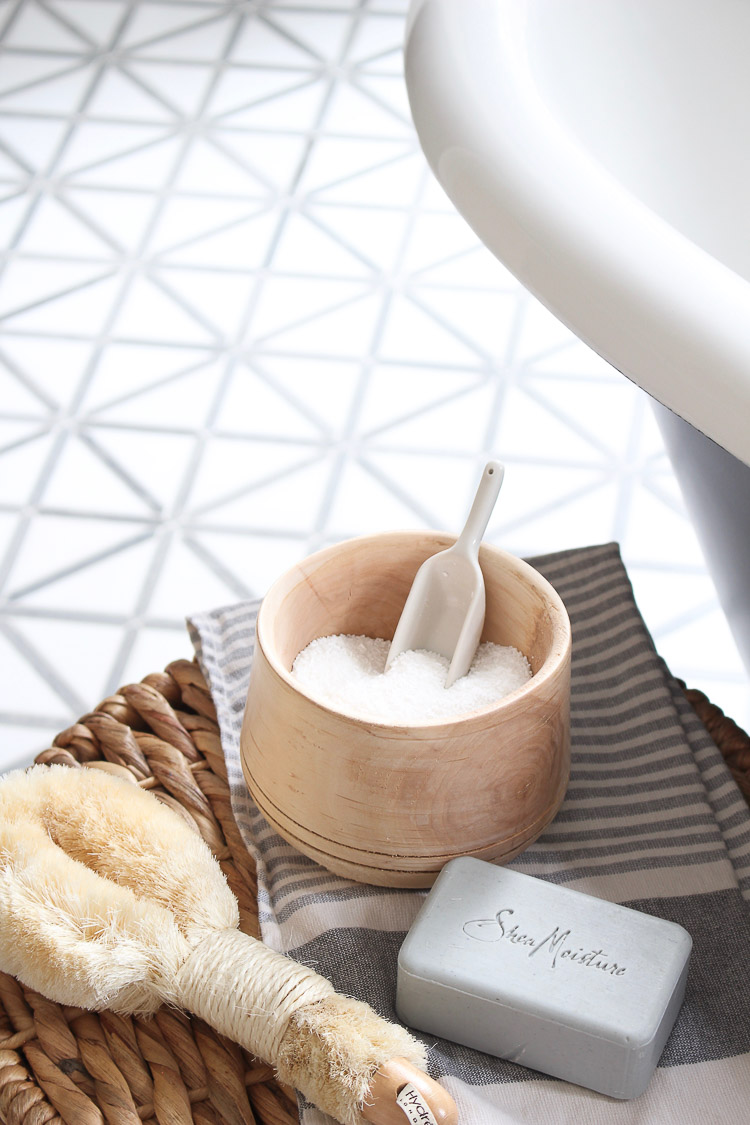 Bathroom Sources
Clawfoot tub // Drapes – custom made by Tonic Living (details in this post) // bath stool – Homegoods

I'd like to leave you with this view today. I am so grateful for this sanctuary we created last summer. I find myself out here almost every day sitting by the fire. The air is still crisp and cold but the flames warm me and I find peace among those trees.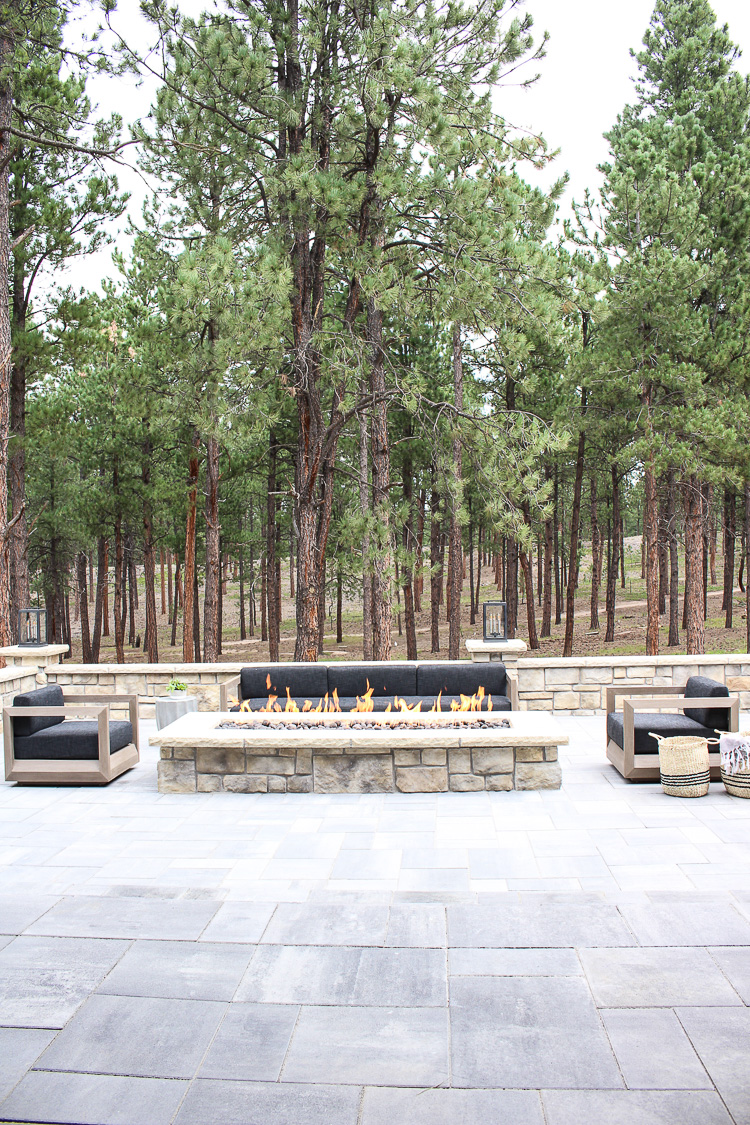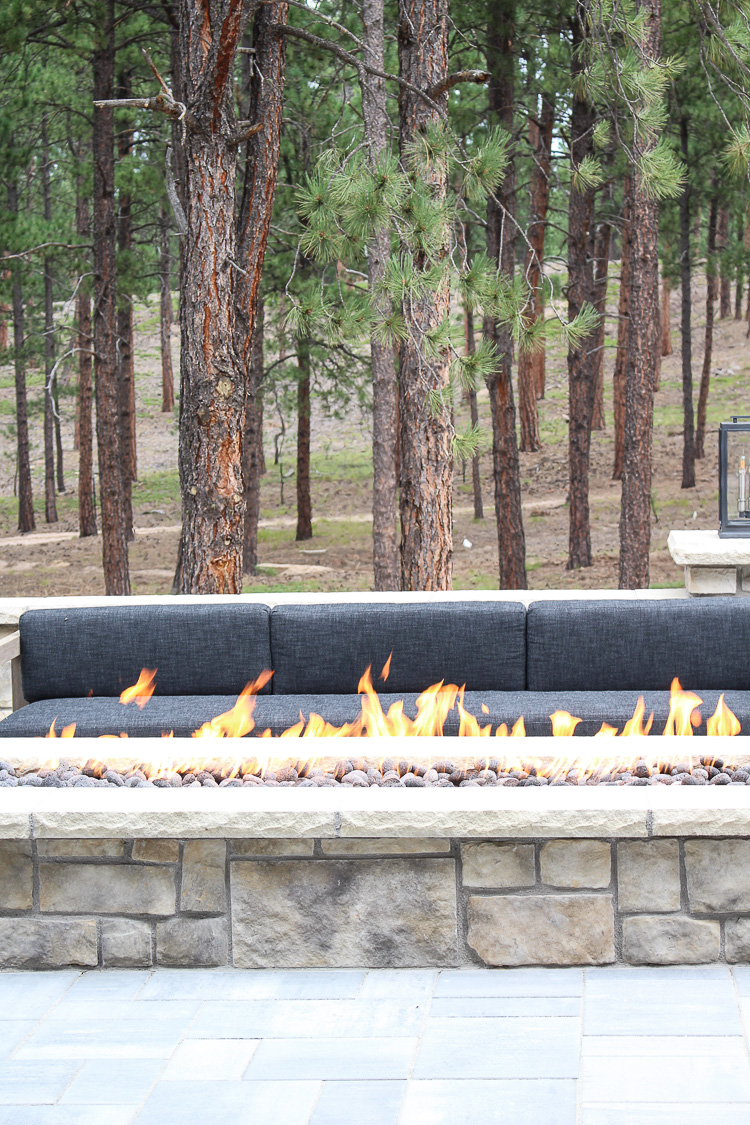 You can see more of our outdoor living in this post. I cannot wait for warm summer days when we can pull out all the patio furniture and entertain.
I hope you enjoyed glimpses of our home. This is the time to truly be thankful for our place of shelter. I hope your home feels like a safe haven. We are all experiencing so many emotions but I pray maybe today you saw a silver lining in your circumstances. I look forward to the day we can gather friends once again in our home but for now I'm so thankful that I have this extra time at home with my boys. Blessings to you all!!