Hellooooooo!!!! I'm sure you think we fell off the face of the earth, at least off of "blogland" after not blogging for three whole months!!! Oh my goodness where did time go? We have been completely and overwhelmingly swamped with The Forest Modern but I'm so thrilled to announce that we are officially DONE!!! Kind of done, almost done, a few hiccups…"done."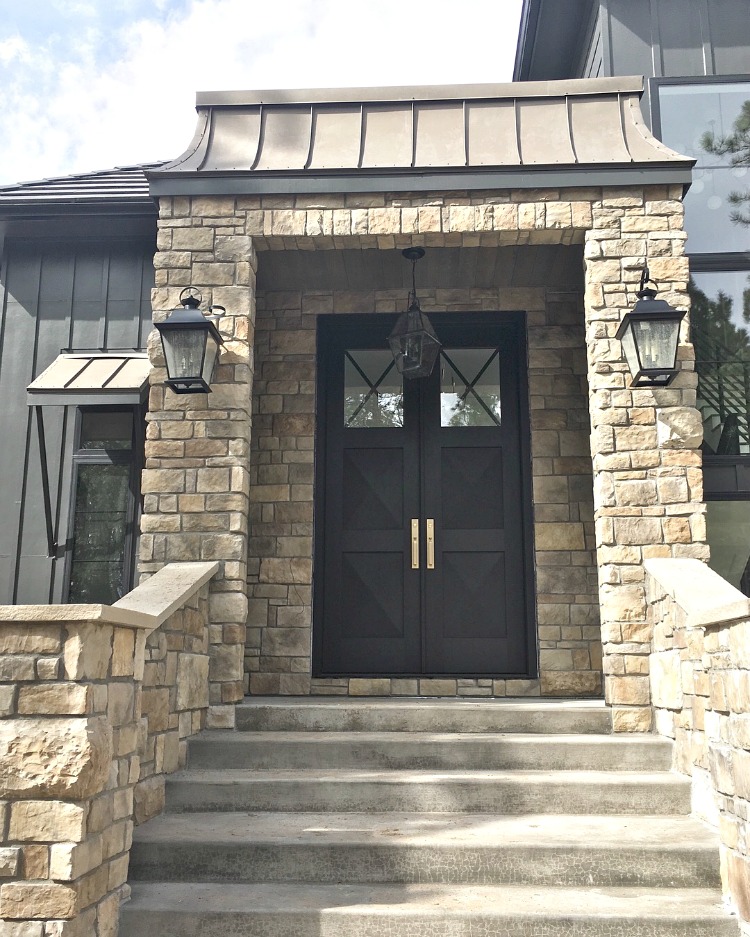 For those of you who have been so faithfully following along with us in building our custom dream home which we named, The Forest Modern, I feel like I owe you a big SORRY for not keeping you posted on all of the ins and outs of this building process. I had every intention from the beginning but things just went south a few months into this design journey and I found myself drowning daily to keep up with it all.
Over two years ago, in January, we discovered this beautiful 5 acres of forest land and fell in love with the serenity. Two months later we were proud owners of this property and had dreams of building our forever home right here.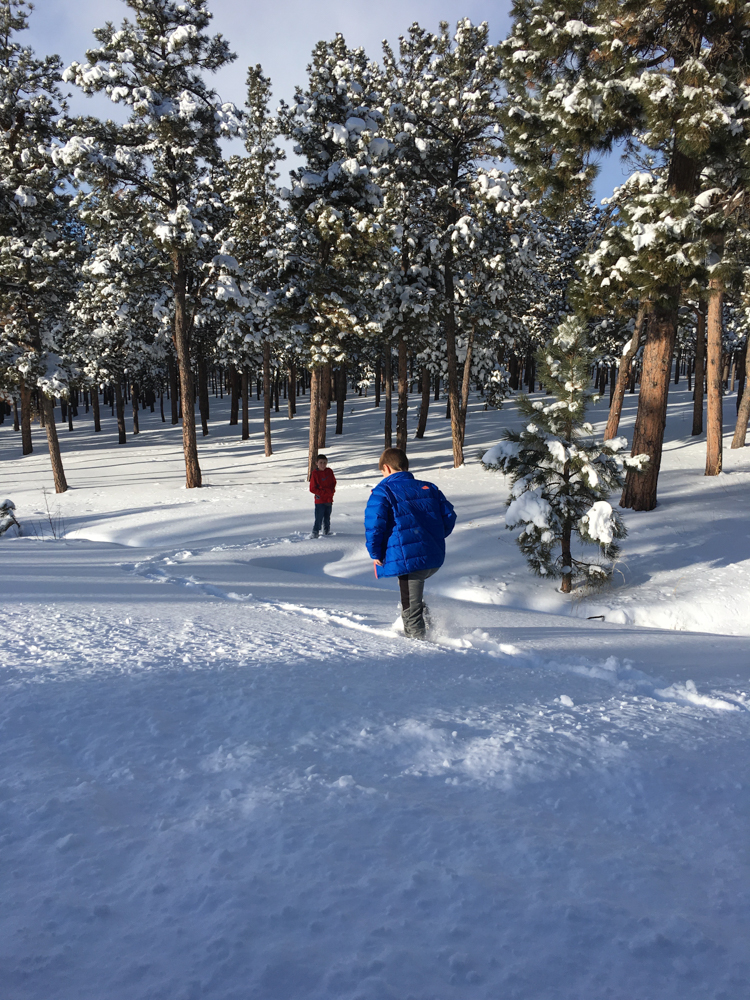 I had no floor plan in mind, no stockpile of design ideas saved on Pinterest, or basically any clue what I wanted this house to look like. I was off to a great start with this project, right? #sarcasm
Soon after we bought the land I started "sketching" The Forest Modern. A far cry from anything an architect would sketch out or a draftsman, but I slowly began to see this house take shape.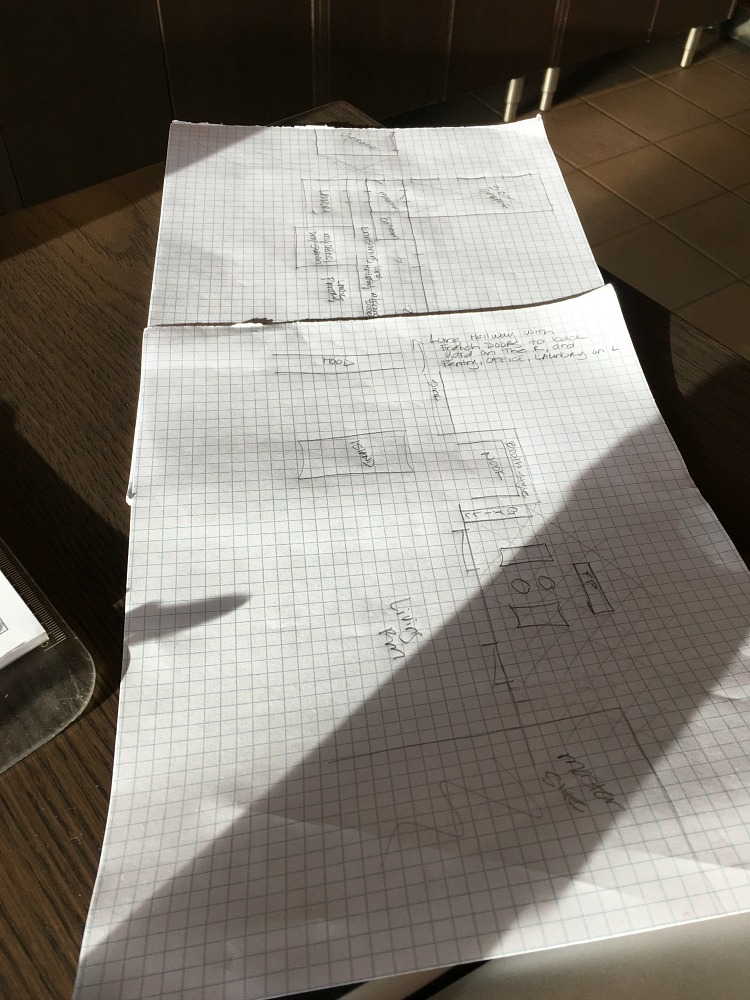 Initially, I took my "chicken scratch" plans to an architect in hopes he could really help this vision come to life. Unfortunately, turns out I was the one designing every square foot of this house and he seemed to be having a hard time keeping up with our timeline. What should have been a 3-4 month process to draft this home for blueprints turned into a 10 month ordeal that came to an end after we realized that this relationship wasn't working out and our home would never be done if we kept at this pace. Not a great start to building a dream home right?
Summer came and went. Still no where near being ready to break ground. Hey, at least our property line was staked. #optimism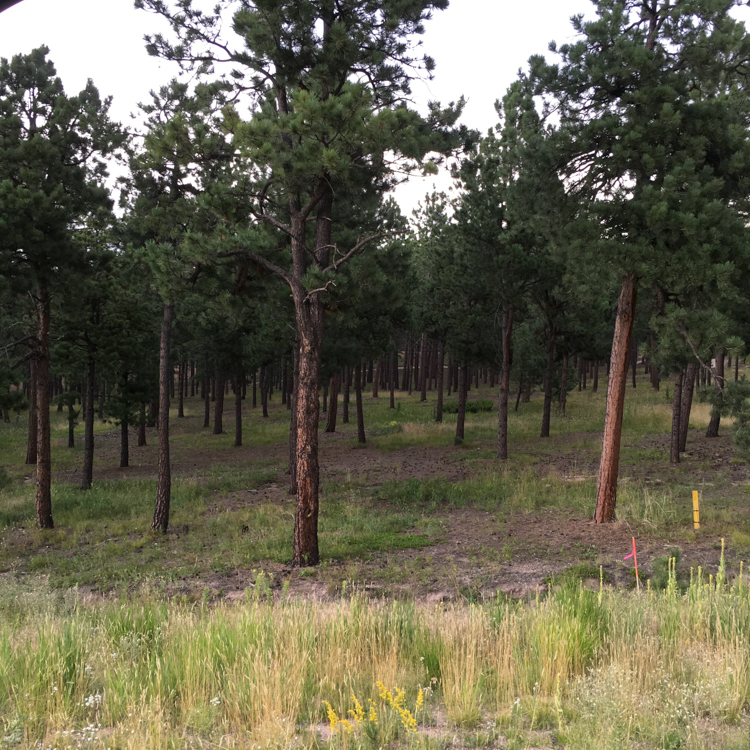 Maybe this was a sign that we should pause and put this home on hold.  I should have listened to all the signs that were saying this is going to be a rough road. I am stubborn and super persistent so patience isn't my best characteristic #lessonlearned.
We found a draftsman who was able to take our "rough" house plans, fine tune the drawings and prepare them for engineering. This process took about 3 more months…ugh. Finally, one year after we bought our land in March 2016, we were ready to break ground. We had to clear a ton of trees sadly to accommodate the footprint of our home. (Don't worry, they went somewhere to get recycled).  In case you're wondering why the snow in March?  Just a typical spring for us in Colorado.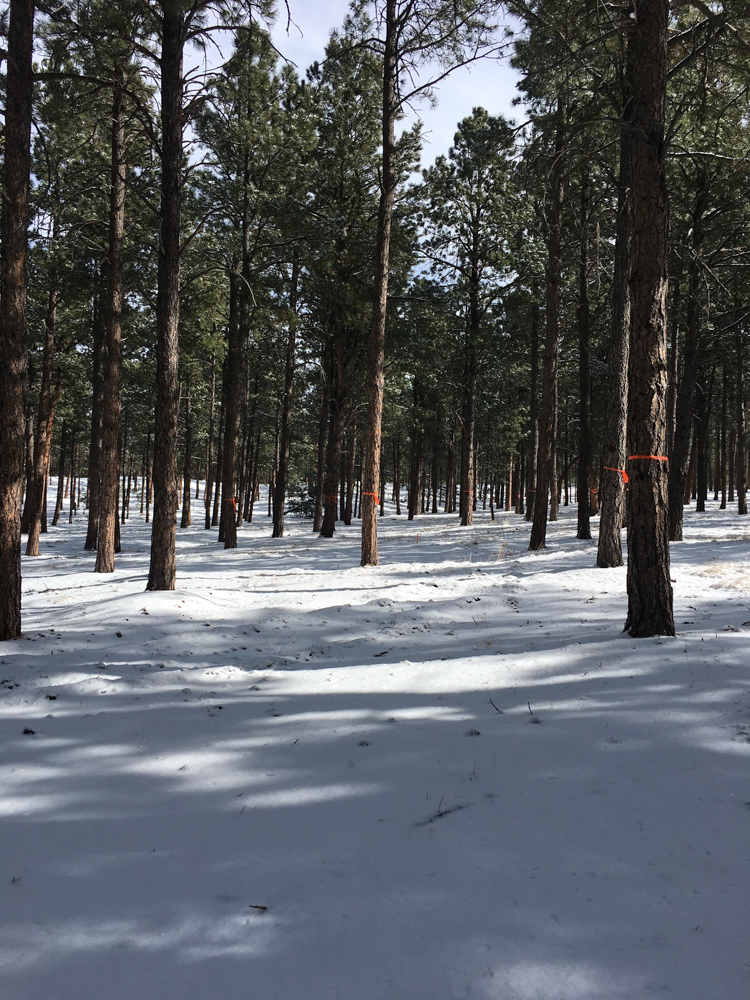 We had hopes that once we broke ground we would be finished by the beginning of 2018. Sigh….At least the snow melted and we could stake our house footprint.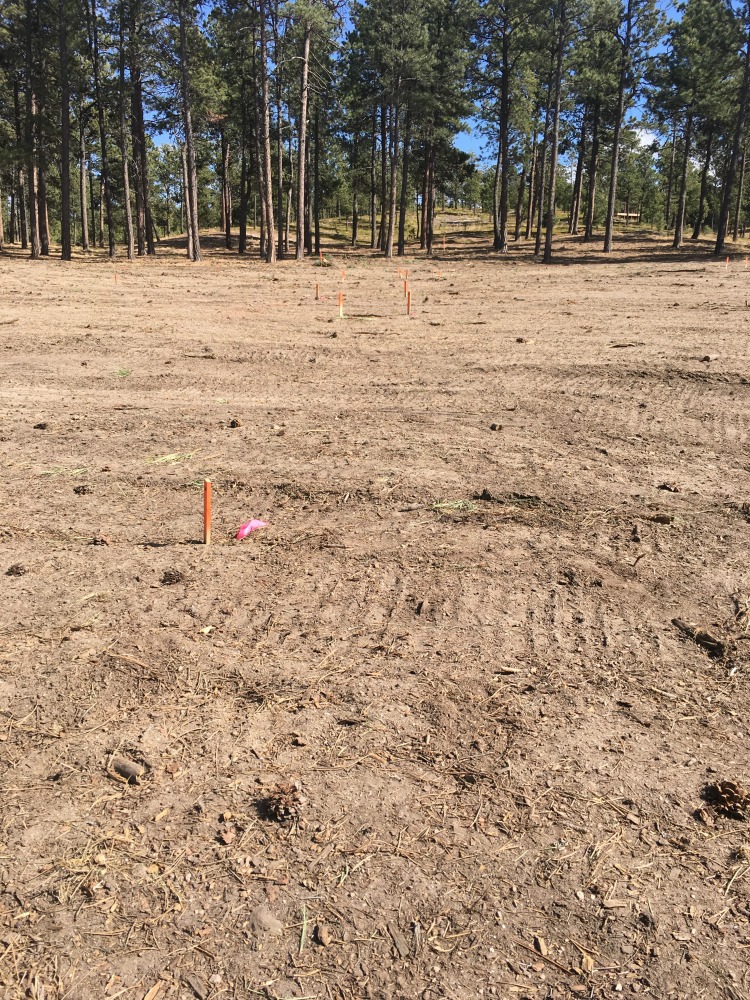 Sidenote…we thought it was a good idea to get our new puppy at that time too. Why do I put myself through these stresses? lol. Potty training a puppy while working pretty much full time. We survived. Read more about our bundle of life, Kodak, here.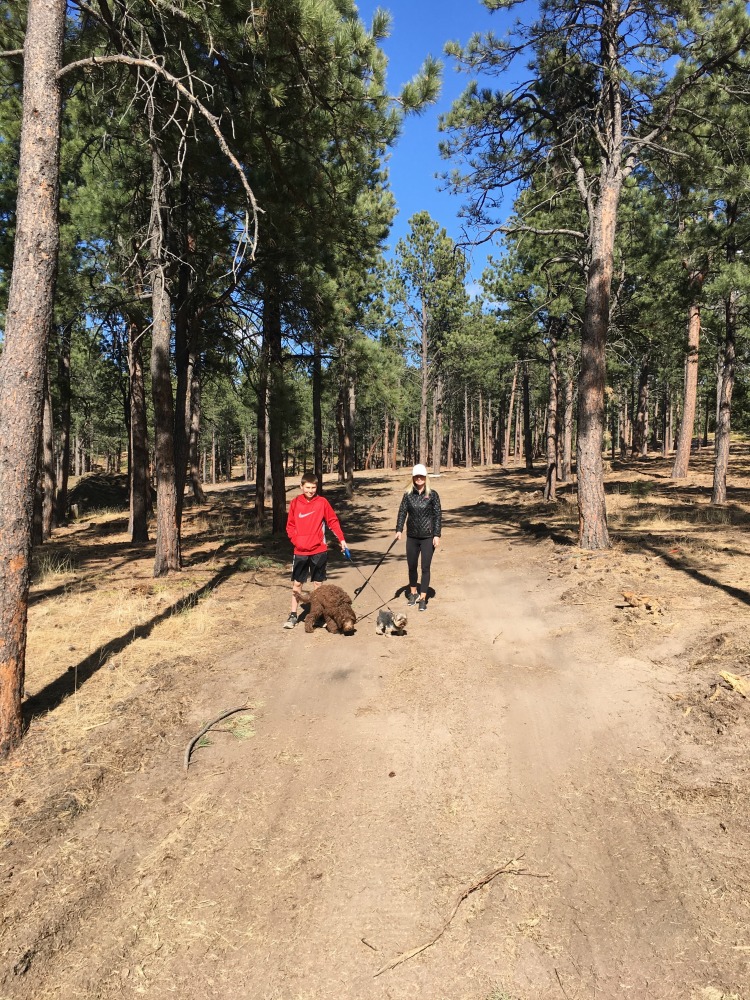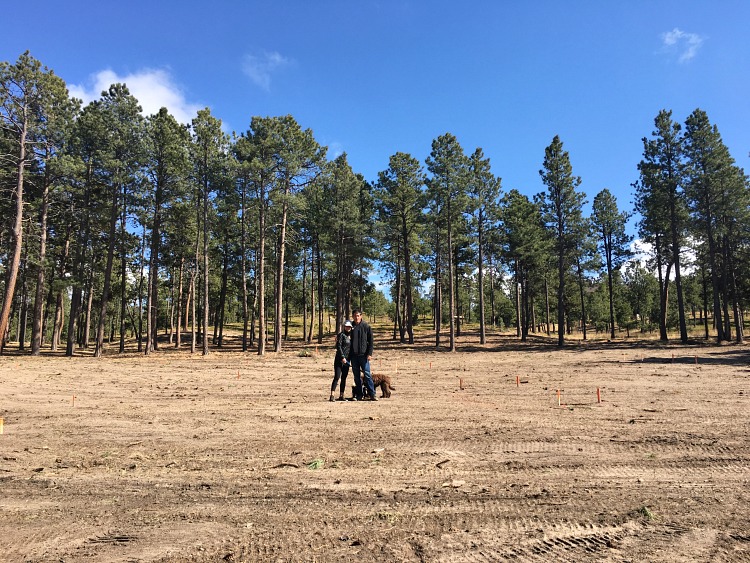 Excavation began and the beginning of The Forest Modern footprint took shape.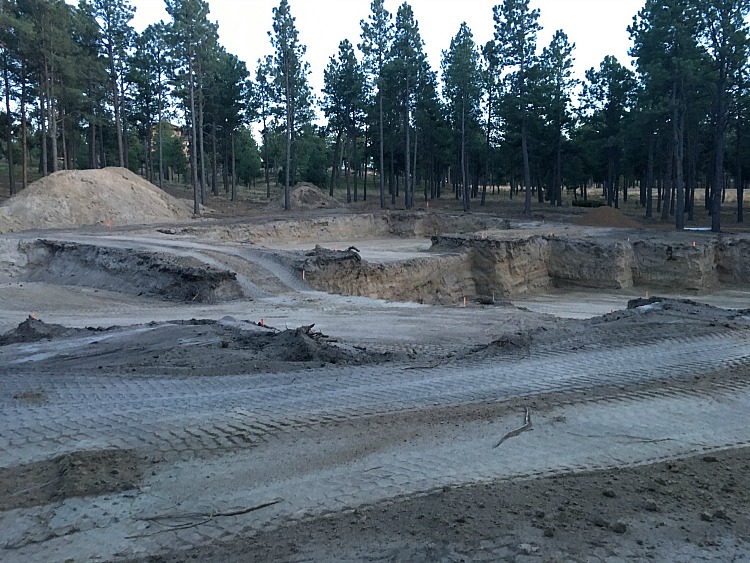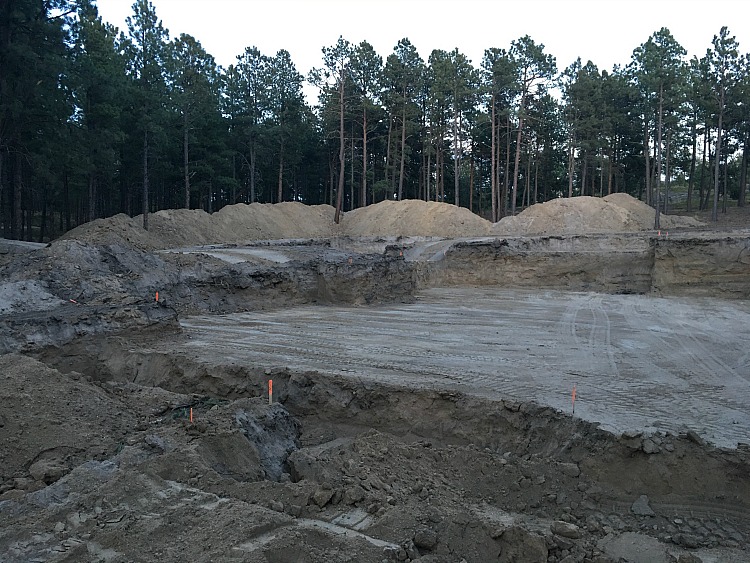 There I am still wondering what in the heck this house was going to look like….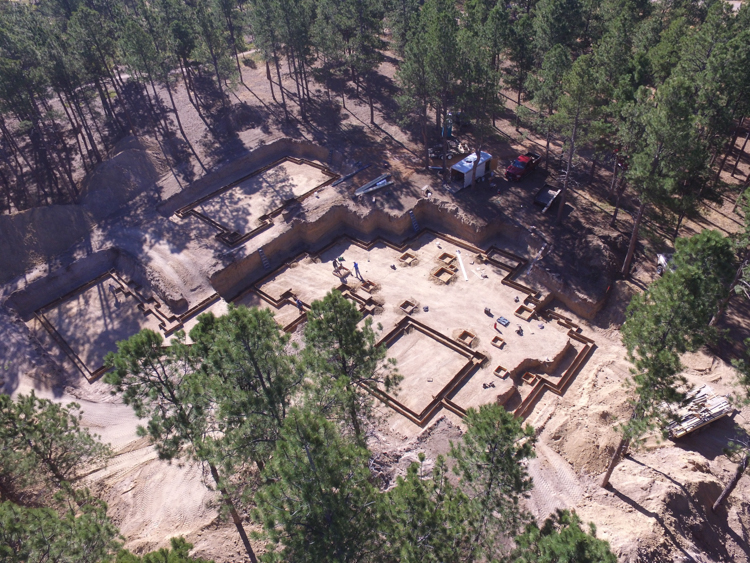 I seriously had no idea how it was going to turn out. We never saw a true 3d rendering of the home which is what our original hope was through our architect. Insert "maybe it would have been a good idea to put this project on hold until I could visually see that rendering?" I'm a bit impatient, remember? I'm just a girl who has a passion for interior design but I had zero credentials to come up with an entire masterplan design.  Studying and research of all things "house design" became my second full time job.
Through this journey I have learned a ton! I felt like I was in college studying for a final exam every single week. There is a lot to talk about from mistakes I made, things I wish I would have known, and what I would do differently if starting from the beginning again. I'll save that for another post because it is wordy, quite possibly a novel. Definitely a page turner if you were to read all the struggles we encountered almost on a daily basis.
I stumbled through and fully admit I was on pins and needles every phase of building, praying this house would look like I had envisioned in my mind. As I designed every room and pieced them together like a puzzle I'd close my eyes and take a virtual tour in my mind. Tim had no clue what this house was going to look like aside from seeing the floor plan on paper. Thankfully he has always trusted my vision and goes along with me even in my crazy moments.
Standing in our basement and still grasping my vision. Putting walls in and already figuring out where furniture would go.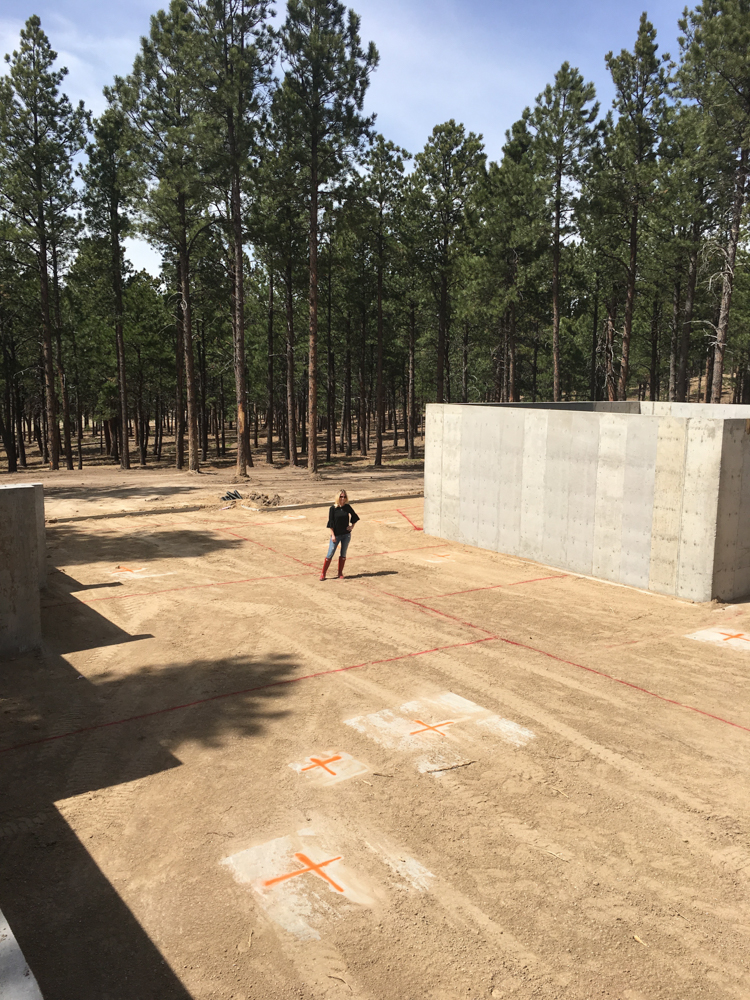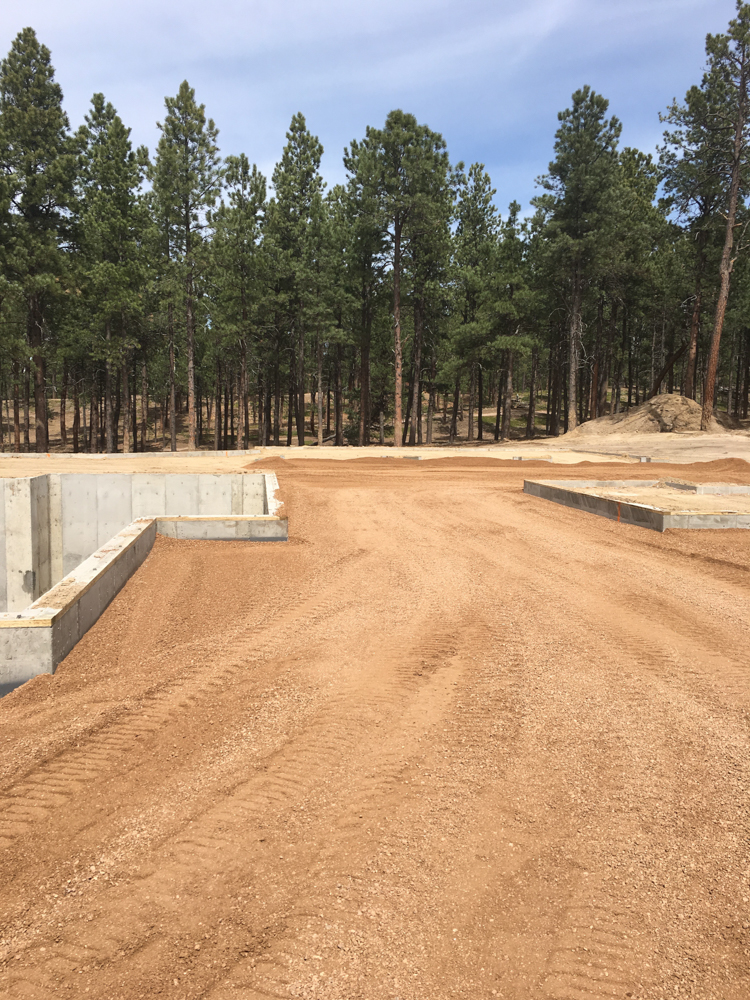 Having a dorky moment because I was a bit thrilled to see concrete walls go in.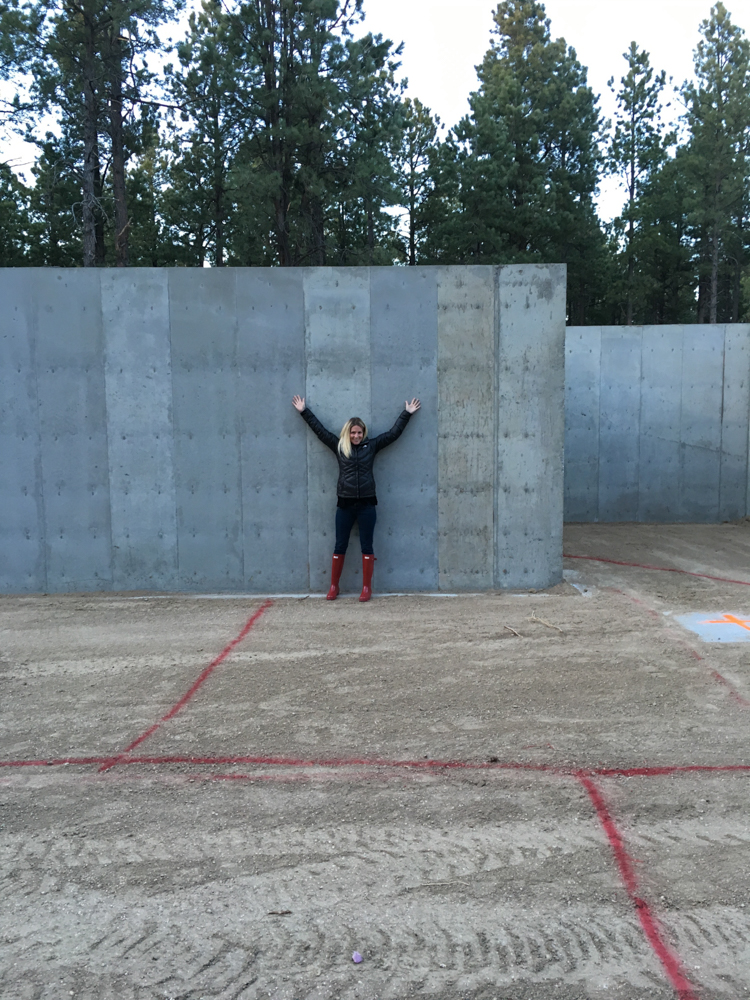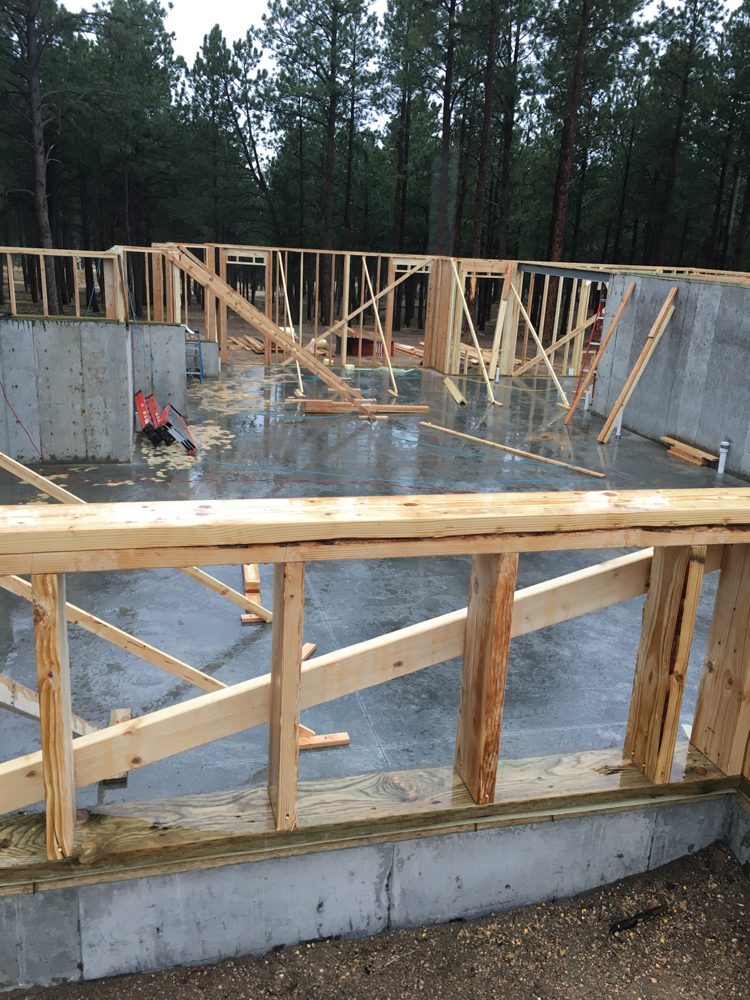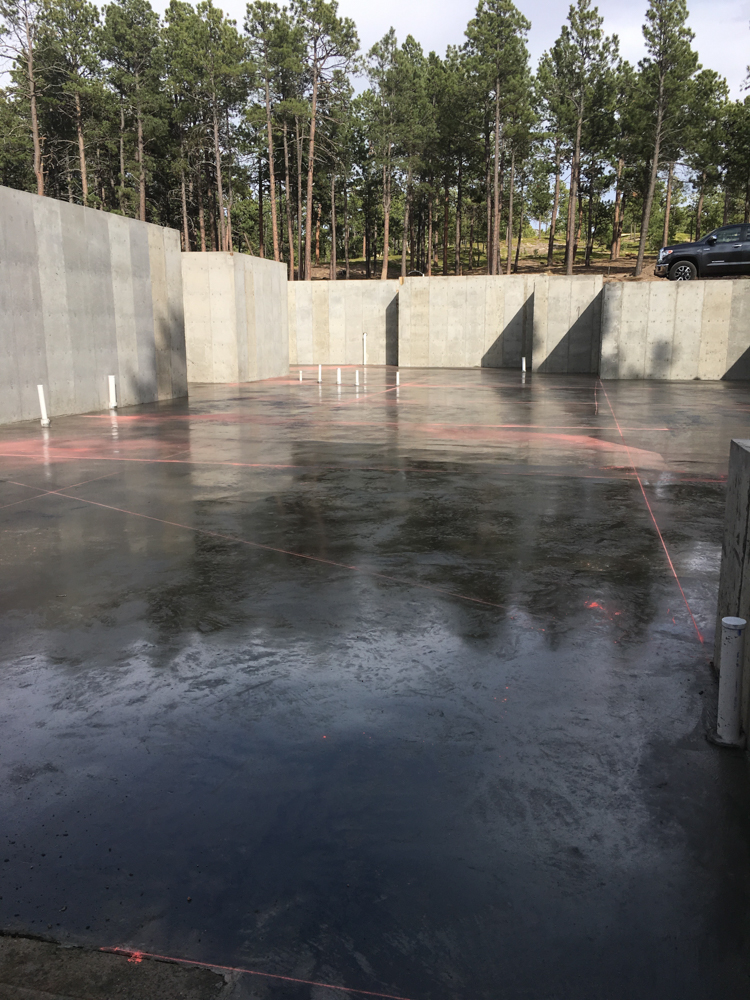 After seeing the structural steel beams, I knew I had to leave one of those exposed as we continued on with the design. An urban industrial design would be going in the basement. Can't wait to show you the finished part!
Framing was quite a process as well. I was making on the fly last minute changes moving walls, expanding rooms and adding windows.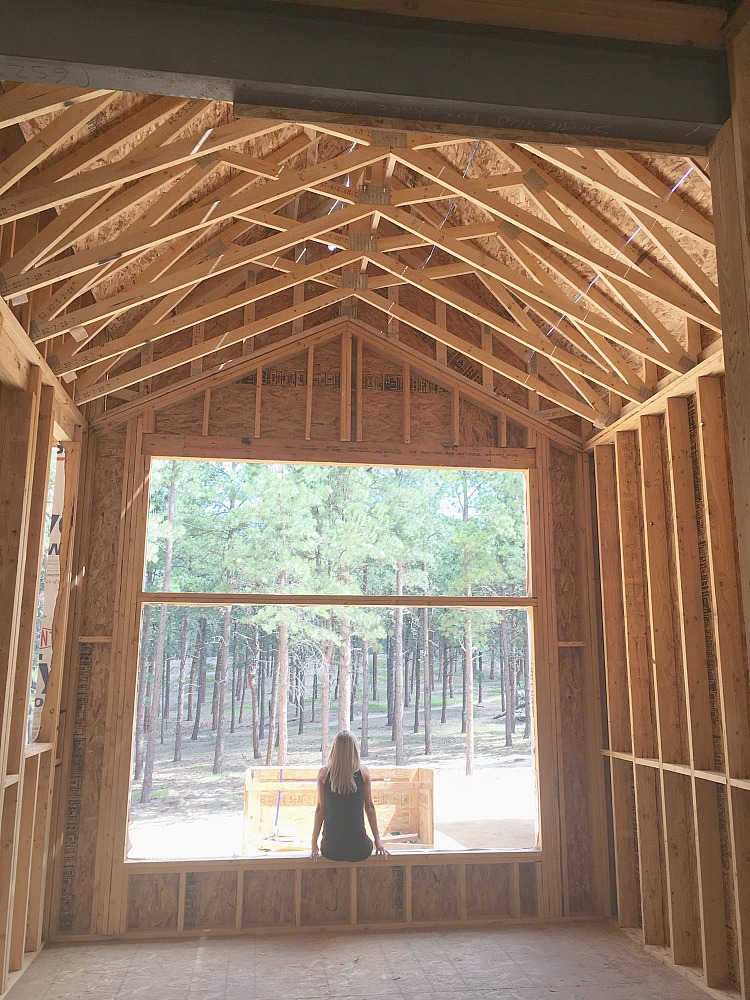 With every phase there were big issues. To name one, the basement to 3rd floor stairway windows were framed wrong. When things aren't done right the first time major set backs happen. This is the story of the whole building process. Eventually issues would get fixed but the frustrations of dealing with them was taking its toll.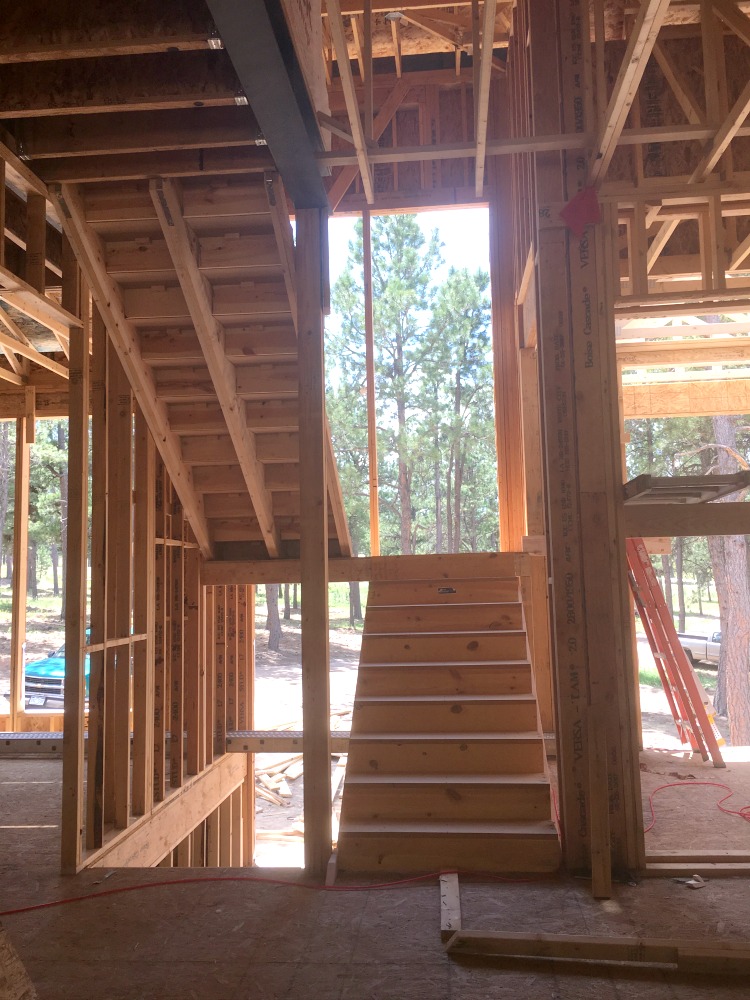 I'm sure my framers weren't thrilled with me as I had them knock out walls to add more windows, like this big one here. I mean with forest views like that we wanted to open all the walls up!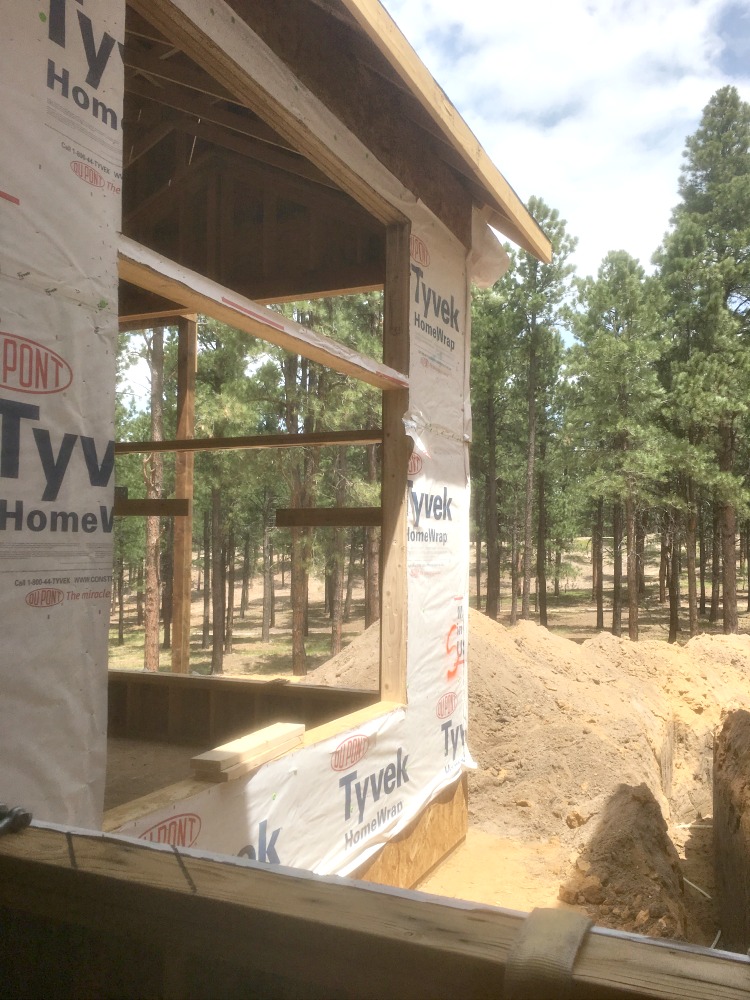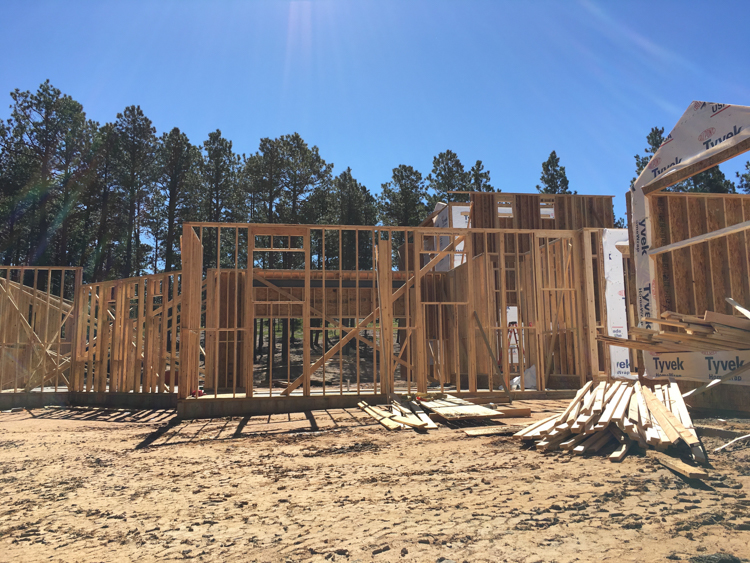 This photo was taken on Mother's Day a year ago. I can't believe how far this house has come and everything we have endured in a year.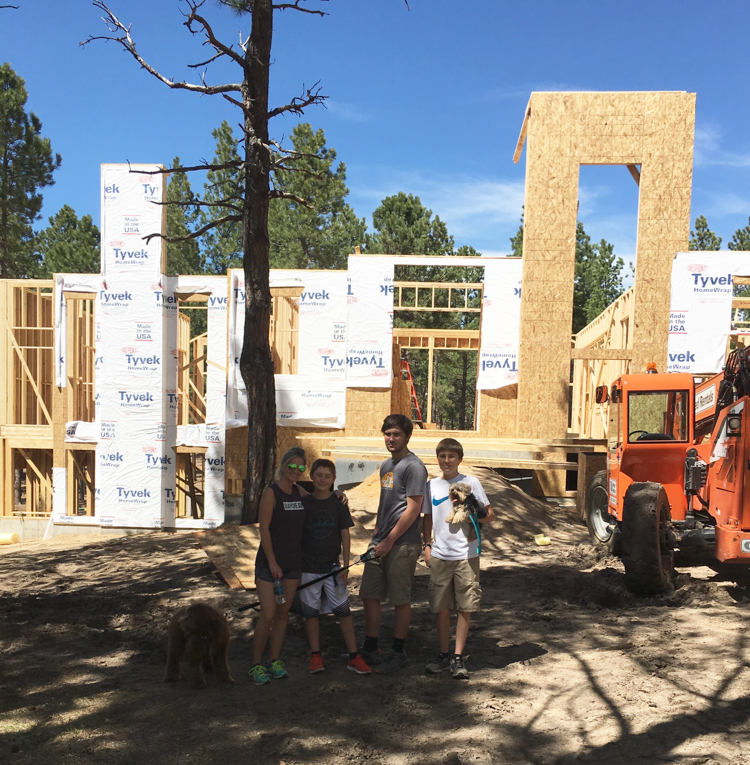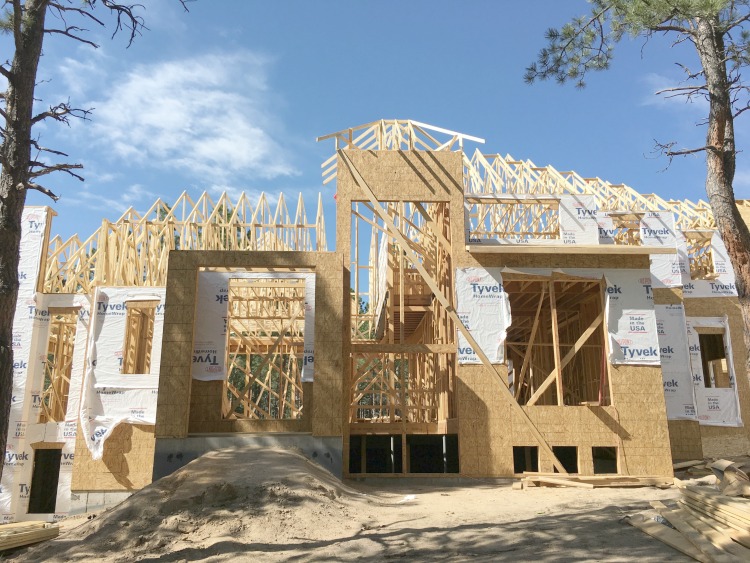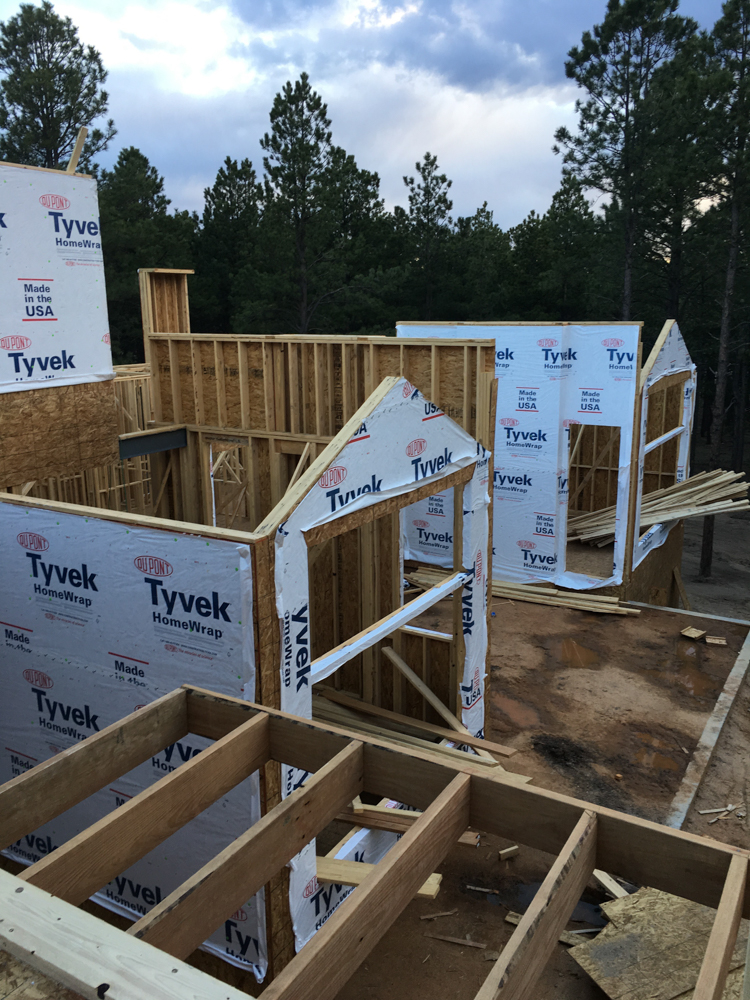 Tim surprised me one night with take out, wine and roses in our soon to be "hearth room." I loved those nights he and I would go out there after all the construction crew had left and dream of what that next season of our life would look like here.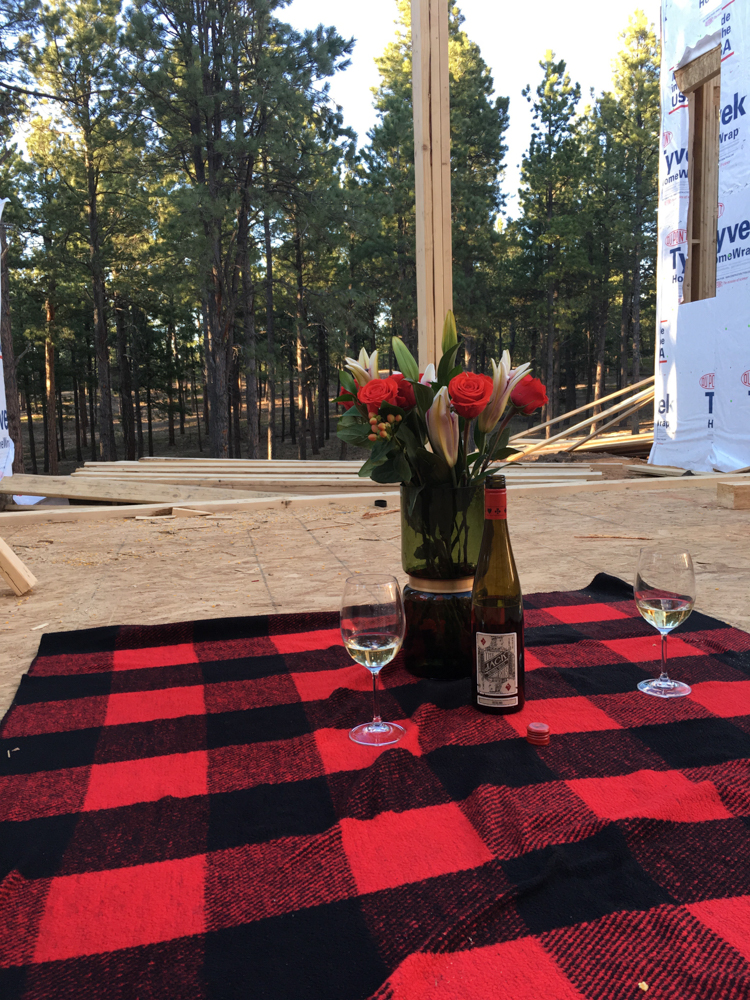 Our porte-cochere seen below also got more windows (not shown here). A proper rendering of the home would have definitely helped me to catch these things before we started building. I found myself making quite a bit of exterior changes once I saw the house go up.  This is why I can't express enough to those of you who are going to build a custom home to make sure you see a good rendering of all sides of the home before you dive into building it. We would have saved a lot of time and money had we had that opportunity.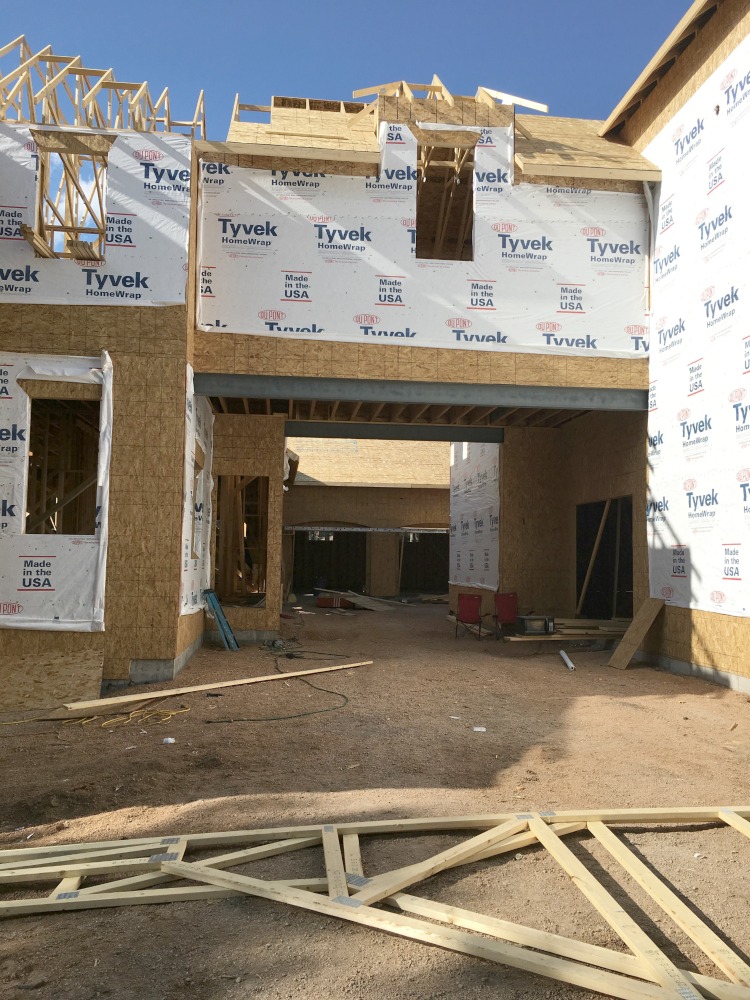 I get asked all the time what this side of the house is.  I'll be sharing that in a later post but it's definitely going to be a "fun spot" for us!  Here again though, I decided I needed massive 12′ barn doors after the structure was already framed. I was driving myself crazy. Oh but wait til you see what it looks like now! 😉  See the inspiration for the doors I designed HERE.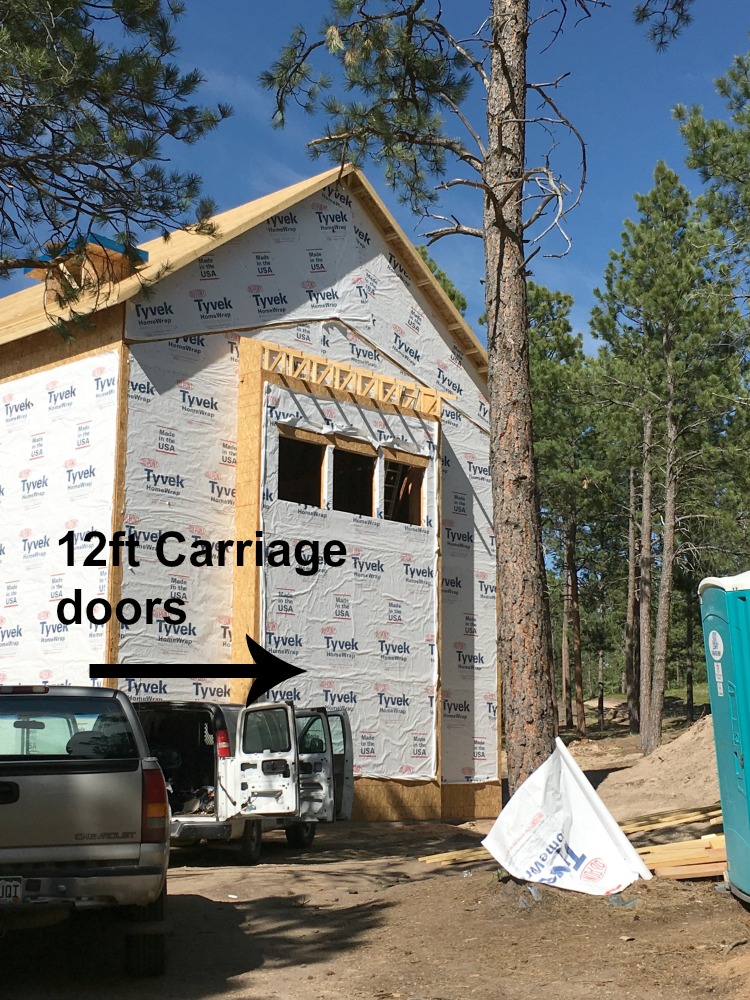 I found this home during one of my home exterior searches and fell in love with the monochromatic all dark facade.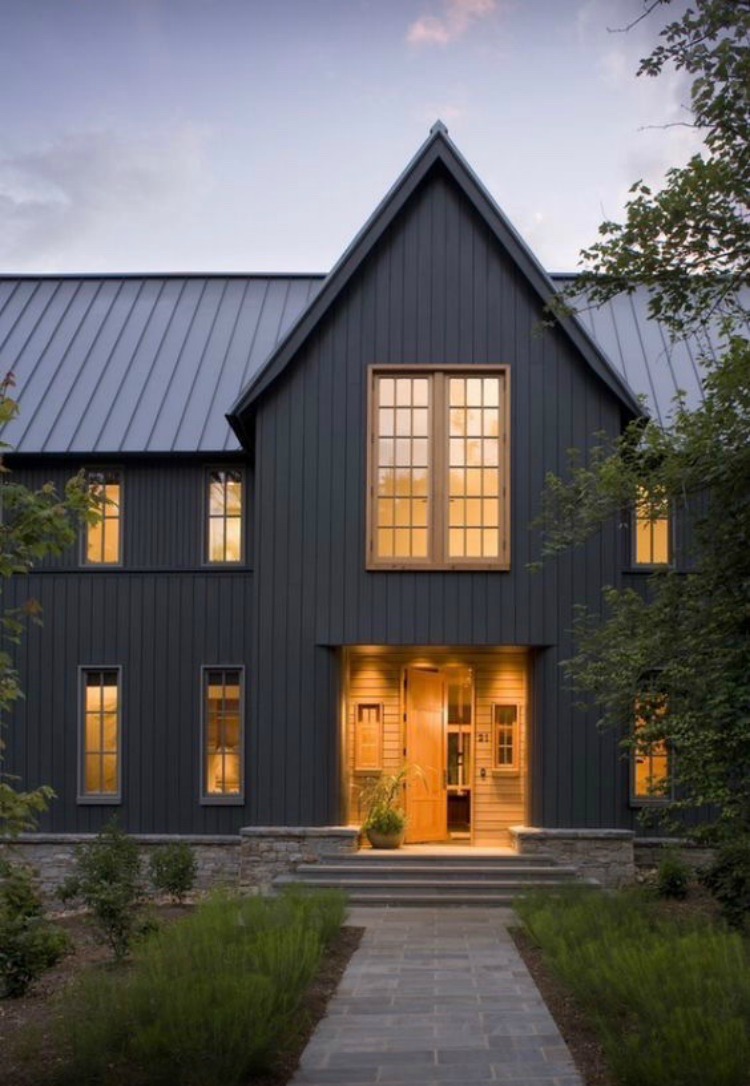 Architecture & Design by: Carlton Edwards
Since we are nestled among a thick forest we had to make sure that the house was built "fire rated." Our exterior siding is Hardie siding which is made of fiber cement. Translating to fire "resistant" meaning it will not ignite when exposed to a direct flame nor will it fuel the fire.  Over the past few years we have had some major catastrophic forest fires in our area so we did everything we could in building this home to give it a fighting chance if we had a forest fire. I wanted this home to have the look of a modern/farmhouse/chateau (can chateau and farmhouse actually be in the same sentence???).  Stucco was out of the question for me, so we did a lot of this vertical siding mixed with stone.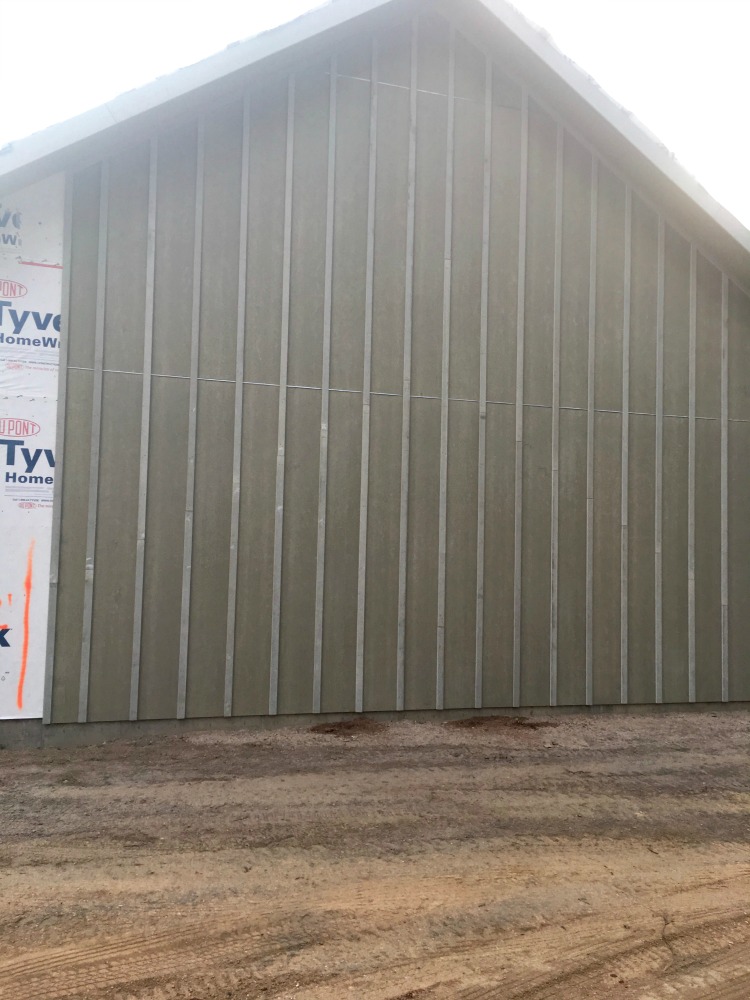 Our exterior paint is Iron Ore by Sherwin Williams. I seriously debated over this color for months before I finally made the decision. It's kind of scary or intimidating to paint your entire home dark! Before our stone went up it looked almost black and I was worried I had made a big mistake. It's a true charcoal gray with no blue or brown undertones which is the question I get asked quite a bit. I absolutely LOVE it and am so happy I stuck with my gut and went with what felt right for our home. You can read more about our exterior paint HERE.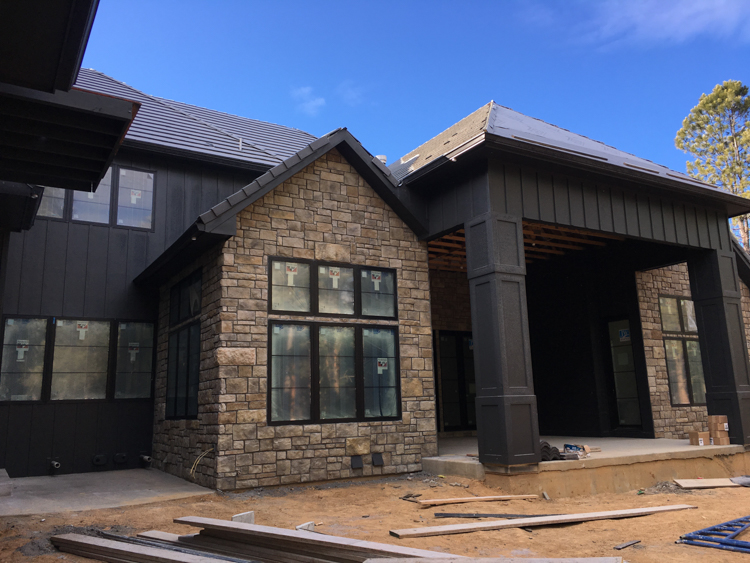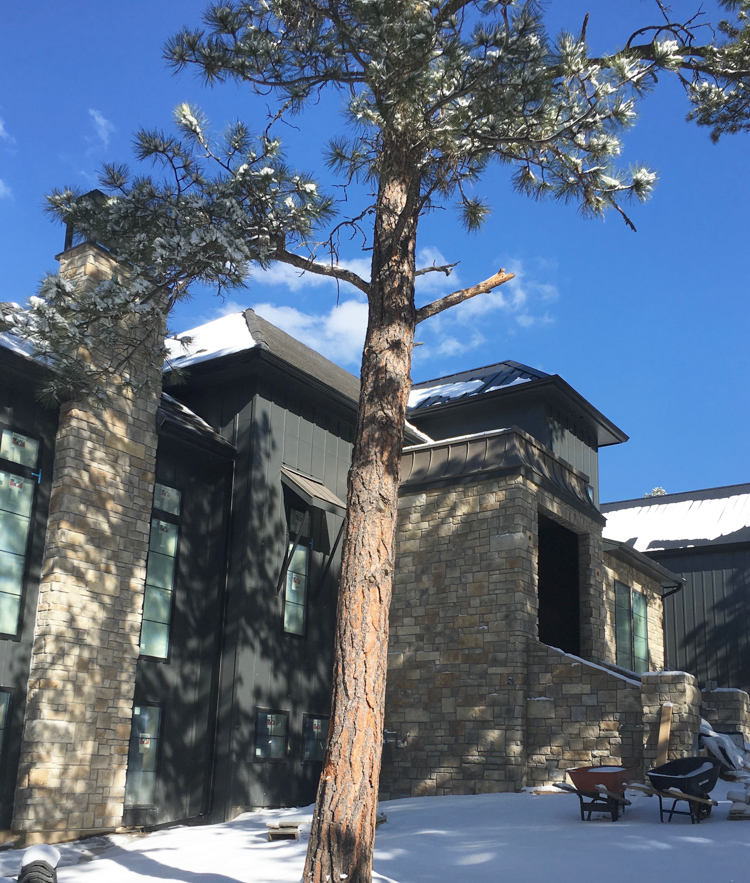 Remember our garage doors? Still OBSESSED!!! All the details on them can be found HERE.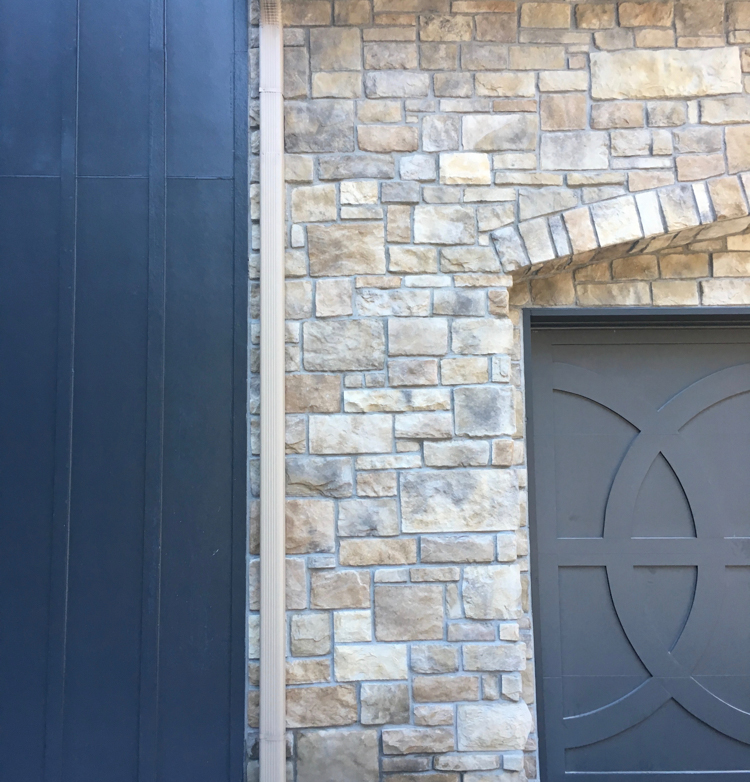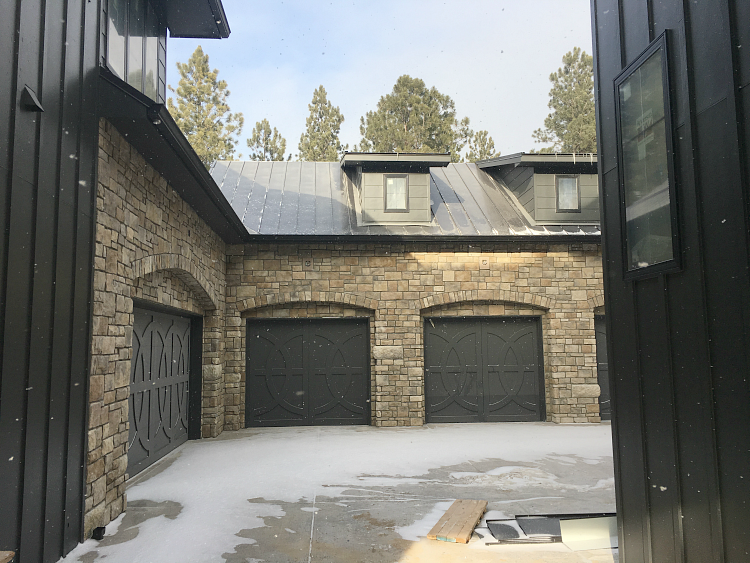 Winter came again and we were in the never ending stage of drywall and texture. Those were the toughest months because there was a whole lot of DRAMA around our wall "texture." Saving a full chapter in my "novel" about that one. Let's just say it set us back another two months….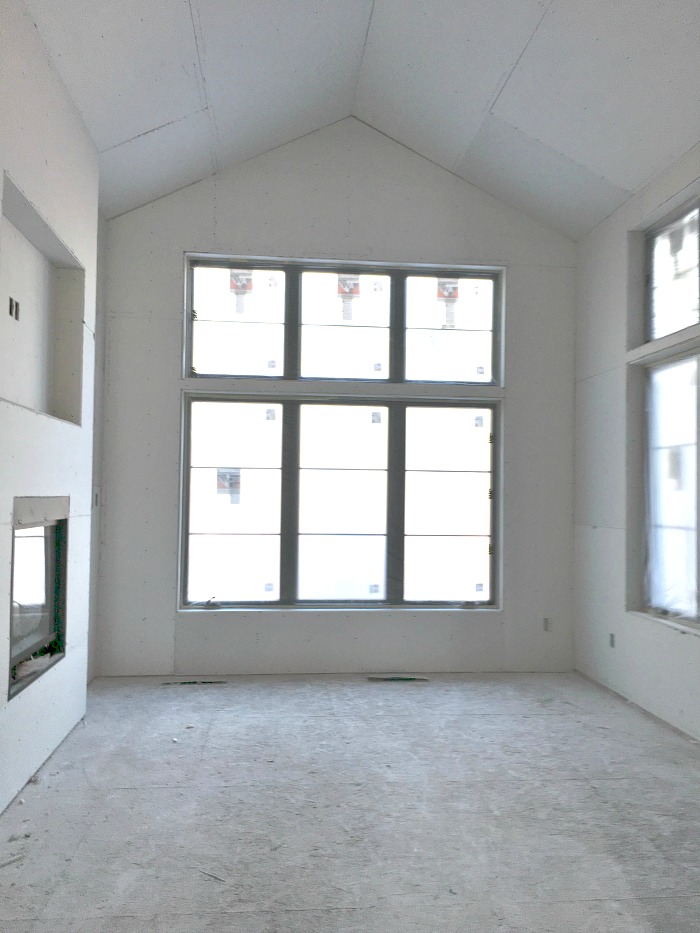 The steel transoms were one of those "afterthoughts" once the house was framed. I found a local metal fabricator who worked with me in designing them and they turned out far above my expectations! I am so glad I added these to the home and am DYING to show you what they look like now!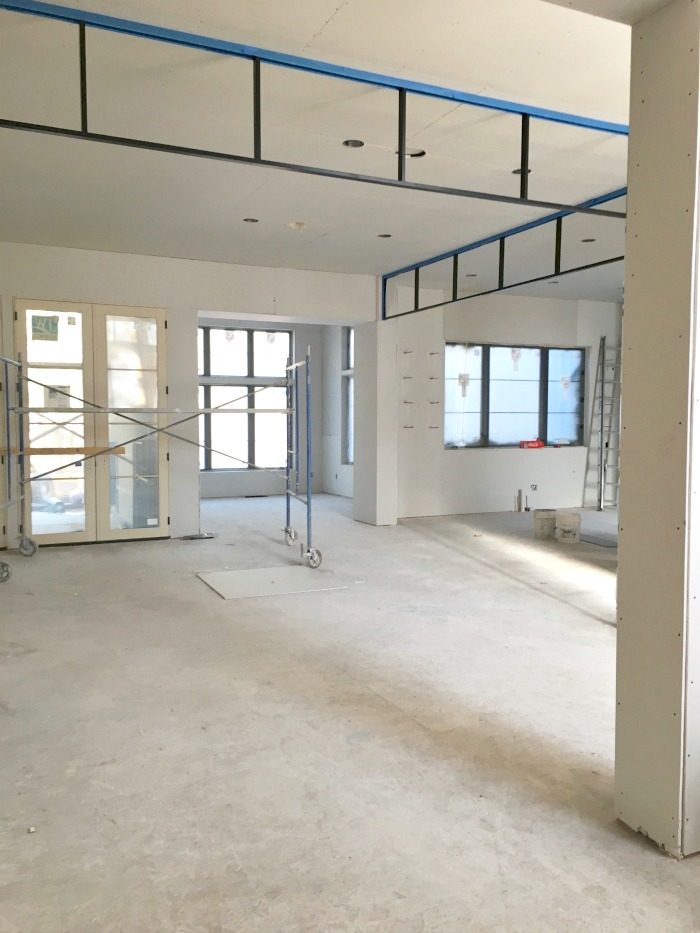 Last time I updated you was when we were painting our dining room and I was debating another dark paint. Read more about the colors I was debating on HERE.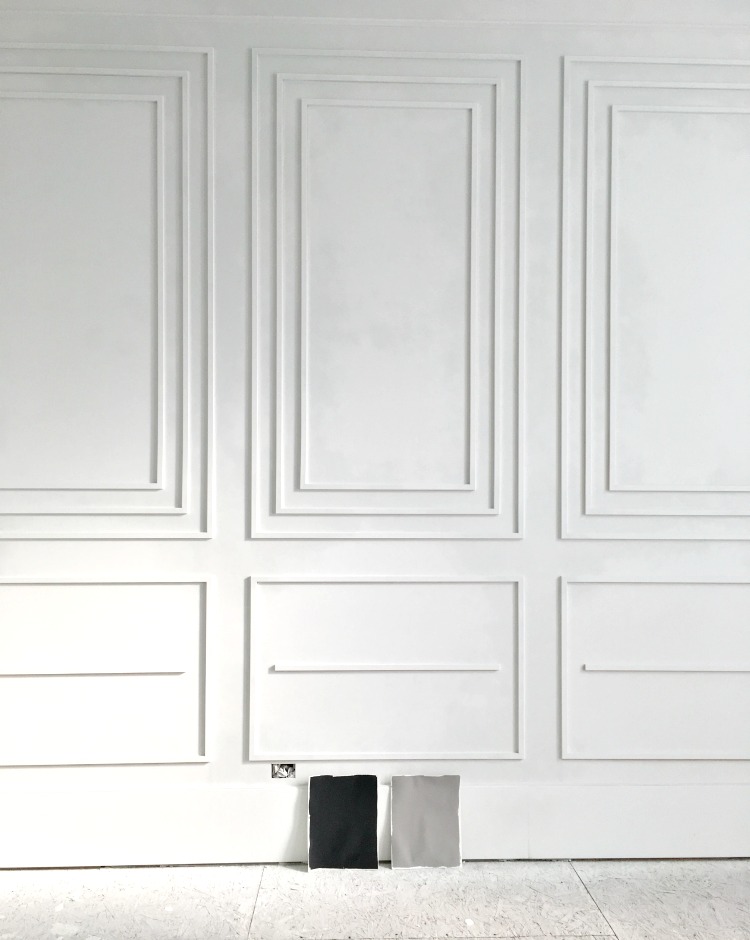 Well I made my decision (on the fly again).  I honestly have come to the realization that I work best when under pressure. All the last minute decisions turned out to be my favorite! I walk into this room now and just stare. Totally mesmerized with the outcome!!! Don't you love how I keep you wondering what it looks like now?? All in good time friends, the reveals will be coming.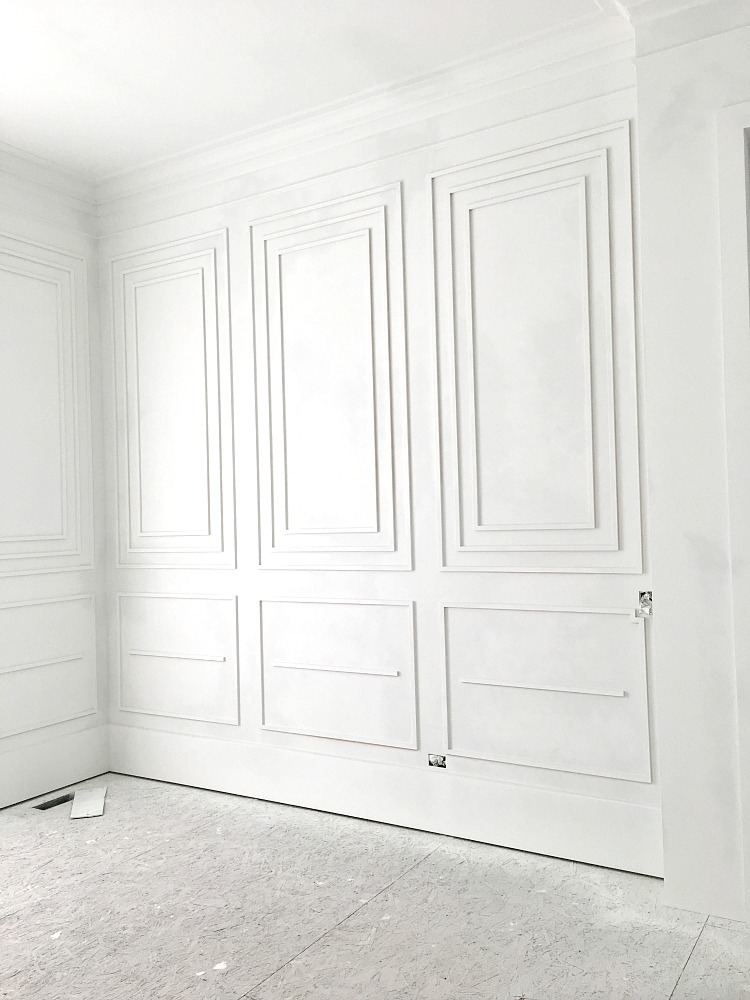 I'm thrilled to announce that we are DONE with the building process!!! Thank you all for following along and I hope you stick around to watch this home be revealed room by room. We will be moving over the next few weeks and will be living in limbo between our current home and this home. My goal though in between all the packing is revealing our new kitchen! You guys…I DIE!!! I can't even believe how gorgeous it turned out but admit I'm so nervous to share it with you all! I took some time last week and photographed it. My photography skills are just a bit rusty so I hope I was able to truly capture the beauty of it all. While you patiently wait, here's a lil' sneak peek!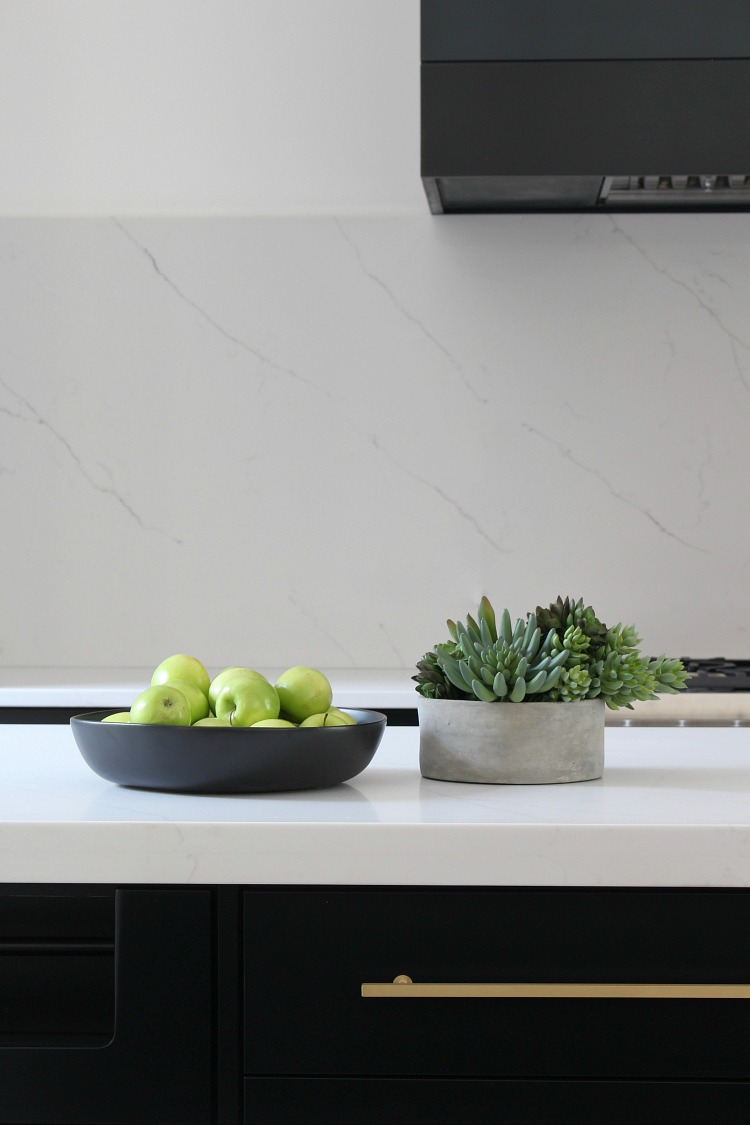 Keep checking back this week for the reveal! In the meantime, I'll be busy holding down two forts and chasing these two mutts around who are highly confused of their new home. A big transition for us all!!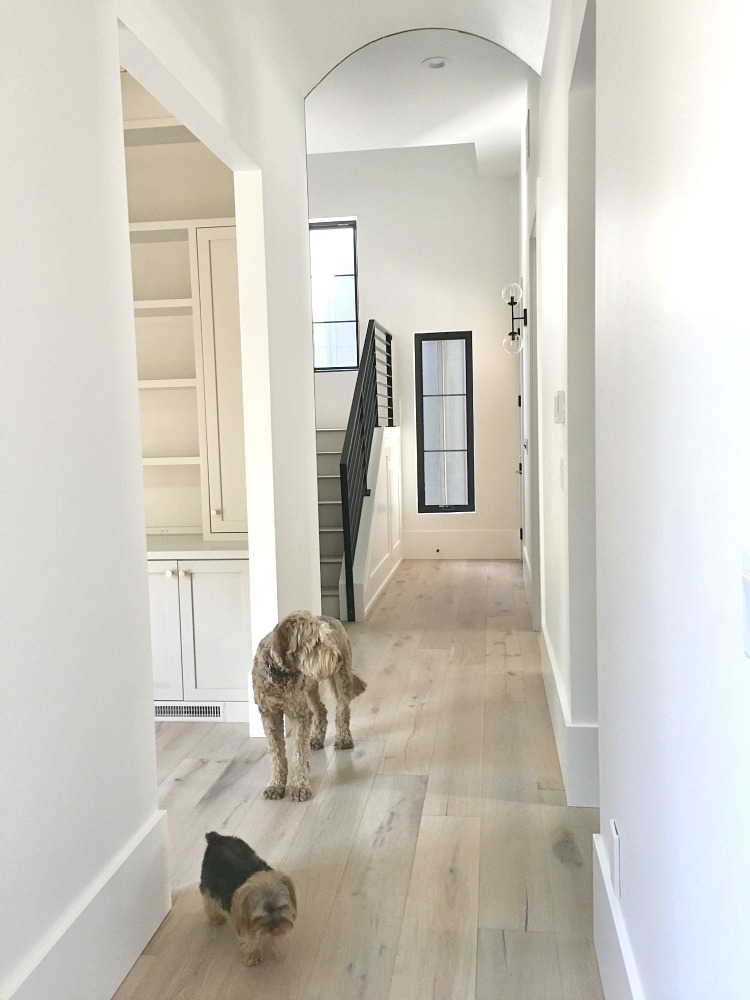 THANK YOU once again for sticking with us through this long journey of building The Forest Modern!
xo,
Shauna
SaveSave
SaveSave
SaveSave
SaveSave
SaveSave
SaveSave
SaveSave