Back At The Beach Cottage With My Summer Beauty & Fashion Favorites!
We are back at the beach cottage, just in time for the 4th of July! I love this time of year here in Naples, FL when we can walk down to the beach and watch the fireworks, eat Tim's homemade ice cream and just relax!  Our recent trip to the pacific northwest was definitely not what I'd call truly relaxing. Most of our vacations involve constant go, go, go.  With three boys who want adventure, mostly our trips involve a lot of hiking and outdoor ventures. Always so fun, but I dream of my days at the beach cottage when I can actually just plant myself on the sand, watch the waves, and do absolutely nothing. Frees my mind and good for the soul.
I can't believe it's been 9 years this month since we bought our beach cottage. The boys were so little then!  I laugh every time I look at this photo because it makes Tim look like a giant next to us.  Now Austin (center) is taller than him and just graduated!  Can we go back to those cute chubby cheek days??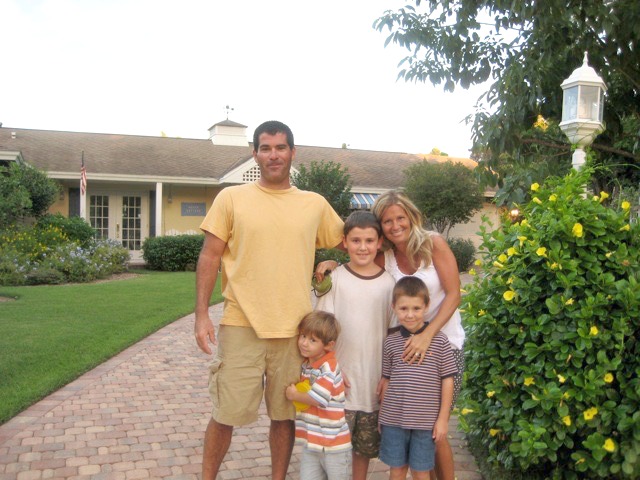 I wrote about our first summer in our cute cottage and the priceless memories of making this fixer upper our home in this post. You can see all the photos of what it looked like before we renovated it a year and a half ago in that post, so go read it if you have a minute. As you can see, it was so charming with a white picket fence overflowing, billowing yellow flowers, cobble driveway and a beach cottage sign. Of course.
I loved it then…but, now that it's renovated, all white and feels much cleaner, I love it even more.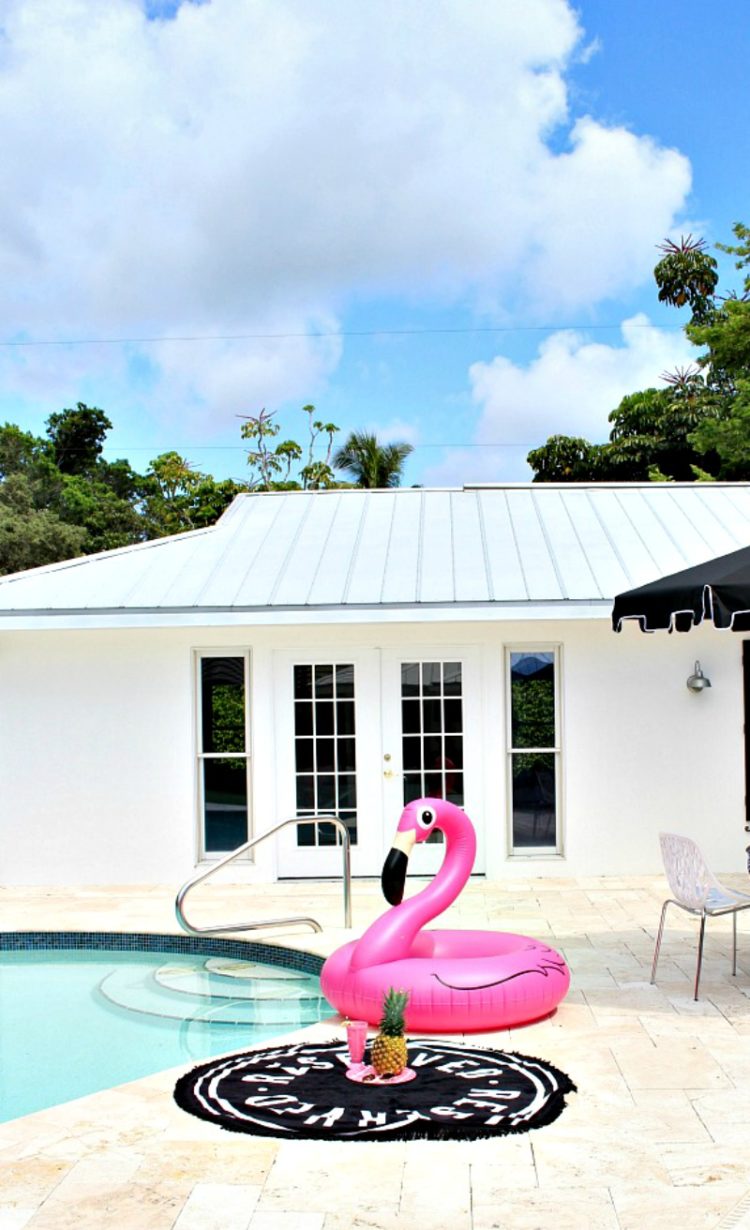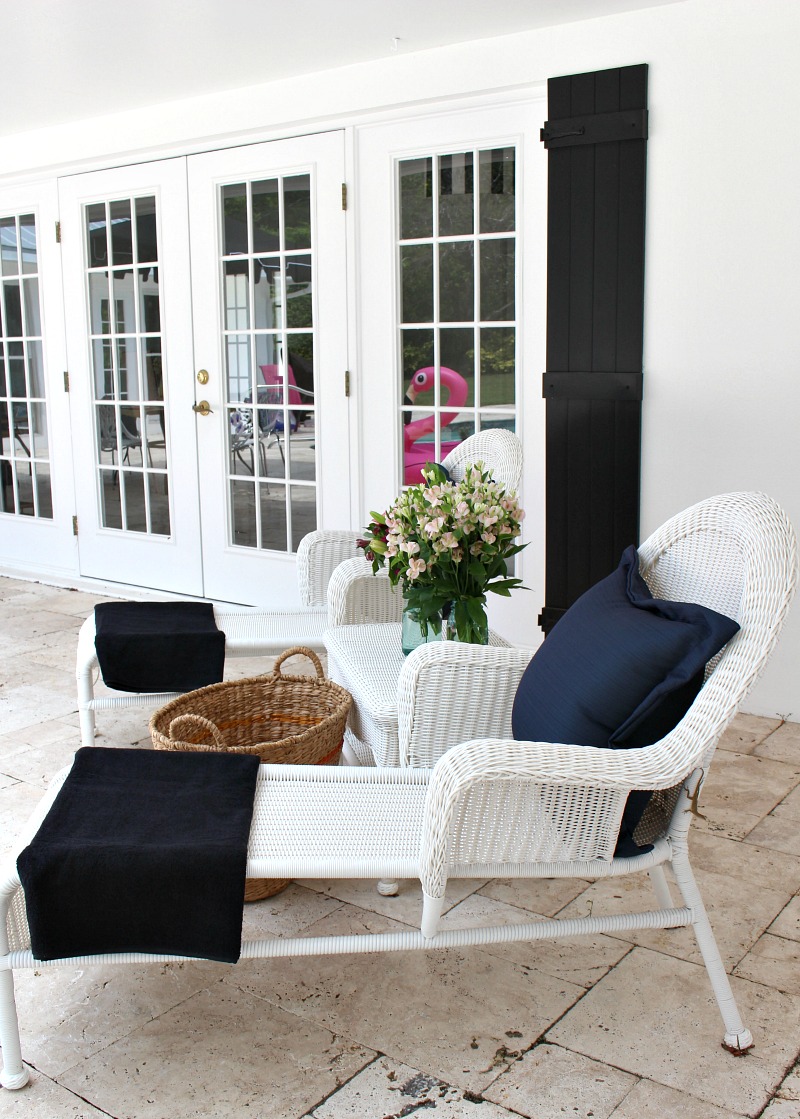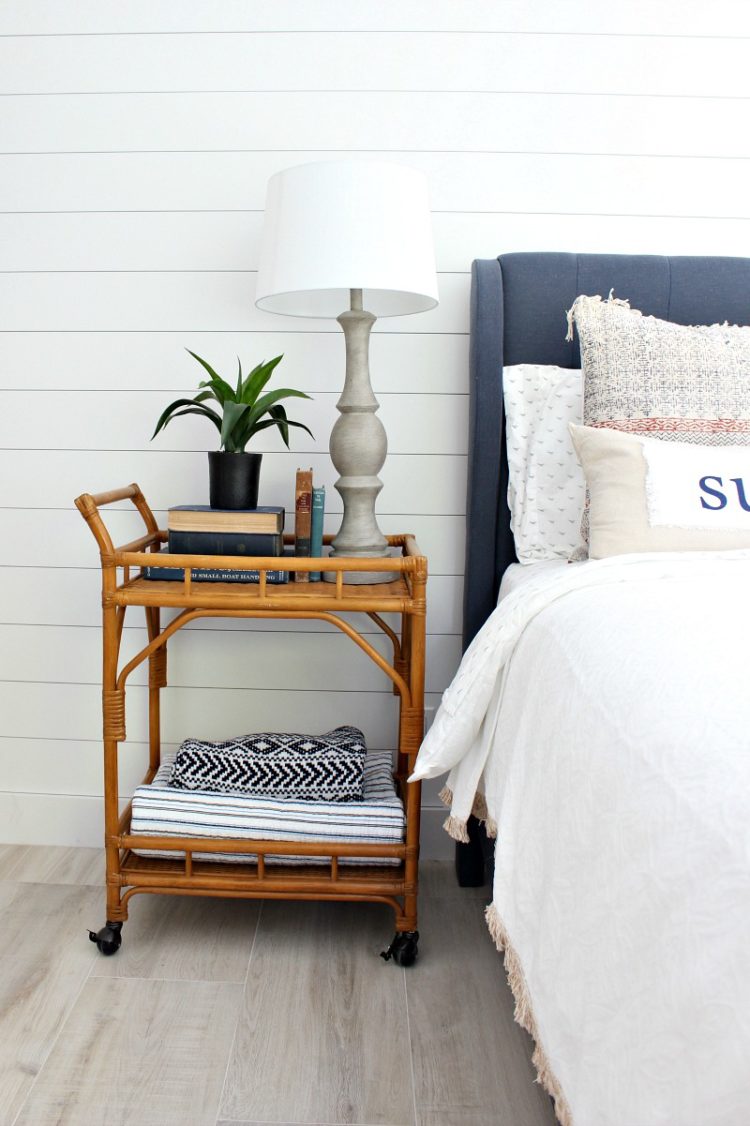 See what we hid behind that shiplap HERE. Huge transformation!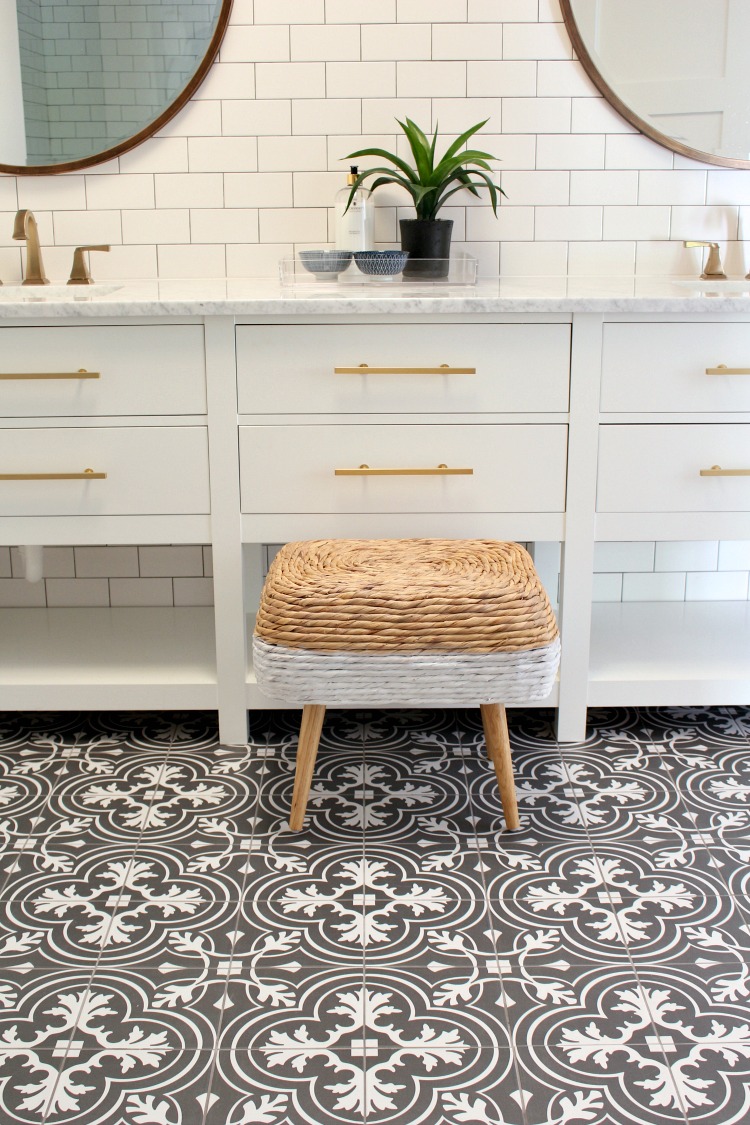 This BIGGEST transformation was our master bathroom. The extreme makeover before & after photos HERE. Ps..those tiles look and feel like cement but they're actually ceramic and a lot cheaper! You can find them in my HOME SOURCES page HERE.
Our newly renovated living room still has the old antique trunk as a coffee table and the weathered blue antique dresser to drop our keys on.  Items we bought our first month in the home and that will always remain.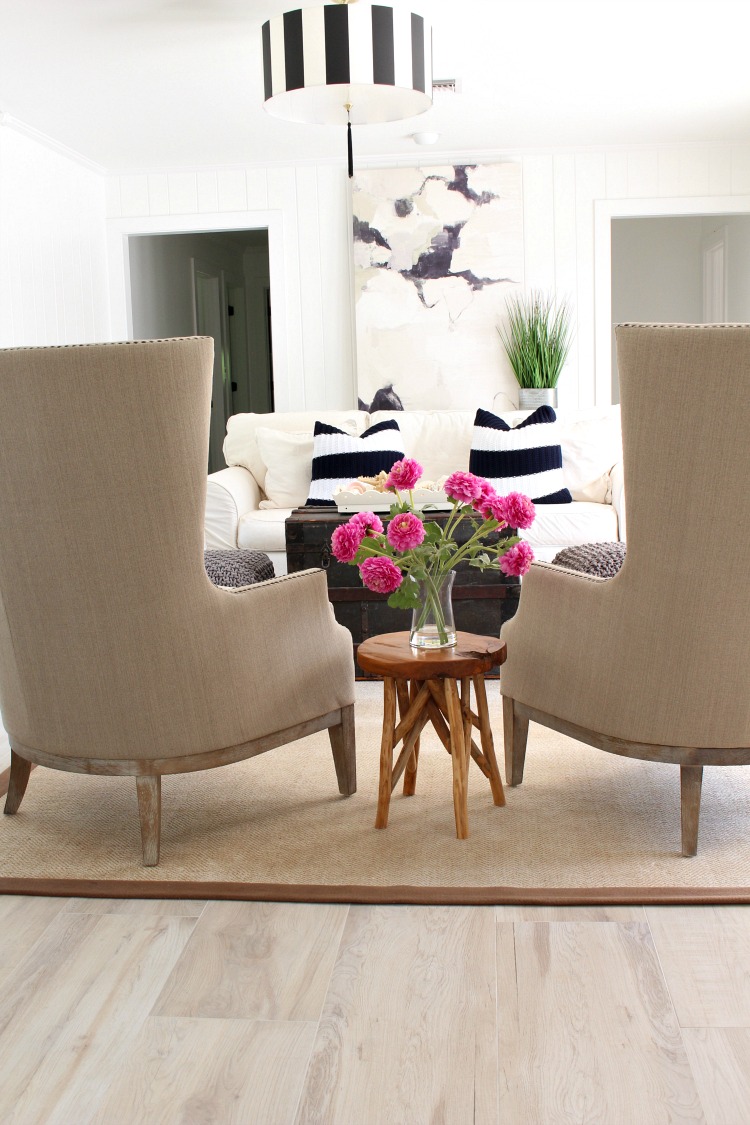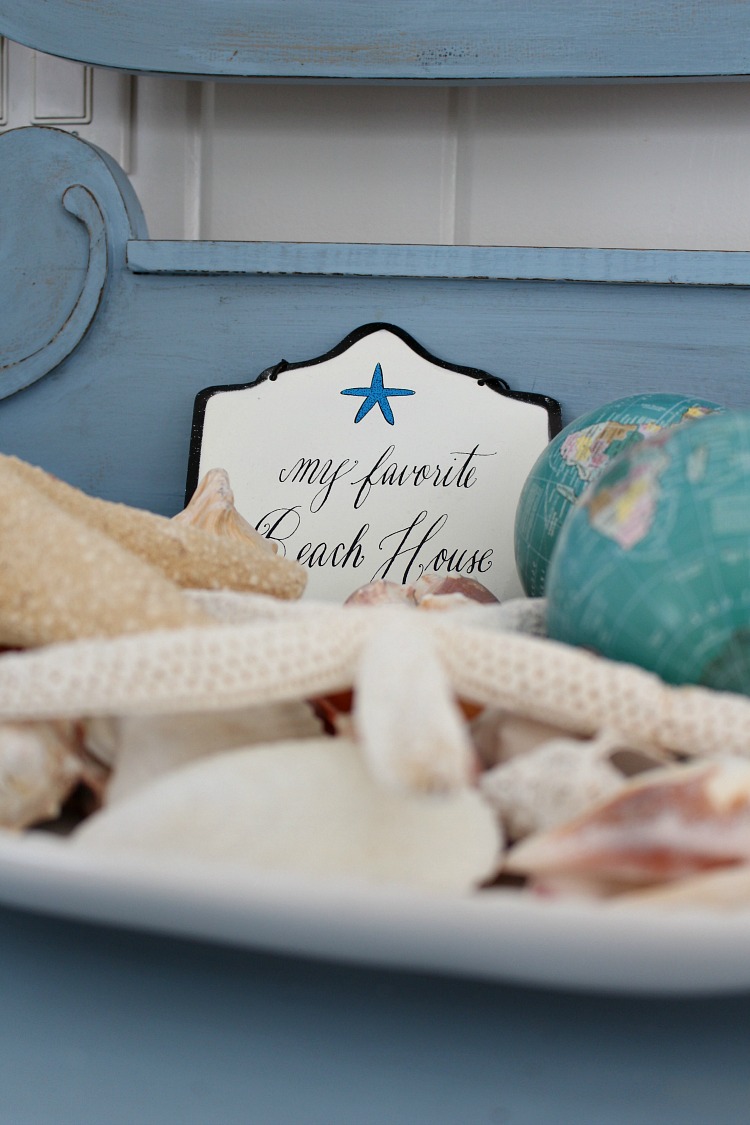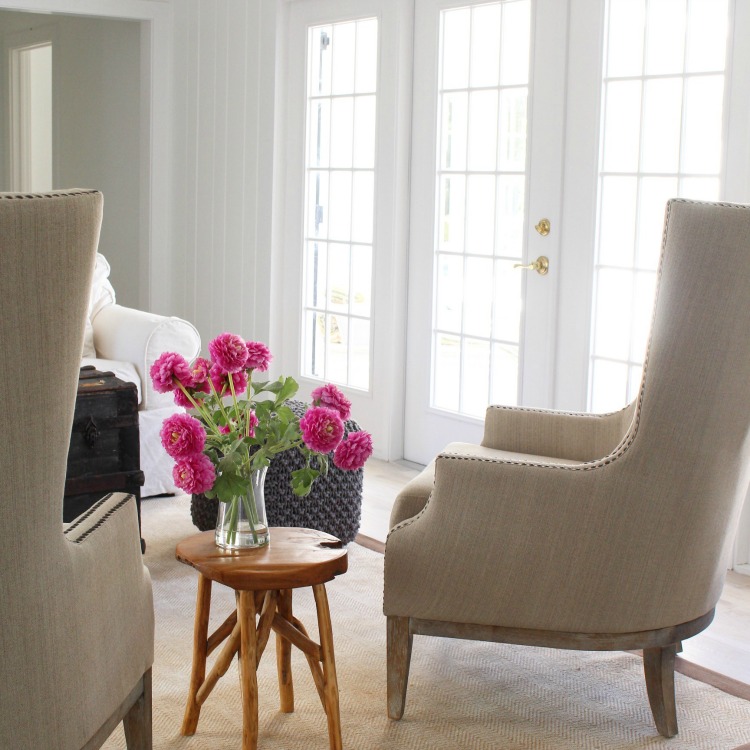 A cabana vibe took over our new family room. In case you didn't know, I'm a huge sucker for black and white stripes and I can't get enough of these drapes. I pretty much slapped stripes all over this house, including the exterior. White house, black shutters. Had to keep the flow going!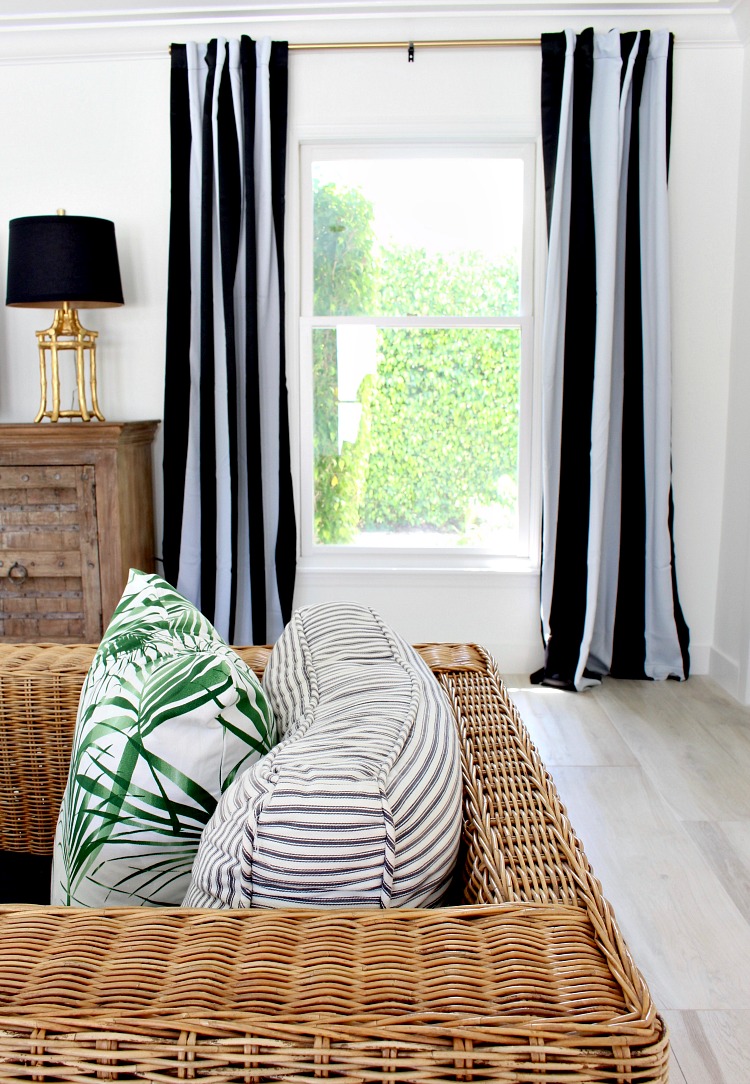 I get asked all the time if we rent out our cottage when we're away. Yes, we do, but we require a one month minimum rent which typically renters take for 2-3 solid months January-March.  Mostly retirees and "snow birds." People escaping the cold from the north. It's the perfect place for them to stay while enjoying beautiful Naples and pay for the yearly maintenance this home entails.
We recently had some exclusive renters living in our home which required us to install these roman blinds.  I can't say who it was out of respect for their privacy. Let's just say I couldn't believe it! My lips are sealed.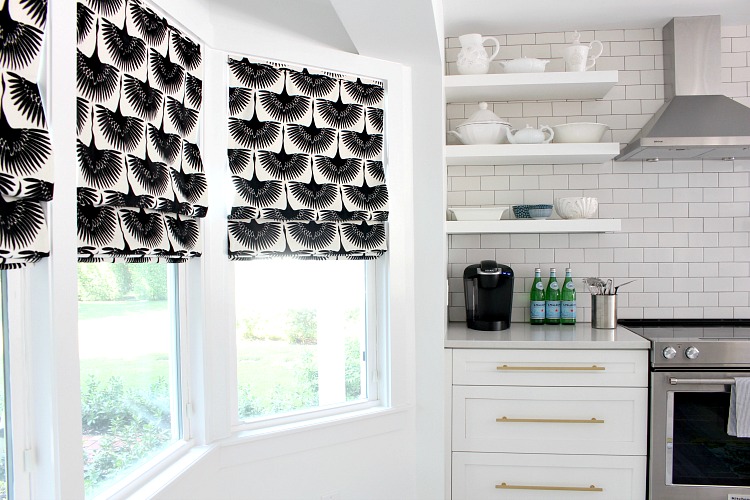 Of course I had to keep the black and white going and I'm OBSESSED over this fabric! You can read more about where I had these roman blinds made HERE.  You also may want to check out how we transformed our kitchen and the before & after renovation photos HERE.
Wasn't the title of this post "Summer Beauty & Fashion Favorites," did I get side tracked rambling about our beach cottage? Sorry about that, or not sorry if you're new here and wanted a little mini tour! Now on to the cute stuff and a few things that help me survive this outrageous southern heat and humidity.
Here's a glimpse of some of my fashion favorites for summer that I packed or are on their way straight to my door step!
*click on images to shop affiliate link

I'd love to get some cute photos of me wearing all those fun clothes while I'm in Florida, but let's be real for a moment.  One word. HUMIDITY. Not my best friend. Clearly my worst enemy. If I'm getting any form of a cute photo this week in these new clothes, it'll be after my mad dash from the air conditioned car to the ice cold, air conditioned restaurant or shop.  But then that requires me posing awkwardly and making one of my teen boys take a photo of me which they consider, ummm, weird. I suppose I could stand in front of a mirror in my bedroom and take a photo, but then again, that may require me to make my bed that's in the background. Need I remind, vacation. That means no bed making.
Sorry, friends, you'll just have to trust me that these items are super cute on but be sure to follow me on Instagram because I'll probably share an awkward photo or two over there in my stories. God bless those fashion bloggers that live in the south and pull off the most beautiful photos. How do they do it? Must be ice packs in their pants 😉
Talk about vulnerability. Here goes. My normal beach-y look. Sans make up, hair in a top knot to tame the humid induced afro, and minimal make up (on a good day).  No make up in this one but probably a ton of sun kisses. Hello SPF 70!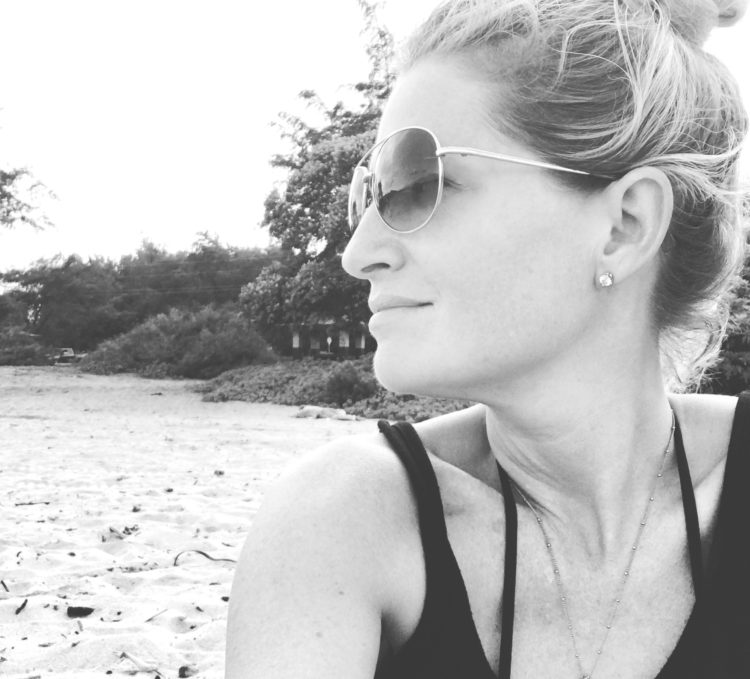 These are all beauty products I've used for a long time and love!

I hope you all have a wonderful 4th of July and have some fun plans for the day!
SaveSave
SaveSave
SaveSave
SaveSave
SaveSave
SaveSave
SaveSave
SaveSave
SaveSave
SaveSave
SaveSave
SaveSaveSaveSave
SaveSave
SaveSave
SaveSave
SaveSave