Farewell Fall Decor, Hello Christmas!
Hi friends! Today I'm saying farewell to my fall decor and HELLO to Christmas! I know, I know…what about Thanksgiving? To me, it doesn't matter what season the home is decorated for on Thanksgiving day. As long as I can pig out all day on turkey, mashed potatoes and green bean casserole, I'm good!  Besides, the day after Thanksgiving I'm in such a turkey coma that I have no energy to start Christmas decorating.
Here's the real deal though, I will be participating in four holiday home tours in December. Just like I did for our fall home tours, I'll be sharing different rooms for each tour. That means tons of styling to do, tons of photos, tons of editing those photos, and hours of writing blog posts. Oh! and it all needs to be complete before Thanksgiving break since I plan on taking a pause that week and focusing 100% on what I am most thankful for…my family. Get the picture? That explains the Christmas tree already decorated in my living room as I speak (sneak peek in a moment!).
Before I welcome Christmas with wide open arms I thought it would be fun to recap what fall looked like in our home since early September. I truly loved walking through my house these past couple of months and seeing all the fall touches.
Our kitchen feels like it got a mini makeover with the addition of my new favorite rug. Have you noticed that I'm suddenly obsessed with navy and saturated blues?
*affiliate links used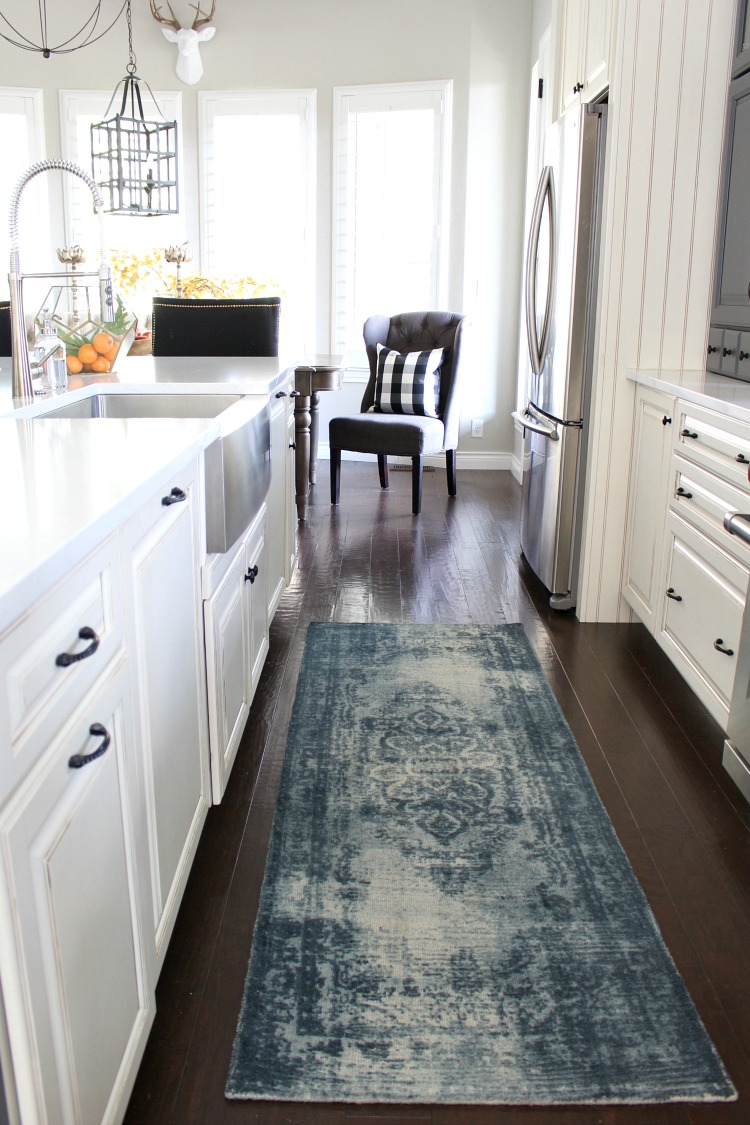 Our new island chairs speak right to my velvety black lovin' heart. Secret…they're actually microfiber and clean AMAZINGLY (kid friendly!), but look drop dead gorgeous! They warm up the kitchen so much and I can't get over how much I adore this black/white/gray combo!  I can't wait to style those chandeliers with my traditional garland.  On top of the cabinets too!
Design tip: Add electrical outlets on top of cabinets for holiday lights!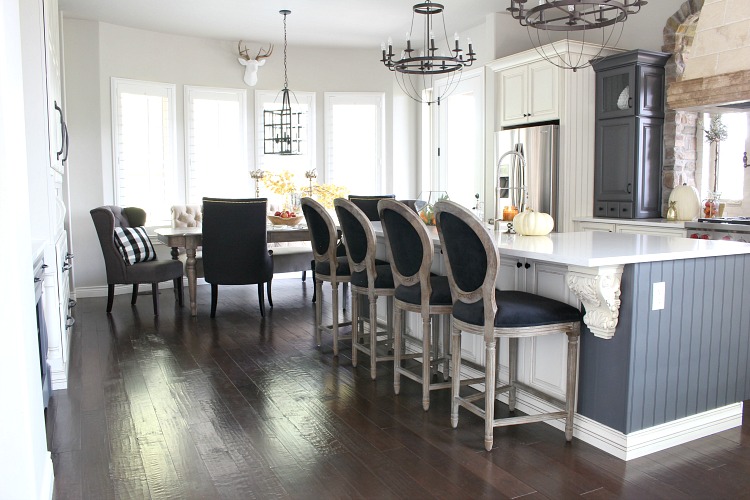 See full Fall Tour of Kitchen & Loft HERE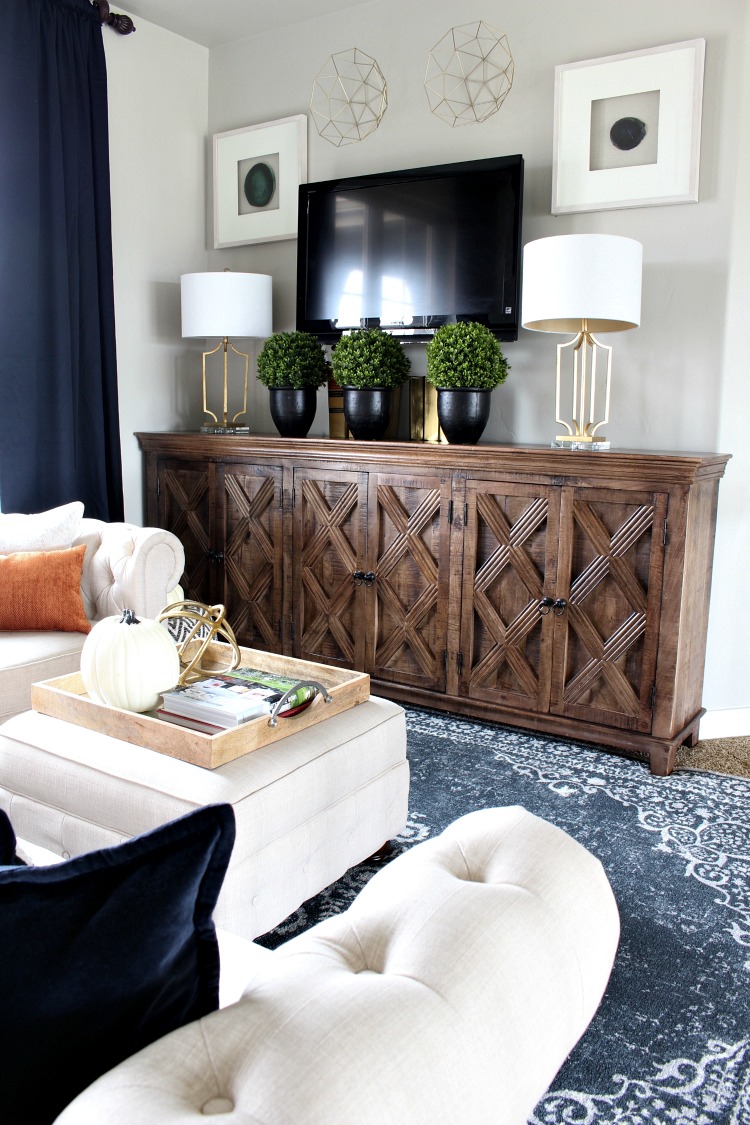 Our upstairs loft got made over just in time for fall decorating.  Remember what it looked like HERE?  Yikes…that original paint color! It was exactly a year ago that I sold all the furniture in here and left the space empty up until August. Well, there was a tv mounted on the wall, so the boys enjoyed lounging on the hard floor for a year…lol! They could have watched TV in our family room, but I think they wanted to prove a point that they didn't like me parting with the 12 year old brown sofa that had seen better days. You would think I sold their favorite pet (okay, maybe I did that too #notproud).
Just by adding some orangish-rust color pillows and plopping a simple pumpkin on the tray, the space felt fall-cozy.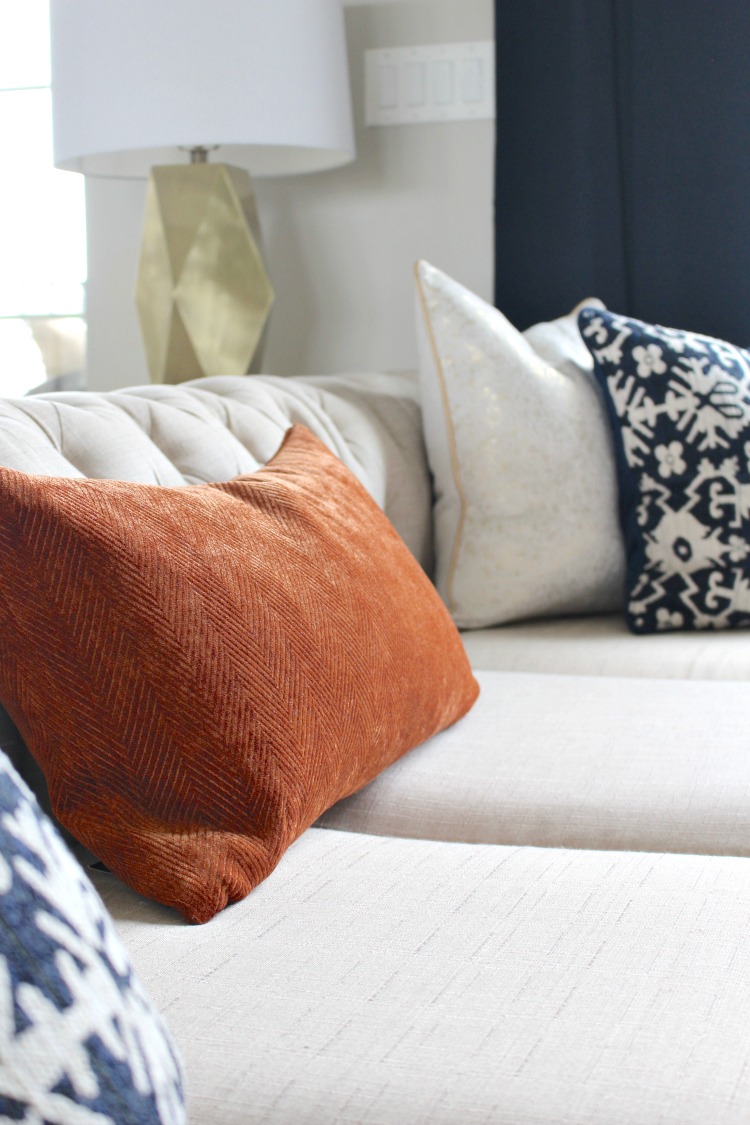 The same with our bedroom.  Pillows and throws are a great way to show a change of season. These floral pillows that I pulled from our living room have been extremely popular!  Who says floral is just for summer?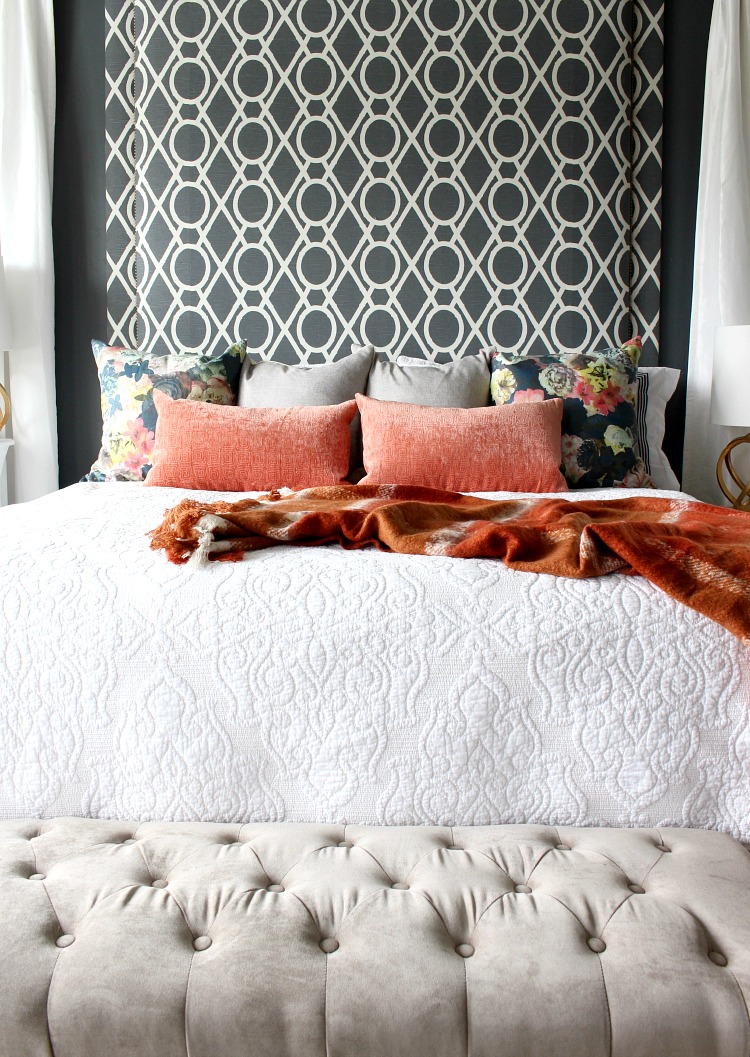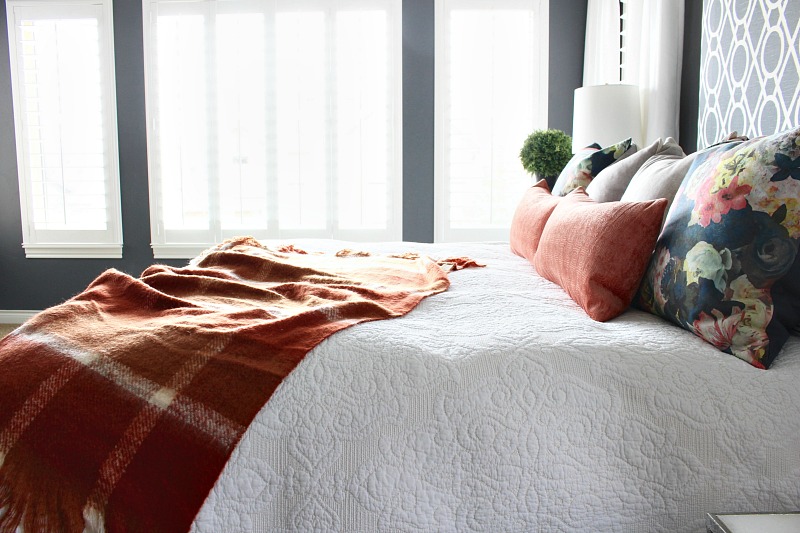 The "burgundy" pillows I added introduced the warm jewel tones of the colder months. Someone called them "crimson" on my Instagram and I'm loving that so much more than burgundy.  That word still takes me back to the early 90's when it was BFF's with hunter green..lol!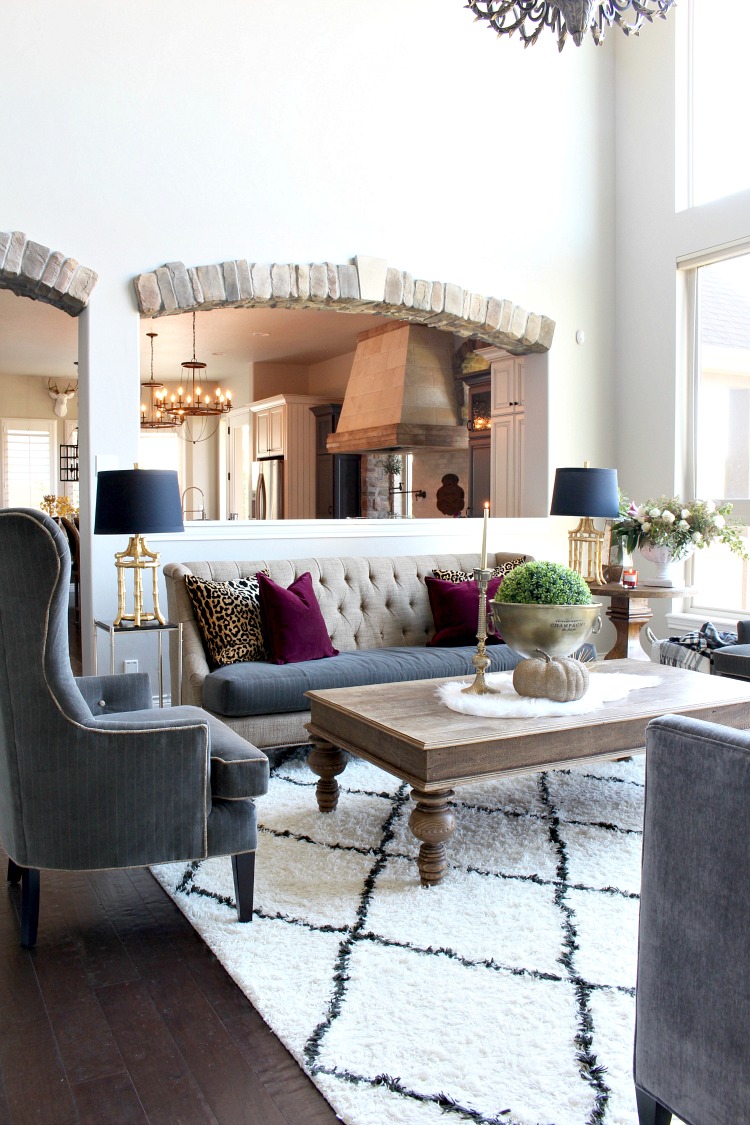 I am so sad to pack away my fall foliage. They filled this empty corner of the living room so nicely. I have a fun Christmas idea to put here though!  The new daybed came just in time for cozying up by the fire. I've already enjoyed lots of coffee sipping fireside coziness here already.  You can see our full Living Room Fall Tour & room sources HERE.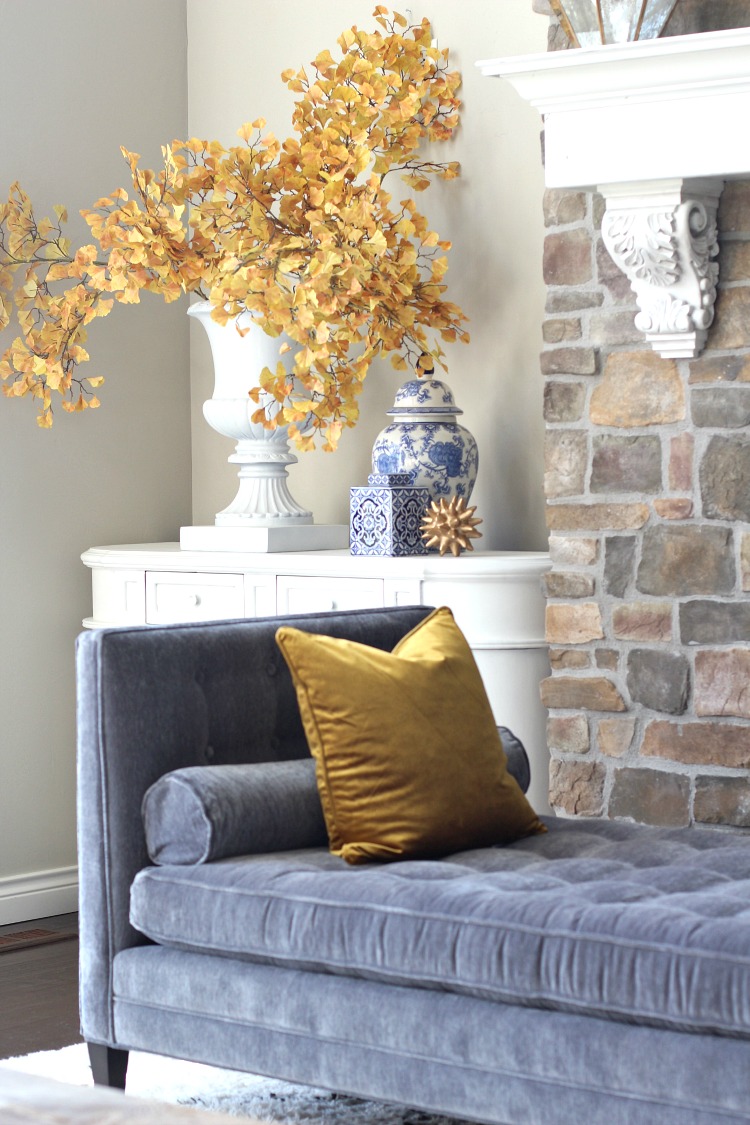 You all know that the fall decor got put away a lot earlier in our basement for our annual Halloween Bash.  But just a recap of the fall touches we still got to enjoy for a month.  I'll be keeping the lantern, fur, and buffalo check pillows out for my Christmas decor.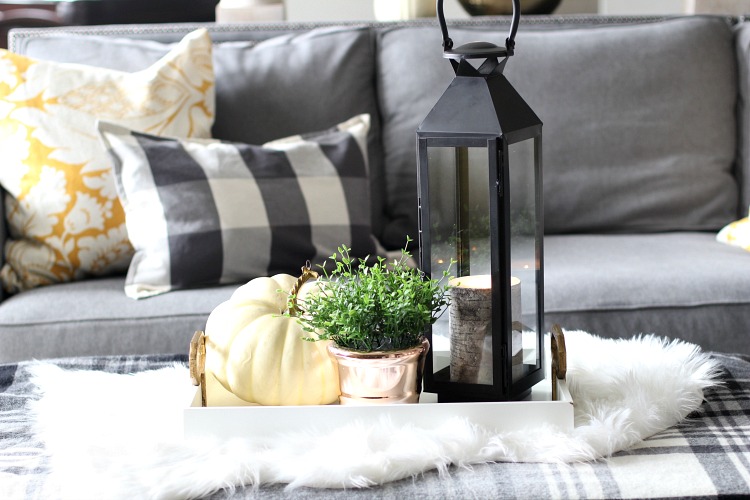 See the rest of our family room styled for Fall & room sources HERE.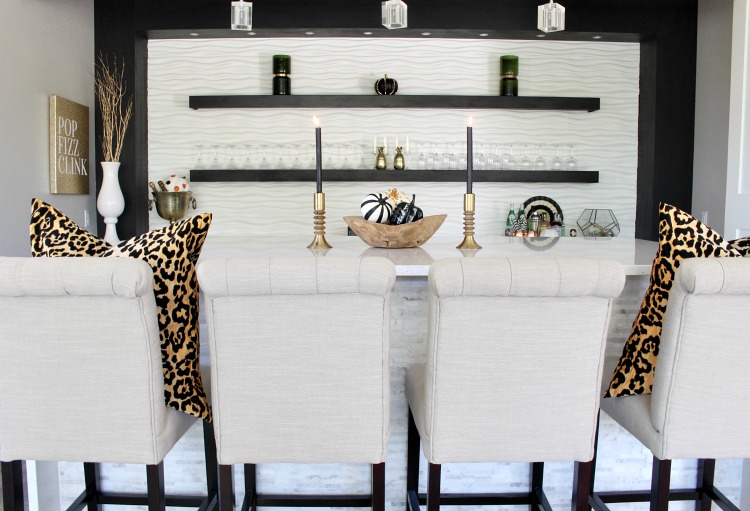 Yes, I'm a little obsessed with my leopard pillows. I keep adding them to more and more rooms. They're the perfect neutral with attitude!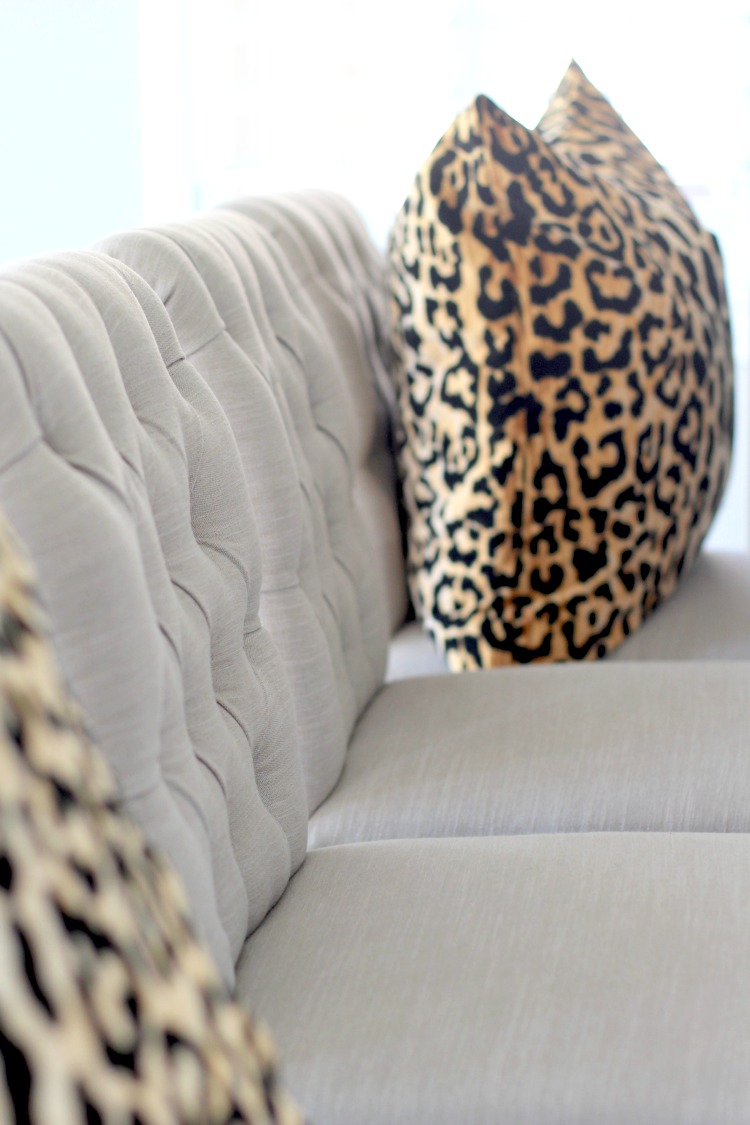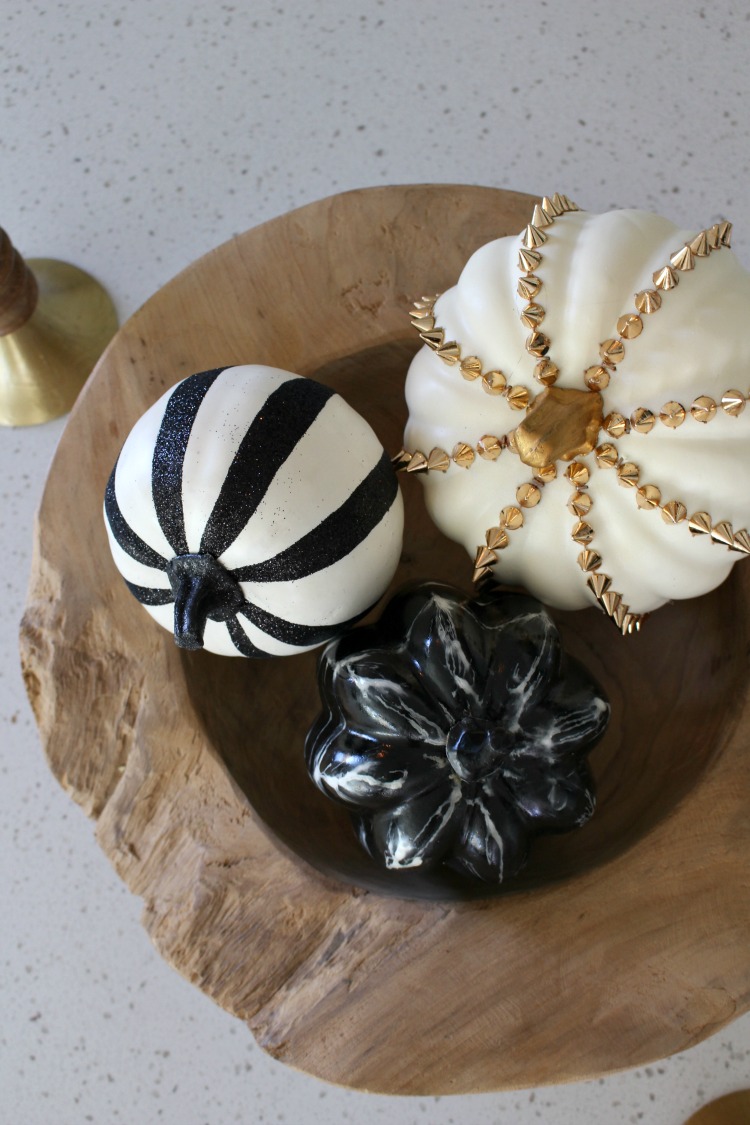 See the rest of our Bar styled for Fall & room sources HERE.
And last, but not least, our front porch. I had a funeral for my mums, they froze to death I think after some cold nights. They sure were pretty while they lasted though! The rug is getting rolled up and stored for winter as well.  With the snowdrifts we get around here, our porch is always snow packed and we have to shovel our way out sometimes. I feel so accomplished this year after I recently painted our front door to show off my holiday wreaths. That was a paint project nightmare that I'd rather forget (that story HERE).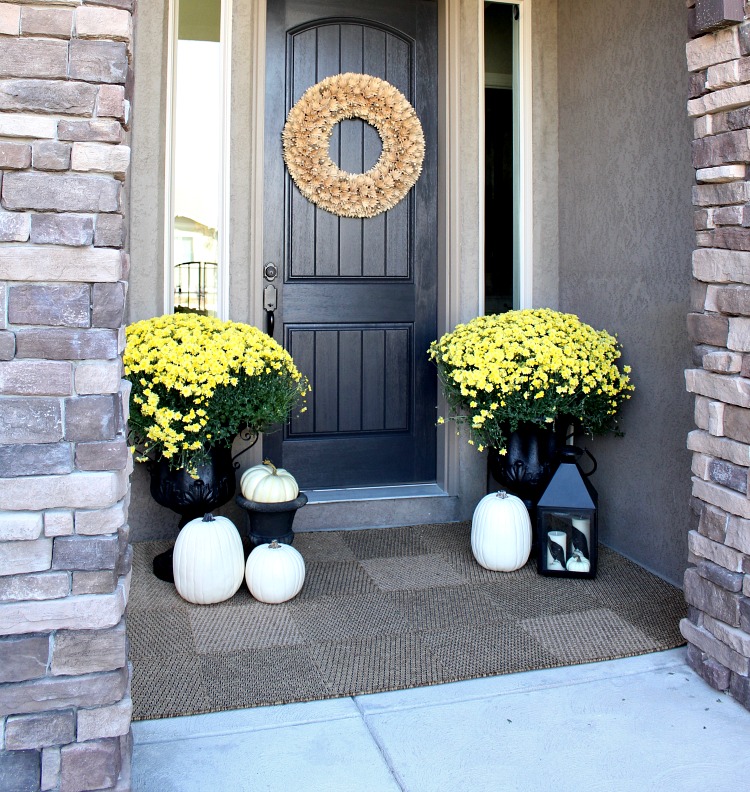 The courtyard area is all cleared for winter. The cushions are last to come off to store in the garage. I left them out one winter and they were frozen to the metal chairs until June! That was the year we were still getting snow in May. Have I mentioned that the spring season pretty much skips us in Colorado Springs?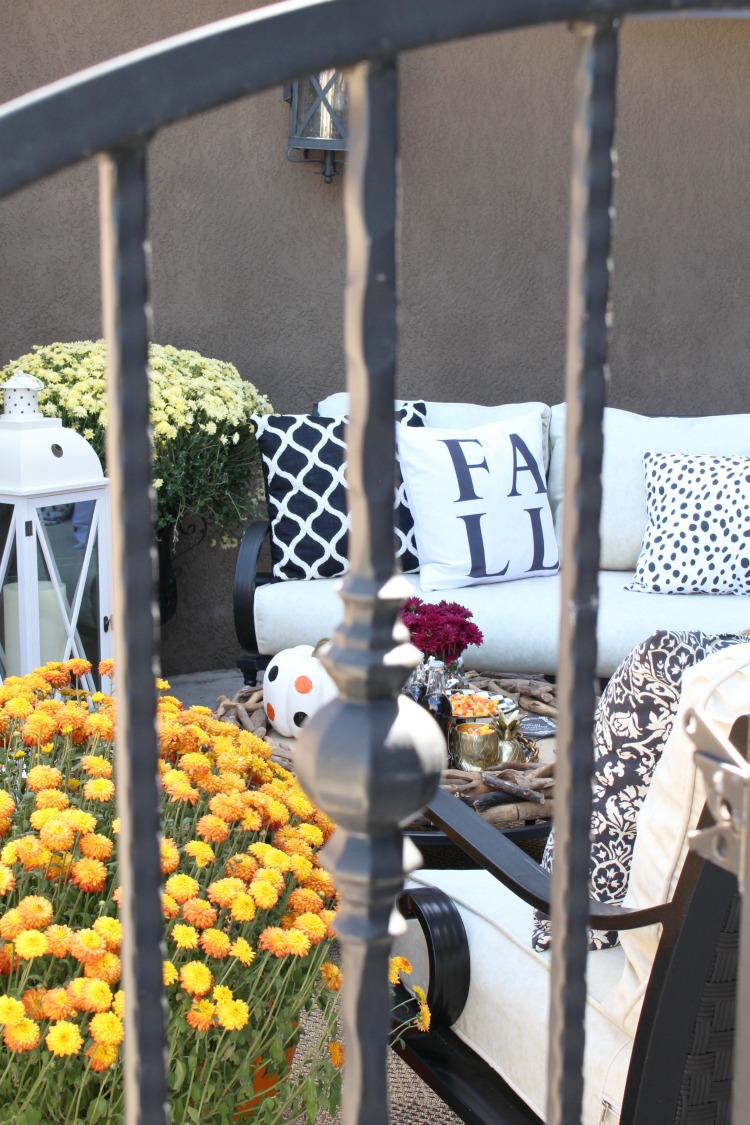 Now that we've said goodbye to fall in our home, here's a little peek of Christmas already on the scene.
Yesterday, I decorated our Christmas tree in our living room and cannot wait to show you how different it looks from last year's Christmas tour! Honestly, I struggle with decorating Christmas trees. I hate to spend a ton of money on ornaments and ribbon and all the other fluff-n-stuff. I came up with a creative solution this year for our "pretty tree" and will be breaking it down in more detail in a later post. Here's a little peek…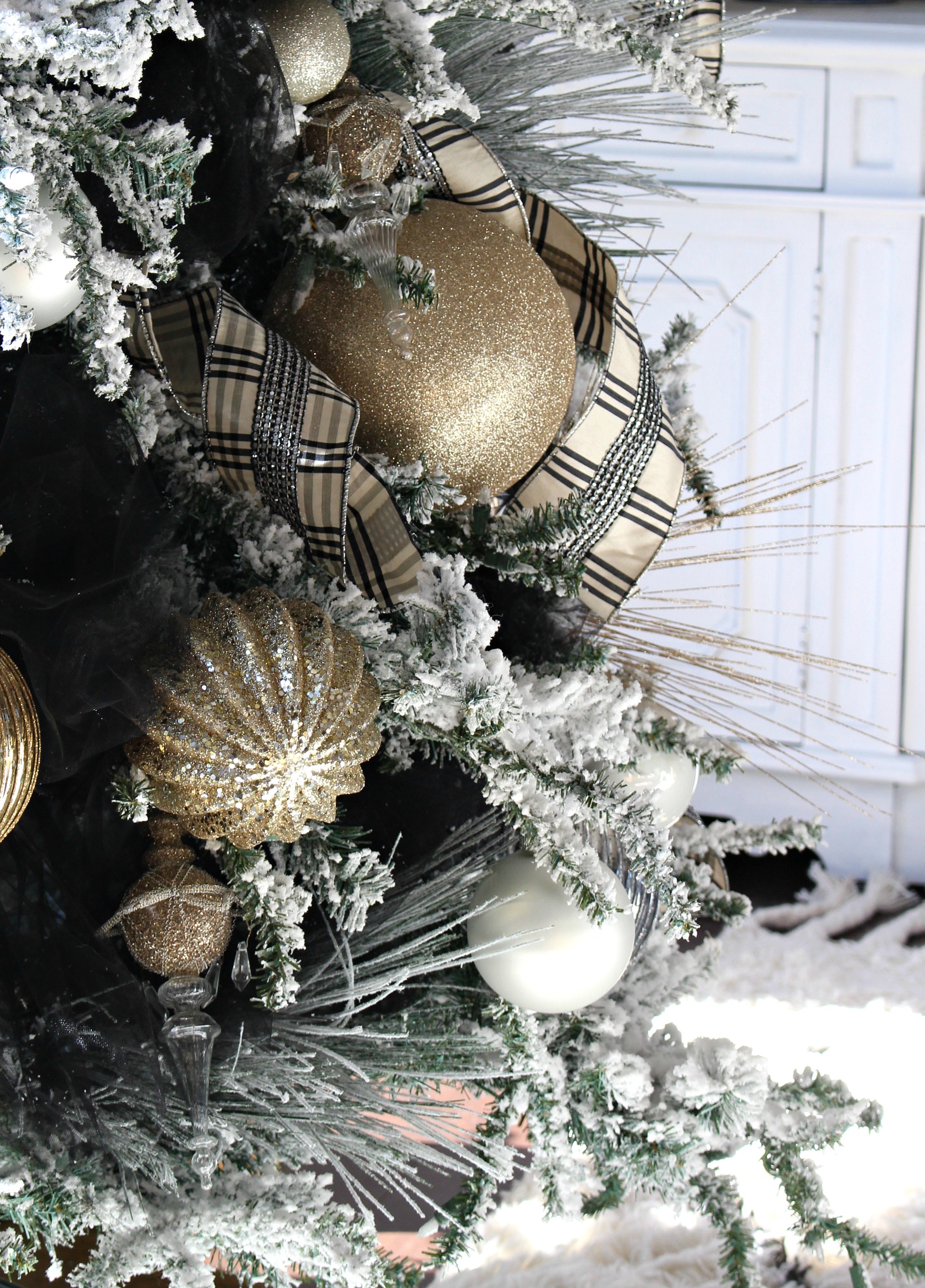 I have four big trees to decorate this year, not including the little ones that go in the boy's bedrooms. We have one designated family tree that has all of our special ornaments. It doesn't seem possible that we have been collecting sentimental ornaments for 19 years since we got married and almost 18 years since Austin was born. It'll always be my favorite tree and the boys' too.  I didn't put it in our Christmas home tour last year, probably because it was sitting in a big empty loft (remember, "mom sold the sofa…no place to sit"). Say hi to Gucci! Wait till you see the holiday tutu I got him…lol!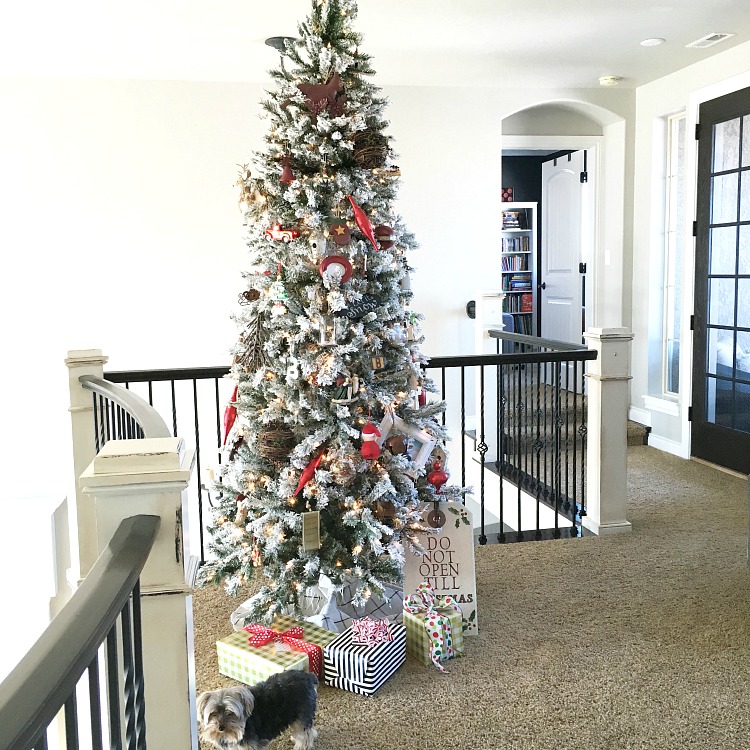 Now that we have furniture back in here, I only have room to squeeze in our white tree. Dylan sat up here the night I plugged it in and he said he loved it! It may be looking bare and scrawny but wait until I sprinkle some holiday cheer on it!  I'm already adding the holiday pillows too! I scored the plaid with fur trim pillow at Homegoods. I'm thinking of adding these pillows along with it. I was so happy to see that this holiday pillow I have is back in stock! It was buried in one of my pillow hoarding closets last year and I had searched everywhere for it. That's when one realizes there needs to be a pillow hoarder intervention.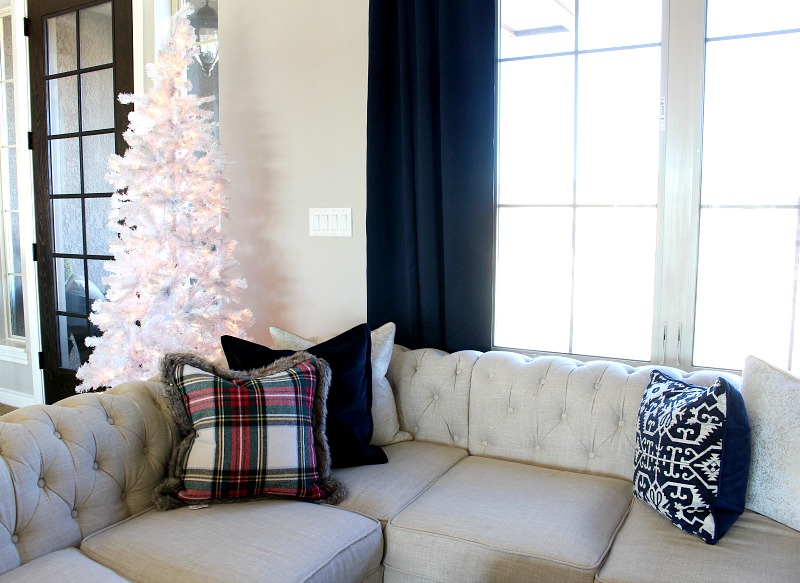 I have a couple of Christmas DIY projects up my sleeve. I'll show you, if  they turn out as planned. Sometimes my great ideas turn into a hot mess.
I hope you are having a beautiful fall! I'm always a bit sad to see the fall decor come and go but I get over it super quick as soon as I turn on "Last Christmas" by Wham. Happy Fall y'all!
Ps.  You still have a few days left to update your fall/winter wardrobe with the MEGA Nordstrom Fall Clearance Sale! I've rounded up some of my favorite booties/boots that I wear on repeat, as well as my favorite warm winter coat and some other great deals HERE!