All The Paint Colors In Our Home
Probably my most asked questions about our home is paint colors. Choosing the perfect paint color for your home is accomplished through testing a lot of different color samples. I'll get more into detail about our specific paint colors as we go along. Let's tour through our home and see all the paint colors I chose!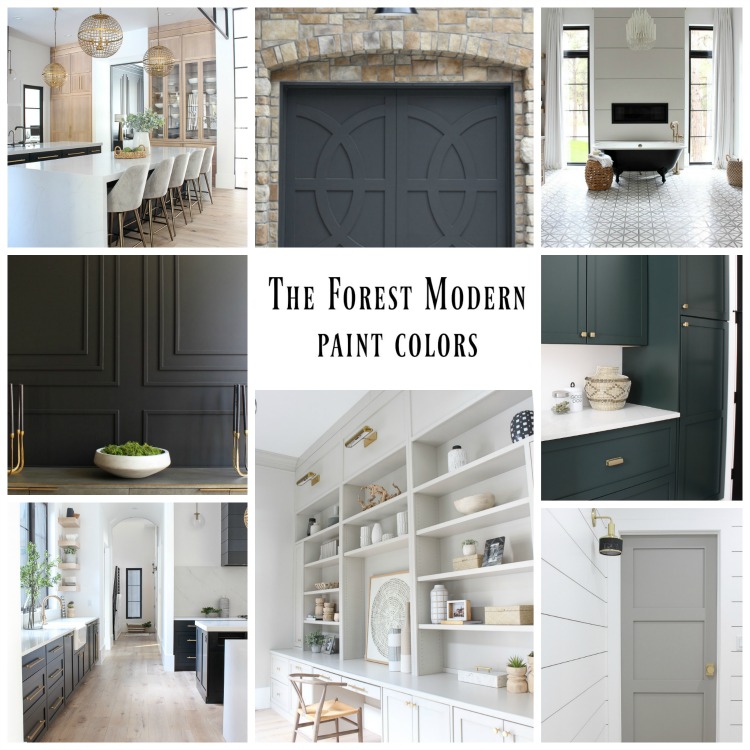 Living in the forest, I knew pretty early on in the design phase of our home that I wanted a very dark exterior. So moody and dramatic. Doesn't fit my personality by any means (ha! ;)) We have a good mix of European-style stone with board and batten siding.
Exterior Paint – Iron Ore by Sherwin Williams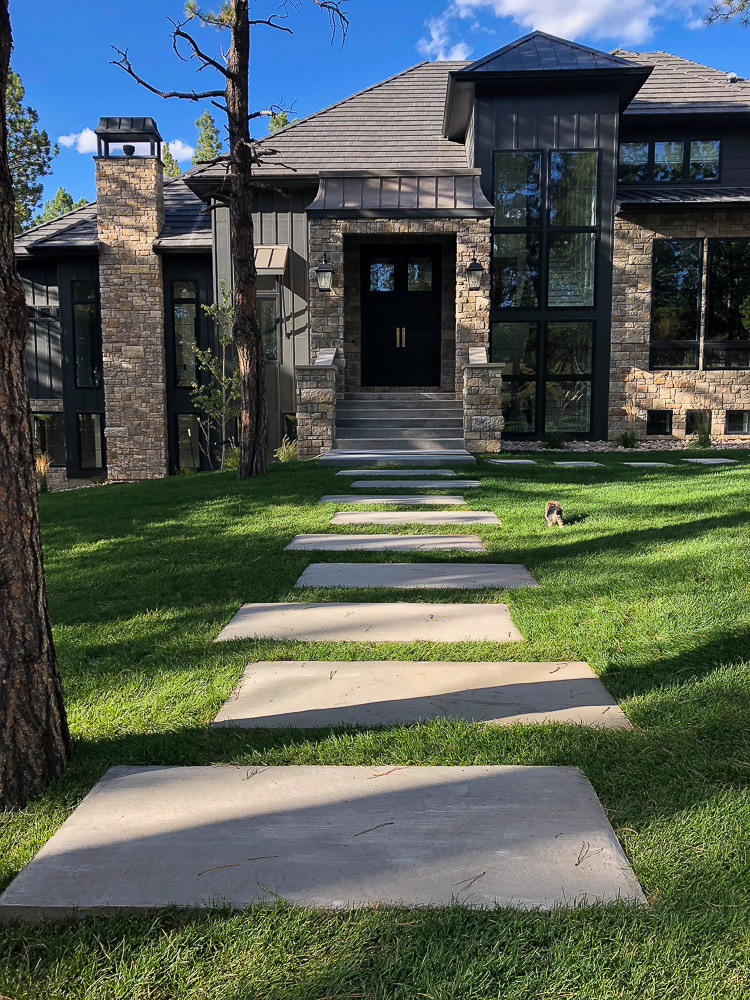 The dark gray looks almost black against the snow. Love it! I tried quite a few different dark gray colors on our exterior and found Iron Ore to be more of a true dark gray. No blue or green undertones. More of a brown base undertone I'd say. It's a beautiful color that I've used on interiors as well.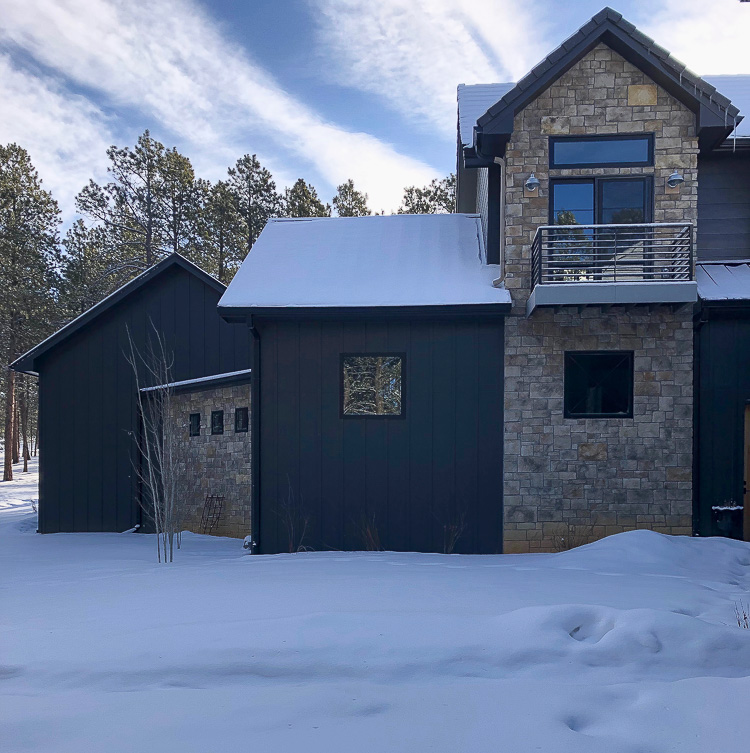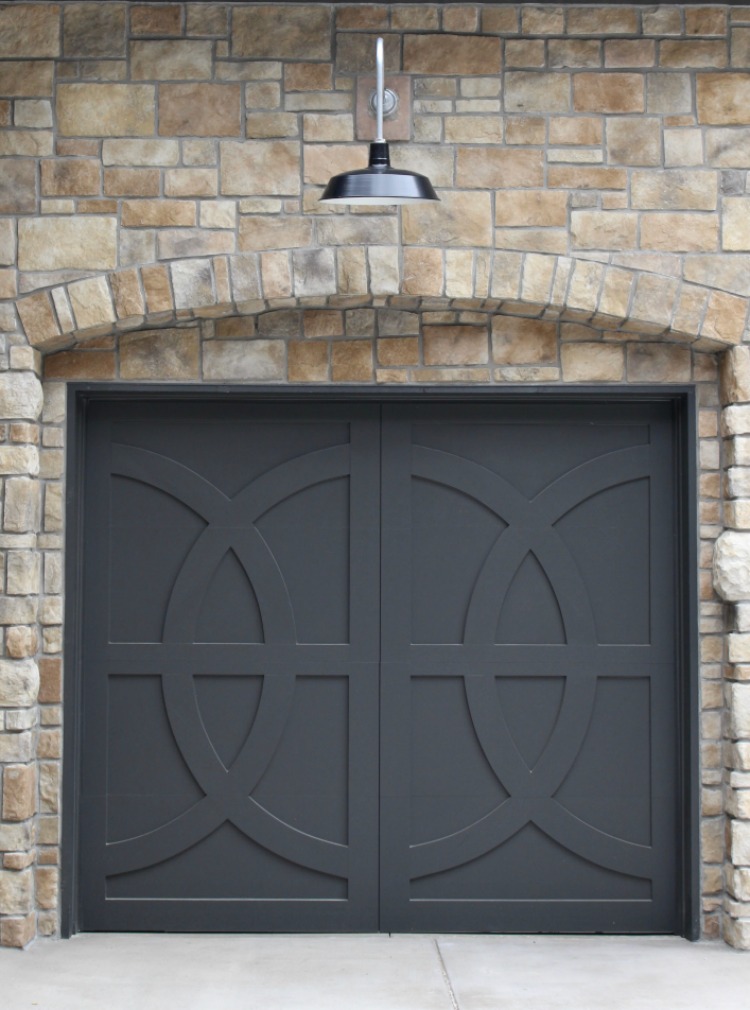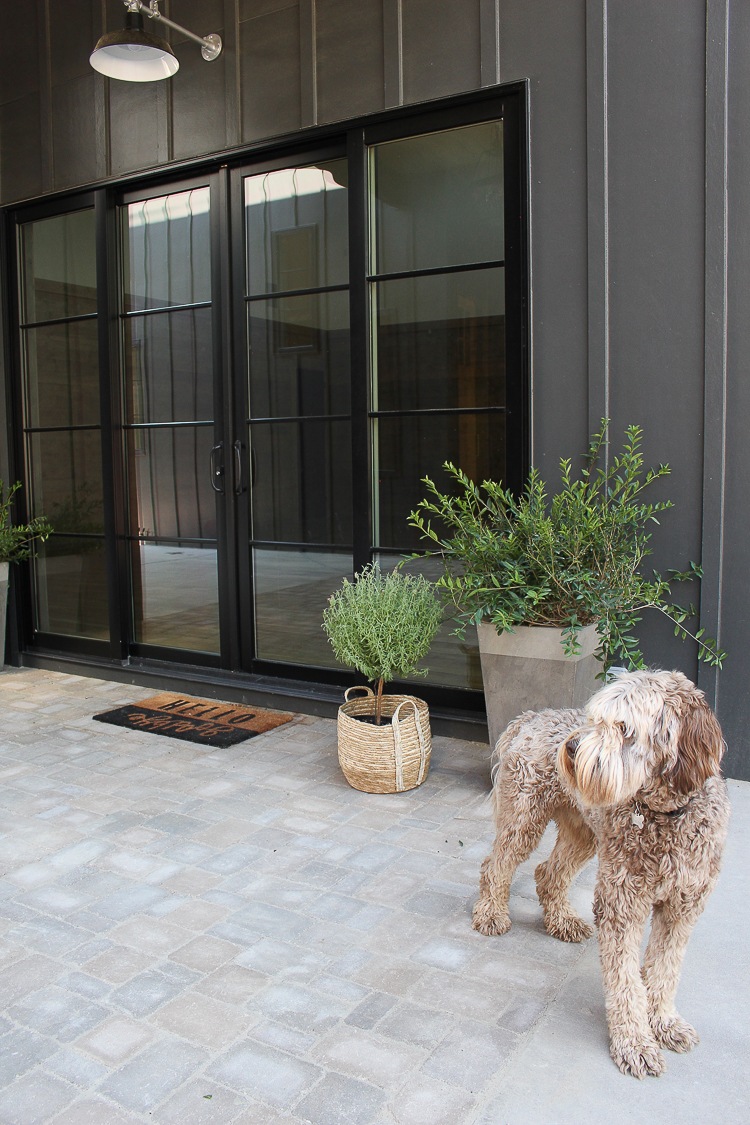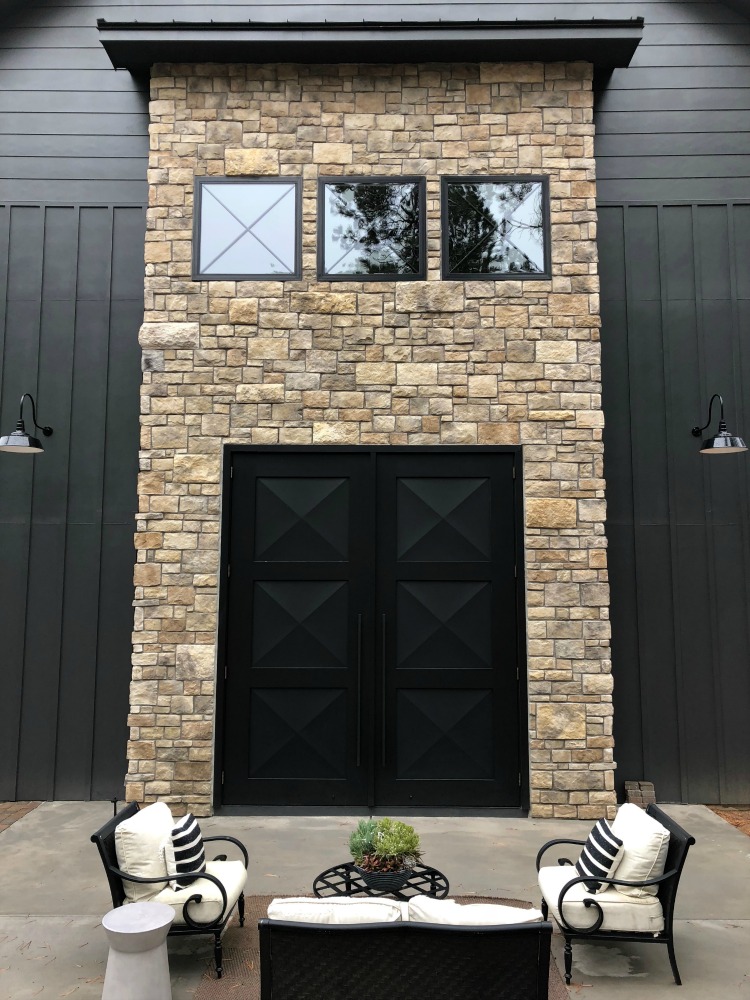 Our exterior doors are painted in Tricorn Black by Sherwin Williams.
Tricorn Black by Sherwin Williams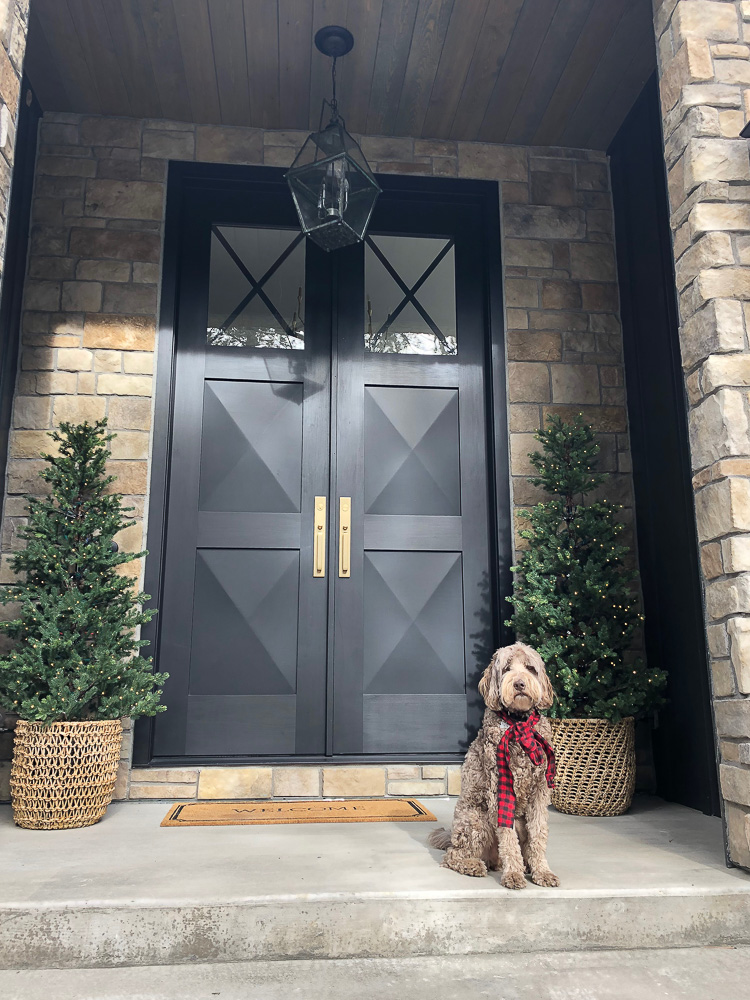 I found Tricorn Black to be a good "solid" black without the blue or brown undertones. It's a pretty popular color. We used three different colors on our interior doors, but all the black doors are painted in Tricorn Black. We also have gray and white doors. All the doors on the main level are black. You'll see gray doors on the upstairs level on the boys' bedrooms. White doors are on closet pocket doors and various other doors like the bonus laundry room upstairs.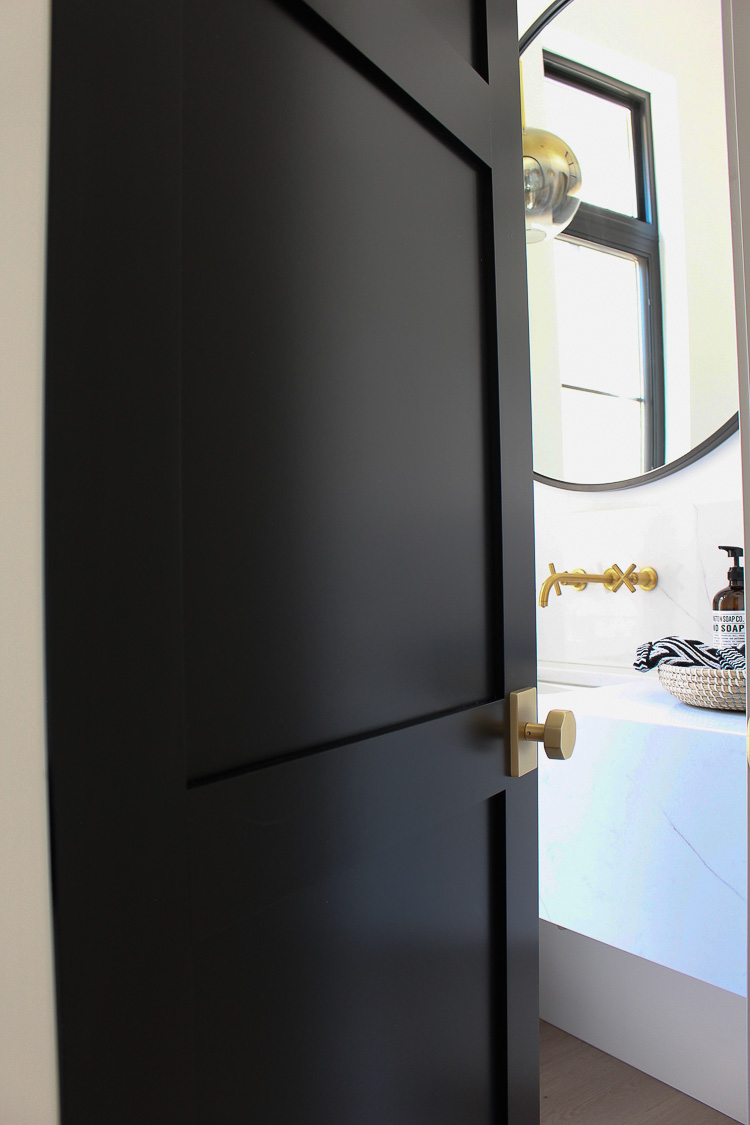 The black looks gorgeous with the brushed gold hardware by Emtek. You can see more of this powder bathroom HERE.
Our dining room is also painted in Tricorn Black. Best decision ever!! You'll notice that the baseboards and ceiling crown are all the same color. Painted in a satin sheen.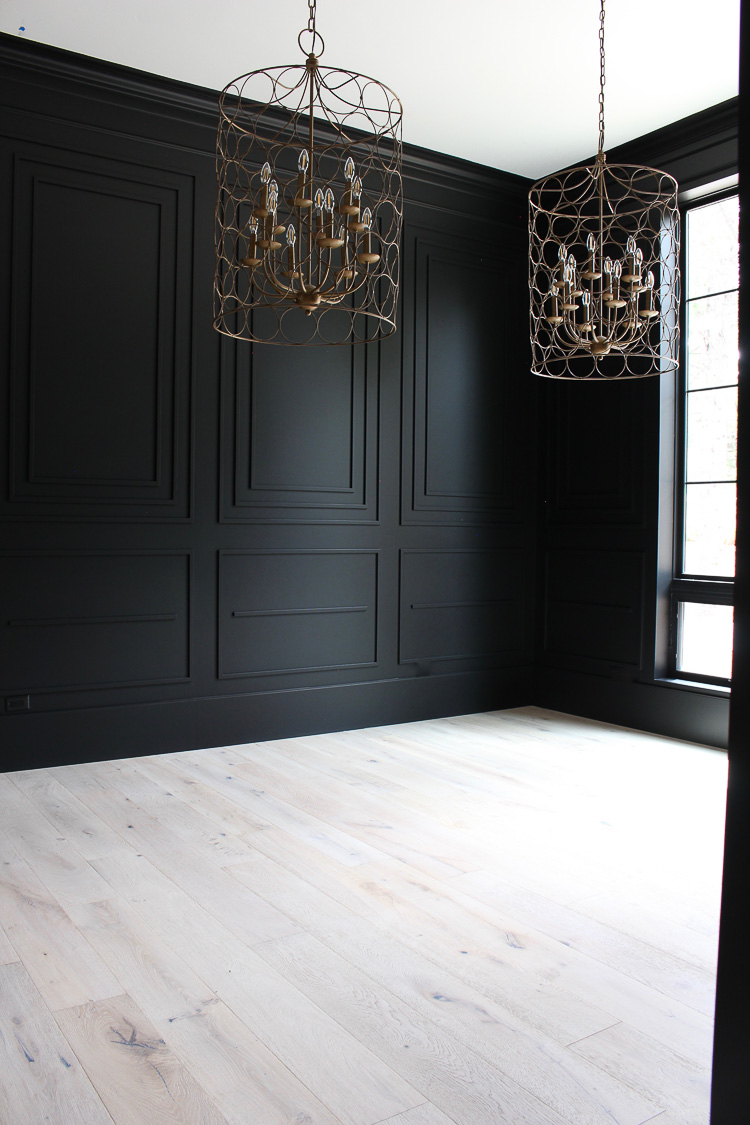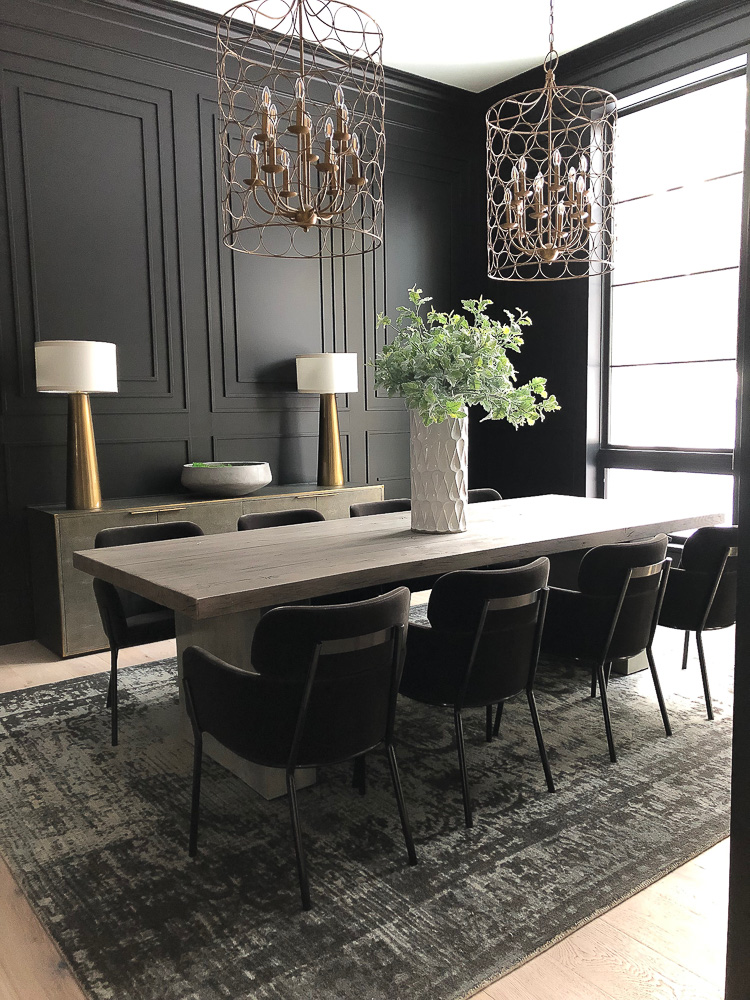 Tour more of our dining room and shop room sources HERE.
The shiplap in our hearth room is also Tricorn Black.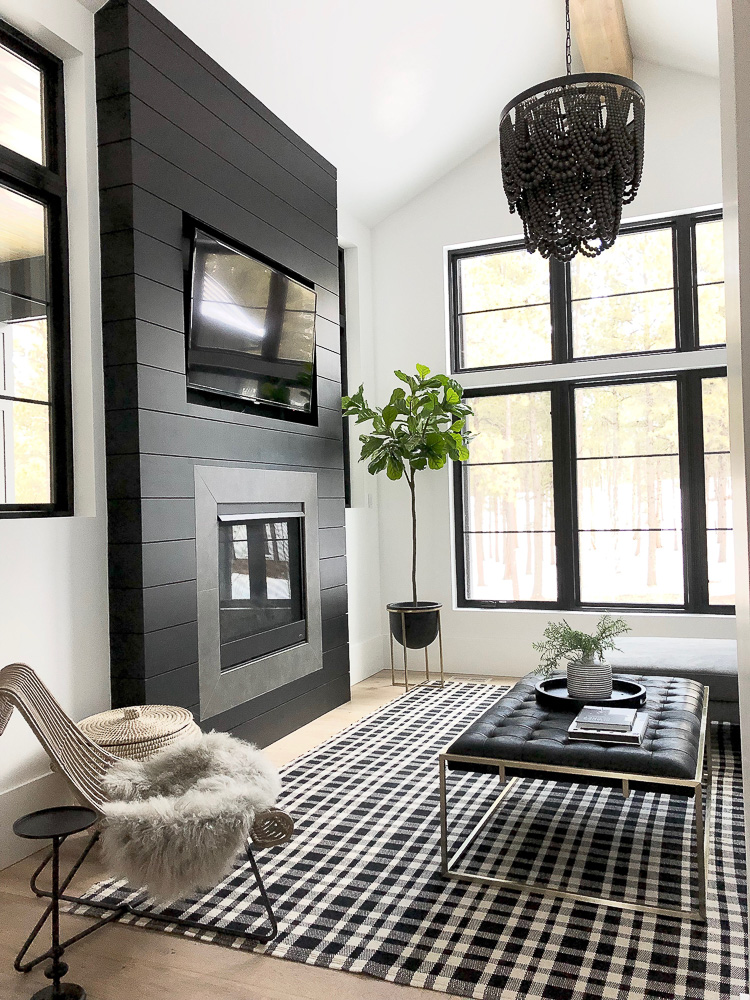 Interior Paint – Pure White by Sherwin Williams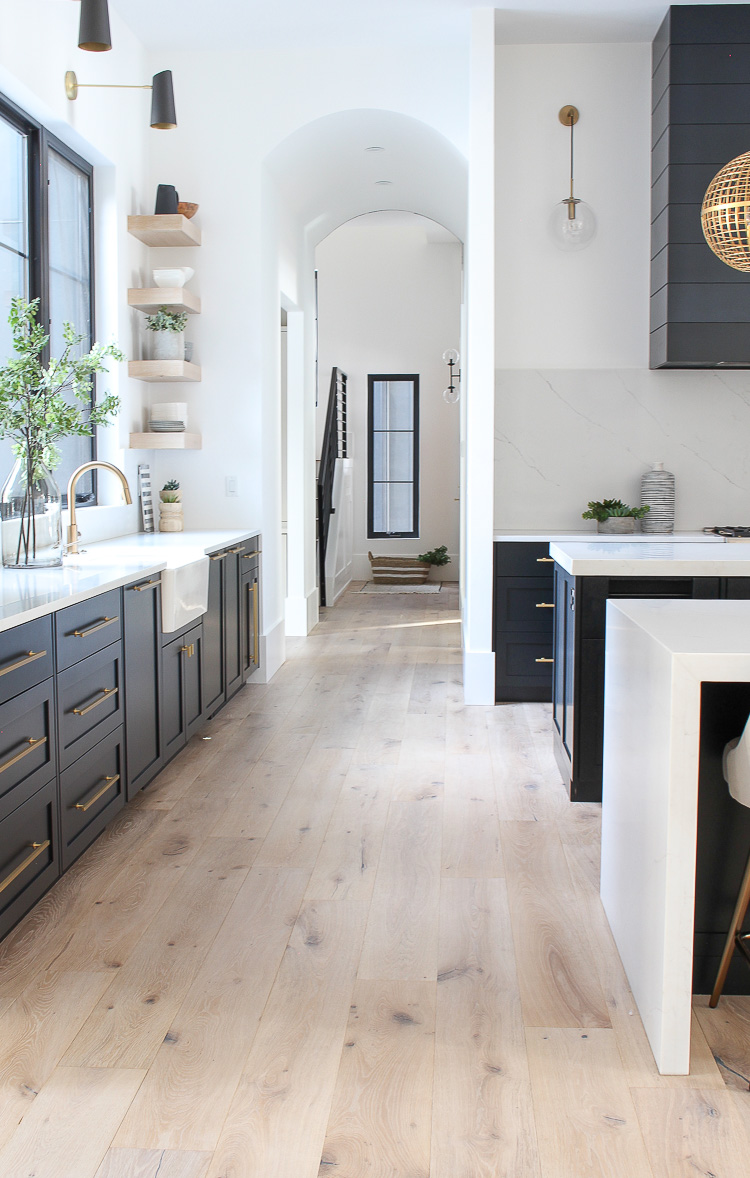 I frequently get asked to recommend a "good" white interior paint color. That's a little difficult to recommend in a room or space I've never seen or been in. White paint can be tricky and can be affected greatly by the natural lighting in a room and artificial light. The floors also play a key factor. I tested about five different white paint colors before I finally landed on Pure White by Sherwin Williams.
When choosing paint color, I always recommend painting several samples on white poster board. You can carry the poster board from room to room to see the paint in various settings. It helps to try white paint samples side by side because it'll help you learn the undertones in the color. I've seen white paint have pinkish, gray, blue, yellow and even green undertones. So tricky!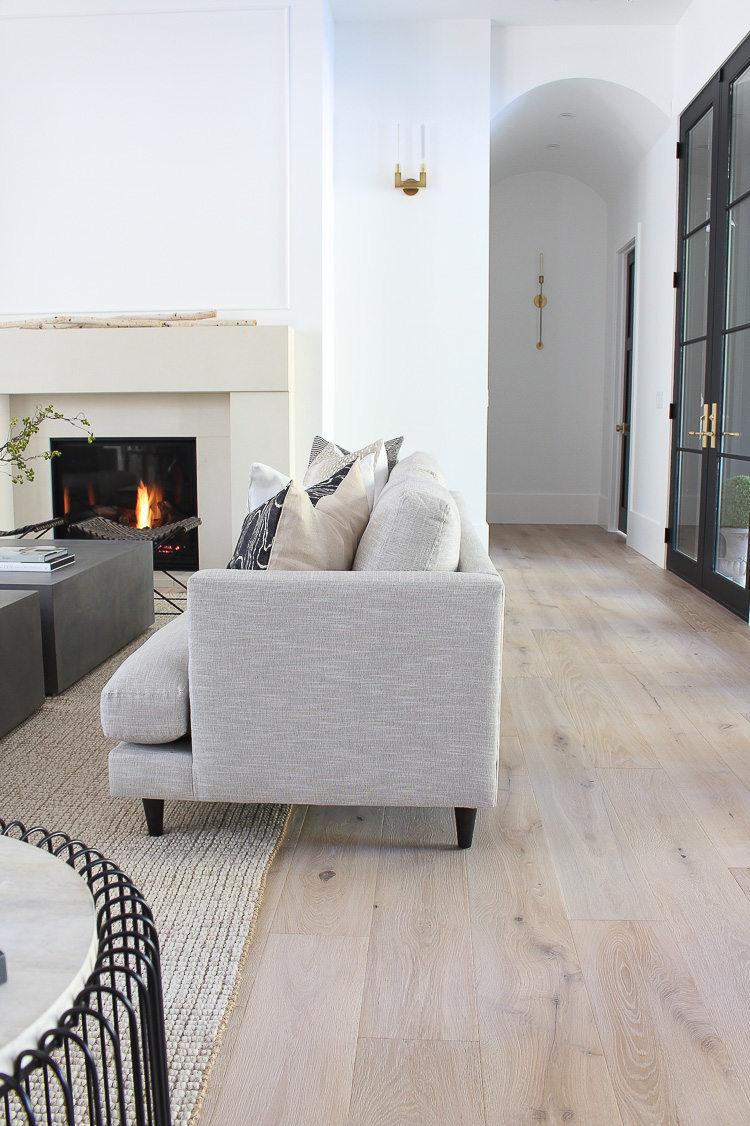 In our home we have a ton of huge windows and 12 ft ceilings on the main floor. Our hardwood floors natural finish allowed for a more crisp, bright white. It's a stark white that I have found to have very little undertones, if any. We used the same white in our beach cottage which you can see HERE.
All of our baseboards, trim and moulding are also Pure White in semigloss finish. Our walls are a flat enamel sheen. The enamel part makes them more durable to wiping down if scuffed.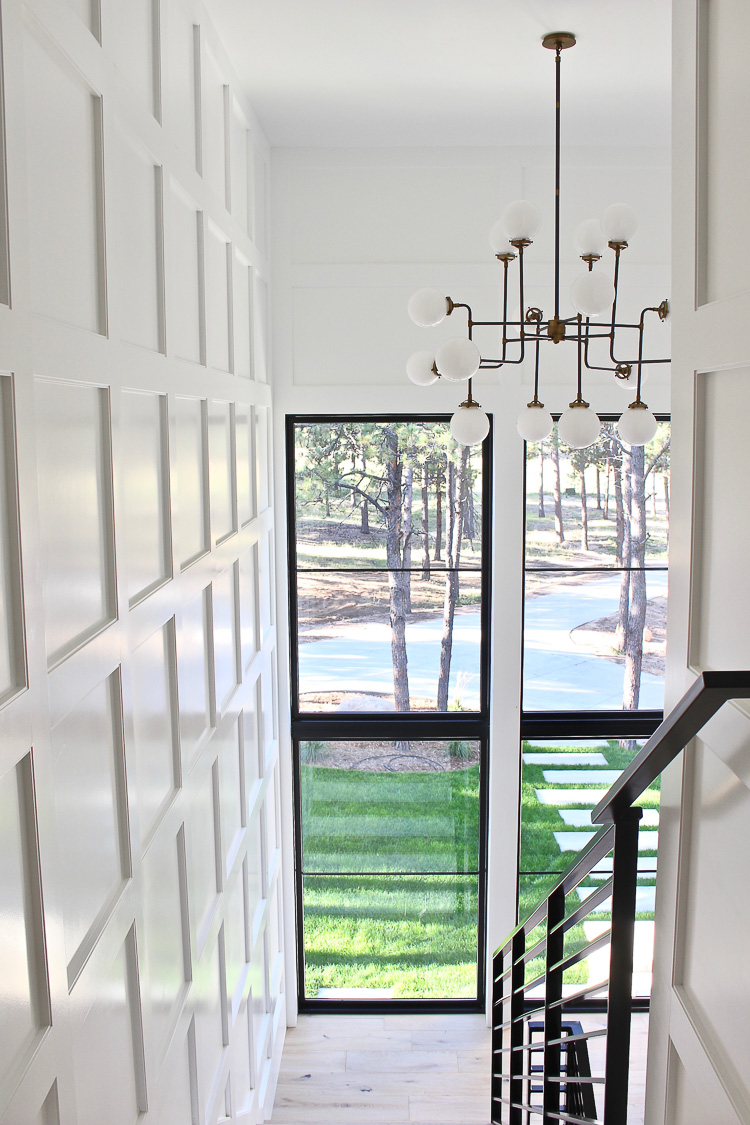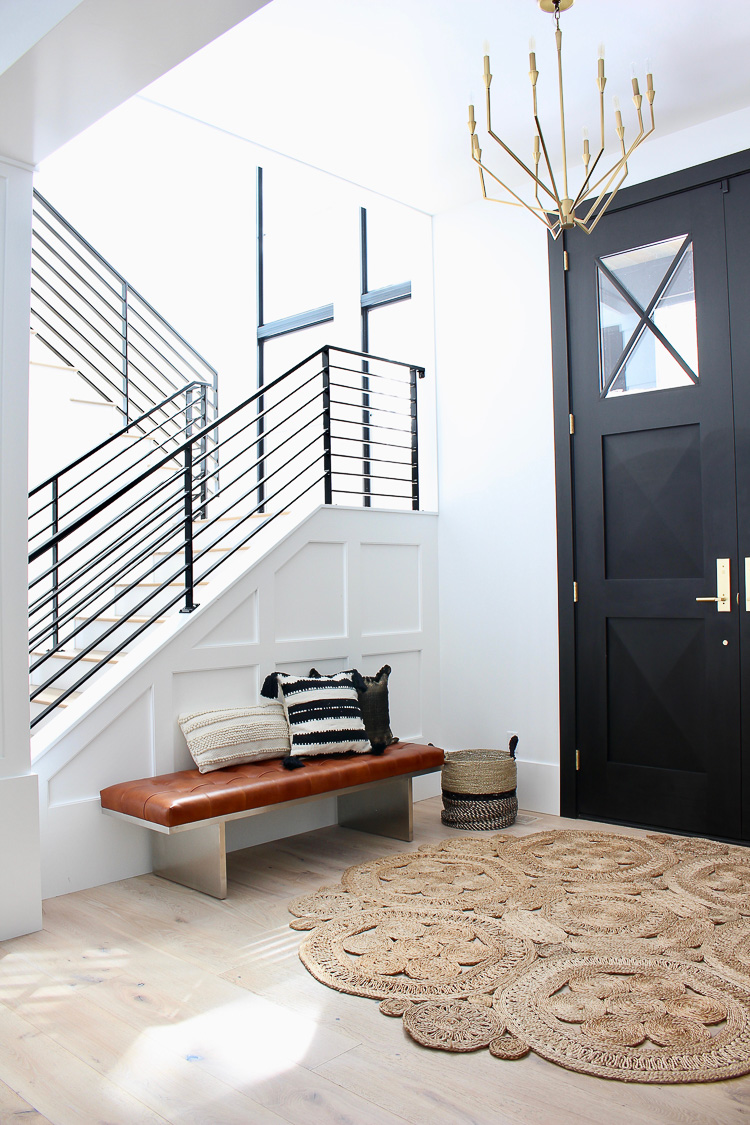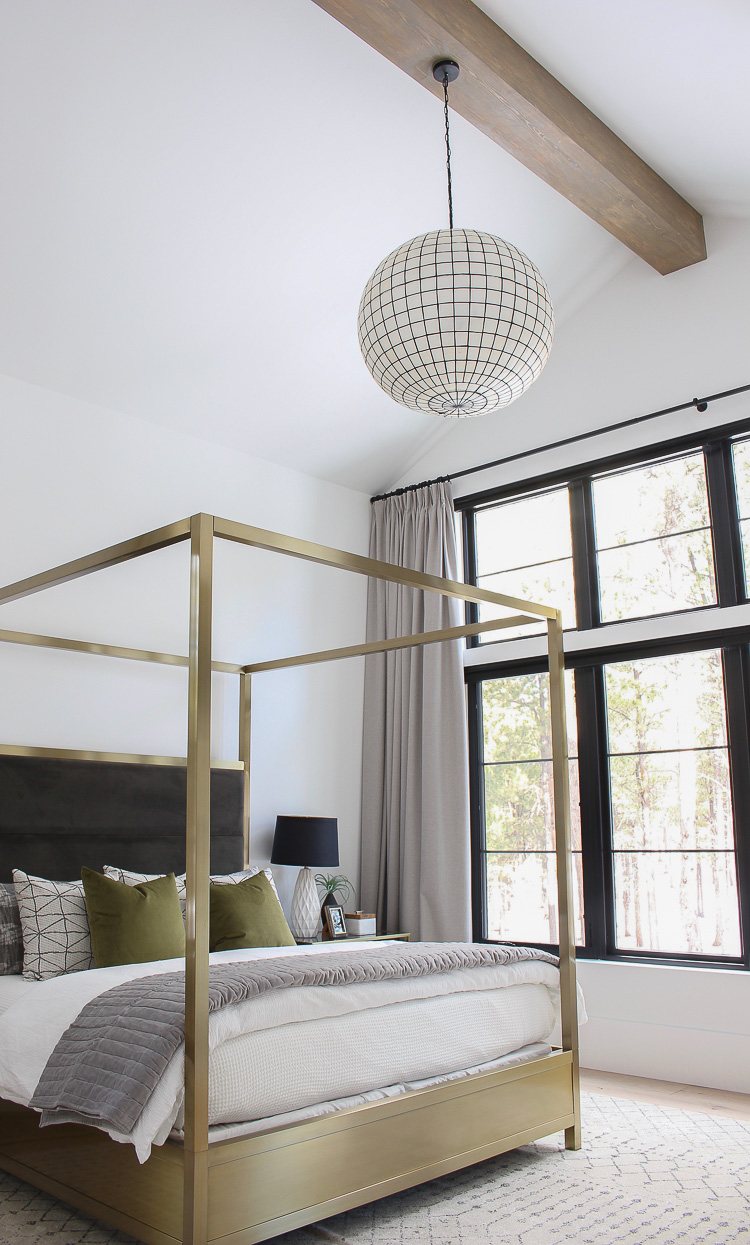 See more of our master bedroom and sources HERE.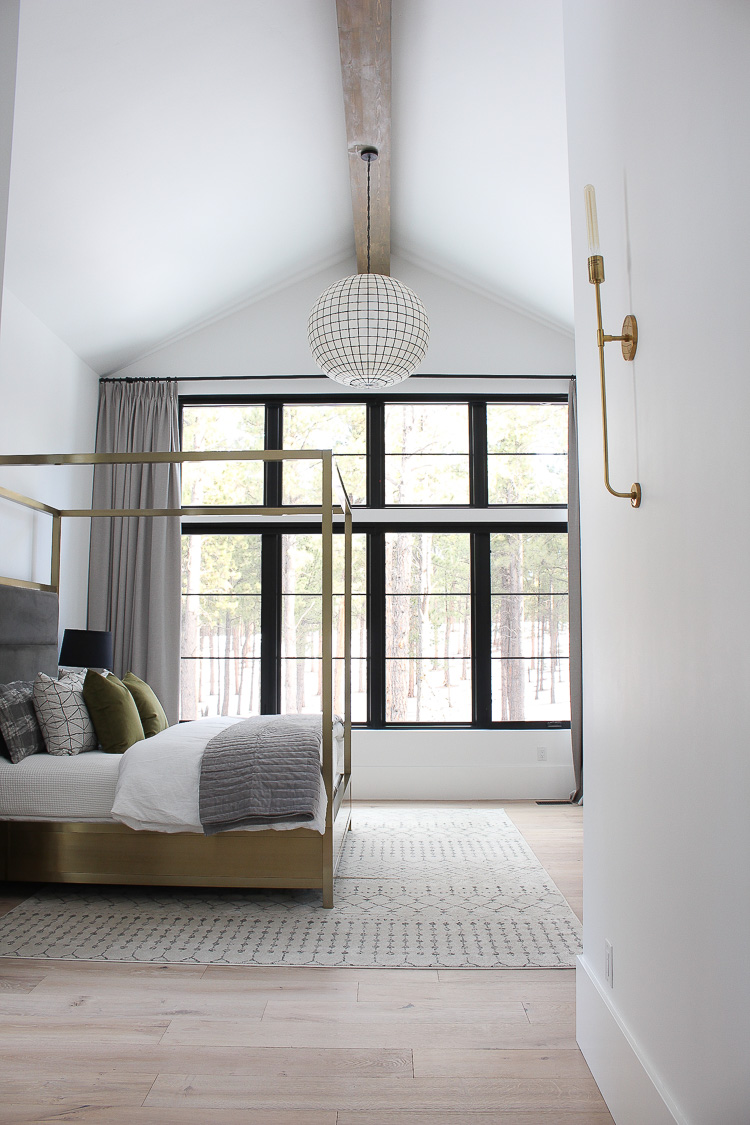 To avoid a boring all white hallway on our upstairs level, we added shiplap. Eventually, I'll probably do a gallery wall of blown up black and white candid photos of the boys. I'm kind of loving the clean slate though. So simplistic allowing the details to stand out, like the sconce lighting and accent door color.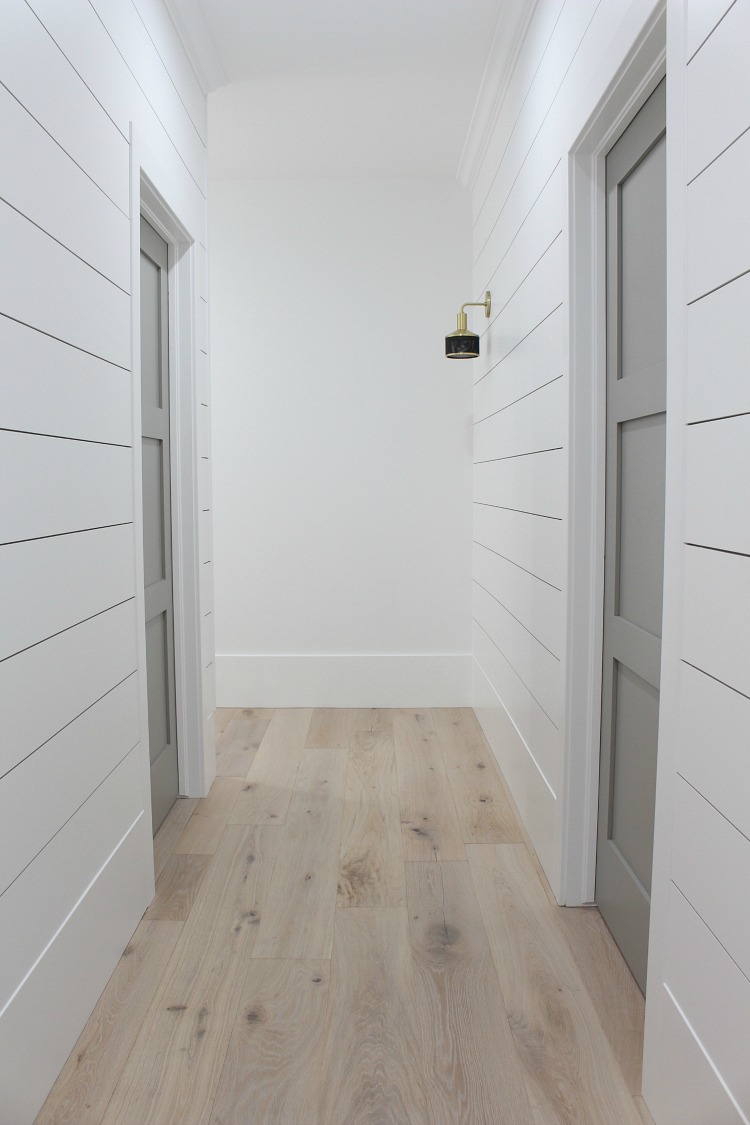 Doors – Cape May Cobblestone by Benjamin Moore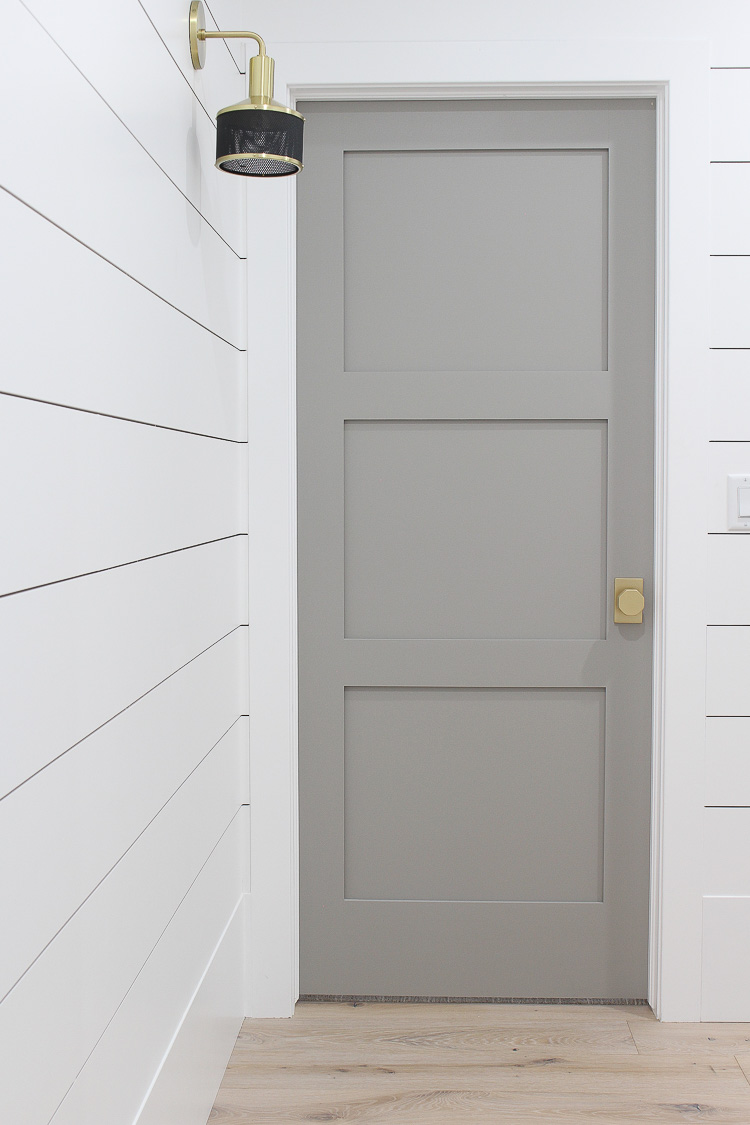 A new favorite gray color! I'd say Cape May Cobblestone has some taupe undertones and slightly blue, depending on the lighting. Doesn't it look gorge with that brushed gold hardware?! This is our middle son's bedroom. You can tour it HERE. He was fully in on the design! Impressive for a teen boy!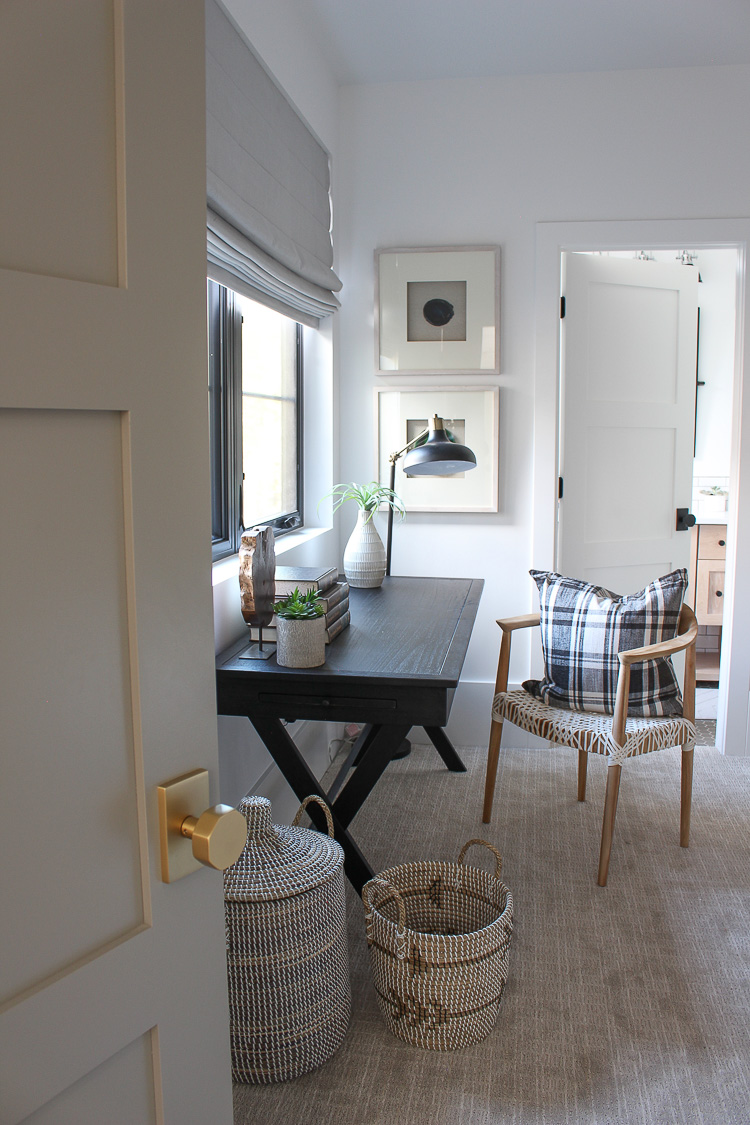 While we're upstairs, I'll show you another paint color I'm obsessed with! I haven't really showed much of these built ins since I haven't got around to styling them, but let me tell you this paint color is beyond gorgeous!! It's a deep blue/green color. Blue is more dominant though. I can't wait to share more of this space when I get it styled.
Midsummer Gale by Pratt & Lambert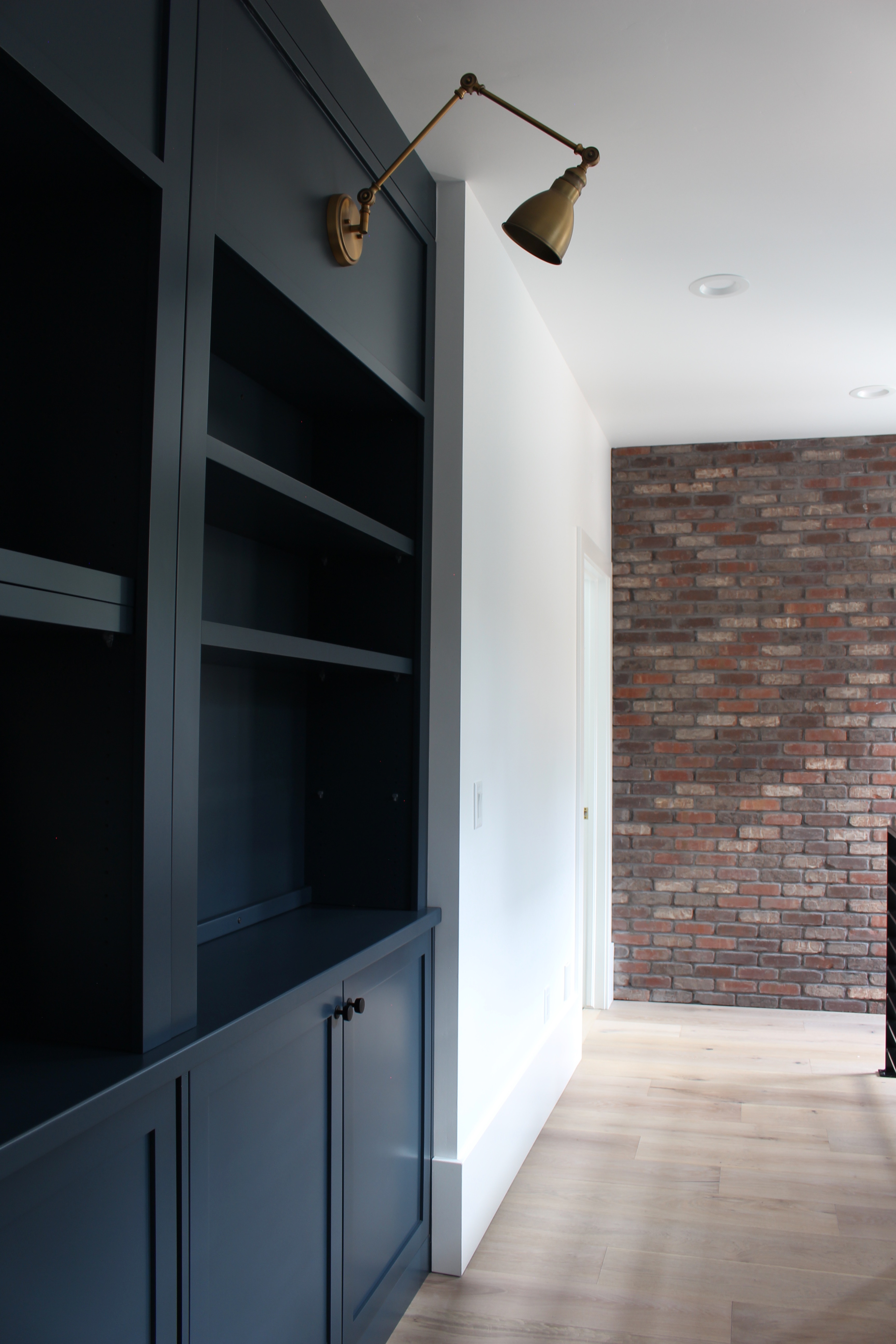 Black, white and gray are the predominant colors in our home but I had a fun time incorporating these deep hued pops of color in various spaces. Our laundry room is another space where I played with some color.
Laundry Room Cabinets – Essex Deep Green by Pratt & Lambert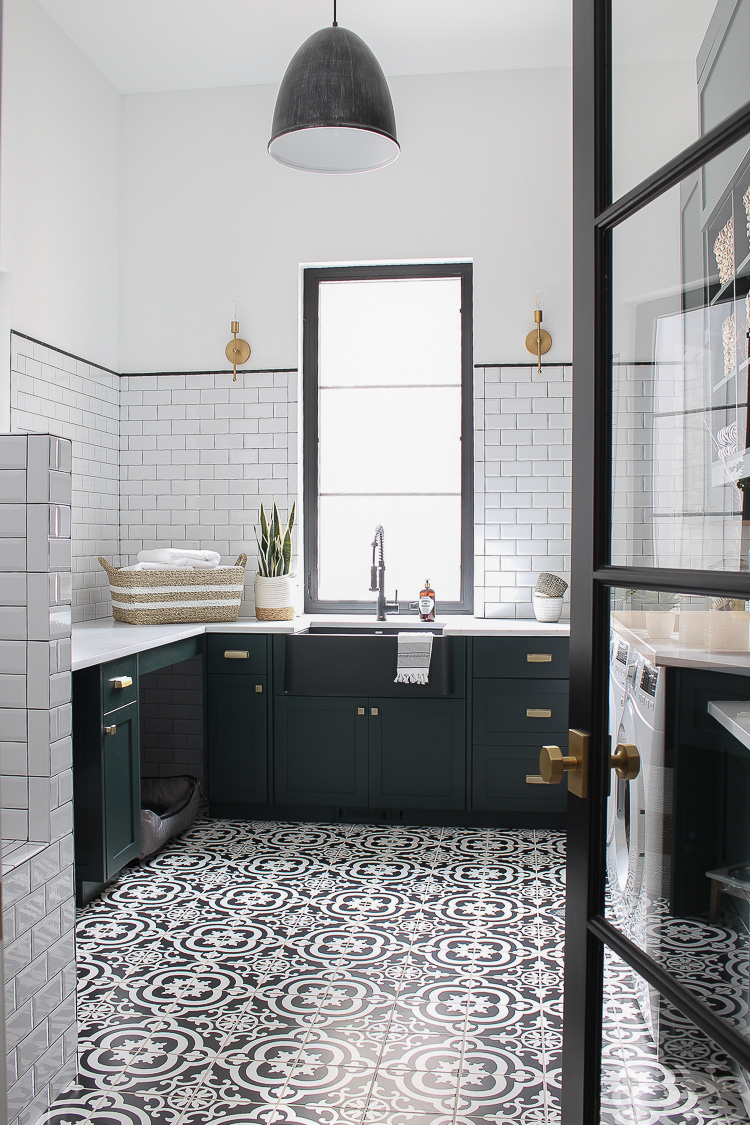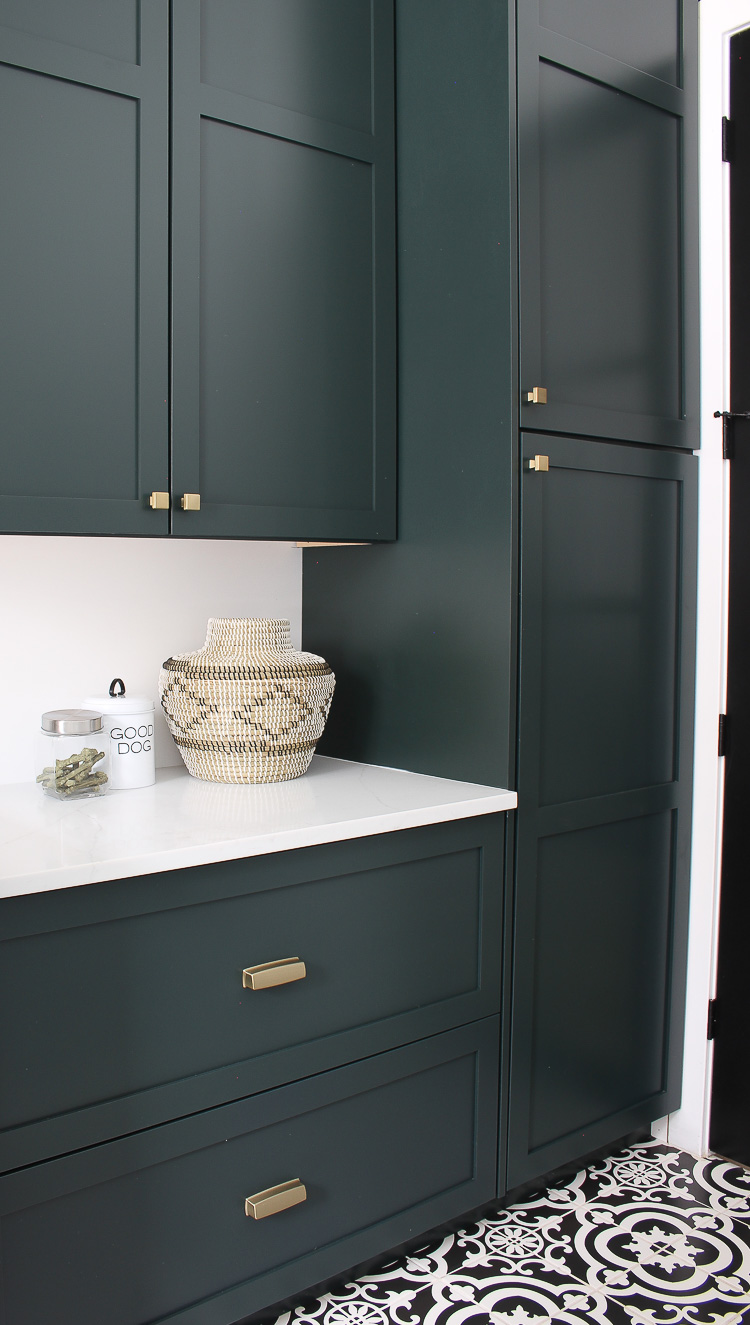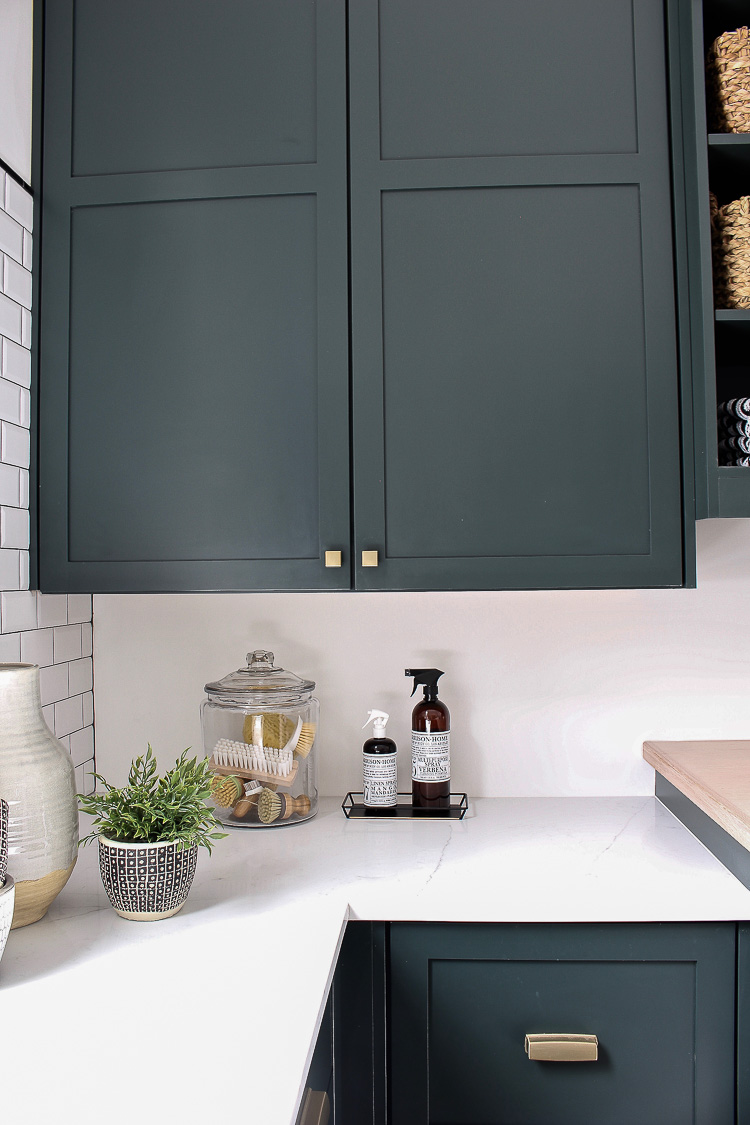 Everyone claims this room the favorite of the house. I think it's because of those green cabinets. So deep, so rich and bold! You can see more of our laundry room and sources HERE.
Shauna's Office – Agreeable Gray by SherwinWilliams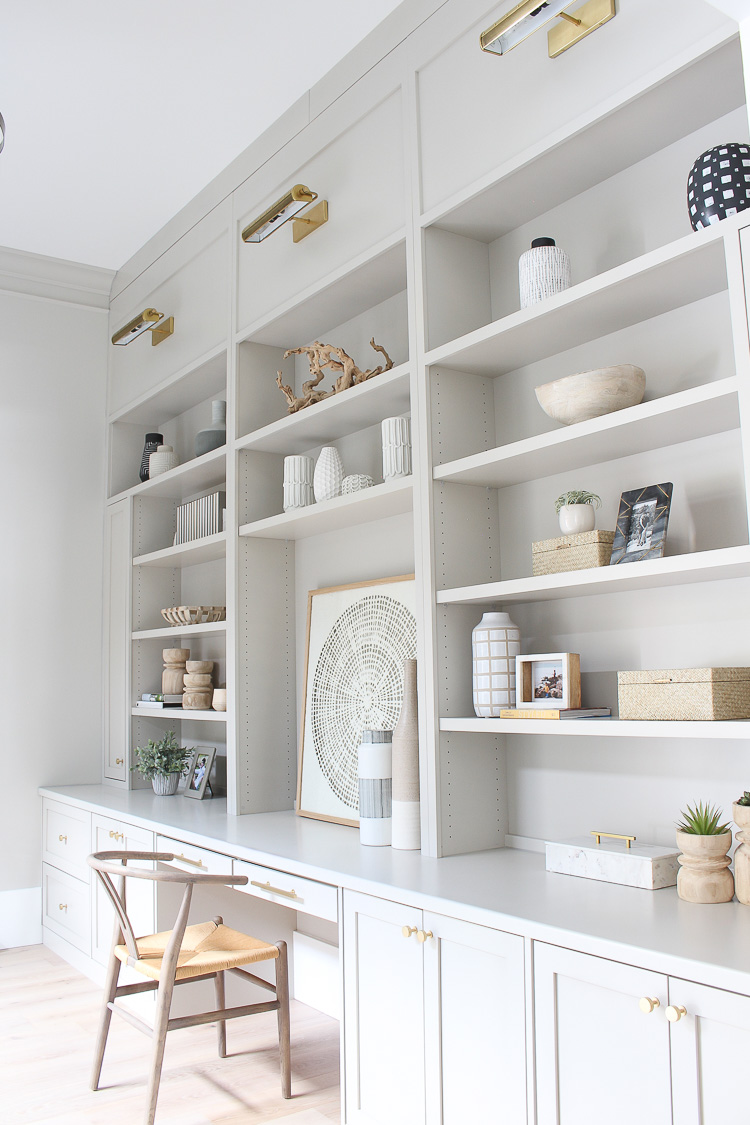 Agreeable Gray by Sherwin Williams is a "greige" color. Meaning it's a warm gray with a combination of gray and beige. It's subtle but soothing. I had my cabinet maker paint my built ins to match the wall color. I'll be sharing more of this space later on as I get it styled to completion. Still working on it. Snails pace. Story of my life.
One last color to share that has been my all time favorite gray for years is in our master bathroom.
Master Bath Fireplace Shiplap – Revere Pewter by Benjamin Moore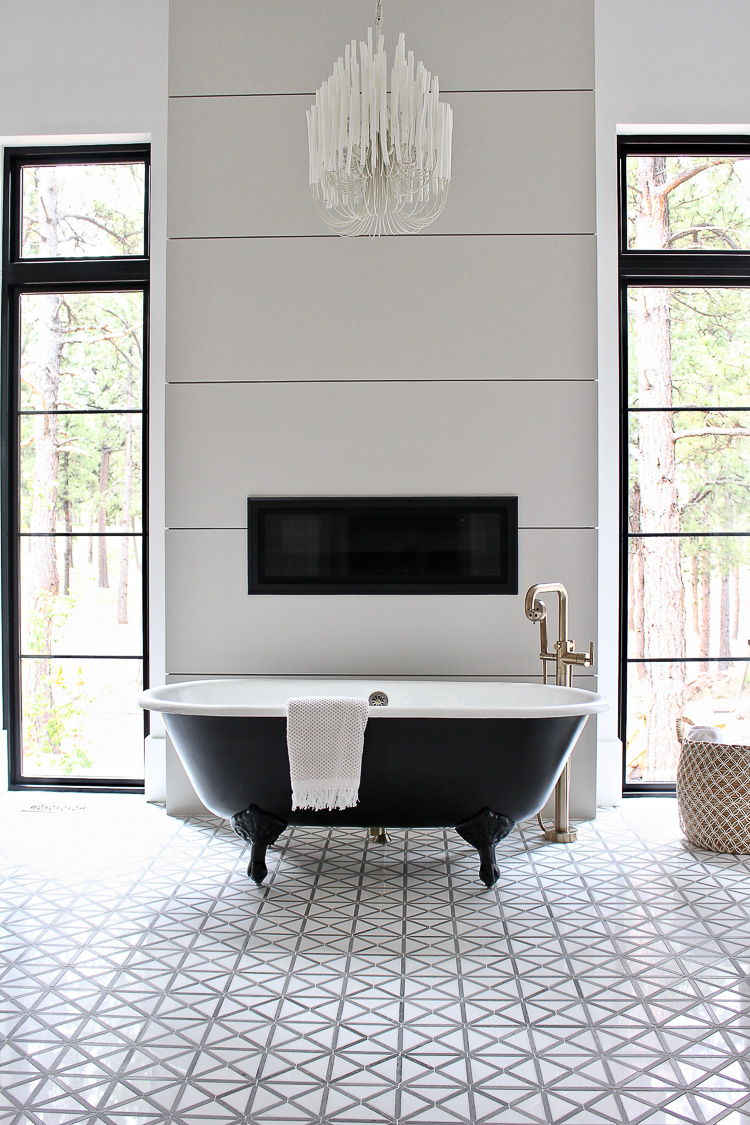 If you've been following along with us since before we moved into The Forest Modern, you'll remember that our previous home interior was painted in Revere Pewter. It's just a good neutral gray that looks good in most lighting situations. I don't feel like it has blue or lavender undertones which is common with gray paints. You can see more of this color in our previous home HERE. You can also tour more of our master bathroom and find sources HERE.
Our Black Cabinets
Our custom cabinet maker used M.L. Campbell Wood Finishing Systems varnish in color 25-17 Black. It's a true solid black with no undertone.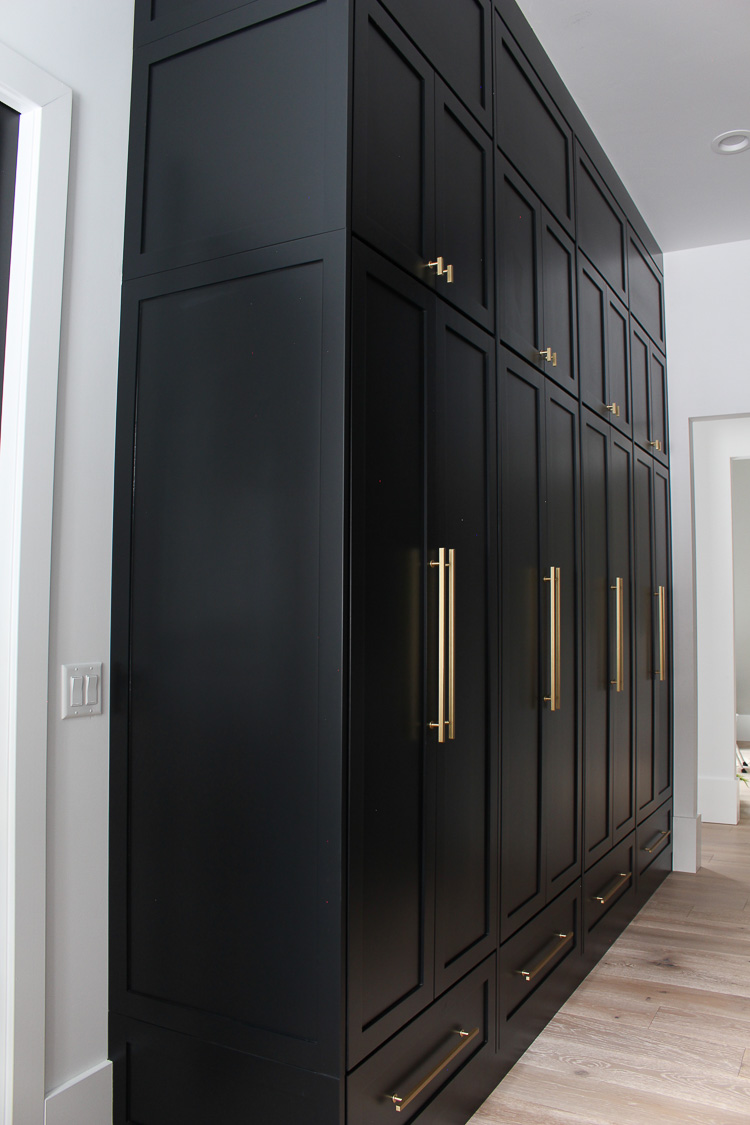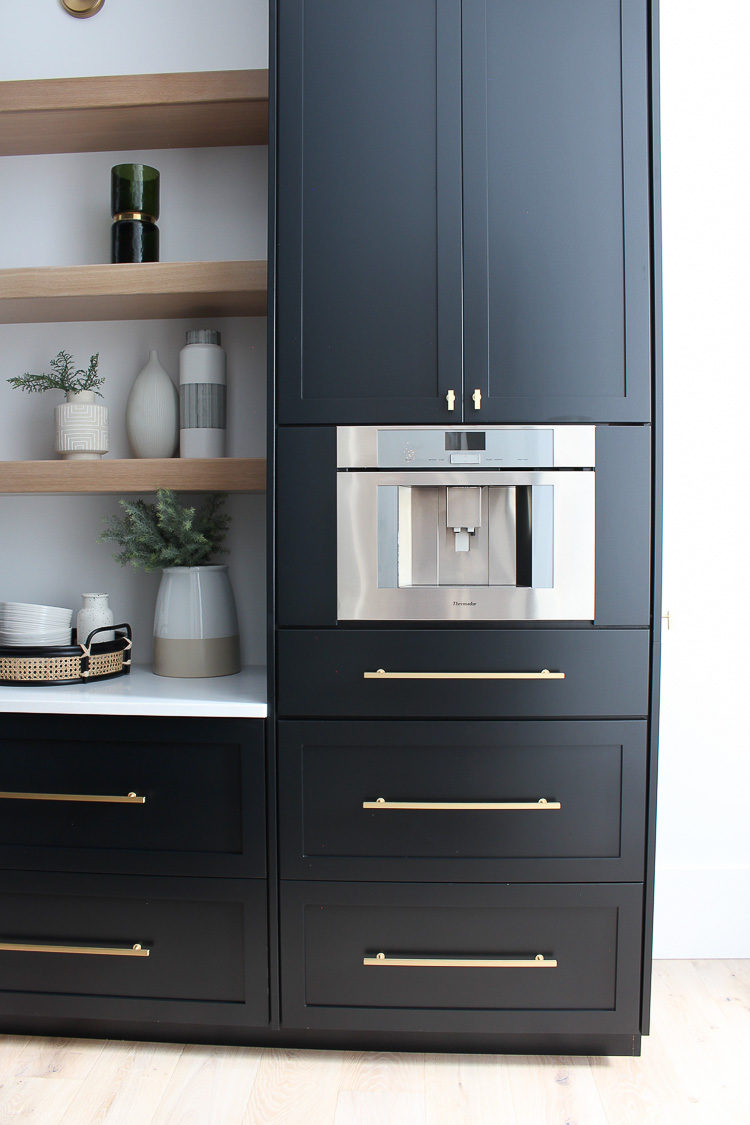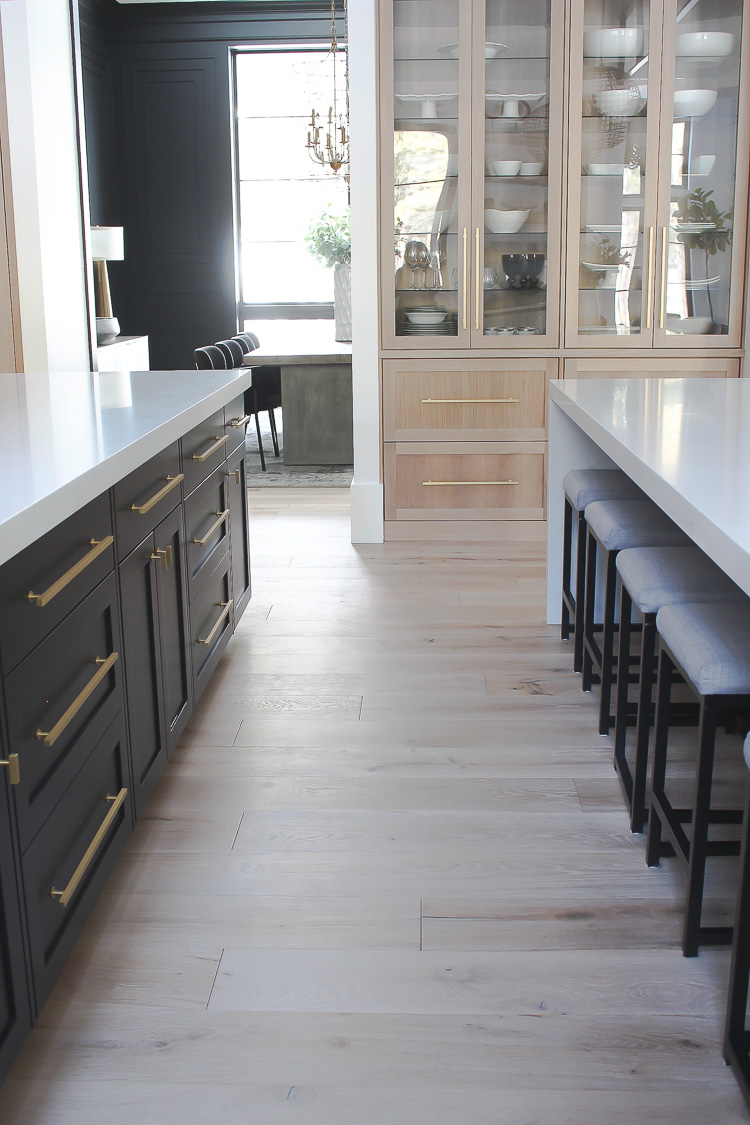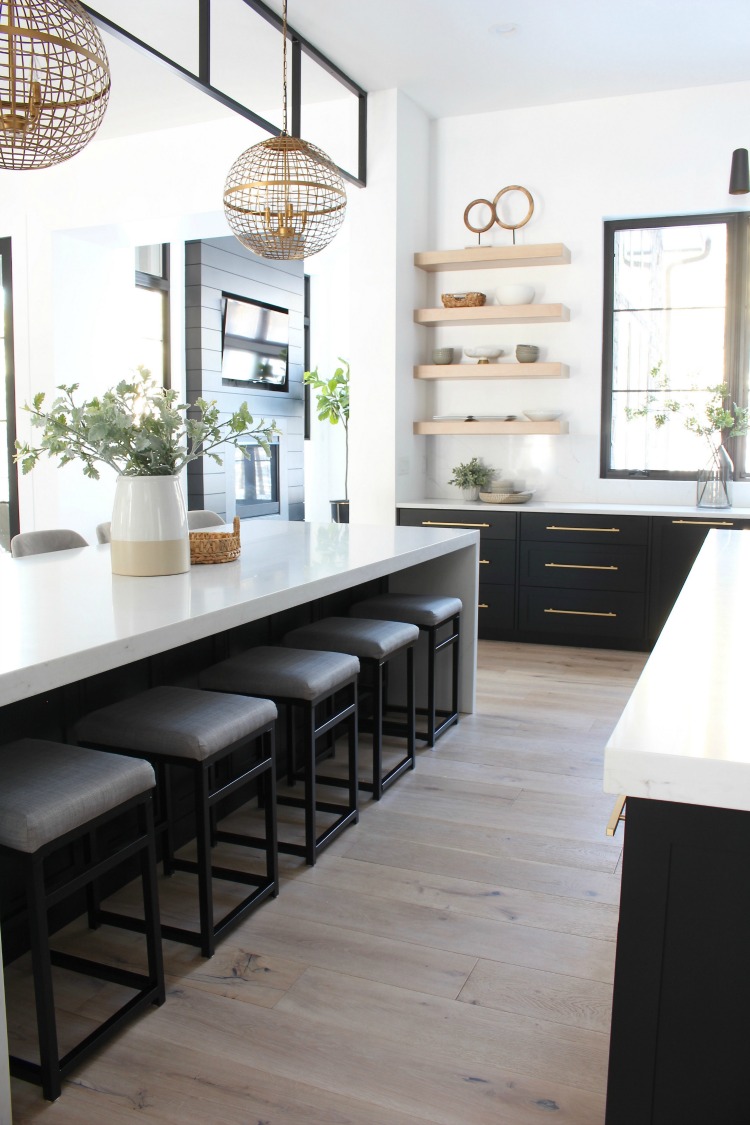 Cabinetry/Floating Shelf White Oak Stain 
THE MOST ASKED QUESTION, EVERY SINGLE DAY.
I know what you all are talking about when you've asked how the "yellow undertone" can be prevented when staining wood to have a natural finish. That's the nature of raw wood to darken when a stain or lacquer is applied, even if it's a clear matte finish. I absolutely did not want my cabinet panels to read "yellow" after they were stained. The raw oak is naturally so beautiful where you just don't want to touch it with chemicals but obviously need to, especially in a kitchen where the wood needs to be protected.
I wish I had an easy answer for you on how my cabinet maker and I figured out the formula. It was through trial and error. The clear stain that he applied to the first sample board obviously had a yellow undertone. We decided to add a little bit of white paint for an almost "white wash" or lime wash effect to break that yellow undertone. After about 5-10 sample trials, we figured out the magic formula which was just a teeny tiny hint of white paint added to the clear stain mix. The result is beautiful and a true natural looking oak. No yellow or even orange undertones. Photography is even hard to capture the true "color" but if you saw them in person, you'd probably think they weren't even treated with a clear stain. They are so natural looking and exactly the look I wanted.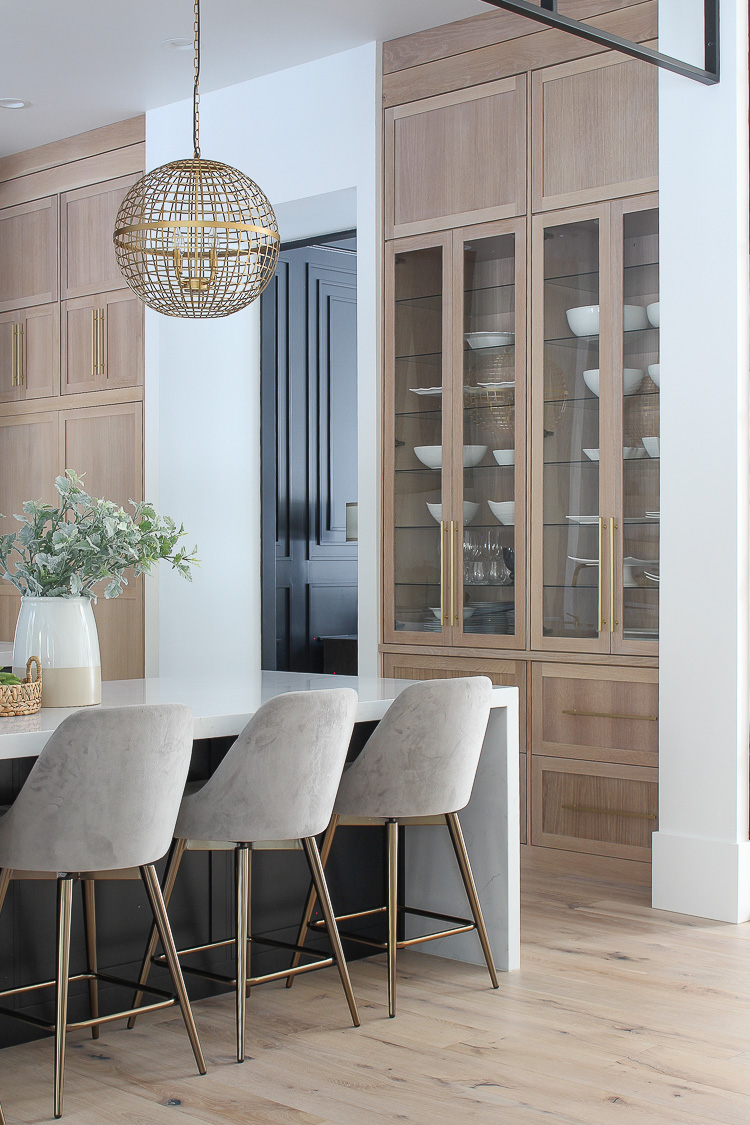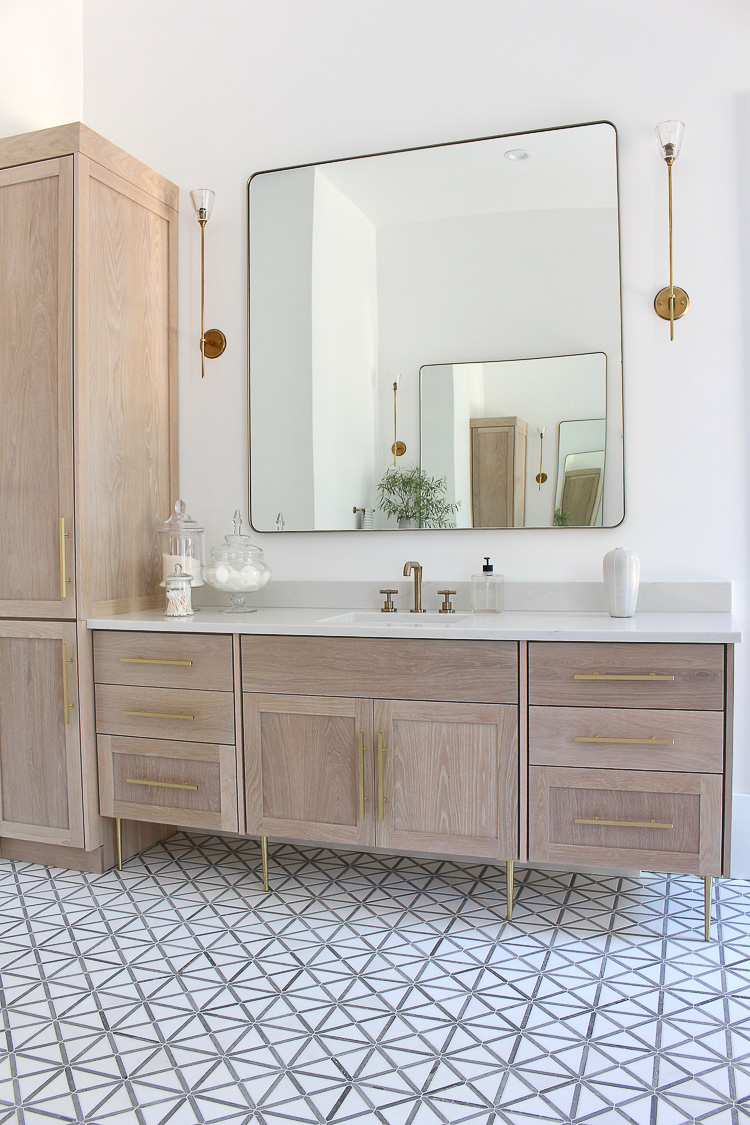 Master Bath (see more HERE)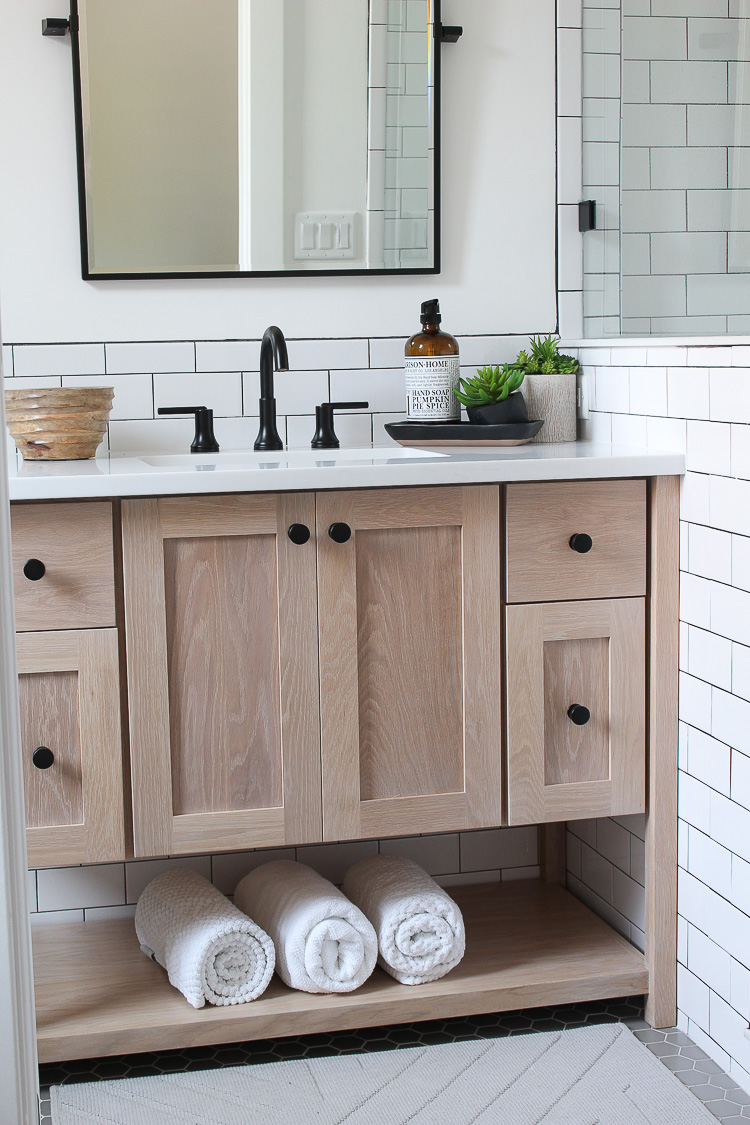 Teen Bath (see more HERE)
I hope this is a good resource for you as you are working on projects in your home. Thank you for following along with us! More room reveals to come!